First announced in 2016, the Disney Wish was the first new Disney cruise ship for ten years when she launched in 2022. And oh boy, does she live up to the hype.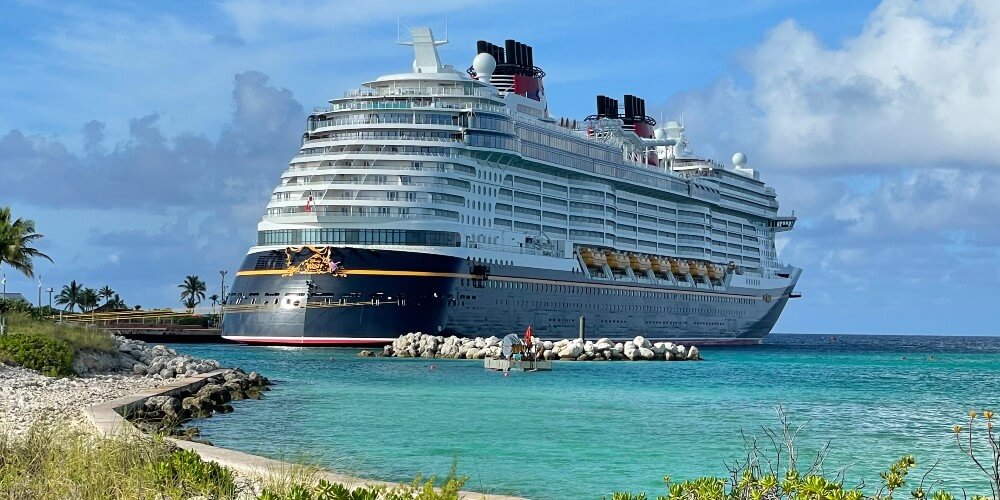 In this guide, I'll tell you everything there is to know about Disney Cruise Line's thrilling ship, the Disney Wish.
The ship made her official maiden voyage on 14th July 2022. But I was lucky enough to cruise on the Disney Wish just before that on a special 3-night preview cruise. If you're also interested in my personal experience and opinions, then take a look at my Disney Wish review.
Whether you're thinking of cruising on Disney Wish or you've already booked and are excited about your trip, here's everything you need to know about this spectacular ship…
Facts & Stats
What's Different About Disney Wish?
Disney Wish is larger than Disney's four older cruise ships and uses cutting-edge technology to bring the Disney magic to life in new and unexpected ways. There are three new family restaurants, the first-ever Disney attraction at sea, and some cool new venues like the Star Wars bar. Eek!
Disney's Imagineers have worked hard to infuse entertainment opportunities throughout the new ship. Many spaces have mixed uses at different times of the day, and large areas like the movie theatre and family pool have been replaced by several smaller venues.
For example, there are now two movie screens and six smaller family pools, rather than one large cinema and one large swimming pool on the other ships.
With the environment becoming a growing concern for us all, the ship is powered by LNG (liquefied natural gas) – which is more environmentally friendly than diesel. Hooray!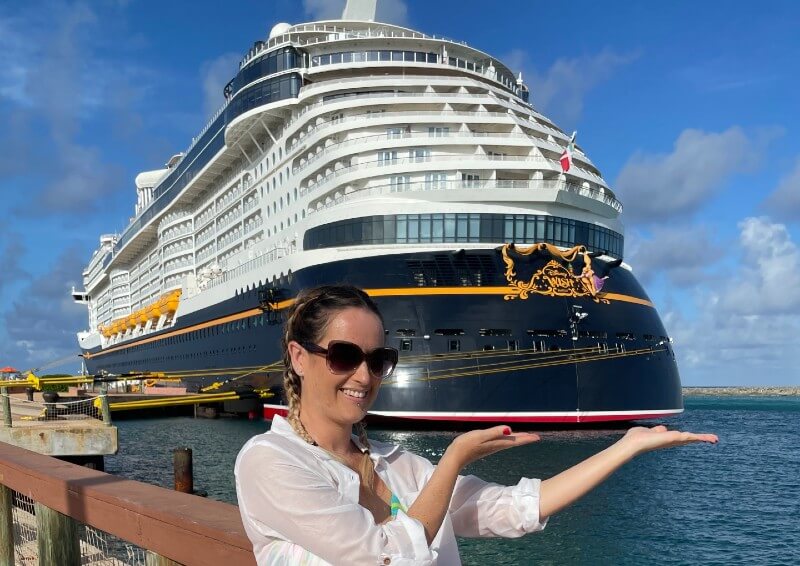 What Class is Disney Wish?
Disney Wish is the first ship in Disney Cruise Line's new Wish-class of cruise ship. Two more Wish-class ships will follow – the Disney Treasure in 2024, and one more as-yet-unnamed ship in 2025.
Originally, Disney Wish was given the codename Disney Triton, and for a while the class was also named the Triton Class. But this has now been updated and the ships are referred to as being in the Wish Class.
Disney's four older ships are split into two classes – Magic Class (Disney Magic and Disney Wonder) and Dream Class (Disney Dream and Disney Fantasy). Each ship in a class is very similar, so the new Disney Wish will be quite unlike any that have come before.
How Big is the Disney Wish Cruise Ship?
The Disney Wish size is measured as 144,000 GT with a length of 1,119 feet and a height of 221 feet with 14 passenger decks. The beam (width) is 128 feet, and the draft (depth) is 27 feet. The ship can accommodate 4,000 guests and 1,555 crew.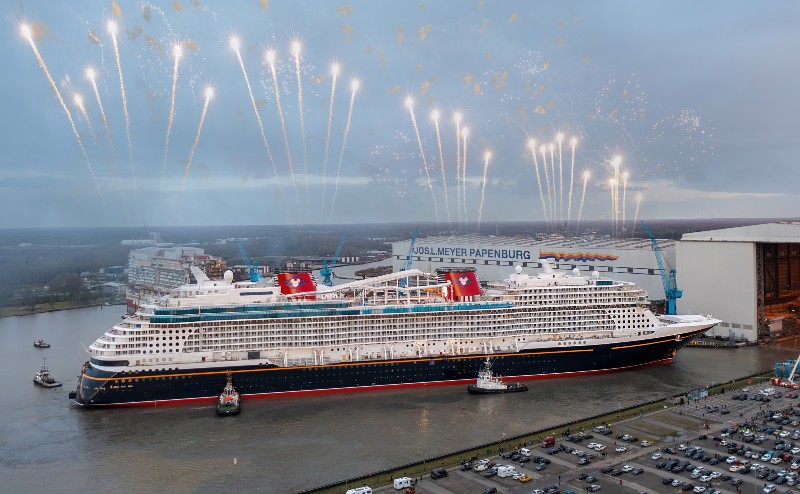 Disney Wish is around 10% larger than Disney Fantasy and Disney Dream and 71% larger than Disney Wonder and Disney Magic. She is considered a large cruise ship, but will only rank around 40th in the list of the world's biggest cruise ships.
Disney Wish is a similar size to cruise ships like P&O Cruises' Britannia, Princess Cruises Enchanted Princess, Royal Caribbean's Mariner of the Seas, and MSC Cruises MSC Preziosa. So she'll be pretty average when it comes to the size of family cruise ships.
Although the new ship is larger than the Dream-class ships and has more crew members, the same number of guests will be accommodated on board. This gives a higher space-to-guest ratio, as well as a higher crew-to-guest ratio for a more luxurious experience.
Here's how the five Disney ships compare in terms of age and size:
| Ship | Year | Size (Gross Tones) | Length (feet) | Decks | Guests | Crew |
| --- | --- | --- | --- | --- | --- | --- |
| Disney Wish | 2022 | 144,000 | 1,119 | 14 | 4,000 | 1,555 |
| Disney Fantasy | 2012 | 130,000 | 1,115 | 14 | 4,000 | 1,456 |
| Disney Dream | 2011 | 130,000 | 1,115 | 14 | 4,000 | 1,458 |
| Disney Wonder | 1999 | 84,000 | 984 | 11 | 2,713 | 875 |
| Disney Magic | 1998 | 84,000 | 984 | 11 | 2,713 | 875 |
How Much Did The Disney Wish Cost To Build?
No figures have been released for the building cost of the Disney Wish, either by Disney Cruise Line or the shipbuilders, Meyer Werft. Disney's previous ship, Disney Fantasy, cost $940 million to build in 2012, so the Disney Wish will likely cost at least $1 billion.
The most expensive cruise ship ever built was Royal Caribbean's Allure of the Seas, which cost $1.3 billion. But, this ship is significantly larger than the Disney Wish, and so the Disney Wish shouldn't cost quite as much as that.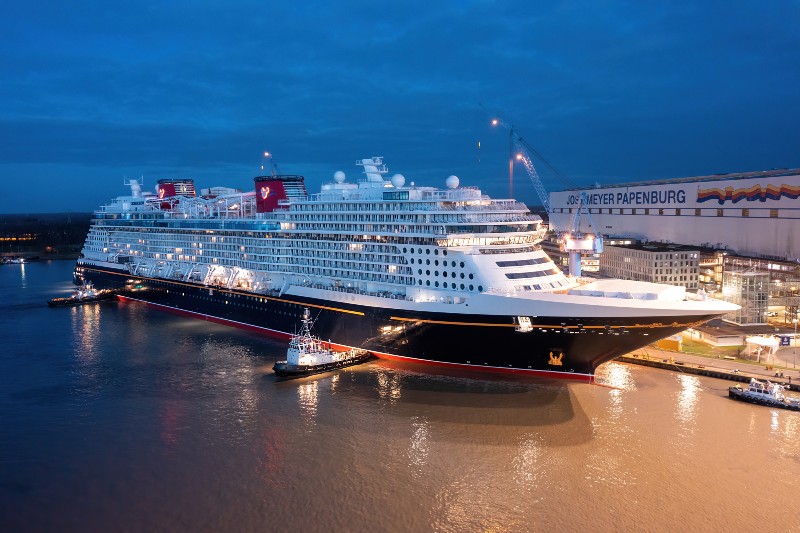 Who Is The Captain of Disney Wish?
The captain of the Disney Wish is Captain Minnie Mouse. She joined the Disney Cruise Line crew in 2019 as part of an initiative to inspire the next generation of female leaders in the cruise industry. The human captain is Andrew McRonald.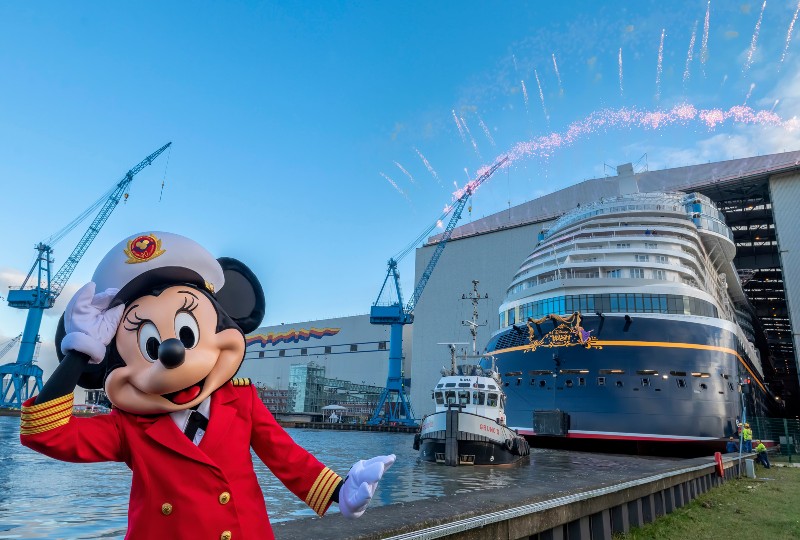 Who Is The Godmother of Disney Wish?
Disney Wish does not have a godmother or godparent. Instead, Disney Cruise Line has appointed all children of the Make-A-Wish foundation as honorary godchildren. In this symbolic move, Disney Wish actually becomes a godmother to the children.
The Make-A-Wish godchildren were featured as part of the Disney Wish Christening on 29th June 2022.
The godmothers of the other Disney cruise ships are Patricia Disney, Tinker Bell, Jennifer Hudson and Mariah Carey.
Who Is On The Back Of The Disney Wish?
The stern of the Disney Wish features a giant Rapunzel on the stern. The entire figurine is over 30 feet wide, and Rapunzel herself is 9 feet tall.
Take a closer look here…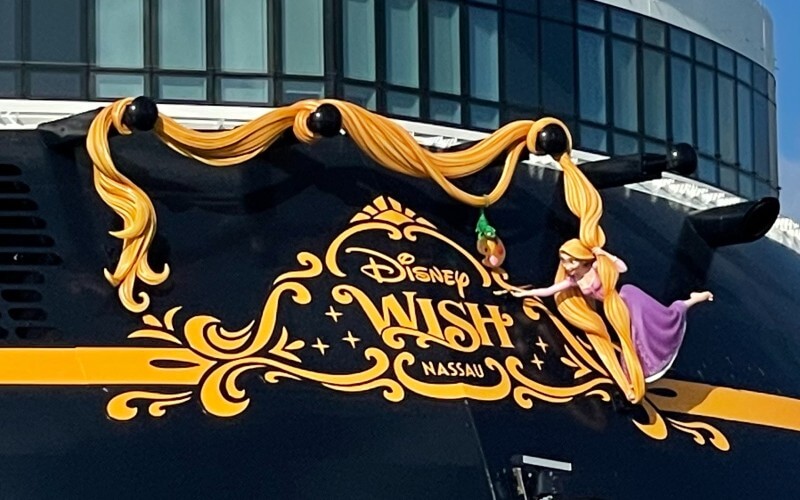 On Board Activities
What Does The Disney Wish Have Onboard?
The Disney Wish cruise ship has a whole host of new attractions including:
The AquaMouse water attraction with dazzling special effects
A theatrical dining experience with characters from Frozen
A Marvel-themed cinematic dining adventure
An adults-only Star Wars bar
Toy Story-themed splash area
Read on to learn more about the various areas on board this exciting new ship…
The Grand Hall
At the start of a cruise on the Disney Wish, guests enter via the Grand Hall. Each child receives their very own wishing wand which they can use to make their first wish during a special boarding celebration!
The Grand Hall atrium features a stage with interactive shows that allow guests to play a special role in the magic. There's a huge bronze statue of Cinderalla, with colours and icons from the film adorning the carpet and light fixtures.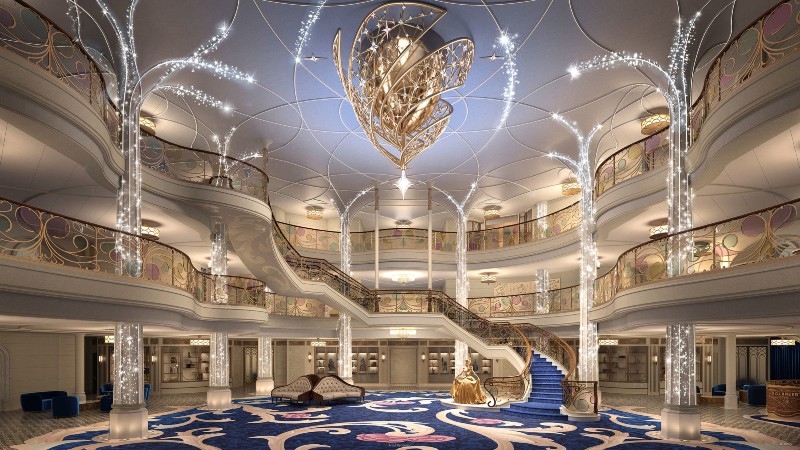 The Pool Deck
Located on Decks 11 and 12, the main pool deck on Disney Wish features the AquaMouse water slide, six swimming pools and tiered decks surrounded by comfy lounge chairs. There's a huge LED screen showing Disney movies and live sporting events.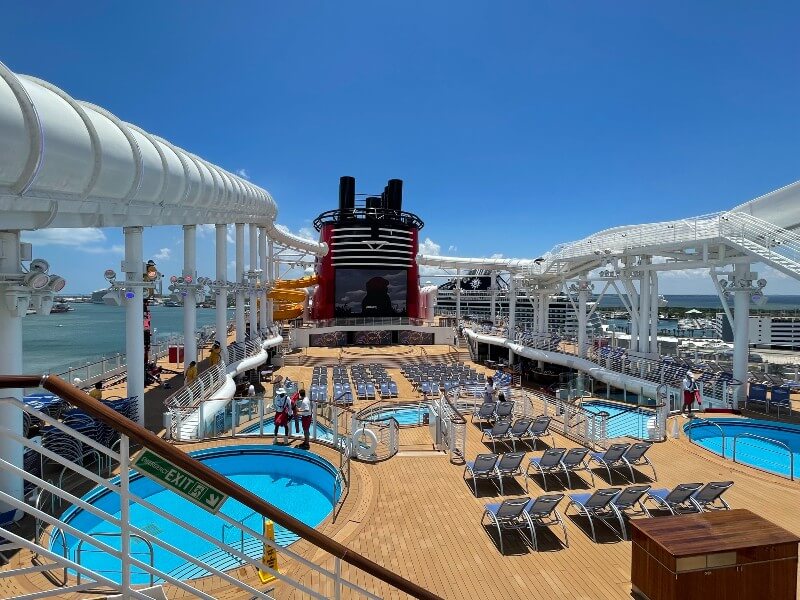 The AquaMouse is actually much more than a water slide – it's Disney's first attraction at sea. It includes Mickey Mouse show scenes, special effects and surprises as you splash through 760 feet of winding tubes in an inflatable boat. So exciting!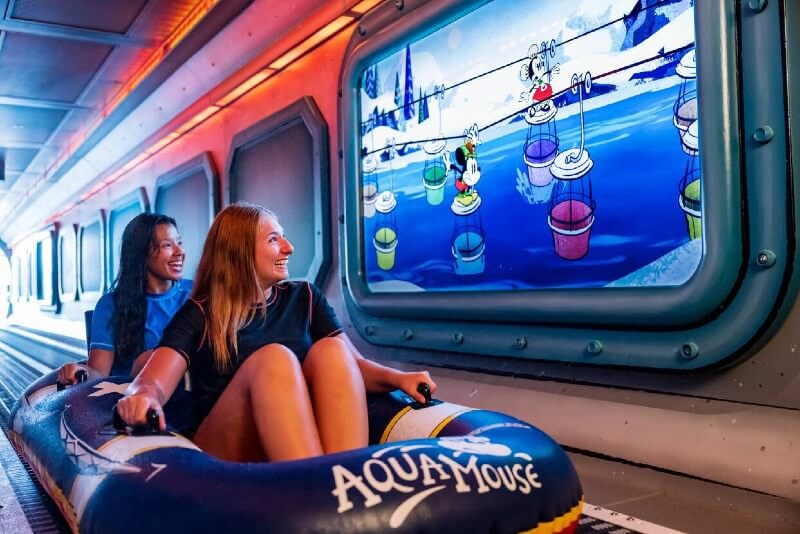 Families with young kids and toddlers will love the Toy Story area on Deck 12 which has a wading pool, splash zone, the family waterslide 'slide-a-saurus Rex' and smoothie bar called 'Wheezy's Freezies'.
There's also another family pool up at the front of Deck 14. Meanwhile, adults can relax in the Quiet Cove on Deck 13 with its infinity pool, seating areas, comfy loungers, whirlpool, bar and cafe.
The Walt Disney Theatre
In the elegant 1,274-seat theatre on board the Disney Wish, you can enjoy Broadway-style productions that have been developed exclusively for Disney Cruise Line. Shows will include 'Aladdin' – a firm favourite on Disney ships – and 'The Little Mermaid'.
On embarkation night, guests are welcomed with an original music spectacular called 'Disney Seas the Adventure' featuring songs from 'The Princess and the Frog', 'Finding Nemo', 'Frozen' and more.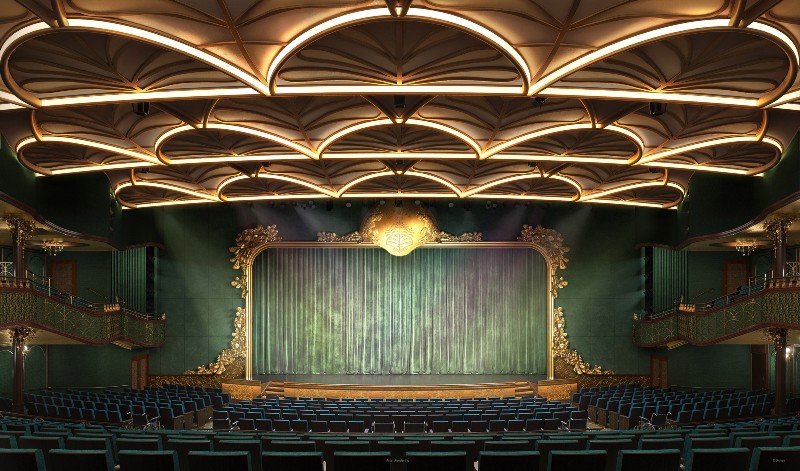 Wonderland And Never Land Cinemas
Disney Wish has two cinemas – Wonderland and Never Land. Here, you can watch classic Disney movies as well as first-run films from Disney, Pixar, Marvel, Lucasfilm and more. Having two movie theatres, rather than the single one on the other Disney ships, means that guests will have a greater choice of movies to enjoy.
With the most popular movies, one screen will start the show 15 minutes after the other, so that any latecomers won't have to miss out. A great idea!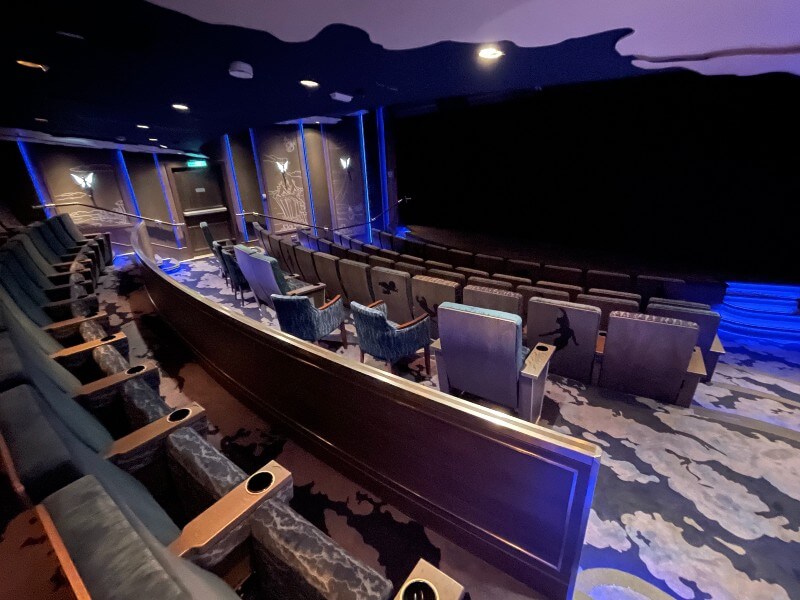 Luna
Luna is Disney Wish's entertainment hub where you can enjoy interactive and fun family entertainment in the daytime and adult-only entertainment in the evening.
It features a two-storey LED screen wall and live game shows like 'Villains Game Night' and 'Disney Songbook' interactive karaoke. There's also a silent disco which is a lot of fun!
Hero Zone
The Hero Zone is Disney Wish's futuristic sports arena where families can join together to enjoy game show-style competitions, action-packed challenges, and free-play sports. There's even a 'Diaper Dash' race where babies and toddlers can compete to speed crawl across a 20-foot track!
Don't miss the Incredibles inflatable obstacle course. It's a lot of fun and like many activities on the Disney Wish, the whole family can join in, not just the kids!
Disney's Oceaneer Club
The huge kids' club on Disney Wish is for children aged 3 to 12 and features five different spaces. Siblings of all ages can play together and kids are free to come and go between the different areas as they wish.
The five areas are:
Marvel Super Hero Academy – In this HQ, young recruits will learn how to become superheroes with the help of Spider-Man, Black Panther, Ant-Man and the Wasp
Fairytale Hall – This is made up of three activity rooms – Rapunzel's Art Studio, Belle's Library and Anna and Elsa's Sommerhus
Walt Disney Imagineering Lab – Here kids can take part in hands-on activities and experiments to discover the secrets of the Disney Imagineers
Star Wars: Cargo Bay – Children use augmented reality-enabled data pads to take part in a special assignment where they must track and study a series of lifelike creatures
Mickey and Minnie Captain's Deck – Perfect for the youngest kids, this colourful nautical-inspired playground is a lot of fun
There's so much that I could say about the Oceaneer Club on Disney Wish, it really needs its own article. But, here's a photo of my favourite bit – where kids can design their own rollercoaster and then ride it with the virtual reality ride.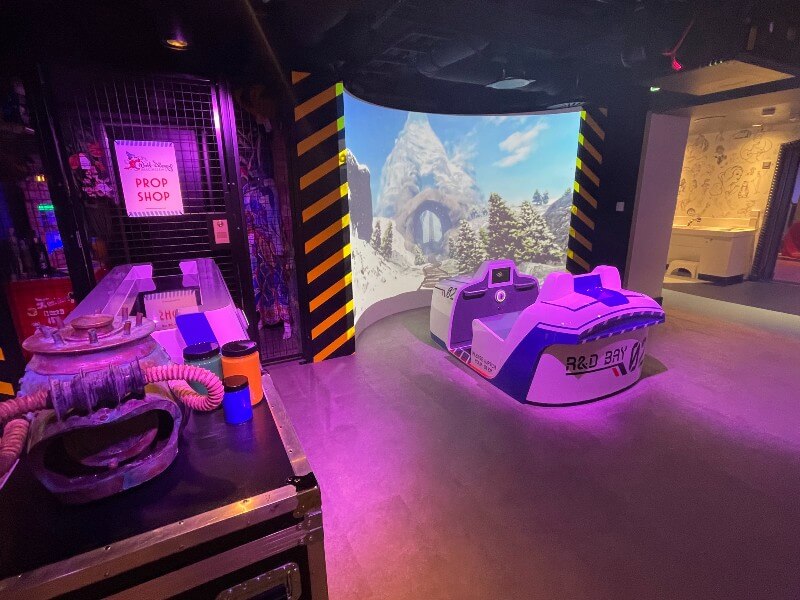 To enter the Oceaneer Club, children go 'down the rabbit hole' via a twisty slide that lands straight into the club by the handwashing areas. Parents can follow them down the slide or use the adjacent staircase.
Rather than being tucked away in a corner of the ship, the entrance to the kids club is right in the centre of the main atrium, The Grand Hall.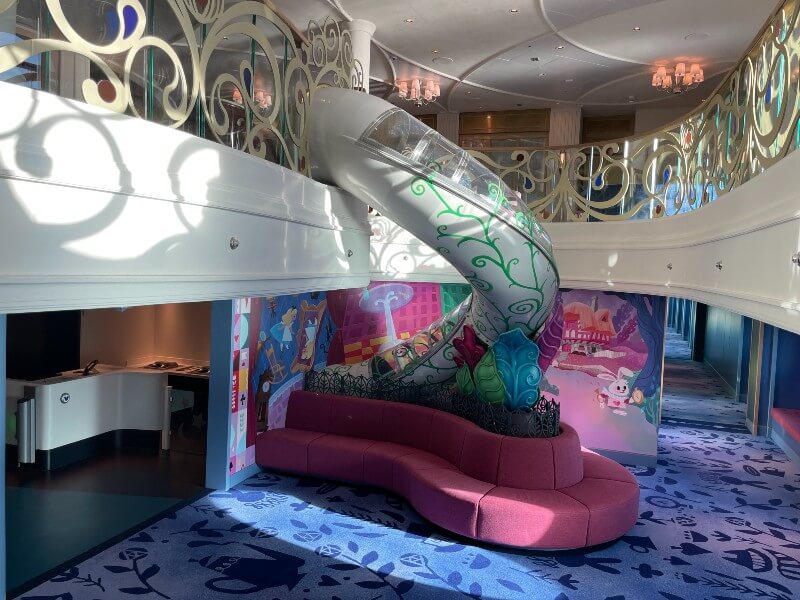 Babies and toddlers aged 6 months to 3 years can play in the Its a Small World Nursery, which also offers babysitting services.
For those aged 11 to 14, there's Edge and for 14- to 17-year-olds there's Vibe; two trendy hangouts where tweens and teens can chill out with their new friends.
In these areas, youngsters can come and go as they please. If your son or daughter is 11 or 12, they'll have access to both the Oceaneer's Club and Edge. 14-year-olds can choose between Edge and Vibe, or spend some time in each.
As many kids prefer to spend time with their siblings on a cruise, the way that Disney Cruise Line splits the age groups is a fantastic idea that I'd love to see more cruise lines adopt.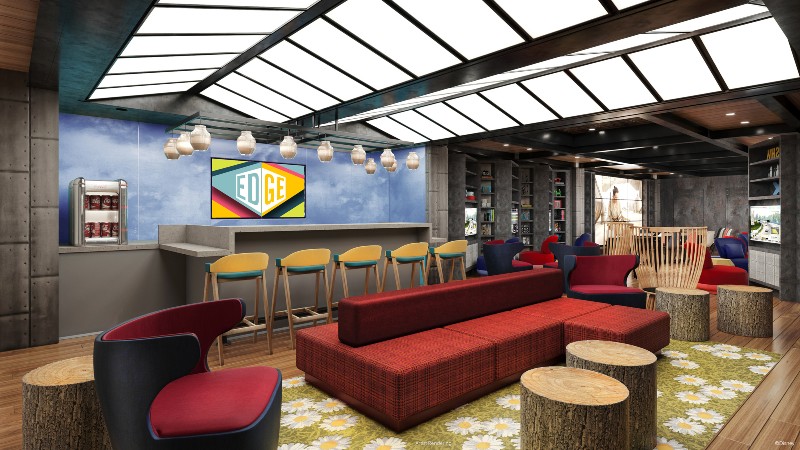 Adult Only Areas
Of course, the Disney Wish isn't just for families. There are lots of places that are exclusively for adults – perfect for people cruising without kids or parents when their kids are being looked after in the kids' clubs.
Star Wars: Hyperspace Lounge – Reserved for adults every evening, this themed bar is styled as a yacht-class spaceship and has drinks named after Star Wars destinations
Palo Steakhouse – An evolution of the adults-only restaurant Palo, the Palo Steakhouse mixes classic Italian dining with meaty cuisine
Enchanté – Enjoy gourmet delights crafted by three-Michelin-starred Chef Arnaud Lallement in a romantic setting
The Rose – The ideal spot for a quiet drink before or after dinner, The Rose sits at the entrance to Palo Steakhouse and Enchanté
Senses Spa & Fitness– Relax in the steam and aromatherapy rooms, indulge in spa treatments or enjoy a workout with state-of-the-art facilities
Quiet Cove – An area of the pool that's exclusively for adults with an infinity pool and bar
Nightlife
Rather than being focussed in one area as on Disney's other ships, the bars and lounges on the Disney Wish are spread throughout the ship. Places to enjoy a drink include:
Keg & Compass – A rustic pub where adults can watch live sports and news while enjoying craft beer, wines, spirits and cocktails
Nightingale's – A luxurious piano bar serving fine and sparkling wines and hand-crafted cocktails
The Bayou – An informal New Orleans-style lounge themed around The Princess and the Frog with live entertainment
Suggested read: Disney Cruise Drink Packages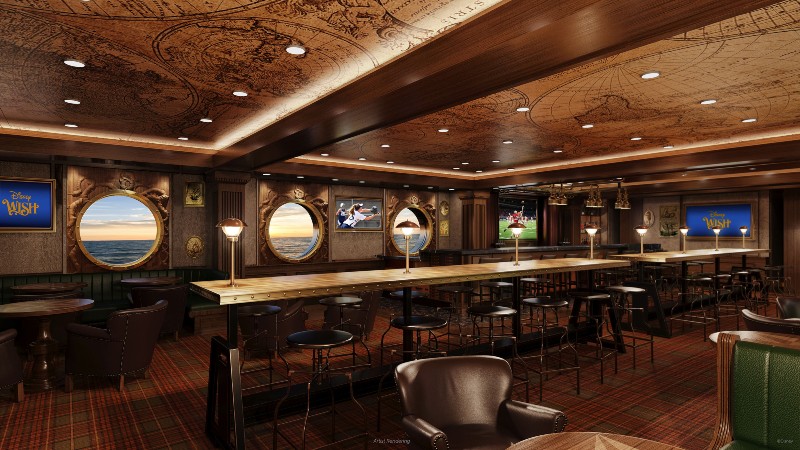 Does Disney Wish Have Pirate Night?
Disney Wish has a pirate night on every voyage. At the 'Pirate's Rockin' Parlay Party', guests can dress up in pirate costumes and enjoy live music, special effects, stunts and surprises rounded off by fireworks on the top deck.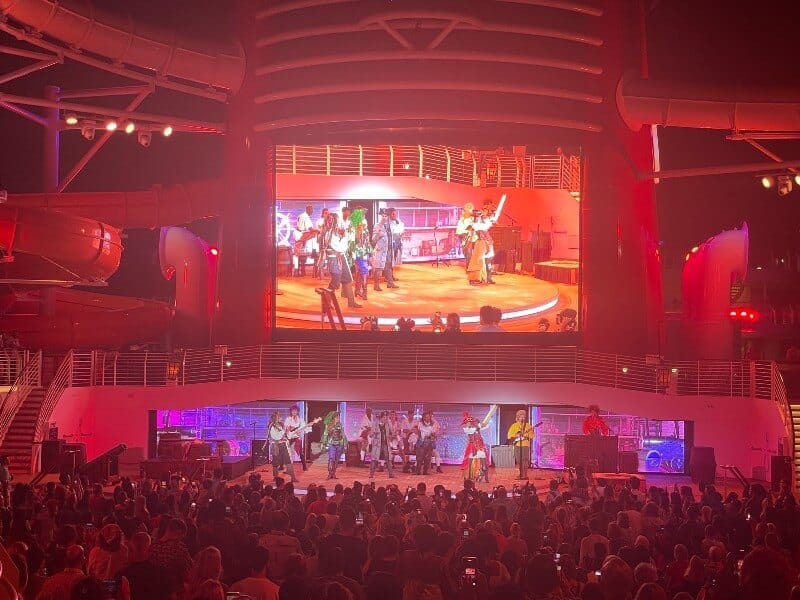 Lots of people dress up as pirates for the event, so if you love a costume party, this is an event that you won't want to miss. For the best views of both the stage and the fireworks, stand on the higher deck, towards the starboard side.
The firework casings are made from fish food, so when they drop into the ocean, they're broken down naturally. Good work, Disney!
Restaurants
What Are The Three Restaurants On Disney Wish?
Like all Disney cruise ships, Disney Wish offers rotational dining among three restaurants. On the Wish, these are 'Arendelle', 'Worlds of Marvel' and '1923'.
Arendelle: A Frozen Dining Adventure – A Frozen-themed dining experience with immersive live entertainment from Elsa, Anna, Kristoff and Olaf and Nordic-influenced cuisine
Worlds of Marvel – A cinematic dining adventure where guests will play an interactive role in an Avengers mission while enjoying world cuisine
1923 – Named after the year that The Walt Disney Company was founded, this elegant 20s-style restaurant will serve dishes inspired by California's varied heritage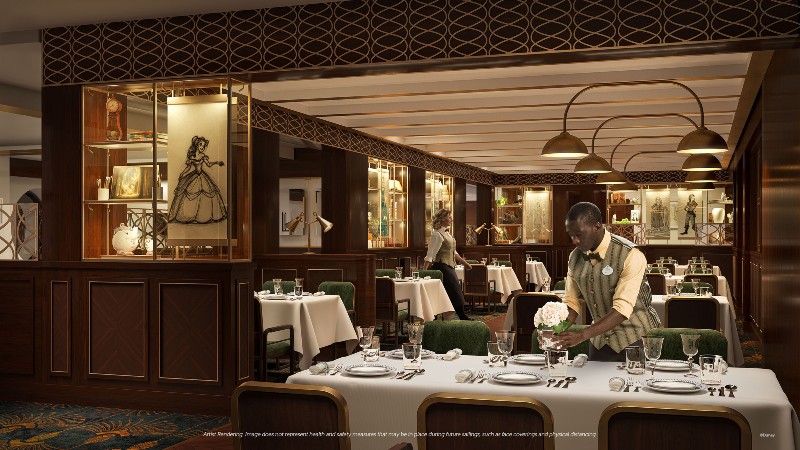 You can read more about each of these restaurants in my Disney Wish restaurants guide.
As well as the three main dining rooms, Disney Wish offers a whole host of other dining options, including gourmet cafes, casual dining, snack bars and 24-hour room service…
Marceline Market
The buffet-style restaurant on Disney Wish is called Marceline Market. It has 10 food stalls, each themed to a movie like Tangled, Zootopia and Ratatouille with indoor and outdoor seating. Open for breakfast, lunch and dinner, in the evening there will be table service and meals cooked to order.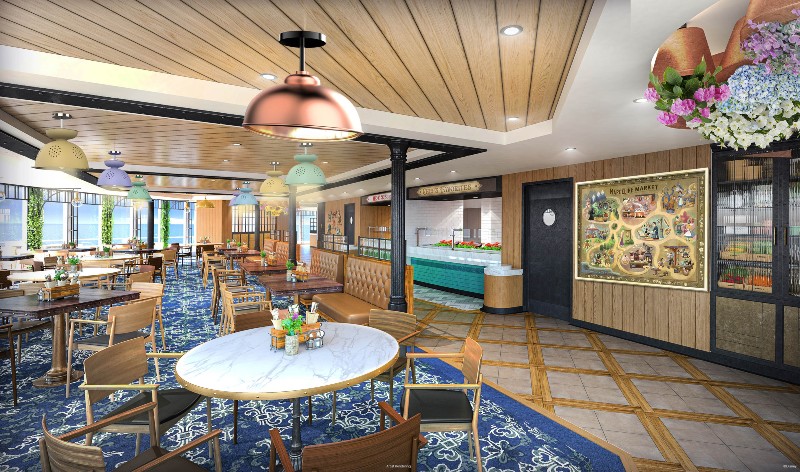 Mickey and Friends Festival of Foods
Open for lunch, dinner and snacks throughout the day, Mickey and Friends Festival of Foods serves quick bites from five themed food stalls: Mickey's Smokestack Barbecue, Donald's Cantina, Daisy's Pizza Pies, Goofy's Grill and Sweet Minnie's Ice Cream.
As a vegan, I was pleasantly surprised by the number of vegan options here, including Impossible burgers, vegan hot dogs and pizzas with vegan cheese and plant-based pepperoni.
Speciality Dining
For an extra charge, adults can dine at one of two speciality restaurants – Palo Steakhouse and Enchanté by Chef Arnaud Lallement. At Palo Steakhouse, guests can enjoy Italian dishes and elite steaks like Australian wagyu and Japanese Kobe. Enchanté offers French-inspired cuisine from a fine dining menu crafted by three-Michelin-starred Chef Arnaud Lallement.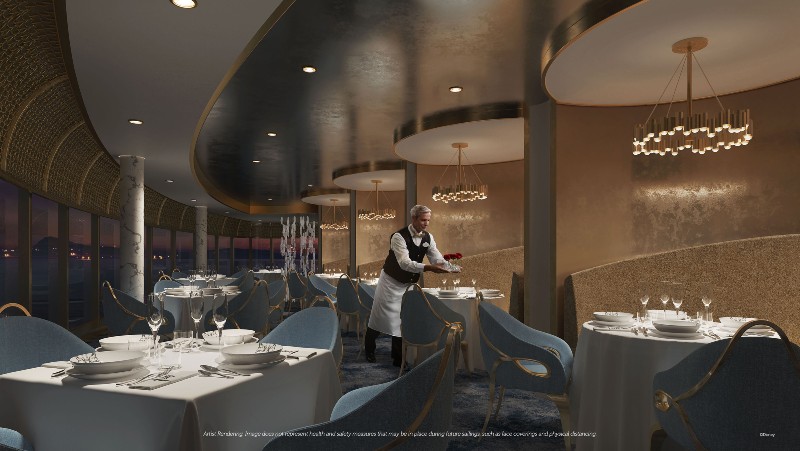 Inside Out: Joyful Sweets
Disney Wish has a dessert shop with a huge range of gelato, ice cream and candy available for an extra charge. There are almost 40 flavours of ice cream to choose from and colourful cupcakes, handmade truffles, chocolate brownies and designer cookies aplenty.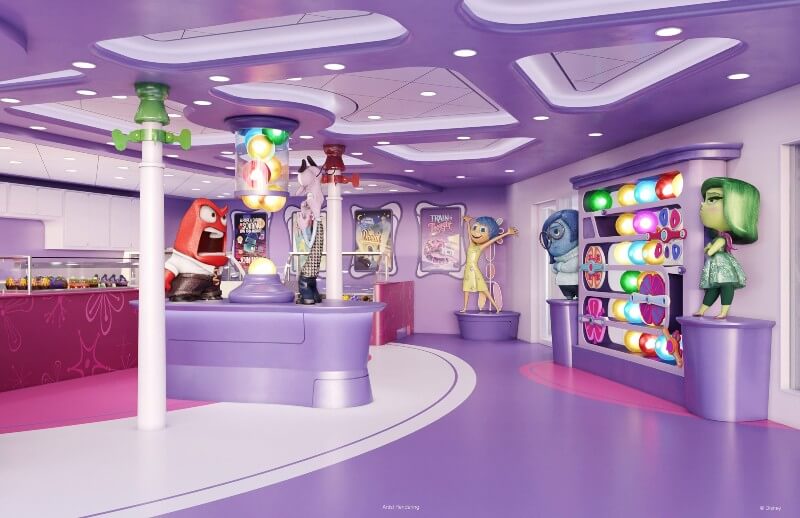 Olaf's Royal Picnic
Another speciality dining experience for an extra fee is Olaf's Royal Picnic. Accompanied by the characters from Frozen, families will enjoy picnic food served on blankets that they can take home with them afterwards.
Does Disney Wish Have Palo Brunch?
Disney Wish does offer a Palo brunch at the Palo steakhouse. It costs $50 and includes a choice of breakfast and lunch items including eggs Benedict, savoury frittatas, pancakes, chicken parmigiana and lasagne. You can read more about it on the Disney Cruise Line Blog.
Does Disney Wish Have Vegan Options?
Disney Wish offers vegan options at every restaurant. Disney Cruise Line has a partnership with Impossible Foods, so vegans and vegetarians can enjoy Impossible burgers, plant-based chili dogs, vegan pepperoni pizzas and more on board the Disney Wish.
While some vegan items are on the menu, not everything is. The vegan omelette, for example, is something of a secret, but one that you won't want to miss!
Suggested read: Disney Cruise Vegan Options & How to Order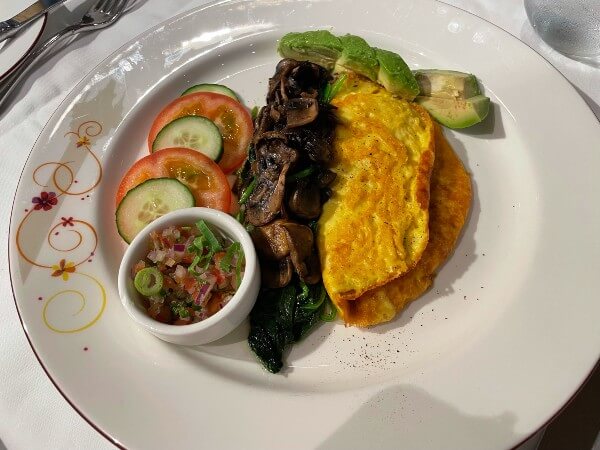 Accommodation
How Many Staterooms Are On Disney Wish?
The Disney Wish has 1,254 staterooms. 70% of these have a balcony and most also feature Disney Cruise Line's signature split bathrooms. There are 451 connecting doors so that larger families can be accommodated across two rooms.
Every stateroom includes a bathtub so children can enjoy a bath in comfort. The closets are super roomy too, with lots of storage under the bed to store suitcases and bulky items.
Each room on Disney Wish features the following facilities:
43-inch TV
USB and USB-C ports
Large vanity
Refrigerator
Full-length mirror
Safe
Hair dryer
Privacy curtain
Queen bed and extra beds
Deluxe toiletries
Lavish bedding
How Many Concierge Rooms Does Disney Wish Have?
Disney Wish has 76 concierge staterooms and suites – more than twice as many as on any other Disney cruise ship. Sleeping up to five guests, these rooms feature luxurious decor and amenities, access to exclusive areas on board and more extra perks.
Suggested read: Disney Concierge – Is It Worth It?
Disney Wish Staterooms & Suite Categories
Here's a list of the different staterooms and suites on the Disney Wish:
| Room | Categories | Sleeps | Size (sq. ft) |
| --- | --- | --- | --- |
| Standard Inside | 11A, 11B, 11C | 4 | 169 |
| Deluxe Oceanview | 9A, 9B, 9C, 9D | 4 | 218 |
| Deluxe Family Oceanview | 8B, 8C | 5 | 237 |
| Deluxe Oceanview with Veranda | 5A, 5B, 5C, 6A, 6B, 7A | 4 | 243 |
| Deluxe Family Oceanview with Verandah | 4A, 4B, 4C, 4E | 4 | 284 |
| Concierge Family Oceanview with Verandah | 3A | 5 | 296 |
| Concierge Family Oceanview | 3B | 5 | 357 |
| Concierge 1-Bedroom Suite with Verandah | 2B | 5 | 608 |
| Concierge 1-Bedroom Suite with Extended Verandah | 2A | 5 | 1,031 |
| Concierge 1-Story Royal Suite with Verandah | 1C | 6 | 1,507 |
| Concierge 2-Story Royal Suite with Verandah | 1B | 6 | 1,759 |
| Concierge Wish Tower Suite | 1A | 8 | 1,966 |
To learn more about each of the different Staterooms and Suites and for help deciding which is the best one for your family, be sure to check out my guide to Disney Wish Staterooms & Suites.
Does Disney Wish Have Magic Portholes?
Magic portholes offer guests in inside staterooms a real-time view of the outside with the help of screens and cameras. While these are popular on the Disney Dream and Disney Fantasy, there are no virtual portholes on the Disney Wish.
Itineraries
Where Does The Disney Wish Sail?
Disney Wish cruises depart from Port Canaveral, Florida. Offering only three- and four-night cruises, the ship sails to Disney Cruise Line's private island, Castaway Cay. Four-night cruises also include a stop in Nassau, Bahamas.
Suggested read: Things To Know About Castaway Cay
Will Disney Wish Do 7-Night Cruises?
There are currently no plans for Disney Wish to offer seven-night cruises. The itineraries alternate between three and four nights. So if you wanted a longer cruise, you would need to book two cruises back-to-back.
How Much Is A Ticket For A Disney Wish Cruise?
Disney Wish cruise prices start at $1,745 for a three-night cruise for two people in an inside room. Ocean view rooms cost from $1,925, rooms with balconies costing from $2,153. Concierge rooms are priced from $4,313.
NEW DEALS JUST RELEASED!
Don't miss the latest Disney Cruise Line offers…
Three-night cruises in the Disney Wish Tower Suite in the funnel cost at least $20,000 for two adults. You'll have to be quick though, there's only one of these suites and it usually gets booked up really quickly.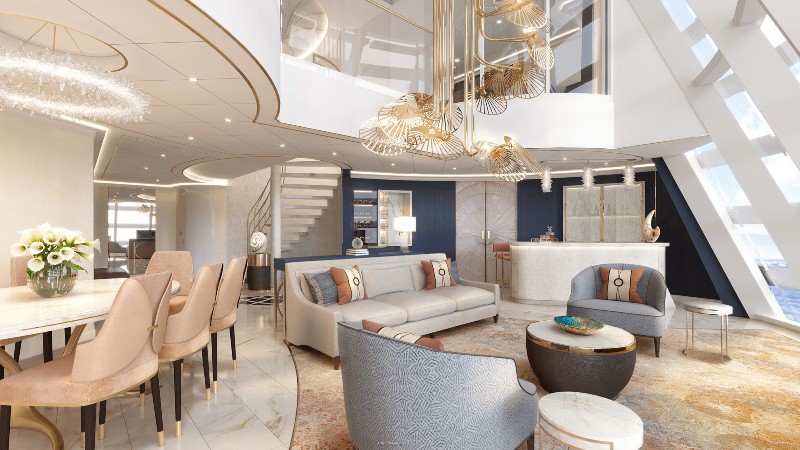 For more information about how much you can expect to pay for a Disney cruise, check out my guide: How Much is a Disney Cruise Compared to Other Cruises?
To Conclude
Disney Wish is one of the most exciting new cruise ships to launch in 2022 and is the first new Disney cruise ship for ten years!
I thoroughly enjoyed my cruise on the Disney Wish and have a full review of it coming very soon. I also really enjoyed my cruise on the Disney Magic, but if I had to compare the two ships, then the Disney Wish wins, hands down.
NEW DEALS JUST RELEASED!
Don't miss the latest Disney Cruise Line offers…
Related Posts: