If you want to experience something a little more special on a Disney cruise, then you might want to try Disney Cruise Line's Concierge level.
Booking a Concierge stateroom or suite gets you some luxurious benefits that make your whole cruise feel a lot more special. Those benefits don't come cheap though – Concierge is often a pretty hefty upgrade.
So, let's take a look at everything you get with DCL Concierge, and how much it costs, so you can decide whether it's worth it for your next cruise…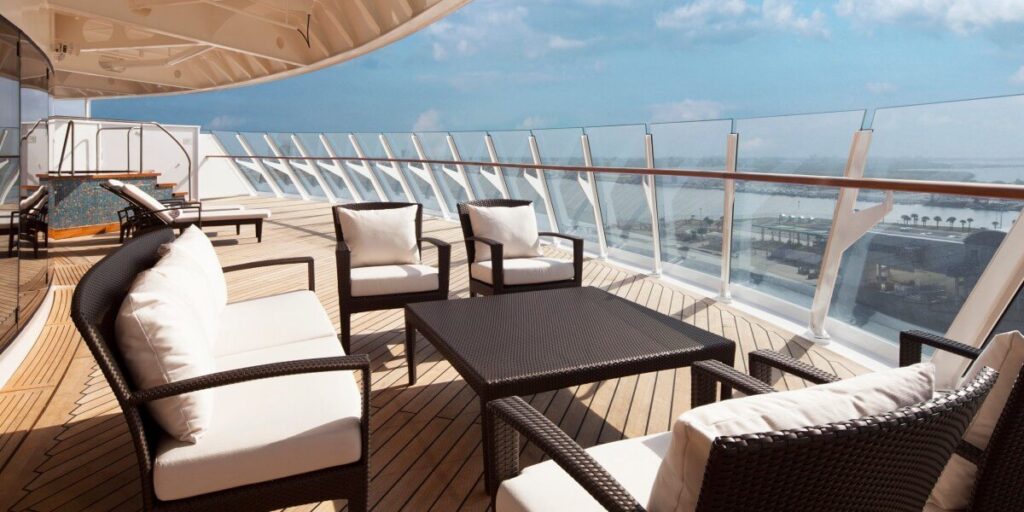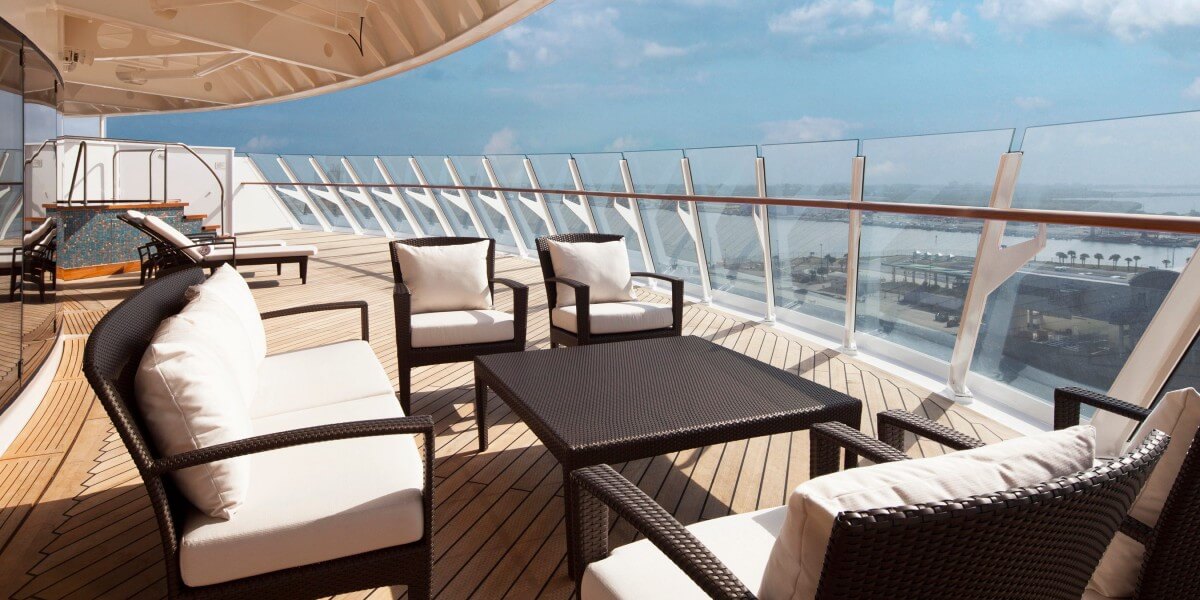 What is Concierge on a Disney Cruise?
Concierge on a Disney cruise is essentially a premium category of accommodation. Concierge-level staterooms and suites are the best on the ship and they come with a number of additional benefits, as well as access to the Concierge lounge.
Every Suite on a Disney cruise is considered part of the Concierge class, while there are also some Oceanview Staterooms with Verandahs that have the benefits.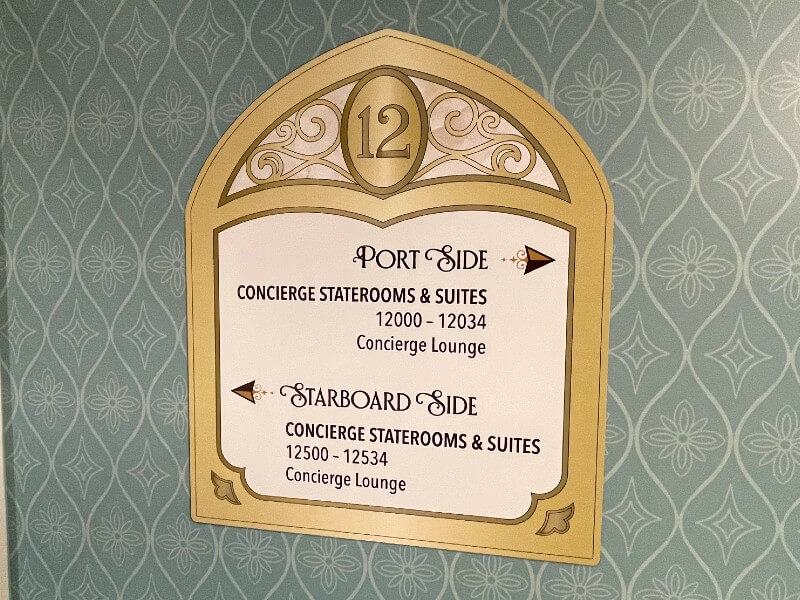 Not many though – so don't expect hundreds of Concierge guests on every voyage. Numbers are kept lower because these rooms do cost a lot more, and guests expect not to be crowded when they're taking advantage of the Concierge-level services.
How Much is Concierge on a Disney Cruise?
The price for Concierge on a Disney cruise will vary. All suites are Concierge-level, so the suite price that you see is inclusive of Concierge services. A typical 7-night cruise will cost around $2,500 per person for a deluxe Verandah stateroom, and $5,000 per person for a similar room with Concierge.
NEW DEALS JUST RELEASED!
Don't miss the latest Disney Cruise Line offers…
That's quite the extra price jump since it essentially doubles the price of your room. And with two guests that's a pretty huge difference of $10,000 compared to $5,000.
Adding a child to a room costs less but still almost doubles when you look at a Disney Concierge cruise. Instead of $6,000 for a typical Family room with Verandah, you'll pay around $12,000.
As I say, these prices will vary depending on the time of year, the destination, and the length of the cruise. But it just proves that Concierge isn't some low-cost addition, and you'll definitely want to weigh up the benefits to see if it's worth the extra cost.
You could easily get two cruises for the price of one if you opt out of a Disney Cruise Concierge room!
Suggested read: How Much is a Disney Cruise Compared to Other Cruises?
So is DCL's Concierge-level worth it? Let's take a look…
What Does Concierge Get You on a Disney Cruise?
Concierge-level on a Disney cruise lets you access a private lounge during your voyage, and gives you a number of extra benefits including a Concierge Host to attend to any needs you have, early boarding, and more. 
The idea is that you'll experience a more luxurious cruise than passengers who've chosen not to book a Concierge class stateroom. It's an even more special experience.
As to whether it's worth it – that depends on how much you'll use each of the perks.
List of Disney Cruise Concierge Perks
Here are the Disney Cruise Concierge benefits you can enjoy:
Priority boarding and disembarkation
Various extra benefits in your stateroom
Access to the Concierge Lounge with free food and drinks
Access to the Concierge Sundeck
Priority booking for dining and excursions
Support from the Concierge Hosts to manage anything you need
Free wifi
Free gifts throughout the cruise
Sounds good? Let's explore these in a little more detail…
1. Priority Boarding and Disembarkation
On the first day of your cruise, guests who've booked a Concierge stateroom have a priority line for check-in, and a separate waiting area once they've made it through the terminal.
The Concierge Hosts will then come to escort these guests onto the ship first, before anyone else is permitted to board.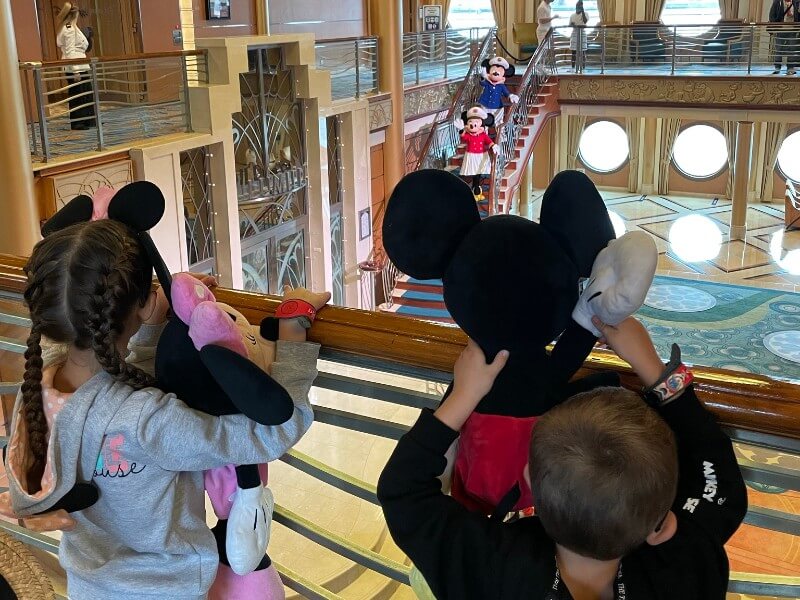 Guests are taken straight to the Concierge Lounge on the ship, where they'll be able to enjoy a special embarkation lunch with selected free alcoholic drinks. The menu isn't really different from anywhere else serving an a la carte lunch on the ship, but you'll be able to enjoy it earlier and in a quieter location.
The Concierge Hosts will also use this time to run through your itinerary so far, and ask if there's anything you want to change or book. This is good as there can often be a scramble to book activities as soon as you board and some things get booked up right away.
Your room is also one of the first prepared, and it's often ready for you by midday. Other guests typically have to wait until mid-afternoon before they can access their stateroom. And they can't even dump their bag of wine outside as the whole corridor will be roped off.
You'll get a similar treatment on the final day of your cruise too. Instead of having to wait in line to disembark, you'll be escorted from the ship quickly and efficiently, beating the crowds and overall enjoying a much smoother experience.
2. In-Room Perks
There are a number of extra benefits to improve your stateroom if you book a Concierge option. These include down duvets in the main bedrooms, and a pillow menu – guests can choose from feather, hypoallergenic and memory foam.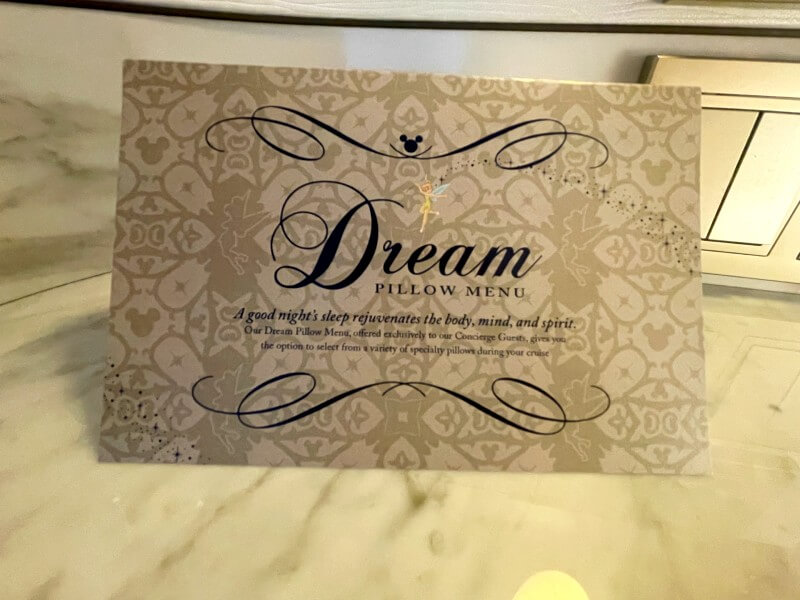 There's also a personal robe and slippers provided for use during the cruise – but don't take them home. All of the robes are super soft, but if you stay in one of the top suites then you get an upgraded luxury robe…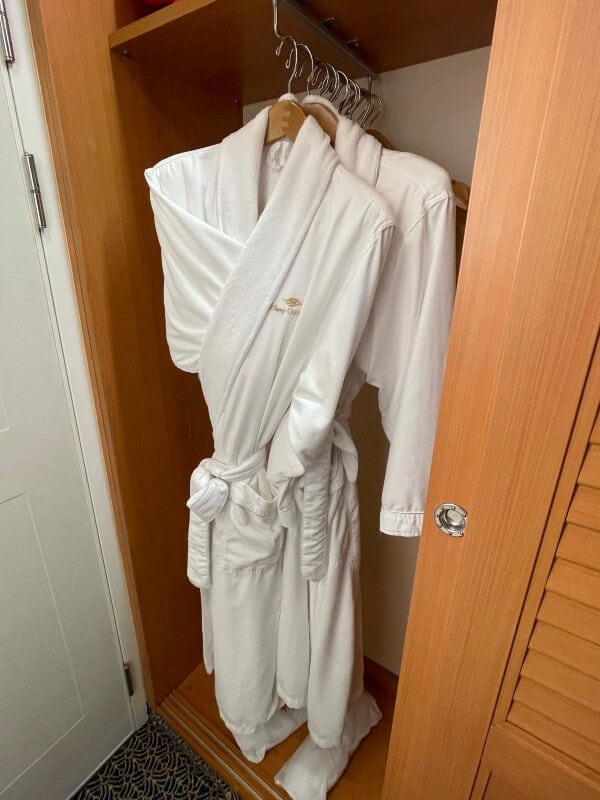 You also get nicer sofas and chairs in Concierge class, which are generally more comfortable, along with a fridge that will be regularly topped up with bottles of water and cans of soda thanks to your host.
In the bathroom, you can enjoy upgraded toiletries. All of the toiletries are nice on Disney ships, but at Concierge level, you only get the best.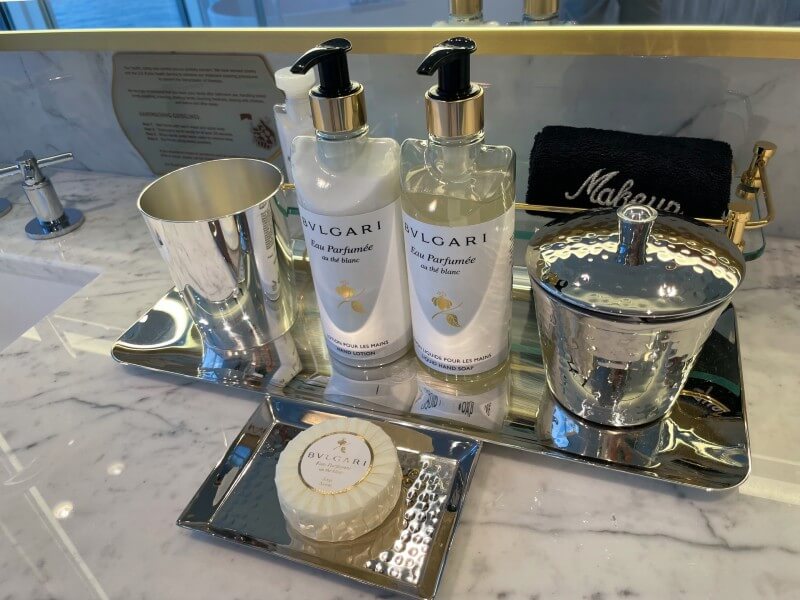 And on top of that, Disney's Concierge guests also benefit from improved in-room dining options. As well as normal room service, you can get dinner delivered to your stateroom from the main dining room. Guests in a Royal Suite can also get dinner sent to their room from Palo, the popular speciality dining restaurant.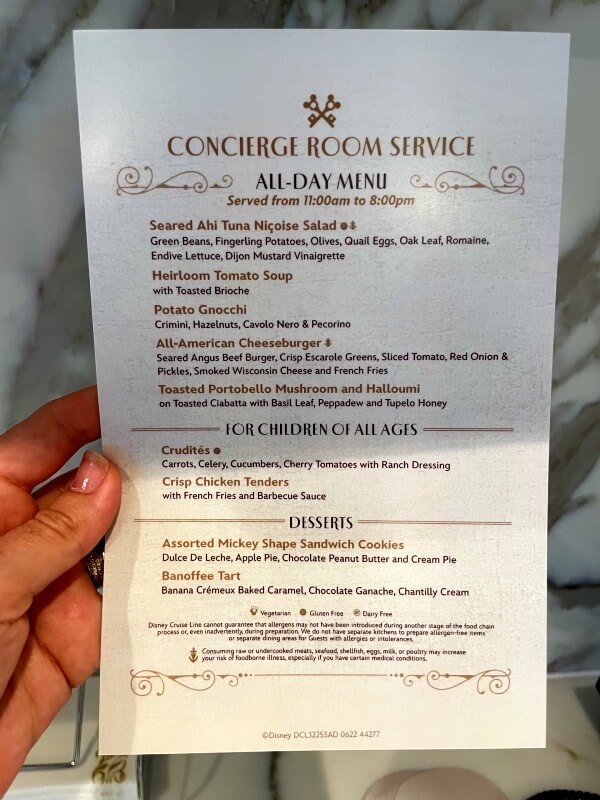 And one last sweetener – Concierge guests can enjoy room service breakfast on disembarkation day. For other guests, room service ends at 1.30 am on the last night, so this is just a little extra time to enjoy a bite in your stateroom before you depart.
3. Concierge Lounge
The Concierge Lounge is available on all Disney ships – Disney Dream, Disney Fantasy, Disney Magic, Disney Wonder and Disney Wish. It's located on Deck 10 for the Magic and Wonder, and Deck 12 for the Dream, Fantasy and Wish.
Guests are escorted here on embarkation day to enjoy lunch away from the crowds (though guests are free to wander off and explore if they prefer). And then the lounge is open daily from early morning to around 10 pm at night, offering a comfortable and luxurious place to relax.
Breakfast, light lunch items and snacks are available throughout the day, along with soft drinks in a help-yourself fridge that's always kept stocked up.
In the evenings, bartenders will serve alcoholic drinks too, most of which are free (any with a charge will be made clear so you aren't stung).
There are special events held in the lounge for guests too, including special character meet-and-greets that again are much less crowded and mean that you don't have to wait in lines to have your photo taken with a popular Disney character.
And one last little treat – as well as the cookies and marshmallow snacks that are available for free throughout the day, look out for bags of popcorn that you can pick up to take with you to the shows or the movies on board.
4. Concierge Sun Area
As well as a Concierge Lounge, there's also a private Concierge sundeck where you can relax and enjoy a more peaceful time than you would by the side of the busier pools.
The sun decks are situated one deck higher than the lounge – so that's Deck 11 for most of the ships, except for Disney Wish where it's on deck 13. The facilities and size vary depending on the ship too – the Disney Magic and Disney Wonder are missing private hot tubs, but it's still a nice place to relax.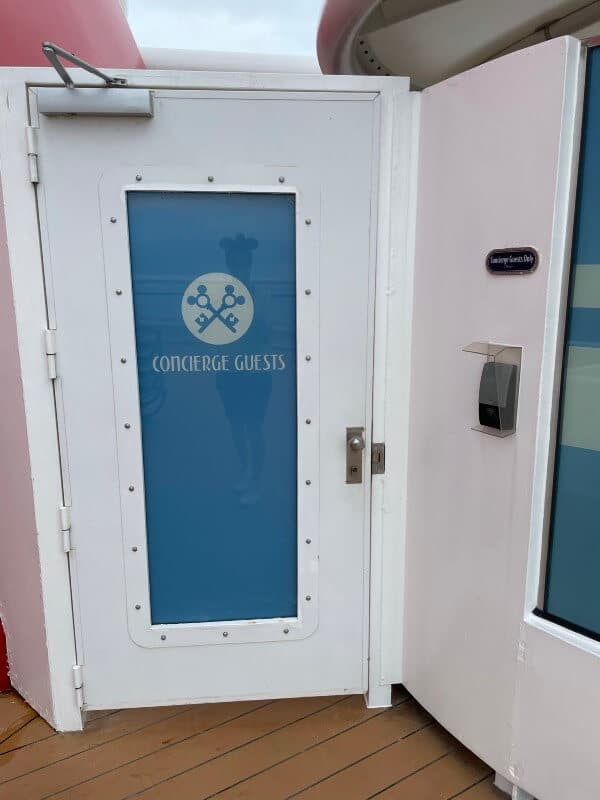 What really helps to make it feel more luxurious is the small added extras, including suncream – no need to remember to bring your own, it's all there ready for you.
There are towels on-hand as well and they even have Evian facial sprays that you can use to cool off, which is definitely extravagant.
5. Priority Activity Booking
A lot of the experiences on a typical Disney cruise – including speciality dining restaurants and excursions – are in high demand. So having the advantage of being able to book earlier is definitely not something to be ignored.
Concierge guests are able to make bookings at the same time as Platinum Castaway Club guests on the ship, but they're actually permitted to send in their requests five days earlier than that. And when the booking window does open, Concierge guests are given priority.
In most cases, this priority treatment isn't too detrimental to everyone else's experience. On most cruises, there is plenty of time for guests to enjoy speciality dining at Palo, and most of the excursions have a lot of space – there aren't that many Concierge guests on each sailing.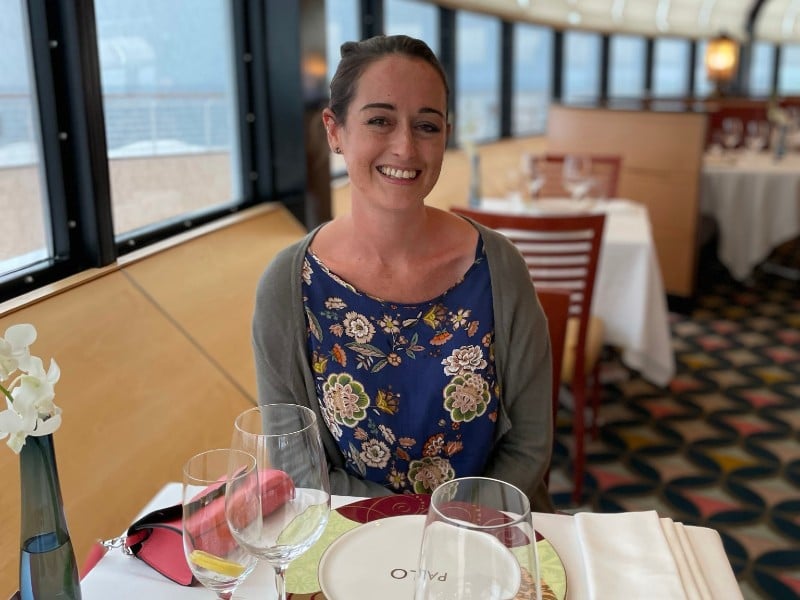 Where this tends to really matter is with the cabanas on Castaway Cay. If your cruise visits Disney's private island, then booking a Concierge stateroom or suite is the only way to guarantee you'll get a cabana for the day. They are limited, and they do book up fast.
Suggested read: 33 Secrets To Know About Castaway Cay
Special activities are also offered to Concierge guests too, such as the Palo Be Our Guest cooking experience. While technically open to all passengers, Concierge guests often book up this limited eight-person event, so most of the time guests in standard rooms don't even stand a chance.
6. Concierge Hosts
The Concierge Hosts are the people who make sure that everyone in a Concierge stateroom or suite has the best cruise experience possible.
Rather than one host to a room, there's usually a small team covering all the Concierge guests, but there are more than enough to make sure you never have to wait for anything onboard.
Concierge Hosts are essentially your own butler and booking agent rolled into one. They are able to manage a lot of different services on your behalf, including booking excursions, adding money to your onboard account, securing or moving a dining reservation, and booking a placeholder stateroom or suite for your next cruise.
And they don't just book anything. If you use your host to book a table at a restaurant with entertainment, expect one of the better seats with the best views. Their only job is to make Concierge guests happy, so they go above and beyond.
And they'll take the time to learn about you as you go through your cruise. Enjoying one type of soda more than the others in your fridge? They'll make sure you don't run out. Particular taste for the dessert snacks on board? Don't be surprised to find one waiting for you in your room at the end of the day!
If you want to feel like you're a VIP on your cruise, the Concierge Hosts will definitely give you that impression.
7. Free WiFi
One of the smaller perks of Concierge rooms, but one that's still worth having. All guests on a Disney cruise will get 50Mb of internet access free at the start of their voyage, provided they sign up for an internet package on the first day.
But book a Concierge room, and pay for the internet package, and you'll get 100Mb free instead.
That's not a huge amount if you plan on spending time uploading photos or watching videos, but if you're only sending emails and keeping friends and family up to date, it'll mean that your internet allowance stretches a lot further before you have to pay.
Of course, if you do intend to use the internet a lot, you could pay for a Royal Suite on-board, where you get completely unlimited WiFi access throughout your entire cruise.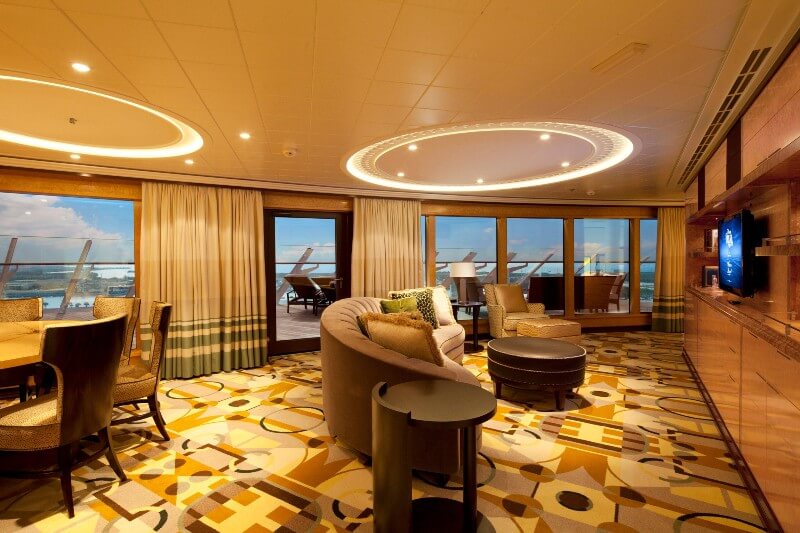 8. Gifts
Throughout your cruise, you'll be given little extra gifts to make your cruise that bit more special. These gifts vary and aren't guaranteed, but I've looked through many stories of people who've booked a Concierge stateroom or suite and pulled together some examples of what you can expect.
Guests often enjoy a free fruit basket on their first day, which is handy if you're looking for some healthier snacks for you or the kids. However it's not all healthy – don't be surprised if some Mickey-shaped sweet treats make it into your room at some point over your cruise, especially if you have younger travellers with you. Concierge Hosts love to make a cruise as special as possible for kids.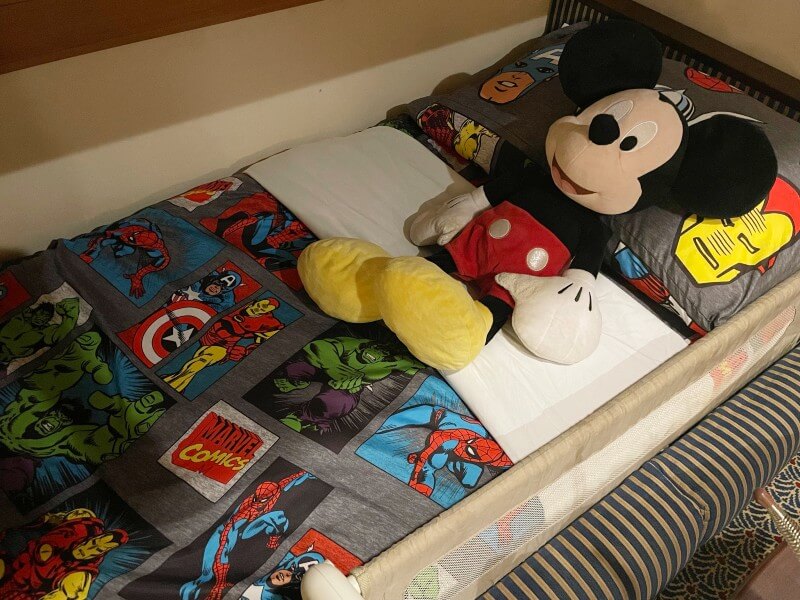 And on the last evening, you'll often receive a more substantial leaving present for the end of your cruise – guests have often received special sketches drawn by a Disney expert to take home with them, showing some of the famous characters.
It's a lovely memento of your voyage and something you could frame and hang at home to remind you of your special cruise – or to nudge you to book your next one.
So, Is Disney Cruise Line Concierge Worth It?
Honestly, there's no single answer here on whether Disney's Concierge service is worth it. If you're on a budget then I'd probably suggest it's not something to book, since you can put the extra money aside for potentially an entirely new cruise holiday instead. And a 'standard' Disney cruise is still a really special experience.
But if you have the money available, then Concierge is a really nice upgrade overall. The Concierge Hosts really make the difference – from the private escort onto the ship and from the ship on disembarkation day, to their willingness to run any little errand you need – they leave you to fully focus on relaxing.
It's worth factoring in the extra tipping cost though – you're likely going to want to leave a sizeable thank-you for your Concierge Hosts, which isn't covered in the extra fare you've already paid. So, be sure to bear that in mind when you're costing it all up.
A lot of people say that Concierge is worth it more on shorter cruises, where you need the extra help to secure the bookings that you want. On a longer cruise, you won't have as much competition.
Ultimately, it comes down to how much of a VIP you want to feel like, and the budget you've got planned for your cruise.
NEW DEALS JUST RELEASED!
Don't miss the latest Disney Cruise Line offers…
Disney Cruise Concierge FAQs
Is alcohol included on Disney Cruise Concierge?
Some alcohol is included with Disney's Cruise Concierge service. Guests that attend the embarkation lunch can have some alcoholic drinks for no fee, while guests can also enjoy a selection of free beers, wines and spirits in the evenings at the Concierge Lounge.
How much do you tip Disney Concierge?
There's no set amount to tip a Disney Concierge, it is left to the guests' discretion. The suggested tip is $8 per guest, per day. Most people leave a generous tip considering how much work the Concierge do during the cruise.
When can Concierge board a Disney cruise?
Concierge guests are the first to board a Disney cruise, sometimes as early as 10 am. They get a separate queue and waiting area, from which they are escorted on board before other guests. Guests can arrive later if they prefer. Concierge rooms are also ready earlier – typically from noon, compared to 2 pm for other guests.
Related Posts: