If there's one thing that I loved about my cruise on the Disney Wish, it was the food. Disney cruises are known for amazing cuisine and immersive dining experiences, but the Disney Wish was a step above anything I'd experienced before.
In this guide, I'll show you all of the restaurants on the Disney Wish as well as some photos of the menus, for the complete Disney Wish dining guide.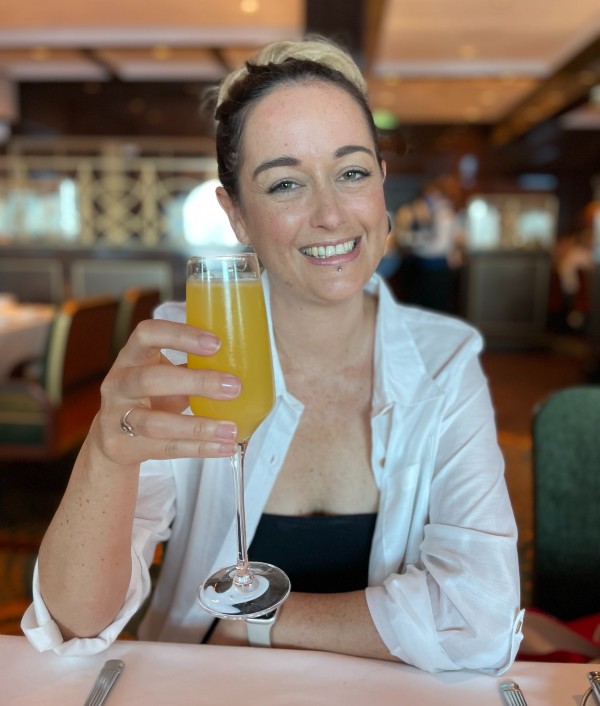 If you happen to be vegan, then you should also check out my guide to Disney cruise vegan dining, which has some more details on that.
The Restaurants On The Disney Wish
The Disney Wish has three rotational dining restaurants, two adult-only speciality restaurants, a buffet-style restaurant, a food court with five different outlets and a dessert store.
All of these dining options are included in your cruise fare, with the exception of the two speciality restaurants – Enchanté and Palo.
List of dining options on the Disney Wish:
1923 – Rotational Main Dining
Worlds of Marvel – Rotational Main Dining
Arendelle – Rotational Main Dining
Enchante – Specialty Restaurant
Palo – Specialty Restaurant
Marcelline Market – Buffet
Mickey and Friends Festival of Foods – Poolside Eats
Keg & Compass – Pub
Joyful Sweets – Desserts
Room Service
Disney Wish Rotational Dining
Like all Disney cruise ships, the Disney Wish has rotational dining. This means that you eat in a different restaurant each night and your waiters come with you.
As Disney Wish only does three- and four-night cruises, this gives guests the opportunity to sample all of the main dining rooms on board.
Here's some more information about each of the rotational dining restaurants on the Disney Wish…
1923
Named after the year that The Walt Disney Company was founded, this elegant 20s-style restaurant serves dishes inspired by California's varied heritage.
I love the decor of this restaurant, which reminded me of my Grandma's house. Kids are given an activity booklet to keep them busy. But, if you're thinking of skipping one of the rotational dining restaurants to eat in a speciality restaurant while the kids are in Disney's Oceaneer Club, then I would say that this is the one to miss.
1923 Dinner Menu | Allergy-Friendly Menu | Cocktail Menu | Dessert Menu | Kids Menu
Worlds of Marvel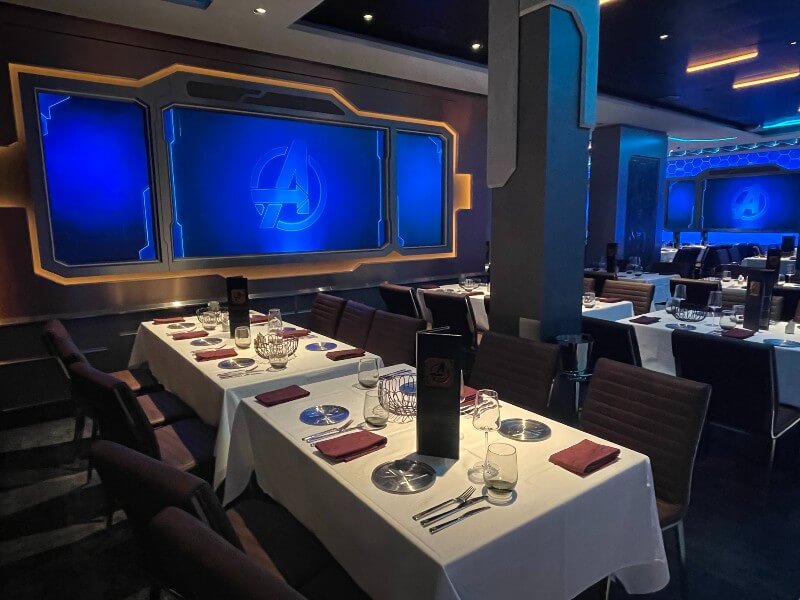 Worlds of Marvel is more than just a restaurant on the Disney Wish. It's a cinematic dining adventure where guests will play an interactive role in an Avengers mission while enjoying world cuisine.
If you plan to sail on the Disney Wish, I suggest that you go and watch the movie Ant-Man before your trip. It will give much more context to what happens in this restaurant.
World of Marvel Dinner Menu | Allergy-Friendly Menu | Cocktail Menu | Dessert Menu | Kids Menu |
Arendelle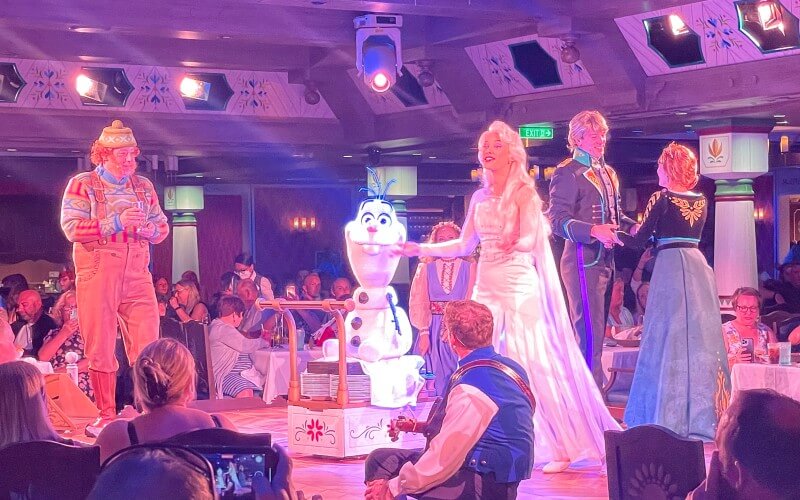 Frozen fans of all ages will love Disney's Frozen-themed restaurant, Arendelle. At the centre of the room is Ana and Kristoff's engagement party. While the characters do a tour of the room, some tables do get a much better view than others.
If you're a Concierge-level guest, then I definitely recommend speaking to your Concierge host in advance to ask if they might be able to secure you a table at the front for this one.
Arendelle Dinner Menu | Allergy-Friendly Menu | Cocktail Menu | Dessert Menu | Kids Menu |
Disney Wish Speciality Restaurants
Enchanté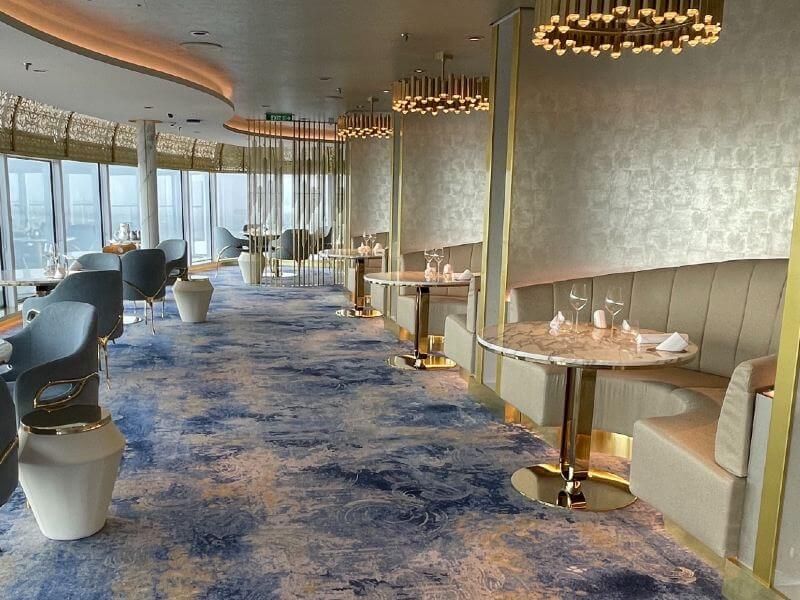 Enchanté offers French-inspired cuisine from a fine dining menu crafted by three-Michelin-starred Chef Arnaud Lallement. You can enjoy an evening meal, a Champagne brunch or if you have a sweet tooth there's a five-course 'Just Desserts' experience.
As you enter, look out for Lumiere, he's hiding amongst the candelabras on the wall!
Palo Steakhouse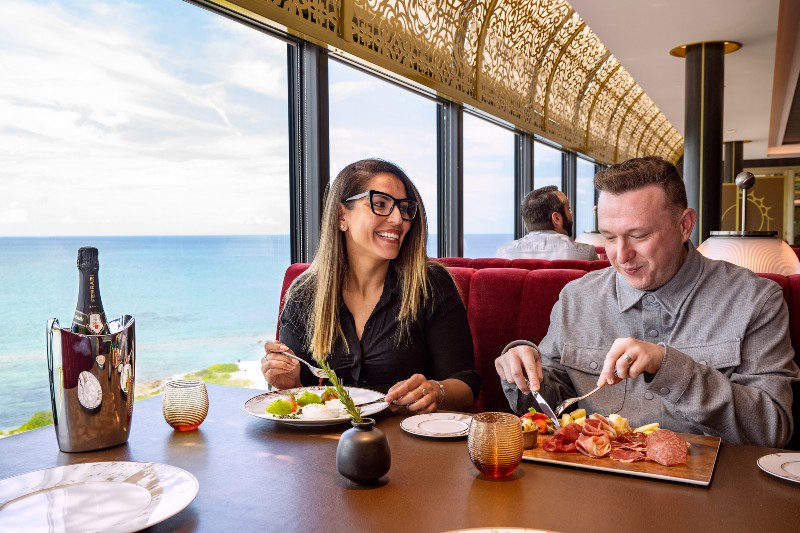 The ever-popular Palo restaurant on Disney cruise ships has had a slight name tweak on the Disney Wish and it is now called Palo Steakhouse.
In a beautiful setting inspired by Cogsworth, from Beauty and the Beast, the show-stopping menu includes a selection of Italian dishes as well as the world's best steaks. For dessert, you won't want to miss the signature Palo chocolate souffle.
Disney Wish Casual Dining Options
As well as the main dining restaurants, Disney Wish has a host of other casual eateries that are open around the clock.
Marcelline Market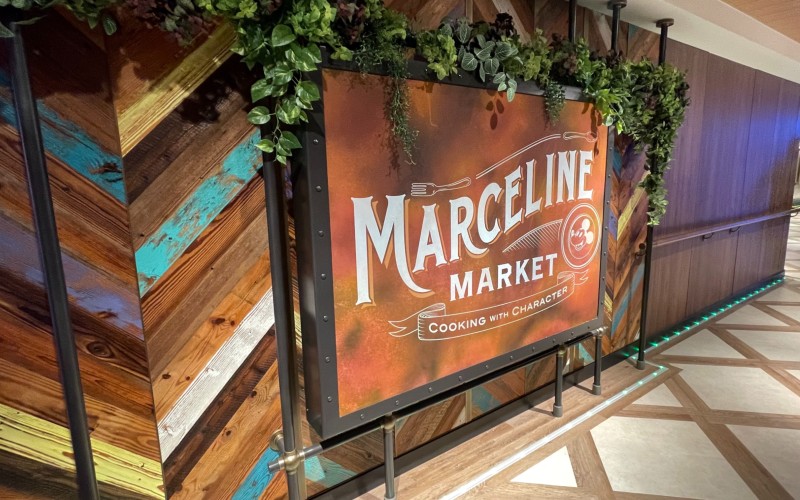 Disney's buffet restaurant on the Disney Wish is called Marceline Market. It features lots of little outlets that are inspired by street food markets from around the world.
The menu changes all the time – don't miss the extra couple of options around the back! There's a choice of indoor and outdoor seating, all with spectacular ocean views.
Mickey and Friends Festival of Foods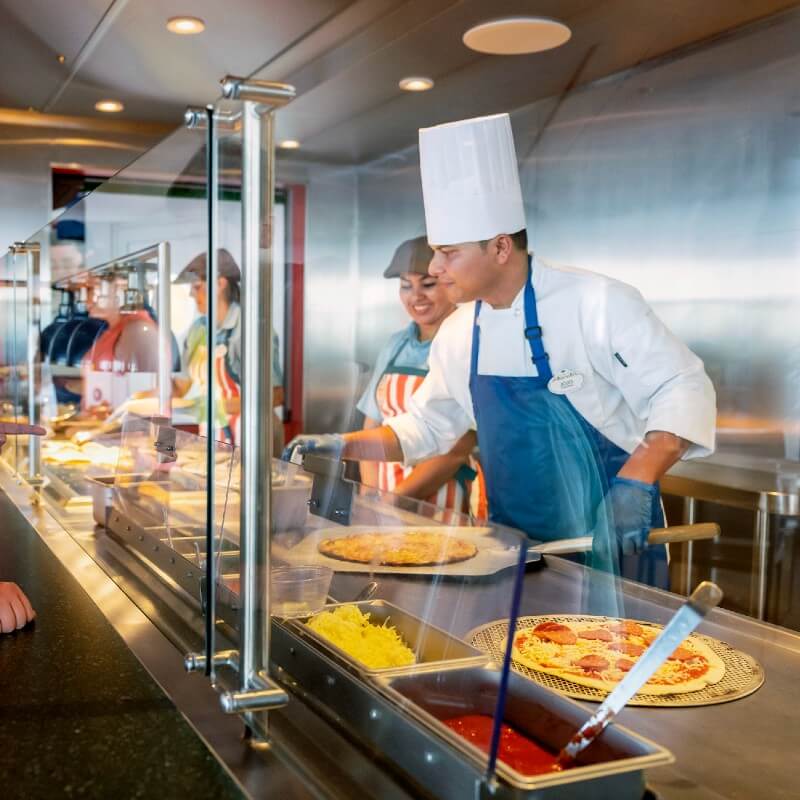 This open-air food court on the Disney Wish features five different eateries:
Mickey's Smokestack Barbecue
Donald's Cantina
Daisy's Pizza Pies
Goofy's Grill
Sweet Minnie's Ice Cream
It's open for lunch, dinner and any time in between with tasty fast food options that the whole family will love. Food is made fresh to order and you can eat it poolside on the outdoor tables that are shaded from the sun.
Keg & Compass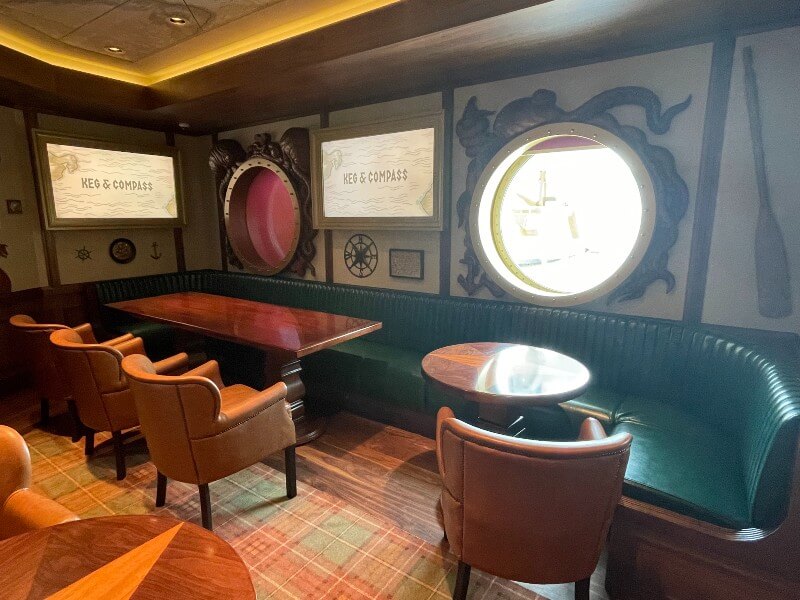 The pub on Disney Wish, The Keg & Compass, offers a 'pub grub' menu with classics like fish and chips, bangers and mash and steak and ale pie. These are all available for an extra charge. There are some good vegan and vegetarian options here too, with fishless fish and plant-based chicken tenders.
Joyful Sweets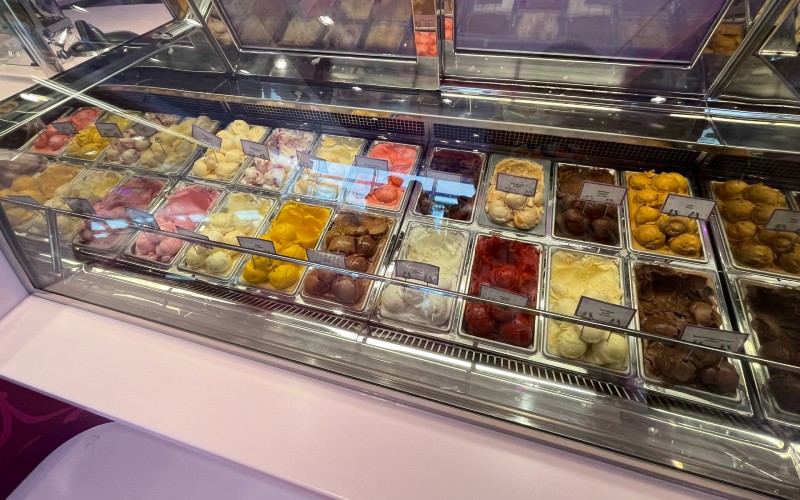 Joyful Sweets is a dessert store that's inspired by the Pixar movie, Inside Out. Here, you can enjoy ice cream, gelato, candy and novelty treats that are based around the emotions of Joy, Sadness, Anger, Fear and Disgust.
Everything costs a little extra here, but it's definitely worth a visit, even if just for a look around.
Room Service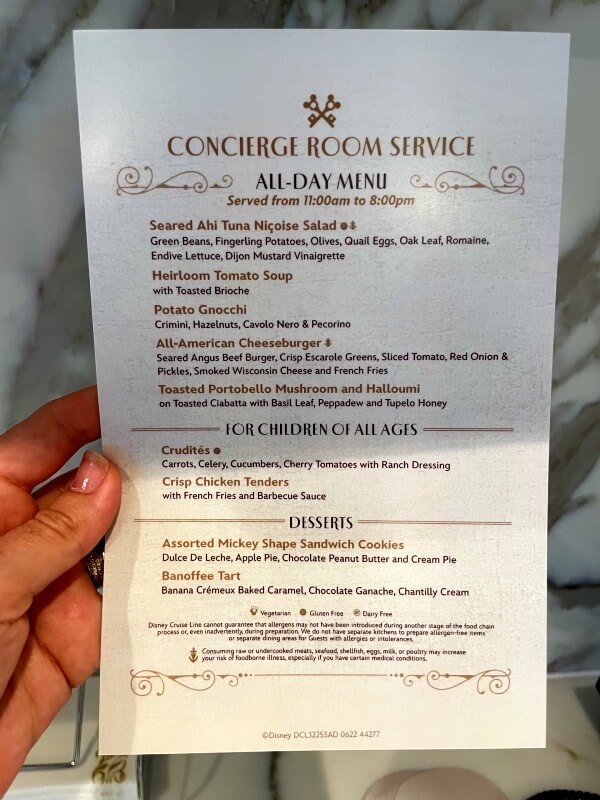 Your final dining option onboard Disney Wish is to order room service via your stateroom telephone. Room service is free on Disney cruises, but it's polite to tip the person who brings it a couple of dollars to show your appreciation.
Disney Wish Menus
When I cruised on the Disney Wish I took photos of all of the menus so you can see what's on offer. Please note that these may be subject to change.
If you have a food allergy or intolerance such as gluten-free or nut-free, then you will be given a special allergy-friendly menu.
1923 Menus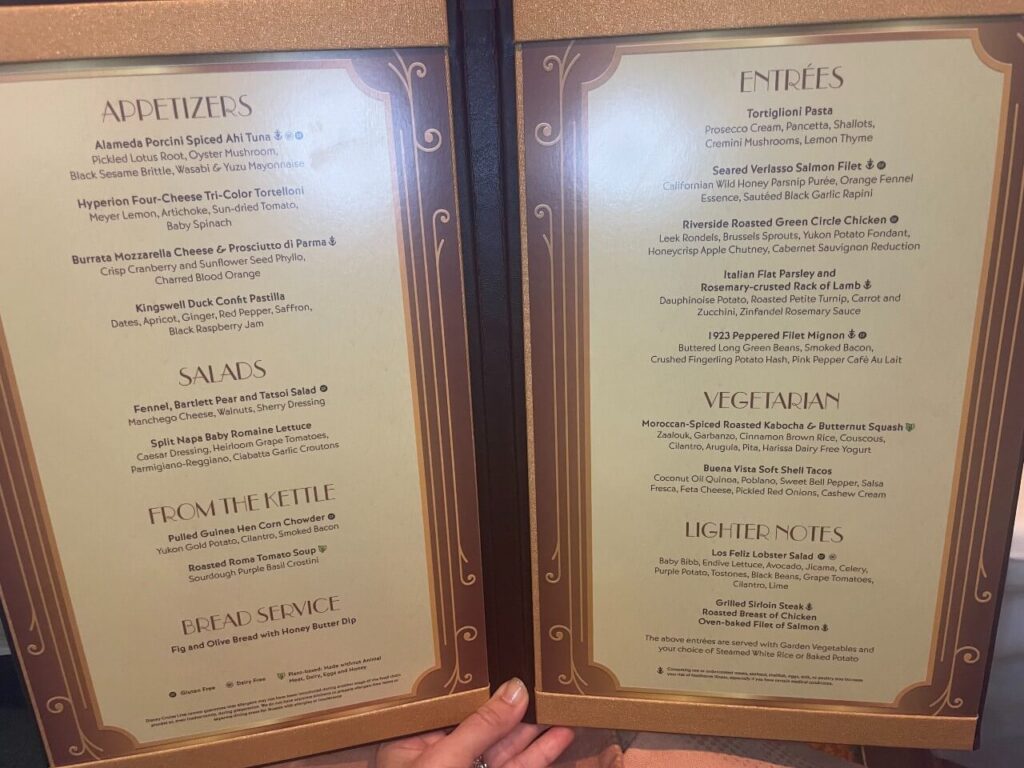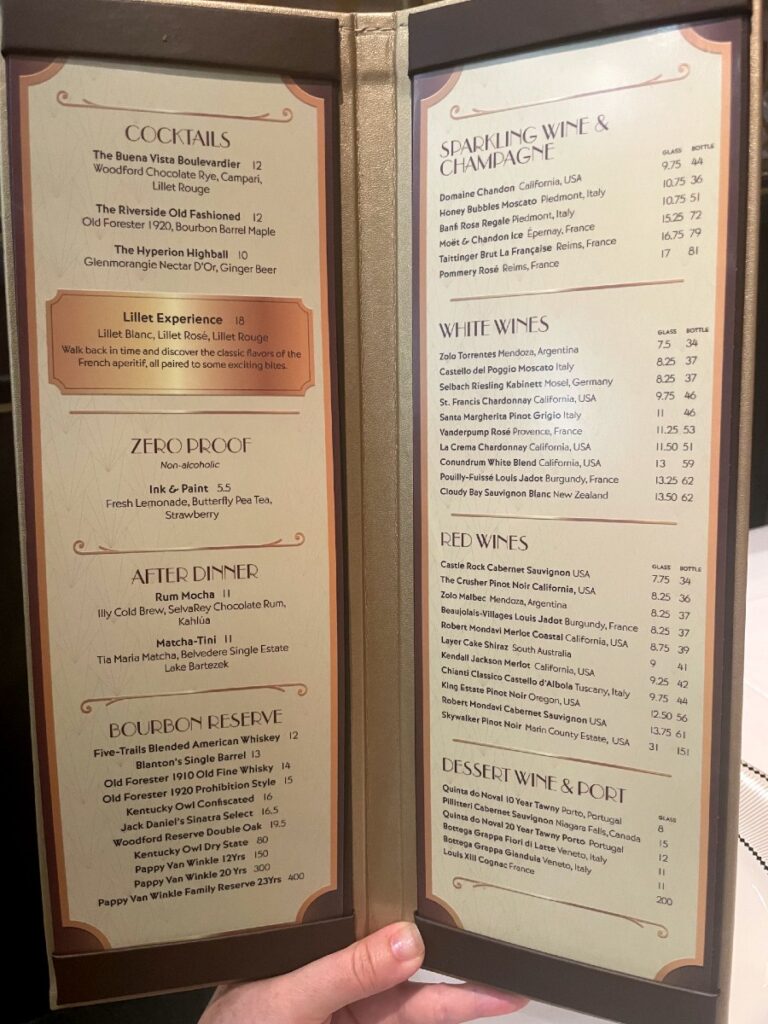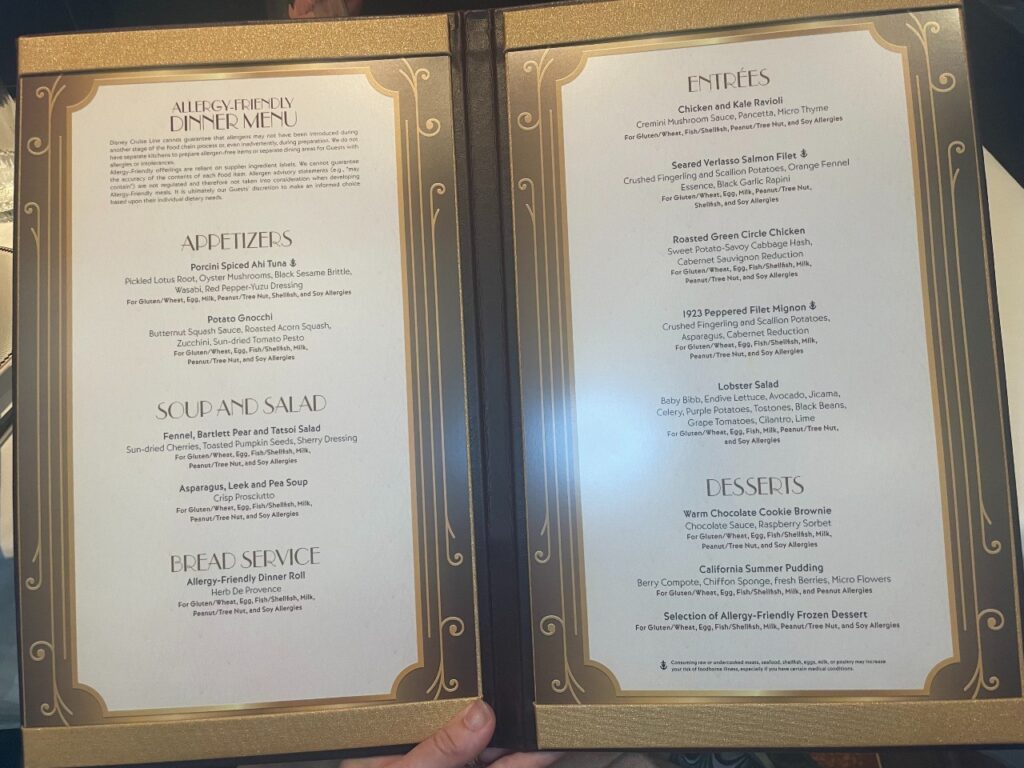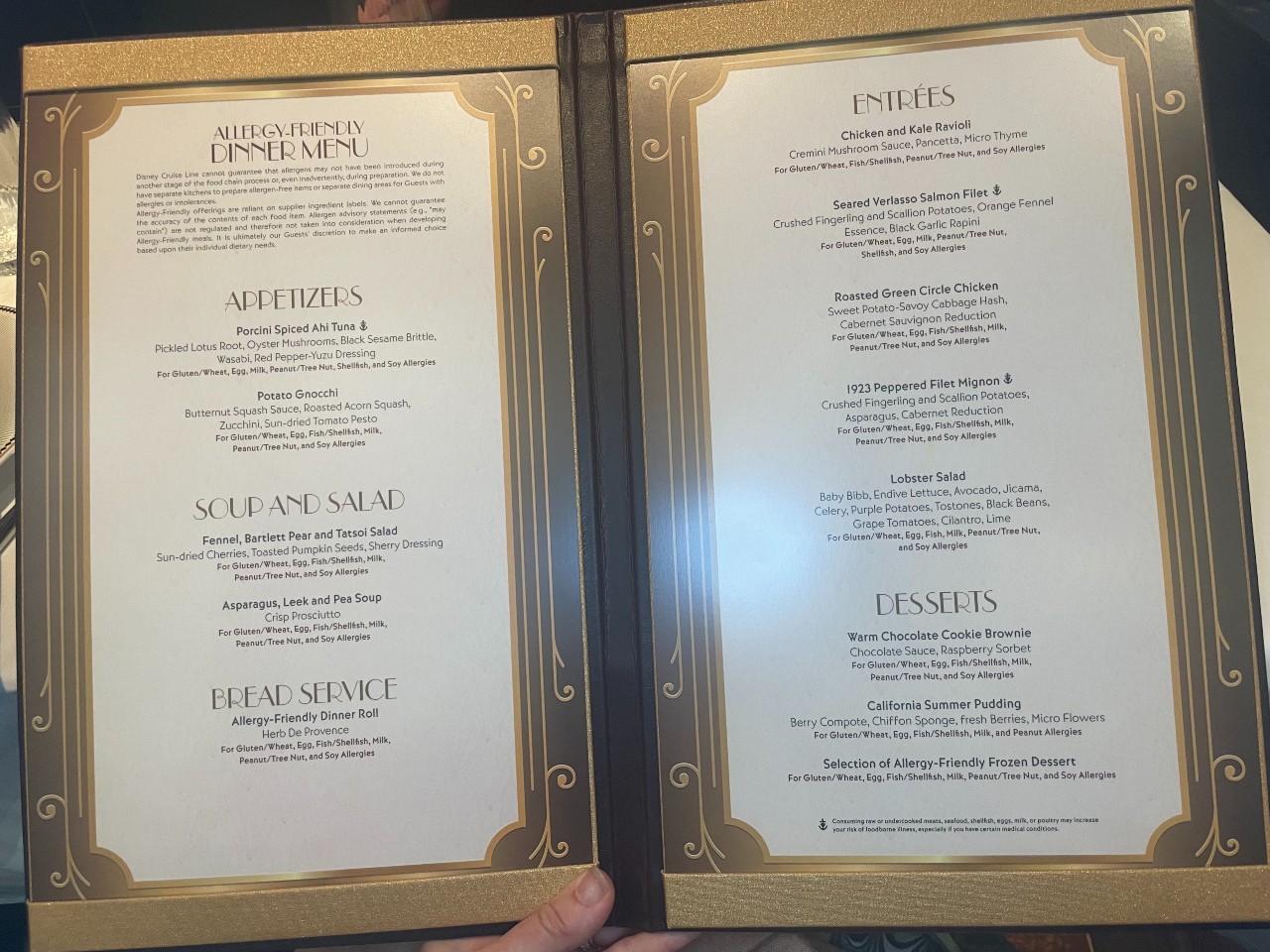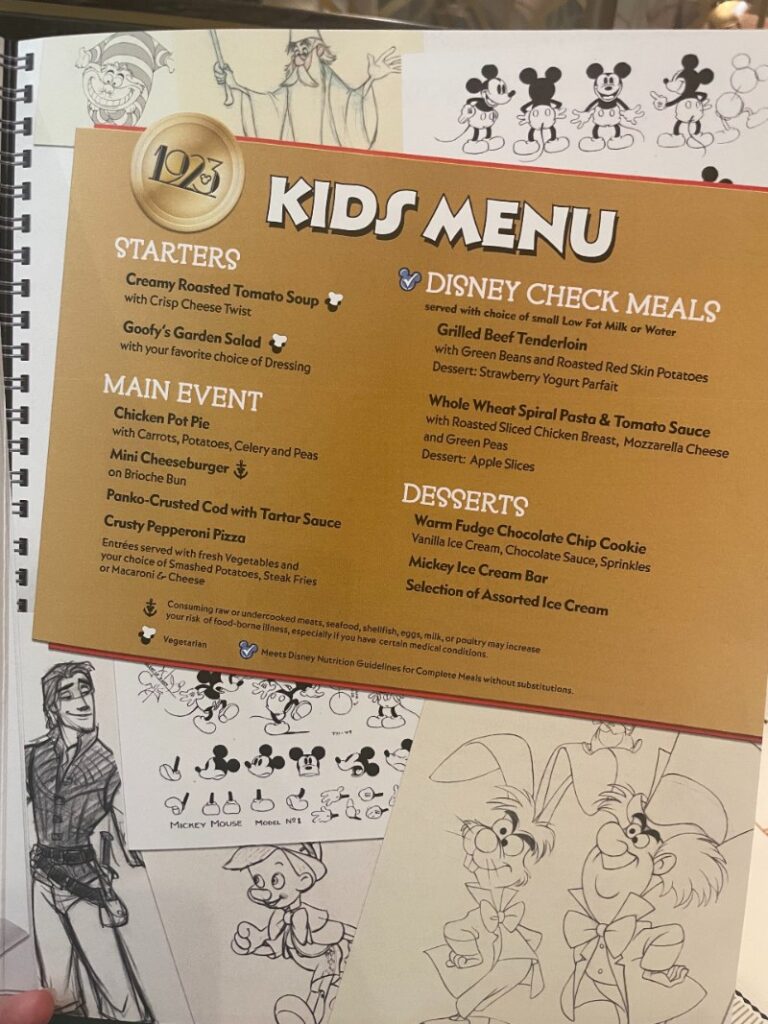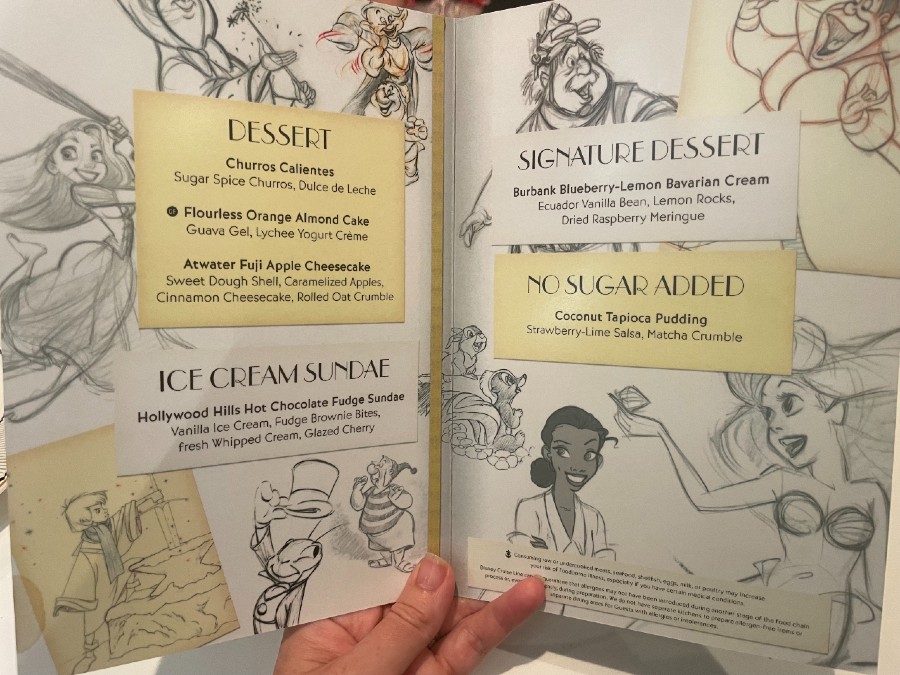 Arendelle Menus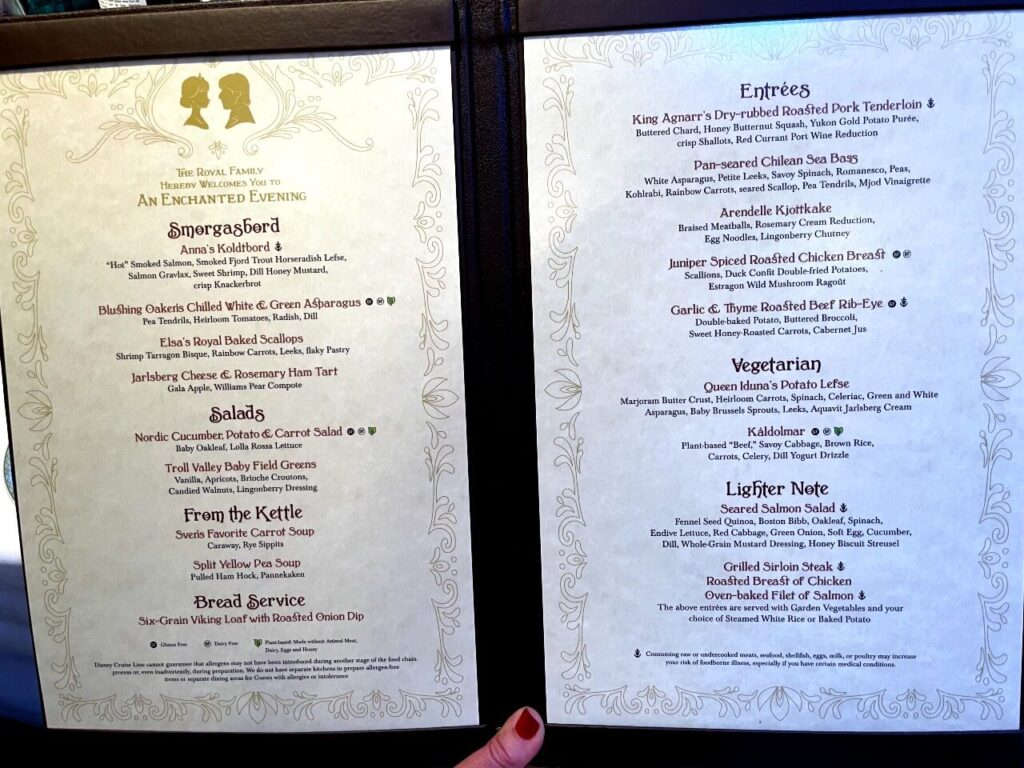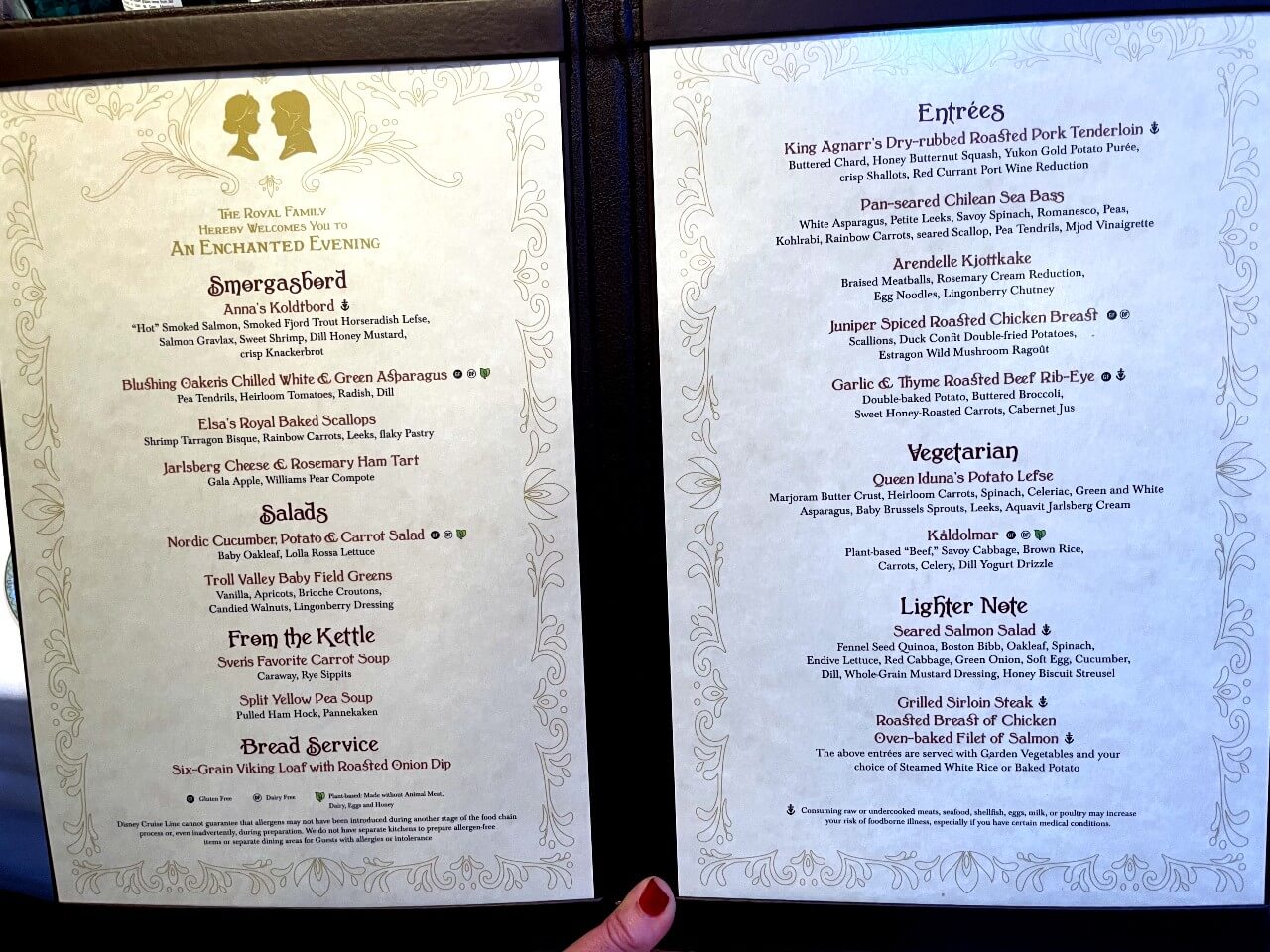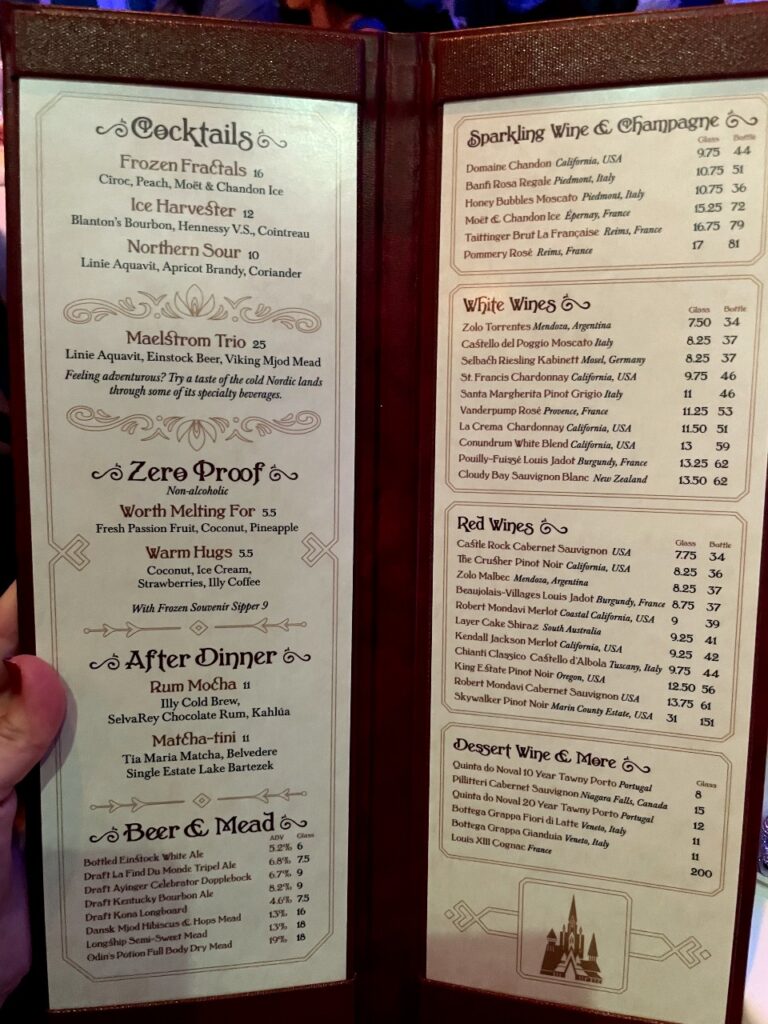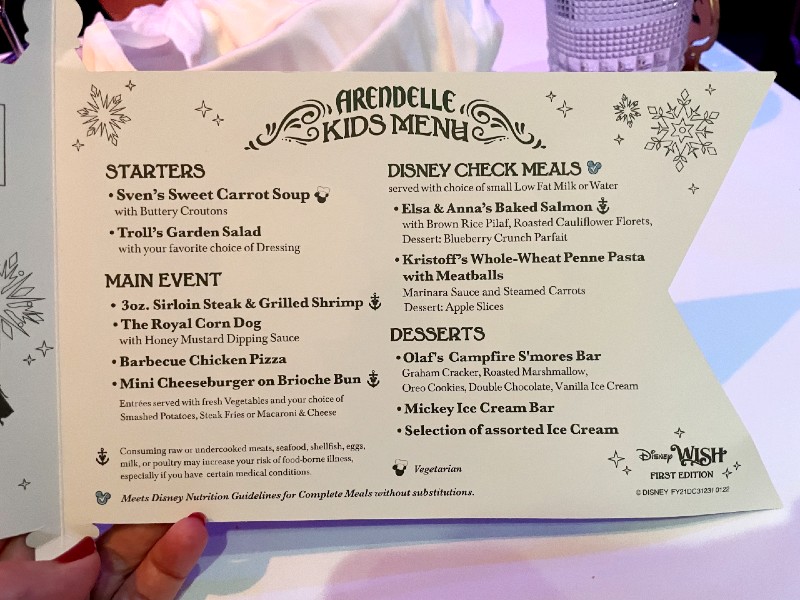 Worlds of Marvel Menus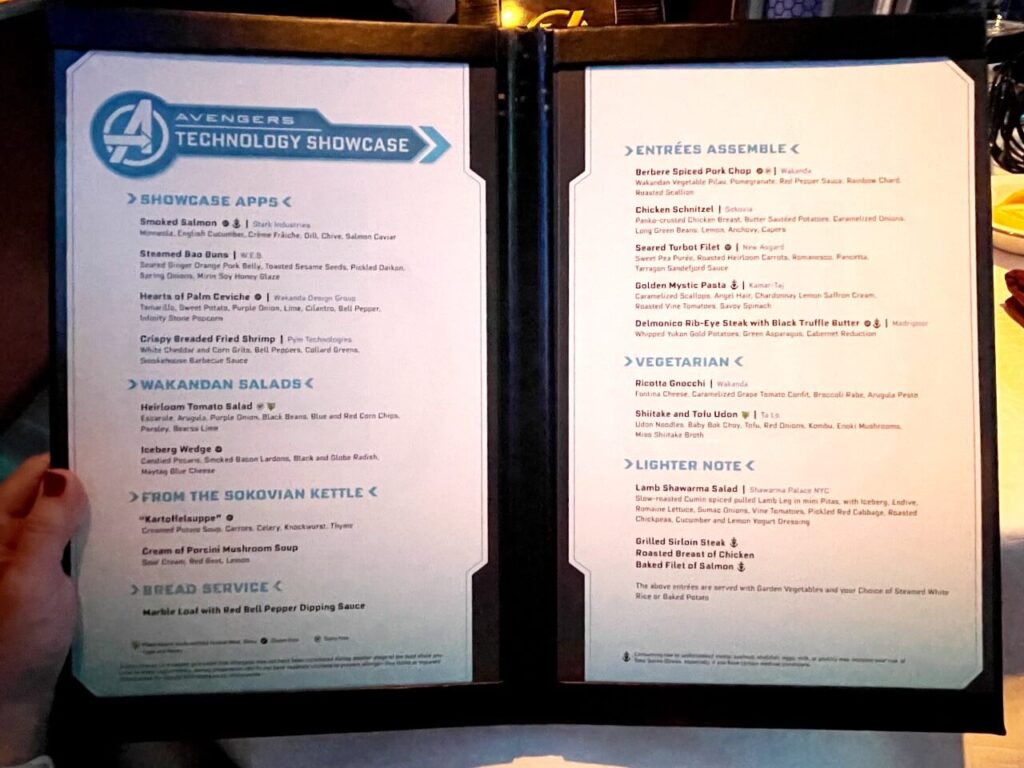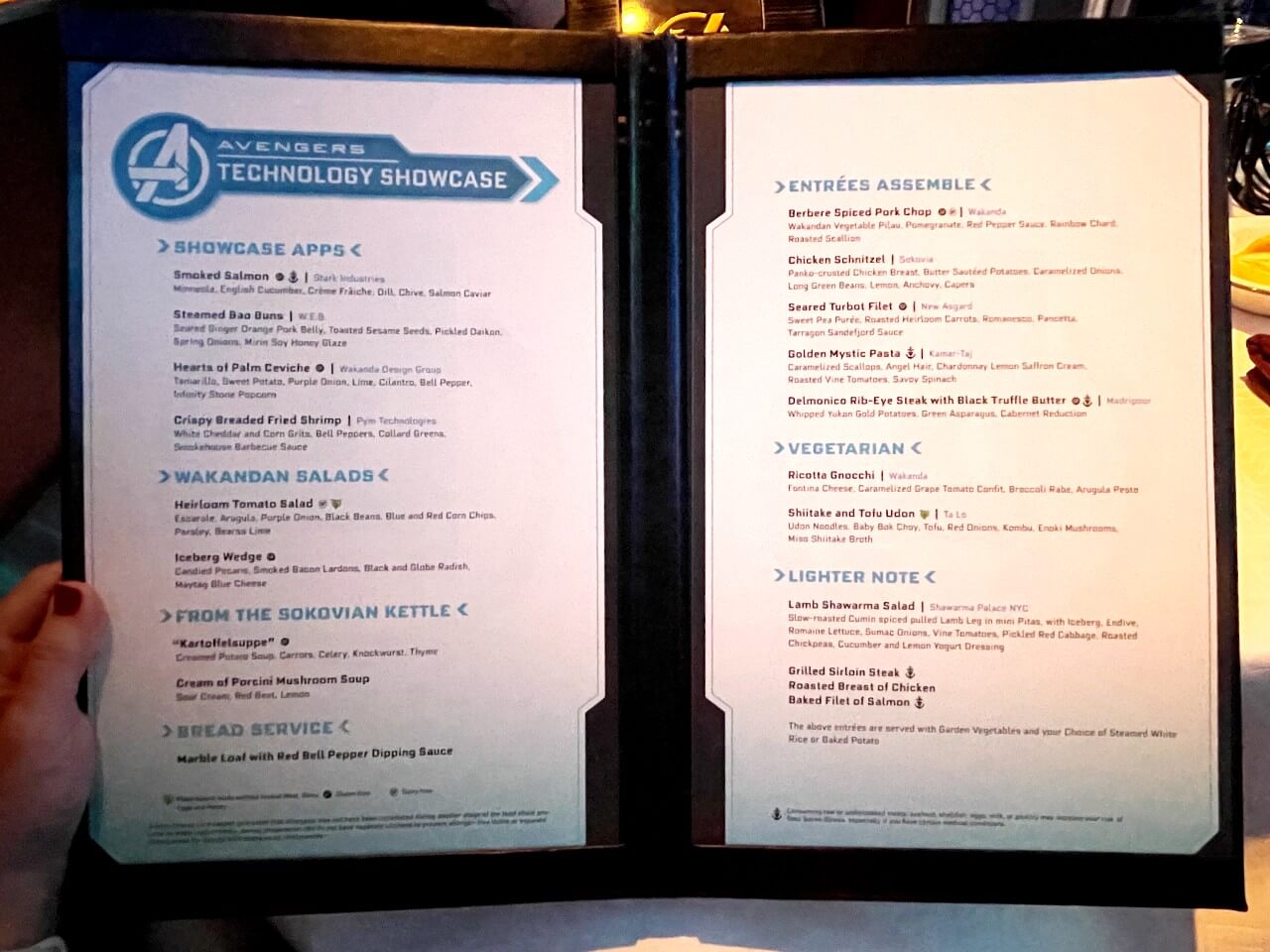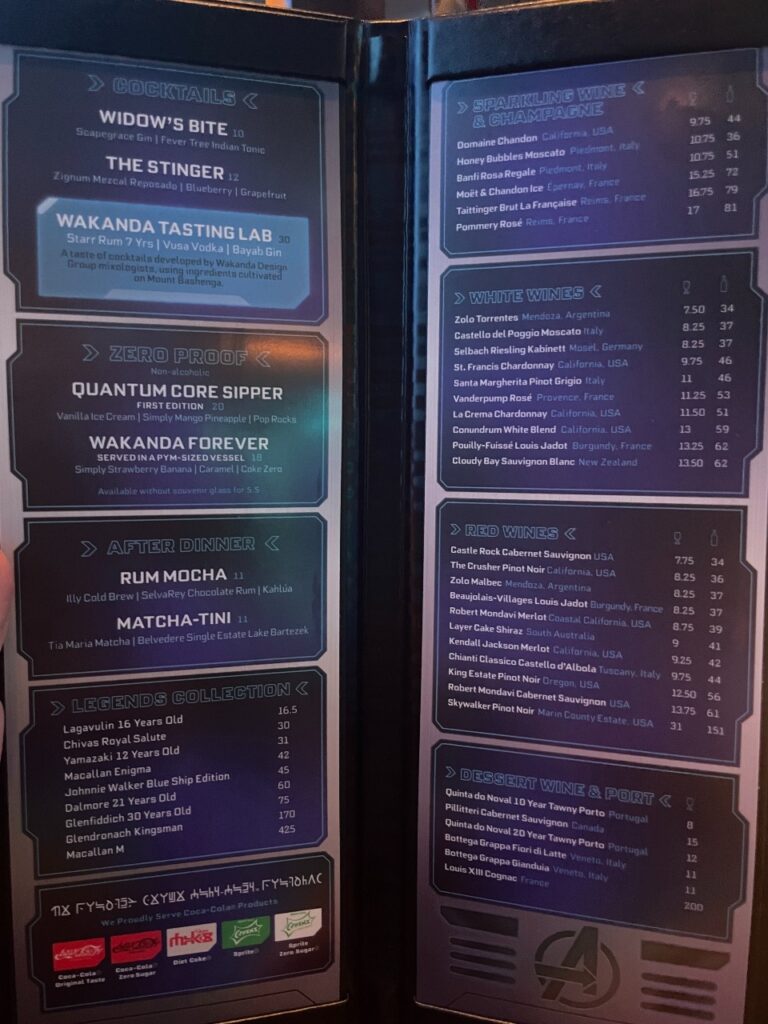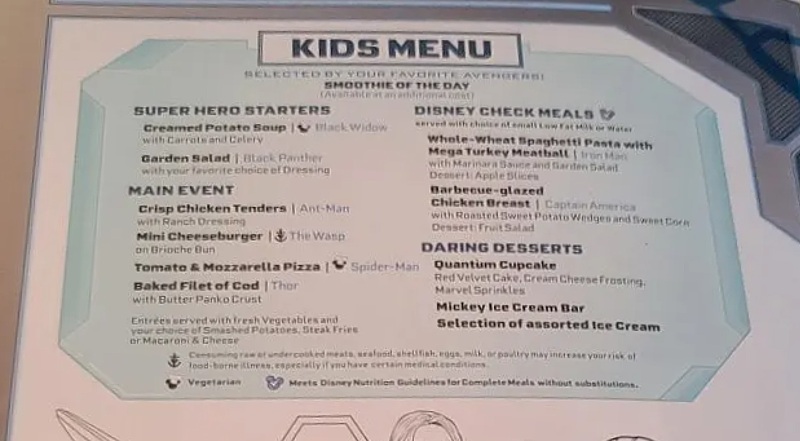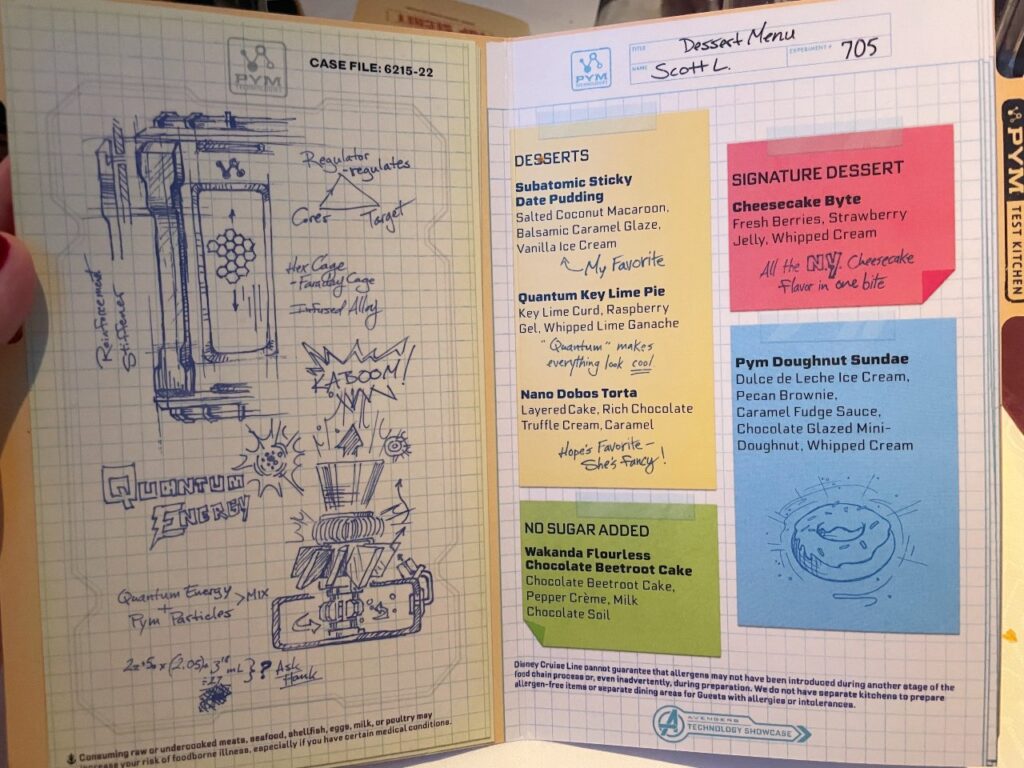 Mickey's Festival of Foods Menus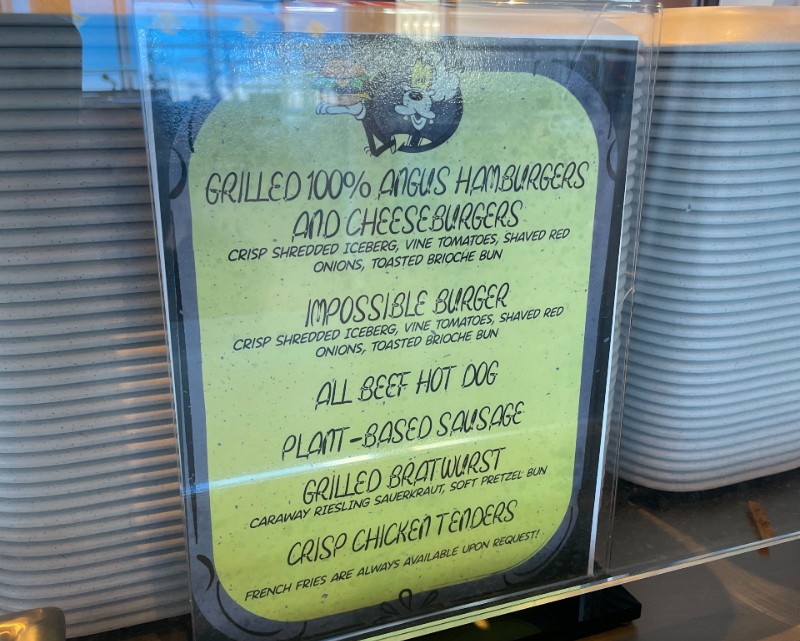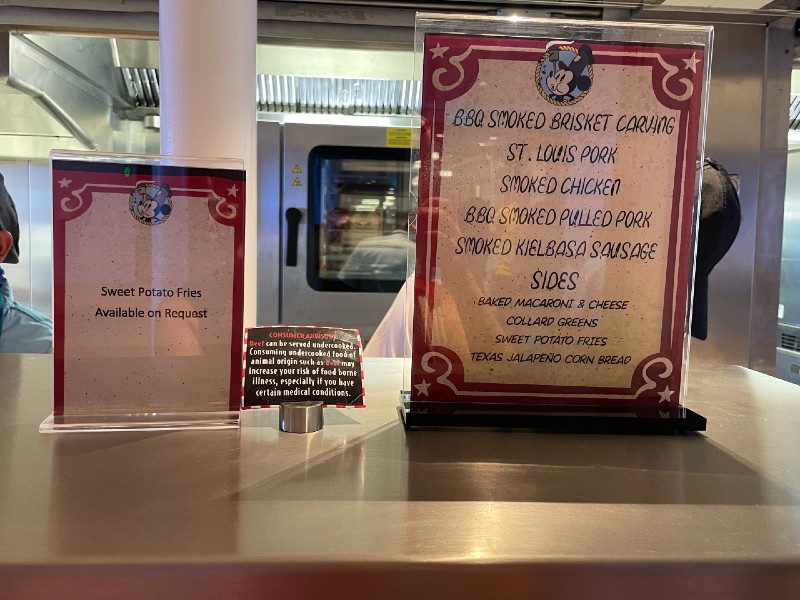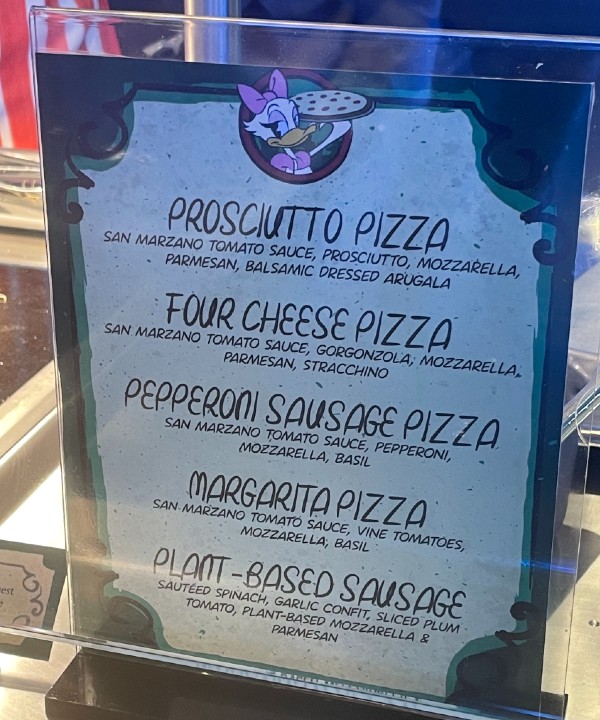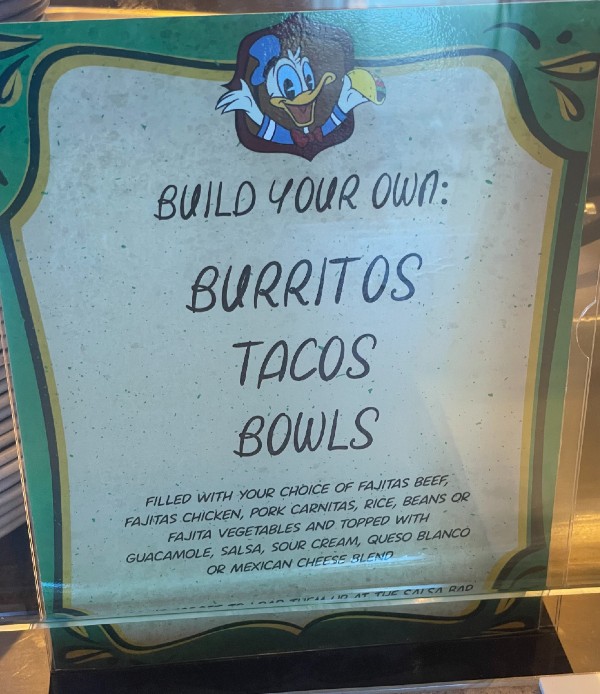 Breakfast Menus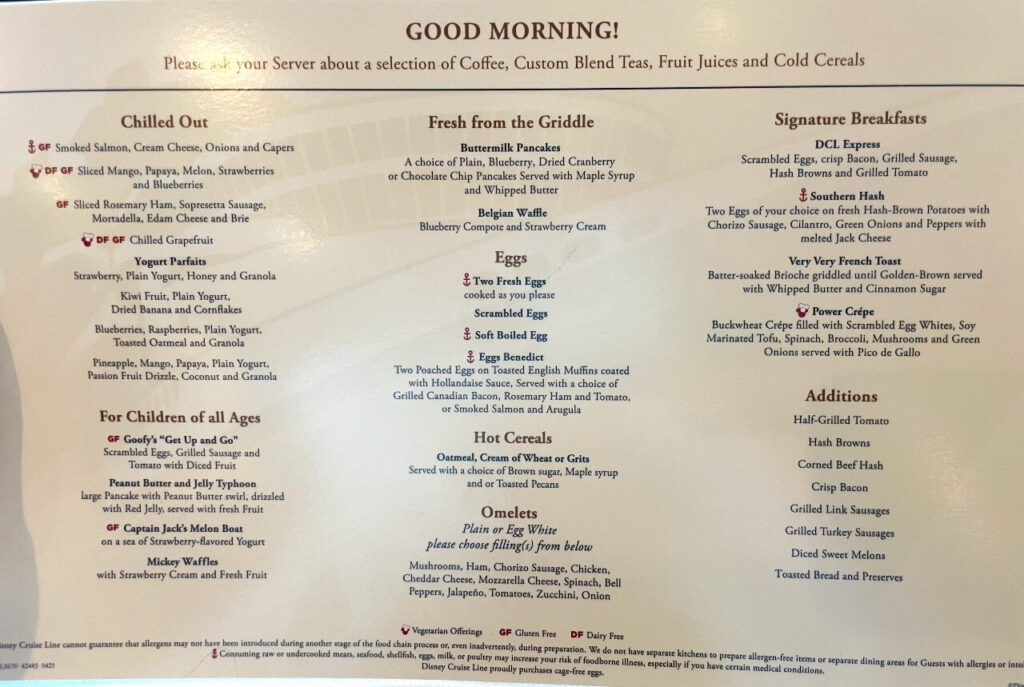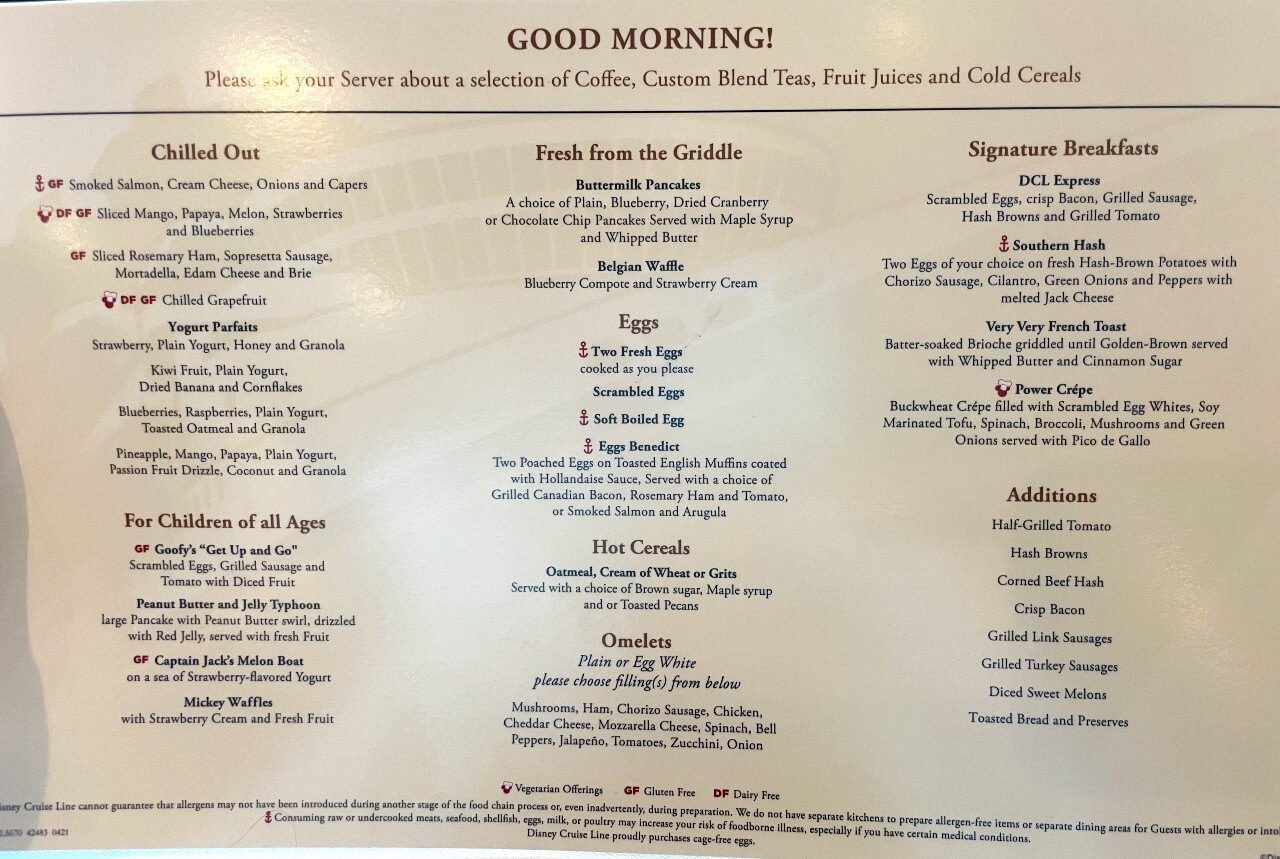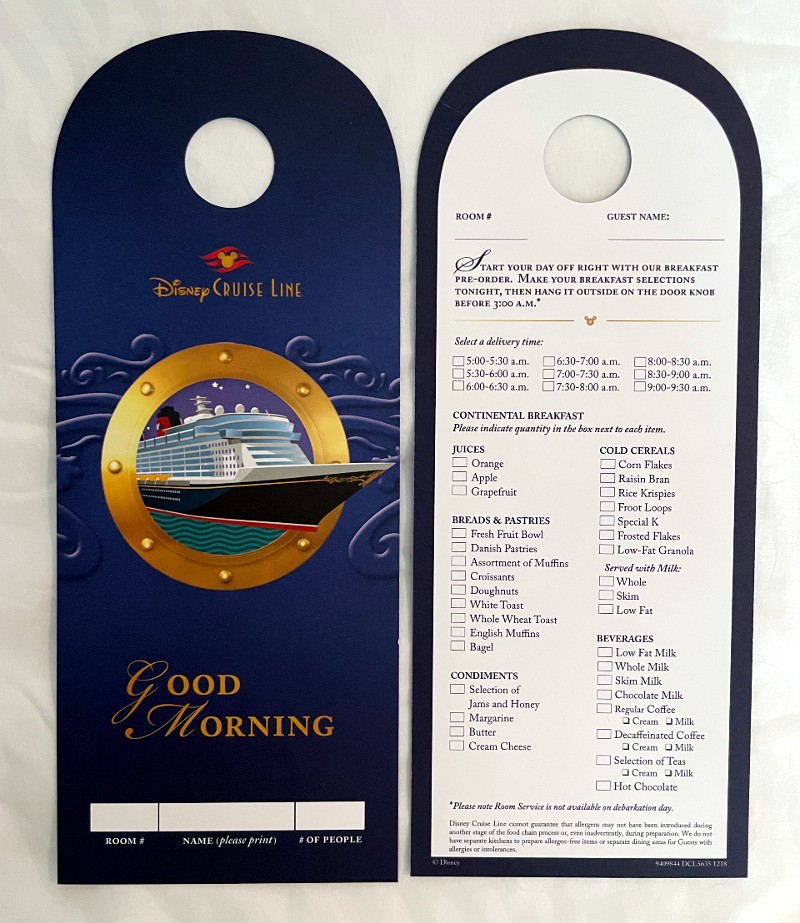 Speciality Dining Menus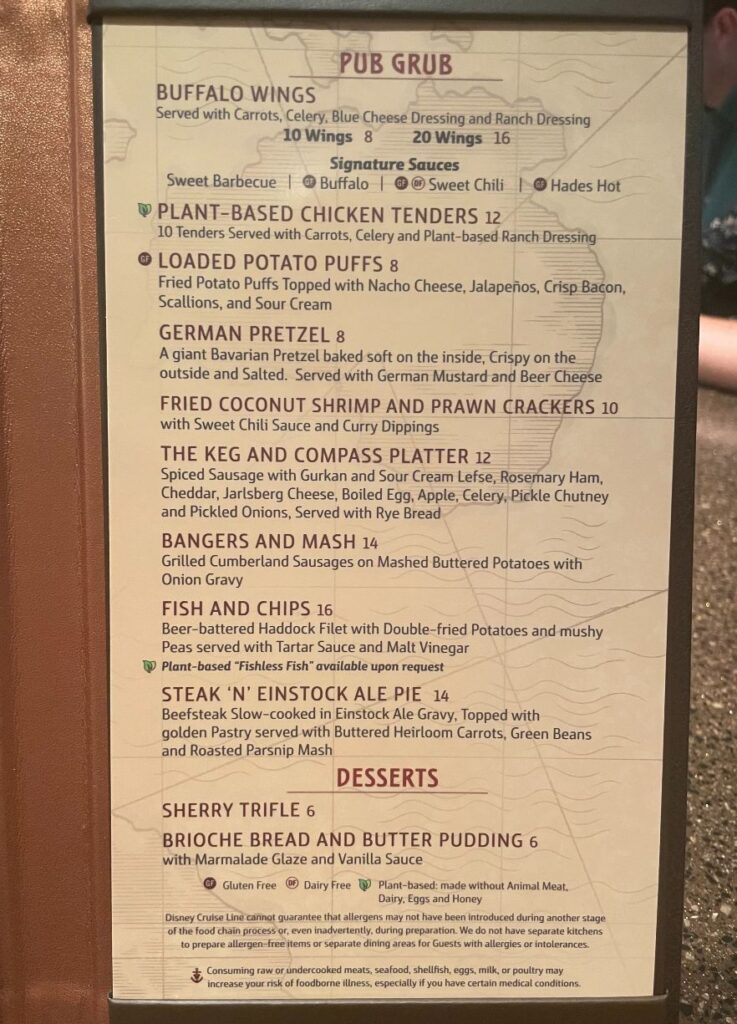 Castaway Cay Menu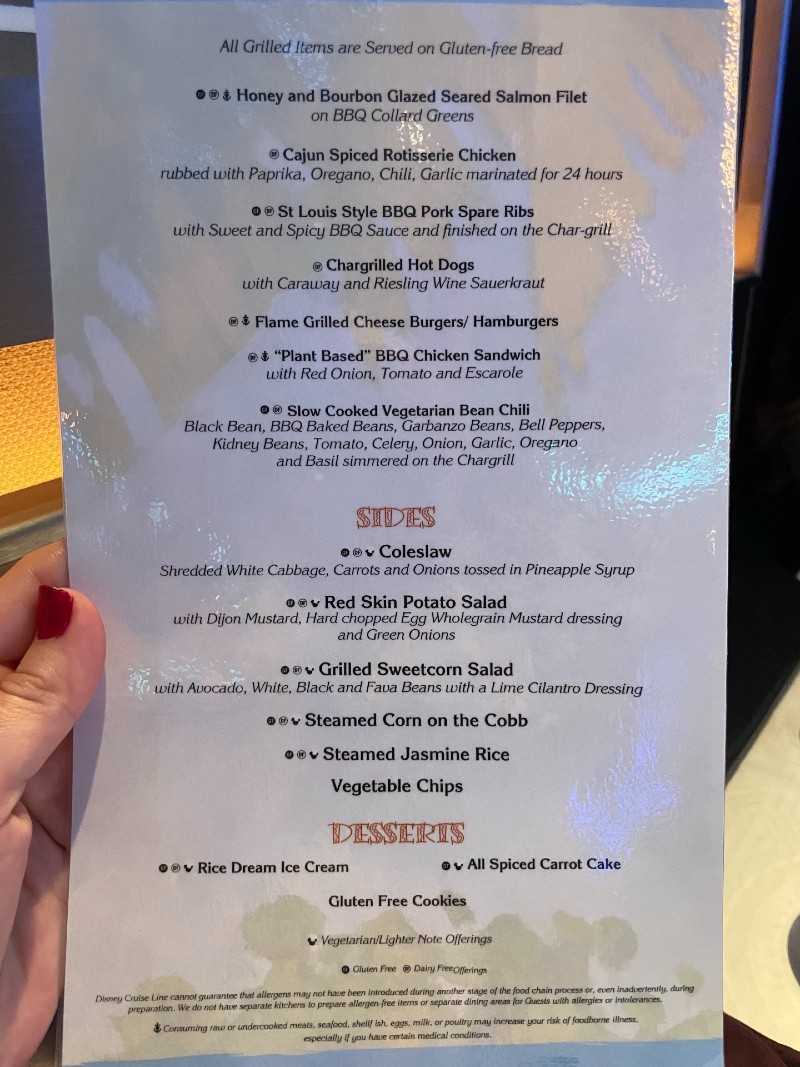 Drinks Menus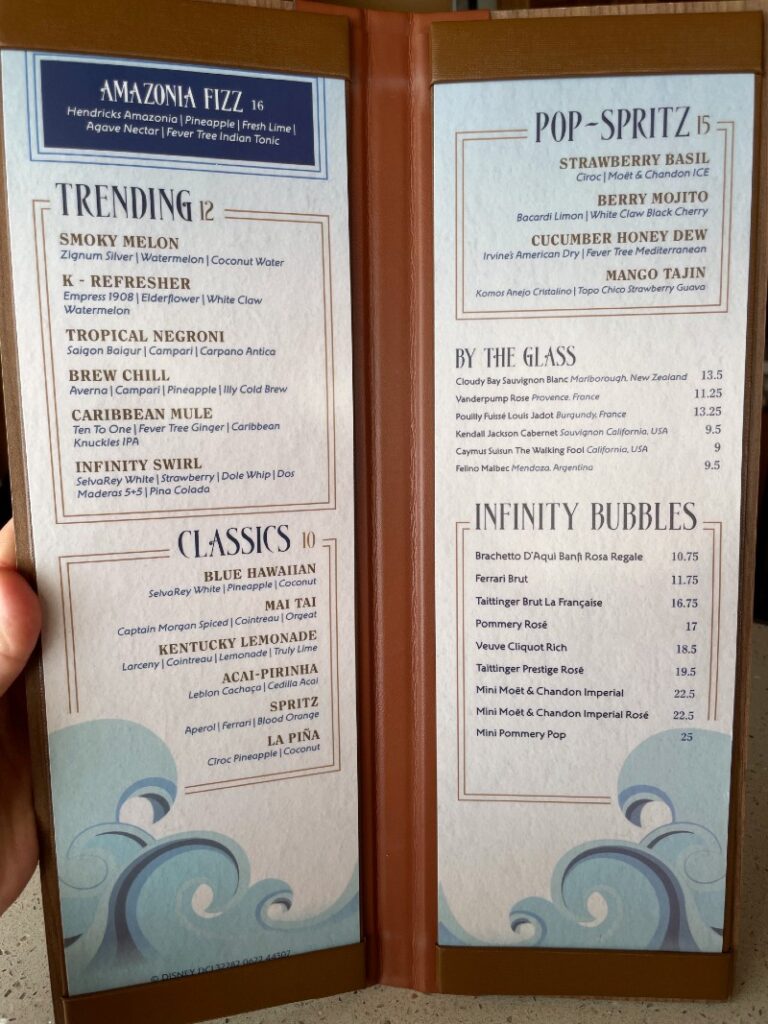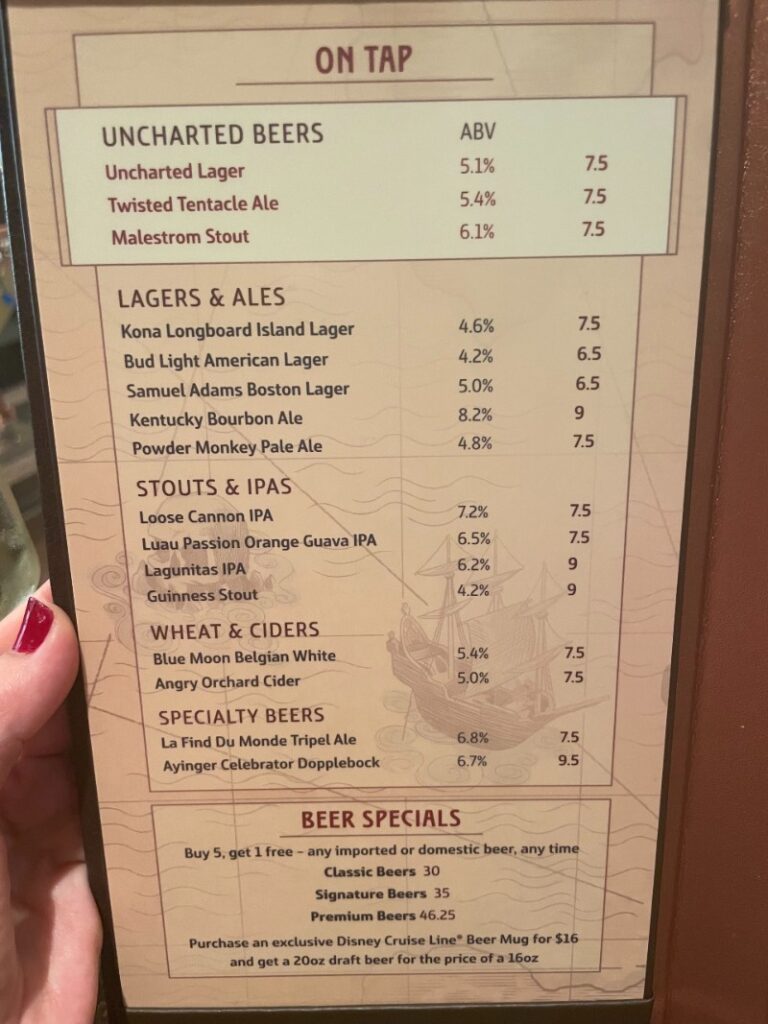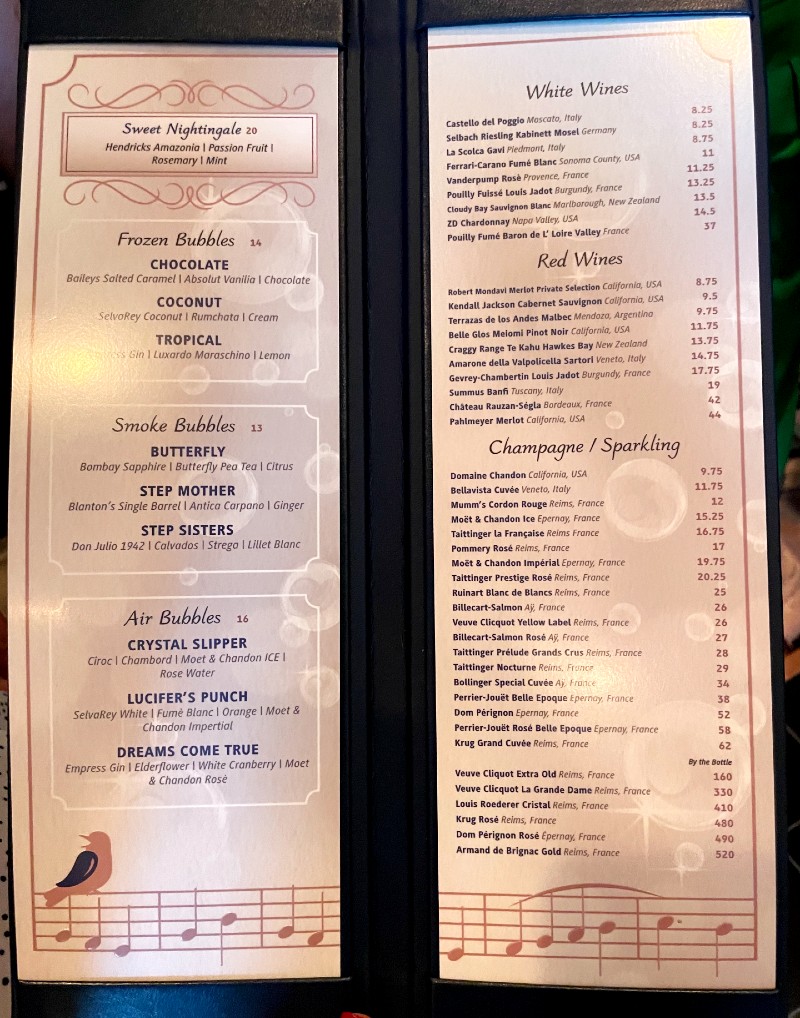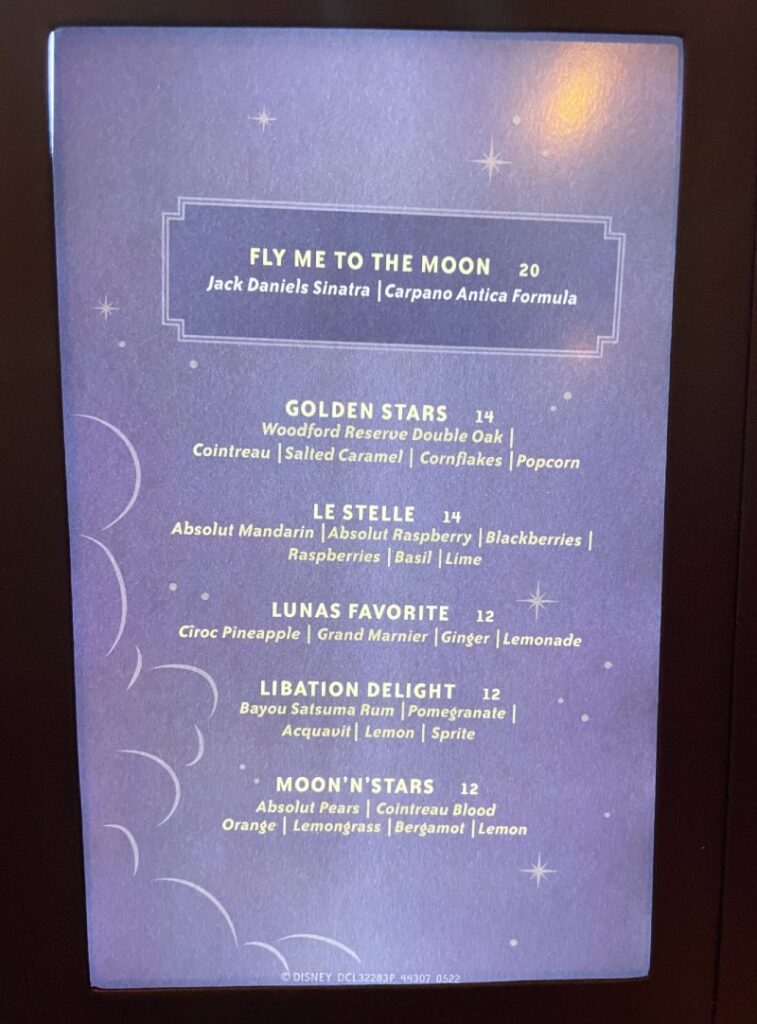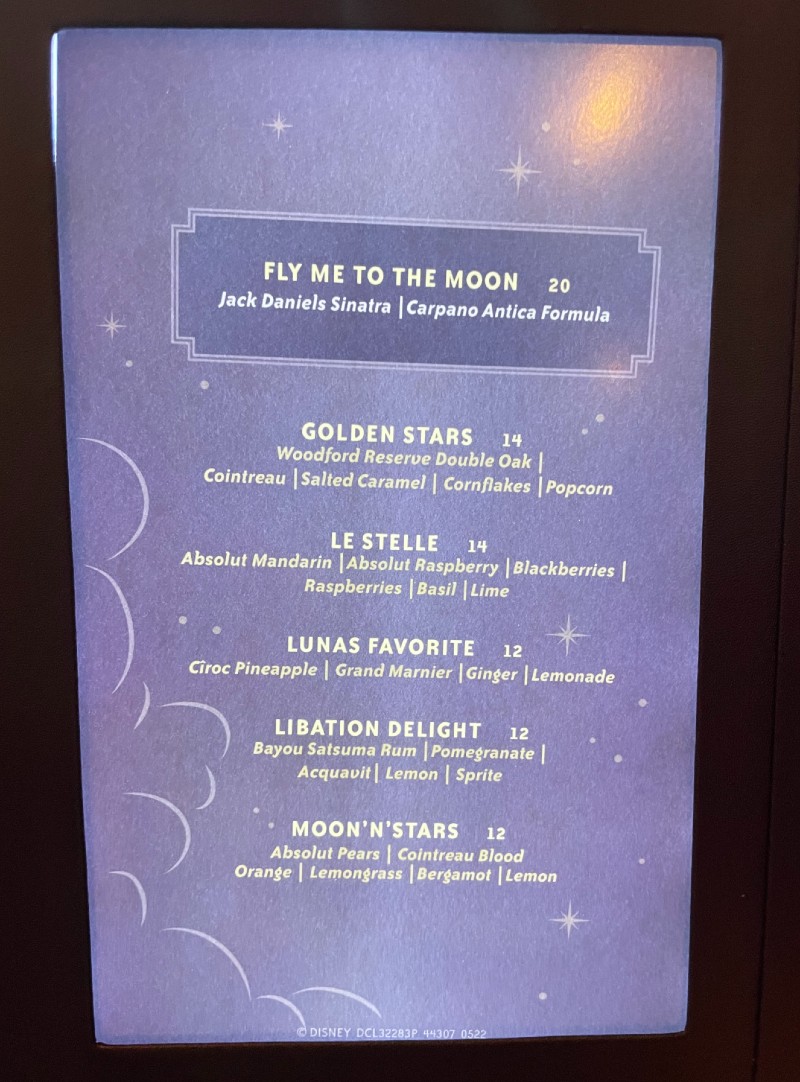 To Conclude
I found the amazing selection of delicious Disney Wish food to be one of the many highlights of my cruise. You can learn more about this incredible new ship with my Disney Wish guide.
Now that you're up to speed on the DIsney Wish cruise restaurants, you might also want to take a look at my guide to Staterooms and Suites on Disney Wish so that you can choose the best room for your cruise.
NEW DEALS JUST RELEASED!
Don't miss the latest Disney Cruise Line offers…
Related Posts: