For a lot of people, formal night is something to look forward to on a cruise – the chance to get dressed up and feel a bit fancy, and really enjoy a special evening.
For others, it's something to avoid – and with Royal Caribbean, there are still places you can do that, so you don't have to feel trapped in your stateroom.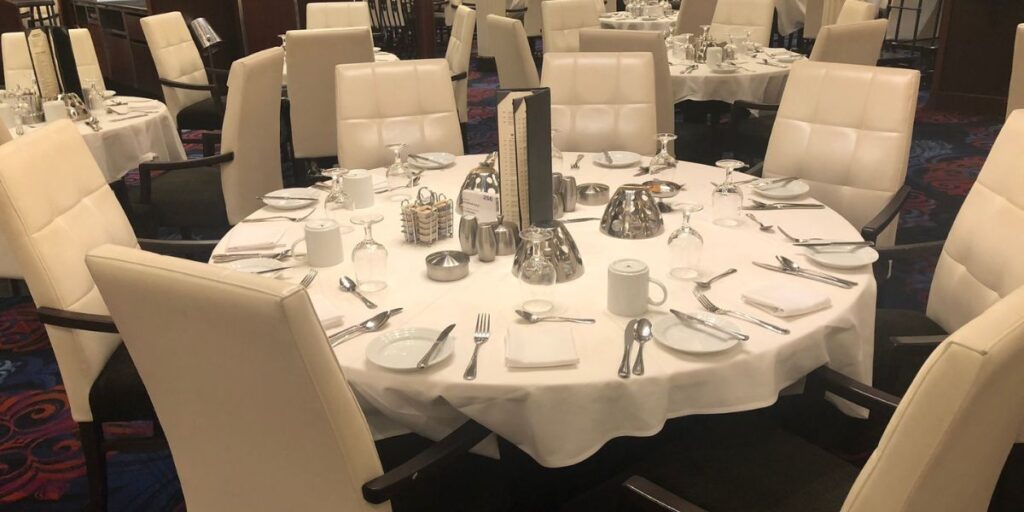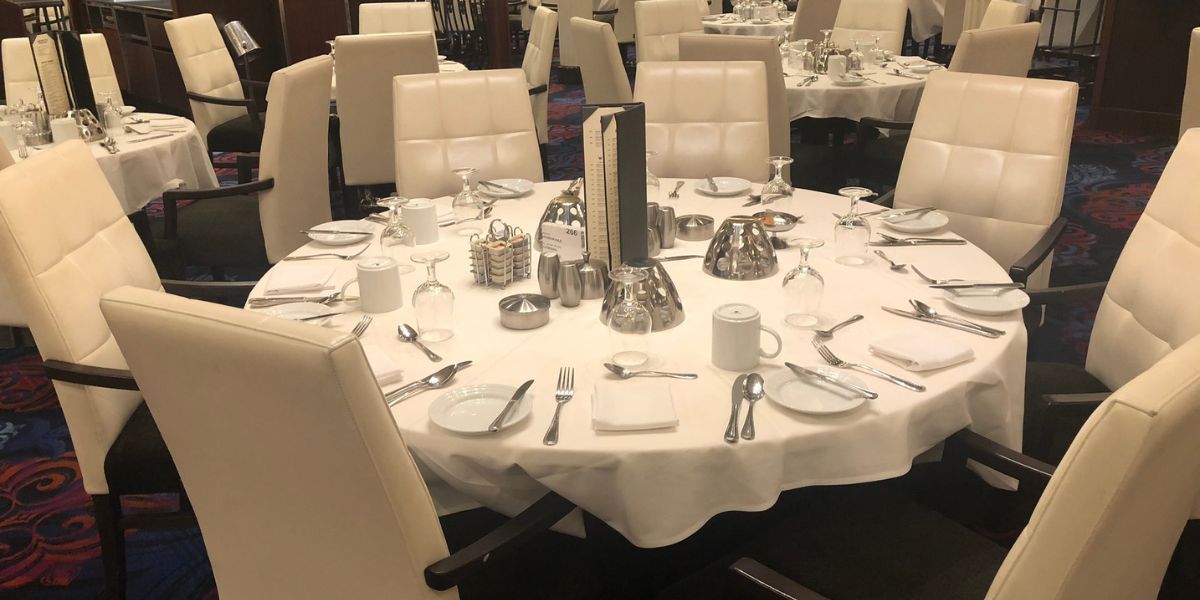 Here's everything you need to know about Royal Caribbean formal night.
Does Royal Caribbean Have Formal Nights?
Royal Caribbean does have formal nights on cruises, but they aren't strict. There is a Royal Caribbean dress code that guests can follow, but there are plenty of relaxed places on the ship if you don't want to dress up.
If you want to know more about formal nights on Royal Caribbean cruises, then these are six things to be aware of before you sail.
1. How Many Formal Nights are on a Royal Caribbean Cruise?
The number of formal nights on a Royal Caribbean cruise depends on the length of the itinerary. For cruises up to 5 nights, there is normally one formal night. 6-7 night cruises will have two formal nights. Longer cruises may have a third formal night.
Royal knows that packing your formalwear means that you'll want to make the most of it. If you're sailing for a week, it would feel like a shame to only wear it for one night, which is why you get two opportunities.
But there has to be a balance because going to the effort of getting dressed up for formal night too regularly becomes a chore, which isn't exactly how a holiday should feel.
Which is why there's a good balance between the length of the cruise and the number of formal nights – not so many that you feel like you're on an old-timey formal vacation and you can't properly relax, but enough to make it feel like bringing that cocktail dress and pressed suit on-board was worth the effort.
2. What Night is the Formal Night on Royal Caribbean?
Most Royal Caribbean cruises have a formal night on the second day of your cruise itinerary, regardless of the length of the cruise. If your cruise is long enough to have a second formal night, this will either be on day 5 or day 6.
For 6-night cruises, it will of course always be day 5 for the second formal night – on day 6 you'll be enjoying the last night of your cruise, and since your luggage may be getting collected that evening ahead of your departure, you don't want to have to carry your formalwear around in your overnight bag with you.
7-night cruises tend to have the second formal night on day 6, although it depends on your ship. On the Oasis-class ships, it depends on where you are sailing – western itineraries tend to have the second formal night on day 5, while eastern itineraries move it to day 6 (source).
If you're sailing on a longer cruise, then the formal nights can vary – it's best to speak to the cruise line directly to find out when they are, if you need to know in advance. Otherwise, you'll get a full itinerary once you board the ship.
NEW DEALS JUST RELEASED!
Don't miss the latest Royal Caribbean offers…
3. How Formal is Formal Night on Royal Caribbean?
Formal night on Royal Caribbean isn't too formal. It's been renamed as 'Dress to Impress' and while the suggested dress code lists suits with ties, tuxedos, evening gowns and cocktail dresses, there's no requirement to dress up to the nines if you don't want to.
The Royal Caribbean dinner dress code is fairly chilled and there's no listed dress code for children. Feel free to dress them up in shirts, trousers, waistcoats and party dresses too. But if your kid wants to wear tennis shoes or won't wear a tie, that's absolutely fine.
Overall, don't expect a really stuffy night. It's not meant to be really upper class and uncomfortable, but more the chance to have fun getting ready, getting some photos taken looking your glam best, and making the night something of a treat.
I've found that on cruises from Southampton on Anthem of the Seas, people generally dress up more than they do on Royal Caribbean cruises in the Bahamas and Caribbean. This could be because Brits like to get dressed up more than Americans do, or it could be because the hot weather of the Caribbean puts people off from wearing sequins, floor-length gowns and dinner jackets.
If dressing up really isn't something that you'll enjoy, don't let it put you off a cruise, because it's much more relaxed and you have options available to avoid feeling like you're out of place.
The formality only extends to the dress code and even that is suggested. There aren't any other formal procedures you have to go through, although do expect a long queue for the ship's photographers, as a lot of people will want to get their photos taken when dressed in their best. These aren't mandatory though so skip those queues if you aren't fussed.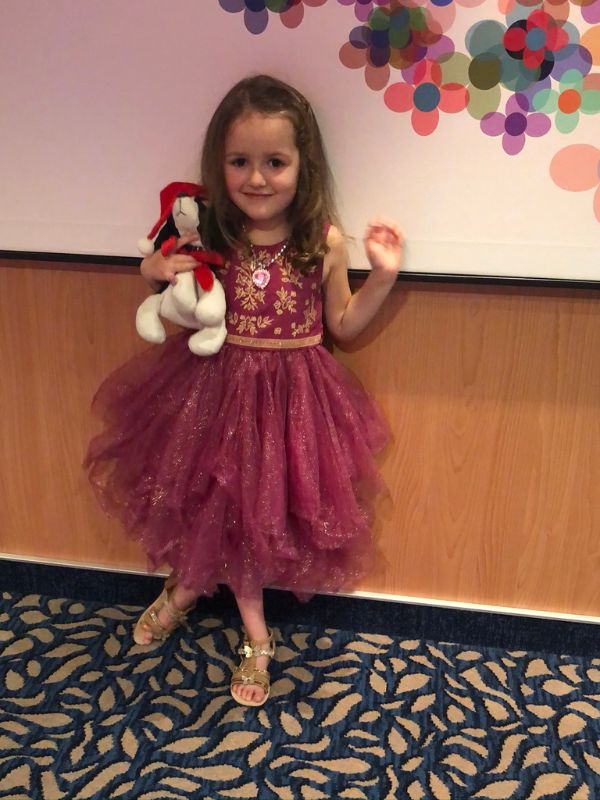 4. Do You Have to Dress Up for Formal Night?
You don't have to dress up for formal night on a Royal Caribbean cruise, and you don't have to wear a full suit or dress. It's optional – you won't be turned away from the main dining venues if you've dressed smart casual, and there are venues you can go to when dressed casually if you prefer.
Formal night used to be something that was more strictly enforced, but times are changing. Royal Caribbean are one of the few cruise lines to still publish their formal dress code but that doesn't mean you absolutely must adhere to it. The priority is the comfort of yourself and of other guests too.
There are some strict rules that will be enforced – you're not meant to wear shorts to the main dining rooms (although you will get away with smart shorts and a collared shirt), and you can never wear pool wear into the dining rooms either.
I saw a child get turned away from the buffet when he tried to go in to grab some ketchup while wearing swimming shorts and no shirt, so this is strictly enforced.
For a formal night, you should aim for smart casual really at a minimum. If you plan to eat at the Chef's Table on formal night, that's somewhere where the formal dress code will be enforced, so bear that in mind.
It's important to wear what makes you feel comfortable, but other guests don't want to get dolled up to then sit next to a table of people in shorts and t-shirts, so it's a balance.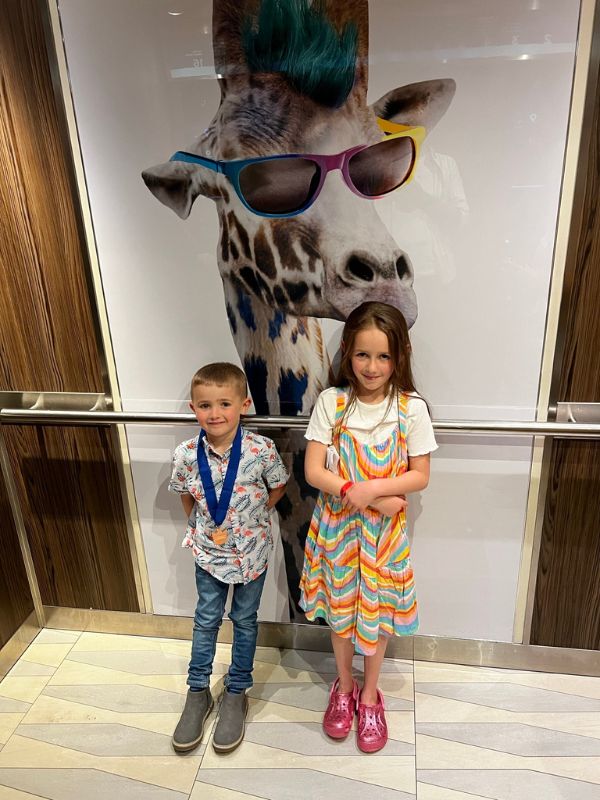 5. What to Wear on Formal Night on a Royal Caribbean Cruise?
If you want to adhere to the formal dress code on a Royal Caribbean cruise, you should wear either a suit with a tie or a tuxedo, or an evening gown or cocktail dress.
Crucially, it doesn't specify that those rules apply to men and women respectively, so women who wish to wear a suit or tuxedo, or men who wish to wear a dress can do so provided it is done with sincerity.
Remember that you don't have to adhere to this code though, and provided you've made the effort to dress smart casual, you won't be turned away from the main dining room. In fact, you probably won't be turned away if you wear casual clothes, but it's nice to make some effort for everyone else.
So jeans with a jacket, or trousers with a collared shirt or blouse top will be perfectly fine. Ideally, avoid the ripped jeans look, but again, that's up to you.
If you're worried that your clothes will look creased after being stuffed into your suitcase, don't be. Royal Caribbean offers an 'Express Press Special' on arrival day, so that you can have all of your nicest outfits ironed and delivered to you ready for the big night.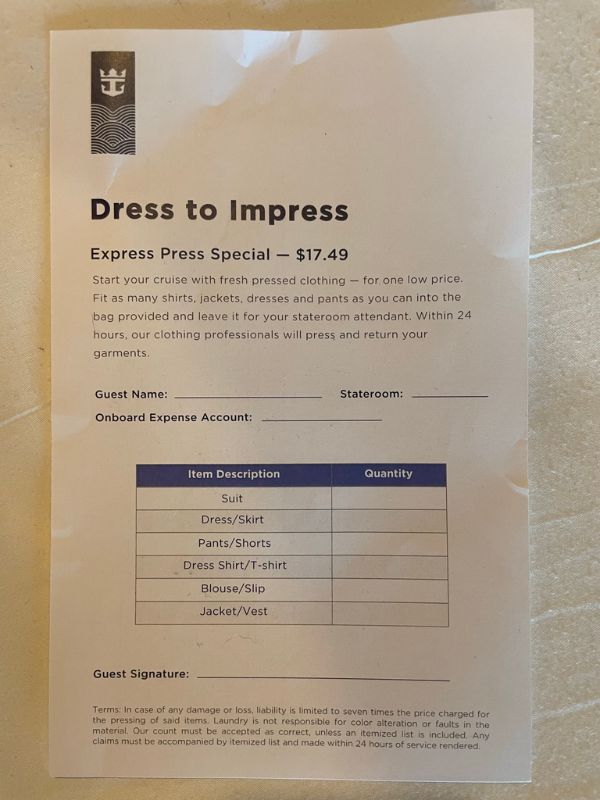 6. How Strict is Formal Night on Royal Caribbean?
Formal night on Royal Caribbean is not strict. The dress code only applies to the Main Dining Room and speciality restaurants. Even if you don't adhere to the formal dress suggestions you'll still be allowed to enter, provided you aren't in pool wear or barefoot.
The speciality restaurants on the ship have their own dress code which supersedes the formal night dress code, so don't feel like you have to get over-dressed to visit these restaurants if you have a booking.
And if you don't even want to be surrounded by the feel of formal night at all, then the Windjammer buffet restaurant is open throughout the formal night as a casual venue, where you'll be fine dressed in shorts and a t-shirt.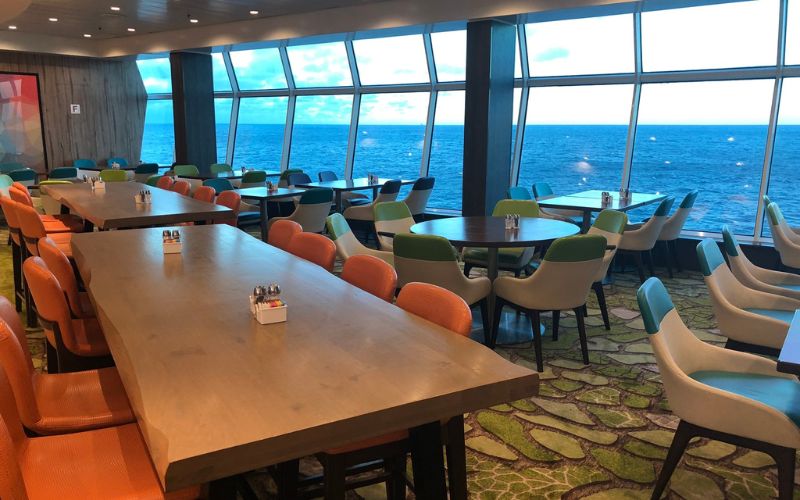 Formal night isn't designed to be intimidating or exclusive but gives cruisers the chance to feel the nostalgia of classical cruising and to dress to impress their loved ones. People often love to get their glad-rags on and have some beautiful formal pictures taken.
But spend five minutes on cruise forums and you'll see plenty who don't like formal nights as well, and who don't take part. So whatever you'd prefer to do, you won't feel like you stick out on the night. There'll be a real mix of people dressed up and not.
The Bottom Line
The key thing to remember is that formal night is meant to be fun, not something that makes you anxious or uncomfortable.
The idea is that you can have fun getting dressed up if you want to, and you won't feel strange since there'll be a lot of other people dressed up and embracing the theme too. But there'll equally be a lot of people who don't go all out, and that's fine too.
Looking for some inspiration on dresses you might want to wear on your cruise? Take a look at these pictures of cruise dresses for formal night for some ideas.
Let me know in the comments if you prefer to get dressed up, or you're someone who just wants to enjoy a more relaxed holiday.
NEW DEALS JUST RELEASED!
Don't miss the latest Royal Caribbean offers…
Related Posts: