The time it takes to get off a cruise ship will depend on whether the ship is calling at a port of call or it is the final stop at the end of the cruise.
At some ports of call, passengers can walk right off the ship, but at others, they'll need to board a tender boat to reach the shore.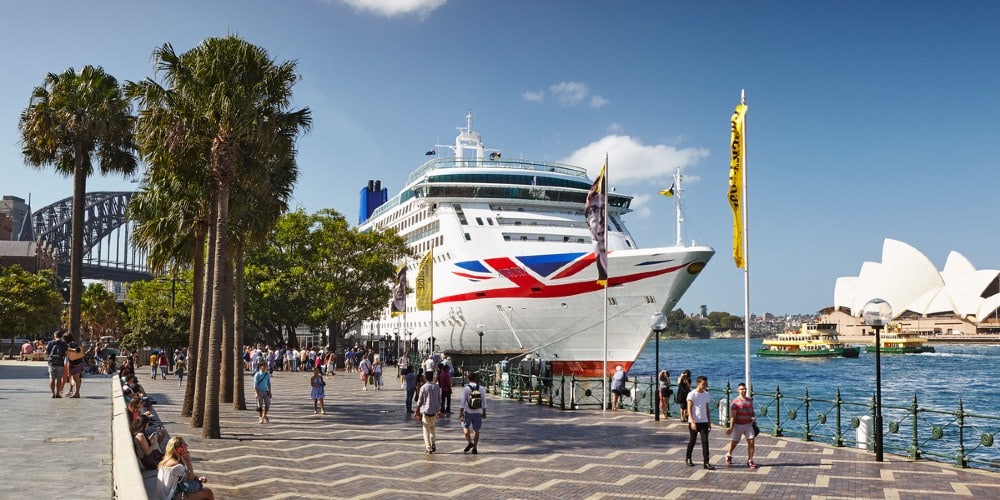 If you're wondering what time you can get off your cruise ship so that you can arrange shore excursions or flights, then read on for everything you need to know about how long it takes to get off a cruise ship.
Getting Off A Cruise Ship At Ports Of Call
When you visit a port, your cruise ship will either dock in the port and you can walk right off, or else it will anchor at sea and you'll board a small boat to take you to shore.
These small boats are called tender boats, but in reality, they're the ship's lifeboats.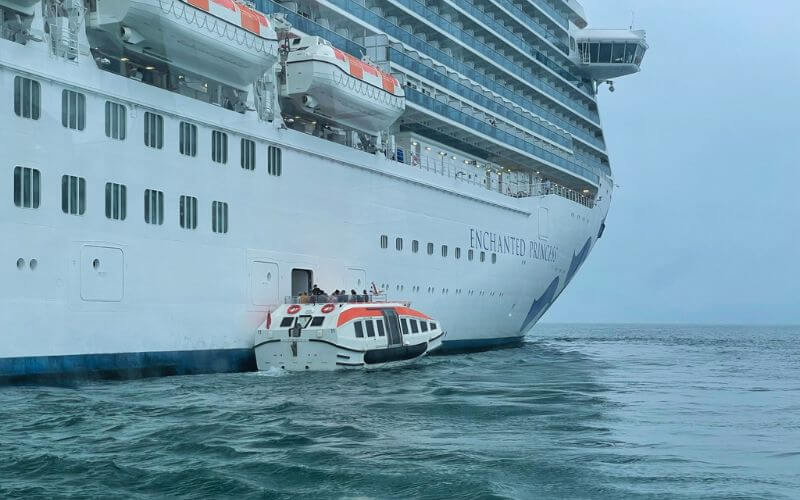 To be able to use a tender boat, you usually have to be able-bodied enough to step over the gap between the ship and the boat unaided. The crew will test this using tape on the carpet.
Read more: Cruise Ship Tender Boats – What You Need to Know
How Long Does It Take To Get Off a Cruise Ship at a Port of Call?
If your ship is docked, you usually walk off as soon as you're ready to, although there may be a queue for ten minutes or so at the busiest times. If your ship is anchored offshore, you may have to wait a little longer for a tender boat.
Once a ship docks, it needs to clear customs before the passengers are allowed off. This process is usually pretty quick, so you should be able to be off the ship within 15 to 30 minutes of the scheduled arrival time.
If you're booking your own excursions, you'll need to factor in the ship's arrival time, another hour or so to get off (to be safe), and then how long it takes you to get to the place where your excursion starts.
Can You Stay on a Cruise Ship in Port?
You're welcome to stay on the ship when it calls at a port. This can be the best time to enjoy the ship as it will be nice and quiet. You'll also find that spa treatments are discounted when the ship is in port.
If you have a port-intensive itinerary and a ship with lots of activities, it may be a good idea to skip a port and have an extra sea day. It's lovely to have the ship all to yourself when everyone gets off!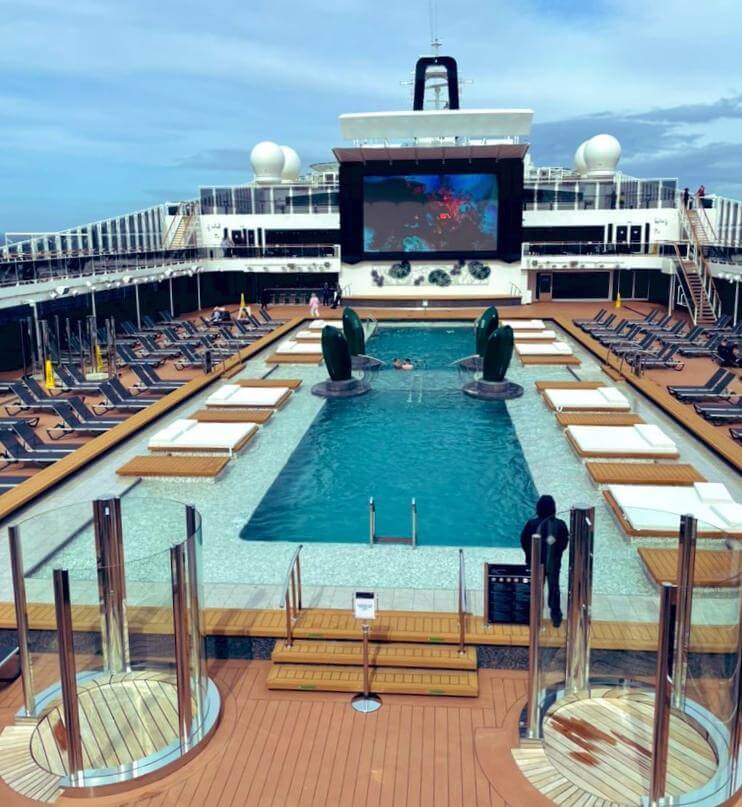 Boring cruise ports that regular cruisers are likely to skip include:
Le Havre, France
Nassau, Bahamas
Ocho Rios, Jamaica
Halifax, Nova Scotia
Ketchikan, Alaska
Can You Get off a Cruise Ship and Stay?
You can usually choose to end your cruise part-way through by disembarking with your luggage at a port of call. This is called a partial cruise. If you want to do this, you'll need to let your cruise line know at least one week before your sail date.
In some cases, this won't be allowed because certain countries (like the USA, Italy, and Norway) have cabotage laws that do not allow cruise ships to transport guests from one port to another in the same country.
However, as long as you visit another country in between, that's fine. For example – you can't board a cruise in New York and disembark in Florida. But if you've been to the Bahamas en route, then that would be okay.
In the US, this law is the Passenger Vessel Services Act of 1886. You can read more about it here.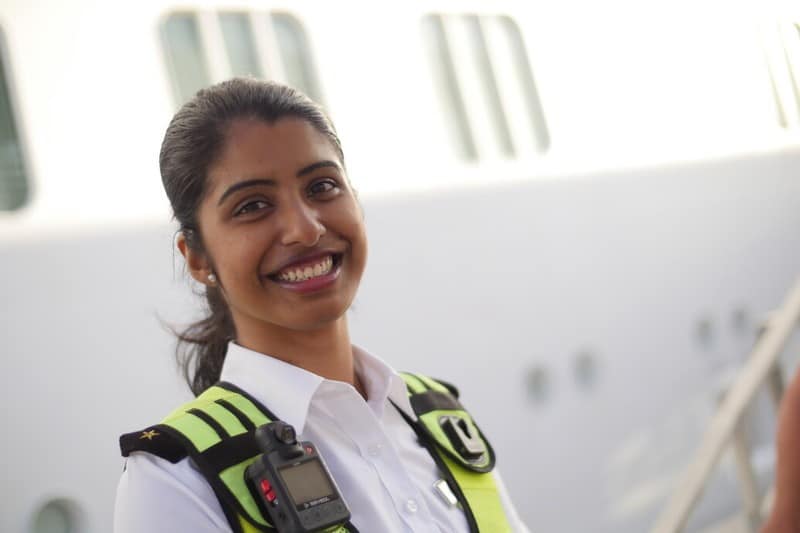 Disembarking At The End Of Your Cruise
What Time Do Cruises Return to Port?
At the end of a cruise, the cruise ship returns to the port early in the morning, usually at around 6 am. It takes some time for the ship to be secured to the pier and security checks to be made before the first guests are invited to disembark.
On the last night of your cruise, you'll be given a time slot to disembark the ship. If you need assistance with your luggage, you'll need to stick to your allotted time.
However, if you're happy to carry your own suitcases, you don't have to wait and can be one of the first to get off the ship.
How Long Does It Take To Get Off a Cruise Ship on Disembarkation?
To get every passenger off a cruise ship takes around three hours. However, from when your group is called, you'll be off in around 15 minutes. If you want to get off first, you can do so within 30 minutes of the ship docking.
What Time Do You Disembark a Cruise Ship?
If you don't need any help with your luggage, you can usually disembark the ship between 6.30 am and 8 am. If you need help, you'll be given a time slot, which is usually between 8 am and 11 am.
People often ask questions like 'What time does Royal Caribbean disembark?' However, the timings aren't down to the cruise line, they're down to the port authority. Disembarkation times may vary depending on what time the ship is permitted to dock.
On the last night of your cruise, you'll be given luggage tags with your embarkation group number and a piece of paper that tells you what time you may disembark.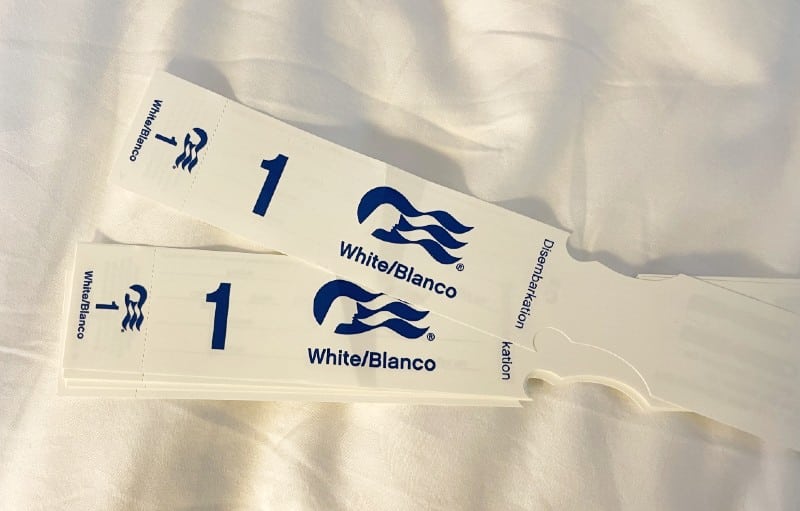 Can I Get off a Cruise Ship Early?
Most cruise ships have an express departure option, which allows guests to get off first. To take this option, you'll need to carry your own luggage. If you need assistance with your luggage, you'll need to wait for your allocated time.
What's the Earliest You Should Book Flights After a Cruise?
When booking flights after a cruise, you can assume that you'll be off the ship by 8 am, provided that you can carry your own luggage. Then, you'll need to work out how long it will take to get to the airport, factoring in morning traffic.
To be safe, you should never book a morning flight after a cruise. If you book a flight that departs in the afternoon, you should always have enough time to get to the airport.
However, you should be aware that cruise ships are sometimes delayed. On one cruise, we had to make a detour to disembark a sick passenger who needed emergency medical care. This delayed the return by about six hours, meaning that we could only disembark at 2 pm.
This wasn't a problem for us as we were booked on a coach that was operated by the cruise line, so it waited for us and we eventually made it home at about 10 pm.
Anyone who missed their onward travel connections was given a letter from the cruise ship that they could use to assist with claiming on their travel insurance.
Final Word
There you go – now you know how long to disembark a cruise ship takes, and the advice on booking flight times.
Remember that there's no such thing as a Carnival or Royal Caribbean disembarkation time, it's down to the port. But assume you'll be off the ship by late morning, unless you get an early disembarkation time to beat the rush.
Related Posts: