When you're on land, texting is often the quickest, easiest and cheapest way to keep in touch with people.
Whilst many people love to disconnect completely during their cruise, there may be times when you want to check on your family at home or need to locate your teenage kids who could be anywhere on the ship.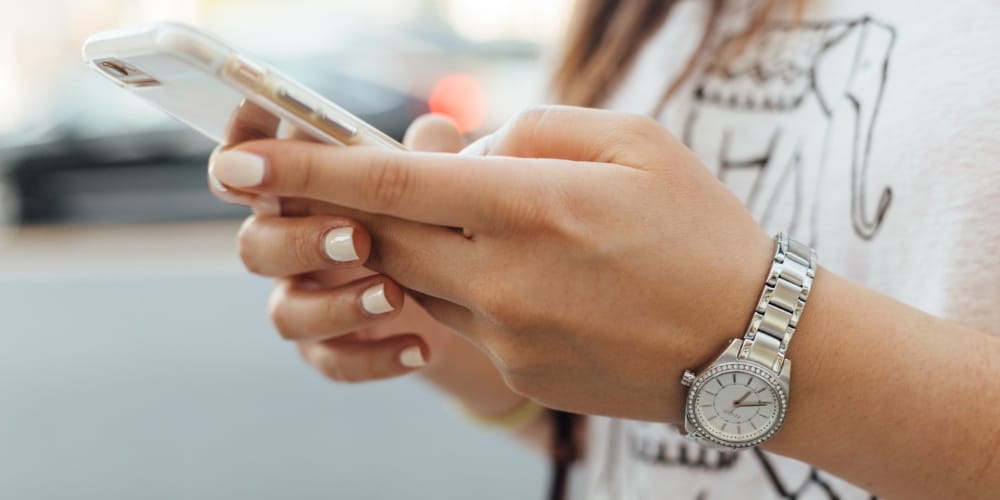 This article will tell you everything you need to know about texting on a cruise ship, including how to text on a cruise ship for free.
Can You Text on a Cruise Ship?
Sending text messages is usually possible on a cruise ship. However, depending on where the ship is in the ocean, there may be times when there is no signal. In this case, you'll need to send messages over wifi.
Sending and receiving text messages at sea can be incredibly expensive as you'll likely incur roaming charges if you can get a connection, either for connecting to a phone mast or for internet data if you're using WhatsApp or iMessage on cruise ship holidays. So, it's generally not a good idea to just turn on your mobile/cell phone and start texting.
Suggested read: Does WhatsApp Work On Cruise Ships?
How Does Mobile Phone Signal Work at Sea?
Once your ship cruises around 20 to 30 miles from the shore, your mobile phone will no longer receive a signal from the telephone masts which are located on land.
Instead, your phone can receive a signal from an at-sea provider such as Telenor Maritime or Cellular at Sea. These networks send the signal via satellites.
Using a maritime network is usually very expensive because your mobile carrier will treat this as roaming. Calls, texts and internet use at sea won't be included in your mobile phone contract and you'll pay a premium for it.
Even if you don't use your phone at sea, just having it switched on could cost you a huge amount of money if it's using data in the background to do things like check for emails or send you notifications.
How To Avoid Unexpected Mobile Phone Charges at Sea
Before your ship sets sail, you should turn your phone on to 'airplane mode'. This function will disable your phone's antenna, preventing it from using any mobile signal.
I'd recommend switching your phone to airplane mode as soon as you board the ship so that you don't forget to do it later. If you're not sure how to do it, just do a search on Google for how to do this on your particular phone before your cruise.
When your phone is on airplane mode, you will not be able to make calls, send texts or use the internet, unless you can connect to wifi.
How to Text While on a Cruise Ship
There are four ways that you can use your phone to send text messages on a ship. These are:
1. Let Your Phone Connect to a Maritime Network and Send Text Messages as Normal
This method can be very expensive because you'll pay not just to send and receive the SMS text messages, but also for any data that your phone uses in the background.
2. Connect to the Ship's WiFi and Use a Messaging App
To connect to wifi on a cruise ship you'll need to purchase a wifi package from your cruise line. These may be available to buy for a set time period, per day or for your whole cruise.
If you have a wifi connection, you won't be able to use it to send regular SMS text messages, but you can use it to send texts via WhatsApp, iMessage, Facebook Messenger, Telegram or other messaging services.
3. Use a Cruise Line App to Message Other People on the Ship
If you only need to text your cruise companions who are on the ship with you, then you may be able to do so using your cruise line's app.
These mobile apps allow you to message people on the ship without paying for WiFi or data roaming. There may be a one-time activation fee for some cruise lines, and the app may not work on every ship in the fleet. But if you're hoping to be texting on Carnival cruise holidays, or wanting to know if there's a Royal Caribbean texting app, then these are the links you need.
You can use these links to get the app for your cruise line:
If your cruise line isn't listed here, then there is no app at this time.
4. Wait Until Your Ship Is in Port
When your ship is in port, you have two options to send text messages:
Find a free wifi hotspot (such as in the cruise terminal or a nearby cafe) and send texts using a messaging app like WhatsApp
Connect to a local mobile network (most UK providers allow you to do this for free in Europe currently, although this may change after Brexit) and send a regular text message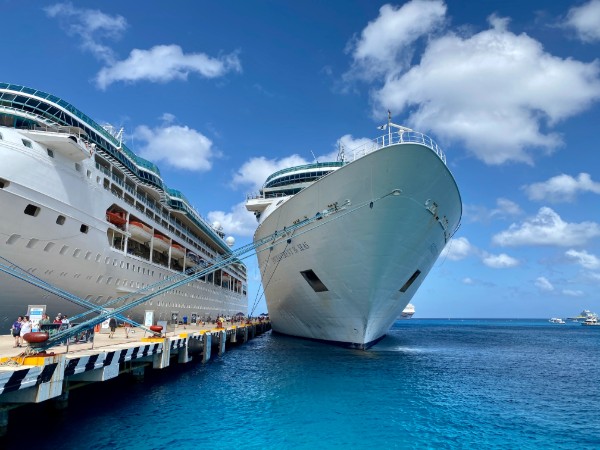 How to Text on a Cruise for Free
It is possible to text on a cruise ship for free. On certain ships, you can use the cruise line's app to send messages to others on the same ship. Alternatively, you can use wifi. You can sometimes get a free wifi package as a special offer when you book your cruise.
If you know that you'll need to stay in touch with people back home during your cruise, then it may be a good idea to get a wifi package.
Can You Send Emails on a Cruise for Free?
If you need to keep in touch with your employer whilst on a cruise, there may be times when a text won't do and you need to send and reply to emails.
It's possible to send and receive emails on a cruise, but you'll need a wifi connection to do it.
Emma Cruises has a great article about sending emails on cruises that you should read if you'd like more info on this as well as this incredibly useful guide to communicating with your family on a cruise.
How To Get Free WiFi on a Cruise
Cruise lines often have promotional offers to entice people to book cruises. These may include free WiFi packages, or, you may get free onboard credit which you can use to purchase a wifi package before you sail.
If you're cruising with Royal Caribbean, there is a free WiFi hack that people have used to connect to the internet for free onboard Royal Caribbean ships.
Read how to get free WiFi on Royal Caribbean cruises
Failing that, your only other option to get free wifi (and therefore send texts for free) during your cruise, would be to wait until your ship is in port and seek out free wifi ashore.
To find free wifi hotspots in ports, you could get a free wifi finder app, or just ask a crew member as you disembark.
Related Posts: