Many of the ports you'll visit on a cruise are absolutely packed with sights and attractions. And you won't have time to see them all.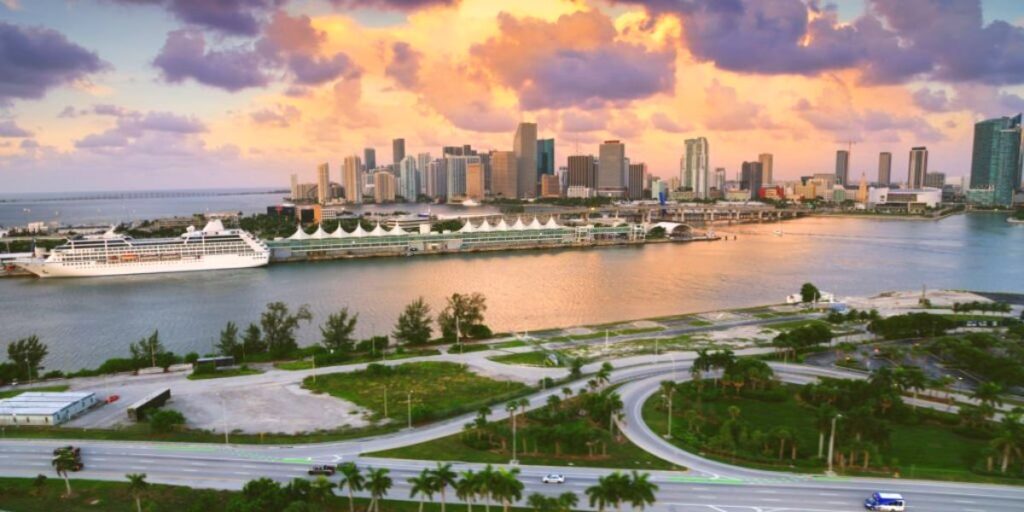 But if you're looking to fit as much in as possible, you'll want to know how much time you have. You don't want the cruise ship to leave you behind, after all (and yes, they will, if you're late!).
So, here's a look at how long cruise ships stay in each port, on average.
How long are you at each port on a cruise?
The time you spend in a port varies. The least amount of time is typically four hours, while the longest may be up to 36 hours for overnight stays. The average visit to a port lasts around 8 hours.
There are a lot of factors that determine how long a ship stays in port. Typically shorter port visits are where you have a busy itinerary, or your next port of call is a long distance away and you need to ensure you depart to reach it.
It can also depend on just how interesting the port is. If it's a beach port, you'll tend to stay longer as relaxing on the beach can be done all day, but for urban ports, it depends on how much there is to see or do.
Plus, not every port is situated right next to the main attractions. The port for Rome – Civitavecchia – is actually about 80 miles from the capital city, so you need a longer port visit to give you time to get there and back, as well as see the sights.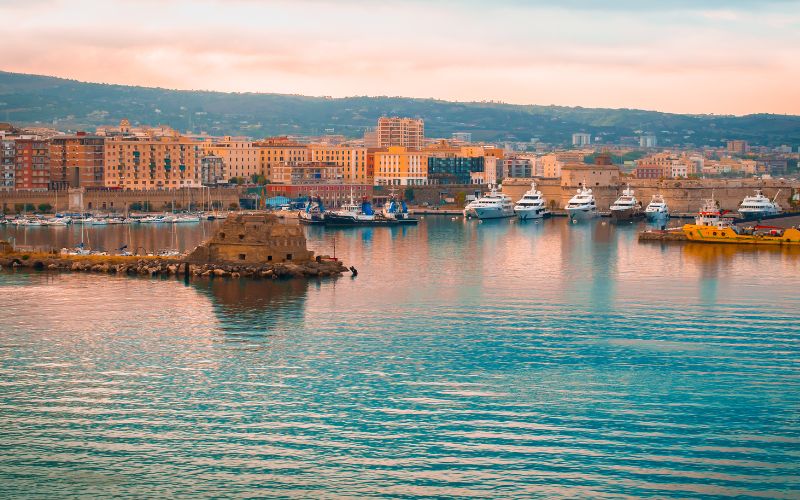 Itinerary planners for cruise lines take all of this into account and will try to give passengers the most amount of time to explore a destination without compromising the rest of the itinerary.
Overnight stays
There are some ports which tend to be favoured more for overnight stays. Mediterranean cities like Florence or Ravenna, the beautiful city of Porto, and northern European destinations like Amsterdam and Rotterdam are some examples.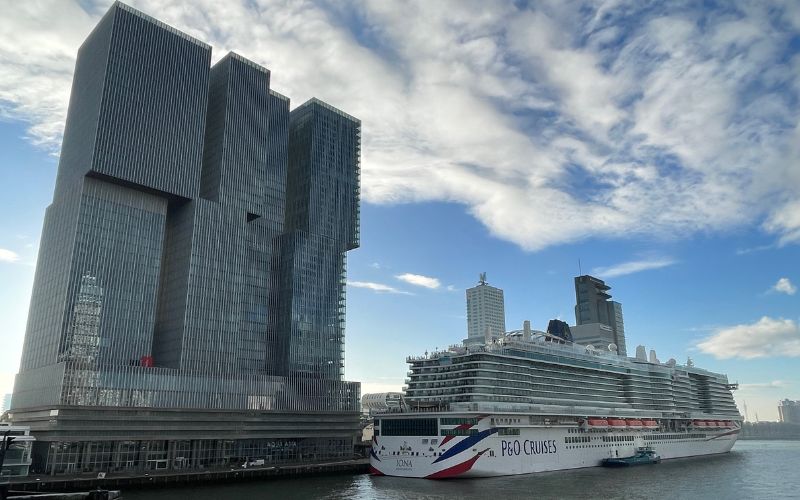 This gives passengers the opportunity to see both sides of the city, during the day and at night, where the atmosphere is often very different and the nightlife is considered a key attraction.
Other times, it may be beach destinations or cruise line private islands that host overnight stays for cruise ships – giving the cruise line the chance to arrange beach parties and unique experiences while the sun sets on the horizon.
Azamara and Celebrity Cruises are two of the primary cruise lines for arranging overnight stays in ports. Otherwise, it tends to be left to the ultra-luxury cruise lines such as Silversea and Regent Seven Seas.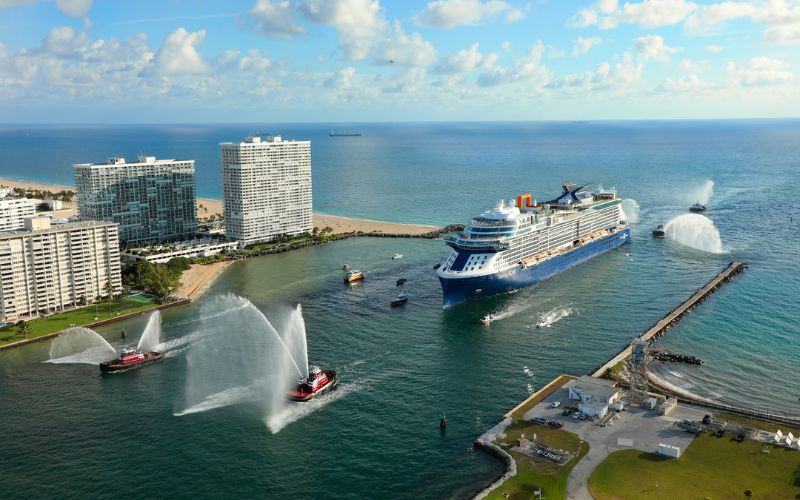 Two ports per day
Rarely, cruise lines will visit two ports in a single day – one in the morning, and one in the afternoon.
Celestyal Cruises does this often. This Greek-owned cruise line offers cruises around the Greek Islands, and since they're so close together you can enjoy a packed itinerary.
On my Celestyal cruise last summer, we visited seven ports in a weekend!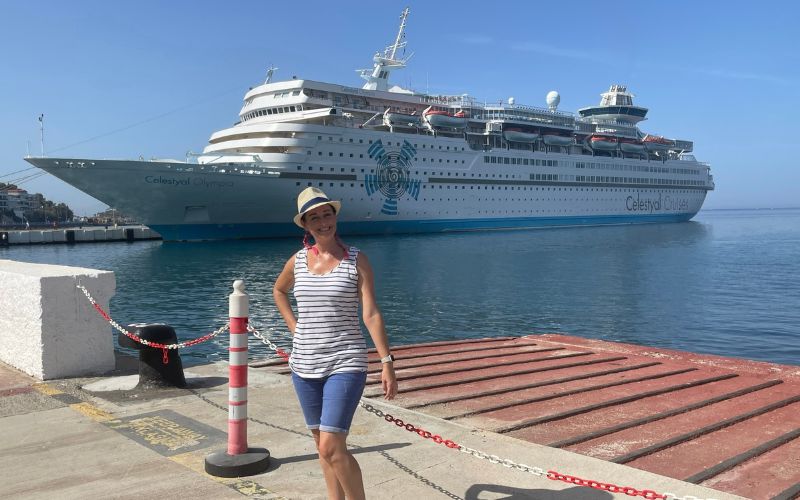 How do overnight cruise ports work?
Overnight cruise ports work just like a hotel would. You are free to come and go from the ship as much as you want, with no set time that you need to return. You can explore during the day, come back to the ship to get changed, and then head out into the early hours.
When you return to your ship, you'll just walk on as normal through security and then head to your room. In the morning, if your ship isn't departing yet, you're able to disembark again for more exploration.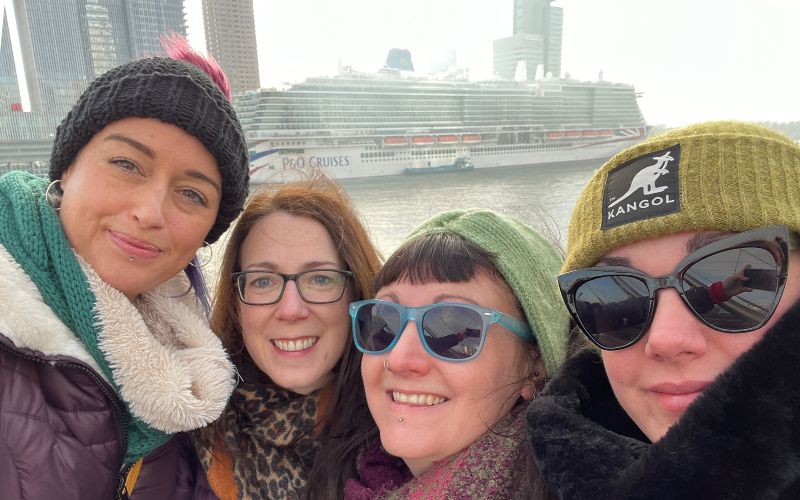 What time do you get off a cruise ship in each port?
Most of the time, cruise ships arrive at each port in the early hours, as early as 4 am, but there will be a wait until passengers can disembark.
The earliest disembarkation may start at 6 am, but it is usually between 7 am and 9 am. Your ship can arrive later too, and 10 am or even 11 am disembarkation is not a total rarity.
You will find that with late morning disembarkation, there can be a large queue to get off. I've had to wait in line for almost an hour to disembark, with a queue that looped around two decks of the ship!
However, when disembarkation is permitted from earlier in the morning, you can usually just walk straight off as people naturally choose different times to get off the ship after breakfast.
When you book a cruise, you'll be given the details of your itinerary including the expected arrival times and departure times, so keep those handy and you'll know when you're able to leave the ship.
How long does it take to get off a cruise ship at a port of call?
How long it takes to get off a ship at a port of call depends on whether you're docked or anchored offshore.
If you are docked, you can usually walk straight off, though sometimes there may be a queue of 10-15 minutes. If you need to tender, it can take longer, as long as 90 minutes in very busy situations.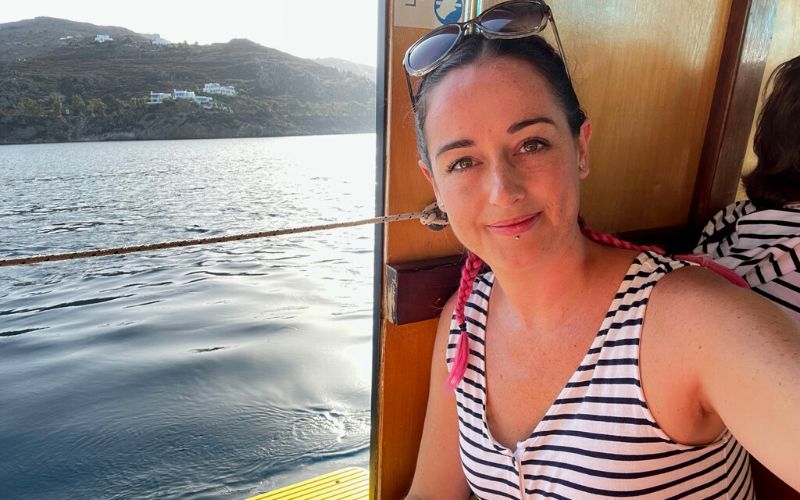 Usually, if there's a long wait for tender boats, you will be given a ticket number. You can then go and relax on the ship until your group is called. In this situation, it can be worth getting a ticket before you're ready to leave, as you know that there will be a wait.
Most of the time, it will take you between 30-45 minutes to get ashore once you head to the tender departure point on your cruise ship. Also remember that if you do need to tender, then the last tender back will be around 30 minutes earlier than the ship's departure time, so make sure you get back for it.
If you miss the last tender but the ship hasn't left, call the ship – they might be able to arrange to get you onboard before the ship departs.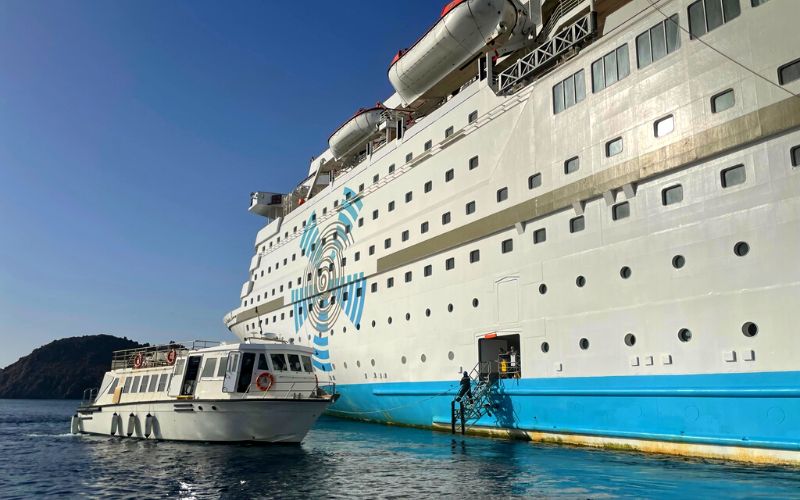 Read more: How Long Does It Take to Disembark a Cruise Ship?
What time does a cruise ship leave port?
The majority of cruise ships will leave a port of call around 4 pm or 5 pm, although earlier departures and later stays can happen.
On my recent cruise on Anthem of the Seas in Norway, the ship left at 3 pm. Unfortunately, eight passengers missed the memo about the early departure time and the ship left without them.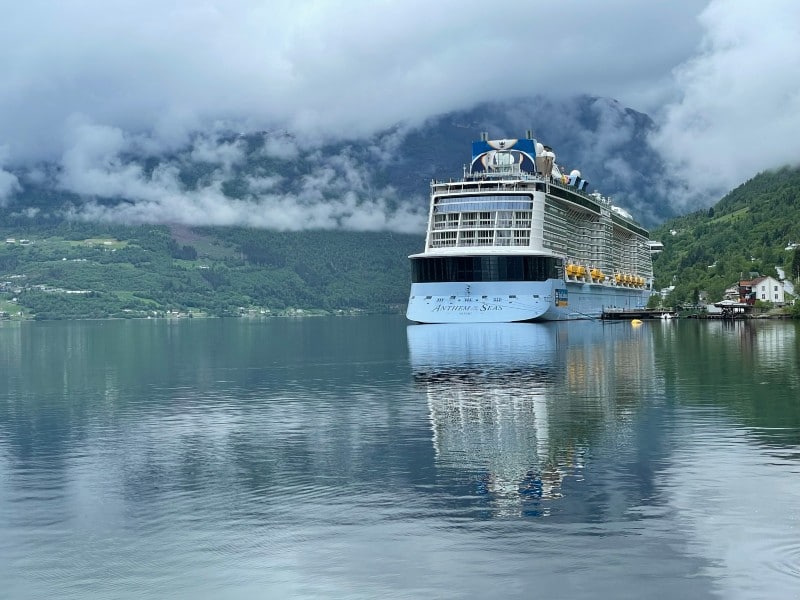 On another cruise in Northern Europe on Iona, the ship often didn't leave until as late as 10 pm. It's important to check as the time will vary depending on the individual port, and you don't want to be late.
There is a chance that, if your itinerary is busy, you may be asked to return to the ship by the early afternoon, so always carry around your daily programme so you know when to get back.
And please, make sure that your watch is set to the local time!
Do cruise ships leave you behind?
Cruise ships will typically wait around 30 minutes beyond their scheduled departure time if passengers have not returned to the ship, but otherwise, they will leave people behind. If you are late, you can call the ship to ask them to wait but it isn't guaranteed that they will.
If the ship knows that you are on your way in a taxi, they're much more likely to wait than if they haven't heard from you.
When you're on a cruise, you'll know if guests are late back, because you will hear their names being called over the public address system. This is to check if they have somehow boarded without scanning their cruise cards.
Cruise lines have a strict schedule to adhere to – they need to make sure they leave with enough time to reach the next port. And it's not fair on other passengers if the cruise is delayed because someone is late back.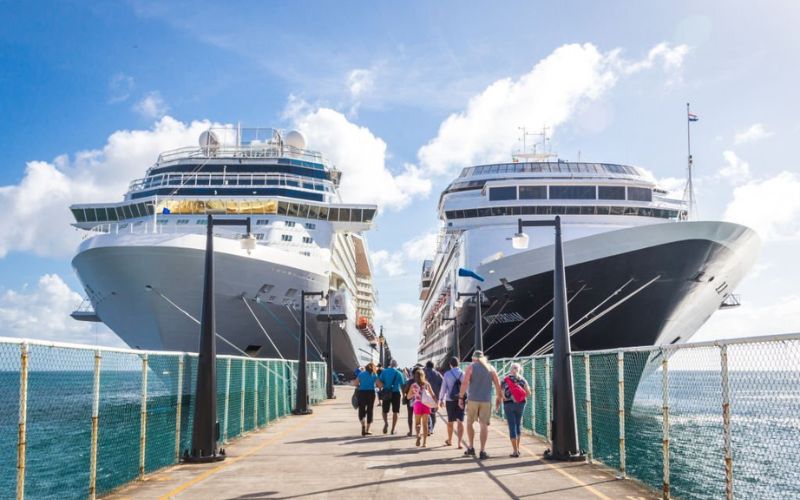 Pier runners
Once a cruise ship has made the decision to pull away from the dock, it won't reverse. So, even if you are standing on the pier shouting and waving, within touching distance of the ship, you won't be allowed to board.
People who just miss their cruise ships are known as pier runners. Take a look at some of the funniest, saddest and most embarrassing pier runner moments in this video:
What happens if you miss your cruise ship at a port?
You should always take the daily programme of the ship with you on excursions because it'll have the ship's phone number. Call them if you are running late, and they might be able to wait.
If you do miss the ship, you'll need to try and find the cruise line's port agent, and failing that call the cruise line for help. You'll have to arrange to meet the ship in the next port, or just fly home. If you fly home, the cruise ship will arrange for your belongings to be delivered to you.
Just so you know, you'll have to pay for everything if you're late – your own travel to meet the ship or return home, the cost of shipping your belongings, the cost of replacement documents etc. – and those costs aren't cheap. So don't be late!
The Bottom Line
You should always have enough time to tick off most of the things you want to see in a port of call, but due to time pressures, you may need to prioritise sights.
Cruise lines will always aim to give you as much time as possible, but if you can't see everything in one day, you'll just have to book another cruise!
Don't push your luck with timing – always aim to get back to the ship early, so you don't risk missing the deadline and being left stranded. That'll be an expensive mistake you won't repeat.
NEW DEALS JUST RELEASED!
Don't miss these hot cruise offers…
Related Posts: