A cruise is undoubtedly the best way to explore the Greek Islands, allowing you to visit the most beautiful iconic destinations while enjoying authentic Greek food and traditional entertainment.
Greek-owned cruise line Celestyal Cruises is an obvious choice for anyone looking to cruise to Greece, as the company offers a genuine and immersive Greek cruising experience.
I recently took a Greek Islands cruise with Celestyal. Be sure to check out my cruise review here if you haven't already.
And then, in this guide, I'll show you what you can expect from Celestyal cruises to Greece so that you can decide whether this cruise line ticks all of your boxes…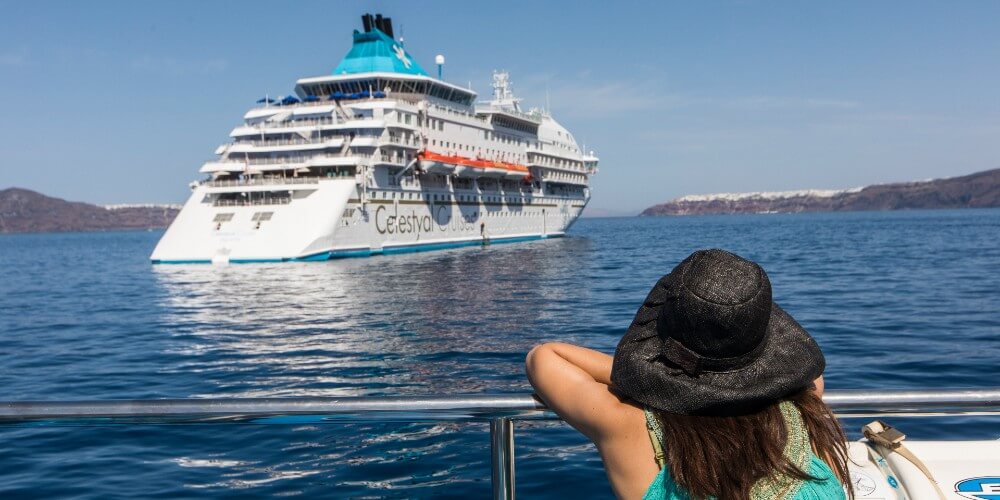 The Best Cruise Line for the Greek Islands
Most of the big cruise lines visit the Greek Islands, including Royal Caribbean, P&O Cruises, Norwegian Cruise Line, MSC Cruises and Celebrity Cruises. So, why am I recommending that you choose the lesser-known Celestyal Cruises above the global cruise lines that we already know and love?
The key difference is that Celestyal Cruises is a Mediterranean specialist offering a genuine Greek experience. Their cruise itineraries are very much destination-focused, so you'll enjoy more time in each port of call, visiting not just the famous landmarks but discovering some hidden gems too.
Sometimes, you'll even visit two different Greek islands in one day. And with overnight stays in ports of call, you can enjoy awesome evenings ashore too.
With Celestyal Cruises, the Greek experience doesn't end when you step back on board. Throughout your cruise, you'll enjoy authentic Greek cuisine and entertainment.
NEW DEALS JUST RELEASED!
Don't miss the latest Celestyal Cruises offers…
Read on to discover exactly what a Celestyal cruise includes, and what you can expect from your time onboard and ashore in Greece…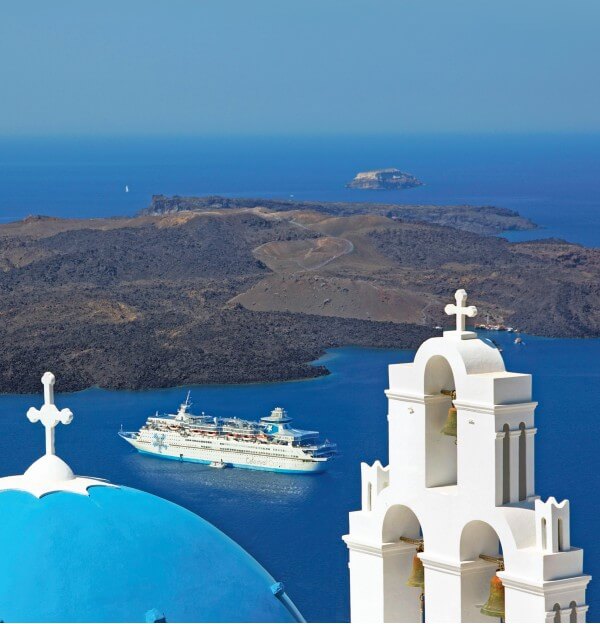 Fascinating Shore Excursions
So that you won't miss out on any of the best bits of Greece during your cruise, each Celestyal cruise includes a selection of shore excursions at no extra cost. Classic attractions like the Minoan Palace of Knossos are included in the ticket price for your cruise.
These carefully-planned excursions are led by local experts who will share their specialist knowledge with you, showing you the most iconic sights as well as some little-known places of interest. The best Greek cruises are those led by the experts, after all!
You can add more excursions to your trip, or choose to explore ashore independently if you prefer.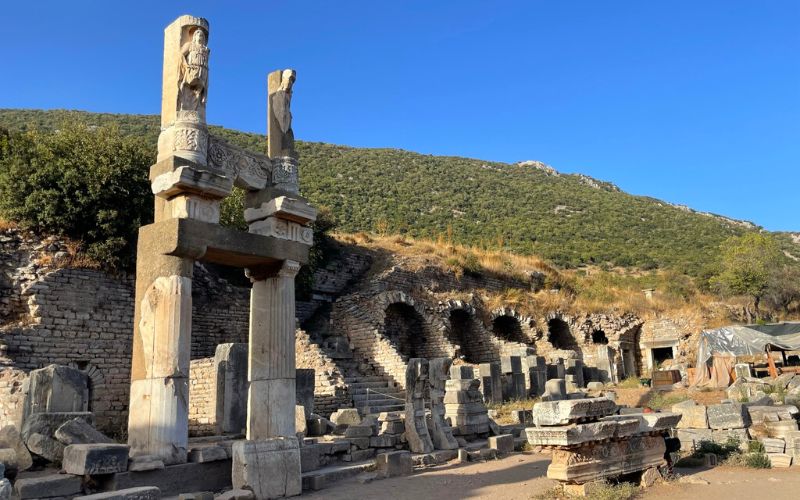 Smaller Ships That Can Access Every Port
Celestyal Cruises' two ships – Celestyal Journey and Celestyal Discovery – are both medium-sized ships, each accommodating fewer than 1,300 guests. The relatively small size of these ships means that you can enjoy a homely atmosphere, with no queues or crowds.
Due to their smaller size, Celestyal Cruises' ships can access Greek Island ports that are unavailable to larger vessels. So, rather than visiting only the largest and busiest cruise ports, you can head off the beaten path and discover incredible and unspoilt places like Nafplio, Monemvasia and Patmos.
It's important to note that these ships only joined the fleet in 2023, replacing the two former ships – but they have been given a full refurbishment for the cruise line.
These mid-sized vessels have advantages over Greek Island cruises on small ships, though, since there's plenty to do onboard as well.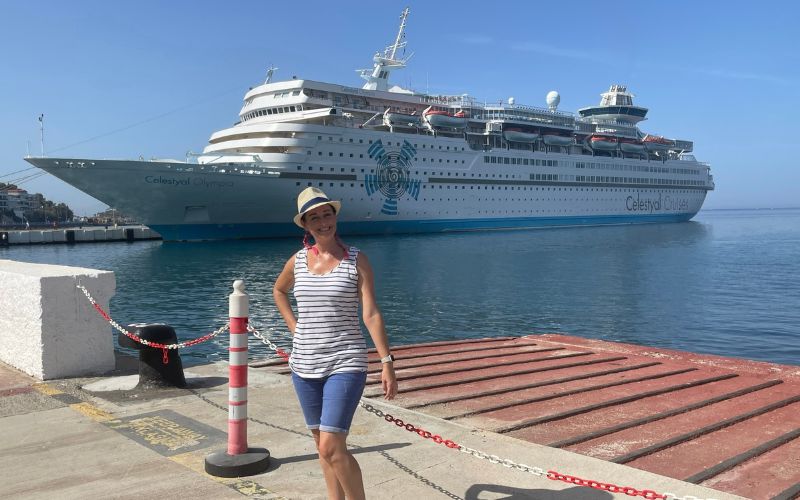 Traditional Greek Cuisine
Celestyal Cruises believes that guests should have the opportunity to enjoy Greek food onboard as well as ashore, so the cruise line offers a mix of Greek and international cuisine.
The expert chefs lovingly prepare an incredible choice of meals using fresh local ingredients that are gathered from the various ports of call. Throughout your cruise, you'll enjoy local olives, taramasalata and dolmades, as well as new and tempting dishes made with the freshest grilled meat, seafood and vegetables.
Cruisers can enjoy meals of three, four, five and even six courses in the main dining room as well as having the option of a self-service buffet. Special dietary requirements are catered for so long as you give two weeks' notice, and younger guests can order from a comprehensive children's menu.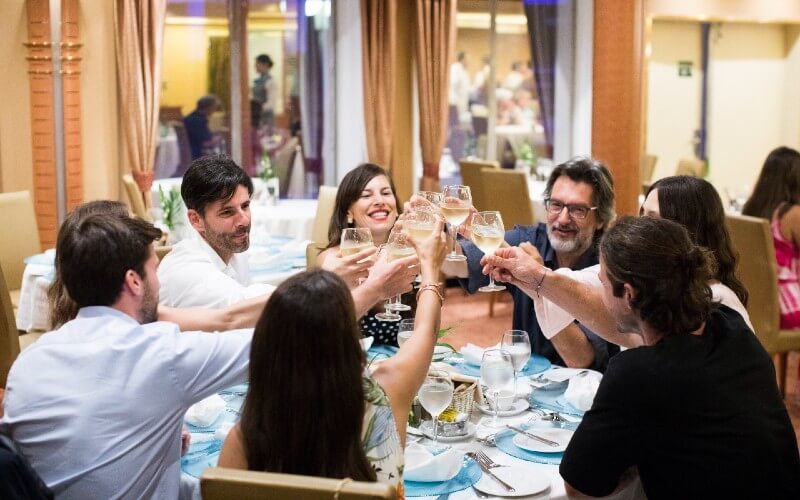 Immersive Greek Entertainment
The Greek culture continues into the evenings on board Celestyal Cruises' lively ships. Rather than sitting and watching passively, guests are encouraged to get involved in Greek dancing, learning the steps to traditional dances like the Ballos, Kalamatianos and Sirtaki.
You'll have so much fun taking part in the daily games, quizzes and karaoke. There are also live cooking demonstrations so that you can learn how to cook mouth-watering Greek dishes at home.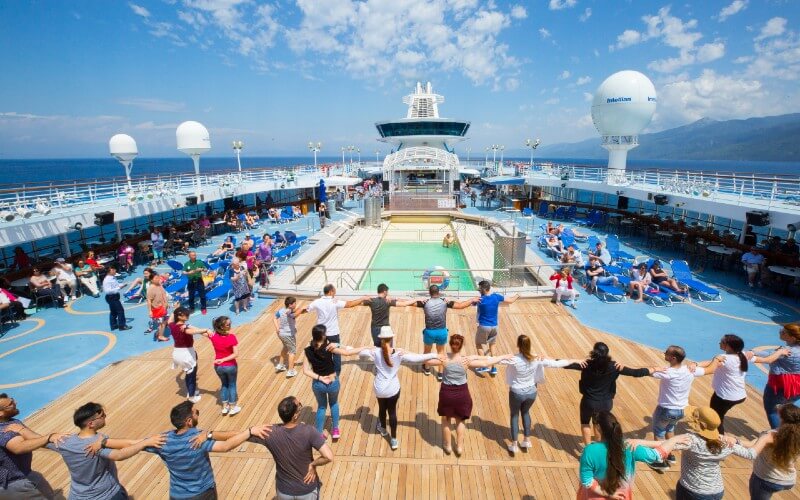 All-Inclusive Value
The Greeks are known for being hospitable and generous. Yet you'll be amazed by just how much is included in your cruise fare with Celestyal Cruises. Your cruise fare includes many of the things that other cruise lines charge extra for.
Unlimited Classic Drinks
Very few cruise lines include unlimited drinks as standard. But, with Celestyal Cruises, you can enjoy an endless supply of house wine, beer, spirits, cocktails, soft drinks, exotic teas and coffees and speciality Greek beverages like Ouzo and Tsipouro.
Immersive Entertainment
Celestyal Cruises offers one of the most extensive programs of entertainment of all cruise lines. For no extra cost, you can enjoy a range of classes, learning things like the Greek language, traditional Greek dancing, Greek cookery and a selection of arts and crafts.
Shore Excursions
Guided shore excursions can be expensive, so it's fantastic that Celestyal Cruises each include a handpicked selection of excursions that will introduce you to the culture and history of Greece. Led by expert guides, you'll really make the most of your time ashore, at no extra cost.
Gratuities & Port Charges
You won't find any hidden costs like service charges or port fees when you book a Celestyal Cruise, as these are already included in the ticket price. While many other cruise lines charge up to $15 per person, per day for crew gratuities, these are included in your cruise fare too, so you'll have no extra bill to pay at the end.
NEW DEALS JUST RELEASED!
Don't miss the latest Celestyal Cruises offers…
Discounts for Solo Travellers
Awarded as the 'Best Cruise Line for Solo Travellers' at Solo Travel Awards, Celestyal Cruises has a fantastic offering for those who prefer to cruise solo. With lots of group excursions, you'll have lots of opportunities to make new friends if you want to.
While most cruise lines charge 100% supplements for solo travellers (meaning that you effectively have to pay for a second person even if you don't have one!), the single supplements on Celestyal Cruises are just 30%.
Greek Island Destinations
Celestyal Cruises offers a range of itineraries from 3 to 14 nights, so whether you want a mini-break or a once-in-a-lifetime voyage, there's something for everyone.
Here are some of the highlights:
Santorini
The spectacular landscapes of Santorini are instantly recognisable, with hills dotted with whitewashed houses and the iconic blue-domed church at Oia. Here you can enjoy the most incredible sunset from a cliff-side restaurant or from the top deck of your ship.
Mykonos
With its winding alleys, pretty little churches and delightful cafes overlooking the sea, Mykonos is a wonderful place to relax and wander. From here you can visit neighbouring Delos with its incredible temples and archaeology.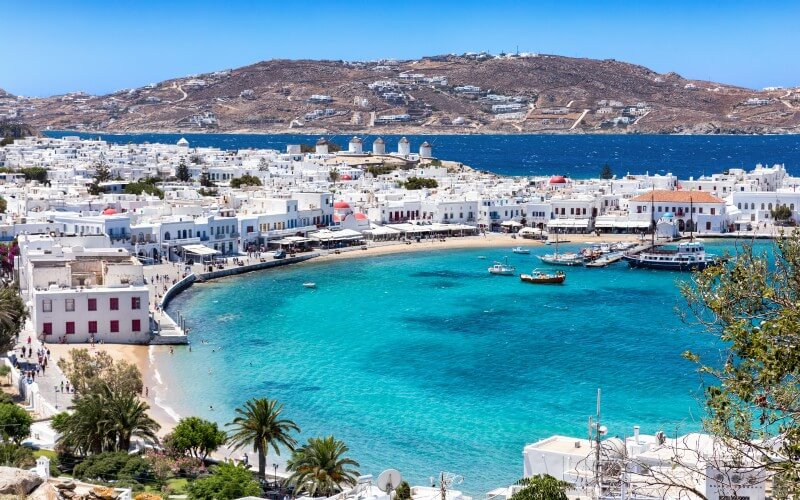 Milos
Shaped like a horseshoe, the Greek island of Milos is known as the 'Island of Colours', thanks to its colourful volcanic rocks, white sandy beaches and turquoise sea. A marvel of nature, if you look closely at the incredible coastline you can sometimes see steam rising from fumaroles both on land and in the sea.
Rhodes
With its medieval Old Town, lush green forests, pretty orchard and vineyards, stunning beaches and plenty of ancient archaeology to explore, Rhodes is an island that has it all. Luckily, the most spectacular sights are easy to access from the cruise port at Mandraki Harbour.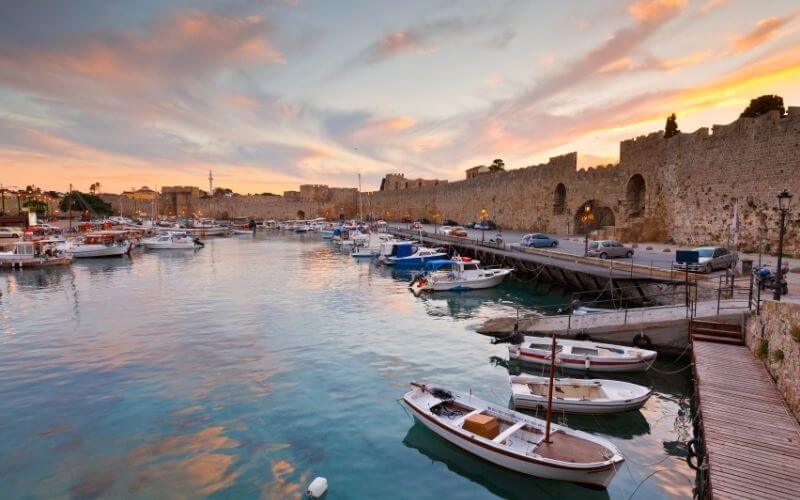 Crete
Crete is the largest of all of the Greek Islands, with cruise ships docking in the capital of Heraklion. From here, you can visit bustling resort towns nearby, or if you're feeling energetic you could take a guided hike into the mountains or explore on a Jeep safari.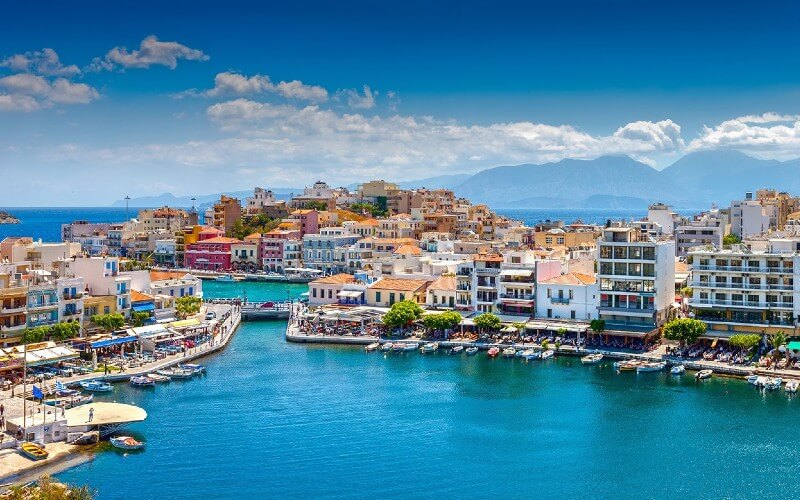 Patmos
The charming and spiritual island of Patmos is featured in the Bible as the place where John the Apostle wrote the final book of the New Testament. Only accessible by sea, this tranquil island is also featured prominently in Greek mythology.
Thessaloniki
The cosmopolitan seaside city of Thessaloniki is the second-largest in Greece, after Athens. As you stroll down its winding cobbled streets you'll see traditional Greek markets, historic Greek architecture and Roman ruins aplenty.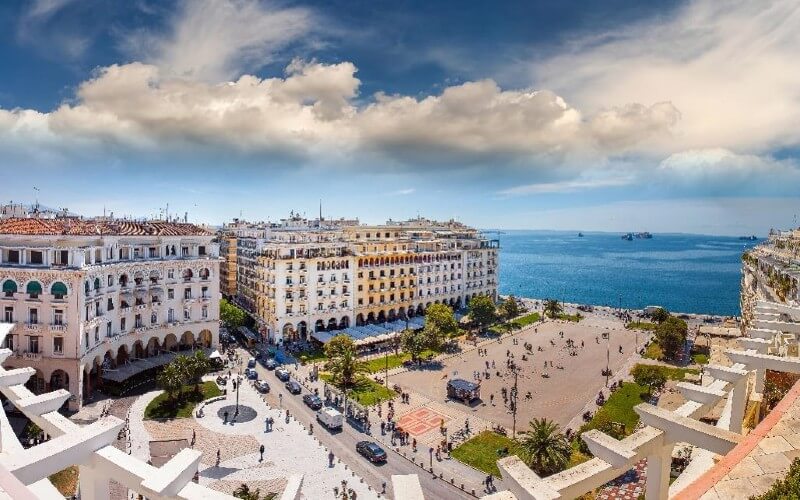 Greek Island Cruising FAQs
Is a Cruise the Best Way To See the Greek Islands?
When it comes to Greek Island hopping, there are three ways to get from island to island – by plane, by ferry and by cruise ship.
Getting around the Greek Islands is pretty complicated, logistically. Both flights and ferries have long and complicated boarding procedures and require you to arrive a couple of hours before departure and spend time in lines.
While flying has the advantage of being fast, this is negated by the amount of time you need to spend in the airport. It can also be very expensive. Ferries are fairly cheap, but you're likely to spend much of the day sitting on an uncomfortable plastic seat for many hours between each island.
The easiest and most enjoyable way to see the Greek islands is by cruise ship. As you visit a different island every day, you'll fit far more into your trip than you would if you had to spend time in airports and ferry ports.
How Many Days Do You Need in the Greek Islands?
You can explore the Greek Islands in as little as four days with a cruise from Athens to Mykonos, Patmos, Crete and Santorini. However, to fully experience Greek history and culture a seven-night cruise is recommended.
Spending seven nights in Greece on a cruise will allow you to explore destinations like Thessaloniki, Rhodes, Crete, Milos, Mykonos and Santorini as well as the nearby Turkish beach resort of Kusadasi.
What Is the Best Month to Cruise the Greek Islands?
Greek Islands cruises are available all year round, but most people choose to cruise between April and September. While July and August are the most popular months, the weather can be very hot in the height of summer. So for a more comfortable trip, you'd be wise to choose June or September.
Find out more about Celestyal Cruises to Greece.
Related Posts: