One of the most unique cruise experiences I've ever had was when I sailed with Celestyal Cruises. Being able to explore multiple Greek Islands each day was new and exciting, and the whole experience was a lot of fun.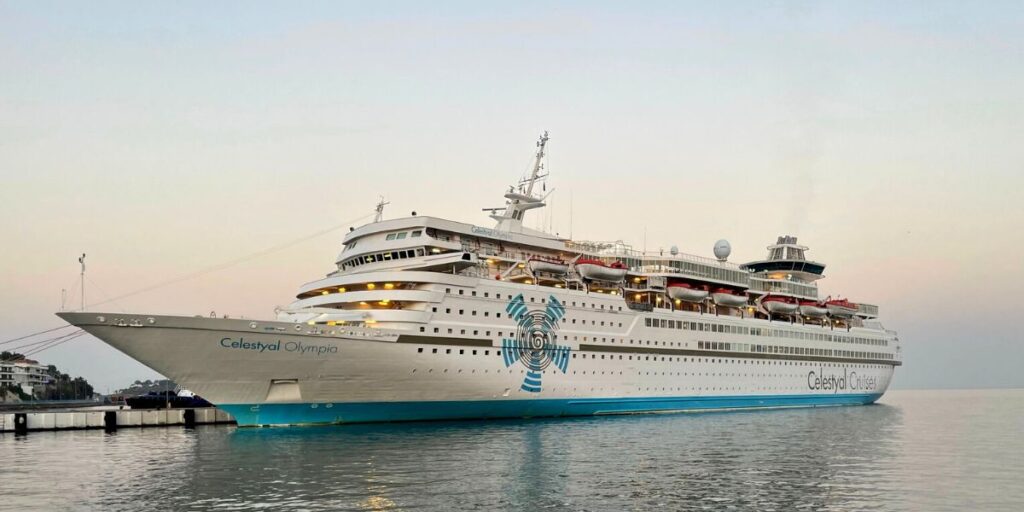 A big part of it was the ship too, so you might be wondering what the Celestyal ships are like – how big are they, what features do they have, and how do they compare to other cruise lines?
Plus, what's the deal with the new ship?
Let's find out.
How many ships does Celestyal Cruises have?
Celestyal Cruises has two active ships in the fleet, with a third ship entering service for the cruise line in September 2023. The ships have all been purchased from other cruise lines and refitted to meet the needs of the Celestyal passenger – none have been custom-built for the cruise line.
Here's a quick look at the three ships that make up the entire fleet:
| Ship | Built | Joined the Celestyal Cruises fleet | Gross Tonnage | Passenger Capacity | Length | Number of decks |
| --- | --- | --- | --- | --- | --- | --- |
| Celestyal Crystal | 1980 | 2007 | 25,611 GT | 1,200 | 492 feet | 9 |
| Celestyal Olympia | 1982 | 2012* | 37,584 GT | 1,664 | 703 feet | 10 |
| Celestyal Journey | 1994 | 2023 | 55,819 GT | 1,260 | 719 feet | 12 |
*Celestyal Olympia officially joined the fleet in 2005 but was immediately chartered to Thomson Cruises, and only began sailing regularly for the cruise line in 2012.
1. Celestyal Crystal
The first of the current ships in the fleet to join the Celestyal Cruises brand, Celestyal Crystal is a beautiful ship offering a fantastic on-board experience.
History
Celestyal Crystal was first built in 1980 for Rederi Ab Sally, a partner of Viking Line, as a cruiseferry. She was christened Viking Saga, and sailed under the name for six years before being renamed Sally Albatross.
In January 1990, while docked in a Swedish shipyard for a refurbishment, the ship suffered a fire which damaged the entire superstructure of the ship. The ship' burned for three days.
Following the fire, most of the ship was scrapped, leaving only the hull below the car deck. The remaining hull was cut into three sections and lengthend to create a new cruise ship!
The ship then underwent several changes of ownership, most notably joining the Norwegian Cruise Line fleet in 1995 as Leeward.
She then joined Star Cruises and then became Silja Opera for the Silja Line, before transferring to Louis Cruises which later became Celestyal Cruises. Phew – what a history!
Accommodation
Celestyal Crystal has six main options for accommodation, four of which are suites. The standard staterooms are either "Interior" or "Exterior" – all exterior rooms are ocean-view only, there aren't any regular balcony staterooms. These rooms sleep between 2 and 4 people – those that sleep 4 have small pull-down beds suitable for children.
The four classes of suite are Junior Suite, Balcony Suite, Suite, and Grand Suite. Despite the naming, it's only the 'Suite' which doesn't have a Balcony – it has two large windows. The rest have a balcony, with the Grand Suite's being the largest and having its own whirlpool bath.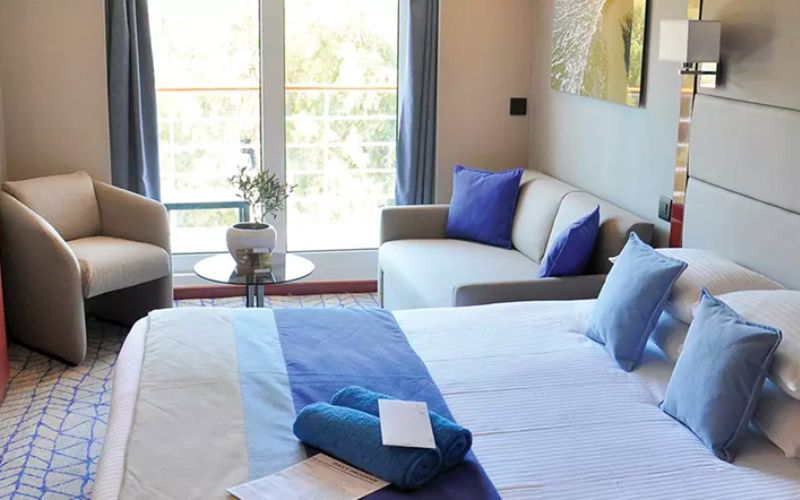 Dining
There are five restaurants on Celestyal Crystal. Two of them are considered to be the 'Main' dining room, in that they offer a varied menu that you can enjoy for no extra charge. There's the Olympus Restaurant on Deck 5, and the Amalthia Restaurant on Deck 8. Of the two, the Amalthia is larger and more grand.
Then there are the casual dining options – the Leda & Aura buffets. They're essentially the same, but on opposite sides of the ship. Head to whichever looks the quietest, as you'll enjoy the same food in both.
Just outside Amalthia Restaurant, there is a small speciality dining restaurant akin to a Chef's Table. Here there are just 12 covers and you can enjoy either a Greek or a Mediterranean Experience.
Bars & Lounges
There are a selection of bars and lounges to enjoy on Celestyal Crystal, including the Horizons Bar, which hosts karaoke every evening. There's also the Muses Lounge which hosts the parties on the ship, including Jazz Night, Latin Party and a "Dance Around The World" party.
The pool deck also hosts a live band every night during the evening.
Things to do
Celestyal Crystal has a good-sized spa and gym area, and there's an outdoor pool you can relax around during the day. The ship has shops and a photography studio, as well as a casino where you can play table games and slot machines.
Destinations
Celestyal Journey tends to offer longer 7-day itineraries sailing around the Aegean Sea.
2. Celestyal Olympia
Celestyal Olympia offers guests a fantastic experience on a more spacious ship than Celestyal Crystal, although some of her on-board choices are actually more limited.
History
Celestyal Olympia has a varied history, although not quite as dramatic as Celestyal Crystal. She began life as the MS Song of America, sailing for Royal Caribbean, where she sailed for 17 years. She then transferred to Sun Cruises, being renamed Sunbird for a six-year stint.
During this time she was sold to Louis Cruises, who chartered the ship back to Sun Cruises until 2005. The ship was then chartered to Thomson Cruises, renamed as Thomson Destiny.
It wasn't until 2012 that she was renamed Louis Olympia and sailed for the cruise line itself, before rebranding as Celestyal Olympia along with the wider brand renaming in 2014.
Accommodation
Celestyal Olympia has similar accommodation options to Celestyal Crystal, but with one suite option missing – the oceanview Suite category.
Otherwise, you can still expect to find the Interior and Exterior cabins that sleep 2-4 guests, using the same style of pull-down bed for extra guests. The only balconies on the ship are for the Junior Suite, Balcony Suite and Grand Suite.
Dining
Dining options are again slightly more limited on Celestyal Olympia – there is just one Main Dining Restaurant on the ship, named the Aegean Restaurant. Here guests can enjoy three-course dinners from a wide-ranging menu.
Casual dining is available in the Aura and Leda buffets, and again these are essentially the same venue but split into two restaurants, so you don't have to deal with everyone crowding around one buffet.
There are no speciality dining venues on Celestyal Olympia but you can choose to pay a little extra for some special dishes in the Aegean Restaurant.
Bars & Lounges
One area where Celestyal Olympia has the advantage over Celestyal Crystal is in the number of bars on the ship. Expect similar experiences from the Horizons bar including karaoke, and the party nights in the Muses lounge.
But there are then three further bars on the ship where guests can grab a drink and relax – the Thalassa bar, the Selene lounge and the Arlo lounge. Entertainment may also be held in these venues depending on the night.
Things to do
In terms of activities, Celestyal Olympia offers the same experience as Celestyal Crystal. Expect to be able to relax by the pool or burn off some calories playing outdoor sports or in the onboard gym. You can then soothe the aches of activity away with a relaxing treatment in the spa.
There's a casino, along with duty-free shops and a photography studio to help you capture the memories of your cruise.
Destinations
Celestyal Olympia tends to focus more on shorter cruises – still visiting the Greek Islands around the Aegean Sea, but with cruises typically lasting 4 nights.
3. Celestyal Journey
Joining the fleet in September 2023, Celestyal Journey promises to offer an exciting range of experiences without losing that intimate, relaxing feel that Celestyal is known for.
History
Celestyal Journey is another ship with a long history, although one with fewer transfers than her sister ships in the fleet. She began life as the MS Ryndam for Holland America Line, launching in 1994 and remaining with the cruise line for 21 years of excellent service.
She then joined the P&O Cruises Australia brand as Pacific Aria, before being sold to Cruise & Maritime Voyages.
Before she could debut as the Ida Pfeiffer for the cruise line, it went into administration, and so she instead was sold to Seajets, sailing as Aegean Goddess for three years before joining Celestyal Cruises.
Accommodation
Celestyal Journey offers similar categories of accommodation to the other ships in the fleet, including Interior and Exterior rooms that sleep between 2 and 4 guests.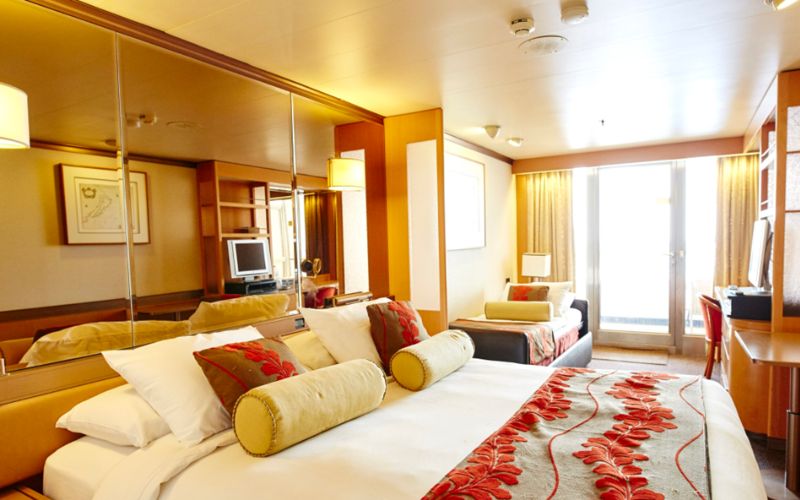 There are three categories of Suite on the ship – the Junior Suite and Grand Suite which appear on the other Celestyal Cruises ships, and a new Penthouse Suite which becomes the largest accommodation option in the fleet.
Dining
One of the biggest advantages to choosing Celestyal Journey is the wider choice of dining options on the ship. Main restaurant choices include the Thalassa Restaurant, the Marco Polo Restaurant and the Mediterraneo Restaurant, and the Leda Buffet returns too.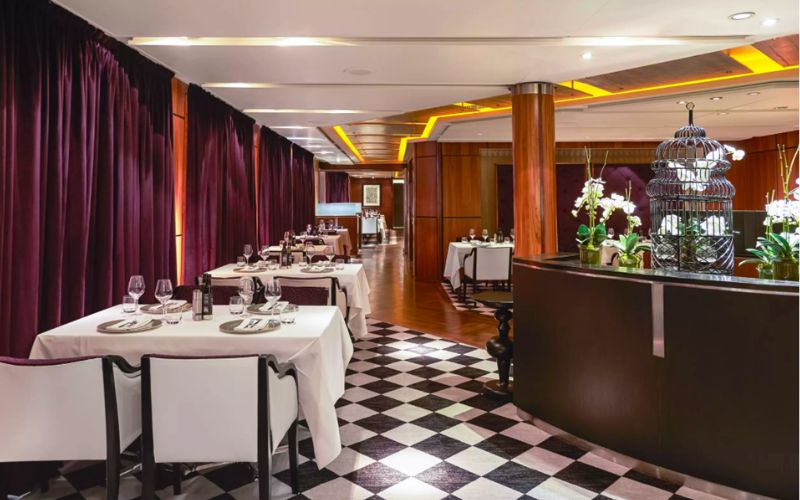 There's also The Grill speciality restaurant for an extra fee, a Chef's Table speciality dining option for smaller parties, and two pool-deck dining options – an Ice Cream & Healthy Juice Corner, and a Greek Deli for lighter snacks.
Bars & Lounges
Celestyal Journey will also host an increased number of bars and lounges compared to the older ships in the fleet. The centrepiece is the ΘEATRO Show Lounge where live performances will bring every night of the cruise to life.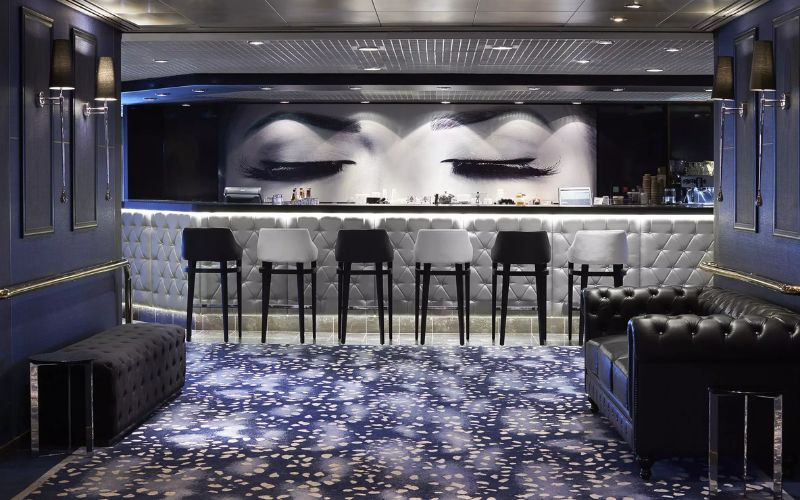 There are three symposiums on the ship too, if you want to enjoy fantastic musical performances, along with the returning favourite Horizons lounge and disco. Other venues include The Grill lounge (just outside the speciality restaurant), the Ocean bar, Helios bar and the Martini Piano bar.
Things to do
In terms of daytime activities, Celestyal Cruises sticks to what it knows with Celestyal Journey – guests can look forward to relaxing spa treatments (the spa is much bigger than on the older ships), outdoor sports, shopping and photography. The outdoor pool has a retractable roof too, so can be used in all weather.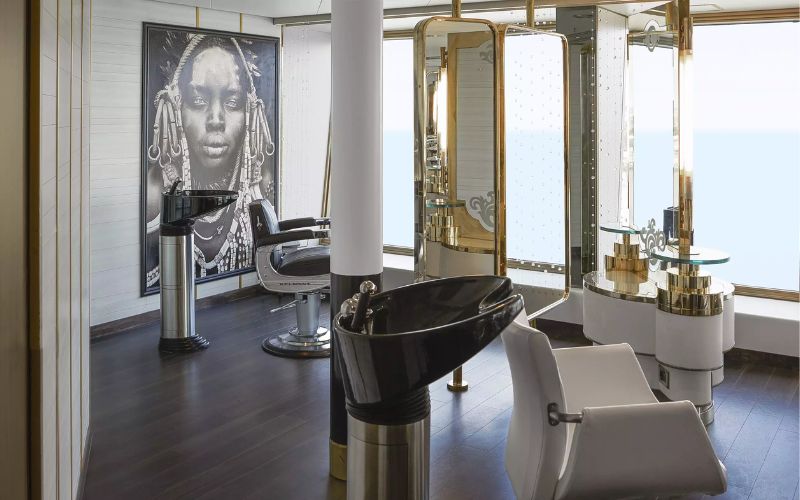 There is a casino, and there's also an expanded kid's area with an arcade to help keep younger guests entertained.
Destinations
Celestyal Journey will offer a range of itineraries, primarily from 7 nights and up. Some longer celebration cruises will be available around major holidays.
NEW DEALS JUST RELEASED!
Don't miss the latest Celestyal Cruises offers…
Celestyal Cruise Ship FAQs
How big are Celestyal cruise ships?
Celestyal ships are considered small-to-mid-sized cruise ships – they are all around 700 feet long or less, and the largest has an internal volume of just 55,819 gross tonnes. That's around 20% of the size of the biggest cruise ship in the world, Icon of the Seas.
How many people are on a Celestyal cruise?
The capacity of Celestyal cruise ships is around 1,200 to 1,600 at maximum capacity. They are not super-ships and do not have huge crowds – instead, they have a much more relaxed atmosphere.
Final word
The ships in the Celestyal Cruises fleet are all fantastically maintained despite their age, and offer a wonderful cruise experience.
Celestyal Journey will take this to new heights with the increased variety of bars and dining options, but don't be put off from sailing on the older ships – they are still amazing if you want to relax and don't need a ship packed with climbing walls, go-kart tracks and all the other bells and whistles from modern super-ships.
NEW DEALS JUST RELEASED!
Don't miss the latest Celestyal Cruises offers…
Related Posts: