Windstar Cruises operates a fleet of six small cruise ships, each carrying fewer than 350 guests. With the strapline '180° From Ordinary', Windstar Cruises promises to deliver 'personalised and immersive' experiences.
I've cruised on ships of all sizes, from 180-guest river cruise ships to mega ships that accommodate 6,000+ people. Windstar Cruises is certainly very different to the mega-ship cruises I usually book with my family!
So, would I enjoy the small luxury ship experience on the all-suite Star Legend? I was excited to find out…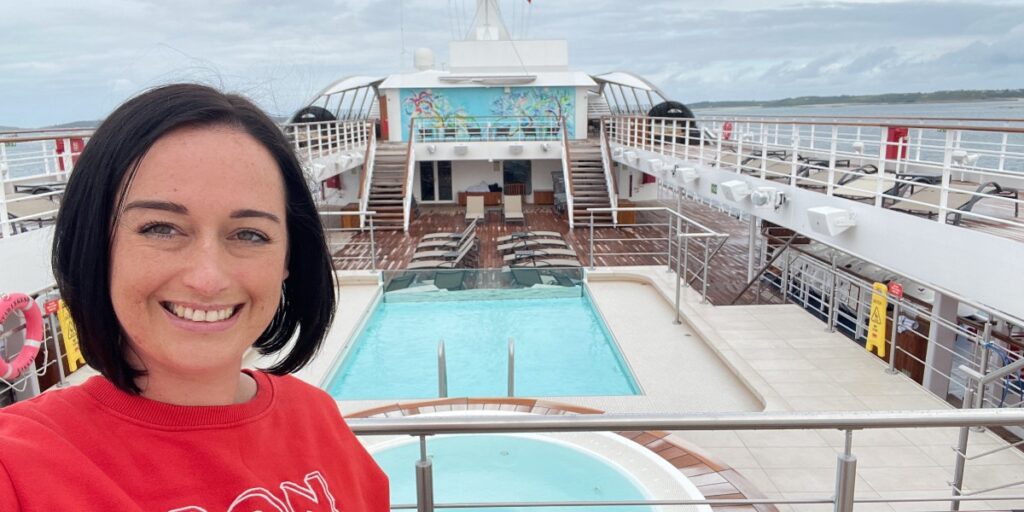 First Impressions
I boarded Star Legend in Dun Laoghaire, Dublin. As I walked up the gangplank I was aware of how small and steep it was, and we ducked slightly as we stepped aboard the ship.
I entered the atrium with its spiral staircases and classic wood and gold decor and was greeted by the most friendly and welcoming crew members.
Star Legend is a slightly older ship, having launched in 1990 and previously sailed for Seabourn Cruise Line and others before that. But she didn't look dated at all – just classically luxurious.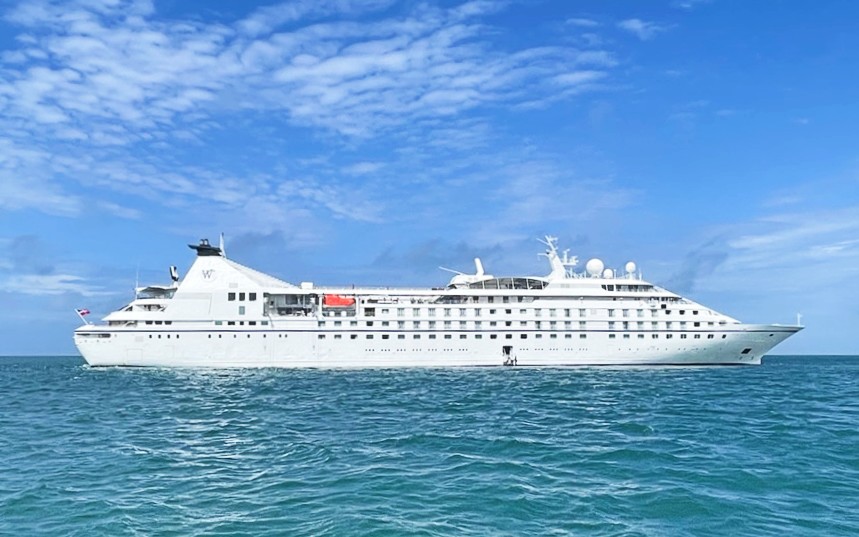 My pre-cruise research told me that the ship also featured at the centre of the Sandra Bullock movie, Speed 2: Cruise Control!
The vibe on board is elegant, yet relaxed. I headed down the spiral staircase and within a few steps I was at the door of my suite.
Accommodation
Star Legend is an all-suite ship and I stayed in a Star Suite. There are no inside cabins on this ship – all have windows and the top suites have step-out balconies too.
As I entered the suite I was immediately greeted by the scent of a huge bouquet of fresh flowers. The suite itself was very spacious, with a large bed, sofa, armchairs, desk and coffee table.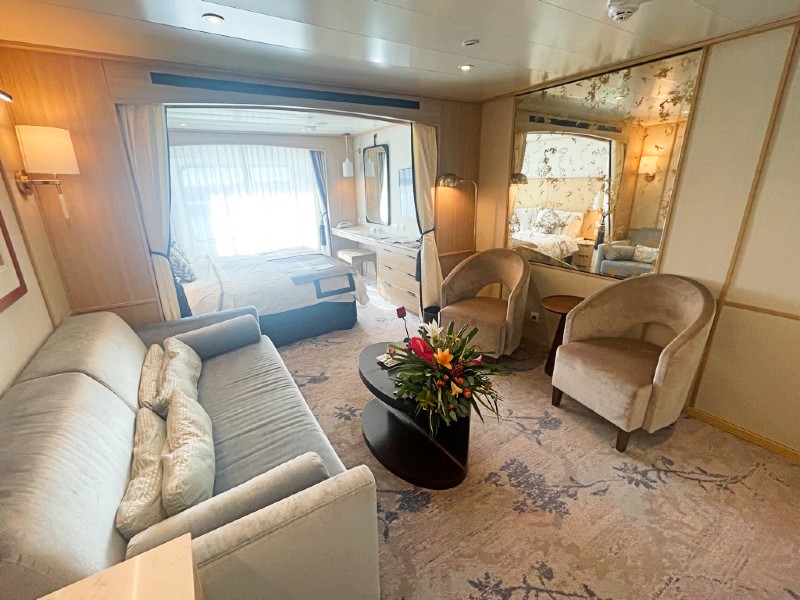 The bathroom was huge with double sinks, a large shower and a delightfully fluffy bath mat. And there was also a separate walk-in wardrobe to store everything.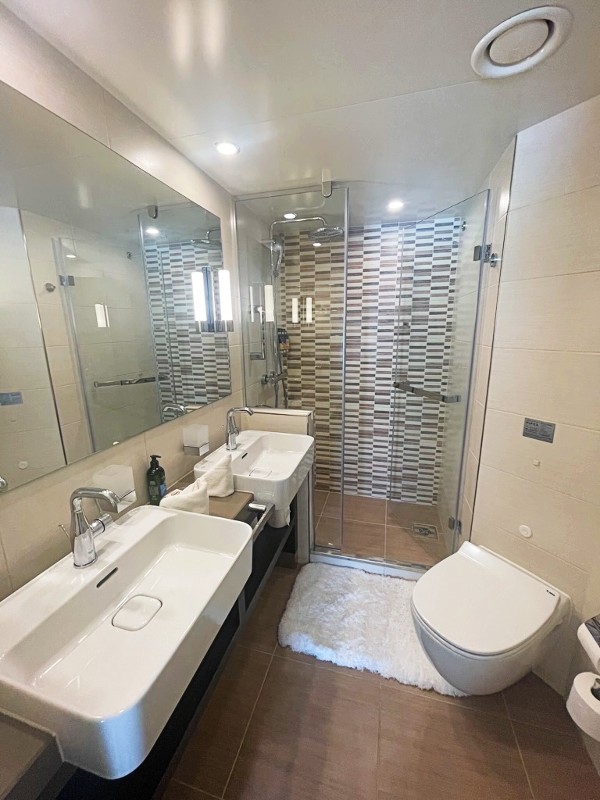 The room has a mini-bar (only the non-alcoholic drinks are free of charge) and my room attendant provided a constant supply of fresh, cold water and a bucket of ice.
It's fair to say that this was one of the best suites I have ever stayed in on a cruise ship.
Dining
The food onboard Star Legend was fantastic. Everything was fresh and tasty, with dishes inspired by the regions we visited. There was a good amount of choice to suit all tastes and I feel like I ate much more healthily than I usually do.
Let's take a look at each of the dining options onboard…
Amphora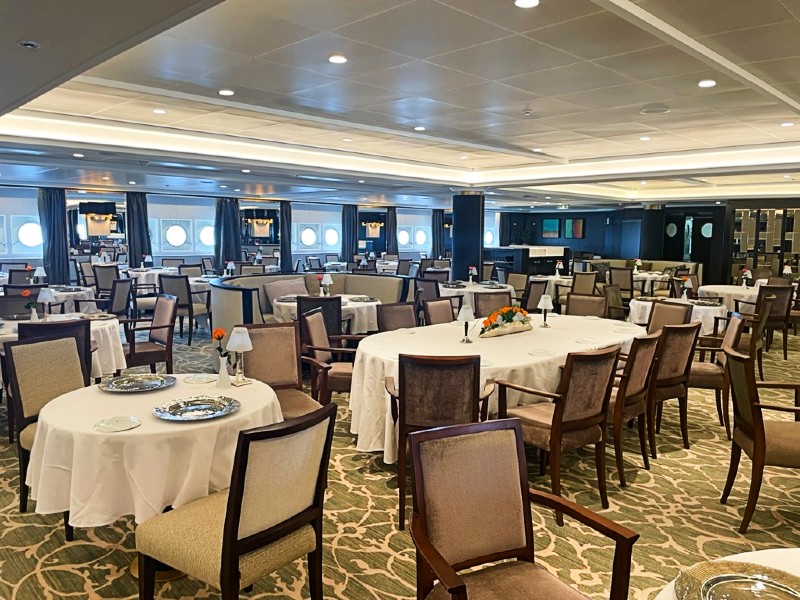 The main dining room, Amphora, is open every evening from 7-9 pm with no reservations needed, which is just perfect.
The food here was excellent, as was the service. The venue is traditionally styled with beautiful silver chargers on the tables, a choice of black or white napkins depending on your outfit, and all the little extras that make the dining experience really special.
Veranda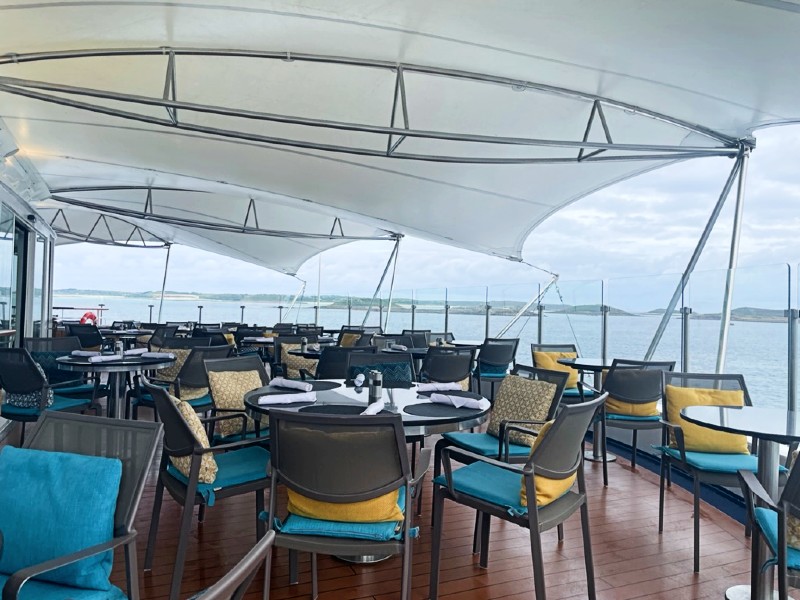 Veranda is the buffet restaurant on Star Legend. It's open from breakfast and lunch. At both, you have the option to order selected dishes from the menu, or help yourself from the buffet. Or both!
There's a good selection of dishes, it's never crowded and there are plenty of seats for everyone. You can sit inside or outside and both options are lovely.
Candles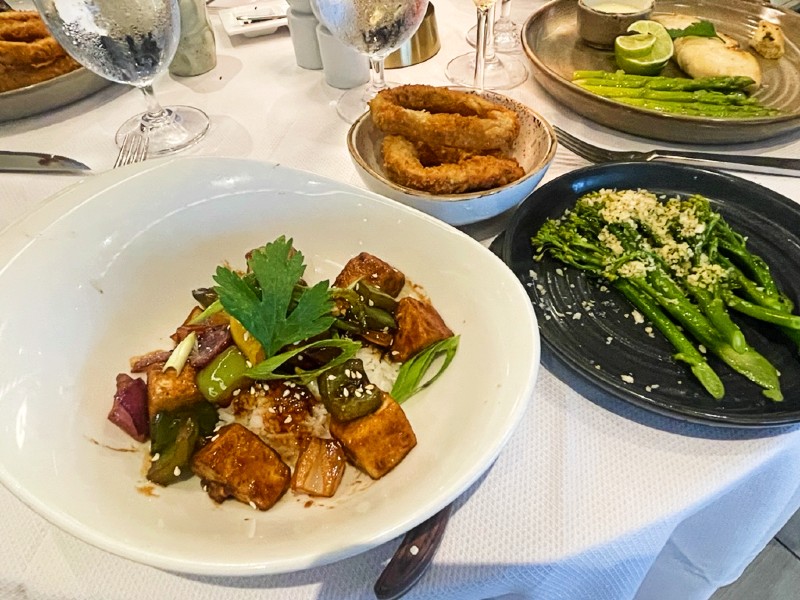 In the evening, Veranda becomes Candles. This is an intimate, steak and seafood restaurant, with vegetarian and vegan options available too.
This is a speciality restaurant, but there's no cover charge, you just need to book in advance to make sure that you can experience it.
The ambience is lovely and the food is incredible so I would definitely recommend that you book this one on your Windstar cruise.
Suggested read: What Do Windstar Cruises Include?
Cuadro 44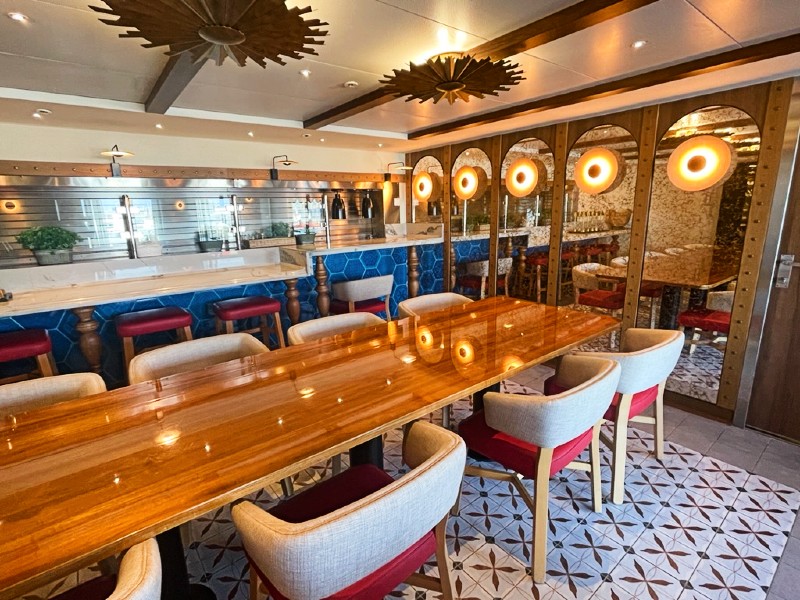 Cuadro 44 is a tapas restaurant that opens in the evening. Again, it's a speciality restaurant, but there's no extra charge. It's a small venue, seating only 36 guests, so be sure to book it in advance.
There's an open kitchen so you can watch the chefs at work and a large sharing table which is great if you like to spend time chatting to the other guests.
Star Grill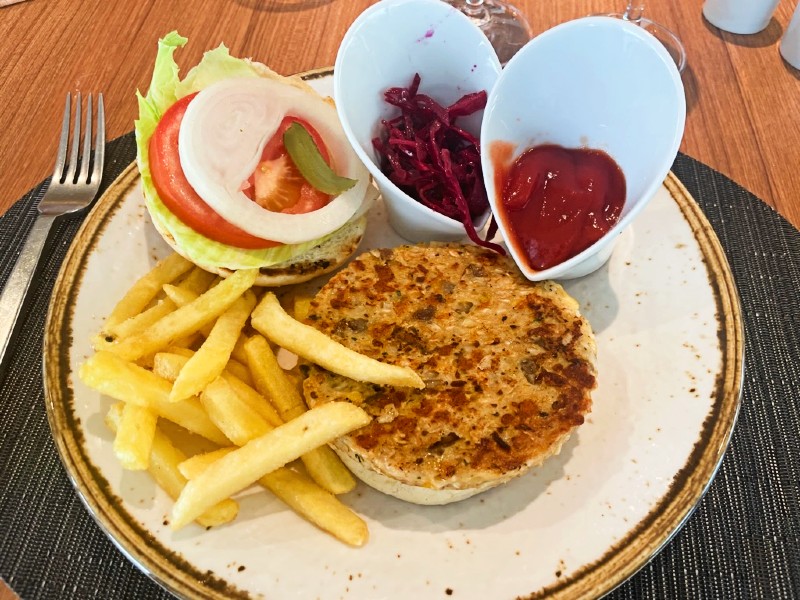 Star Grill is a casual al fresco dining option which is open from 12 – 4 pm. It serves burgers, hot dogs and carvery including a fantastic veggie burger with fries that I had several times!
Yacht Club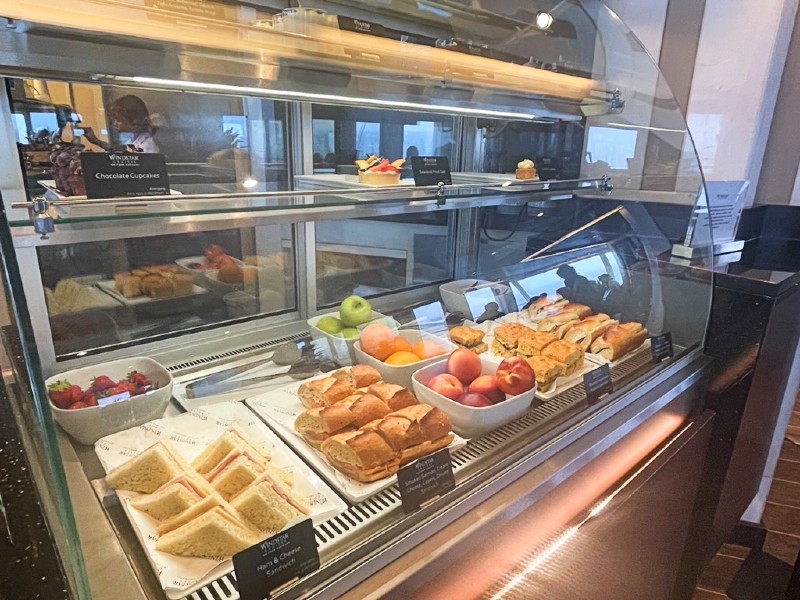 The Yacht Club is a cafe-style lounge with a counter where you can grab light bites throughout the day. It has breakfast pastries, fruit and smoothies in the morning, then sandwiches, wraps, cakes and cookies in the afternoon.
It also serves the most fantastic coffees I've ever had at sea. You can enjoy these in fancy glass cups or take them away in a lidded paper cup.
Note: Yacht Club is also the name of Windstar Cruises' loyalty programme. But everyone is welcome in the Yacht Club lounge, including first-time cruisers.
Barbecue Evening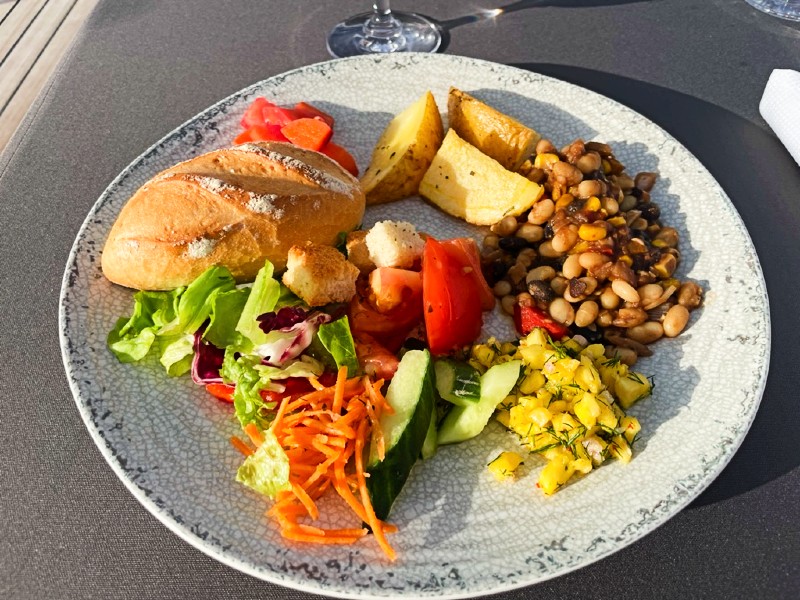 On our cruise, we enjoyed a barbecue on the top deck one evening. There were lots of dishes to choose from, along with live music. Tables and chairs were placed all around the top deck and the atmosphere was fantastic.
Room Service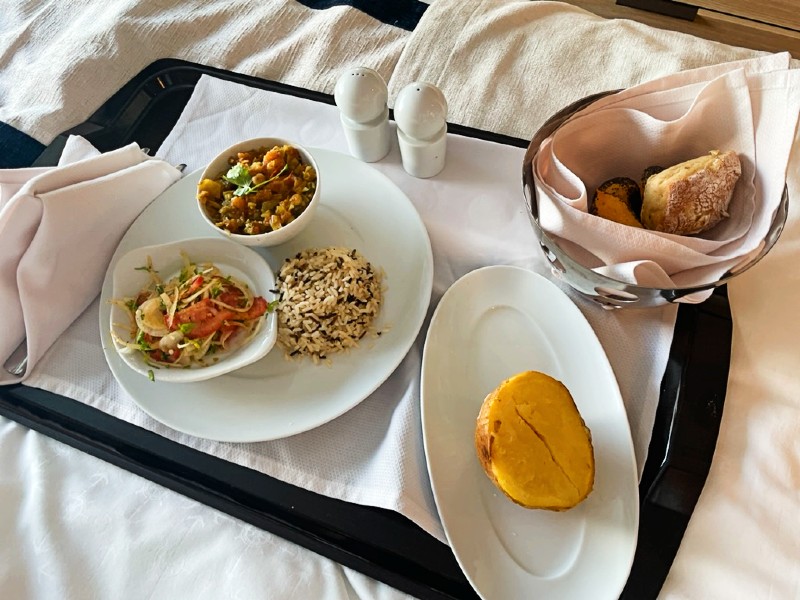 On Windstar Cruises, room service is available 24 hours per day for no charge. The food arrived quickly and was absolutely delicious. The benefit of having a suite also means that you have somewhere to sit and eat it aside from the bed.
You can even get popcorn and snacks delivered should you wish to enjoy a movie night in your suite.
Vegan Options on Windstar
Being vegan, I was very impressed that I always had a choice of dishes to eat at every meal. Windstar Cruises has an excellent plant-based menu and everything is labelled clearly. A few times I asked if one of the other dishes could be modified to be made vegan (such as serving it without cheese) and this request was always accommodated.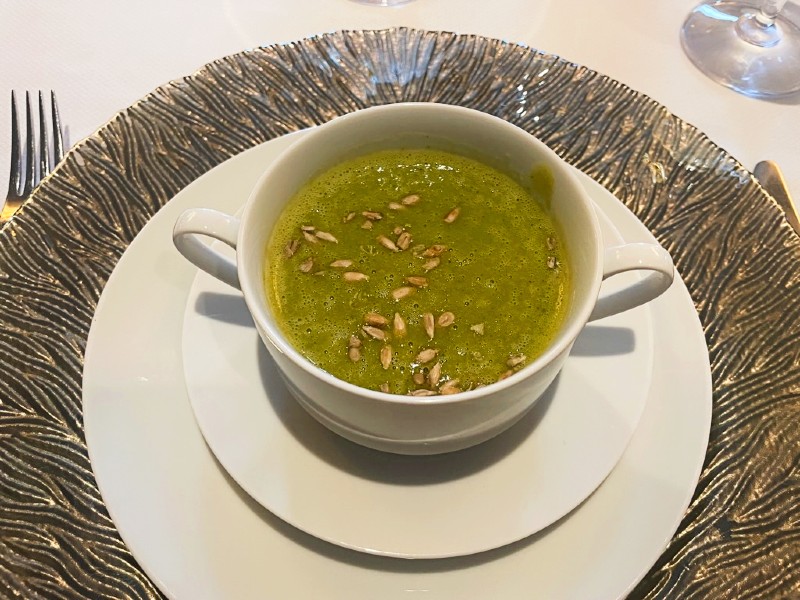 Many of the plant-based dishes are also free from sugar, oil and salt. There are no fake meats, so everything is very healthy. Cooking vegan food without these ingredients is a challenge, but the chefs managed to make everything very tasty, and you can always add salt at the table if you wish.
A choice of plant-based milks are available throughout the ship. Some vegan butter or margarine would be a nice addition to have but sadly this wasn't available.
Drinks
All non-alcoholic drinks are complimentary onboard Windstar Cruises. That includes fancy coffees, bottled water and freshly squeezed juices.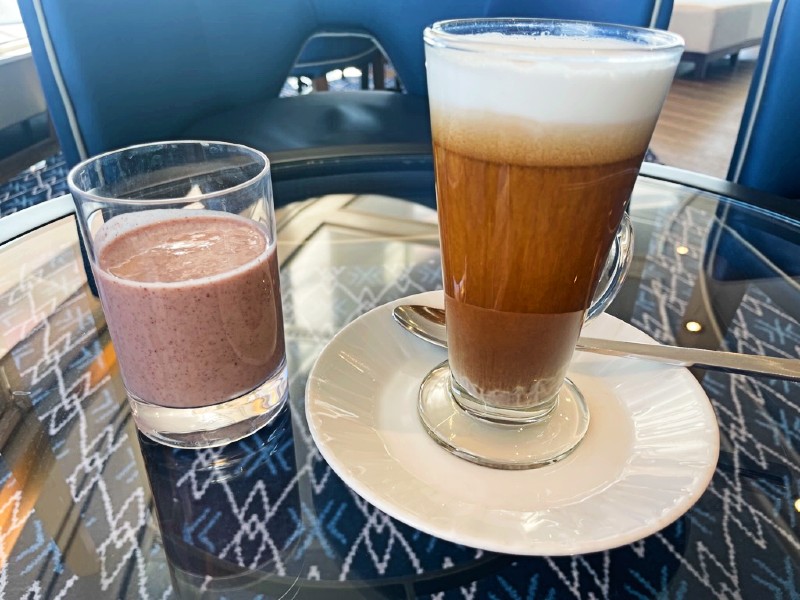 The alcoholic drinks are reasonably priced and drinks packages are also available.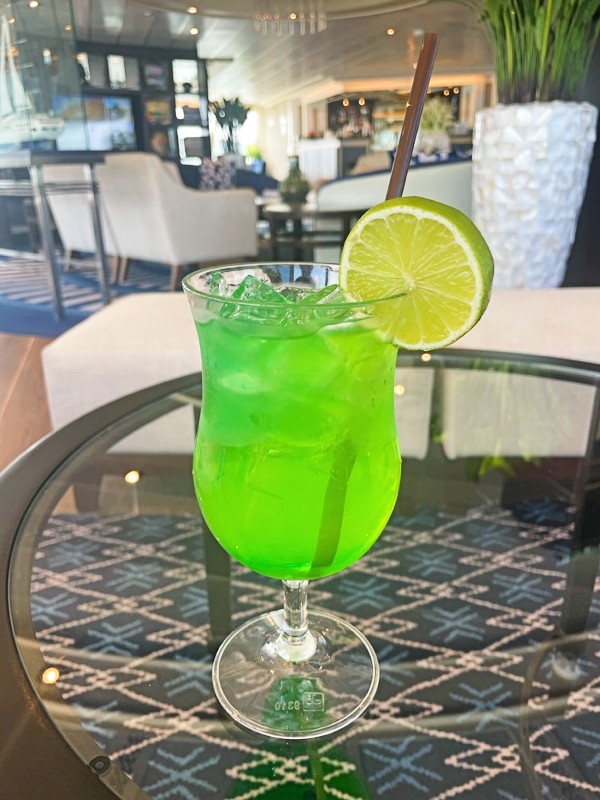 The cocktail menu is one of the most extensive I've seen. It has so many that there's no space to explain what's in each one, although the crew members can gladly tell you, or you can enjoy a surprise! The cocktails are really large and taste incredible.
Leisure Facilities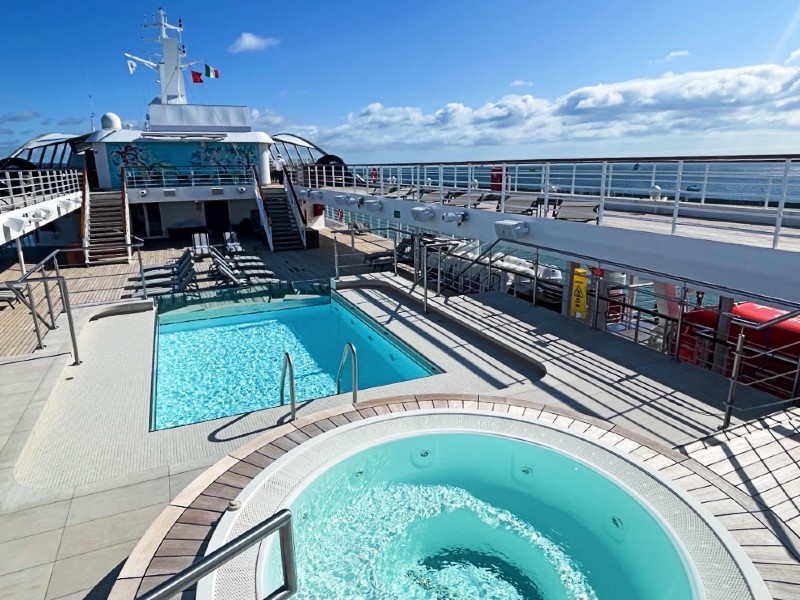 I loved the swimming pool on Star Legend. It wasn't very big, but it was so warm! On the sea day, I spent about an hour floating in the pool while people walked around the deck wearing coats and scarves!
There are also two whirlpools – one by the main pool and another one hidden away right at the front of the ship. Both were set to the perfect temperature and with just 312 guests on board there was always space.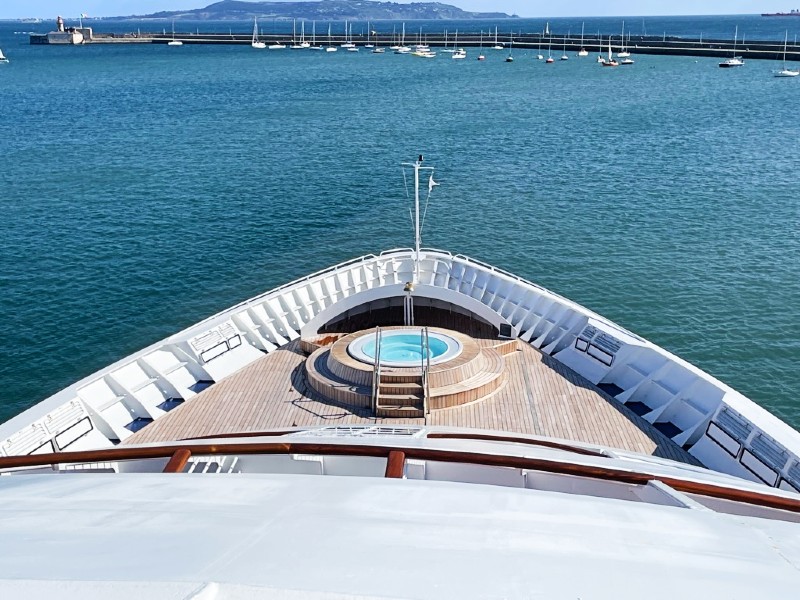 There's a decent-sized gym and you can get your steps in by walking around the top deck. There's also a spa, with a sauna and steam room that are available to use at no extra charge.
The ships have a watersports platform so on warm-weather cruises you can dive right into the water from the ship! You can use the paddleboard, kayaks, snorkelling equipment and there's even an inflatable water slide!
There was no chance of this on our British Isles cruise, but I imagine that somewhere like Tahiti, this would be an incredible experience.
Onboard Activities and Entertainment
The entertainment onboard Star Legend is very laid-back, so don't expect large productions or a variety of acts.
The house band plays live music in the evenings and there are also quizzes each night. The cruise director has a great stage presence and is very funny.
Many of the crew members get involved with the entertainment, such as the officer's line dancing performance at the barbecue and the very popular crew show.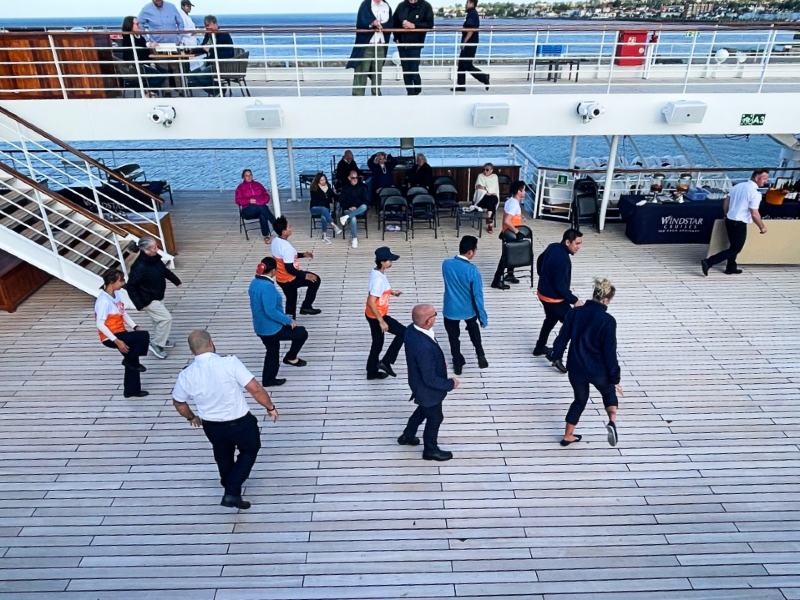 At the crew show, members from various departments such as housekeeping, bar staff and the spa put on performances. Many of these were traditional songs and dances, and some were absolutely hilarious, such as the 'synchronised swimming show' which took place on the stage!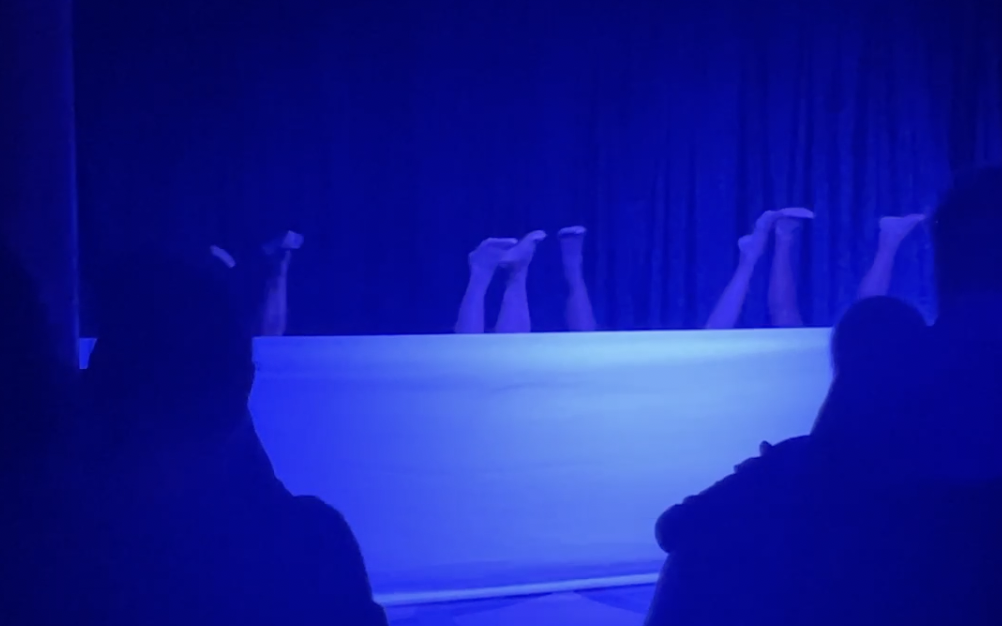 Lecturers were onboard giving talks on various topics including each of the ports of call. Movies were shown in the screening room, although there's also a huge selection of movies you can watch on the TV in your suite.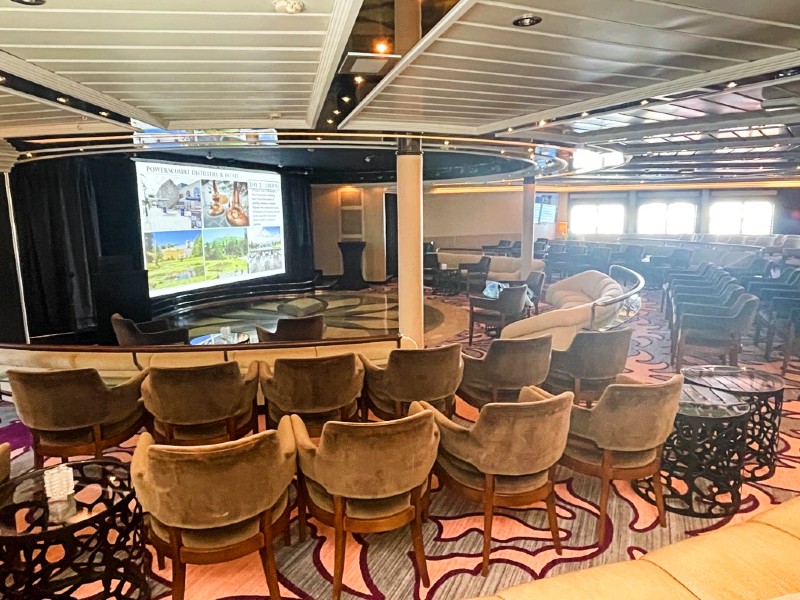 In the daytime, there are a few things you can attend, but the schedule is far from busy. With few sea days, people are generally off the ship exploring. But you can relax by the pool and there are plenty of board games available in the Yacht Club.
Itineraries
When booking a Windstar cruise, your main consideration should be the itinerary. This isn't a cruise line that you would choose if you're the type of person who likes to spend the majority of your time being entertained on the ship.
The itineraries are all fantastic though, and carefully planned to include the most fascinating off-the-beaten-path destinations that aren't available to larger cruise ships.
On our cruise, Star Legend sailed up the Thames, under Tower Bridge and right into the heart of London.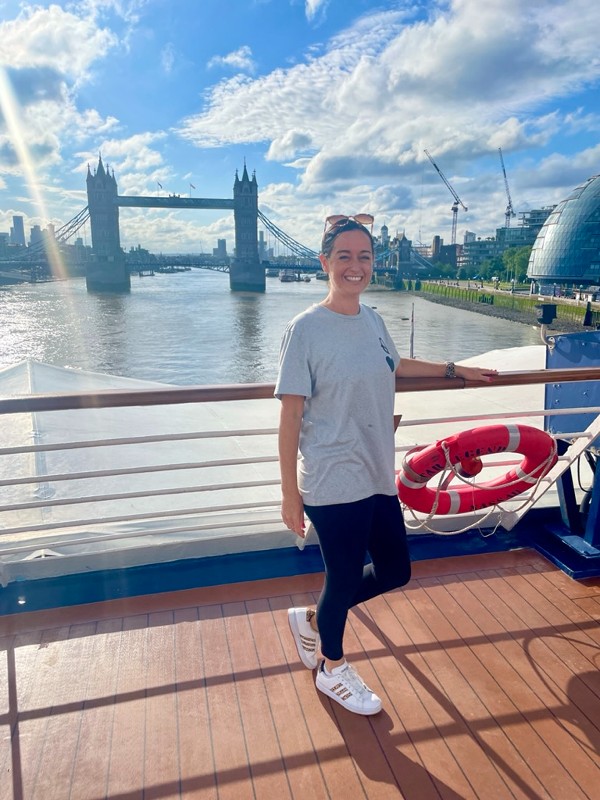 There are over 300 ports of call to choose from, including exotic destinations across the South Pacific, Caribbean, Asia and the Middle East. The ships regularly stay late into the evening or overnight to give you more time to explore each port of call.
Value For Money
Windstar Cruises start from around £250 ($320) per night, which places it firmly in the luxury category. You will have gratuities and airfare to cover on top of that.
The cruises do include some things that most cruise lines would charge extra for, such as non-alcoholic drinks, speciality dining and access to the spa. And the level of service certainly goes above and beyond, as nothing is too much trouble for the friendly crew members who work hard to ensure that every guest is well-looked after.
On a Windstar cruise, every moment is enjoyable. There are no crowds, no queues, no set dining times, just pure, uninterrupted relaxation. And for many, that justifies the price.
NEW DEALS JUST RELEASED!
Don't miss the latest Windstar Cruises offers…
Who Would Enjoy This Cruise?
Windstar Cruises are mostly enjoyed by retired couples. Children aged eight and over are allowed on board, and you may see a few older children, but these cruises generally attract a 50-plus group.
If you love great food, appreciate excellent service, and want to see the world in the most relaxing way possible, then a Windstar cruise is for you.
I loved my cruise on Star Legend so much. Yes, I still love waterslides, zip lines, kids' clubs and comedians on a cruise. And Windstar offers none of that. But what it does offer, is done perfectly.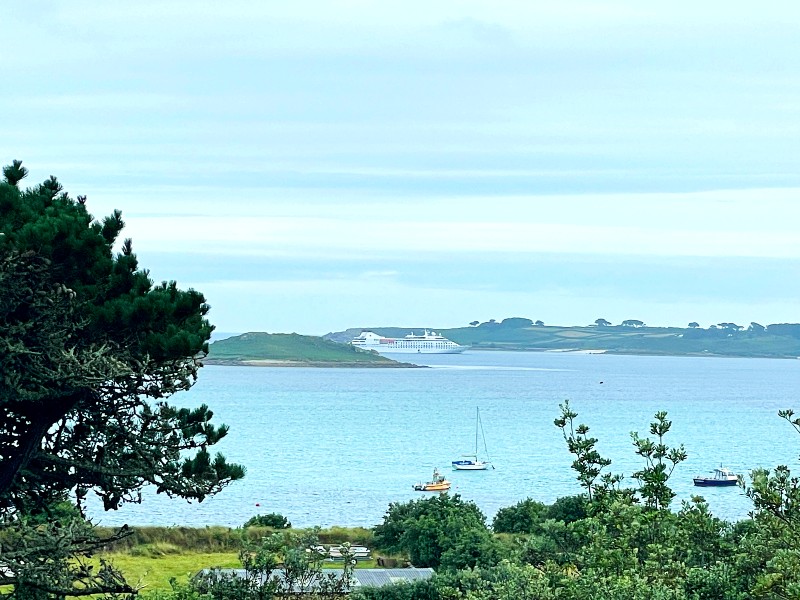 I also made a vlog while on this cruise, and you can watch that on YouTube here…
Related Posts: