You may have heard of Nicko Cruises and are wondering what they offer…
Originally a river cruise line, Nicko Cruises has now ventured into the ocean cruise market. I recently spent the day onboard Nicko Cruises Vasco Da Gama. So I've put together what I've learned into this useful guide for you.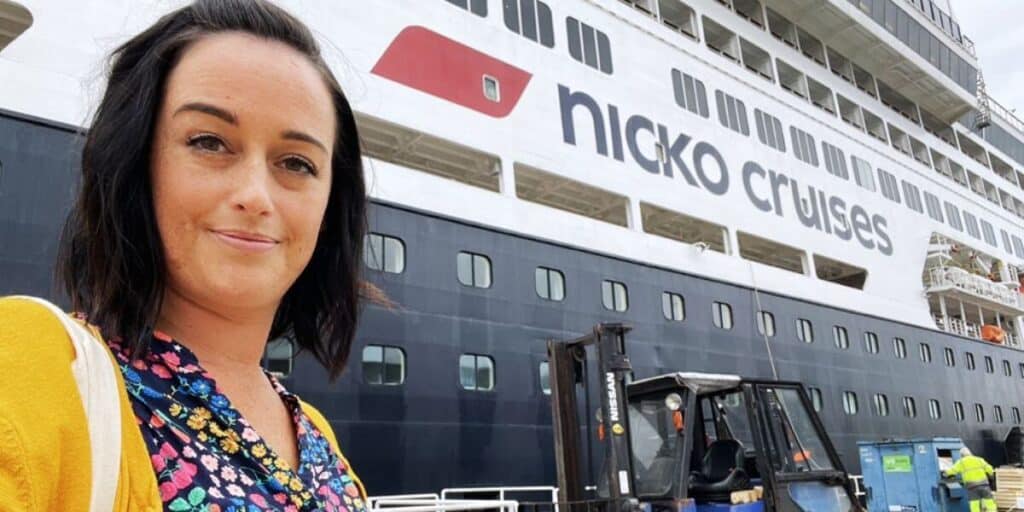 So, if you're curious about Nicko Cruises, keep reading. I have all the details here for you…
Who are Nicko Cruises?
Nicko Cruises is a German cruise line that has evolved from a river cruise line into also offering ocean cruises with its classic cruise ship, Vasco Da Gama, which launched in 2021.
The cruise line focuses on 'slow cruising', giving guests plenty of time to explore each of the places that they visit. The ships are spacious and with lots of peace and quiet, offering a relaxing experience.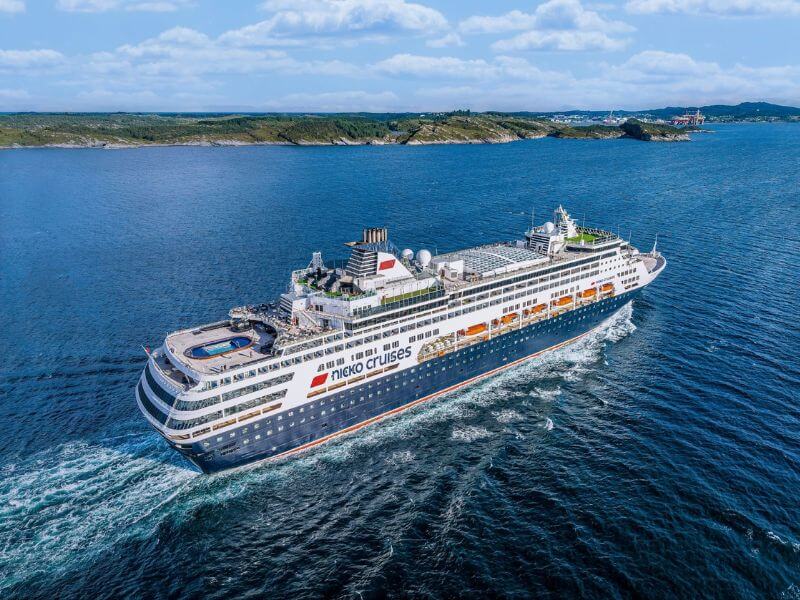 On board Nicko Cruises ships, both German and English are spoken. If there are tour groups from other countries onboard, announcements will be made in their language too.
The History of Nicko Cruises
Nicko Cruises was founded by the German Ekkehard Beller as Nicko Tours in 1992, offering river cruises on the Volga River in Russia.
In 2015, Nicko Cruises ran out of cash and filed for bankruptcy. The company was taken over by a Portuguese businessman called Mario Ferreira who rebranded the company as Nicko Cruises Flussreisen GmbH. (Flussreisen means 'river travel' in German).
In 2018, with a planned entry into the ocean cruise market, the company was renamed as Nicko Cruises Schiffsreisen GmbH. (Schiffsreisen means 'ship travel' in German).
Post-acquisition, Nicko Cruises further expanded its fleet, incorporating modern river ships with state-of-the-art amenities. The company now offers a diverse range of cruise experiences, including traditional river cruises on the waterways of Europe, Asia, the Nile, the Mississippi and also on the Baltic Sea and Dalmatian Coasts. The ocean ship Vasco Da Gama offers a wide range of itineraries from four to 183 days.
Who owns Nicko Cruises?
Nicko Cruises is owned by Mystic Invest, a Portuguese holding company with various interests in the tourism and maritime sectors.
The company was started in 1993 by Mário Ferreira, with the establishment of a Portuguese river cruising company called DouroAzul. Other brands under Mystic Invest include Mystic Cruises – a Portuguese company offering luxury expedition cruises to the Antactic – and Atlas Ocean Voyages – offering luxury yacht-style expeditions.
In 2022, Mário Ferreira became the first Portuguese person to travel to space aboard Jeff Bezos' rocket, along with five other wealthy space tourists.
Nicko River Cruises Fleet
Nicko Cruises has a large fleet of 20 river cruise ships. This diverse fleet ranges from small yachts accommodating just 40 guests, to large river cruise ships with space for over 400 guests. Each provides the same level of luxury that you would expect from a boutique four- or five-star hotel.
| River | Ships | Guests |
| --- | --- | --- |
| Danube | nickoVISION, MAXIMA, nickoSPIRIT, VIKTORIA, BELVEDERE, BOLERO, BELLEJOUR | 170 to 220 |
| Rhine | nickoSPIRIT, RHEIN SYMPHONIE, BELVEDERE, RHEIN MELODIE, CASANOVA | 96 to 196 |
| Douro | DOOURO QUEEN, DOURO SERENITY | 126 to 130 |
| French Waterways | BIJOU DU RHONE, SEINE COMTESSE | 150 |
| Elbe & Oder | KATHARINA VON BORA | 80 |
| Dalmatian Coast | PRINCESS | 40 |
| Mississippi | AMERICAN QUEEN | 417 |
| Mekong | MEKONG NAVIGATOR | 68 |
| Nile | STEIGENBERGER LEGACY, STEIGENBERGER OMAR EL KHAYAM, STEIGENBERGER MINERVA, NILE MONARCH | 84 to 160 |
Nicko Ocean Cruises Fleet
Vasco Da Gama
Nicko Cruises has only one ocean ship – Vasco Da Gama. The ship began sailing in 1993 for Holland America Line as MS Statendam. She has previously sailed as Pacific Eden for P&O Cruises Australia and as Vasco Da Gama for the now-defunct Cruise & Maritime Voyages.
When CMV went bust in 2020, Vasco Da Gama was sold at auction for just over $10 million and adopted by Nicko Cruises. The ship accommodates 1,000 guests and is a sister ship to Fred Olsen's Borealis and Bolette.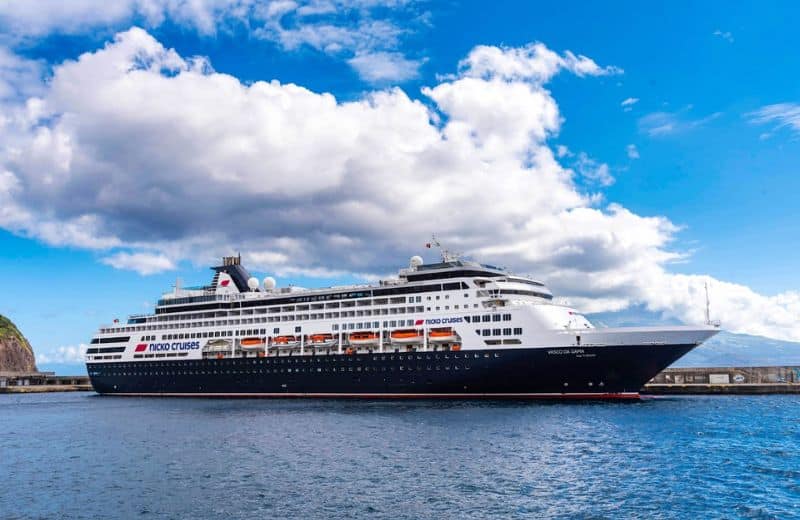 World Voyager
Nicko Cruises also has a second ship – World Voyager. A new-build small luxury cruise ship accommodating just 200 guests, World Voyager entered service in 2020. Offering high-ticket expedition cruises after the pandemic and through the recession in Germany, Nicko Cruises struggled to make the ship profitable.
She completed her last voyage for the cruise line in September 2023 and has now been transferred to sister company Atlantic Ocean Voayges, where it will cater to the American market on sailings to Antarctica.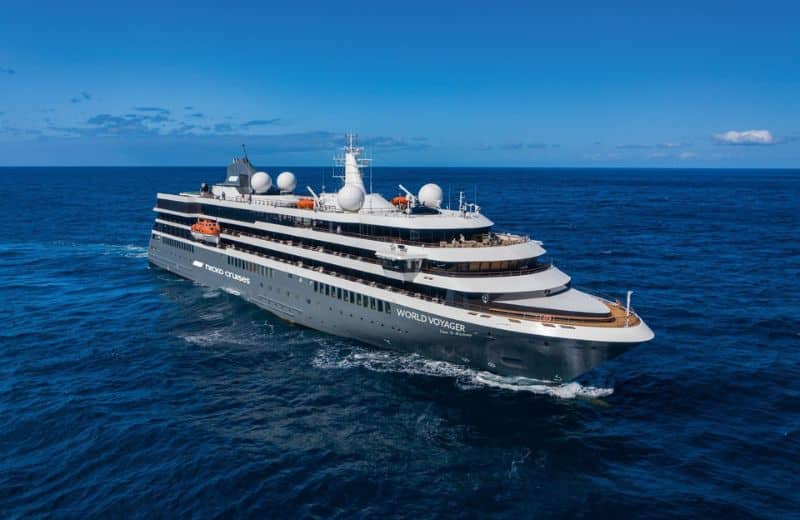 What To Expect On A Nicko Cruise
Here's an overview of what life is like onboard Nicko cruises…
Time to discover
Enjoy cruising at a slower pace, with more time for on-board relaxation and shore excursions. You'll have plenty of time to relax and take in your surroundings.
A relaxing ambience
Enjoy spacious sun decks, relaxing retreat areas, small and exclusive spas and quiet reading areas and lounges. Clear-cut lines, pale colours and modern fabrics create a pleasant atmosphere of understated luxury.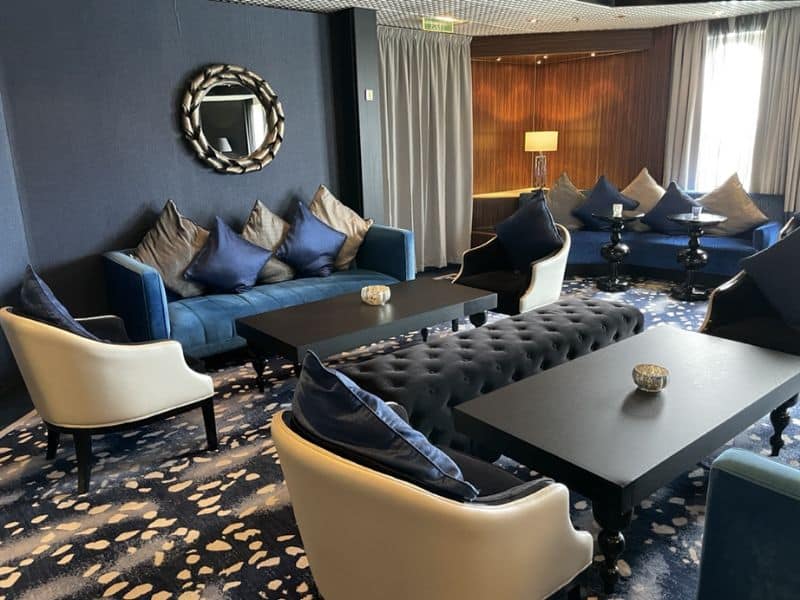 Interesting menus
Nicko Cruises' chefs offer varies menus with a mix of international and regional specialities in the buffet as well as the main dining room. Every cruise features a festive gala dinner.
All-inclusive value
Whether you book an ocean cruise or a river cruise, Nicko Cruises offers very good value for money, with a lot included in the cruise fare.
Packages include flights or Eurostar rail travel from the UK as well as port fees and taxes, onboard gratuities and wifi. All meals are included, as well as afternoon teas and snacks. Your cruise also comes with a drinks package included, so you can enjoy a selection of drinks at no extra charge.
Children's Facilities
If you cruise on Vasco Da Gama in the school holidays, your children can enjoy the kids club with indoor and outdoor areas. The great news for parents is that kids aged 16 and under cruise for free – making this a great value option for families.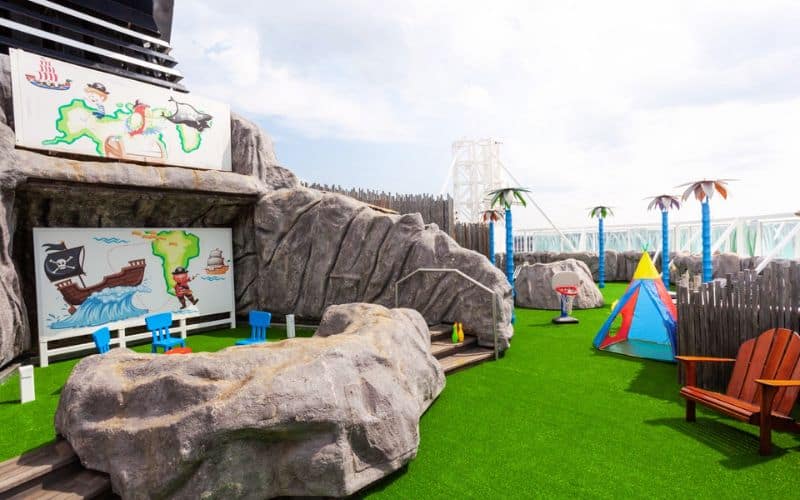 Is Nicko Cruises for you?
Traditionally, Nicko Cruises was for the German market. But nowadays, the cruise line also offers a great selection of ocean and river cruises for UK-based cruisers.
For more information or to book, I recommend that you contact Light Blue Travel, Nicko Cruises' partner in the UK.
Related Posts: