I saw a really great deal for the first couple of days of a world cruise on board Fred. Olsen's Borealis.
I'd heard great things about Fred. Olsen and so I thought that this would be a great way to see what the cruise line was like. I was also really keen to experience the start of a world cruise as the ship sailed from Liverpool to Southampton.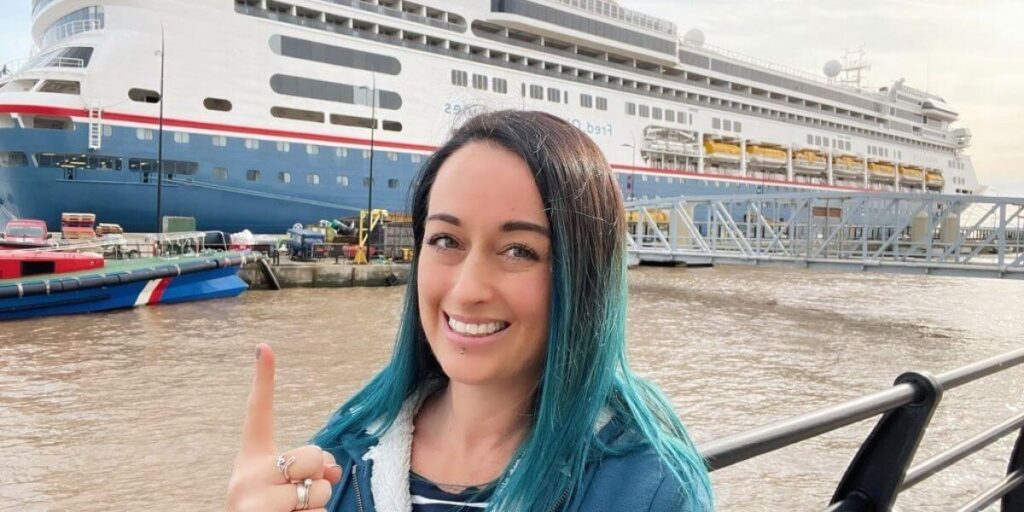 Usually, I cruise with my young children, but I didn't think that they'd enjoy this ship so I left them at home and went by myself. This was my first solo cruise and I knew that it would be totally different from what I was used to!
Boarding in Liverpool
The cruise departed from Liverpool and from when I walked into the cruise terminal until I walked onto the ship took less than five minutes!
I'm used to cruising on the biggest ships in the world in the school holidays. Borealis was the smallest ship I've ever been on at around a quarter of the size of the mega-ships that I usually cruise on.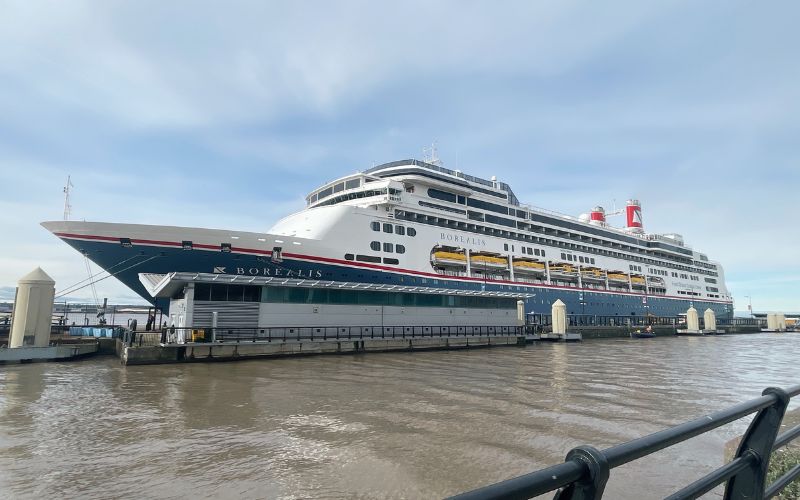 And because this repositioning cruise wasn't very popular, it was only around 25% full!
As I stepped on board, I was greeted by the captain. Although I didn't realise this at the time, because you never usually see the captain of a cruise ship. He's usually too busy.
Staying in the cheapest cabin
Even though it was only midday, my room was ready for me, so I went straight there. I didn't have far to go because my room was on Deck 1!
It wasn't underwater though and it even had a window. I'd booked the cheapest cabin available and I was really impressed by how big it was.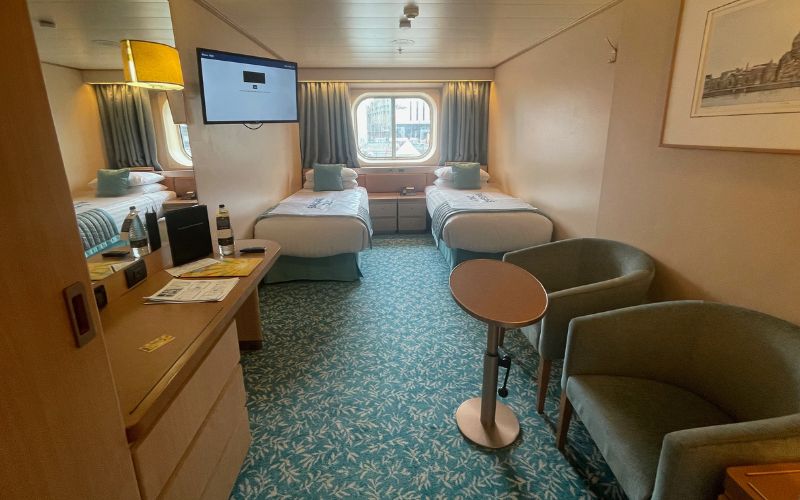 Borealis was built in 1997 and spent 23 years sailing as Rotterdam for Holland America Line before being acquired by Fred Olsen Cruise Lines in 2020.
Being a ship from the 90s, I thought that the furnishings might be dated and tatty, but that wasn't the case at all.
My room had a huge shower which was twice the size of the standard shower that you'd expect on a cruise ship.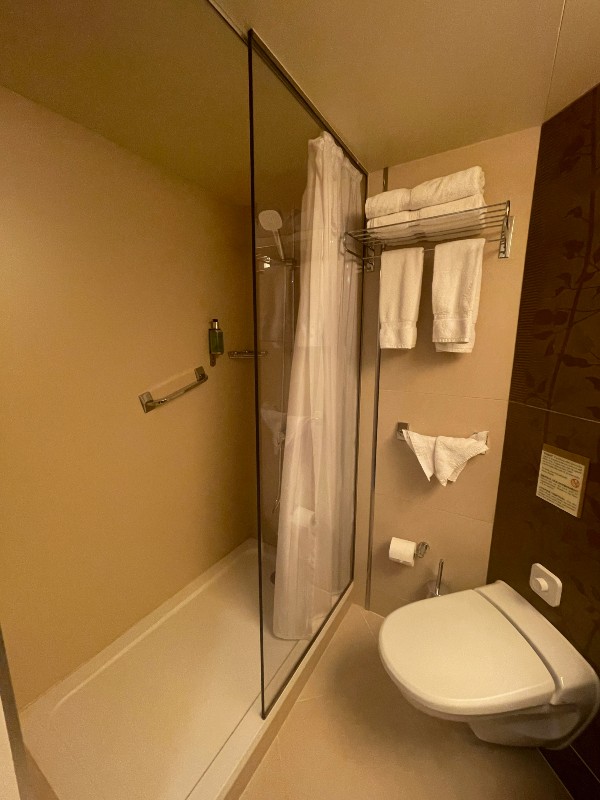 And there were SO MANY WARDROBES. I only had clothes for 2 nights, but if I were staying on for the whole 80 days around the world, I would have had no problem with unpacking here.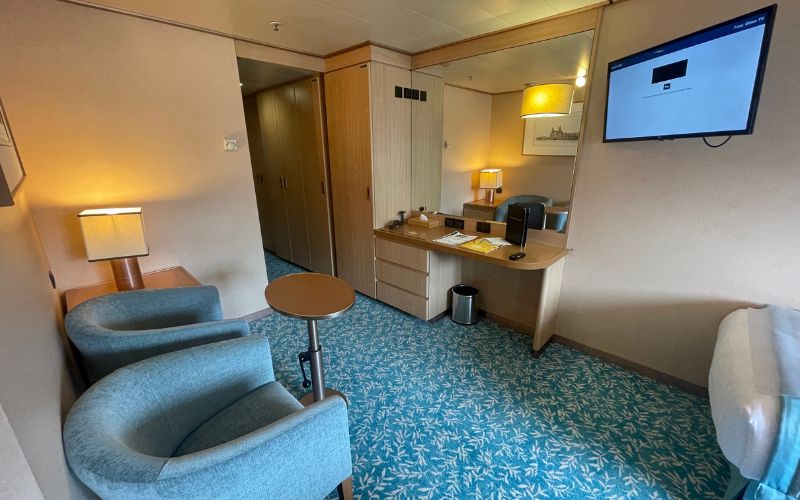 A stress-free experience
Fred. Olsen Cruise Lines caters mainly for retired people and they really do make cruising as stress-free as possible.
In my room, there was a manual with answers to every question you could possibly have. I think that's a great idea and it saves people from having to go to guest services to ask the same questions as everyone else.
I also had a piece of paper with the time and location of where dinner would be. It even told me my table number. And on the other side, there was a map of the dining room so I could see exactly where I would be sitting!
Fred. Olsen doesn't have an app and in fact, you don't need a mobile phone at all to cruise with them. Instead, you get a paper guide to keep in your pocket. I loved that.
In the room, they also gave me some postcards, so I wrote those for my kids.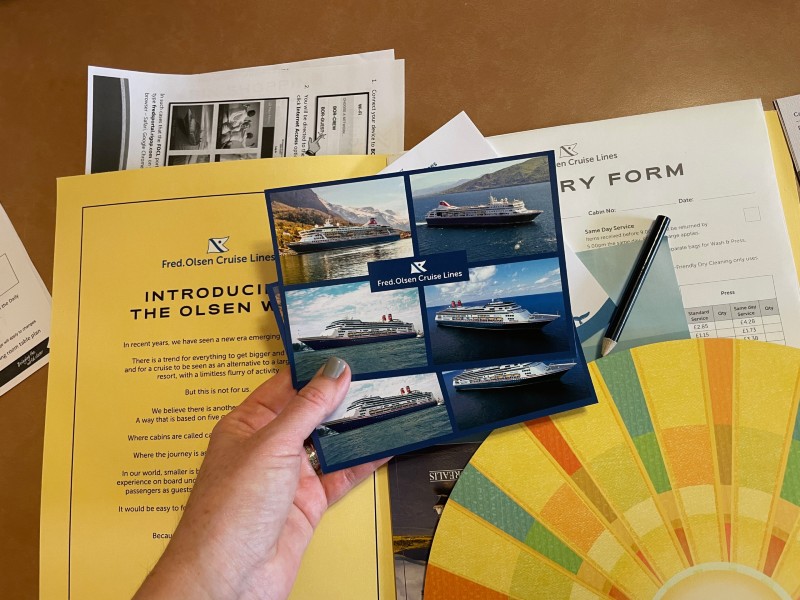 Lunch at the buffet
After unpacking, I headed to the buffet to get some lunch.
I had a salad from the salad bar. It was really fresh and delicious, followed by some pasta from the pasta station. Luckily, I like chillies.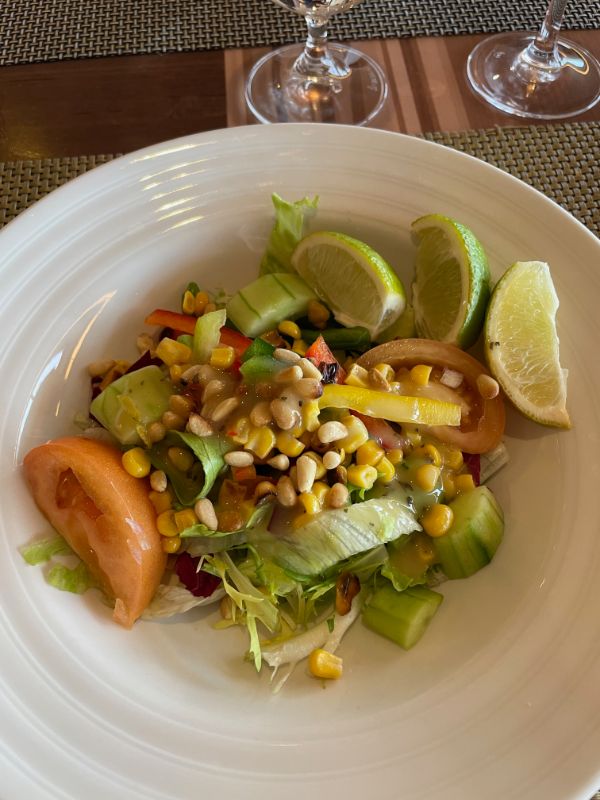 I was really impressed by how much choice there was at the buffet. Just because the ship was smaller, it didn't mean that the buffet selection was.
I also had a glass of wine. The bar prices are really reasonable so I didn't see a need for a drinks package. If you're considering getting one, be sure to check out my guide to Fred Olsen drink packages before you do to work out whether it's worth it or not.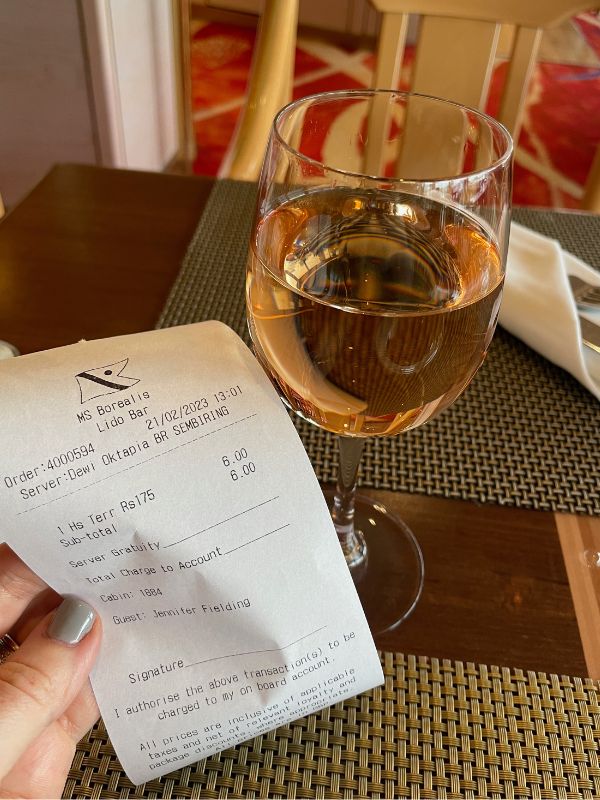 What happened to the pool?
Next, I went to explore the ship. I stepped out of the buffet and into an outdoor area at the back of the ship. Here, I spotted something that I found really, really strange…
When this ship was Rotterdam for Holland America Line, she had an outdoor pool at the aft. But, when Fred Olsen bought the ship and refurbished it to become Borealis in 2020, they removed the pool.
Now I might be wrong but it kind of looks like you can see where the pool was.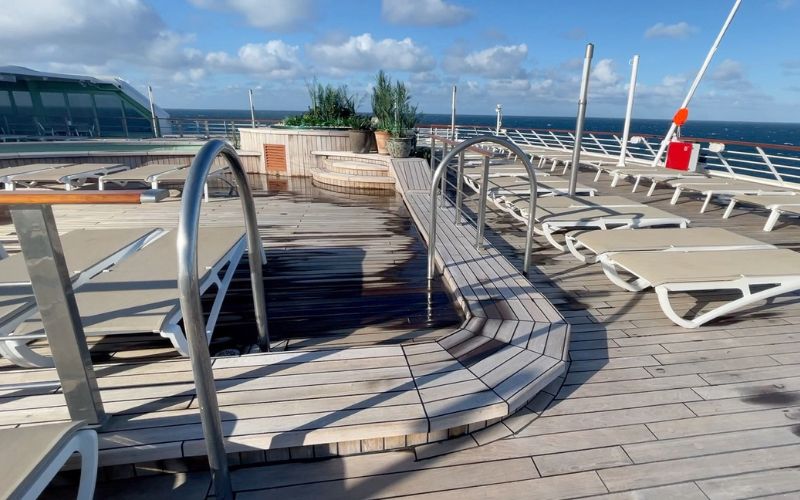 And I might be wrong about this too, but those flower beds look suspiciously like hot tubs to me!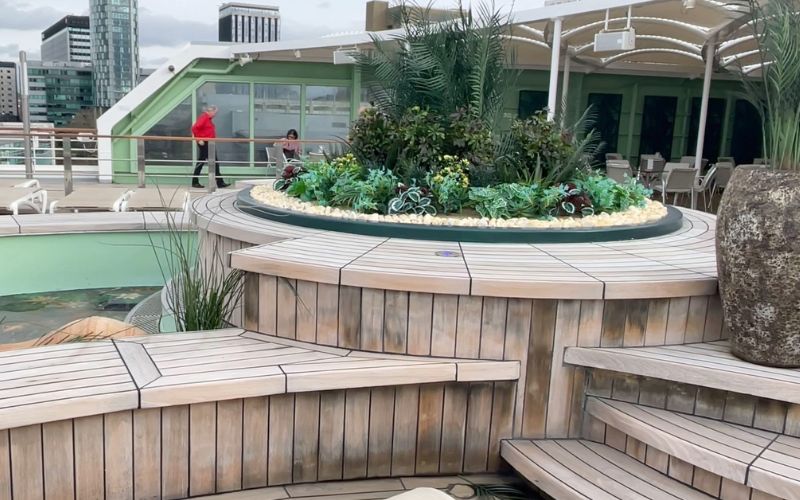 In the middle, there's a fake river with some koi carp painted on the bottom which I thought was cute. It looks like the kind of area that a toddler would make a bee-line for, but luckily, there weren't any toddlers on this cruise!
Spacious and relaxing
Walking around the ship, I was impressed by how spacious it was. I would expect that you would have no problem getting a sunlounger here.
There was an indoor pool with a retractable roof and a couple of hot tubs too.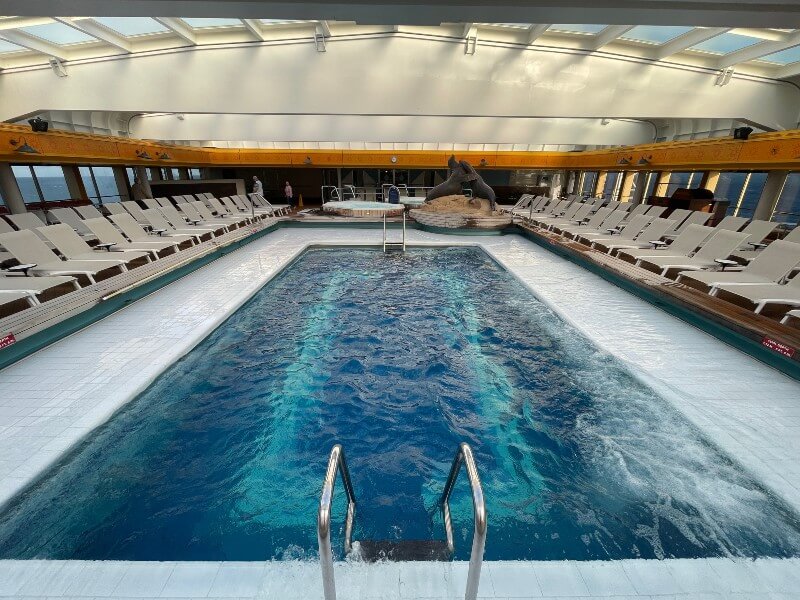 The ship had lots of nice bars and lounges with all the drinks you could want including a decent selection of cocktails.
As I was walking around I saw a sign for the observation area. This was pretty hidden and I think that most people would have missed it, but it was a pretty cool area at the front of the ship.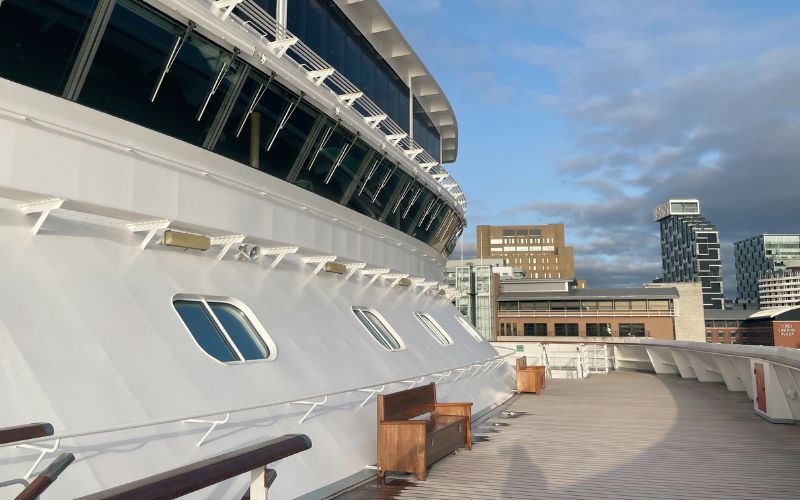 Another viewpoint I loved was the Observatory, which was right at the front of the ship, up at the top.
I had another cocktail, watched the sunset and then headed back to my room to put on some 80s music and get ready for the evening.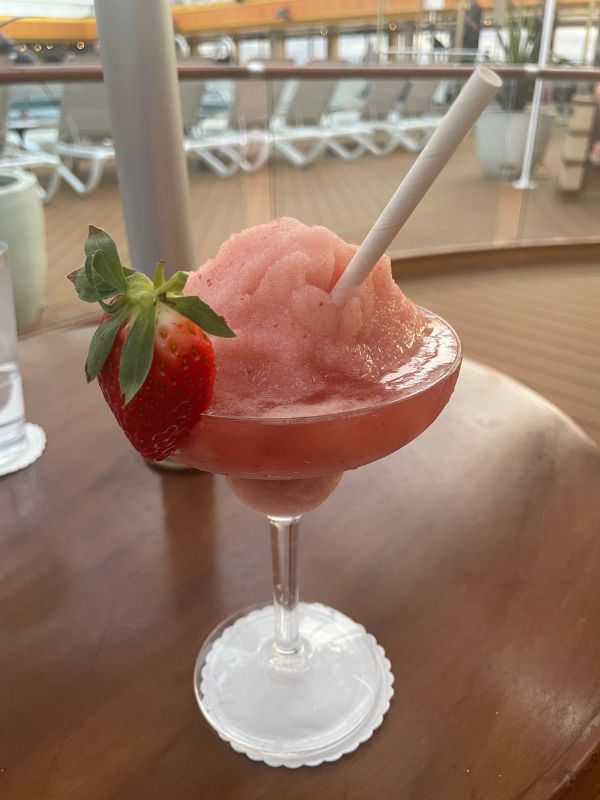 Dinner in the main dining room
At dinner in the main dining room, there weren't any vegan starters on the menu but there were two vegan mains so I had both of those!
First I had the celeriac steak which was absolutely delicious. Then, I had a vegetable curry which was lovely as well.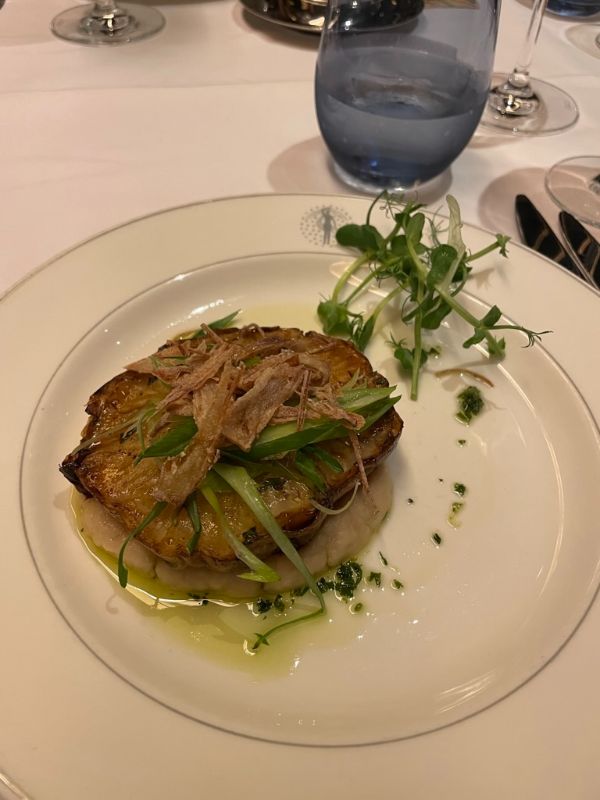 I'm not a dessert person, so I ordered the mixed sorbet. But then the waiter surprised me by also bringing out a poached pear that he thought I should try!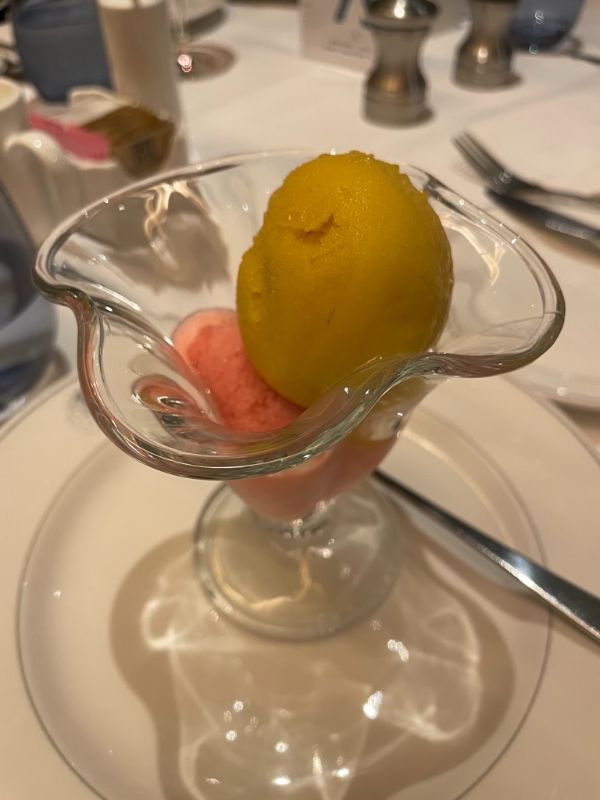 After the meal, I went to the toilet and was shocked by just how big the bathroom was. I'm not sure why, but it had a whole area for doing your makeup!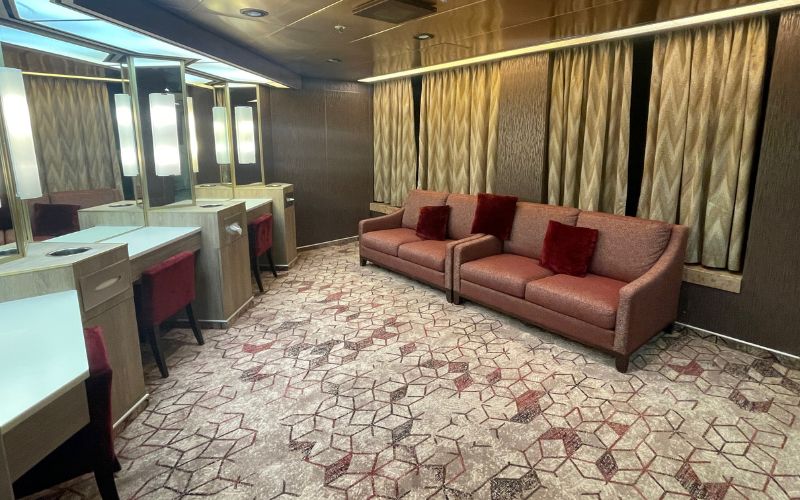 Amazing entertainment
Next, I went to the theatre and watched a show that was about all of the countries of the world.
This was perfect for a world cruise and the costumes were brilliant. Sometimes, I get a bit bored if it's just singing and dancing, but I definitely wasn't bored here. It was one of the best shows I've seen.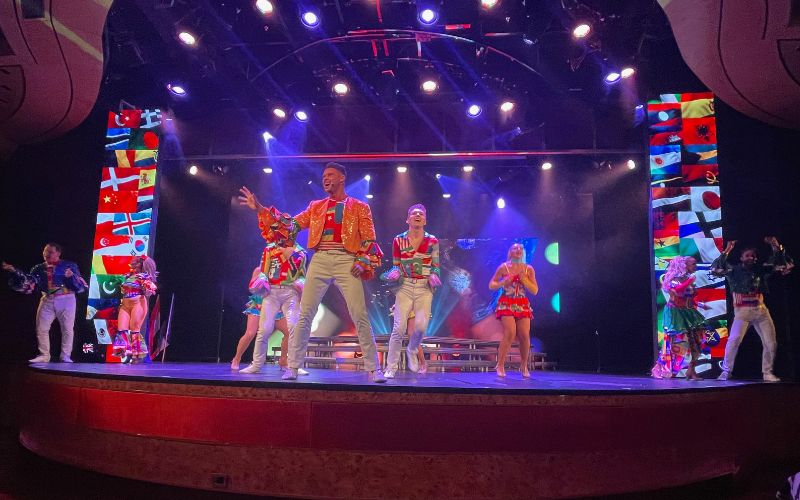 After the show, I went to watch some live music and then headed to bed because I knew that I wanted to get up early to make the most of my short time on board.
Breakfast in the main dining room
In the morning, I went for breakfast in the main dining room. I had a lovely seat near the window.
On the menu, there was a section for healthy options. I ordered the chocolate bowl, just because I was intrigued as to what it was. It was really sweet and chocolatey, and I really didn't like it at all, but it was definitely different.
I also had a vegan cooked breakfast which was really nice.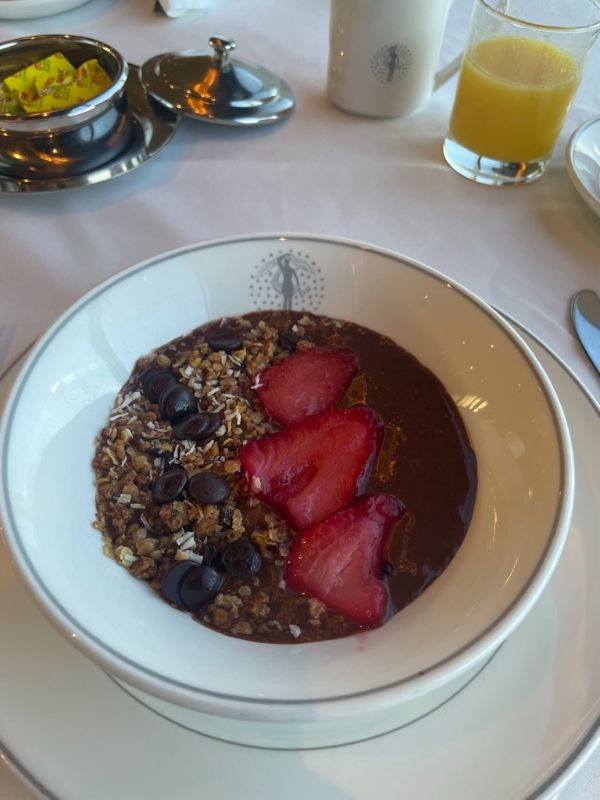 The waiters were very helpful regarding my special diet. I requested vegan butter and they even brought out the packaging to show me that it was Flora Plant Butter – all vegans know this is the best kind!
I was also invited to see the menus for my next meals in case I wanted to pre-order anything special.
A relaxing morning
After breakfast, I went for a swim and spent some time relaxing in the hot tub. I had both to myself and there wasn't another person around the whole time! Except for these two sea lions…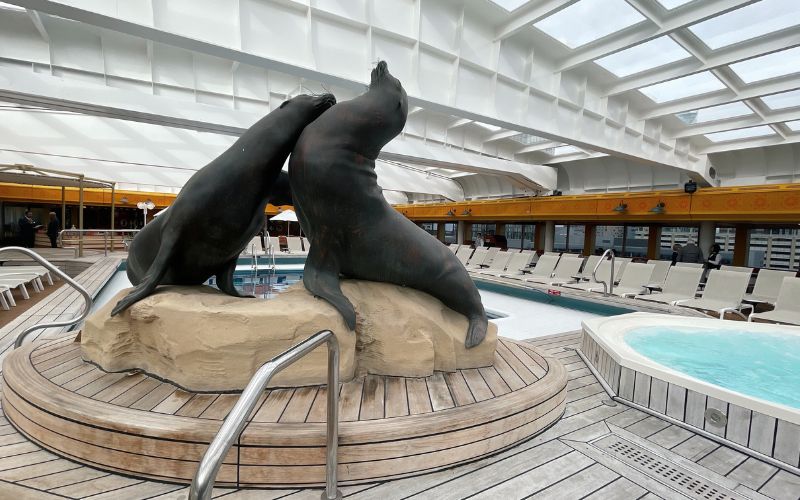 Borealis has an art studio on board so at 11 o clock I went to a craft class and made some earrings. We had to pay for the materials, but it was only £5 for 2 pairs which I thought was great.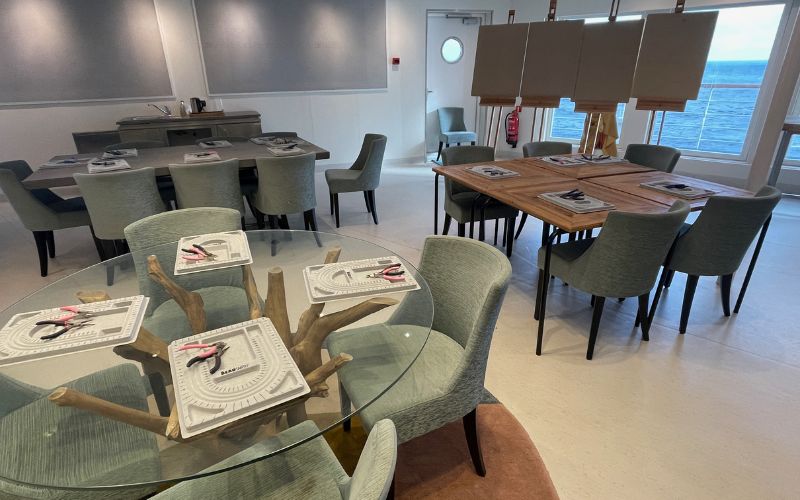 A lovely afternoon
For lunch, I ate in the buffet again and had some bean stew, chips and salad. It was really nice.
Then I went for a stroll around the promenade deck. The promenade deck wraps around the whole of Deck 3. I walked around it 3 and a half times, which is equal to one mile.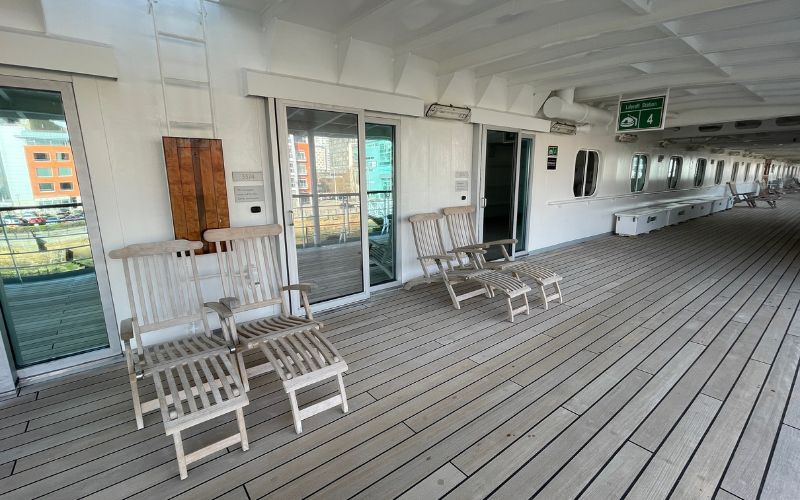 It's really sheltered so you can get exercise outdoors, even if the weather is bad – this is perfect for a world cruise.
There are some chairs here as well, but you're not allowed to sit on them. They're reserved for the people whose cabins have sliding doors out onto the deck.
Next, I headed to the gym and did a 'stretch and relax' class, which was fun. At the end, we were given a smoothie as a reward for participating.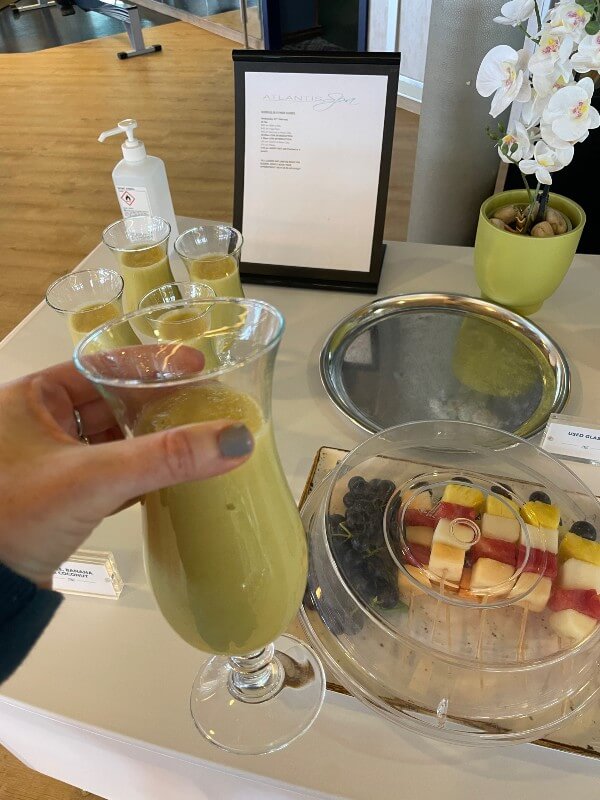 Then, I went to the pub which had a very realistic fireplace.
I played bingo and won! My ticket cost £15 and the prize was £18 so I didn't quite win enough to stay on the ship for the world cruise. (Here's how much world cruises cost)
The final evening
I got changed for dinner and went to the bar where there was a James Bond theme night. There was an ice sculpture and some martinis, which I think were just for show.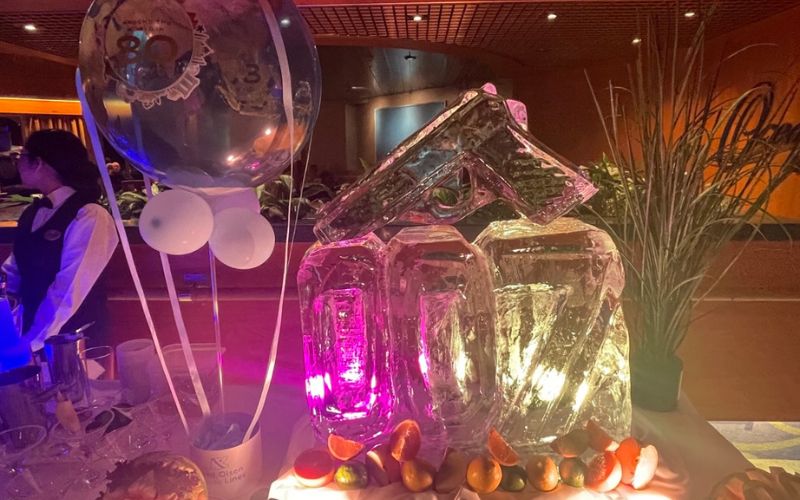 I ordered an appletini and watched the singers.
Next, it was time for dinner. I'd pre-ordered so they were able to make me a starter. It was a stilton and walnut salad which had been switched for vegan cheese and I was very impressed. I also had a vegetable hot pot and some sorbet.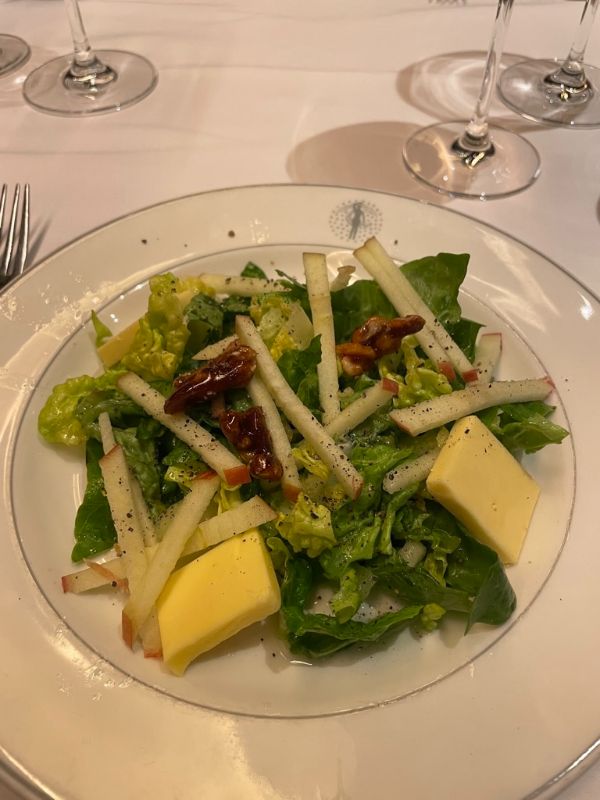 After dinner, the waiters came around to offer us drinks. One of the brandies cost £475 per glass. I didn't have one!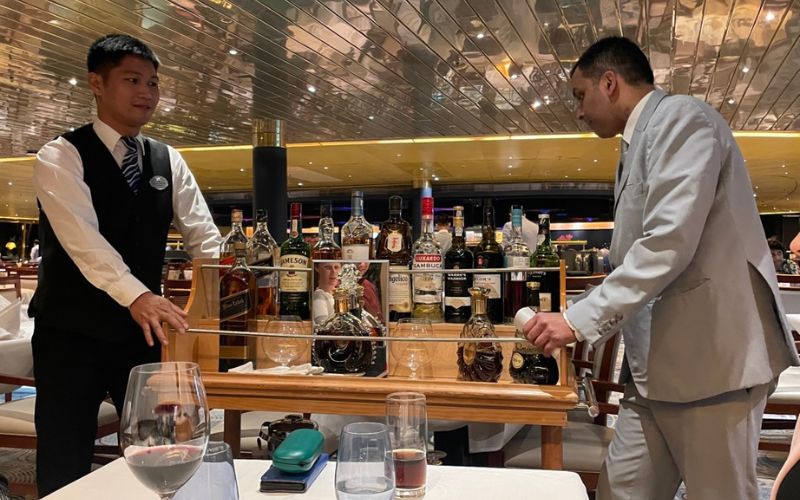 Next, I went to watch a comedian. He was pretty funny. And then I went to bed because we had to disembark at 7.30 am the next morning.
The verdict
I had a really good time on my Fred. Olsen cruise. It was totally different to the type of cruise I usually take, but I found it to be so relaxing. This was the first time I've cruised solo and it's something I'll definitely do again.
I was probably one of the youngest people on board, but that didn't bother me at all. All of the other guests were really friendly, as were the crew members. They remembered everyone's name and even their room numbers and what drinks they like! I thought that was amazing.
I'll certainly be on the lookout for more Fred. OIsen cruises. In the school holidays, they even have a Little Skippers club with arts and crafts, treasure hunts and kids discos. So maybe I'll bring the whole family next time?
Video Review
If you'd like to see more of Borealis, I also have a video review of this cruise, which you can see on YouTube below…
Related Posts: