I'm a firm believer that there's a cruise line to suit everyone. And for many over 60s living in the UK, Fred. Olsen is the cruise line of choice. They love the smaller ships, the elegant atmosphere and how all the little details are taken care of.
But what about families with children?
Not many people know this, but Fred. Olsen Cruise Lines welcomes children on board during the school holidays.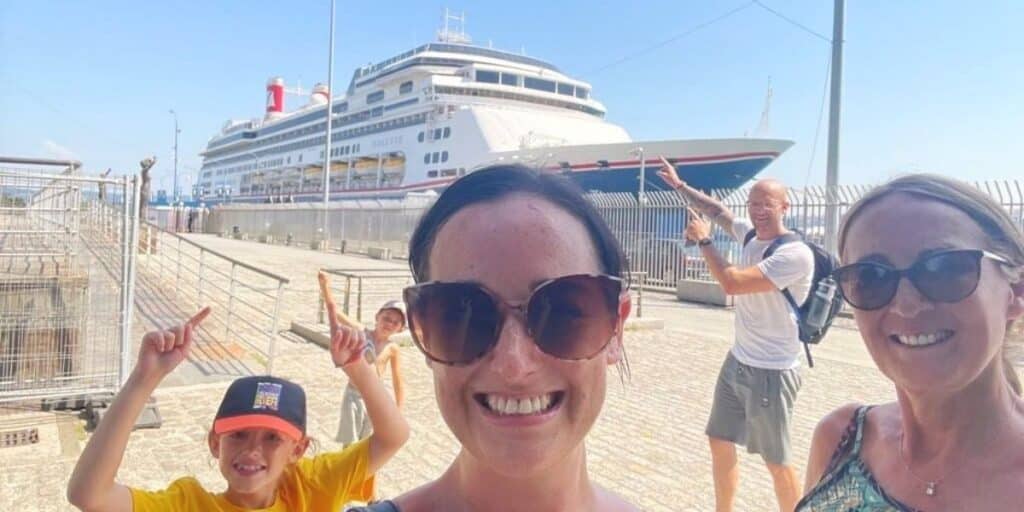 We were invited onboard Bolette for a 12-night cruise to the Azores, and in this article, I'll let you know what it was like. So you can decide if a Fred. Olsen cruise might be right for you…
Are Fred. Olsen Cruises Child Friendly?
Fred. Olsen Cruise Lines is most popular with retired couples. However, during the school holidays, you will see children on board. The cruise line offers a fantastic program of activities for kids aged 5 to 11 in the Little Skippers Club.
The last time I took a Fred. Olsen Cruise was on Borealis earlier this year. I took a mini cruise from Liverpool to Southampton, which was also the first two days of a world cruise. I'm 38, yet I was probably the youngest person on board. So I was keen to see how the demographic would differ in August.
On our Bolette cruise to the Azores, there were people of all ages onboard. Yes, there were Fred veterans who cruise with the cruise line several times per year. But there were also quite a few families, with children of all ages, from babies to young adults.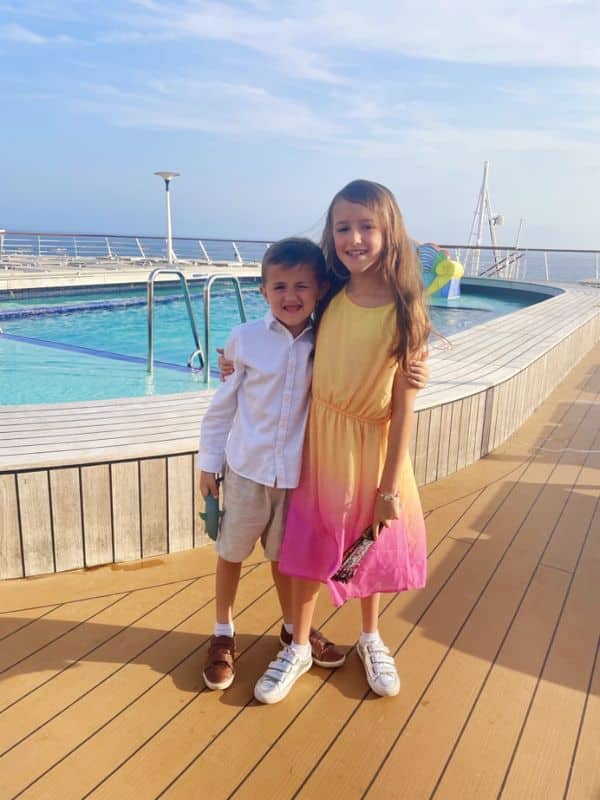 Many of the families, including ours, were multigenerational. Because Fred. Olsen cruises cater for everyone, they're perfect for children, parents and grandparents to all enjoy together.
About The Ship
Fred. Olsen Cruise Lines has three ships – Bolette, Borealis and Balmoral. These are all quite similar, with a capacity for around 1,300 guests, so it doesn't matter too much which you choose.
Bolette was built in 2000 for Holland America Line and joined the Fred. Olsen fleet in 2020 after a thorough refurbishment. She has all the charm of a classic luxury ship, but with some lovely modern touches.
In the atrium, there's a very impressive clock that spans three decks.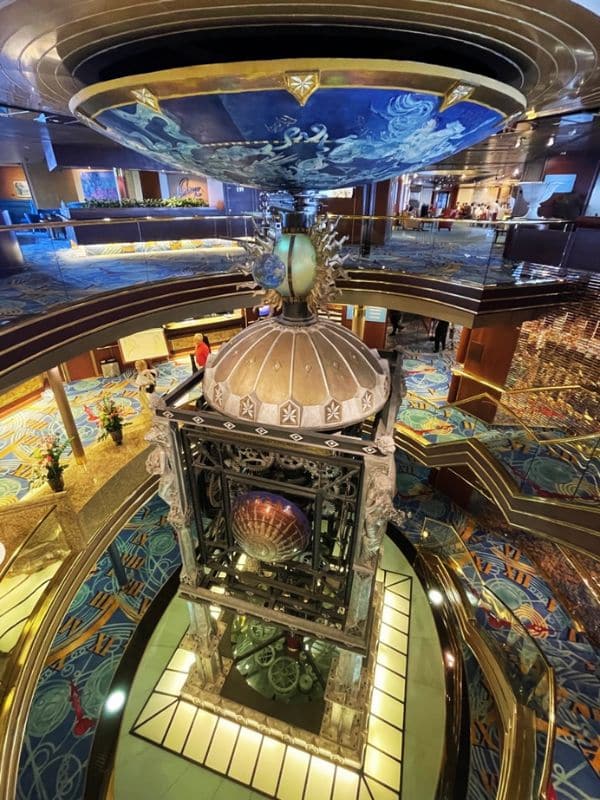 All of the furnishings onboard are in pristine condition and we didn't spot any tatty bits, as you do on some older ships that haven't been cared for with quite so much love.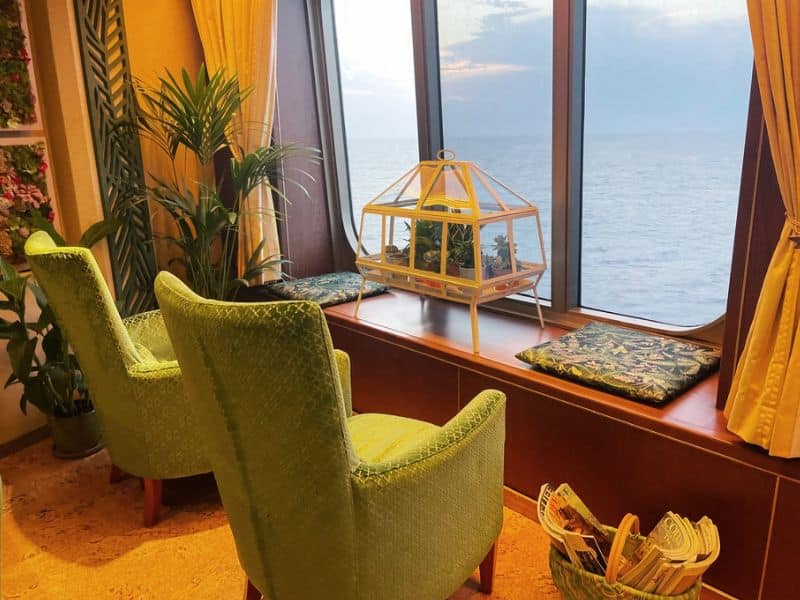 If you're used to cruising on mega ships with 5,000+ guests, then you'll find Bolette to be quite small. And therein lies the charm. You're never too far from the next place you want to be, if you're able-bodied, then taking the stairs is always an option, and you never have to queue for anything!
I used to think 'the bigger the better' when it comes to cruise ships. But since I started cruising on smaller ships like this, I don't believe that any more. Nobody needs 20 different restaurants for a seven-night cruise!
The Little Skippers Club
If you were to ask my children what they enjoy about cruising, they would say straight away 'the kids club'. The big family mega-ships have gargantuan kids' clubs that can accommodate thousands of children with soft play, climbing frames, air hockey, games consoles and a myriad of activities.
So what would they think of a kids' club that was located in the 'Australia Room', which is essentially a small, converted restaurant?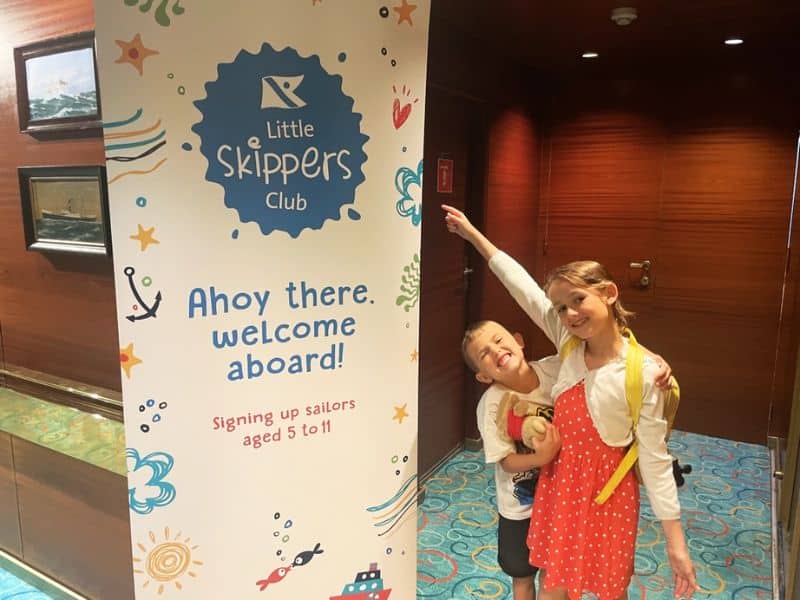 Well, they absolutely loved it! Here's why…
Small groups – There were usually 5 to 12 kids in the club at any one time, along with two qualified childcare professionals. The small size of the club meant that they never had to jostle for the activities and always got lots of attention from the staff, who were absolutely lovely.
Mixed ages – While larger ships split their kids' clubs into three or four age groups, the Little Skippers Club is for all kids aged 5 to 11. So they got to stay together, which they love.
Multiple venues – The club didn't stay in the Australia Room. They went to the bridge to see the captain, they walked laps of the promenade deck looking for whales, they played shuffleboard outdoors, they went to the theatre together in the evenings and they even had breakfast together in the buffet!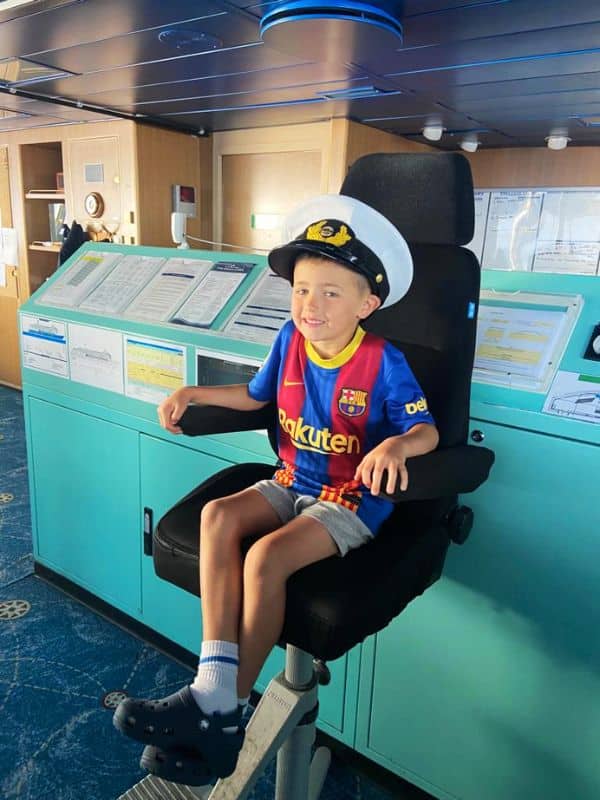 Fun activities – My six-year-old was very happy that the club had a Nintendo Switch and a TV – with four-player games of Mario Kart nobody had to wait long for a turn.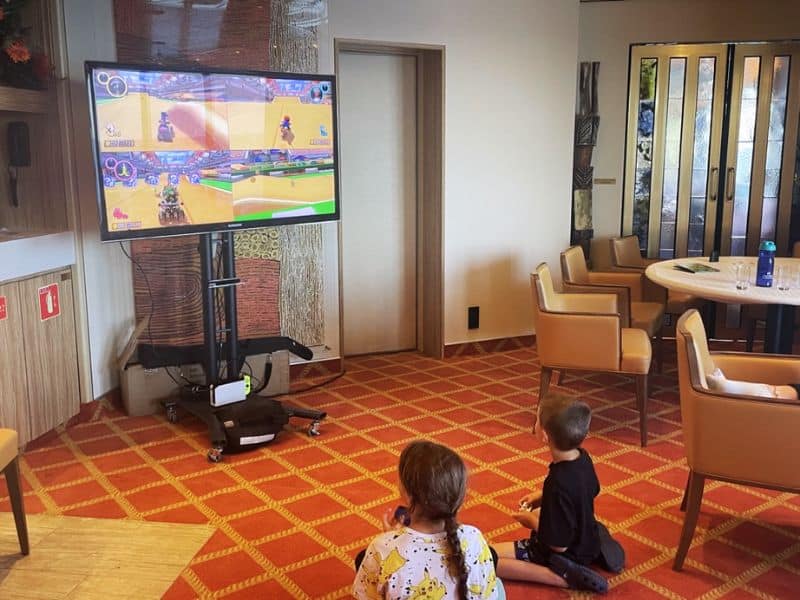 There was also jewellery making, painting, origami, board games, quizzes, cocktail making and so much more to do. They even took a first aid course and learned CPR!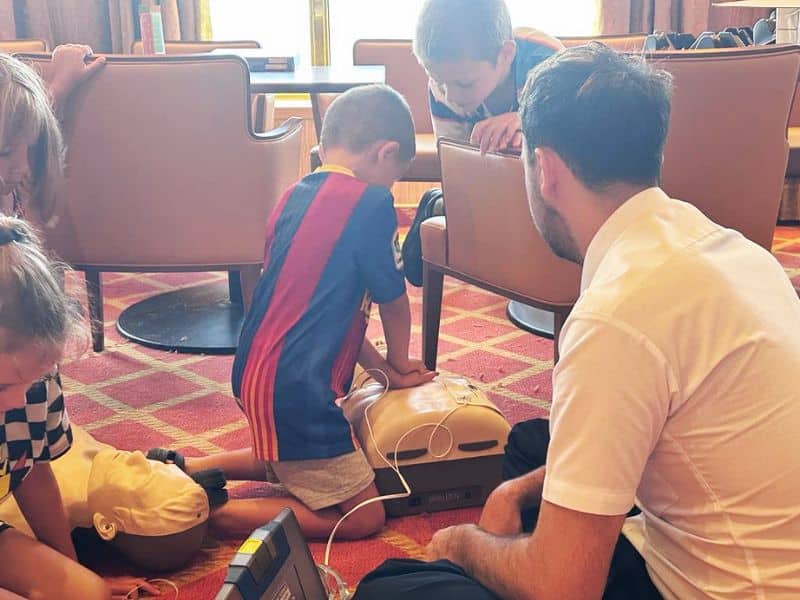 Prize points – Every day, the kids would come back with stacks of prize point cards that they would get for winning games or being kind and helpful to others. At the end of the cruise, they cashed these in for a load of Fred. Olsen swag!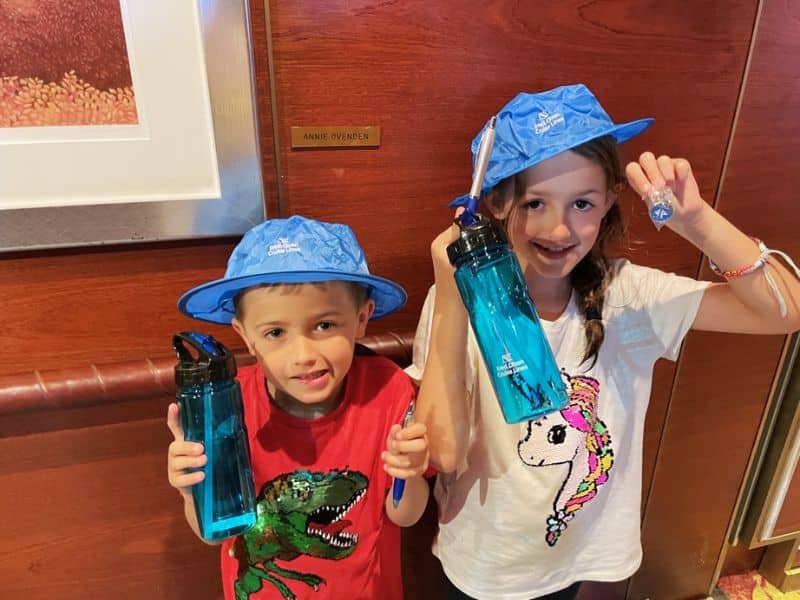 Family Activities
When the kids weren't in the kids' club, there was no shortage of activities for us to do as a family. Bolette has two swimming pools – one indoor and one with a retractable roof that was perfect for all weather. There are also two very large jacuzzis.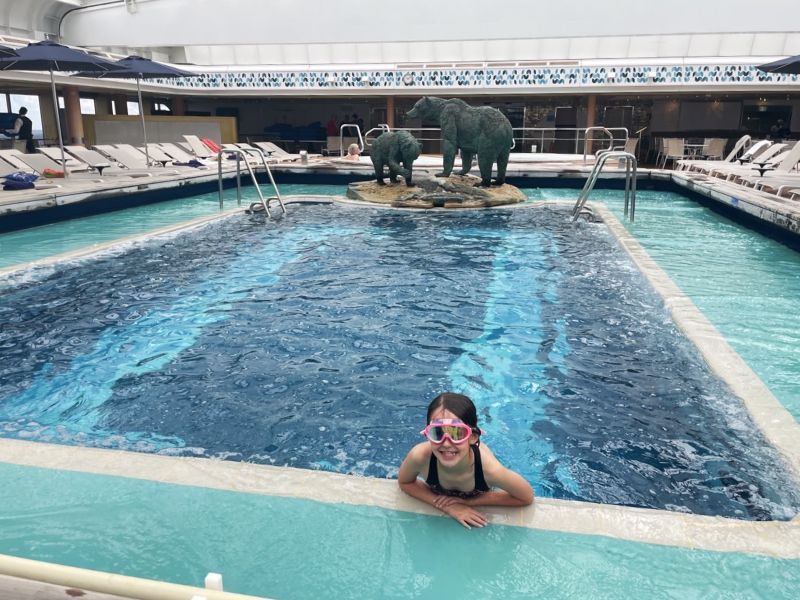 By the pool there was a table tennis table that we enjoyed very much and out on deck there was shuffleboard and also a tennis court.
Downstairs in the Morning Light pub, there were two indoor shuffleboards which were a lot of fun as well as an unusual game called bar billiards.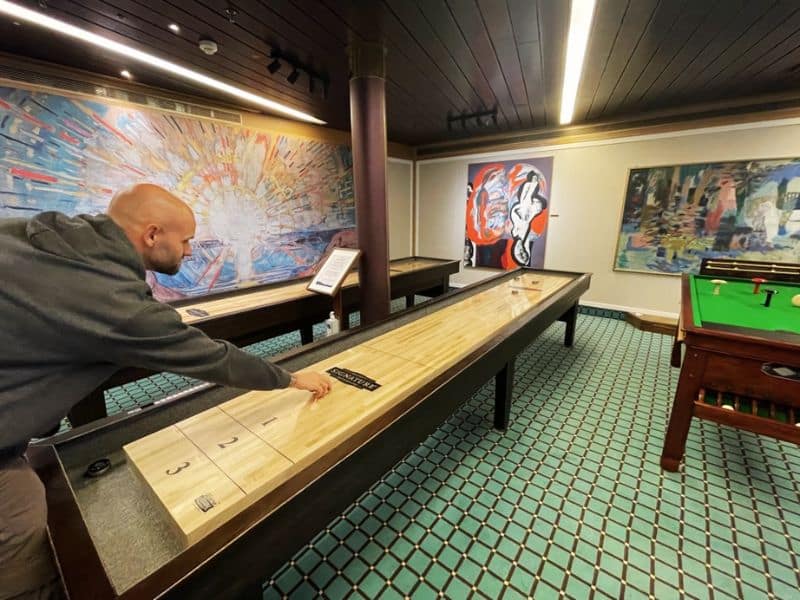 We loved that many of the tables had chess boards, Connect Four, dominoes and other games. The ship also has a large art studio.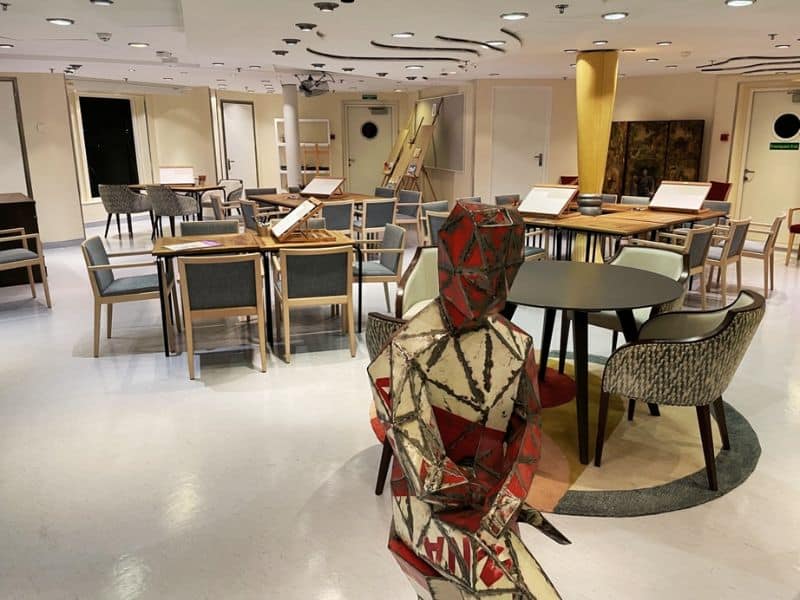 Adults Activities
On our cruise, there were also plenty of activities and classes that were tailored to adults. On the sea days, we had a set routine for the mornings. We would meet for breakfast and then at 10 am the children would go to the Little Skippers Club, my husband would go to the gym and my mum and I would go to a Bridge class.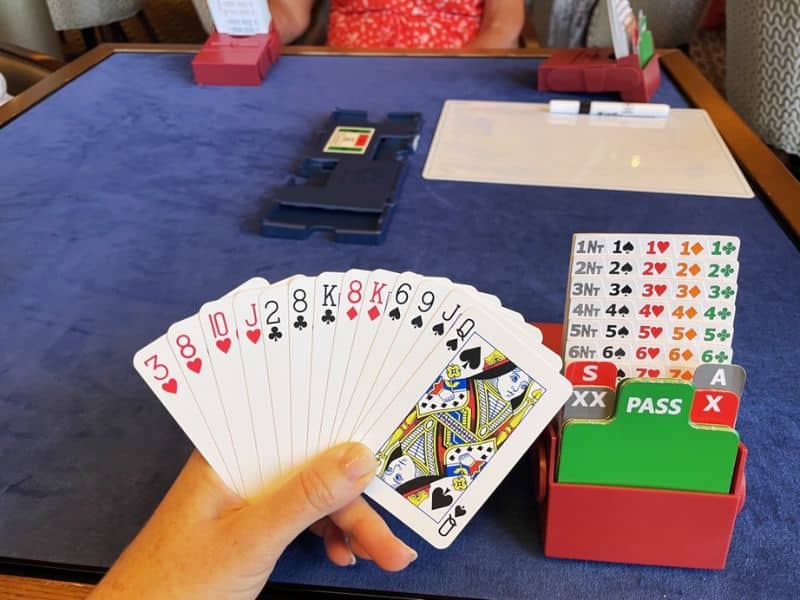 There were many such classes, including ukulele lessons and watercolour painting. These all seemed to happen at the same time though, and you really had to go to the same one every day, so it's important to pick one and stick to it! Otherwise, you'll join in as everyone is halfway through their painting or has already learned the basics of their instrument!
Entertainment
We found the entertainment on our Fred. Olsen cruise to be fantastic, and very well-suited for people of all ages.
The theatre is very large, with two tiers and very comfy seating. We never had a problem finding a seat. I love that it has sofas as well as chairs, as my son always falls asleep in the theatre so he was able to lie down. I also love that it has tables and waiters who will bring drinks to your seat.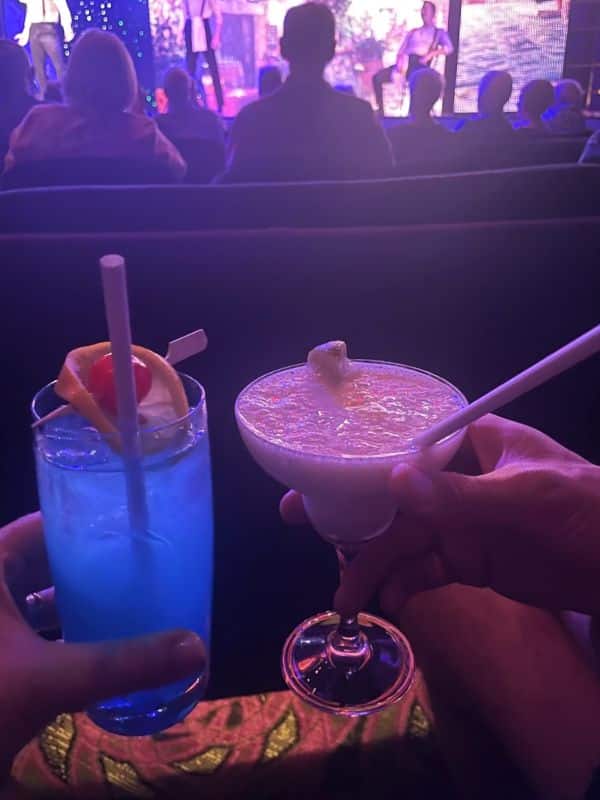 The musical theatre shows that the Bolette Theatre Company put on were fantastic, with amazing costumes. We all loved them.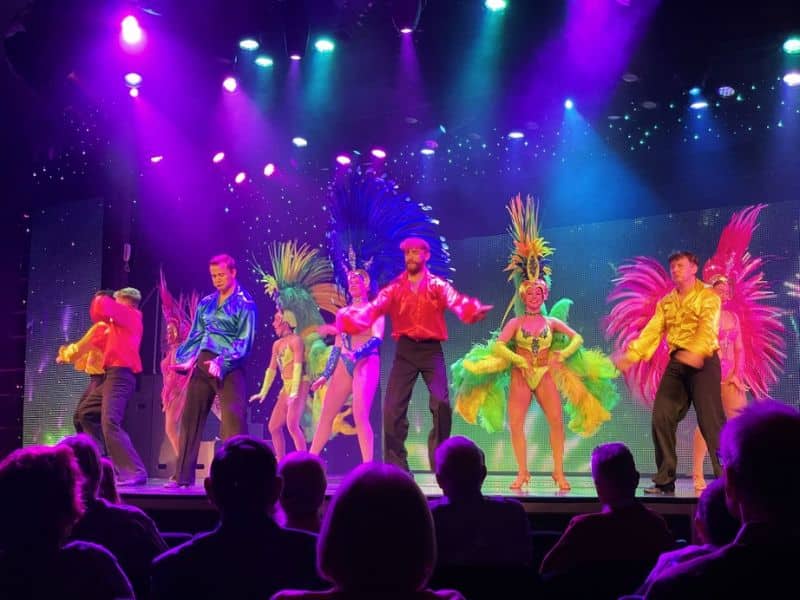 After the show, the performers would stand by the exit, so that you could chat with them as you left the theatre, which was lovely.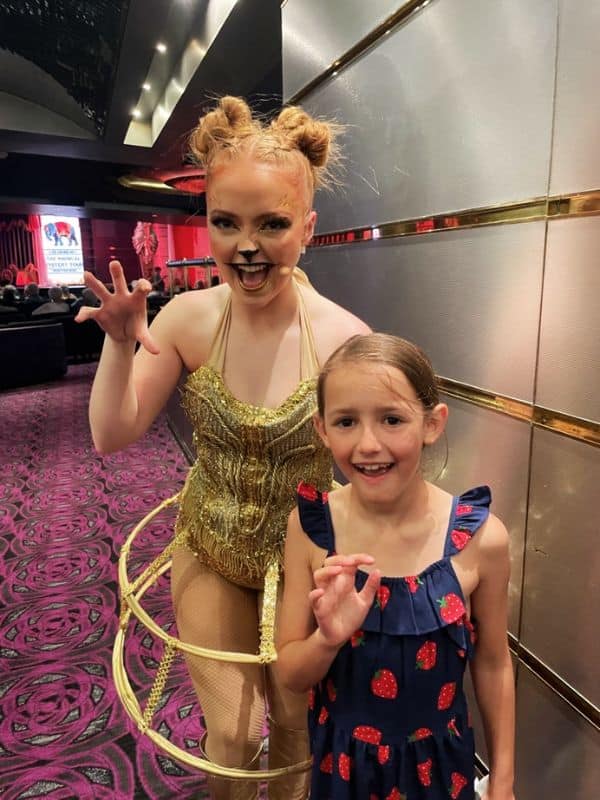 As Fred. Olsen ships were so small, the performers had other jobs too, such as helping with check-in and excursions, so we would often see them around the ship and say hello. There were other acts on in the theatre too like comedians and magicians, which the kids loved.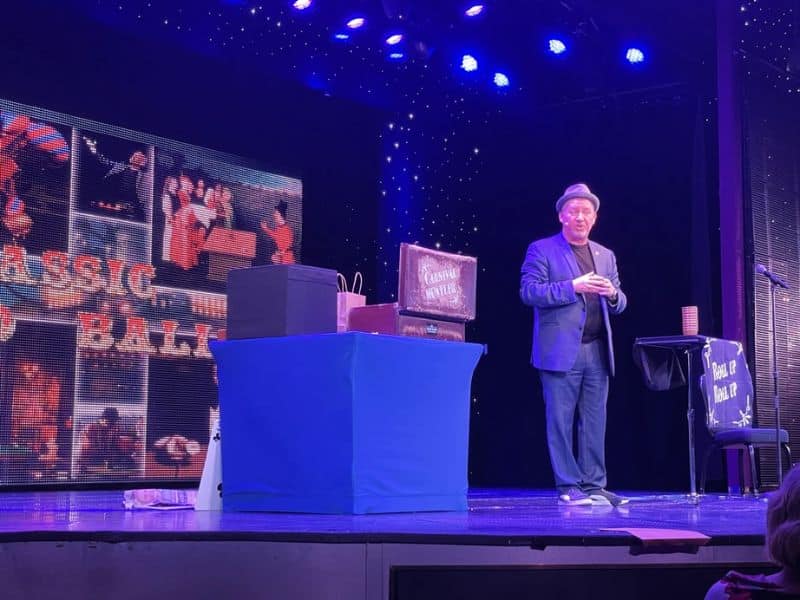 There were several other bars with live music too, and there was often live music by both of the pools in the afternoons. We also loved the lively sailaway parties which had a great atmosphere.
Accommodation
We stayed in two Ocean View cabins on Bolette – one for our family of four, and one for my mum which was just down the hall. If you manage to book early enough, you can also get rooms with interconnecting doors if you prefer. But for us, a few steps away was great – we could always call between the rooms on the telephone by the bed.
The rooms were wonderfully spacious and bright with large windows. Being on deck 1, it was fun to be so close to the waterline.
Our room had a Pullman bed that came down from the ceiling and a sofa bed, as well as two twin beds. I opted for the sofa bed and it was incredibly comfortable, more so than most 'real' beds.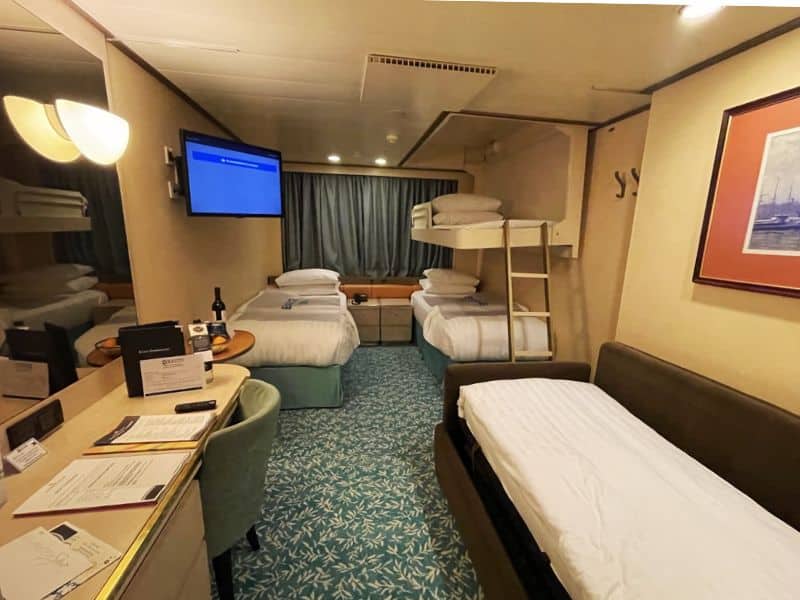 The room had more storage than any other room we've had, with huge wardrobes. The shower in the bathroom was large enough to get in with the kids when they needed their hair washing too.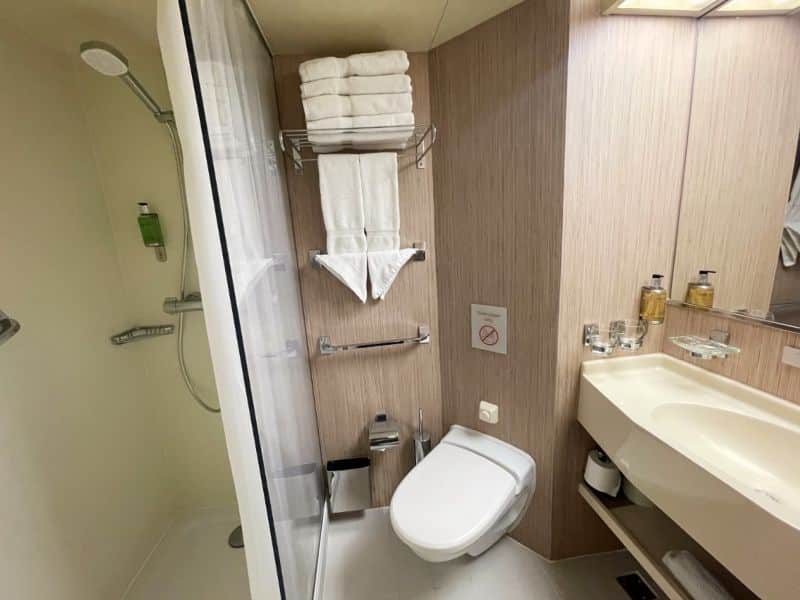 Our cabin stewardess, April, was one of the friendliest, smiliest people I've ever met. She greeted us all by name several times per day and kept the room spotless with her twice-daily visits.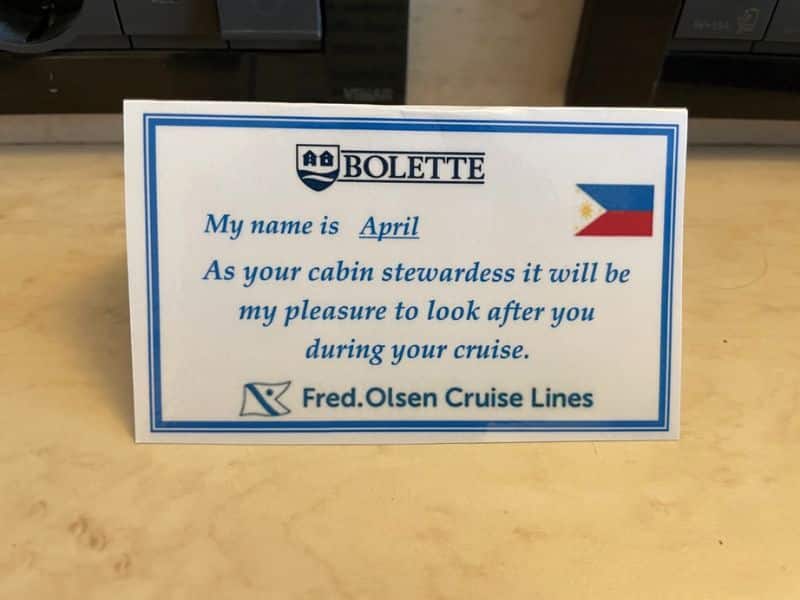 Food
As Fred. Olsen cruises usually cater for older guests, I wasn't sure what we would think of the food, as we're not 'meat and two veg' people. I'm vegan, my husband is a vegetarian with a dislike of vegetables and the kids have a very short list of foods that they find acceptable! But given these tricky requirements, we got on just fine.
The Main Dining Room
The main dining room on Bolette is split over two floors. You're assigned the same time at the same time every evening, at either 6.15 pm or 8.30 pm.
If you choose the Freedom Fare, you can choose your dining time and table size (2, 4, 6 or 8). If you choose the Saver Fare, both of these will be chosen for you. And I would hazard to guess that means that you'll likely be allocated the later dining time and a table of 4 or 6 to share with others. Bear this in mind when choosing your fare.
If you don't like your assigned dining time, you can pay £2 per person, per night to change it. I'd advise doing this early in the cruise, as there are only so many tables available at each time.
We were given the later dining time of 8.30 pm. Initially, we were very happy with this, because on a summer cruise, we don't like to leave the pool until at least 6 pm. And we didn't like the thought of having to get dressed up for the formal nights in the middle of the afternoon when we'd rather be swimming and sunbathing.
Our six-year-old Adam is an early riser, but with time zone changes we can usually transition him into sleeping in a little later and staying up late on holiday. But, we had no luck this time and he fell asleep in the restaurant before his dessert.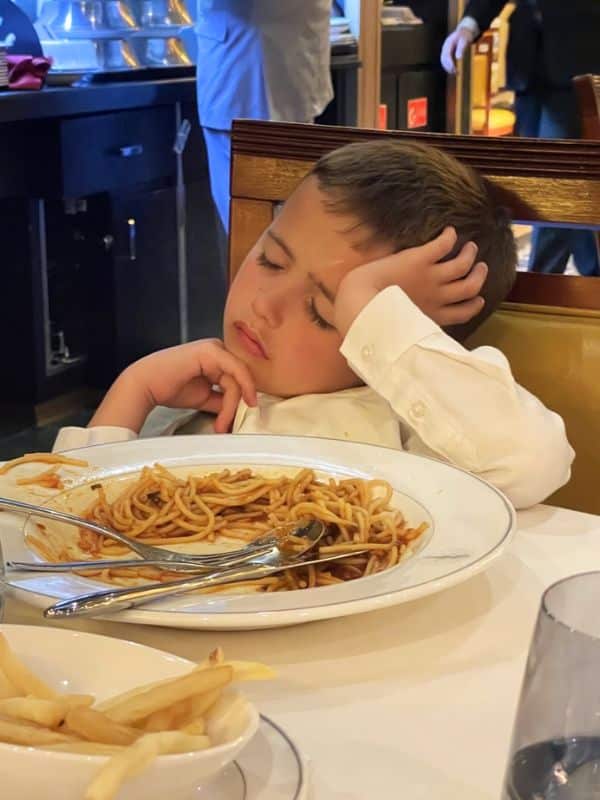 After a couple of these occurrences, we decided that it would be better if we ate a little earlier in the buffet or speciality restaurants.
Kids Menu
In the main dining room, there's a decent kids' menu with seven different options. Only one of these is vegetarian though, and unfortunately, mac and cheese isn't one of the things that my kids will eat. They like pasta, they like cheese… but both together is apparently unacceptable, haha.
Luckily, the waiters were very helpful and the children instead enjoyed pasta with tomato sauce, a cheese sandwich or a selection of sides like french fries, beans and veg. Kids are also welcome to order off the adult menu if they prefer.
The Buffet
We loved the buffet – it was our favourite place to eat. The great thing about the buffet restaurant on Fred. Olsen cruises is that you never have to go looking for a table. As you enter, you're greeted by a crew member who finds a table for you and takes you to it.
Finding a table for five may be tricky, but it was always easy with this help and we never had to wait more than a couple of minutes to be seated.
Even though the ship was quite small, the buffet wasn't and there was plenty to choose from. Everything was clearly labelled with allergens. There was a separate gluten-free section too.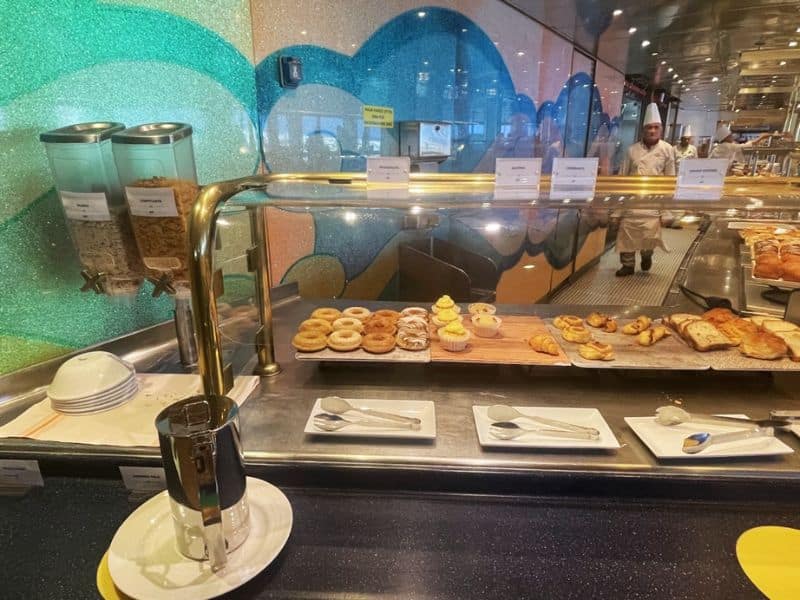 The servers were really helpful too and if we fancied something that wasn't there, they would do their best to make it for us. For example, when there was a pad Thai station, the chef swapped the fish sauce for soy sauce and swapped the prawns for Quorn to make it vegan-friendly.
Pasta with tomato sauce wasn't always there, but the kids could still eat it whenever they liked. There were always three or four different flavours of ice cream to choose from in the buffet too.
Poolside Cafe
Another favourite spot was the little cafe by the pool. This has a variety of sandwiches, burgers and salads. There's also a secret veggie burger that's not on the menu, but you can have it if you ask! The french fries from here are excellent too!
Speciality Dining
There are two speciality restaurants on Bolette. Colours and Tastes offers Asian fusion cuisine, while Vasco is Indian. Both are fantastic and we really enjoyed eating here. The food was delicious and the service was great.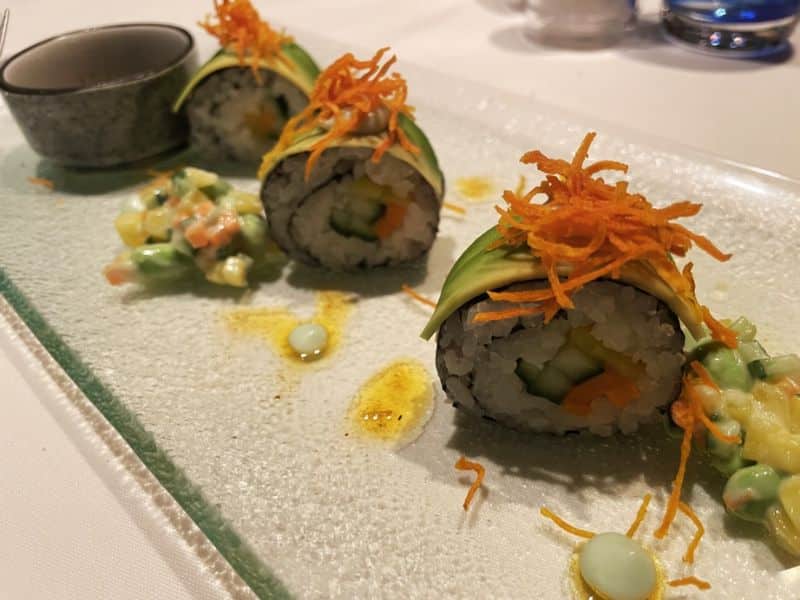 If you don't like what's on the menu, you can pre-order the day before and they will make something that you will like. Children can also eat from the children's menu here.
The best part is that for speciality restaurants, these are incredibly affordable. While many other cruise ships charge upwards of £50 per person for speciality dining, on Fred. Olsen ships it's just £15, or £10 if you book before your cruise!
Room Service
Fred. Olsen only offers room service at breakfast time, when you can request a continental breakfast at your chosen time between 7 am and 10 am by hanging a card on your door the night before. This is free of charge.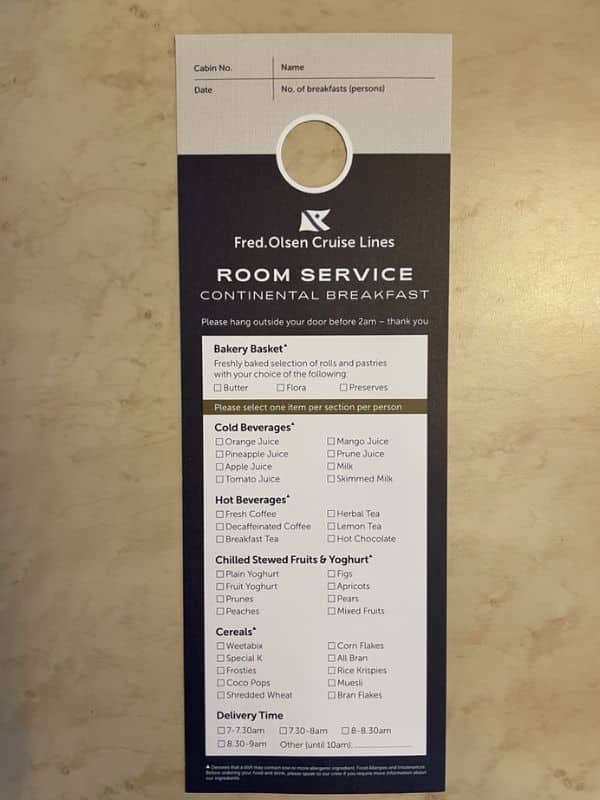 It would have been nice to have room service available at other times but unfortunately, this isn't an option. You can just bring food back from the buffet, though.
Drinks
The drinks on Fred. Olsen cruise ships are very reasonably priced. I have a whole guide to the menus and prices coming soon, so keep a lookout for that.
You can get a drinks package, and it only costs £25 per person, per day if you book it before you cruise. However, we didn't bother with the package because it doesn't include cocktails except for the cocktail of the day, and I do love cocktails!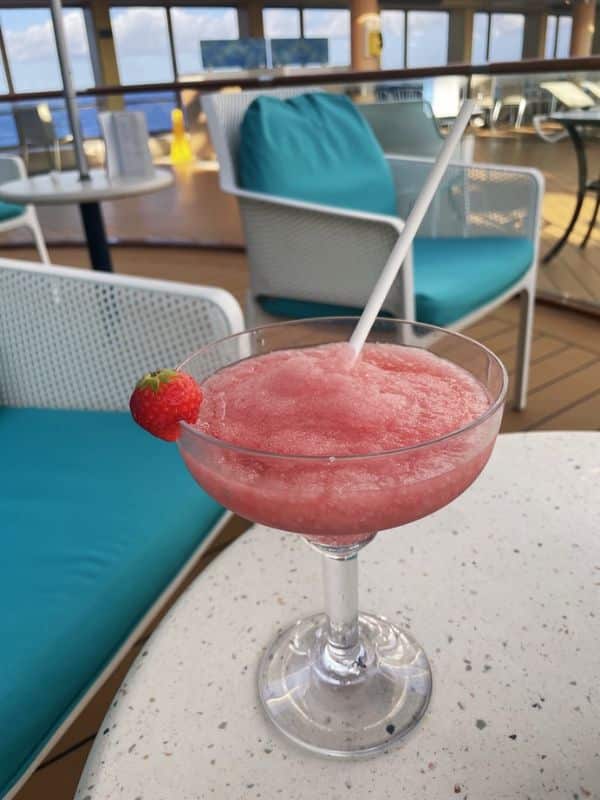 If you're unsure whether the Fred. Olsen drink package is right for you, I have a guide here that will help you decide.
You can also use my free drink package calculator do work it out quickly and easily based on what you like to drink…
Ordering wine by the bottle is a bit cheaper than by the glass. If you don't finish the bottle they keep it in the wine cellar for you and you can have it another day, even if you go to another restaurant.
I'm not convinced that they always bring the right one though, as for the first few days my bottle never went down very much, it was like a never-ending bottle of wine. But then another bottle I had went down much quicker than I expected!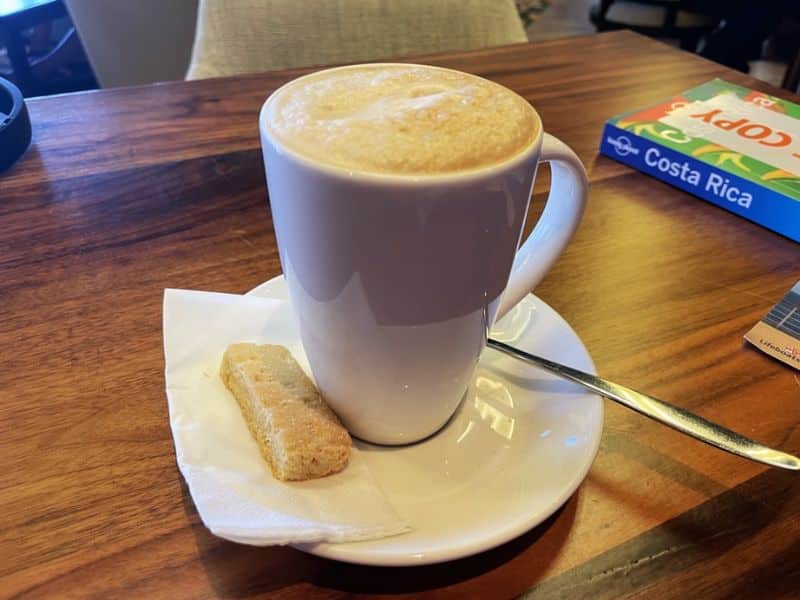 We found the drinks indoors to be much nicer than the drinks served outside. But that's just because a beer in a plastic glass on a hot day will always warm up much faster than a nice cold pint in the pub!
On the formal nights, there are free drinks aplenty! This starts with sparkling wine at breakfast, whether you eat in the main dining room or the buffet. I'd never seen complimentary glasses of wine laid out next to the orange juice on a buffet before!
Then in the evening, you can choose from complimentary red, white or sparkling wine or fruit juice at the captain's reception.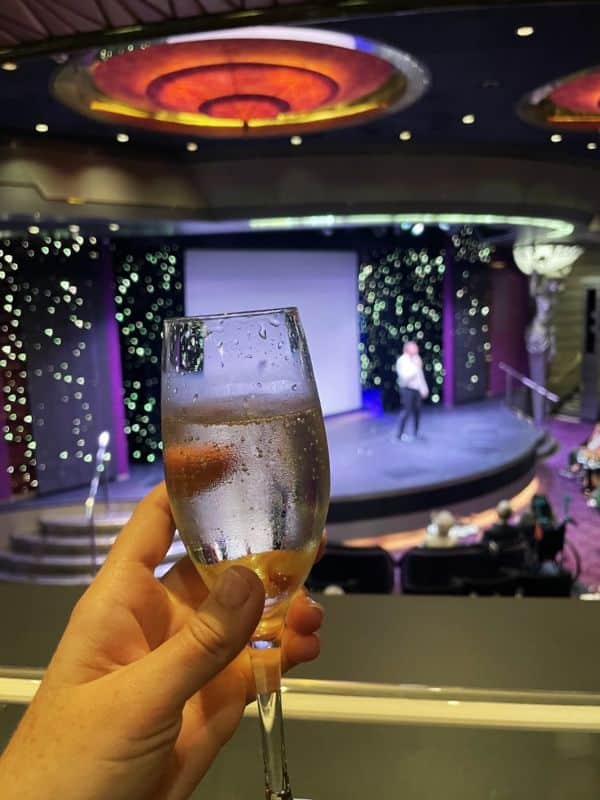 Itinerary
Our cruise visited the Azores, Madeira, Portugal and Spain. The captain gave very detailed updates each day so we knew what to expect, and there were port talks that you could attend too.
Being a smaller ship, the destinations that we visited weren't crowded at all. For example, when we called at Madeira on a mega ship, we queued for over an hour for the cable car, but this time, we walked straight on!
At some ports, we just hopped off the ship and explored, but at others, we opted to take Fred. Olsen's excursions.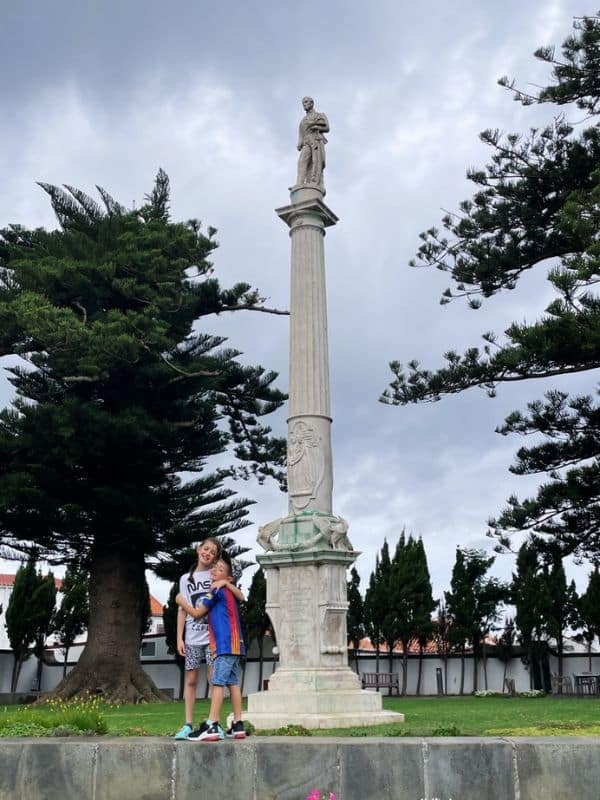 There was a great choice of excursions and they all listed exactly how much walking was involved, which is great for kids and grandparents alike.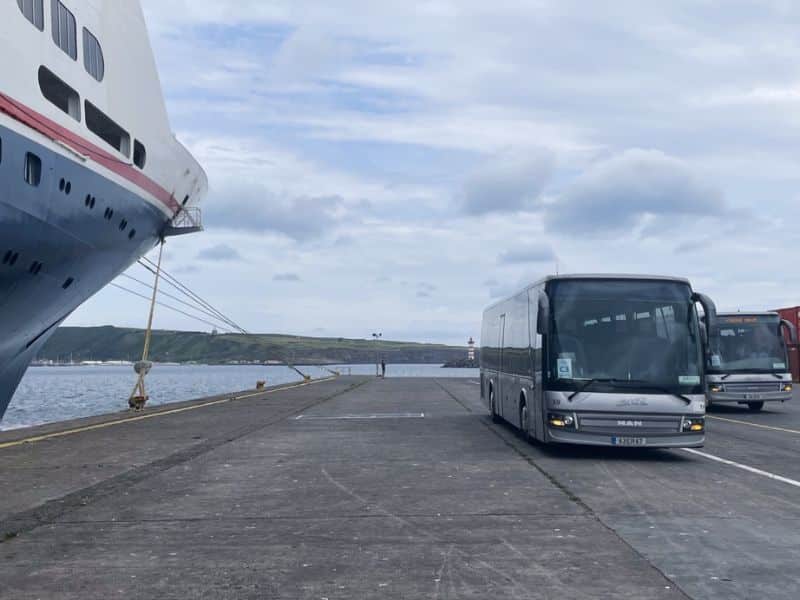 Most of the excursions were suitable for kids. Some of our highlights included going deep inside a volcano, seeing pineapples growing at a plantation and swimming in a hot spring!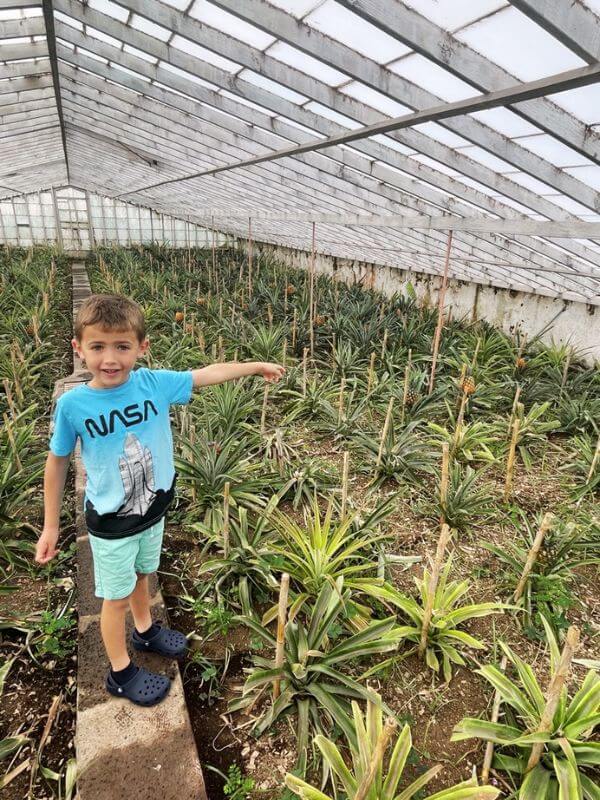 The Verdict
Fred. Olsen Cruise Lines offers a wonderful small-ship cruising experience with excellent service. I can see why this cruise line is popular with over 50s who value a traditional cruise experience that offers great value for money.
The multi-generational cruises are a fantastic way for families of all ages to travel together. Kids aged 5 to 12 can have lots of fun in the kids club, while younger or older siblings are welcome to come along too (with the supervision of a family member for under 5s).
We had a wonderful time on our cruise, and will certainly be back again.
NEW DEALS JUST RELEASED!
Don't miss the latest Fred. Olsen offers…
Related Posts: