Freedom of the Seas is one of Royal Caribbean's Freedom-class ships. Launched in 2006, she is one of the mid-size ships in the Royal Caribbean fleet.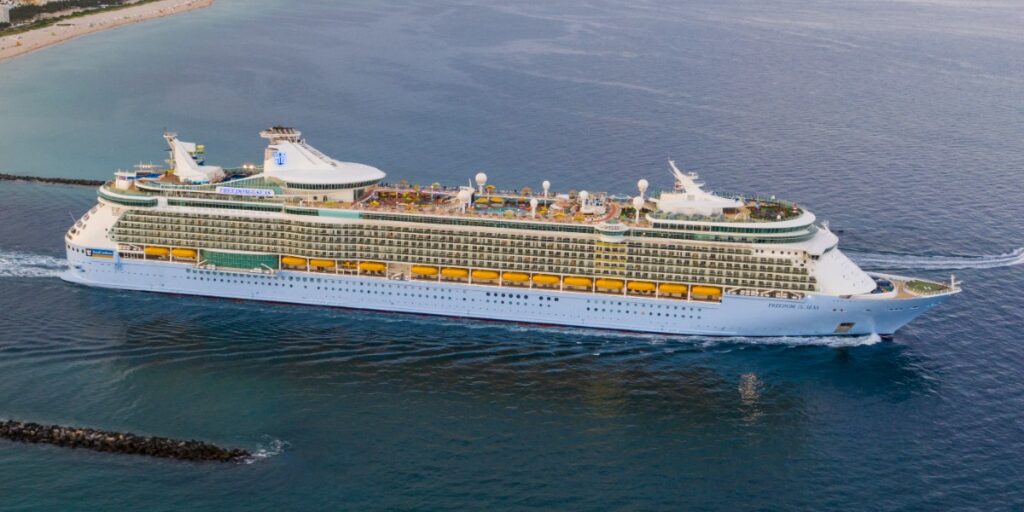 Freedom of the Seas Size
Royal Caribbean's Freedom of the Seas has a gross tonnage of 156,271 GT. Not to be confused with weight, gross tonnage is a measure of the internal volume of a ship. It's the best way to compare ships by size.
Freedom of the Seas is 339 metres (1,112 feet) long, which is about the same length as 11 blue whales or 3.1 football fields!
Freedom of the Seas has a beam of 56 metres (185 feet). Beam is another word for width, when we're talking about the size of cruise ships.
There are 15 decks on Freedom of the Seas and 9 of these have cabins. These are accessed by a whopping 14 guest elevators, with more elevators that are just for crew members.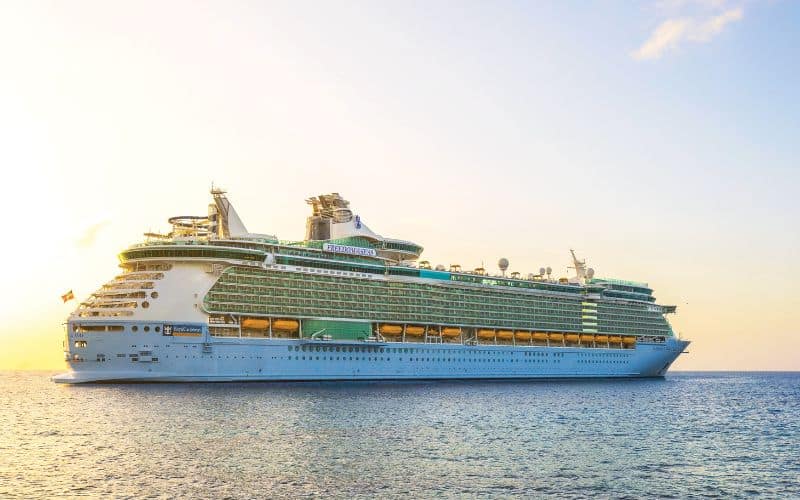 Freedom of the Seas Occupancy
Freedom of the Seas is considered to be large compared to most ships at sea, but is medium-sized when compared to other Royal Caribbean ships. She can accommodate 3,934 based on double occupancy. However, if every bed on the ship is in use, then this ship can accommodate up to 4,553 as well as 1,447 crew members.
Freedom of the Seas Speed
You may be wondering how fast Freedom of the Seas can go? Well, the top speed is 21.6 knots, which equates to 24.856848 miles per hour. However, the ship usually sails much slower than this as the speed is dictated by the itinerary and the weather.
Building Freedom of the Seas
Freedom of the Seas was built in 2006 in Turku, Finland by the shipbuilder STX Finland. Like many Royal Caribbean ships, she was registered in Bahamas.
The ship cost $800,000,000 to build. She was Christened by Katherine L. Calder and made her maiden voyage on May 11, 2006.
Freedom of the Seas has 2 sister ship in the Freedom Class:
Read more: Royal Caribbean Ships by Size
Facilities onboard Freedom of the Seas
You'll find plenty to do onboard Freedom of the Seas. Here's what you can expect to find on board:
Adventure Ocean
Adventure Ocean is the Royal Caribbean kids club, and includes AO Babies and AO Junior for younger guests. Children will love the huge range of activities on offer, and the dedicated spaces just for them.
Adventure Beach
Adventure Beach is a fun-packed water park area with various slides and splash pools. Parents can grab a lounger and watch their kids having a wonderfully wet time – just try to avoid getting splashed yourself.
Arcade
Get your game on at the arcade, where you'll find a host of different machines suited to all ages. There's a selection of video games, classic games such as skeeball, and prize games too.
Broadway-Style Entertainment
The live entertainment on Royal Caribbean is stunning, with Broadway-style shows that are packed with incredible live music and incredible visual effects. Get comfy in the on-board theatre and enjoy being whisked away to magical worlds through immersive stories.
Casino Royale
Whether you're a poker or blackjack player, or you prefer to stick to machines, Casino Royale has it all. Play some games and potentially win some amazing jackpots in a lively, exciting atmosphere.
Conference Center
The conference facilities on a Royal Caribbean ship can accommodate up to 400 guests, and include facilities for meetings, theater-style events and even trade shows. These rooms can be hired for no additional fee by sailing guests.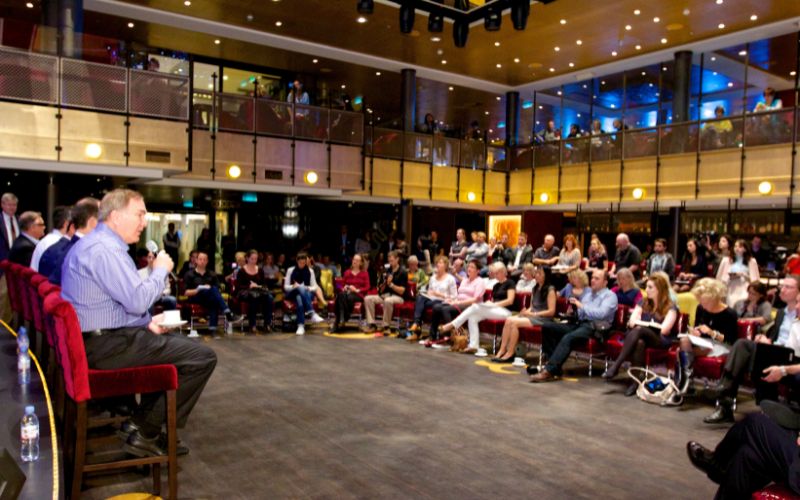 Royal Escape Room
The Royal Escape Room tasks you with solving a series of tasks set by the Royal Society of Puzzles within a 50 minute time limit. Will your team be able to crack the clues and escape the room in time?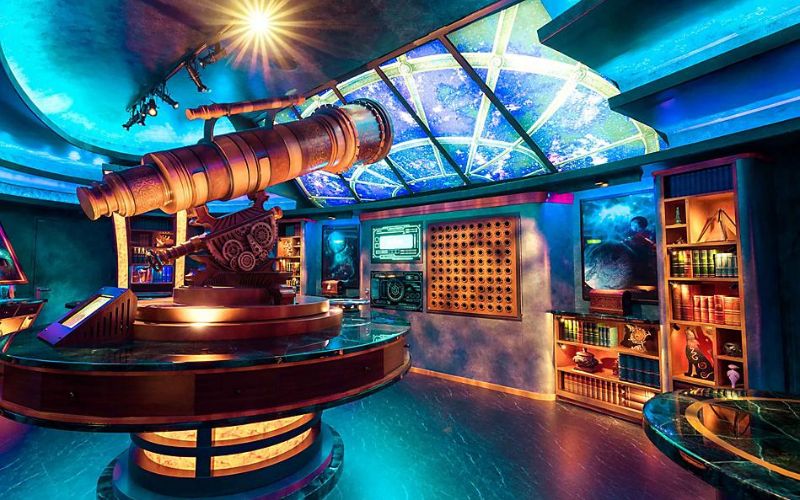 FlowRider
Hop on a surfboard or bodyboard and ride the waves with FlowRider, the only surfing simulator at sea. Included in your fare, this is a thrilling attraction for newbies and experienced surfers too.
H2O Zone
The H2O Zone is a fun-packed water park on the ship designed for younger kids. Expect shallow swimming pools, waterfalls, geysers and of course a selection of water cannons perfect for targeting parents.
Ice Skating
Strap on a pair of ice skates and head onto the rink. Whether you're grabbing the sides all the way around, or confident enough to perform figure-eights and elaborate spins, you'll have a great time skating as a family.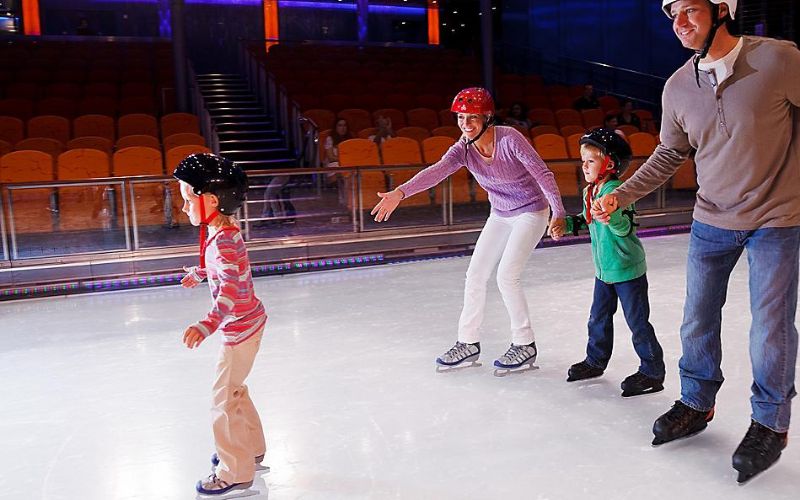 Laser Tag
Two teams face off in this glow-in-the-dark laser tag experience that is ideal for guests aged 5 and above. Work together to eliminate the other team, or just go crazy blasting everyone.
Mini Golf
Enjoy a fun mini golf course on your ship where you can putt around various tricky obstacles. This is included in your fare, so if you have a bad round…just play again!
Outdoor Movie Screen
Cosy up on a lounger, grab the popcorn and enjoy epic entertainment on the outdoor movie screen. Newly-released movies, classic films and live sport events will be shown at various times.
Rock Climbing Wall
Whether you're a beginner or a speed-climber, the rock climbing wall is a cool place to hang out and enjoy amazing views. Included in your fare and with no reservation needed, you can scale the wall as many times as you like during your cruise.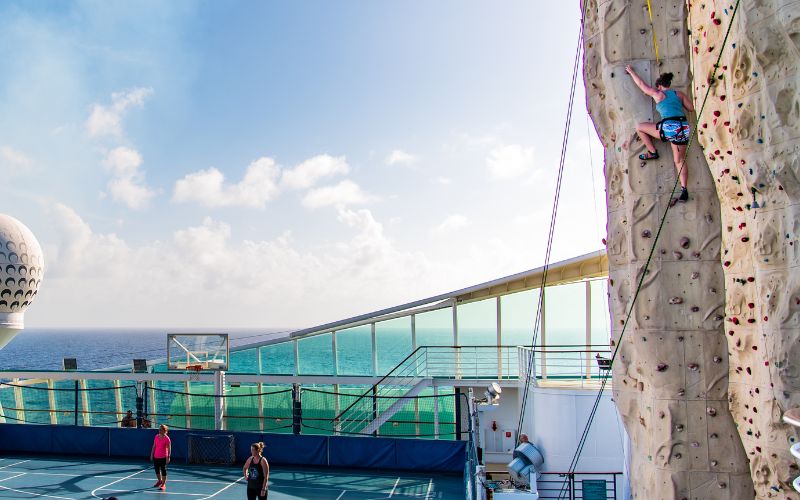 Royal Promenade
The hub of the ship, the Royal Promenade is where you'll board but also where you'll find a wide range of bars, restaurants and stores. This is a lively part of the ship day and night, where you might even spot a parade or two during your cruise.
Running Track
If you want to keep up your fitness routine while on your cruise, the running track is the ideal place. Enjoy amazing views across the ocean as you complete every lap of the track, passing many of the ship's best features.
Solarium
Exclusively for adult guests, the Solarium is an indoor and outdoor venue designed with pure relaxation in mind. Relax in the quiet pools, grab a cocktail and sit in a lounge space, or enjoy the cascading lagoons on some ships as you let stresses melt away.
Splashaway Bay
This kid-friendly splashpark is the perfect place for younger guests to burn off some energy. There are plenty of pools, whirlpools, fountains and water cannons, along with colourful low-intensity waterslides that are ideal for kids.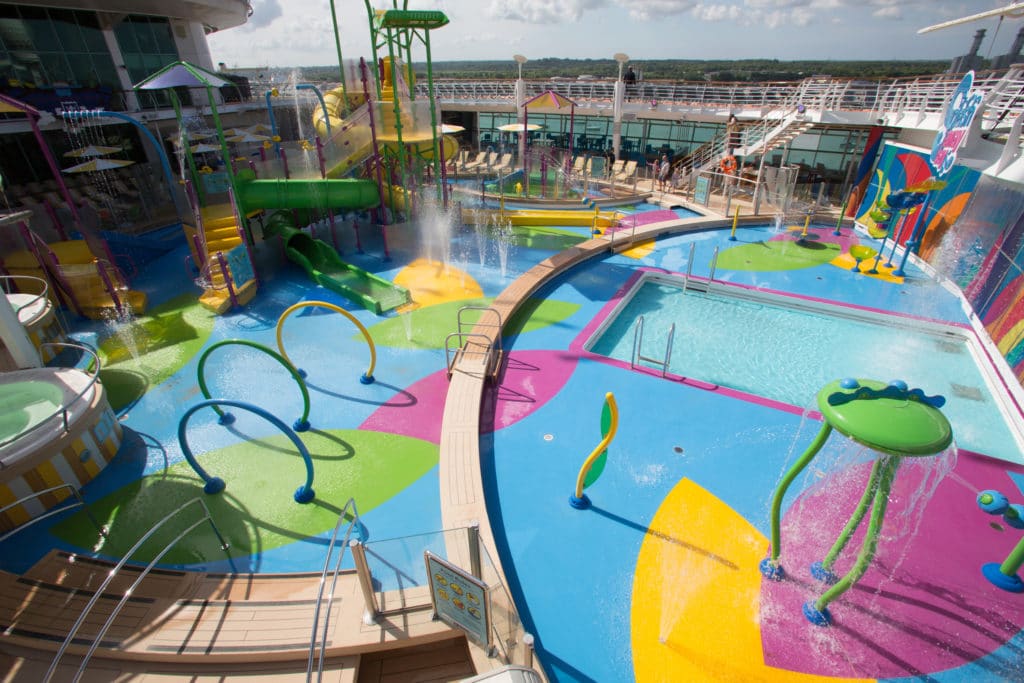 Sports Court
The sports court is an outdoor area that hosts various different sporting activities during your cruise, aimed at the whole family. Games include basketball, volleyball and other court sports, with tournaments often arranged during your cruise.
Studio B
Studio B is a fun venue that doubles up as both a live entertainment theatre and a TV studio ideal for family game shows. The retractable floor also reveals the ice rink for shows and for your own use during downtime too.
The Perfect Storm
Feeling adventurous, and seeking a thrill? The Perfect Storm is a collection of some of the fastest waterslides at sea, including dual-racing slides and the first boomerang-style and head-first mat racer slides at sea.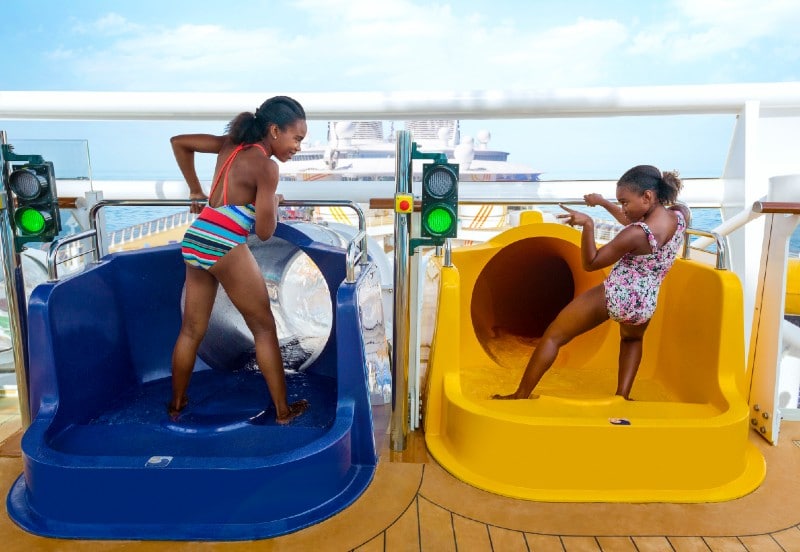 Vitality at Sea Fitness & Spa / Spa
At the Vitality Spa, guests can enjoy a range of treatments designed to help them relax and recharge. From beauty treatments such as facials and body wraps, to soothing massages and bathing rituals, there is something for everyone – including a range of services aimed at teens and tweens.
Places to eat on Freedom of the Seas
Freedom of the Seas has a huge selection of restaurants, cafes and snack bars where you can enjoy breakfast, lunch, dinner or just a quick bite to eat. Some of these are included in your cruise fare and some have an extra charge.
Here are all of your dining options onboard Freedom of the Seas :
Ben & Jerry's
Cool off on a warm sea day with a trip to Ben & Jerry's, serving a range of their popular ice cream flavours. Grab yourself a cup or get a milkshake or ice cream float from this popular booth with a host of extra toppings also available. Charges apply.
Cafe Promenade
Cafe Promenade is an included dining venue serving a selection of deli treats and tasty breakfast items. Grab a croissandwich in the morning, or a packed wrap for lunch. There are some great sweet items here as well, with menu options rotating daily.
Chef's Table
If you want a formal, gourmet dining experience then Chef's Table is ideal. You'll be served five stunning courses during this white-tablecloth dinner in an exclusive setting, with every course perfectly paired with a different wine by the ship's onboard sommelier.
Chops Grille
The Chops Grille steakhouse is an iconic Royal Caribbean restaurant, known for its excellent selection of steak, fish and other meat dishes. This speciality restaurant is smart casual and offers a lighter menu for lunch alongside its main dinner selections.
El Loco Fresh
Enjoy authentic Mexican dishes at this casual dining venue including burritos, carnitas and more that are all packed with incredible flavours. Dine outdoors or take your food to go if you want to enjoy your Mexican dishes elsewhere on the ship.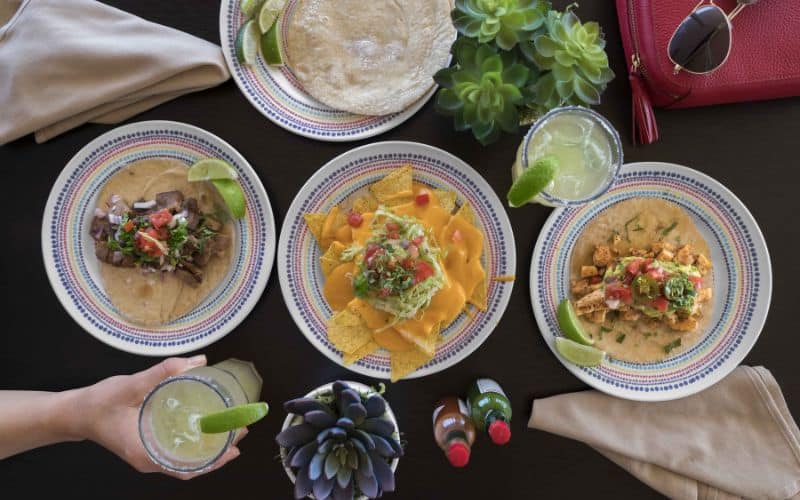 Giovanni's Italian Kitchen & Wine Bar
This speciality restaurant has a casual, homely vibe and serves some of the best Italian comfort food you could find anywhere. Beautiful meat dishes, fresh pasta and hand-tossed pizzas are all paired with some beautiful wines straight from the Mediterranean.
Izumi
Izumi is a smart casual speciality restaurant that specialises in Asian cuisine, specifically focussing on Japanese classics such as sushi and sishimi. Over four courses (including two mains) you'll discover some amazing flavours whether you dine at lunch or dinner.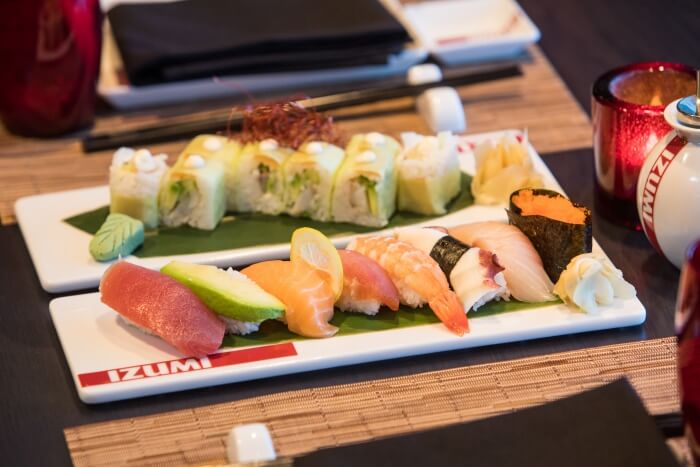 Johnny Rockets
Enjoy Royal Caribbean's classic take on the American diner with Johnny Rockets, a casual speciality restaurant serving all your favourite burgers, sandwiches and fries. Don't forget the hand-spun shakes and malts to go with them, too.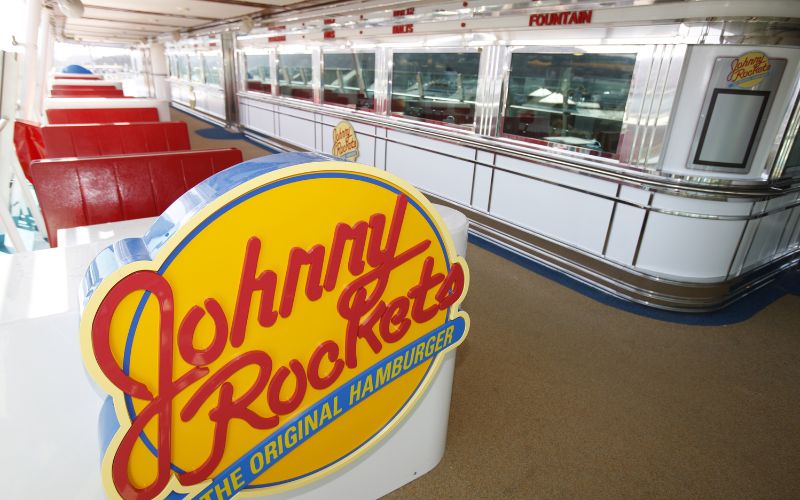 Main/Traditional Dining
If you choose Traditional Dining, you'll be given a set dining time for the Main Dining Room every night. You'll also likely have the same waiter throughout your cruise, who will learn all your favourites and make meal times even more special.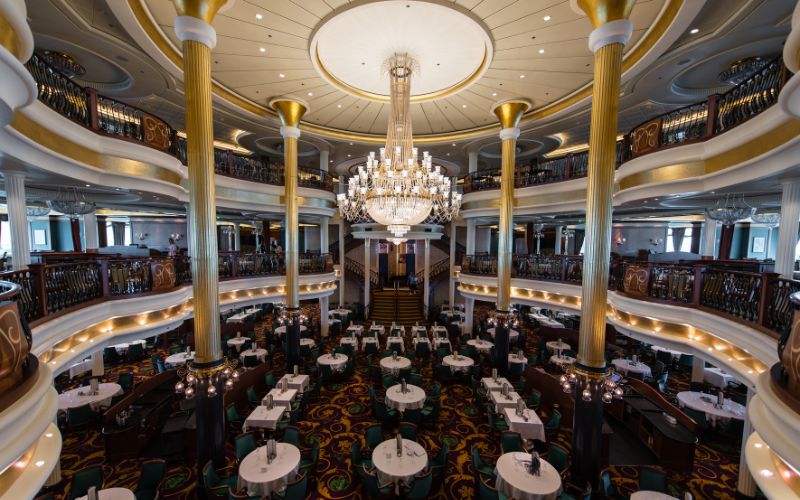 My Family Time Dining
With My Family Time Dining, you get the best of family time dinner while also being able to relax. Your kids will complete their meals within 45 minutes, before they are escorted to the Adventure Ocean kids club while you enjoy the rest of your meal.
My Time Dining
With My Time Dining, you can choose when you take dinner, and you don't need to make a reservation (although you may have to wait for a table). You'll need to pre-pay your gratuities if you want this extra flexibility.
Playmakers Sports Bar & Arcade
Playmakers is the resident Royal Caribbean sports bar. Here you'll be able to watch a range of sports on the big screens whilst you drink a beer or try the range of lighter bites on offer, and enjoy some of the table games provided too.
Room Service
Whether you want a late night snack or just a lazy morning in your stateroom, the room service menu has you covered. There are various hot and cold food items and drinks you can choose to have delivered to you.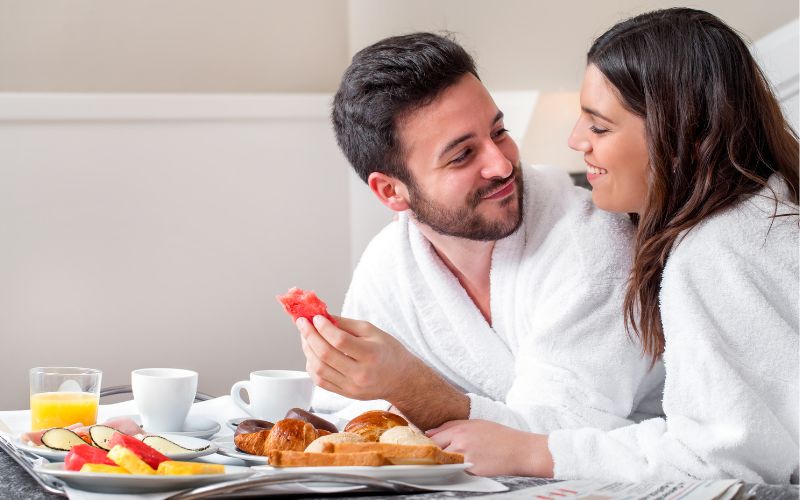 Sorrento's
This casual pizza restaurant serves all your favourites along with some unique pies packed with amazing ingredients. Head here for lunch or dinner, or with late opening you can grab a slice to round off your night.
Windjammer Cafe
The Windjammer Cafe is the buffet restaurant on the ship. Open for breakfast, lunch and dinner, you can help yourself to a fantastic selection of hot and cold foods in a relaxed, casual atmosphere.
Bars & Lounges Onboard Freedom of the Seas
There's no shortage of places to relax and enjoy a drink onboard Freedom of the Seas. You'll find lots of bars and lounges including outdoor pool bars, cocktail bars and live music venues.
Here are the places you can enjoy a drink on Freedom of the Seas:
Boleros
Samba and salsa the night away at Boleros, the Latin club with a live six-piece band. As well as late night dancing, you'll also be able to enjoy some wonderful cocktails here including caipirinhas and mojitos.
Diamond Club
The Diamond Club is an exclusive venue for the use of Diamond, Diamond Plus and Pinnacle Club guests only. Here you can enjoy a calm atmosphere with cocktails (complimentary during the early evening) whilst making reservations for the rest of your cruise.
English Pub
The English Pub on-board your ship is an ideal place to grab a traditional beer or ale, or sample a UK-themed cocktail such as a James Bond Martini. Pop-up music performances keep the lively atmosphere going throughout the evening.
The Lime & Coconut
This vibrant poolside venue offers a range of great signature cocktails including margaritas and tequilas. Live music and DJs will keep the party flowing long into the night.
R Bar
If you prefer your cocktails to be a little more classical and sophisticated, head to the R Bar. This classy venue serves up dry Martinis, Old Fashioneds and other traditional favourites in a venue that oozes style and swank.
Schooner Bar
This friendly, relaxing piano bar is the ideal place to unwind at the end of the night. Grab a seat next to the ship's mast, or next to a porthole and enjoy the view, while the singalong kicks in.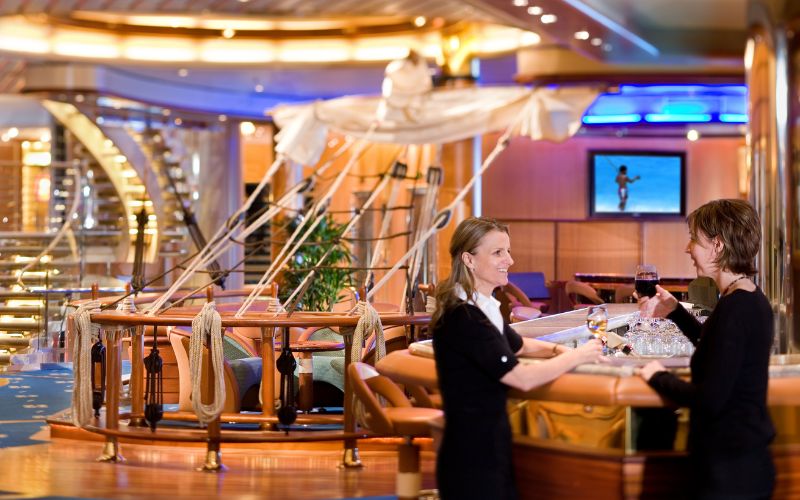 Secondary Lounge
The Secondary Lounge is a large space with ultra-luxurious chairs where you can unwind with a drink and take in a fun, relaxing atmosphere. Decorated in a modern style, you can sit back and enjoy good music and even better company.
Viking Crown Lounge
The Viking Crown Lounge offers stunning views with its floor-to-ceiling windows, making it a great spot to watch the sunset. At night, live music kicks in and the dance floor starts to fill up.
Vintages
Whether you're a wine enthusiast or you want to take your first step into trying new flavours, Vintages is a classy wine bar with an incredible selection. The staff are experts and can offer some fantastic recommendations if you're not sure what to try.
Related Topics