I recently enjoyed a cruise on P&O Britannia with my husband and children – all of us are vegetarians. As I usually follow a mostly plant-based diet and have a future cruise booked on P&O Ventura with vegan friends, I was also keen to see what the vegan options were like on board P&O Cruises' ships.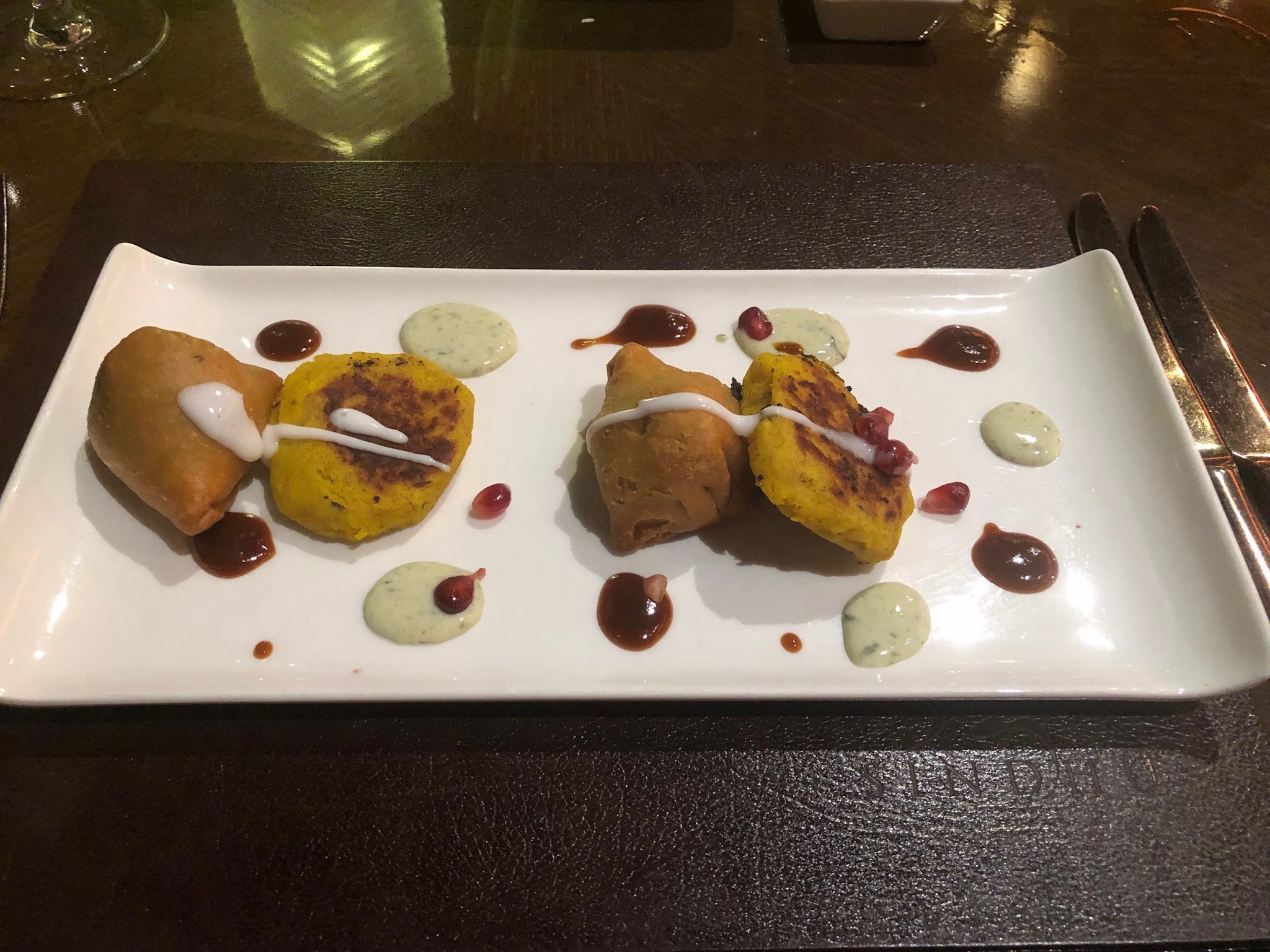 I believe that P&O Cruises is one of the best cruise lines to choose for vegetarians and vegans, including vegetarian and vegan children. The guests on P&O Cruises are almost all British and this cruise line has done a great job to create menus to cater for the growing number of British vegans and vegetarians, as these diets become more popular every year in the UK.
Like each of the P&O Cruises ships, Britannia has included dining options and speciality restaurants. In this post, I'll share details of the vegan and vegetarian menus in each restaurant and food outlet, listing examples of what's available for adults and children.
The special diets welcome letter
When I booked my cruise, I had added a note to my booking to let the cruise line know that I was a vegetarian. This is a worthwhile thing to do for anyone with a special dietary requirement and you can do it when you book (either directly with the cruise line or via travel agent), or you can add it on to your booking later if you forget.
NEW DEALS JUST RELEASED!
Don't miss the latest P&O Cruises offers…
When I arrived, I found the following letter in my cabin: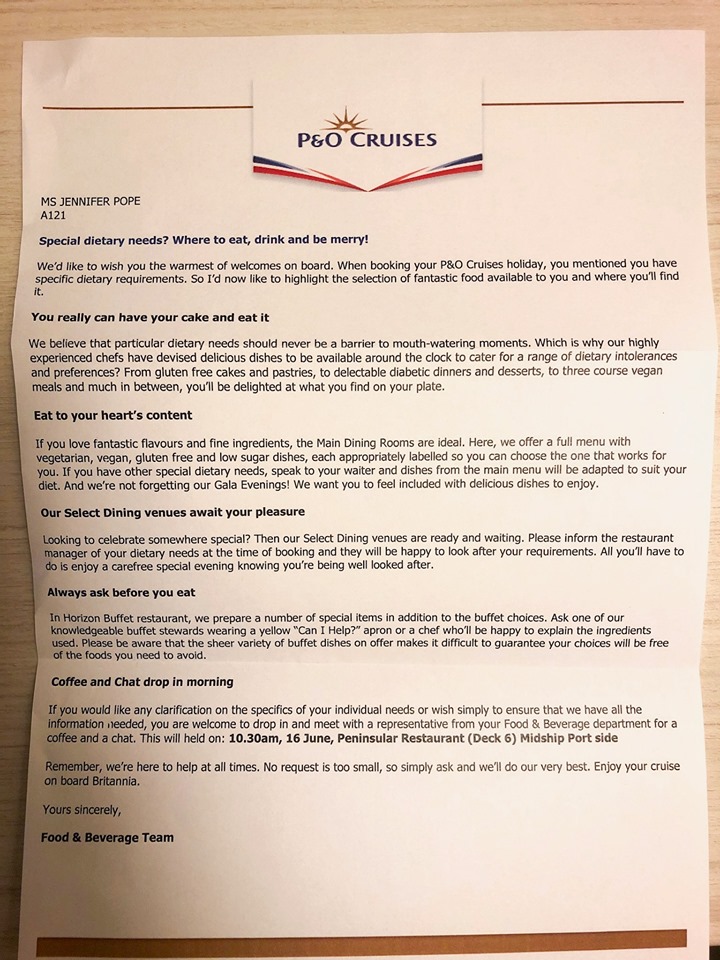 I thought that this letter was a really nice touch – it reassured me that P&O Cruises took special diets seriously. I imagine that for people with allergies, the Coffee and Chat drop in morning would be very reassuring.
---
Included dining options
On Britannia, you'll find the usual dining options included in your cruise fare of the main dining room, buffet restaurant and several snack bars. I was pleased to learn that there were lots of choices available for vegetarians and vegans.
The Main Dining Rooms
Britannia has three main dining rooms – Peninsula, Oriental and Meridian – each serving the same menu. You can dine in one of the main dining rooms for breakfast, lunch and dinner with dinner being by far the most popular time to eat here.
Main Dining Room breakfast menu
A copy of the Main Dining Room breakfast menu is available on this pdf. On this menu, most of what's on offer is vegetarian, including everything in the continental section as well as a selection of hot English breakfast items such as vegetarian bacon and vegetarian sausage in addition to the usual beans, tomatoes, sauteed potatoes, grilled mushrooms and eggs cooked in a choice of ways.
Soya milk and vegan spread are available so vegans will also have no problem in finding lots to enjoy on this menu.
Main Dining Room lunch and dinner menus
Here is where I feel that vegetarians had the best deal food-wise. The standard menu is the Main Dining Room always has at least one or two vegetarian starters and mains. However, you can also ask to see the special vegetarian and vegan menu which has four or five more vegetarian options including one or two vegan options.
Not everyone I spoke to was aware of the vegetarian and vegan menu, so be sure to ask for it and don't feel that you need to choose off the main menu. I actually felt quite special with my two menus, with other diners exclaiming 'that sounds good, why isn't that on my menu?' as I ordered.
Both the lunches and dinners were absolutely delicious. There's something quite special about enjoying a slap-up three-course meal in a fancy restaurant in the middle of the day. Not something I would ever do at home, but very enjoyable.
Main Dining Room children's menu
Children are always made very welcome in the dining room and are free to order anything off the main menu (including half-portions to avoid waste) as well as anything off the children's menu.
The children's menu is the same every day and evening and contains the following vegetarian options:
Pizza Margherita
Cheese and Tomato Omelette/Plain Omelette
Fried Egg
Pasta with Tomato Sauce
Spaghetti Hoops
French Fries
Mashed Potato
Potato Smiley Faces
Fresh Vegetables of the Day
Stir-Fried Vegetables
Garden Peas
Carrots
Selection of Ice Creams with Sweet Sauces
Sorbet of the Day
Cupcake
Creamed Corn
Chocolate Cookies
Chocolate Brownies
I felt that the children's menu was slightly lacking for vegetarians. My children are very fussy eaters and wouldn't even look at anything off the adults' menu. I think they would get bored with this menu very quickly if they had it every night. However, that wasn't the case as they'd often eat in the buffet either with us or earlier at the Children's Tea where there was lots more to choose from (more on that later).
---
The Horizon Buffet
We absolutely loved the Horizon buffet on board P&O Britannia. The buffet restaurant features on each of P&O Cruises' ships, although with different names on some ships. The Horizon was open around the clock serving breakfast, lunch, dinner and snacks.
There was a great choice of vegan and vegetarian breakfast items at the buffet. Vegetarian sausages are available, you just have to ask for them. I didn't find this out until several days into the cruise.
What I liked about P&O Cruises' buffet compared to other cruise lines I've sailed with, is that the food is themed each night, with themed dinners such as Mediterranean, American or Asian. This means that rather than piling your plate with food that doesn't go well together, you can easily stick to a theme.
There were always plenty of vegetarian and vegan options at the buffet. In addition to all of the dishes which just happened to be vegetarian or vegan, there was a vegetarian section with two or three dishes, as well as a special diets section where you could find plant-based milks, spreads, vegan cheese and vegan desserts.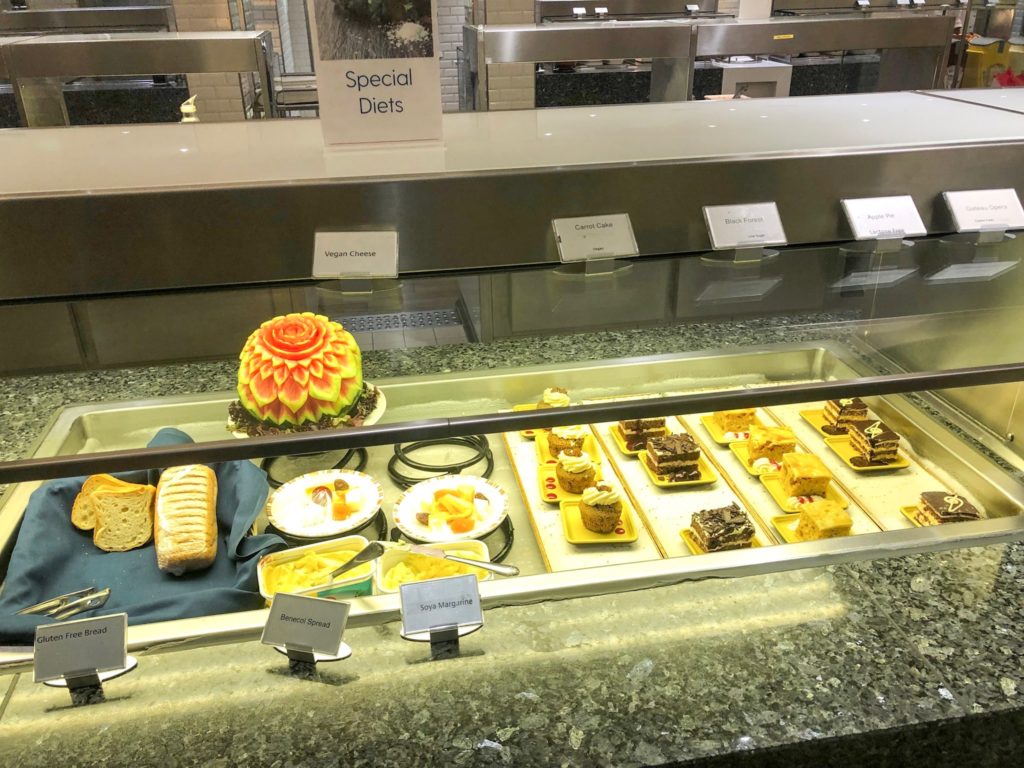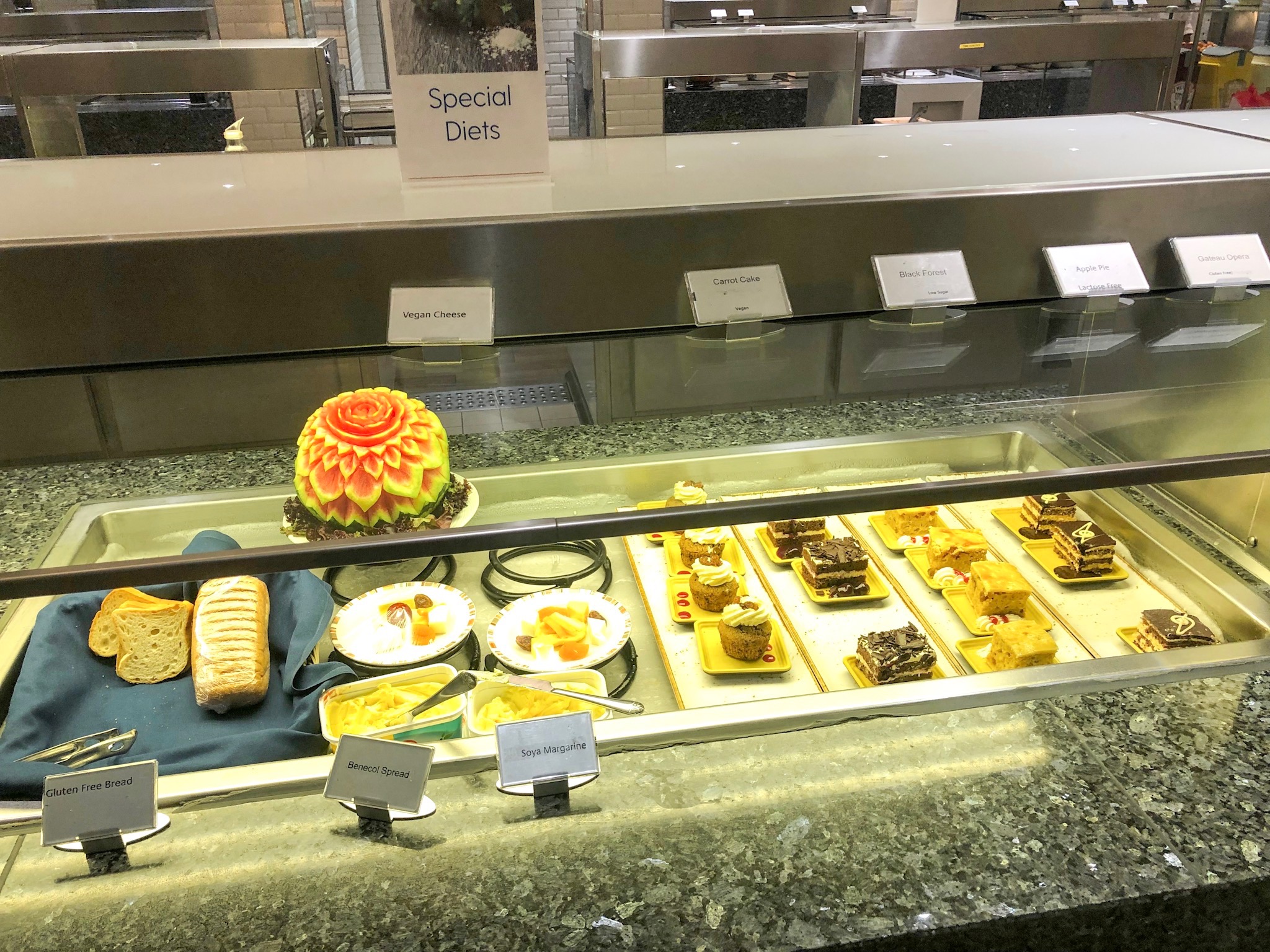 The buffet was open until late an night and always had something yummy to offer in the way of late-night snacks.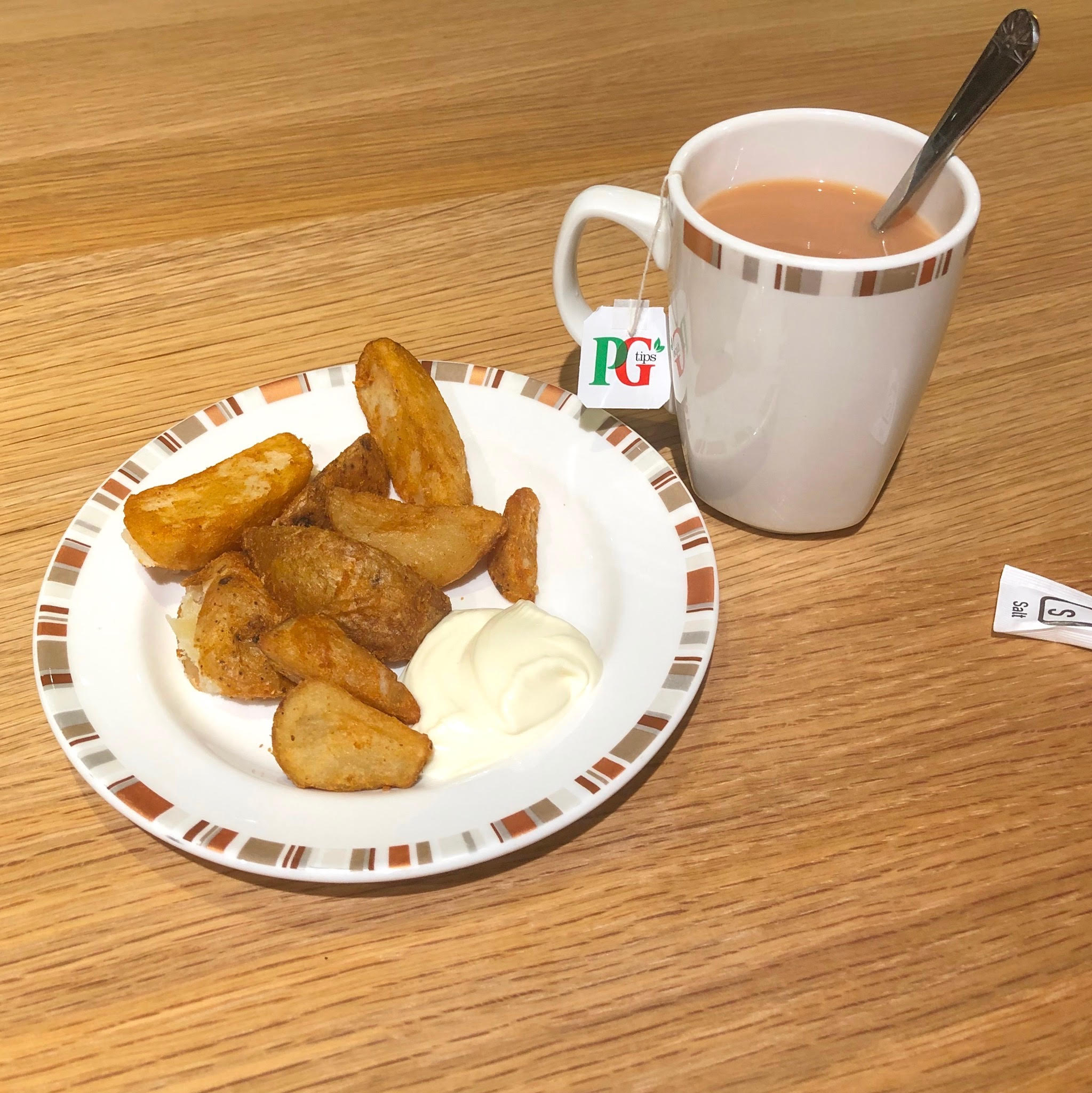 Children's Tea at the Horizon Buffet
The Children's Tea was served at 5 pm until 6 pm every evening in an area of the buffet. Only families with children and teenager are allowed in the buffet at this time – unaccompanied adults were politely turned away!
The buffet options at the Children's Tea were outstanding and changed every day. A lot of the dishes were served with things on the side, such as spaghetti in one dish and tomato sauce both with and without mince in others. This set-up is perfect for fussy eaters and vegetarians alike.
The Children's Tea is ideally timed to finish just as the kids' club opens. The children would often see their friends at tea, and then get excited about going to play together after the meal had finished. It gave them a reason to finish their vegetables and us adults a chance to chat to like-minded parents over a beer (and some stolen nachos from the kids' buffet)
---
Poolside pizzeria and poolside grill
By the pool on Britannia, you'll find a pizzeria and a grill serving non-stop fresh pizzas, chips, burgers, hot dogs, coleslaw and salad. At the pizza station, there were always three types of pizza available – one was always margarita, one was always meaty and the other one could be anything but was often four cheese or vegetarian. The chips were the thin fast-food styles ones – delicious. The burgers available were usually meaty, although I did occasionally see veggie burgers on offer. You may be able to request one of those to be cooked specially if you don't mind waiting. Personally, I was too lazy to order something special when pizza ad chips were right there!
---
Grab and Go snack bar
Also by the pool on Britannia is the Grab and Go snack bar. This area has two large fridges where you'll find pre-packaged sandwiches, salads, pasties and desserts, all freshly made that day. There was always a good selection of vegetarian items here – perfect for when you fancy something quick and healthy.
---
Speciality dining options
A range of speciality dining restaurants are available on P&O Cruises' ships for an extra charge. Each ship has a different combination of restaurants, although most of the restaurants are present on at least one ship. The menu in each of the restaurants changes weekly. So, if your cruise is longer than a week I would recommend that you request a copy of both menus from reception to see which most takes your fancy before booking.
Although children are welcome to dine in speciality restaurants, there are no child menus and no child prices. Your children can either order off the adults' menu and you pay the adult price for them, or it is may be possible for staff to bring something from the children's menu from the main restaurant, which won't incur a charge.
The Epicurean restaurant
The Epicurean offers fine dining in an intimate atmosphere. This restaurant is available on Britannia, Ventura and Azura. The charge for this restaurant is between £28 and £30 per person, depending on the length of your cruise.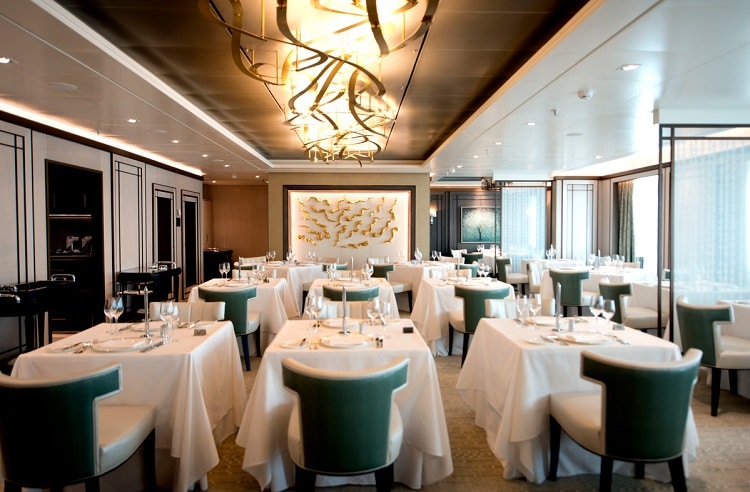 Example vegetarian menu:
Starter
Roasted Red Pepper Parfait
Goat's Milk Curd, Sun-blush Tomatoes and a Spinach and Basil Puree.
Seasonal Soup
Cream of celeriac and Italian White Truffle
Main Course
Emmental Cheese Souffle
Maris Piper Potato Terrine and Creamed Baby Spinach
Sides
Tender Stem Brocolli
Baby Spinach Leaf
Thick Cut Chips
New Potatoes
Dessert
Crepes Suzette
Apple and Juniper Berry Crumble
Baked Valrhona Chocolate Cheesecake
Lemon Meringue Tart
Belgian Chocolate Jaffa Cake
Taster for Two
(Apple and Juniper Berry Crumble, Baked Valrhona Chocolate Cheesecake, Lemon Meringue Tart)
Selection of Artisan British and European Cheeses
Example vegan menu:
Starter
Tomato tasting and vegan cheese
Seasonal Soup
Leek, potato and black truffle soup
Main Course
Laksa of marinated silken tofu tempura
Dessert
Banana and peanut butter cannelloni
---
Sindhu
Sindhu is P&O Cruises' Indian restaurant that has opulent decor and perfectly attentive service. This restaurant is available on most ships, with the exception of Oceana. The cover charge here is £20-£25 depending on the length of your cruise.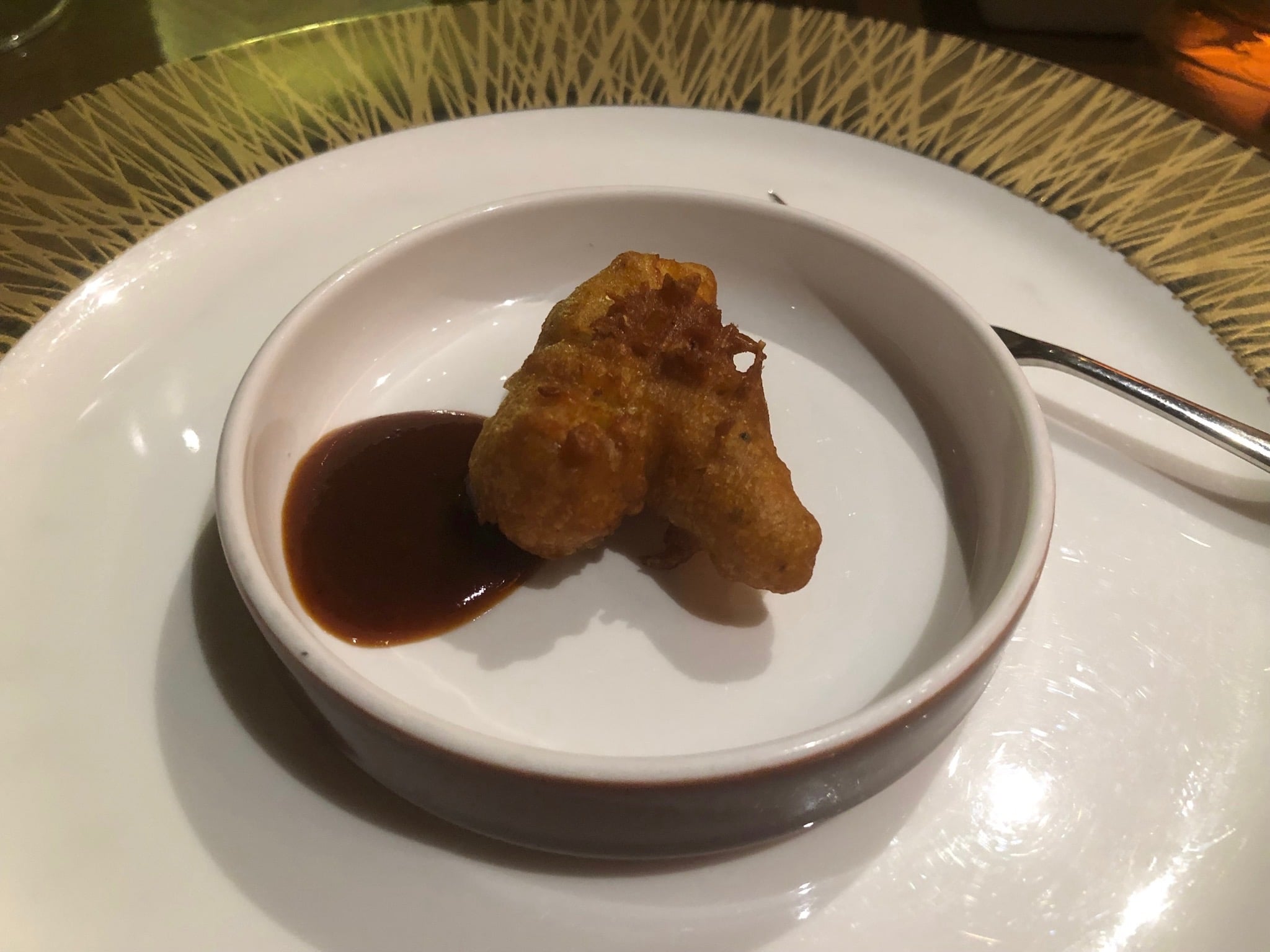 The vegetarian options in Sindhu include one starter, two mains and five desserts. I thoroughly enjoyed dining at Sindhu. You can see photos of the menu and read my review of it here:
Example vegan menu:
Starter
Chana Pakodi Chaat
Main Course
Sindhu Signature Plate: Okra and red kidney bean curry
Dessert
Khatta Meetha Teeta
---
The Glass House
For those who appreciate fine wine, The Glass House is perfect. Offering wine and light bites, or even an informal evening out, this speciality restaurant is headed up by award-winning wine expert, Olly Smith.
The Glass House offers tapas-style small plates, large plates, sharer plates, or a wine tasting menu in which individual dishes are matched with wines. Dishes are priced individually and very reasonably, with small plates starting at just £2.25. There is a vegetarian version of the wine tasting menu and lots of suitable options on the tapas-style menu too.
Example Vegetarian Tasting Menu:
Starter
Fresh asparagus spears with soft poached quail egg
Wine:
Ice Cuvée Rosé, Peller Estates, VQA Niagara Peninsula,
Ontario, Canada
Main
Wild mushroom and red wine tart tatin with black truffle-infused ice cream
Wine:
Malbec, Achaval Ferrer, Mendoza, Argentina
Cheese
Selection of regional French, Italian and British cheeses to sample with charcoal wafers and seedless grapes
Wine, choose from:
Bourgogne Blanc Les Sétilles, Olivier Leflaive Burgundy, France
Douro Red, Quinta do Crasto, Portugal
Dessert
Assiette of golden pineapple with olive pistachio cake and home-made elderflower ice cream
Wine:
Ice Cuvée, Peller Estates, VQA Niagara Peninsula, Ontario, Canada
To finish
Hand-rolled strawberry bonbons with freshly brewed coffee or tea


Example vegetarian options on the standard Glass House menu:
Small Plates
Peppered Cheese Polenta Chips
Romesco Dip
Trio of Classic, Broad Bean and Red Pepper Houmous
Mixed Pickes and Pitta Chips
Confit Heirloom Tomatoes
Pesto, Garlic and Basil on Sourdough Toast
Smoked Wild Mushroom Pate
Beetroot Crisps, Toasted Pumpkin Seeds and Grissini Sticks
Large Plates
Spinach and Ricotta Pasta Pinwheel
Bocconcini, Tomato Ragu, Bechamel Sauce and Toasted Garlic Sourdough
Indian Feast
Paneer Kofta in Masala Sauce, Onion Bhaji, Dal Makhani, Kachumber Salad and Chapati
There is also a selection of 'Dessert Trio Plates', of which all are suitable for vegetarians.
Vegan options
At The Glass House, the small plates can all be made vegan. There is also the option of a pearl barley risotto as a large plate.
---
The Beach House
At first, I wasn't that keen on trying the Beach House. There were advertisements for it on the screens outside the buffet showing racks of ribs, burgers and nachos loaded with meat, so I assumed it wasn't for me. I also didn't like the idea of it being located in a cordoned-off area of the buffet, I thought it would just feel like dining in the buffet. Well, I was wrong on both counts!
The Beach House is present on most of the ships in the P&O Cruises fleet, except Arcadia. It offers a menu of American and Caribbean style food, along with an excellent cocktail menu. The cost for three courses is just £7.50. Some of the meat-based dished also have an extra supplement of a few pounds.
Example vegetarian options at The Beach House:
Starters
Baked Garlic Mushrooms
Spinach and Cream Cheese Sauce
Beach House Nachos
Tortilla Chips, Monterey Jack Cheese, Tomato Salsa, Guacamole, Sour Cream and Jalapenos
Mains
Creamy Truffle Mac & Cheese
Grilled Portobello Mushrooms, Toasted Pretzel Crumb and Sweet and Sour Dill Pickle
Spicy Mexican Black Bean Burger
Smoked Cheddar and Portobello Mushroom in a Sesame Brioche Bun, Sweet Potato Fries and Chipotle Corn Slaw
Sizzler Plate
Grilled Chilli Halloumi, Stir-fried Rice and Vegetables, Flour Tortillas, Guacamole and Sour Cream
Desserts
Chocolate and Vanilla Candy Shop Cheesecake
Chocolate Truffle and Oreo Cookies
Warm Apple and Pecan Pie
Vanilla Yoghurt Sorbet
Philadelphia Carrot Cake
Amarena Cherry Compote and Honey Ice Cream
Triple Layered Chocolate Fudge Cake
Praline Sauce and Bourbon Vanilla Ice Cream
Key Lime Sundae
Lime Cream Cheese, Lemon Sorbet and Brown Butter Crumb
Banana and Strawberry Daiquiri Sizzler
Coconut Rum and Eton Mess Ice Cream
Vegan options:
Most of the vegetarian starters and mains can be made vegan on request. Even the mac and cheese is available, made with vegan cheese. The banana and strawberry daiquiri sizzler can also be made with vegan ice cream if you ask.
---
The Limelight Club
In the Limelight Club, you can enjoy a three-course meal, whilst enjoying great performances from special guests that you won't see elsewhere on the ship. The artists vary on each cruise and usually change every few days. The cost to attend is £25 to £35, depending on which performance you choose. On our cruise, there was a choice of Claire Sweeney, Gareth Gates, Eric and Ern and Shaun Williamson.
The menu in the limelight club changes with each performer and always offers one vegetarian starter and main. We quite fancied going to see Gareth Gates perform, but as it would have involved a beetroot mousse starter, we decided to give it a miss. It probably would have tasted lovely, but in my head, I imagined soily-tasting foam, so we headed to the Main Dining Room instead.
Example vegetarian menu:
The Rehearsal
Grilled Halloumi, Romesco Dip and Grissini Sticks
Opening Act
Asparagus and Soft Poached Egg
Baby Gem Lettuce, Cheese Tuile and Sourdough Croutons
The Headliner
Purple Potato Gnocchi with Charred Butternut Squash
Mediterranean Vegetables, Candied Walnuts and Ginger Infused Sultanas
Grand Finale
Poached Peach and Rose Scented Meringue
Champagne Sorbet, Raspberry Gel and Toasted Almonds
Example vegan menu:
Starter
Soya buttered asparagus
Main
Vegan potato gnocchi with charred butternut squash
Dessert
Poached pear
---
Summary
On the whole, P&O Cruises do an excellent job of catering for adults and children on board. The staff on board are incredibly helpful and will go out of their way to find the answers to any questions regarding special diets.
Should you not like something on the menu, they will work with you to create a dish that you will enjoy. I was really pleased with the options for adults and children, and I look forward to my next cruise with my vegan and vegetarian friends later this year.
Have you sailed with P&O Cruises? How did you find the food? Let us know what you thought. Do you have any questions? Please ask in the comments below. And if you found this helpful, please don't hesitate to share it with your fellow vegan and vegetarian cruisers.
NEW DEALS JUST RELEASED!
Don't miss the latest P&O Cruises offers…
Related Posts: