I was lucky enough to be invited on the Norwegian Encore inaugural cruise on 31st October 2019. I cruised for two nights from Bremerhaven in Germany to Southampton along with a team of travel agents from Cruise118.
On-board the first-ever sailing of this brand-new ship, we got to try out Norwegian Encore's amenities, sample the food, see the different staterooms and tour the ships' VIP area – The Haven.
Norwegian Encore amenities
Norwegian Encore has SO much to do on-board. Boredom would certainly never be an issue for anyone on a ship like this. On the contrary, the only problem I could see with this ship might be stress or disappointment if you don't have time to experience everything on-board – you'll have to allow at least a week for that.
If you're looking for a relaxing cruise where you can sunbathe and chill out, choose another ship! Norwegian Encore is anything but relaxing (unless you choose to stay in The Haven, that is). However, if non-stop, futuristic family fun is your thing, Norwegian Encore could be the ship for you.
NEW DEALS JUST RELEASED!
Don't miss the latest NCL offers…
Water slides and aqua park
Norwegian Encore has two multi-storey water slides as well as a kids' water park featuring a smaller slide, tipping buckets, squirting jets and a climbing frame.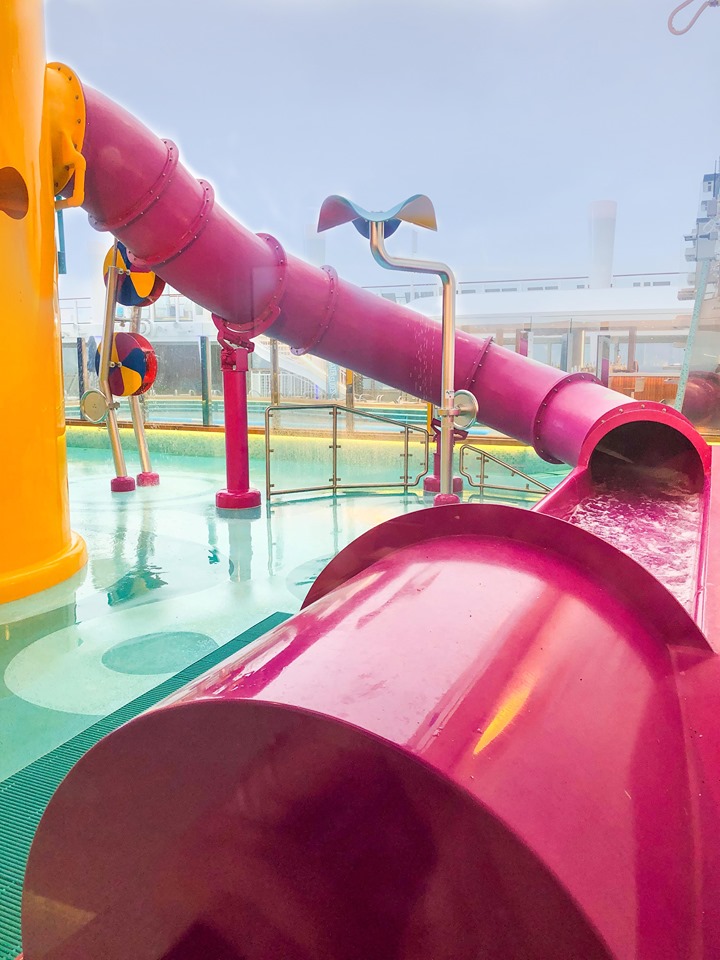 The Ocean Loops waterslide looks truly terrifying with a drop-away floor at the top, two loops and a clear section which extends over the side of the ship. Then there's the Aqua Racer, a slightly tamer-looking slide where you can race your friends in inflatable tubes.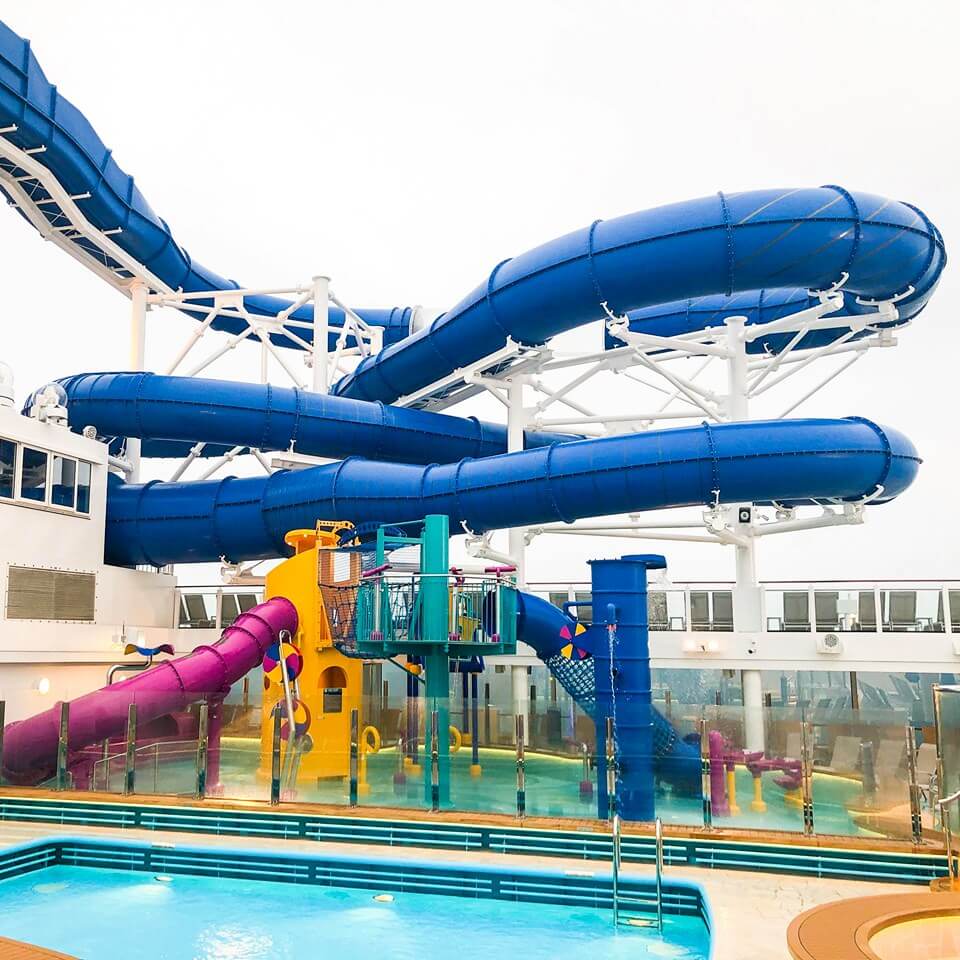 Norwegian Encore Water Slide Requirements
Ocean Loops – Minimum height is 48 inches, minimum weight is 130 lbs
Aqua Racer – Minimum height is 48 inches, no minimum weight
I arrived at the slides in my swimsuit, ready to ride the waterslides, but was told that they were closed due to the weather. Fair enough, it was 6 °C and raining.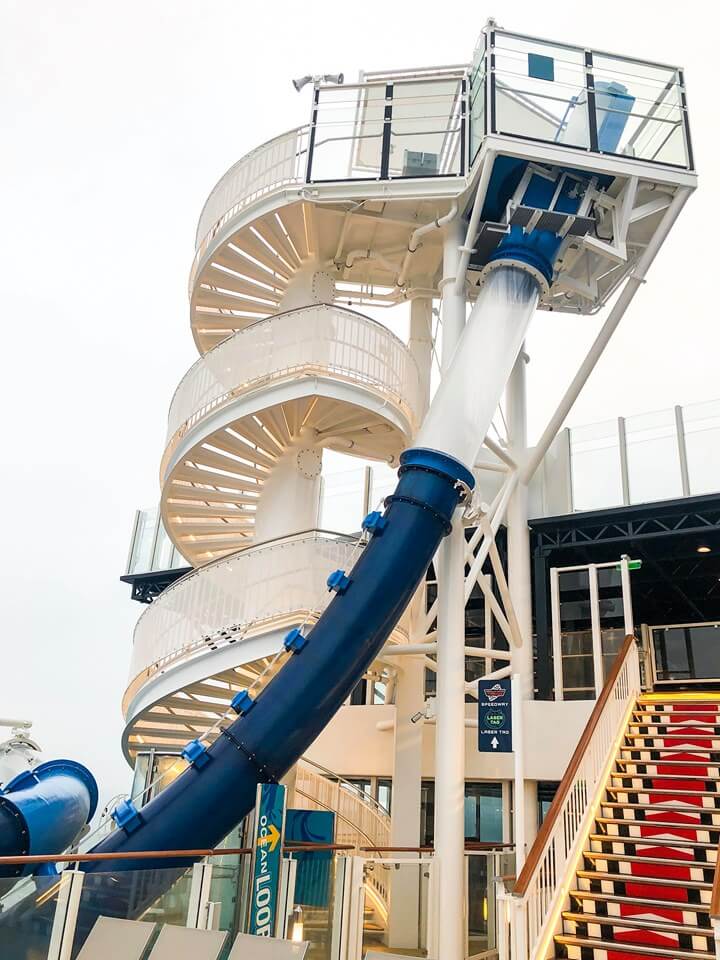 The minimum weight for the Ocean Loops slide is 130 lbs (equivalent to 9 stone 3 lbs). This means that I wouldn't have actually been heavy enough to ride the slide anyway, nor would most teenagers. I'd be keen to see how well this policy is managed and whether I would have been weighed and turned away. If this did happen, I'm sure I would have been heavy enough ride towards the end of the cruise, given how much amazing food there is on board!
Pools and hot tubs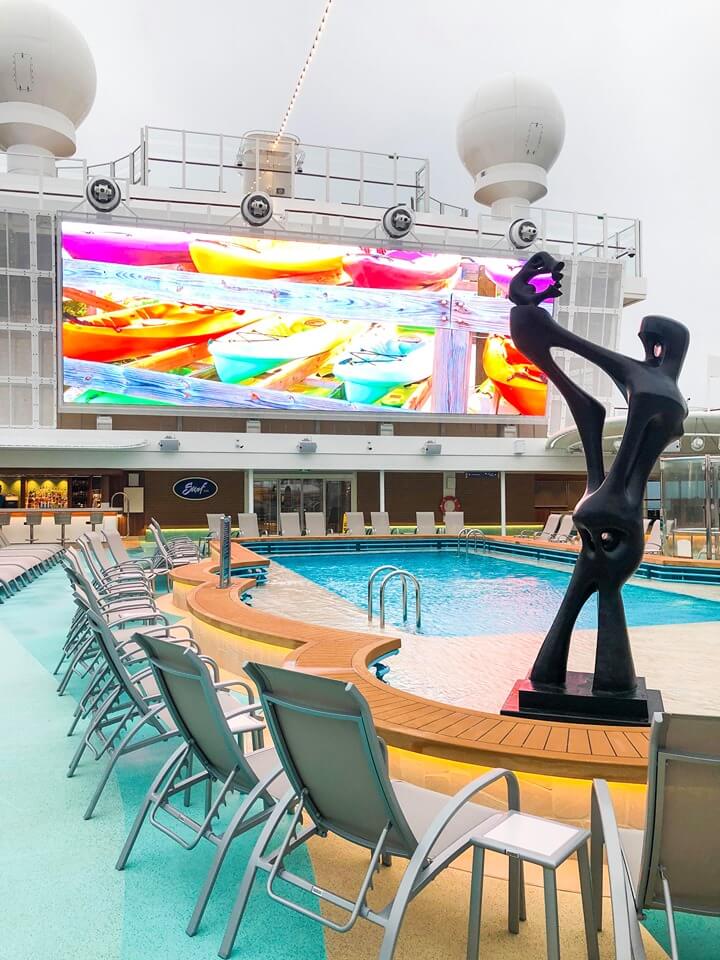 After being turned away from the slides due to the weather, we instead opted for one of the hot tubs. We first grabbed some cocktails in plastic glasses and then enjoyed a long soak as the sun went down. Even though the weather was rubbish, the hot tubs were lovely and warm and I would definitely recommend them, even on a cold-weather cruise like ours.
Go karts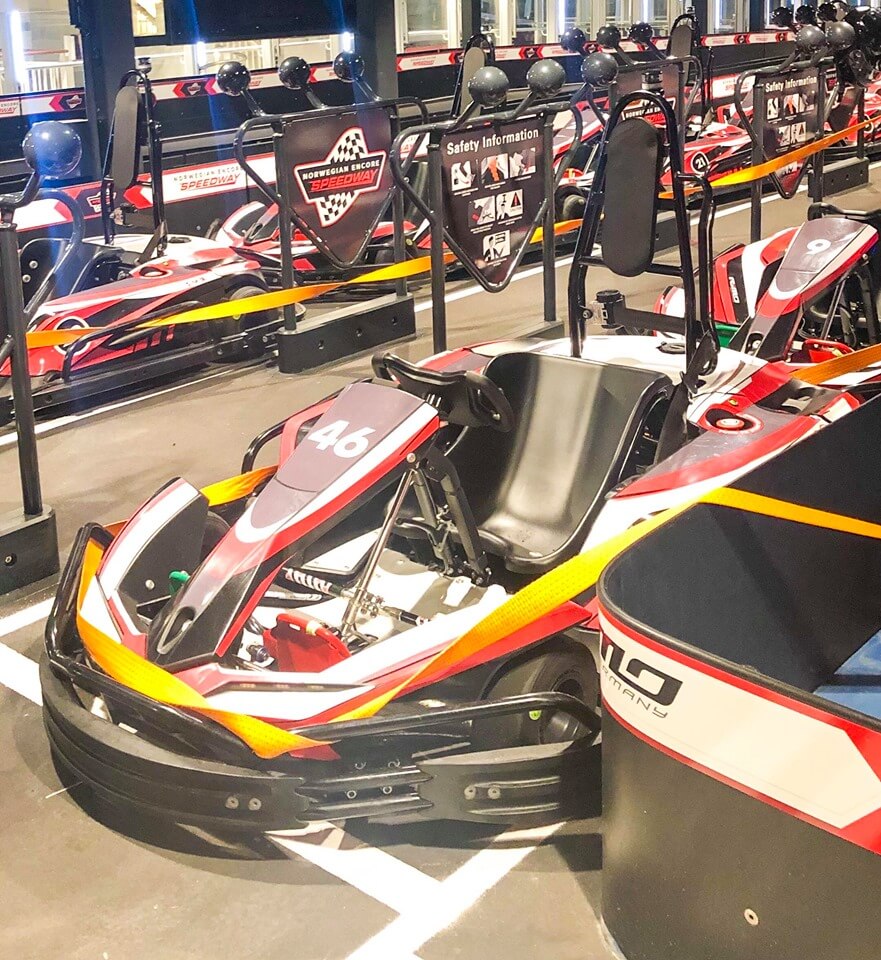 The Norwegian Encore Speedway holds the record for the longest race track at sea, and is a mammoth 1,100 feet long. The race track loops around over two storeys and includes four section which extend over the side of the ship. From the viewing gallery, you can watch the go karts zoom past and shoot them with laser beams to give them a turbo boost!
Norwegian Encore Speedway Requirements
Minimum height is 55 inches. Fully closed shoes are required.
The go karts are chargeable per session, or you can buy a package for unlimited rides.
Laser tag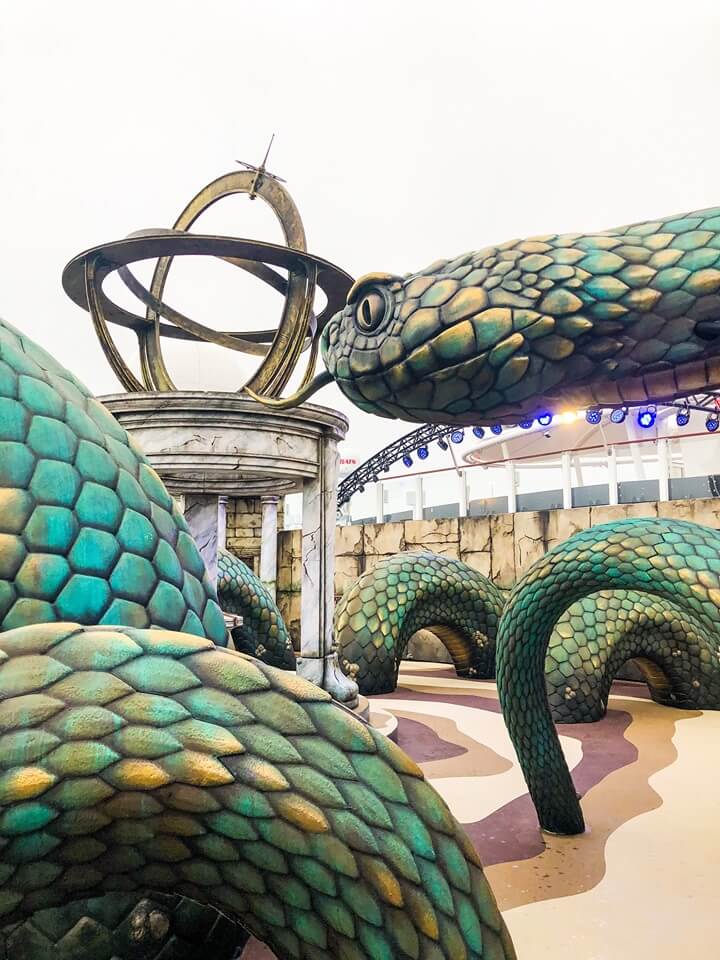 Norwegian Encore also has the largest open-air laser tag course at sea. Player weave through the tail of a giant serpent as they dodge laser shots and augmented reality features in this Lost City of Atlantis-themed course. I'd recommend visiting at night as the course is even more atmospheric in the dark.
Norwegian Encore Laser Tag Requirements
None! There are no age, height or weight limits for laser tag, unlike on other cruise lines such as Royal Caribbean. However, this game isn't suitable for pregnant women.
The laser tag is chargeable per session.
Galaxy Pavilion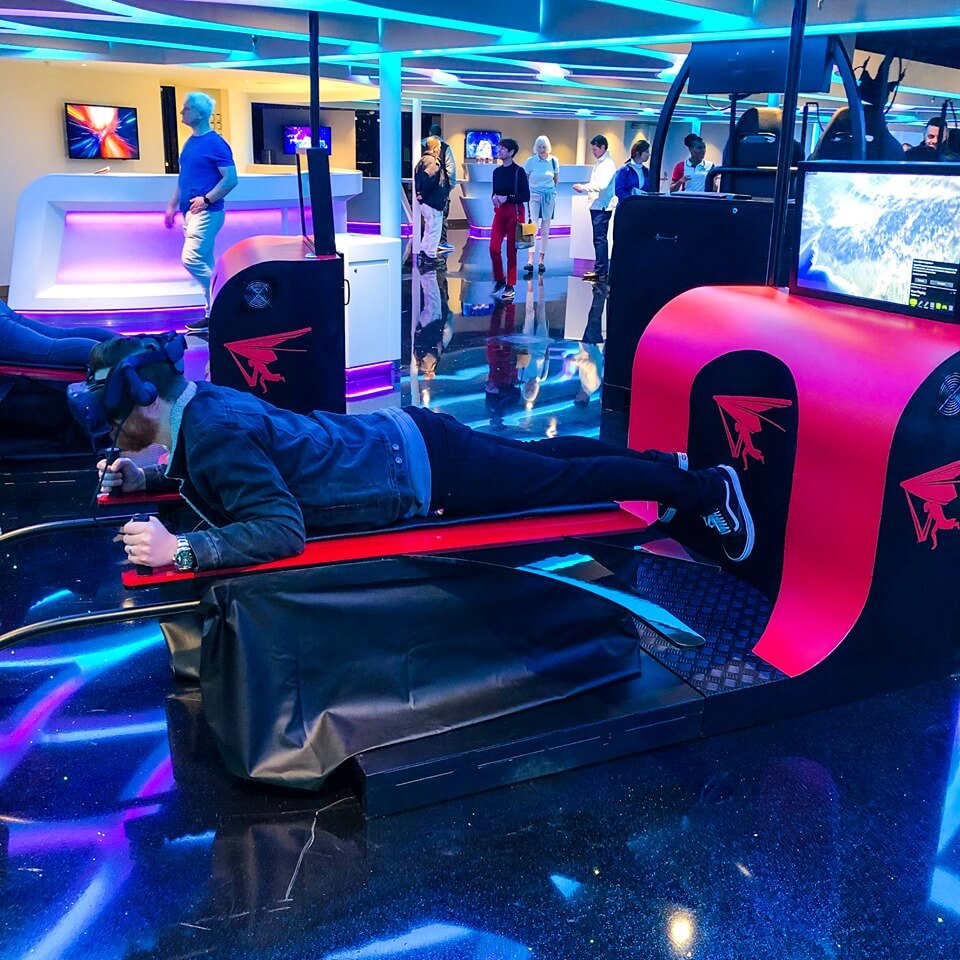 The Galaxy Pavilion virtual reality playground on Norwegian Encore is a teenager's dream. This huge 10,000 square foot indoor complex is packed full of games which use virtual reality goggles for a futuristic experience. My favourite was the Finger Coaster – a virtual rollercoaster, which involves someone using their finger on a screen to draw the track which you'll ride!
You can also don a harness and VR goggles to walk along a plank between two skyscrapers to save a kitten. Or climb into a formula one car and race other players around the virtual track as your chair shakes and rattles.
Tickets to the Galaxy Pavilion allow 90 minutes of unlimited play. Honestly, there's so much in here that you'd need much longer to experience it all. Unlimited passes that last your whole cruise are also available.
Arcade
As well as the Galaxy Pavilion on deck 17, Norwegian Encore also has a more traditional arcade which is located down on deck 5 next to the teen lounge. Here you'll find games like basketball, air-hockey and shooting games as well as a couple of virtual reality experiences thrown in for good measure.
The arcade is separate to the Galaxy Pavilion and uses credits which are applied to your cruise card.
Bars and lounges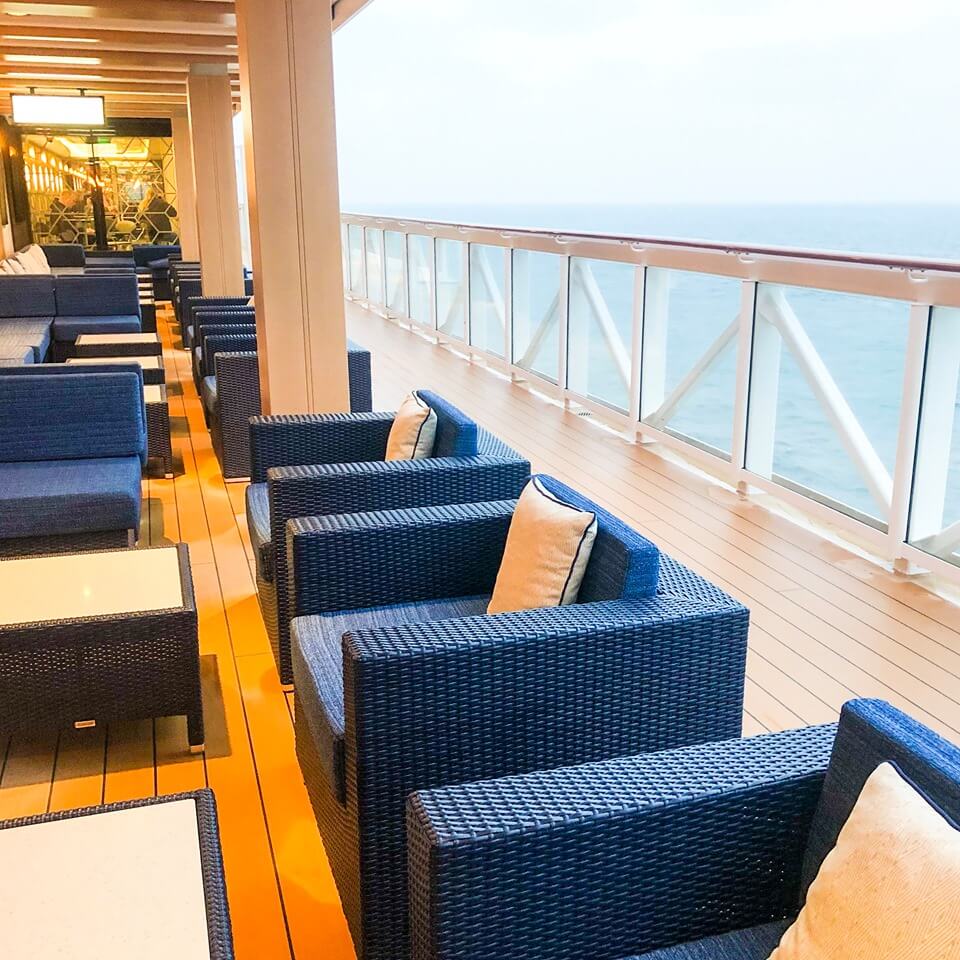 After all that action, it's nice to find somewhere to sit and enjoy a drink. There are countless places to do just this on Norwegian Encore, far too many to mention them all.
Some of my favourite spots included the District Brew House which has 24 draft beers and even a couple of cocktails on tap, and the Atrium Bar which has a huge screen and fantastic live music. Most bars are located on deck 8, which means that you can pop outside and enjoy outdoor seating and a sea view from The Waterfront area.
Spa
For the ultimate in relaxation, head to the Mandara spa. Here you can enjoy a variety of treatments as well as amenities such as heated beds with sea views, and loads of other things starting with S – sauna, steam room, salt room, snow room, samarium and spa pool!
Day passes can be purchased for a fee and treatments are charges per treatment. Discounts are available for repeat visits.
Norwegian Encore entertainment
Shows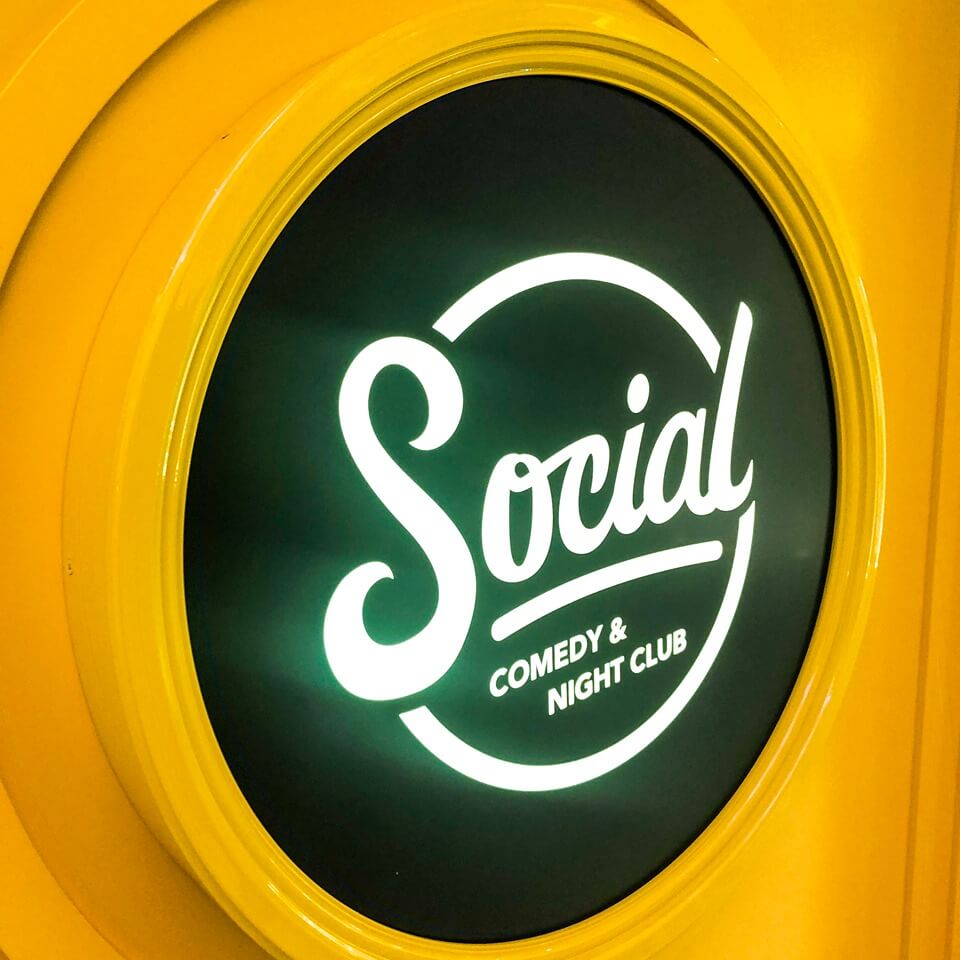 Norwegian Encore has three different shows – Kinky Boots, The Choir of Man and Happy Hour Prohibition: The Musical. There's also a Comedy Club with two stand-up comedians, while the Cavern Club has the feel of the original venue in Liverpool and features a Beatles tribute band every night.
Casino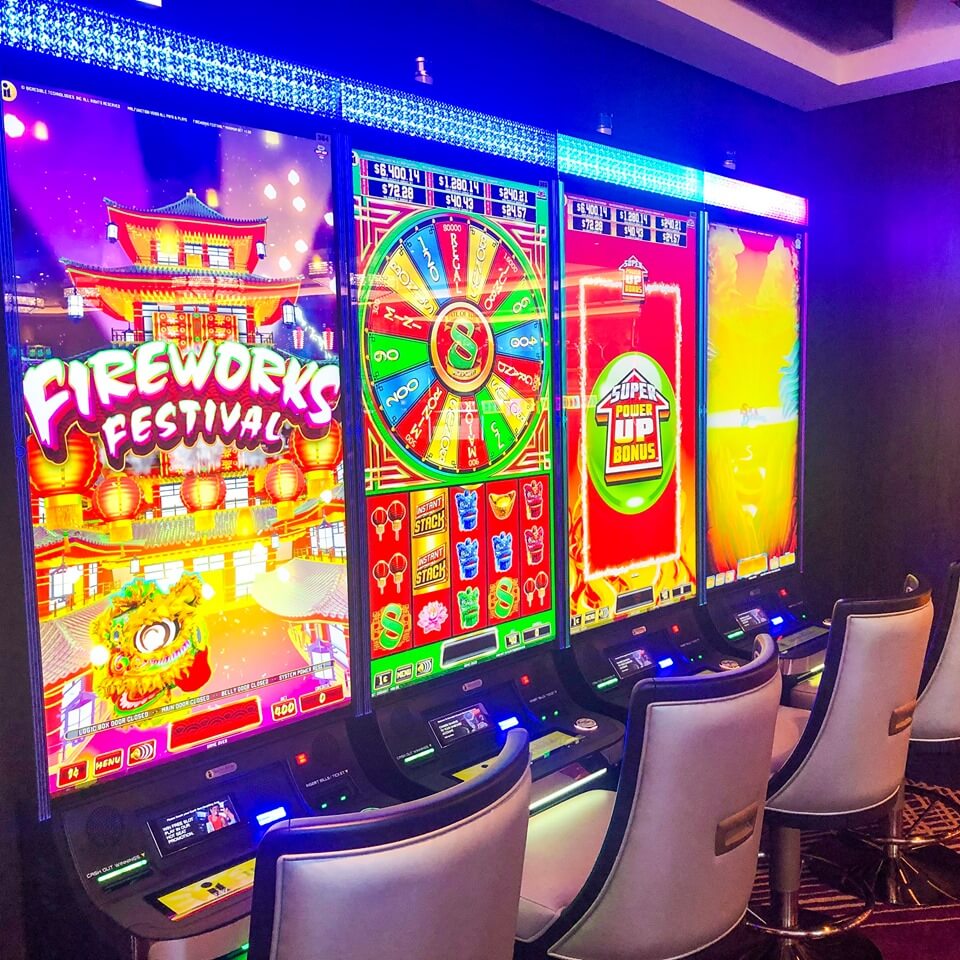 The casino on Norwegian Encore is the biggest I've ever seen. Whether you prefer machines or table games, there's so much to explore; there's even a coin pushing machine. When you think you've reached the end of it, you turn a corner and there's more! A section of the casino allows smoking, this is behind doors so it is completely separate from the rest of the casino, which is non-smoking.
Silent disco
Each night the Social Club becomes a silent disco. You're given headphones which light up one of four colours depending on which music you're listening to. To change channels, you must walk around the room, as the four corners play different genres – 80s, 90s, 00s and now. I mostly enjoyed the 90s music, but if a song came on that I didn't like, it was just a few steps to the next zone.
Kids club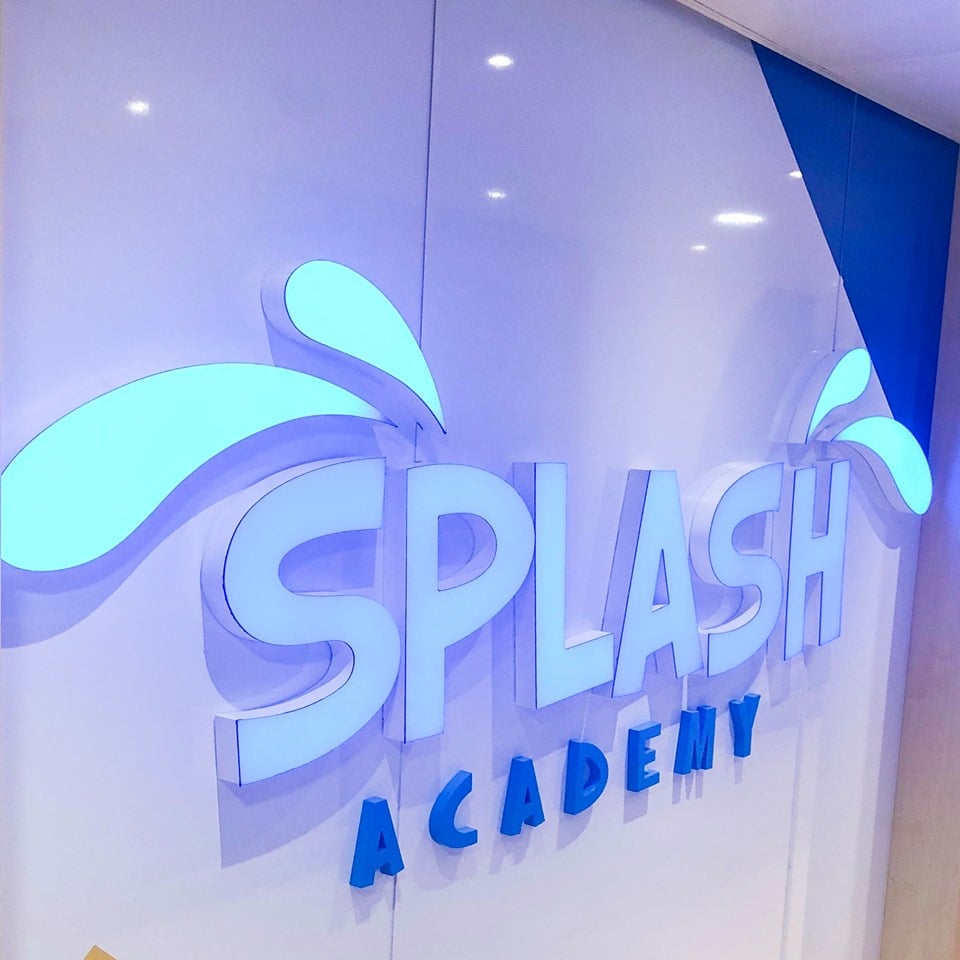 The Splash Academy on Norwegian Encore offers an engaging programme of activities for three to 12-year olds in three age groups:
Turtles – 3 to 5 years
Seals – 6 to 9 years
Dolphins – 10 to 12 years
There's also a Guppies room which is suitable for under-threes, who must be supervised by a parent.
I was really taken aback when I entered the kids club. It was a huge empty space! Granted, there are no children on this inaugural cruise, but there were also no toys! The youth leader explained that activities are very organised, and everything is stored away in cupboards until needed so that children are not distracted. This is a contrast to kids' clubs I have seen on other cruise lines where children can go between soft play, arts and crafts, board games and toys as they please.
Teens area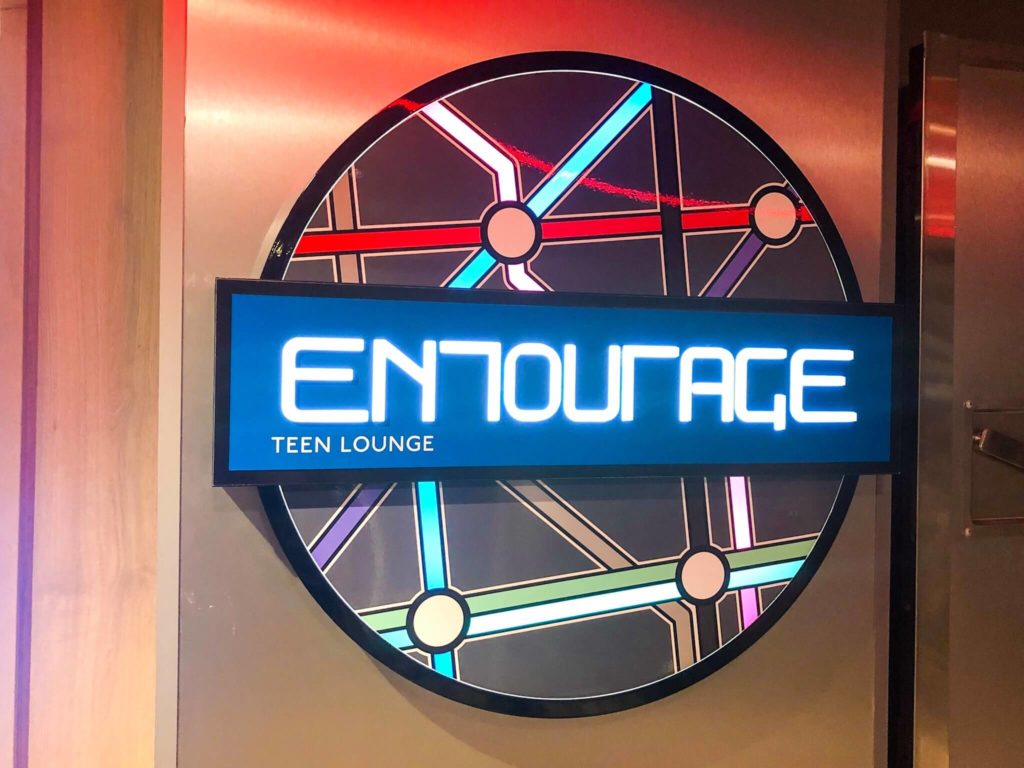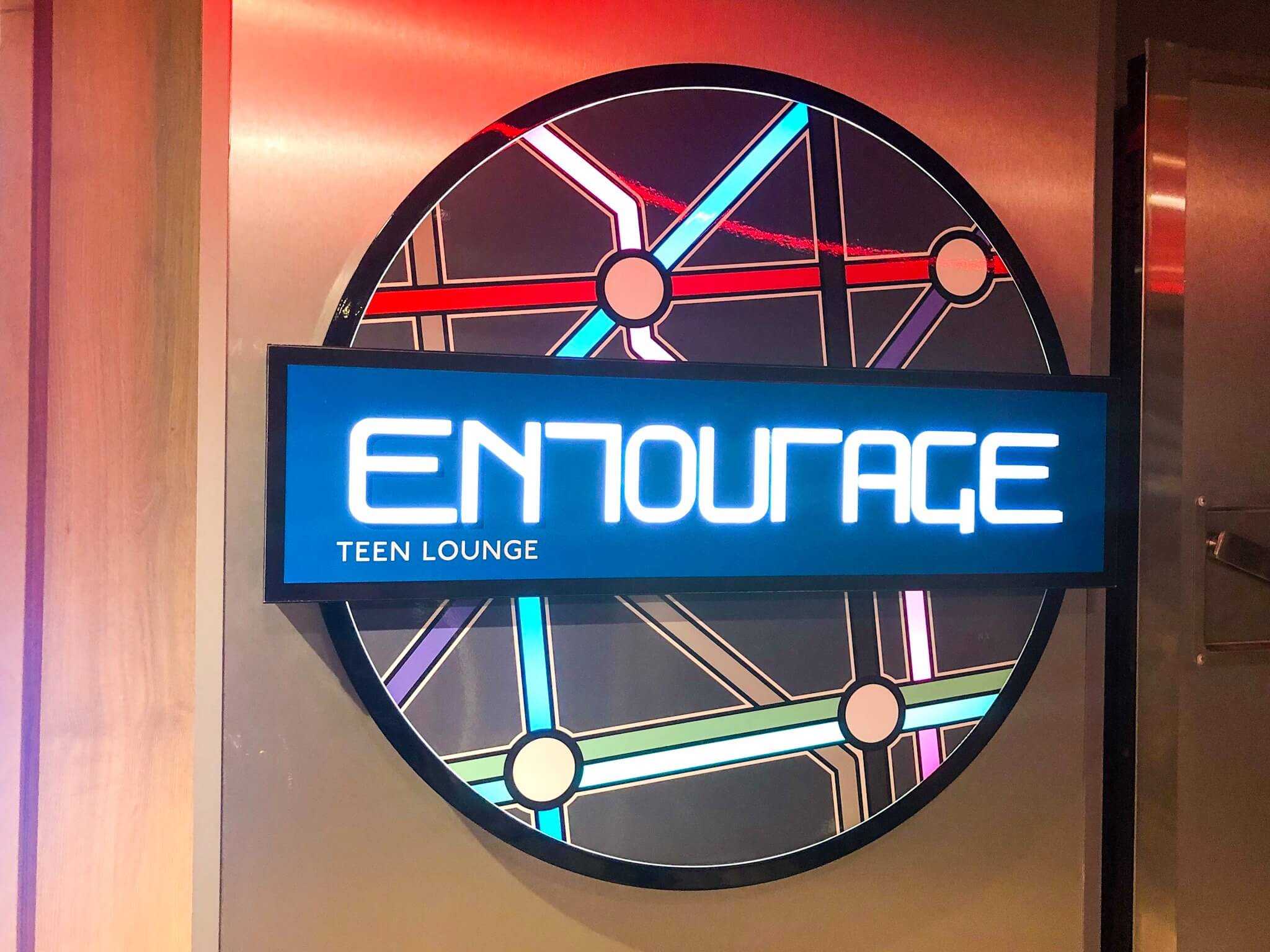 The Entourage teen lounge looked like the best nightclub on the ship and hosts parties like College Night, the White Hot Party and Glow. I can see why teens would love it, as it's nothing like a 'kids' club'. In the day time, there are organised activities too, like graffiti workshops, computer games tournaments and circus skills.
Norwegian Encore restaurants
Norwegian Encore has six complimentary restaurants, nine speciality restaurants (for an extra charge) and four more cafes serving up snacks and treats.
Here are the ones I tried during my short cruise:
Teppanyaki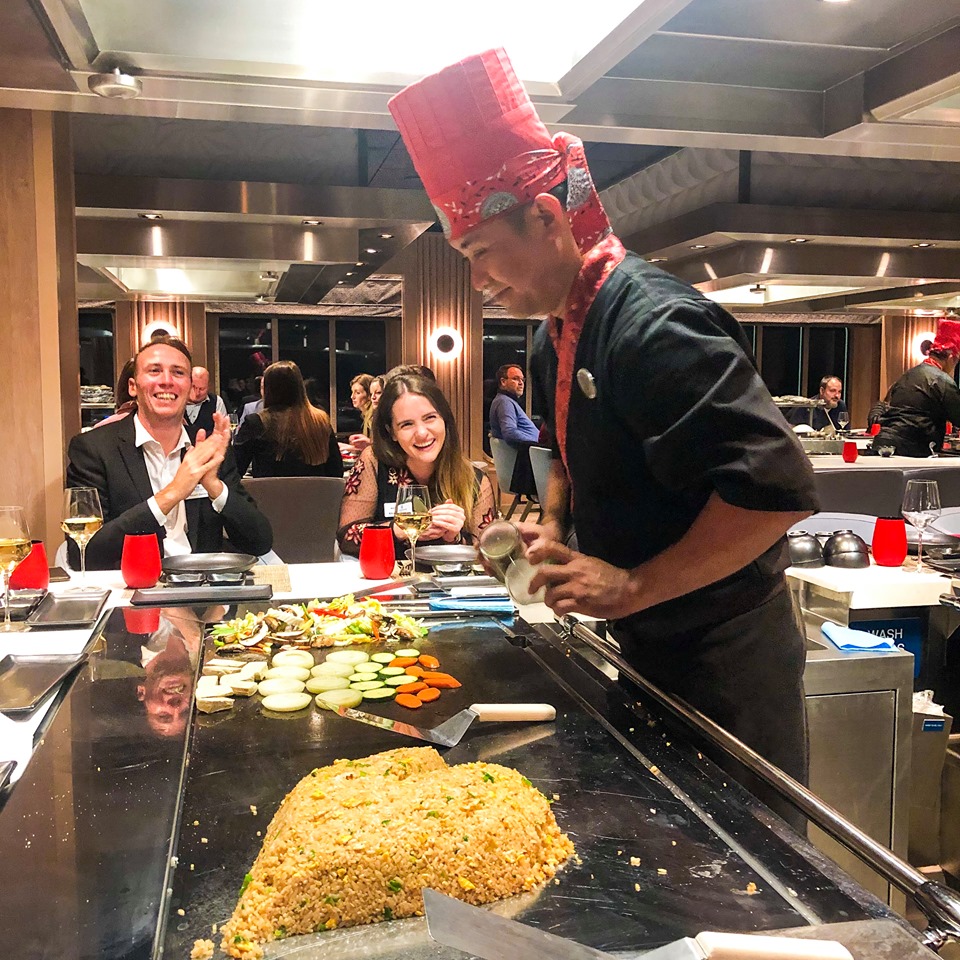 In Norwegian Encore's Teppanyaki restaurant, eight of us sat around a hot plate as our self-proclaimed 'fake-Japanese' chef Ernino from the Philippines wowed us with his culinary expertise. He was hilarious, charming and incredibly skilled as he bounced whole eggs on his knives, flicked salt and pepper cellars up in to the air and drew flowers with his ingredients. Ernino took time to learn everyone's names and make sure that we were happy throughout. I enjoyed the show as much as the food and would definitely choose to dine here again if I could.
The Manhattan Room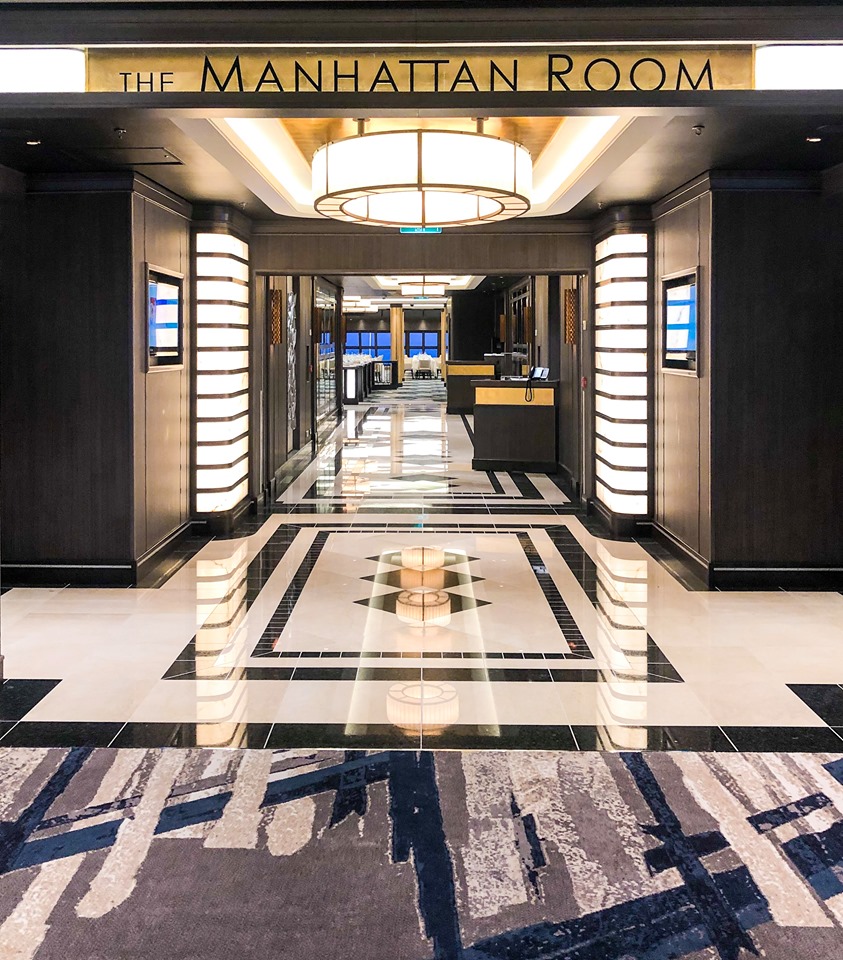 The Manhattan Room is one of the three Main Dining Rooms aboard Norwegian Encore. Decorated in a 1920s style, it has huge windows and a beautifully luxurious atmosphere. The menu changes daily and includes options like king crab legs, sturgeon caviar, lobster tails, rack of lamb and asparagus risotto. The food was incredibly fancy and of such as high standard that eating in a place like this for no extra cost really makes you appreciate the great value for money that cruise holidays can offer.
The Garden Café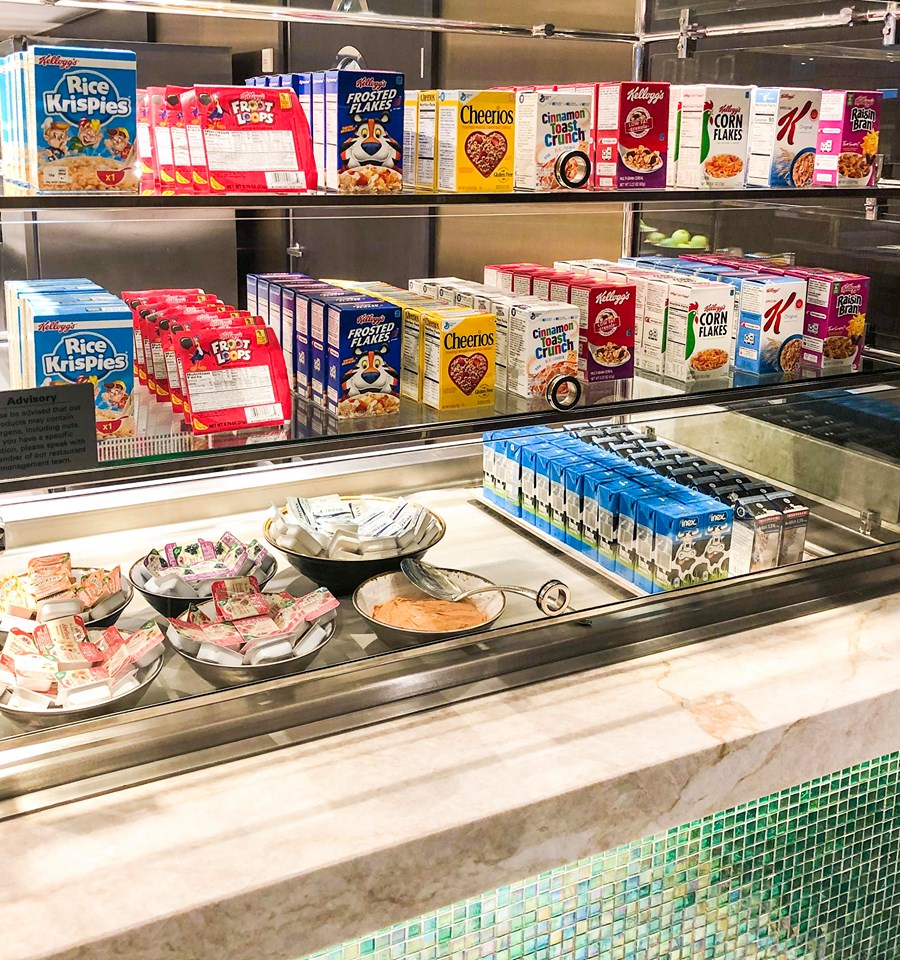 Norwegian Encore's buffet restaurant is the Garden Café which is open for breakfast, lunch and dinner. I enjoyed breakfast here and was really impressed by the choice. You can enjoy pretty much anything you can think of from around the world – there are even breakfast curries in the Asian section should you wish to try something a bit different!
The Local Bar & Grill
The Local Bar & Grill offers classic pub food at no extra cost. You can choose from a selection of burgers, hot dogs, pies and sandwiches. I had a grilled cheese sandwich and a salad which were both delicious. There's a great choice of drinks too, including nine different cocktails on tap.
Starbucks
Norwegian Encore also has a Starbucks which is available for an extra charge serving up large hot and iced coffees, juices and pastries.
Norwegian Encore rooms
Norwegian Encore has cabins to suit everyone, whether you're travelling alone or with a large family.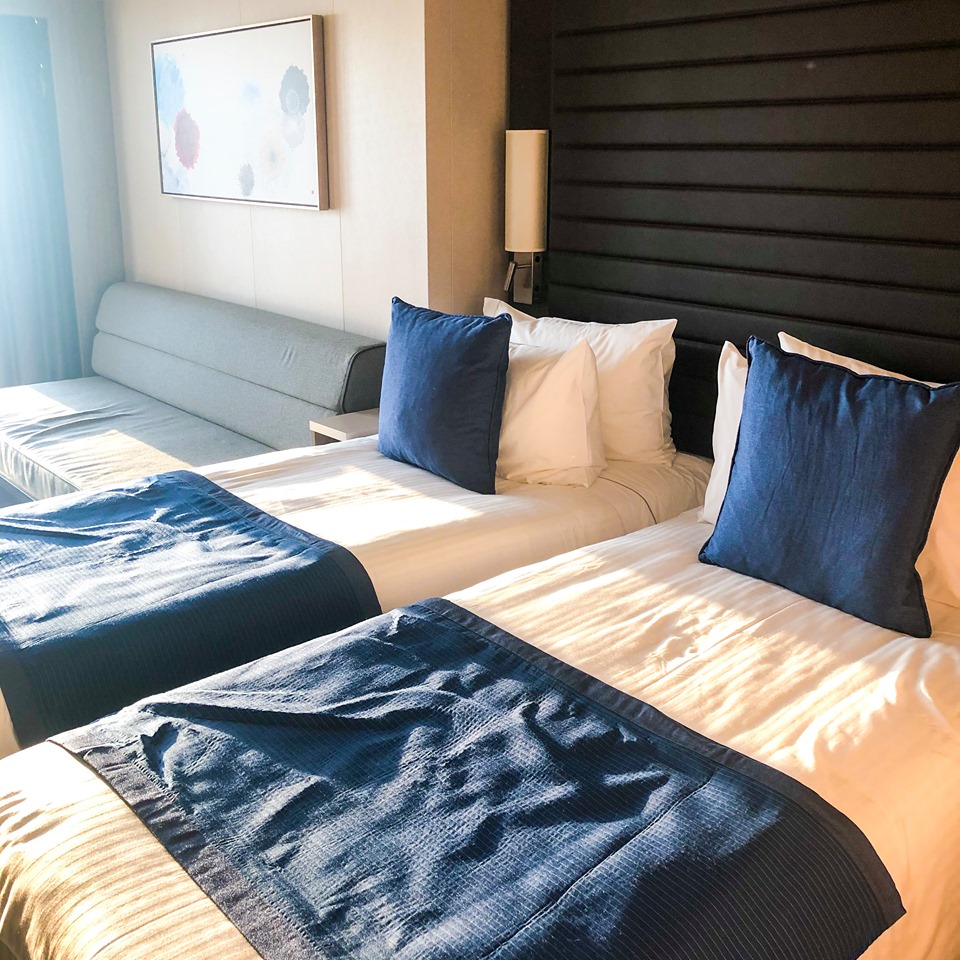 Studio Cabins
Studio cabins are designed especially for single travellers. They feature full-sized beds and are all located together close to the Studio Lounge where solo travellers can meet new friends, enjoy a drink and watch the big-screen TV. Best of all, there's no single supplement.
Inside Cabins
Sleeping up to four guests, inside staterooms have a queen-size (or twin) beds and two Pullman beds which come down from the ceiling
Oceanview Cabins
These cabins sleep up to five people and have large picture windows. Connecting options are available so that even the largest of families can be accommodated together. Choose a room with a bathtub to make bathing young kids easy.
Balcony Cabins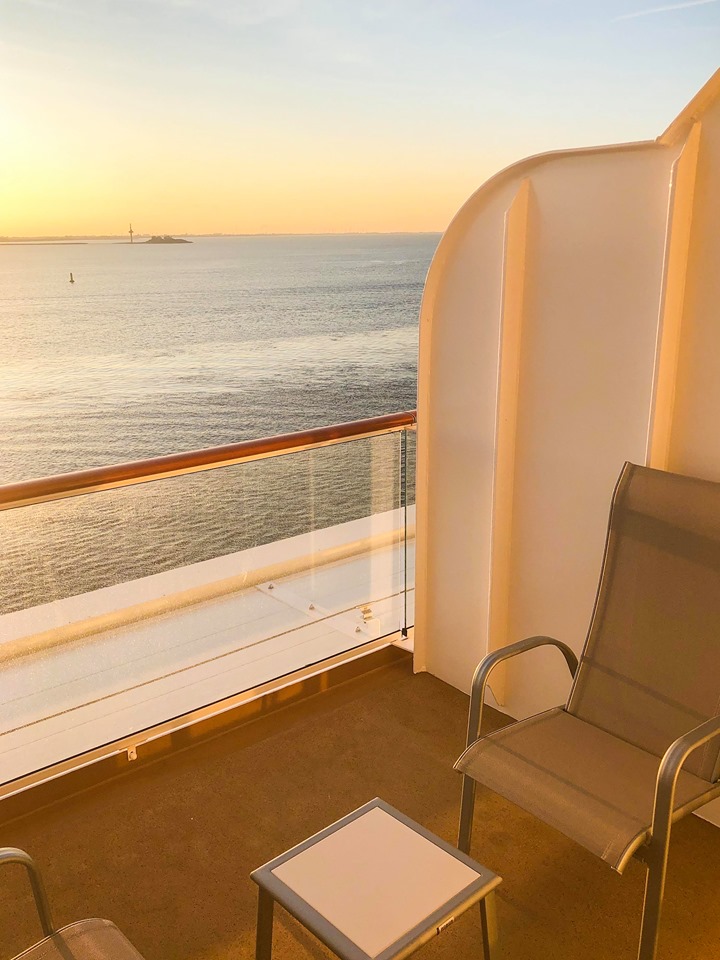 We were lucky enough to stay in a balcony cabin and it was lovely. The balcony was absolutely huge. Balcony cabins sleep up to four people, and we also had a connecting door to the next cabin, which would be ideal for larger or extended families.
Mini Suites
Mini suites sleep up to four and are slightly larger than balcony cabins with extra features such as waterfall showers with body jets.
The Haven Suites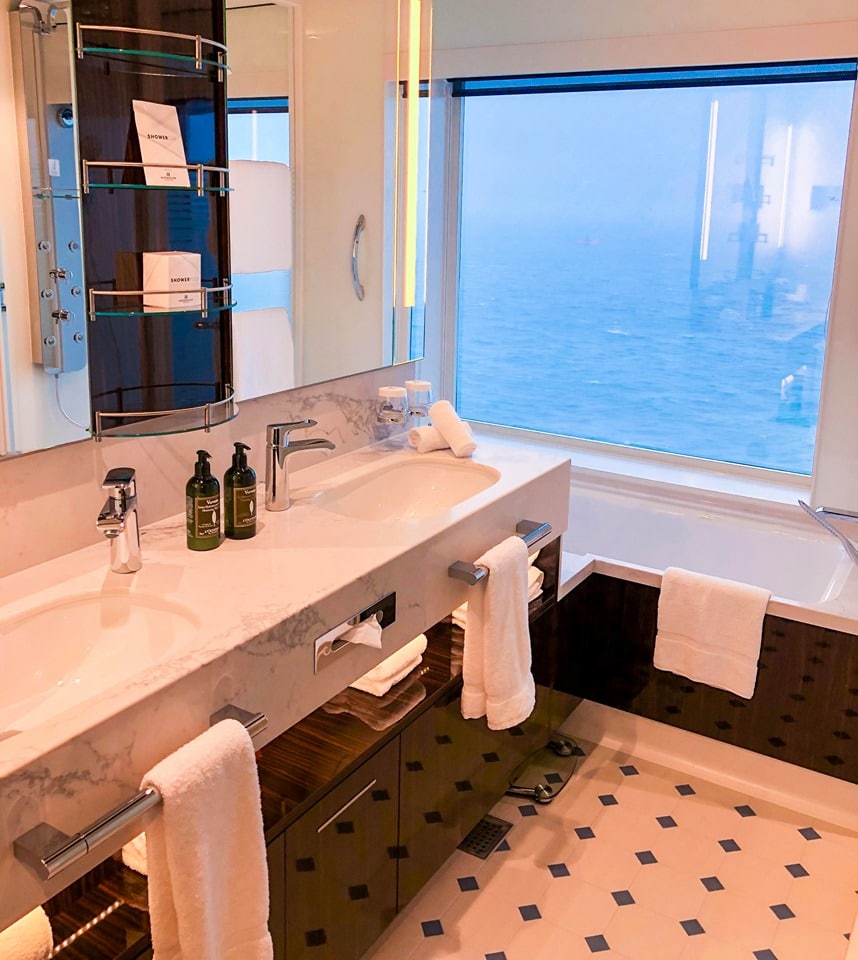 The finest rooms on Norwegian Encore are located in The Haven. Here you'll find a choice of suites and villas sleeping up to six people, with separate living and sleeping areas, multiple bathrooms and even a bath with a view.
Norwegian Encore Haven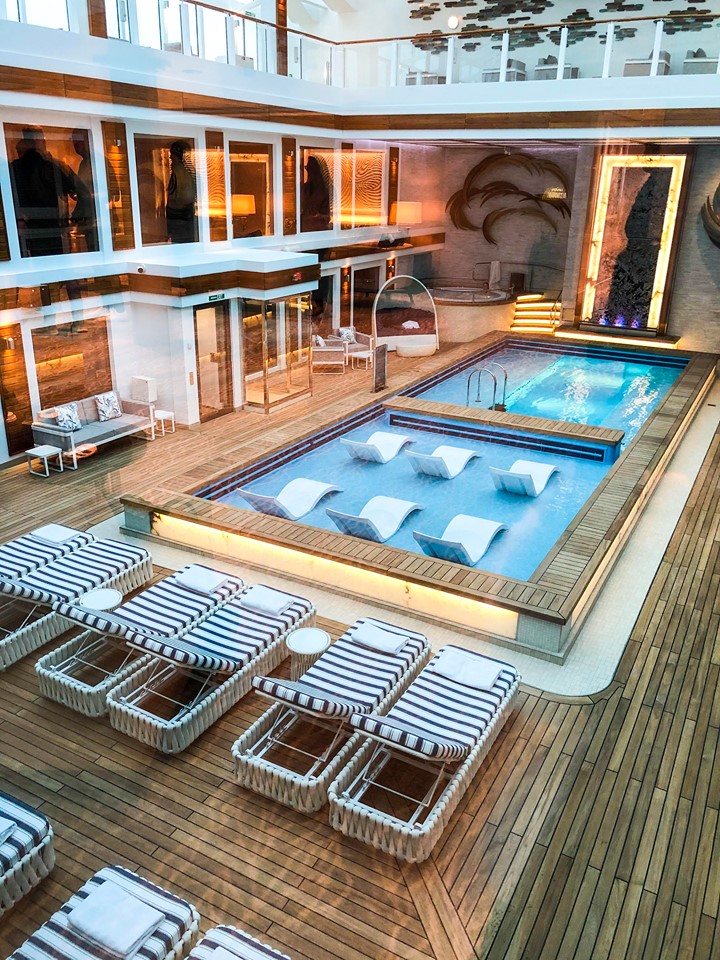 The Haven is Norwegian Encore's private complex of suites. As well as the best accommodation on the ship, Haven guests have access to The Haven Courtyard which has an adults-only pool area with a retractable roof, hot tubs and loungers. They can also access The Haven Restaurant which serves high-end cuisine with the best sea views and The Haven Lounge and Bar where you can enjoy drinks in luxurious surroundings.
As Norwegian Encore is such an action-packed ship, and The Haven provides a great option to get away from it all and enjoy a relaxing atmosphere, in contrast to the rest of the ship.
The Verdict
Norwegian Encore is a very special ship and offers a great deal of excitement, high-end cuisine and loads of choices for where to go and what to do on-board. It's ideally suited to young couples and families with older children.
Would I choose to cruise on Norwegian Encore? Honestly, it's probably not for me. I like to cruise on a budget, and whilst I have sailed with Norwegian Cruise Line in the Caribbean before we had kids, it's now a little out of our price range. Whilst the advertised prices can seem reasonable, it's important to note that the extras can add up, with activities such as the laser tag, go-karts and virtual reality arcade being chargeable. (I haven't included the exact prices in this article as they can change depending on the sailing).
There's plenty of choice with the included dining options on Norwegian Encore, but I fear that I'd be tempted by the pricy speciality restaurants. Similarly, there are lots of free non-alcoholic drinks, but if you want to drink alcohol, drinks are expensive. Luckily, Norwegian Cruise Line regularly run promotions such as the Free at Sea promo, where you can get free drinks packages, speciality dining packages, Wi-Fi or shore excursions. Some travel agents also run their own promotions in addition to this, offering free on-board credit on Norwegian Cruise Line cruises.
If you like the sound of Norwegian Encore, go for it, just make sure you look out for deals to help pay for your added extras on board.
NEW DEALS JUST RELEASED!
Don't miss the latest NCL offers…
Related Posts: