There are over 1,200 cruise ports in the world so even the most frequent of cruisers won't get to visit them all. However, there are some cruise ports that stand out from the rest as being truly stunning.
I asked a selection of cruise experts to tell me all about their favourite port and why they recommend that you cruise there.
Whilst there are some ports that you might want to skip altogether and give yourself an extra sea day, that's certainly not the case with these unmissable cruise ports.
So grab a cup of tea and a biscuit, and let's learn more about the destinations that travel experts say have the best cruise ports in the world…
Havana, Cuba
Recommended by Paul and Carole from PaulandCaroleLovetoTravel.com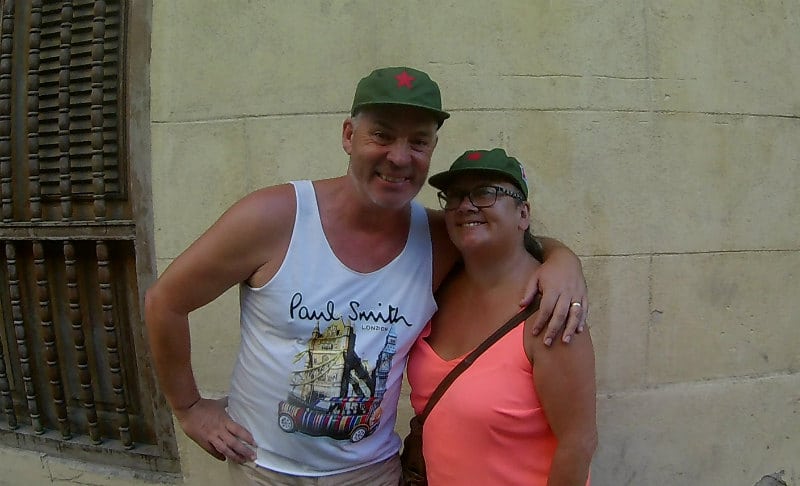 We've been asked to put a post together about our favourite cruise port, which is a very difficult task because first of all, we have to decide which one it is. After much deliberation, the winner is Havana, Cuba.
Situated to the south of the Florida Keys on the north-west coast of Cuba, the cruise port of Sierra Maestra could not be better placed for a visit to the capital.
Directly across the road from the cruise port is San Francisco Square, full of bars and restaurants and by Cuba's standards is quite upmarket, but nonetheless a great place to sit and watch the crazy world go by.
From classic fifties American cars to horse and carts the streets of Havana really do have it all. And that's before you've even started exploring the side streets which is where Havana really comes alive.
World-renowned writer Ernest Hemingway could often be seen in bars around Havana enjoying his two favourite cocktails, mojitos and daiquiris. Music is the heart and soul of Havana and can be heard coming from shops, houses and bars.
We loved spending time in the Salsa bars with live bands belting out classic salsa beats that made it virtually impossible not to move your body to. If you're looking for some peace and quiet, Havana is definitely not the place for you.
At night things go to another level with the locals all hanging out at the Malecon. This 8km long sea wall esplanade is known by the locals as the biggest sofa in the world. From live musicians and portable CD players, music and dancing goes on into the night and really is a sight to behold.
Scenes like classically dressed Cuban women smoking fat cigars to gangs of men loudly playing dominoes could be found along most streets, as can the most amazing street art. Being in Cuba, one of your must-do things could be trying famous cigars such as Cohiba Siglo III and Partagas Serie P No 2.
We would urge anybody thinking of a visit to do it sooner rather than later before it surrenders itself completely to tourism and loses its authenticity and unparalleled charm.
---
Dubrovnik, Croatia
Recommended by Gavin and Luke from Cruise Monkeys.
Known as 'The Pearl of the Adriatic' by many, or 'Kings Landing' to Games of Thrones fans, The UNESCO world heritage site of Dubrovnik is our top cruise destination. Since we began cruising six years ago, this is the only place we've gone back to for a 'land holiday'.
Thinking of Dubrovnik, we think of Old Town, the glistening Adriatic, sipping wine and exploring the limestone streets and its array of shops and restaurants.
During the early 90's, much of Old Town was damaged in the war, but during the 2000s, repairs were made and Dubrovnik is now a very popular tourist destination – so much so, there are measures in place to restrict the number of tourists and cruise ships visiting.
Cruise ships can dock just out of town, just a short shuttle ride away or at other times, you will be tendered into the Old Town harbour.
If you do head to Dubrovnik on a cruise or even a City minibreak, here are our top things to see and do:
Walk the City walls
Take a walk around the 1940m city walls to get some fabulous views. It can get busy, but they operate a one-way system, and the cost is 200kn per adult. From here, you will see some of the famous Game of Thrones filming locations, if you are a big fan, you will love Dubrovnik and we recommend you look at a GoT filming locations tour!
Dubrovnik Cable Car
Take a ride in the Cable car up to Srd Hill, where you can see fabulous
panoramic views of Dubrovnik while having a refreshing drink or light lunch in the restaurant. On our last visit in 2018, the cost was 150kn per adult.
Lokrum Island
Located 600 meters from Dubrovnik and worth a visit if you have the time. Take the boat from Old Town harbour and enjoy a walk around the island to see its wildlife, such as peacocks and rabbits, have a bite to eat or just relax. There is also a nudist beach here!
Food & Drink
As with any port, we always recommend sampling the local food, in and around Old Town you will find plenty of restaurants and bars. Just off the Stradun is a small cosy wine bar called D'Vino – pop in to sample their wine or cheese and meat platters!
So with lots to see and do, you can see why we love Dubrovnik – if you are lucky enough to visit, hopefully, we have given you some inspiration!
---
Perfect Day at CocoCay, Bahamas
Recommended by Chris from Adventures with Chris
Perfect Day at CocoCay is my favourite port to visit on a cruise. It has a little something for everyone. From just wanting to take a break on the beach and relax in the sand or go for the ultimate thrills in the water park, the island has you covered.
I have been to the island twice now since the updates have debuted. I love all the bright new colours on the island giving it that fresh Caribbean vibe, and all the updated facilities to enjoy. Perfect Day at CocoCay also has a convenient internal shuttle system to get you around to where you want to go.
My first visit, I enjoyed the 'Chill' side of the island. I took advantage of the large freshwater pool. The pool is huge and even features a swim-up bar to enjoy your favourite drinks.
After the pool, I visited the beautiful white sand beaches and blue waters. I love walking the shorelines and taking in the views. Stopping on the beach and listening to the live bands playing Caribbean Music is always a favourite of mine.

On my return visit, I took advantage of the 'Thrill' side of the island and spent the day at the Thrill Water Park. Featuring numerous water slides, including the largest in North America as well as the largest wave pool in the Caribbean.
While Thrill Water Park does have an upcharge to enter, it does help keep the crowds controlled. For those thrill lovers, this is the place to be.

Since the island underwent updates they have added some amazing new food options as well. Your typical burgers and hot dogs you have grown to expect on private islands are still there, but they have now also added additional options like crispy chicken sandwiches, chicken strips, funnel cakes, cheese sticks and more, and best of all, these are included at no additional charge.

There are a few things I have not been able to experience yet, like the zip lining, the tethered balloon ride and Coco Beach Club to name a few. But with so many things to do, it makes return visits to the island even more special. I can't wait for my next Perfect Day. 
---
Flam, Norway
Recommended by Lois from NoCruiseControl.co.uk
My favourite cruise port has to be the quaint little village, Flåm, in the Norwegian Fjords.
The peaceful, beautiful, spectacular Norwegian Scenery is the only backdrop that can make large cruise ships look absolutely tiny. Without Norwegian Fjord cruises, I'd be completely ignorant to Flam's existence!
If your Norwegian Fjord Cruise visits Flam, do make sure you are on deck to enjoy the magnificent sail along Aurlandsfjord, a branch of Sognefjord. Ensure you have your camera handy, the surrounding scenery is so stunningly beautiful.
It is such a pretty sail, do get up to watch the sail in and the sail out, you won't regret it. I once watched Rob Brydon film a P&O Cruises advert during the sail out. P&O hopes to sell cruises based on the view, must give you an idea about just how wonderful it is!
Savour the peace and quiet in Flåm. There isn't a massive amount to do, but with scenery that speaks for itself, you don't need things to do. Spend time admiring Mother Nature. Go for a walk around the Fjord, maybe take a Fjord boat trip or a ride upon the famous Railway.
I've thoroughly enjoyed a few trips aboard the fabulous Flåm Railway. I really do suggest a trip on it! It's an amazing train journey from Flåm up to the high mountain station of Myrdal then back. I'd suggest booking the trip with your ship to ensure you have a seat on the train and don't forget your camera.
NEW DEALS JUST RELEASED!
Don't miss these hot cruise offers…
---
Bermuda
Recommended by Ilana from LifeWellCruised.com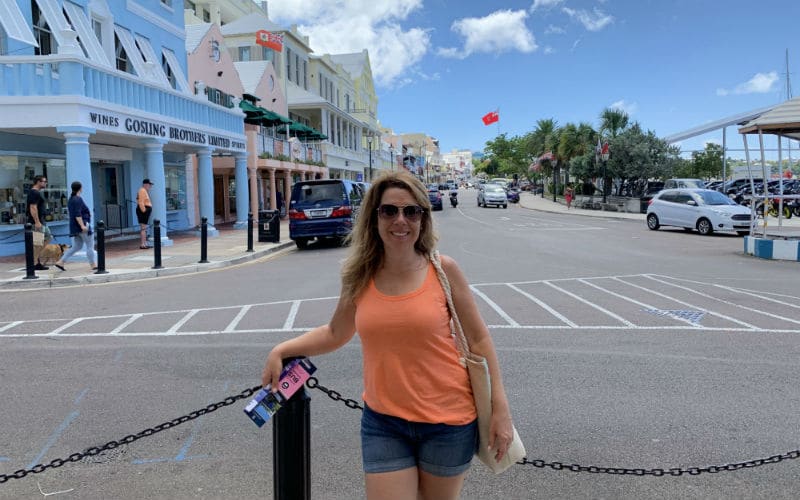 A favourite cruise destination for myself and family is Bermuda – so much so that we've been seven times with four different cruise lines. Bermuda is known for its beautiful beaches, with soft blush pink sand and rock formations jutting out from the crystal blue sea. However, there's more!
A friendly and safe island to visit, it can be a treat to have two to three days to dock overnight in Bermuda and visit by affordable public transit. There's actually so much to do in Bermuda, and cruisers can choose one to two activities per day and really explore.
On our last cruise to Bermuda, we took a ferry and then a local bus to visit Crystal Caves. This cave with stalagmites, stalactites and underground rock formations visible deep into the crystal clear lake is well worth a trip for families and all travellers.
Directly across from Crystal Caves is the famous Swizzle Inn restaurant, home of the original Rum Swizzle. Don't worry, if you don't get to the Inn, you can still find Rum Swizzles almost everywhere, and they are so good!
If you're a beach lover, a must-see is Horseshoe Bay Beach. On a crowded day, walk a few minutes to the left past the first couple of rocks, and it is quite secluded and blissful! Shuttles are available from the cruise port for a reasonable price.
Other water activities include boating and catamaran excursions. There's something about seeing and experiencing Bermuda from the sea that's quite special. The water is crystal clear and along the way, the picturesque shoreline boasts pastel-coloured homes with white limestone roofs. 
Finally, before you head back on your cruise ship, find the Moongate located right in Dockyard and walk through with your love (great photo op too). According to local legend, couples who walk through should make a wish and look forward to a joyful and prosperous future.
If you're considering a cruise to Bermuda, you won't regret it.
---
Noumea, New Caledonia
Recommended by Matt from StillAsLife.com
It's probably a bit controversial, especially in the Australian cruise market, but Noumea, New Caledonia is my favourite port. I often hear it referred to as a dirty city with nothing to do, but this couldn't be further from reality.
I have visited Noumea many times on cruise ships, and every time we visit, it presents something new and uniquely beautiful that suits just about every kind of traveller. Noumea itself is a blend of old and new. A mixture of mining, tropical resort village, island culture and French influence.

From Noumea, it's easy to access some incredible snorkelling in the world's largest lagoon and longest continuous and third-largest barrier reef, home of the most diverse reef structures in the world.
Alternatively, there are numerous ways to explore the city and its blend of resorts, historic sites, Kanak culture, and other tourist attractions. Or you can pick up a rental car and head out on the excellent roads of Grand Terre.
It's an easy drive to the regional towns of Bouloupari, La Foa and Poe Beach, with some beautiful scenery and delicious food along the way. If driving on the right isn't something you normally do, then that's a new experience too.
 
Yes, there are plenty of island ports that are stunning and have their own unique experiences. Isle of Pines, Moorea, Bora Bora, Tahiti, Lautoka, Port Vila and Luganville all come to mind. No doubt there are also many others. Noumea has so much variety, but it doesn't feel overly touristed like its French Polynesian counterparts.
Noumea isn't just a tropical island city. Noumea is a mining city that just happens to be situated in what is arguably the world's most gorgeous lagoon. It's a special place, you just have to look beneath its surface to discover how special it truly is.
---
Stavenger, Norway
Recommended by Steph from CruiseWithAmber.co.uk
If you ever cruise to the Norwegian Fjords, it is highly likely Stavanger will be your first port of call. Stavanger is located in the South West region of Norway and certainly does a great job welcoming you to this picturesque and extremely inspiring country.
Before you even arrive in port, my tip is to get up early to watch the sail in, and if you're lucky, you might get to witness a spectacular sunrise. 
The great thing about Norwegian cruise ports such as Stavanger is that they are extremely accessible – you can just walk off ship, and you're immediately in the centre of the action.  
What I love about Stavanger is that it ticks off so many of my essentials for a great port of call – apart from the great accessibility, it's safe and there's plenty to do and see – whether you are on a budget or you're ready to splash the cash.
There's a range of activities on offer to suit all ages and all activity levels, from a leisurely stroll around the historic and achingly charming white houses and cobbled streets of Old Stavanger to an invigorating cruise up to the imposing Pulpit Rock.
There's great shopping and some fantastic places to eat and drink, but if you're on a budget or don't want to try the local cuisine, you can easily pop back on board ship for lunch.  
Stavanger is an easy port to navigate your way around independently – no need to splash out on an expensive shore excursion. Public transport is also impressively efficient, frequent and reliable – perfect for taking a trip out to see the Three Swords.
There's always something new to discover in Stavanger, even if you've visited before (there is too much to fit in in just one day). Top highlights for me include – The Three Swords (Sverd i fjell), a cruise to Pulpit Rock, a stroll around Old Stavanger, and a visit to the Norwegian Petroleum Museum.
---
Barbados
Recommended by Laura from CruiseLifestyle.co.uk
Barbados is a beautiful island in the West Indies that has got to be one of my favourite cruise destinations in the world. I fell in love with this Caribbean island on a P&O cruise that started and ended in Barbados.
One aspect that stood out from my visit, was the friendliness of the local people I met.  They were helpful and I never felt unsafe throughout my time there. Barbados is one of the safest islands to visit in the Caribbean. It's clear that the locals in Barbados are proud of their island and want you to enjoy your time with them.
Barbados enjoys around 3,000 hours of sunshine each year, and due to its location, it is warm and sunny throughout the year. It's away from the main hurricane hot spots in this region, making it a safe place to cruise and is less likely to be missed off cruise itineraries. 
Carlisle Bay is a white sandy beach, close to the cruise terminal, which offers you the chance to soak up the sun and swim in the warm sea. It was lovely to spend a few hours here to relax. If you have time, I can highly recommend a catamaran trip for the chance to see turtles.
The highlight of my visit to Barbados has to be Oistin's Friday Night Fish Fry! Every week, the locals meet to enjoy the 'lime' – the end of the week. It's an overload for the senses: crowds of people, Caribbean music blaring along with the smell of fresh fish and seafood being cooked in a labyrinth of food stalls. 
Sitting shoulder to shoulder with the locals eating huge shrimp, rice and peas couldn't get more real.  It's times like that which I'll remember fondly.
Barbados is an embarkation port for many cruise lines including Seabourn, MSC, Fred. Olsen and Star Clippers. This offers cruisers more time in port, with the potential for overnight stays, and the opportunity to extend your holiday pre or post-cruise.
I would not hesitate to take another cruise to Barbados, and that's what makes it my favourite cruise destination.
St. Johns, Antigua
Recommended by Danny from CruisingBaker.com
Asking an avid cruiser to pick their favourite cruise port is almost an impossible question to answer. Cruising takes you to new and exciting destinations, any of which can soon become a firm favourite!
Had you asked me a couple of years back, without a doubt the answer would have been Norway. Yes, that's not exactly a cruise port, but in my defence, any cruise port in Norway is a good port of call!
However, while a Norwegian cruise is still among my favourites (and one you should definitely consider), a more exotic cruise port has held a special place in my heart for some time now: St Johns, Antigua.
I fell in love with Antigua back in 2018 during a cruise aboard P&O Britannia. We were fortunate enough to dock in St John's twice, which gave us ample opportunity to explore what this beautiful island has to offer.
With a rich seafaring heritage and a distinctly British feel, albeit from a somewhat unhappy history, Antigua is a shining diamond in the cluster of islands that make up the Caribbean.
This tropical paradise has something for everyone. Culture vultures can dive into the history with a visit to Nelson's Dockyard, while the foodies among us can head to Shirley Heights where a taste of the Caribbean is married with some incredible views for you to savour and enjoy.
A favourite spot of mine though? It has to be the Rum Bus Beach. Newly opened when we visited, it was like our own private slice of paradise.
Golden sands, crystal-clear, turquoise waters, and great food and cocktails…served out of a converted London bus of course…what's not to love? Without a doubt, Antigua is a place that I long to return to, and I'm sure you'll love it too. 
Zadar, Croatia
Recommended by Holly and Andrew from HollyandAndrew.com
We've been to a lot of places but our favorite port so far is definitely Zadar, Croatia. We recently sailed to Zadar on the Celebrity Infinity during a 10-night Mediterranean repositioning cruise from Rome to Venice.
Holly had been to Croatia before, but it was my first time. We planned an excursion through Celebrity to visit the national park of Krka. Little did we know what beauty was about to unfold. 
After about an hour and a half bus trip into the countryside, we arrived at the base of a river and hiking trails. The trails wove through lusciously green forests, rich with tropical plants and flowing streams.
The water wound in between trees and stones, under wooden walkways that connected the path through the trees. It was so unique in the sense that most rivers we encounter have a definitive edge on both sides.
This one seemed to encompass the whole forest and flow through it almost as though it was a soul flowing through a body. On top of that, the water was so clear, it looked like liquid glass. Needless to say, the trek through the woods is an experience all in itself. 
But nothing compares to what's at the end of the path: a breathtaking waterfall and swimming hole like nothing you've seen before!
The falls are many multiple layers deep, each like a shelf feeding into the next. Again, small islands of trees and plants scatter in-between the falling water, adding to the uniqueness of this incredible place.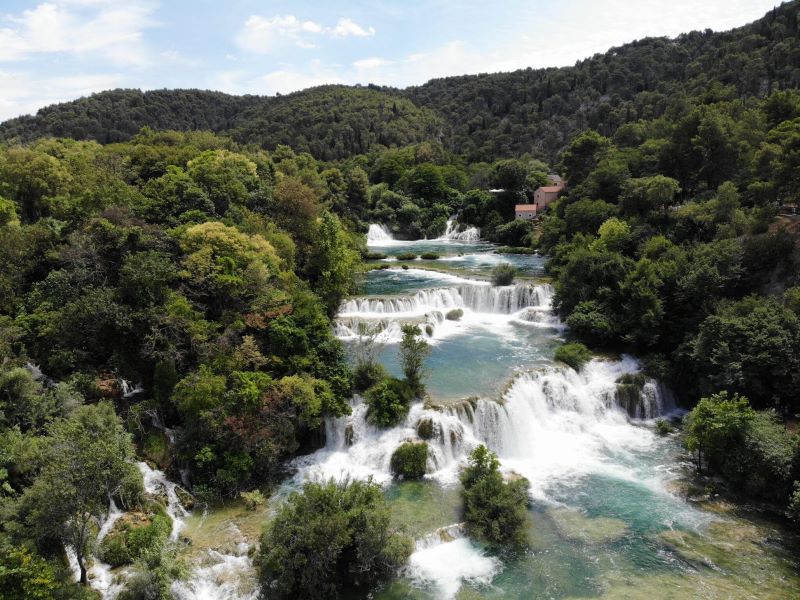 We spent several hours at the base of the falls. The pool of water at the bottom is quite large and made for a refreshing swimming spot for the afternoon. We even had a chance to take out our drone and capture some unique footage, both of the waterfall and further up the river as well.
If you have the chance to make it to Krka National Park in Zadar, Croatia, it's 100% worth your time. Especially if you're into low-impact hikes and natural beauty. We loved it so much, we're already planning to go back again next year!
What's the best port of call in your eyes? Does your best port match with the experts?
Related Posts: