Have you ever fancied working on a cruise ship? Me too! When you're on a cruise ship, it's a common feeling to never want to get off. And, to start thinking about whether there's a way that you could live the cruise life full time.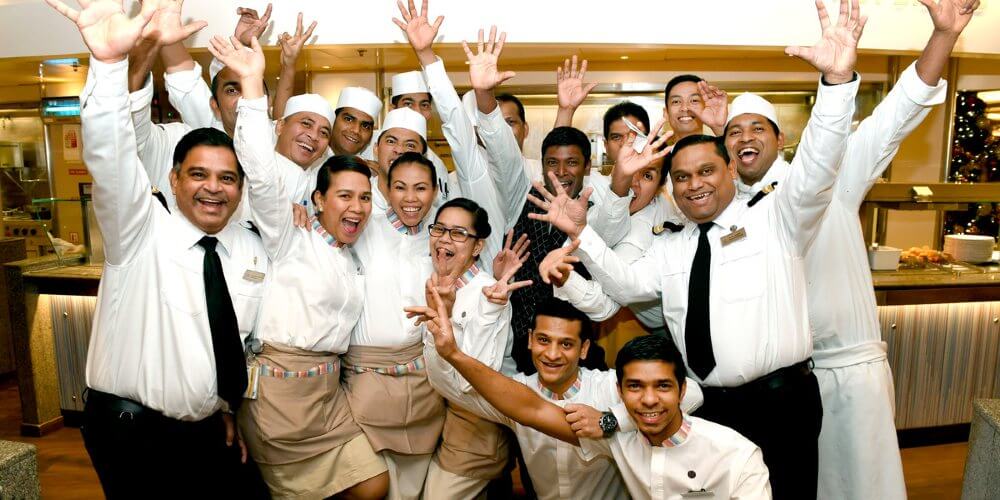 Around a quarter of a million people work on-board cruise ships, and new vacancies come up all the time. So, how do you go about getting jobs on cruise ships with no experience?
I know that many people struggle to find out how to apply for cruise ship jobs because I regularly get asked this question in my Instagram DMs. I had no idea either, so I spent eight hours doing the research online to find all the answers for you.
In this guide to getting a job on a cruise ship, I'll show you the best cruise ship jobs that don't require any experience, where to find these jobs, and how to apply for them.
How to get a job on a cruise ship
Is It Hard To Get a Job on a Cruise Ship?
It's always been hard to get a job on a cruise ship. The global pause in cruising made it so much harder for a while, as there were thousands of experienced cruise ship workers who became out of work.
However, some of those people took jobs in other areas and decided that they actually quite liked working on land. Many of them took other jobs in travel and tourism that didn't involve spending long periods at sea. And then, when the demand for cruising returned, more vacancies became available.
So, if you've been dreaming of a career on a cruise ship, now could be a great time to start your application.
The easiest way to get your dream cruise ship job is to take an entry-level job to get your foot through the door and then you can work your way up to the job that you aspire to do.
The Requirements To Work on a Cruise Ship
To work on a cruise ship, you must meet the following basic requirements:
Be at least 18 or 21 years old
Meet the language fluency requirements
Have a valid passport
Have the required visa or work permit
Have a basic safety training certificate
Pass a medical examination
Pass a criminal background check
Have no visible tattoos or piercings
Depending on the job you are interested in, there will be some additional requirements specific to that job. Whatever job you do, being multi-lingual will certainly increase your chances.
Can You Get a Cruise Ship Job if You Have Tattoos?
Most cruise lines require that crew with passenger-facing roles do not have any visible tattoos. Some cruise lines are more strict than others and you may be allowed to cover any tattoos with make-up or a plaster.
I've been on several cruises where waiters and bar staff have noticeable tattoos on their hands. So, it's certainly possible to get a job on a cruise ship with tattoos. It just might mean that you're limited in terms of the jobs you can do or the cruise lines you can work for.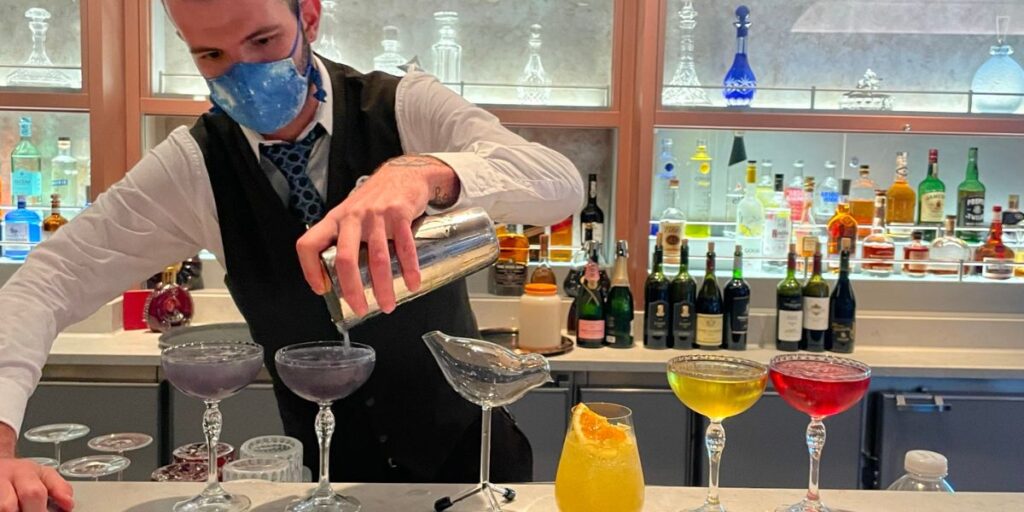 NCL used to be stricter but then relaxed their rules in a policy change in 2023.
Jobs on Cruise Ships
There are hundreds of different job roles that you can do on a cruise ship. If you're already a qualified nurse, massage therapist or IT professional, then it makes sense to apply for one of those jobs on board.
But can you work on a cruise ship with no experience or qualifications? In many cases, yes. There are some entry-level cruise ship jobs that don't require you to have done the job before or to have ever been on board a ship.
If you're open to suggestions about your future career and would do almost anything for the chance to work at sea, then perhaps you should consider these entry-level cruise ship jobs…
A List of Cruise Jobs That Don't Require Experience
Galley cleaner – Cleaning the kitchens
Potwasher – Washing dishes
Bar utility – Cleaning and restocking bars
Deckhand – Cleaning deck areas and stacking deckchairs
Ordinary seaman – General cleaning and maintenance
Cabin steward – Cleaning passenger cabins
Bell staff – Moving luggage, running errands and cleaning
General cleaner – Cleaning public areas
Laundryperson – Washing and ironing clothes, bedding and towels
Engine wiper – Cleaning machinery and equipment
If you want to work on a cruise ship with no experience or qualifications, one thing's for sure, you'd better like cleaning! A cruise ship cleaning job, whether you're cleaning the kitchen, the cabins or the engine room can get your foot in the door so that you can work your way up to a better-paid and more exciting position.
Alternatively, you look to gain qualifications and work experience in the area that you're interested in. Look for jobs on yachts, sailboats or even hotels as a way to gain the experience that you need before applying for your first cruise ship job.
What Are the Best Jobs on a Cruise Ship?
The best job on a cruise ship is totally subjective. A job that would be an amazing job to one person would be unbearable to the next. However, certain cruise ship jobs do have a very high level of job satisfaction.
The 10 Best Cruise Ship Jobs
Doctor – The ship's doctor is often the highest-paid person on the ship with average monthly earnings of $9,750
Captain – Cruise ships captains get the best staterooms on the ship and typically work for three months then get three months paid leave
Youth Staff – If you love kids then working in a cruise ship kids' club can be a lot of fun
Cruise Director – Friendly and charismatic, cruise directors are often up on stage, making people laugh as they introduce entertainers
Gentleman Host – The sole purpose of this role is to dance with ladies who have nobody to dance with!
Entertainer – Whether you're a singer, dancer, acrobat or comedian, you'll have lots of free time when you're not on stage
Shore Excursions Manager – The biggest perk of this job is that you get to try out all of the shore excursions before you sell them
Bartender – If you're sociable and like to meet new people, a cruise ship bartender job can be a lot of fun
Firefighter – Fires on cruise ships are very rare, so you'll spend a lot of time checking equipment and training crew on fire safety
Hairdresser – Helping people to look glamorous for formal nights is very rewarding
How Much Do Cruise Ship Jobs Pay?
The pay for working on a cruise ship ranges from $500 per month for a galley cleaner to over $10,000 per month for a cruise ship doctor.
The hours vary as well, which means that some jobs are paid at a much lower rate than the US minimum wage. These jobs are usually done by people from countries with a low cost of living, who want to send money back home to their families.
Suggested read: How much do cruise ship workers make?
What Is the Best Cruise Line To Work For?
Which is the best cruise line to work for depends on many factors such as the salary for your role, hours, progression opportunities, food and policies.
Several cruise ship workers report that the ship is just as important as the cruise line, as each ship in a fleet may have a different culture. Some cruise ships might have amazing crew parties, others may be more relaxed.
Generally speaking, the best cruise lines to work for are large companies that you know will not go out of business.
The best cruise lines to work for:
Norwegian Cruise Line
Carnival Cruise Line
Royal Caribbean
Princess Cruises
MSC Cruises
P&O Cruises
Celebrity Cruises
Disney Cruise Line
Holland America Line
Cunard
Costa Cruises
AIDA Cruises
Marella Cruises
Read more: The 5 Best Cruise Lines To Work For
In terms of the best cruise ship to work for, that's completely subjective. You might want to work year-round in the Caribbean, so you'd hope to work on a ship home-ported there all year. Or you might prefer a modern ship to enjoy better crew accommodations, or a smaller ship that's quieter.
You won't always have the choice though. Typically with working on cruise ships, you're employed by the cruise line and then assigned to a ship.
How to Apply for Cruise Ship Jobs
It varies when it comes to how to work on a cruise ship. Some cruise lines require you to apply directly via their head office and some require you to apply via their preferred agency or hiring partner. You'll find the application instructions in the careers section of each cruise line website.
Once you've found a job that you'd like to apply for, you can follow the instructions to apply online. You'll need to submit a cover letter and resume along with anything else that is specified in the job advertisement. Just because for some cruise ship jobs, no experience is needed, that doesn't mean you can get away without your resume!
There are several fraudulent companies in the world that claim to represent cruise lines' human resource departments. To check that any company that you are working with is legitimate, look at the official cruise line's website for a list of authorised recruitment partners. If you can't find their name listed, be careful.
Cruise Ship Job Vacancies
Here are some links to the best places to find cruise ship jobs:
FAQs About Getting a Job on a Cruise Ship
What kind of jobs are available on a cruise ship?
Cruise ships have a wide variety of job roles available, including retail positions for the on-board shops, housekeeping jobs, technical jobs that focus on ship maintenance and entertainment roles, working with the Cruise Director.
What nationality are most cruise ship workers?
Cruise ships are staffed by multinational crews. Many cruise ship workers hail from southeast Asia, with Royal Caribbean alone employing over 11,000 Filipinos along with many Indonesians and Malaysians.
How can I work on a cruise ship in the Philippines?
If you want to get a job working in the Philippines, find a cruise line offering itineraries in the region and apply directly with them. Be aware that most cruise itineraries only stop in the Philippines briefly as part of a larger trip between Asia and Australasia.
What is life like working on a cruise ship?
Cruise ship workers do tend to work long hours and will generally work seven days a week with no days off. However, many workers talk about the camaraderie amongst the crew and how it helps to create a fun atmosphere.
How long are the contracts to work on a cruise ship?
Contracts for cruise ship roles vary depending on the job and cruise line, but on average most workers are employed for between four and eight months at a time. This allows workers to renew their contracts without committing to years of service.
Do I need experience to work on a cruise ship?
As with any job, it's possible to work on a cruise ship with no prior experience. You will have to start at an entry-level position, unless you're applying for a specialist role that you're already qualified for, such as a nurse.
Do cruise ships hire older workers?
Cruise lines tend to hire younger workers more, but that doesn't mean they never hire older people to work on-board. Cruise ship work is demanding and crew are expected to maintain a positive and welcoming atmosphere, and so it needs high energy levels.
What is the maximum age limit to work on a cruise ship?
There is no maximum age to work on a cruise ship. However, you will be asked to pass a Marine Medical which shows you are fit and well to work at sea, including long working hours with no days off.
The Bottom Line
Living and working on a cruise ship is a dream job for people from all over the world and from all walks of life. Getting work on a cruise ship can be hard, but if this is your dream then don't give up.
If you have no cruise ship experience, you may need to work your way up from an entry-level position. Getting a job in a large hotel, on a yacht or developing your language skills will all help you to prepare to apply for your dream cruise ship job.
While you are welcome to leave comments below, please note that I cannot help anyone to get a job in the cruise industry, aside from directing you toward the links above.
Related Posts: