Years ago, women weren't allowed to work at sea. Having a woman on board a ship was seen as bad luck – a myth that stemmed from tales of mermaids luring seamen to their deaths.
In fact, the only way that women ever worked at sea was if they pretended to be men – something that was relatively common across history.
Thankfully, times have changed and the cruise industry is now a welcoming place for women to seek employment. Despite only 1.2% of the world's mariners being women, on cruise ships that number is closer to 20%.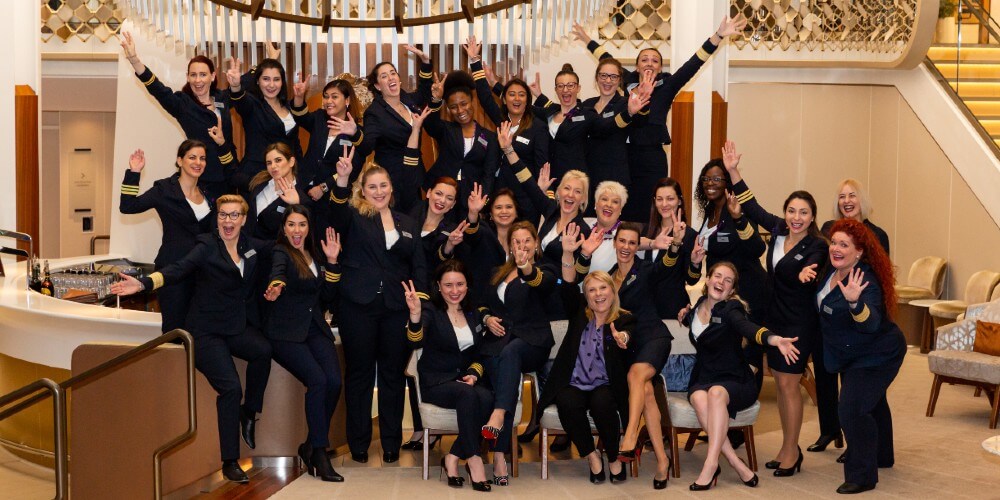 So, what types of jobs should you be seeking if you're a woman who wants to work on a cruise ship?
Well, around 85% of jobs on board cruise ships are classified as 'hotel', while the remaining 15% are classified as 'marine'. Hotel jobs include departments like bar, restaurant, guest services, cabin, casino, shops and gym.
While this probably explains why there are more women working on cruise ships than other types of marine vessel, that certainly doesn't mean that those are the only jobs that women can apply for.
So, with that in mind, let's take a look at some of the best cruise ship jobs for females…
1. Captain
Top of the cruise ship jobs list – and one of the best cruise jobs for female employees – is the Captain. The first woman appointed captain of a cruise ship was Karin Stahre-Janson of Sweden, who took command of Royal Caribbean's Monarch of the Seas in 2007.
Now, you'll find female captains working for many cruise lines including Cunard, P&O Cruises, Celebrity Cruises, Silversea, Regent Seven Seas Cruises, Windstar and Virgin Voyages.
Becoming a cruise ship captain is tough, it requires at least 20 years of training. But if you want to be the best of the best, then your gender needn't hold you back.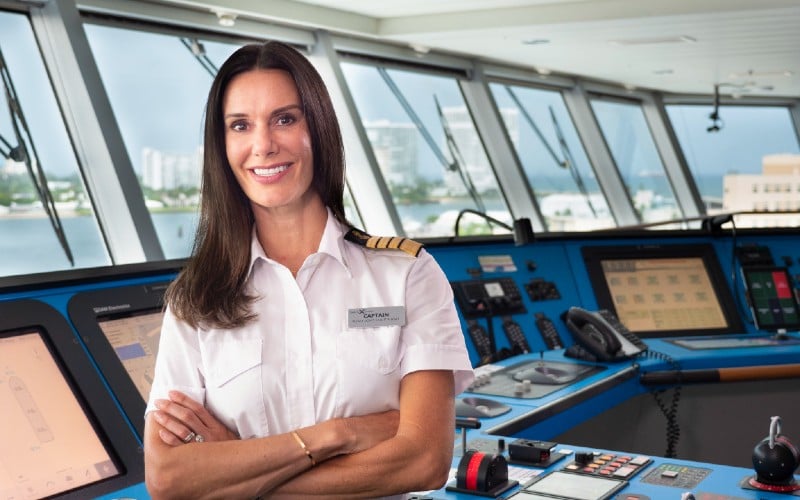 Read more: Captain Kate McCue: Salary, Age, & Fun Facts
2. Deck Officer
Deck officers work on the bridge of a cruise ship and are responsible for the navigation, communication, maintenance and safety of a ship. Jobs include Staff Captain, 1st, 2nd and 3rd Officers, Safety Officer, Security Officer and Deck Cadet.
Statistics vary depending on the cruise line, but figures show that between 5 and 22 per cent of officers are women.
Onboard Celebrity Cruises ships, 32% of the bridge officers are women and in 2020, Captain Kate McCue captained the first all-female bridge crew aboard Celebrity Edge.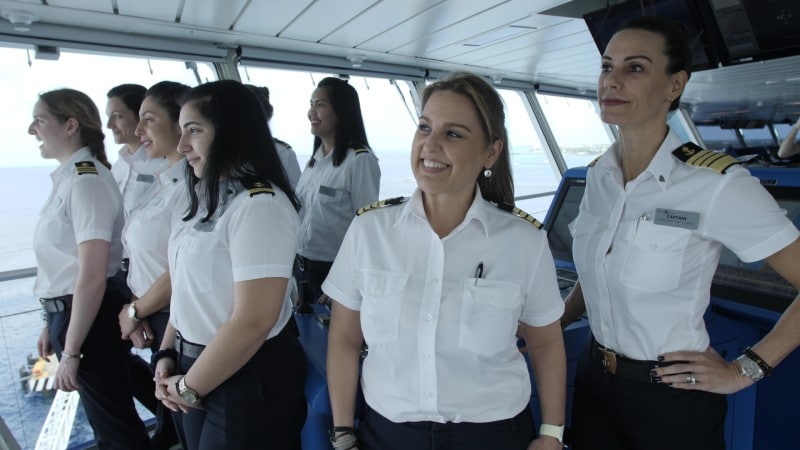 3. Cruise Director
The cruise director is responsible for all of the entertainment staff on a cruise ship. Once a male-dominated position, there are now many female cruise directors. If you take a look at the Carnival cruise director schedule, you'll get an idea about how many of them are women.
Gender doesn't matter for a cruise director. What's important is personality – you must be charismatic and charming, but also incredibly well-organised with strong leadership skills.
Suggested read: Top 10 Carnival Cruise Directors Of All Time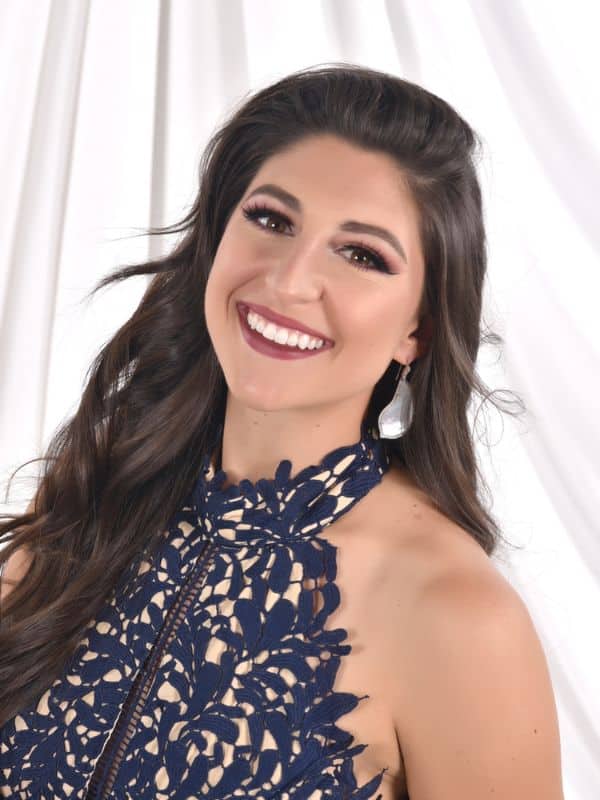 4. Guest Services Representative
Working in guest services is a good cruise ship job, particularly for those who speak several languages and enjoy working with the public. Behind the guest services desk on a cruise ship, you can expect to see an even mix of men and women.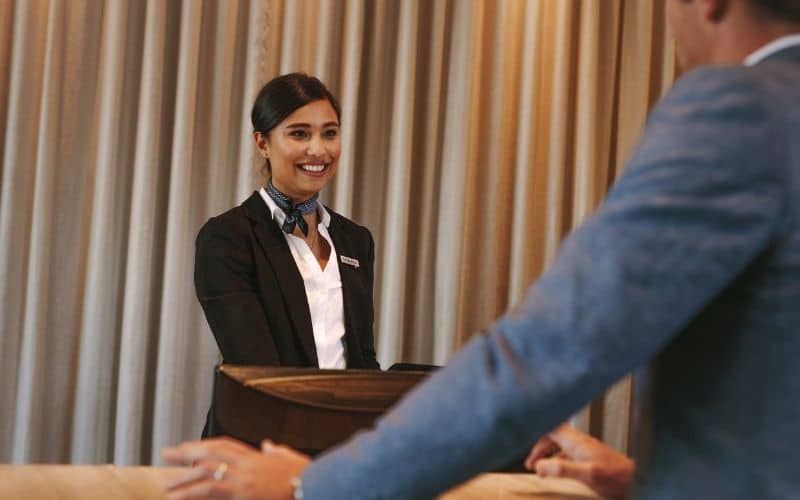 5. Performer
You'll find many female entertainers on cruise ships. So whether you want to be a dancer in the theatre, a singer in the bar or an acrobat on stage or even a close-up magician in the lounge, there are a wealth of jobs for talented women on cruise ships.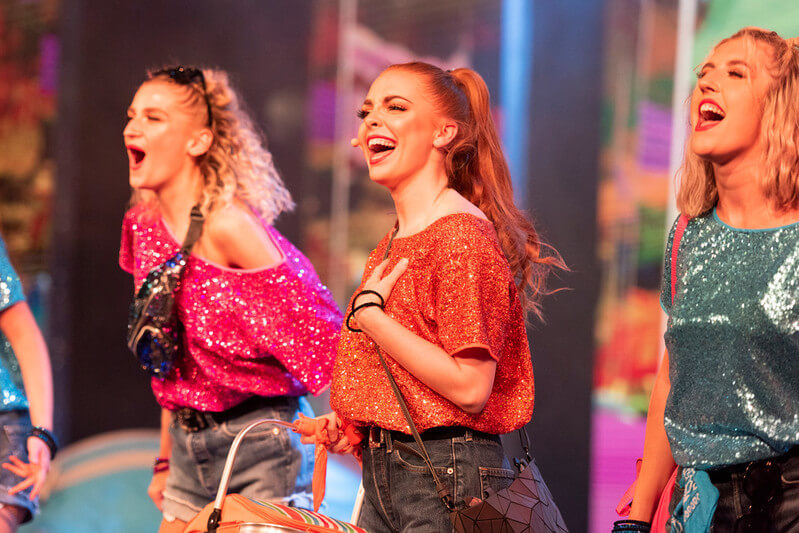 6. Shore Excursions Manager
Shore excursions managers are responsible for presenting and selling the shore excursions that are on offer on a cruise. The best part of this job is that you get to try them all out for yourself! It's a great way to see the world.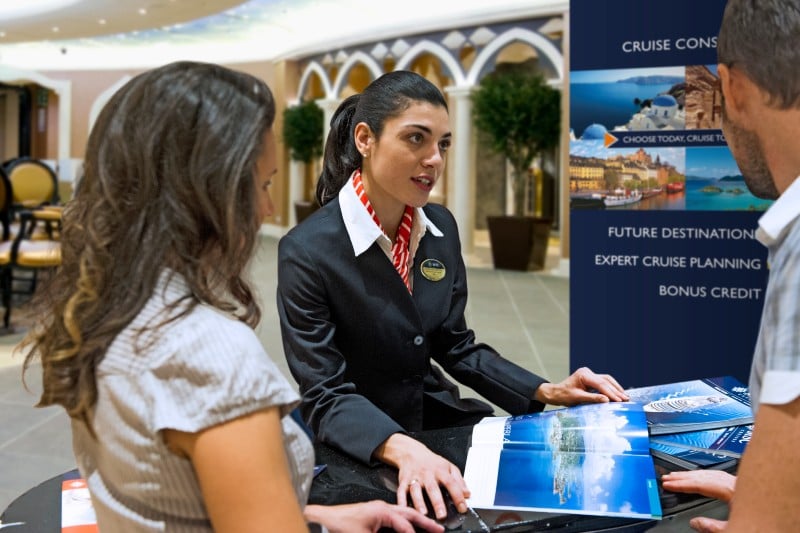 7. Waitress
While it's not uncommon to see all-male services teams in the restaurants on cruise ships, there's certainly no reason why a woman cannot join the team as a waitress. Whether you wish to work in the buffet, cafe, main dining room or one of the speciality restaurants, there are plenty of waitressing jobs available on cruise ships.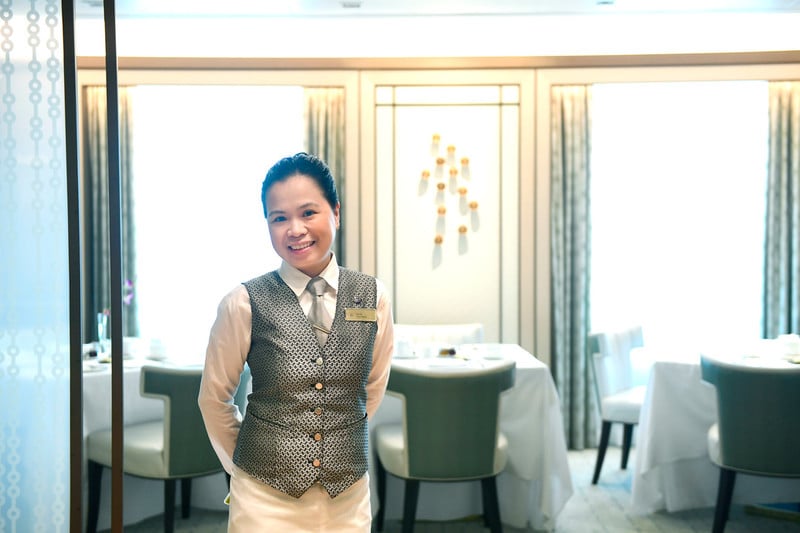 8. Chef
Cruise ship kitchens (or galleys) have traditionally been male-dominated environments. But as this female cruise ship chef explains, "no one really thought about my gender".
Recently, more and more women have been appointed culinary roles on cruise ships. And in 2022, Windstar Cruises revealed its first all-female chef lineup.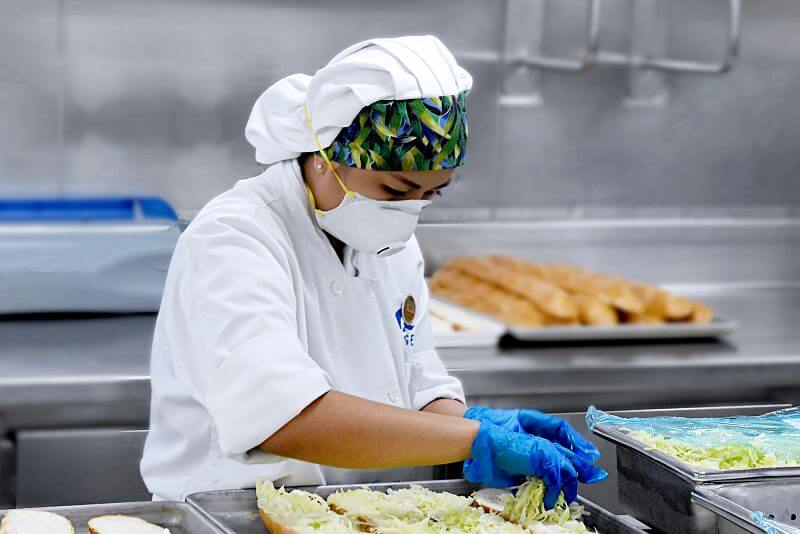 9. Beautician
There is a huge range of beauty jobs on board cruise ships. Working in the salon and spa, there are careers for hairdressers, beauty therapists, nail technicians, massage therapists and more.
This is a female-dominated space as many of the staff and also the clients are women.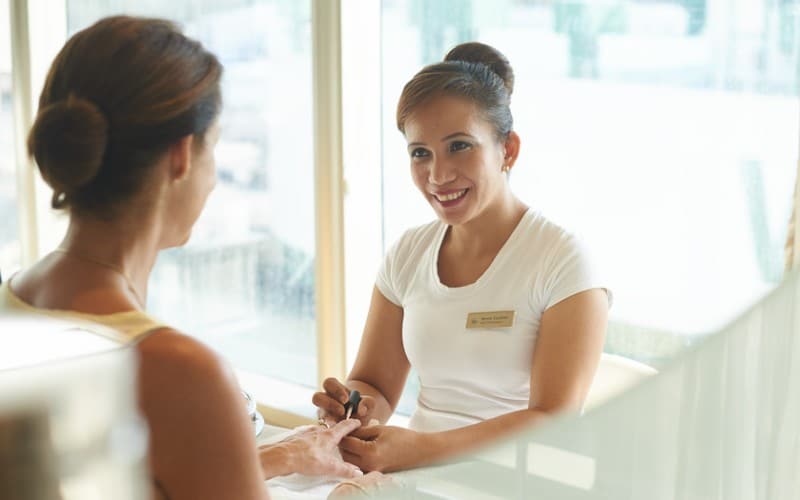 10. Shop Assistant
You'll find many different shops on board cruise ships. So whether you're interested in selling luxury jewellery and watches, designer handbags and clothing or confectionary items, there are many retail roles to consider.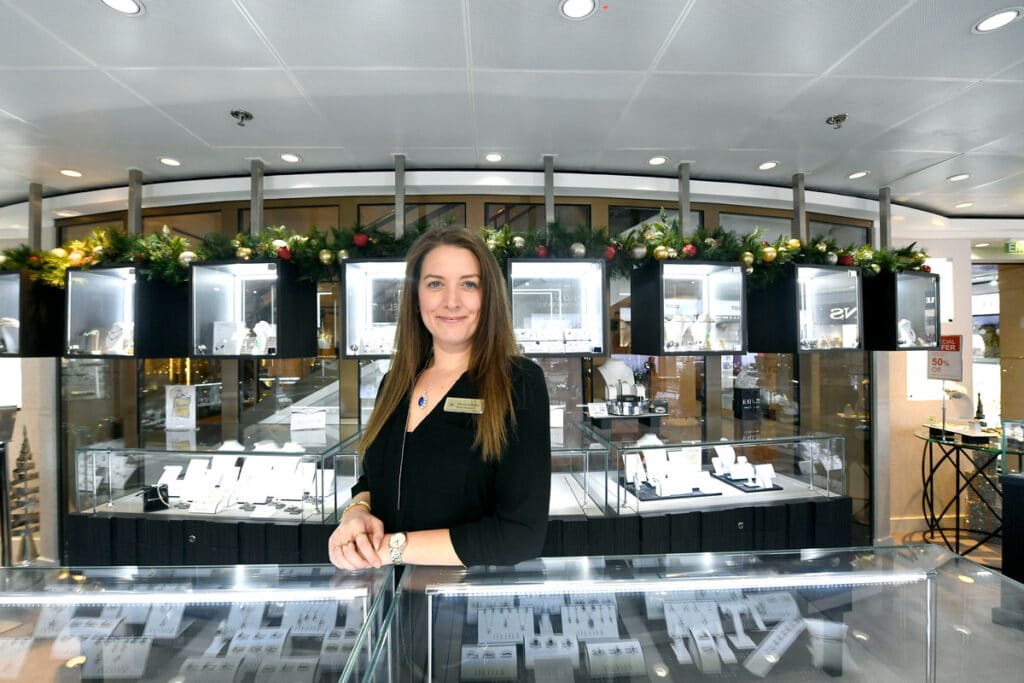 11. Security Guard
Responsible for controlling the entry to the ship, amongst other duties, you may be surprised to see just how many cruise ship security guards are female.
While security guards on land are most commonly male, particularly when it comes to nightclub bouncers and other hands-on security roles, cruise lines regularly employ women to work in the security department.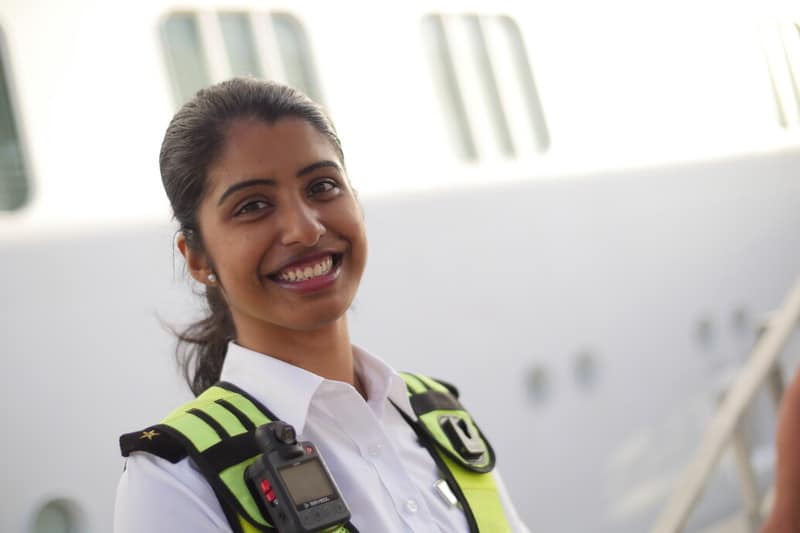 12. Bar Server
Behind the bar of cruise ships, you're much more likely to be served by a man than a woman. However, that certainly doesn't mean that women need not apply for thess roles.
In fact, cruise lines like Celebrity Cruises have been actively seeking women to work in the beverages department in an effort to redress the balance on board.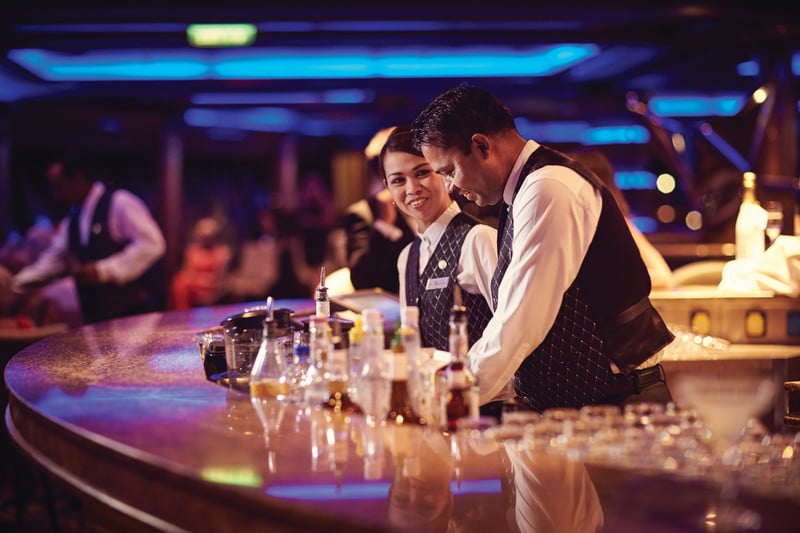 13. Engineer
There are many different engineering roles on cruise ships, responsible for maintaining all kinds of equipment from generators and compressors to the plumbing and air conditioning systems.
In 2018, Leanne Robertson was promoted to first engineer for P&O Cruises – the first time that a woman has ever been appointed in such a position.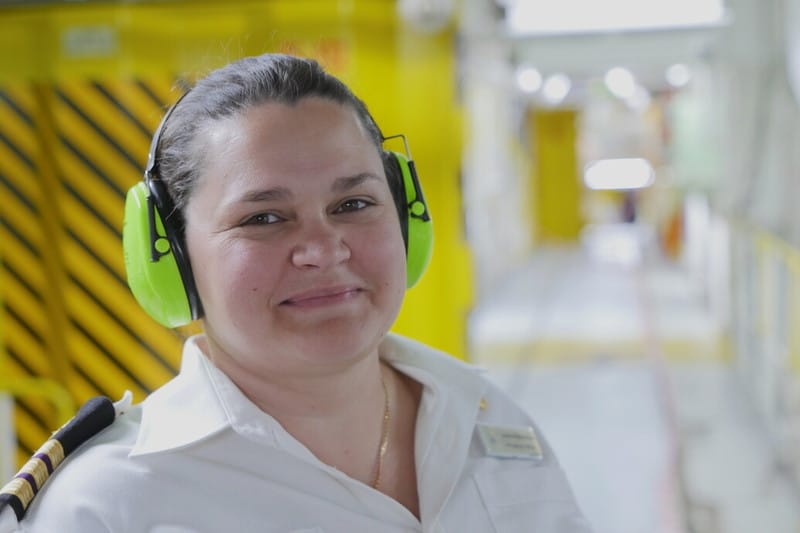 14. Lifeguard
A lifeguard job is traditionally a role that appeals to both men and women. Some cruise ship lifeguard roles are advertised as exclusively for women though. The reason for that is cultural – in some parts of the world such as the Middle East, it would be seen as inappropriate for a man to be watching over women while they are in swimwear.
15. Youth Staff
Most family-friendly cruise ships have kids clubs with lots of fun organised activities for children. If you love kids, then perhaps working as a Youth Counsellor could be the job for you?
Just as childcare workers on land are predominantly women, the vast majority of people who look after children on board cruise ships are female.
While this is a job that obviously appeals to those who enjoy spending time caring for children, cruise ship contracts can make it impossible for women to start relationships and have families of their own.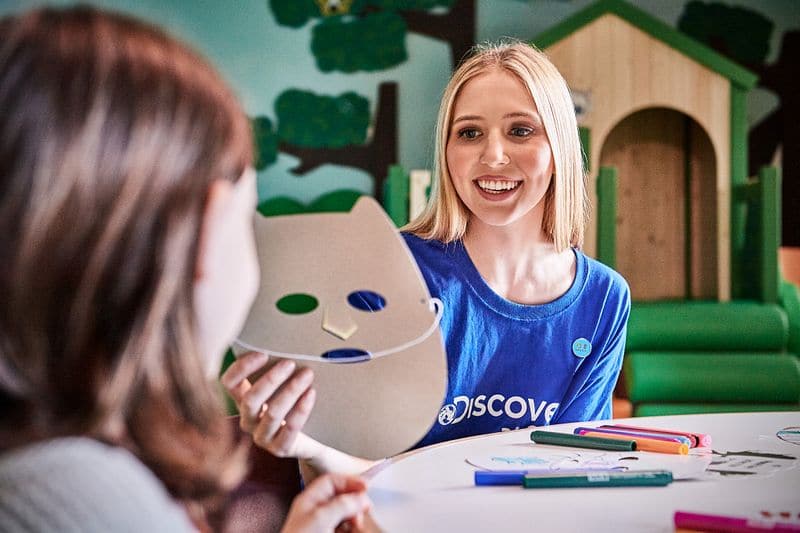 To Conclude
I hope that this guide has given you an insight into the job roles that are available on cruise ships. The most important thing to take away is that having a vagina should not stop you from achieving any career path that you wish to pursue!
I've only been able to cover a few roles in this guide, but there are many more, from doctors and nurses to croupiers and photographers to cleaners and laundry workers. You can have whatever job you want on a ship if you're willing to work hard enough.
Next, you might also be interested to look at my guide to how to get a job on a cruise ship. Or, take a look at this guide to how much cruise ship jobs pay.
Related Posts: