Choosing the best cruise line to work for depends on what you're looking for, as well as your own experience, education and skill set.
Larger cruise ships have more crew members, so there are more job opportunities, while smaller ships have equally smaller teams. However, you do get to know the guests much better and build a rapport with them which can mean more tips!
There are a huge variety of job roles to apply for on a cruise ship, from working behind the scenes to front of house, and there's bound to be something for everyone.
If you're not sure if it's for you, take a look at my other blog posts on how much cruise ship workers make and how to get a job on a cruise ship to see if it's the right choice for you.
I've researched the best cruise lines to work for by spending over eight hours studying online forums to see what real cruise ship employees think about their jobs. I've also taken a close look at each of at the cruise lines' own career pages to see what they have to offer.
Here are the top five cruise lines to work for, according to their current and past employees…
1. Royal Caribbean
As one of the biggest cruise lines in the industry, Royal Caribbean offers a great package to those seeking to join their team.
The fleet consists of 27 ships and counting and sails across six continents of the world. Royal Caribbean International is owned by Royal Caribbean Group, the umbrella company which owns five other cruise lines as well.
Benefits of working at Royal Caribbean
Royal Caribbean offers plenty of benefits for staff members including cruise discounts for staff and their families; discounts on shore excursions; free accommodation while working aboard and much more.
There are also crew activities arranged including parties and sports tournaments to encourage a fun work environment and allow the crew to enjoy life on board.
How long is a work contract at Royal Caribbean?
Royal Caribbean contracts vary depending on the role. The Royal Caribbean careers page states that 'most senior management roles have 4-month contracts while the rest of the positions have 6-8 month contracts.'
As for time off, Royal Caribbean advises that due to the round-the-clock nature of guests on board seven days a week, staff might not get a full 24-hour period off, but will still get time to rest, visit ports and participate in fun events.
Job opportunities vary by department, from hotel, which involves casino, culinary, entertainment and guest relations, to marine which comprises electrical, engine, security and environmental. There are also opportunities within their private destination department.
You can find all the current job posts for working at Royal Caribbean here.
2. Cunard
Joining a cruise line as a crewmember also means you will learn the ins and outs of the history of the company, and which company could be better for that than the 182-year-old Cunard Line.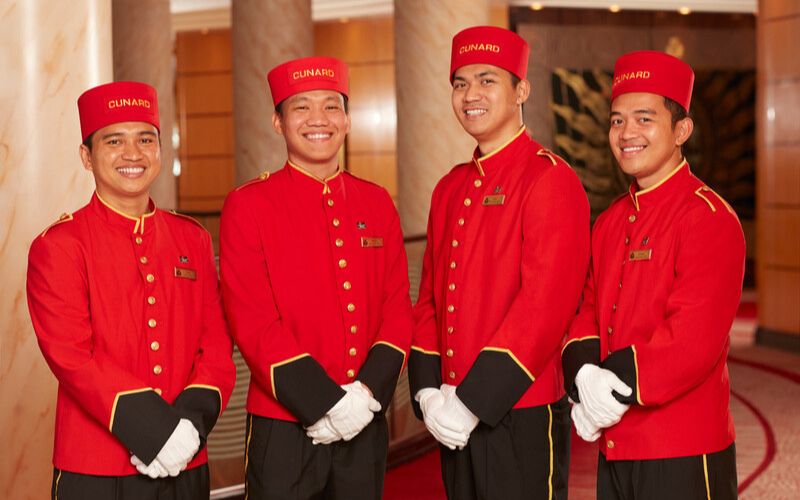 This cruise line was founded in 1839 and has grown over the years to become a renowned British cruise line, owned and operated by the largest cruise operator in the world, Carnival Corporation.
Cunard has a fleet of three ships, with a fourth under construction, and sails to countless destinations across Asia, Alaska, Europe, Africa and of course, North America, where the famous transatlantic crossing embarks!
Benefits of working at Cunard
Benefits for working at Cunard include access to crew gym and deck privileges, discounts on shore experiences, retail and leisure, learning and development programme to help progress and develop, flights paid for from your home to the shi,; free meals and accommodation while you travel the world, plus much more. You can view all of the benefits here.
The company boasts a tight-knit, diverse global team built on offering the White Star Service which Cunard is known for.
How long is work contract for Cunard?
Contracts with Cunard vary depending on your role, for example, applicants choosing to work as part of the youth team would have busier contracts over the summer holidays and shorter ones outside, due to peak times.
These can vary between four- or six-month contracts, with two months of leave in between each period you're at sea.
Job opportunities include ship and ashore vacancies in departments such as medical, finance and marketing. These also vary by contract type including permanent, full-time and temporary.
Each of the ships holds a crew of between 977 and up to 1,246, from roles within entertainment and accommodation to front of house or administration.
You can find all the current job posts for working at Cunard here.
3. MSC Cruises
If you're keen to be involved in the biggest companies in the industry, MSC Cruises is the largest privately-held cruise company, responsible for employing over 23,000 people across the world.
With a fleet of 19 ships and more on the horizon, it's a great option for those seeking a role within a leading business that is continuing to grow.
There are 114 nationalities working across the fleet, while over 50% of the workforce employed ashore are women, so diversity is truly important to the cruise line.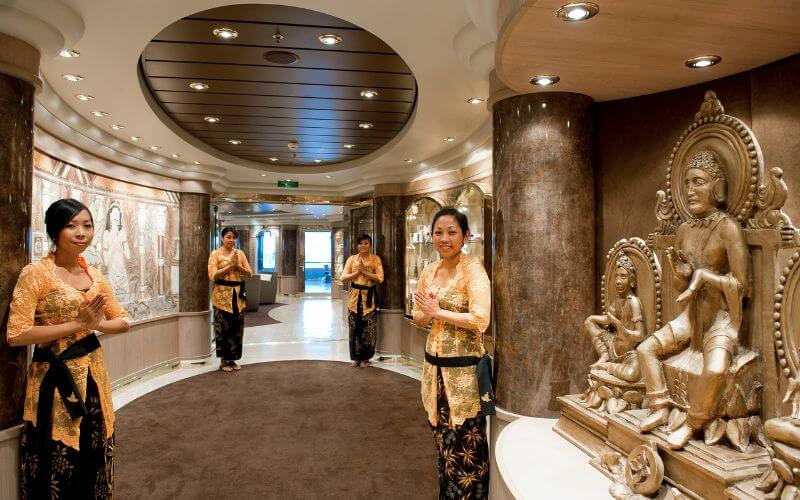 On the MSC Cruises careers site, the cruise line says "MSC Cruises totally embraces cultural diversity for the enrichment it brings our guests, crew and office colleagues. The diversity of our teams is a key element in MSC Cruises' success."
Benefits of working at MSC Cruises
The benefits of working with MSC Cruises include your accommodation; use of onboard facilities including a crew gym, bar, pool, medical support and laundry service; crew shore excursions and parties and much more!
How long is a work contract at MSC Cruises?
Contracts typically range between five and seven months, followed by a period of a two-month holiday. You can even take a test on their careers site to see if working on board MSC Cruises would suit you – you can find this here.
Vacancies vary depending on your department of choice, either hotel, deck or engine. You can find all the current job posts for MSC Cruises here.
4. Disney Cruise Line
If you're a Disney fan and want to travel, working for the Disney Cruise Line just makes sense! Where better to enjoy seeing the world while working than on board a cruise ship that is Disney-themed?
Everything from social spaces to staterooms is given the Disney flair, including how staff conduct themselves and ensure customers are having a truly magical experience.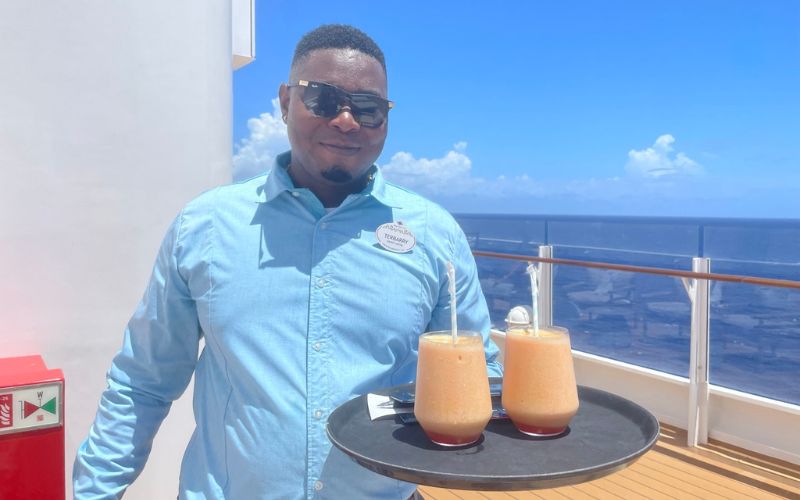 The cruise line has five ships in the fleet, with a further two in production to join in the coming years. Currently, the ships mainly sail to Alaska, the Caribbean and Europe, depending on the ship.
Some of the things which Disney Cruise Line looks for in an employee include the relevant experience to the role being applied for, as well as a proven passion for quality guest service within a family environment. After all, you and I know this is the bread and butter of what the wider Walt Disney Company offers and the cruise ships are no different!
Benefits of working at Disney Cruise Line
Benefits to working with Disney Cruise Line include discounts on merchandise, experiences and more; complimentary theme park admission for staff and their family; competitive salaries; development opportunities; recognition programs; medical coverage to support health and well-being and much more.
How long is a work contract at Disney Cruise Line?
Contract lengths vary with Disney Cruise Line, starting from three to eight months. The cruise line encourages development and advancing careers while working with them, thanks to the in-depth onboarding and training given in the first few weeks of employment. As roles develop and staff advance with the company, benefits also expand as a result.
You can find all the current job roles available for Disney Cruise Line here.
5. AIDA Cruises
Consistently regarded as one of Germany's best employers, AIDA Cruises are recognised for its training and development, compensation and benefits and corporate culture. The cruise line is a key choice for those seeking a proven and award-winning company. It's also a part of the Carnival Corporation.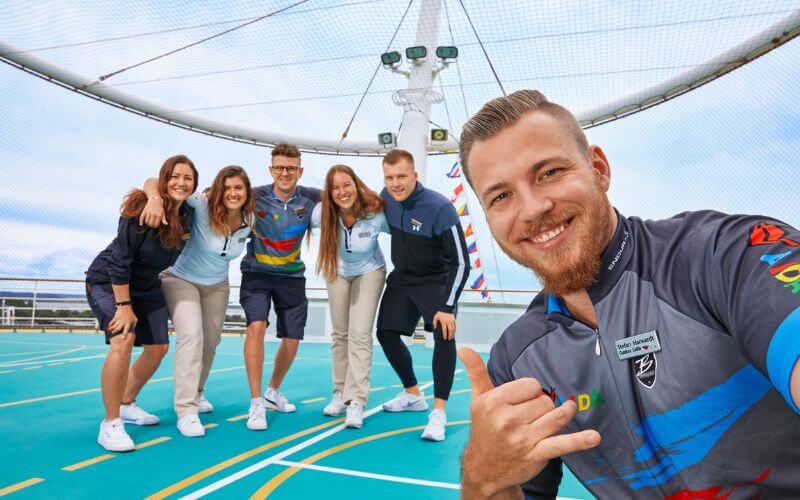 Currently, the cruise line had 14 ships, each of which is aimed at active and young holidaymakers looking to travel across the world.
Benefits of working at AIDA Cruises
The cruise line is one of the few cruise lines which offers EU citizens an employment contract following the guidelines of the EU, including comprehensive social insurance.
Other benefits to working aboard an AIDA cruise ship include recreational activities including a crew sauna, sundeck and fitness studio, as well as free Wi-Fi and shore excursions. There's also a corporate learning tool AIDA Train Me Up, which employees can access at all times to further their careers.
How long is a work contract at AIDA Cruises?
Roles with AIDA Cruises typically vary in length, from four to six months. There are three departments to choose from when working aboard AIDA Cruises: guest services, nautics and technics, and entertainment. These include chef de partie, housekeeping, electrician, engineer and camera operations roles.
You can find all the current job roles available for AIDA Cruises here.
The Bottom Line
There's no right answer for everyone when it comes to choosing the best cruise line to work for. This depends on what you value and how you fit into the culture.
I'd advise applying for multiple roles as it's a competitive industry. Huge cruise companies such as the Carnival Corporation and Royal Caribbean Group are an umbrella to multiple cruise lines, so you could even have the option to move around if successful.
Meanwhile, smaller cruise companies are more independent and offer a more family-friendly atmosphere.
When you're experienced, you can even move into more luxury or specialist cruise lines, such as expeditions or yacht cruises, which have smaller teams but more indulgent amenities. These typically pay more salary-wise and offer better benefits, as well as visiting off-the-beaten-track destinations.
No matter which you pick, travelling the world while working is a great perk and one of the reasons 1.8 million people work within the industry!
Related Posts: