You know that feeling at the end of a cruise where you're sad that you have to get back to everyday life…
Wouldn't it be nice if you didn't have to worry about that feeling ever again? Can you live on a cruise ship permanently?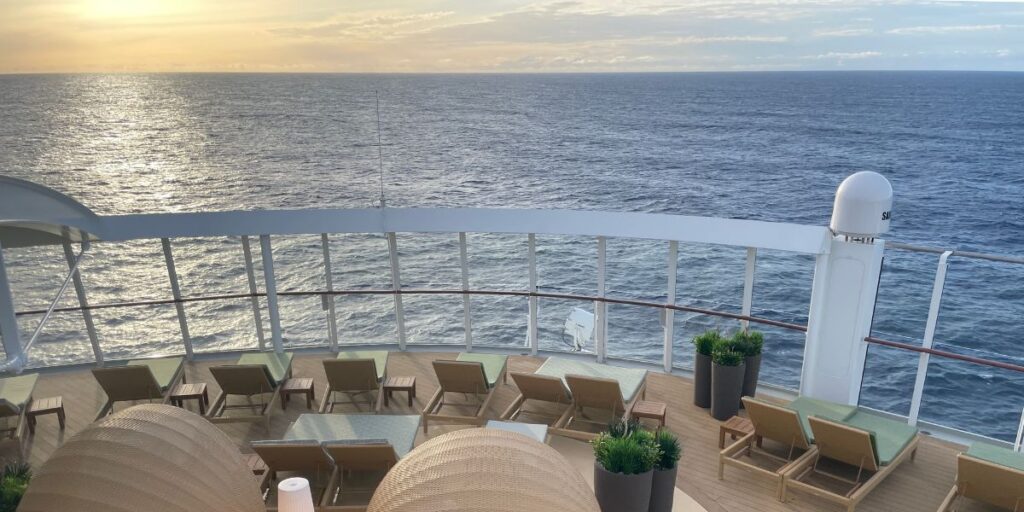 It's actually not as far-fetched a thought as you might think. In this guide, I'll take you through all the options for living on a cruise ship. You'll learn how much it costs, and what you'd need to think about if you wanted to try it.
Can You Live Permanently on a Cruise Ship?
It is possible to live on a cruise ship and there are several cruise lines that allow you to purchase an apartment onboard. Alternatively, you could book a series of short cruises on a mainstream cruise line.
It's better to choose a cruise ship designed for long-term living than one from a mainstream cruise line. Logistically, booking back-to-back cruises with a standard cruise line is often not possible and you may have to change rooms regularly or even switch ships.
Cruise Ships You Can Live On Permanently
Technically you could live on any cruise ship, but it might not be possible. Cruises don't always sell out, but the most popular staterooms and cabins book up far in advance. You would have to constantly look at booking cruises to make sure you have somewhere to stay.
Let's look at your options in a little more detail…
The 3 Ways You Can Live On A Ship Permanently:
Traditional Cruises
You can book yourself onto a traditional cruise ship for the long term. You would need to book each itinerary, one after the other.
If you wanted the same cabin on every cruise, it's wise to make sure that you're first in line when bookings open. That's the only way to make sure you can secure the same room for the long term. Otherwise, someone could book your room and essentially kick you out.
Cruises are available to book around 18 to 24 months in advance, so you'll need to plan ahead.
Moving cabins might not be the end of the world – but it would be a lot easier if you didn't have to pack and unpack at the start of every new itinerary.
Note: Some cruise lines might make you leave the ship and re-board between itineraries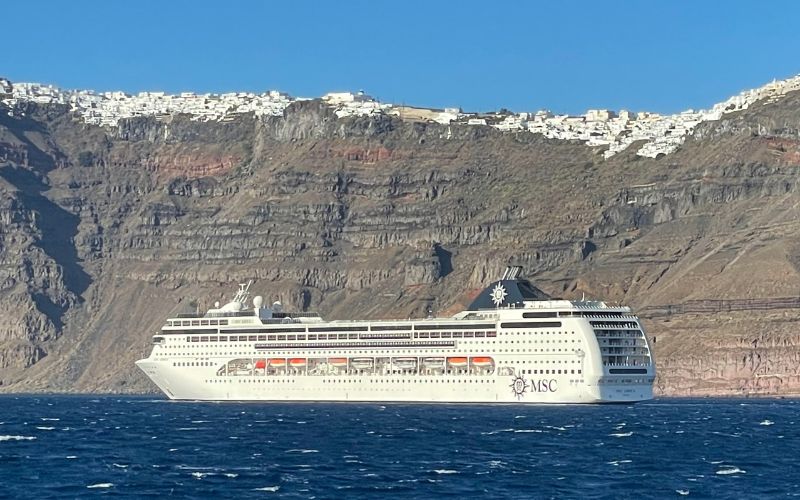 World Cruises
The easiest way to enjoy living on a cruise ship for the long term would be to look for world cruises. These itineraries can last a long time. Some of the longest run for six months, but three months is more common.
However, don't expect world cruises to run back-to-back. Typically a cruise ship that is offering a world cruise will go back to offering more regular sailings for the rest of the year, so you would need to keep booking new cruises every time.
These cruises are often expensive too, so the cost of booking world cruises as frequently as possible may not be something you can afford to do.
I was keen to see what a world cruise ship was like, and I managed to book myself a place on board just for the first two days. You can see what the ship was like in my video…
Ship-Hopping
Another option is to ship-hop every few weeks. This may work out cheaper, especially on some cruise lines that offer cheap nightly rates and one-way repositioning cruises.
You should bear in mind how much work would be involved in constantly booking your next cruise, plus the added stress of worrying about whether you'd miss your chance and end up without a cabin.
It can be done though. One person who's doing just that is Fraser from the YouTube channel Fraser At Sea. Check out this video where he announced his plans to live on cruise ships in 2023:
I've taken cruises that cost as little as £40 ($50) per night with all meals included. So if you're savvy, living on cruise ships can be pretty cheap.
Below you can see examples of some of the best cruise deals available right now…
Cruise Ships Designed For Permanent Living
Arguably the better way to live on a cruise ship is to choose one that's designed for permanent living.
There aren't too many of these in existence, but there are some ships that are planned with full-time living in mind, removing all of the worry about making sure you stay booked onto the ship.
Here are the ships that are designed for full-time living:
| Ship name | Operated By | Year of Launch |
| --- | --- | --- |
| The World | Residences at Sea | 2002 |
| Victoria Majestic | Victoria Cruise Line | 2024 |
| Somnio | Somnio Superyachts | 2024 |
| Villa Vie Residences | Villa Vie | 2024 |
| MS Utopia | Utopia Residences | 2025 |
| MV Narrative | Storyline Cruises | 2025 |
| Njord | Ocean Residences | 2025 |
| MS Dark Island | Clydebuilt Dark Island Residences | 2026 |
It's important to note that these are all planned launch dates. Already some have been pushed back – MS Utopia was originally scheduled for 2023. If you're interested in living on a cruise ship, you probably need to be flexible on your start year, as plans can change.
1. The World
The World is the largest private residential ship on the planet with 165 residences. It has 106 two- and three-bedroom apartments, 19 one- and two-bedroom studio apartments and 40 studios.
Instead of booking individual cruises, people purchase one of the residences on the ship and are then free to use it as and when they want. Some people live on the ship full-time while others come and go, using it as a vacation home or an alternative to owning a yacht.
The World tries to distance itself in some ways from comparisons to a traditional cruise ship, but there are a lot of similarities, including in the onboard experience.
Take a look at this video to see what you can expect from life on board…
The ship features guest speakers, musicians, and cultural performances to entertain guests, similar to those which would feature on traditional luxury world cruises.
Daytime activities are available too, with two swimming pools as well as a tennis court, and a gym offering exercise classes like yoga and cardio. This is good, considering there are six gourmet restaurants on the ship!
The residences also have their own kitchens, and there's a grocery store on the ship, if you want to cook for yourself.
The World has a spa, just like you would find on a cruise ship. So really, the experience is very comparable to a typical cruise ship – the only difference is that you have your own kitchen area and that you're able to stay on the ship long term.
Although, one more difference is the option to host guests. You own your residence and so you're able to welcome guests onto the ship if you wish.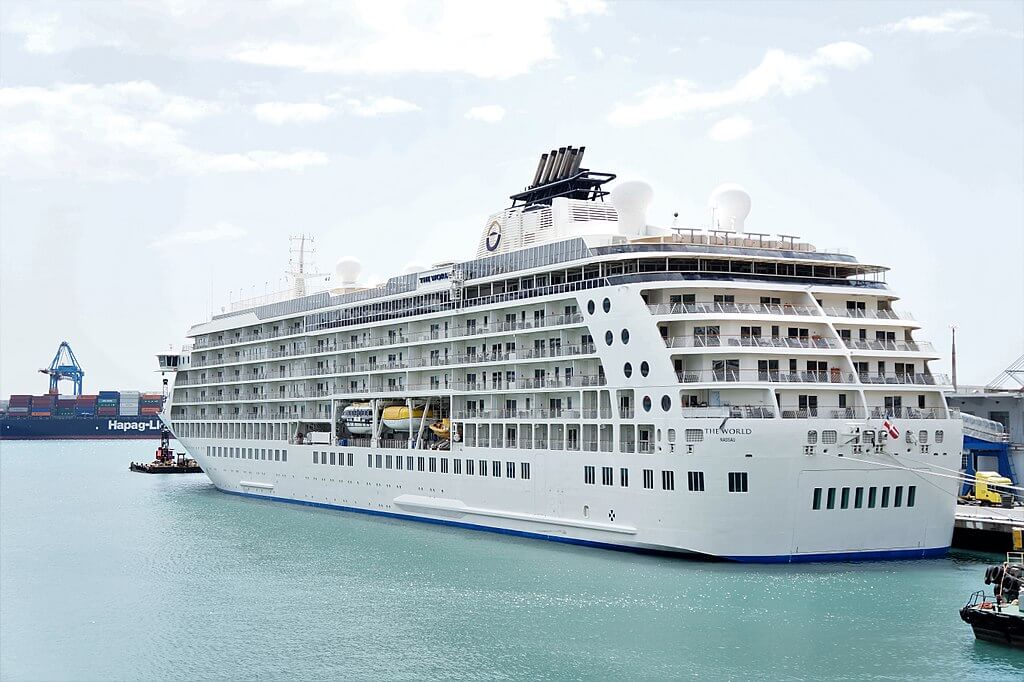 The ship isn't particularly family-friendly – kids are welcome, but there isn't much for them to do. Understandably, the ship is primarily aimed at a mature audience as it's likely to be retirees who wish to live on a cruise ship.
But that doesn't mean your family won't want to visit every now and then, and they will be permitted onto the ship to say hello, although you may be charged if they use some of the facilities, including the restaurants.
2. MS Utopia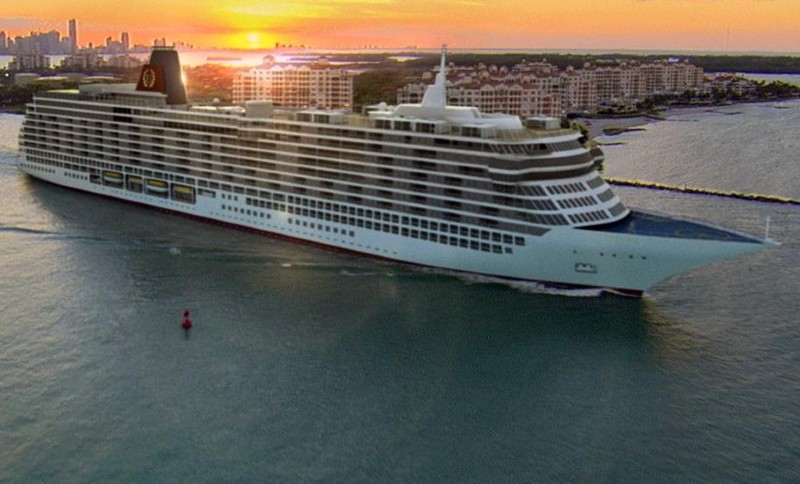 Utopia is a planned luxury residential ocean liner project costing $1.1 billion that was originally ordered all the way back in 2009 by Utopia Residences.
The ship has had the launch date regularly pushed back, with the latest launch date announced as 2025. Everything has since gone a little quiet, so there are no guarantees that this project will actually reach completion.
The ship's yearly itinerary includes stops at some of the world's most premier events, such as Wimbledon in London, Carnival in Rio De Janeiro, Running of the Bulls in Spain, and Cannes Film Festival in France.
If it does go ahead as planned, Utopia will have 190 residences and will also feature a 175-room hotel, casino, 16,000-square-foot spa, nightclub, and many other amenities typical of large-scale commercial cruise ships.
3. Victoria Majestic
The former ms Veendam for Holland America Line, Victoria Majestic has now been turned into a residential ship and will soon set sail with Victoria Cruises.
Billed as the "world's first affordable residential ship", she doesn't allow guests to purchase a room, but instead lease one on a long-term basis.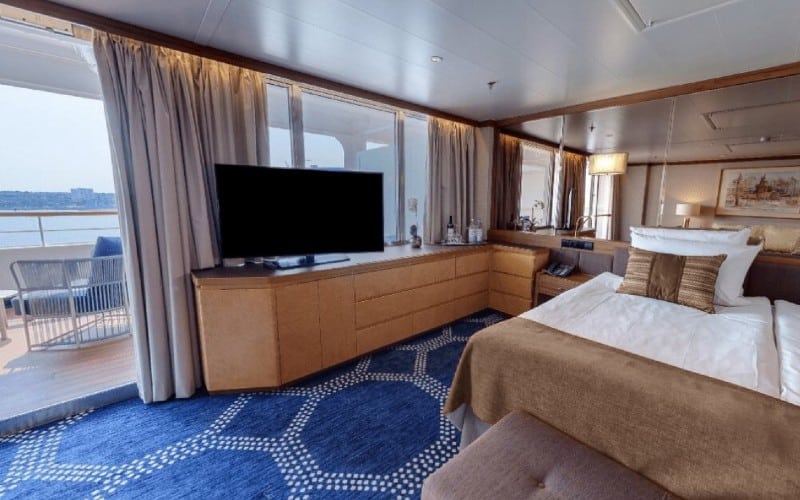 The longer you rent a cabin, the higher a discount you'll get. For example, an Inside Cabin typically costs $8,000 per month (with a $10,000 refundable deposit), but if you book one of the longest leases for 37 months, you'll get a 40% discount, meaning you'll pay $4,800 per month. And that's for two people – $2,400 per person, per month is a pretty great deal for living on a ship!
The ship will offer plenty of onboard facilities to keep guests entertained, and WiFi access means that you could work remotely from the ship if you're able to.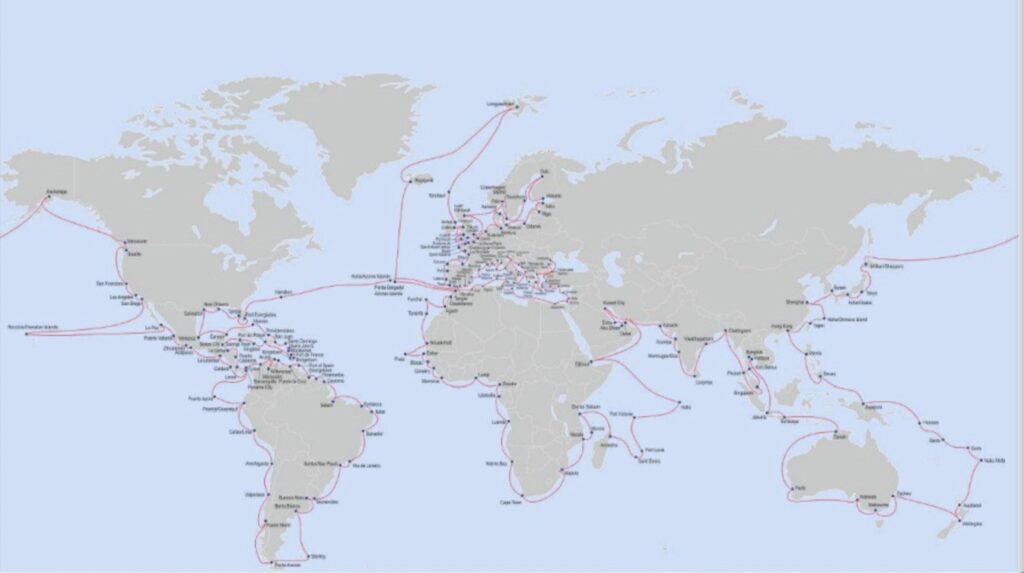 The planned itinerary for the ship sees her sail from the US around the Caribbean and then down around South America, back up to the west coast of the US before crossing the Pacific to Asia, then onto Africa and a comprehensive tour of Europe for her first 212 days.
4. Somnio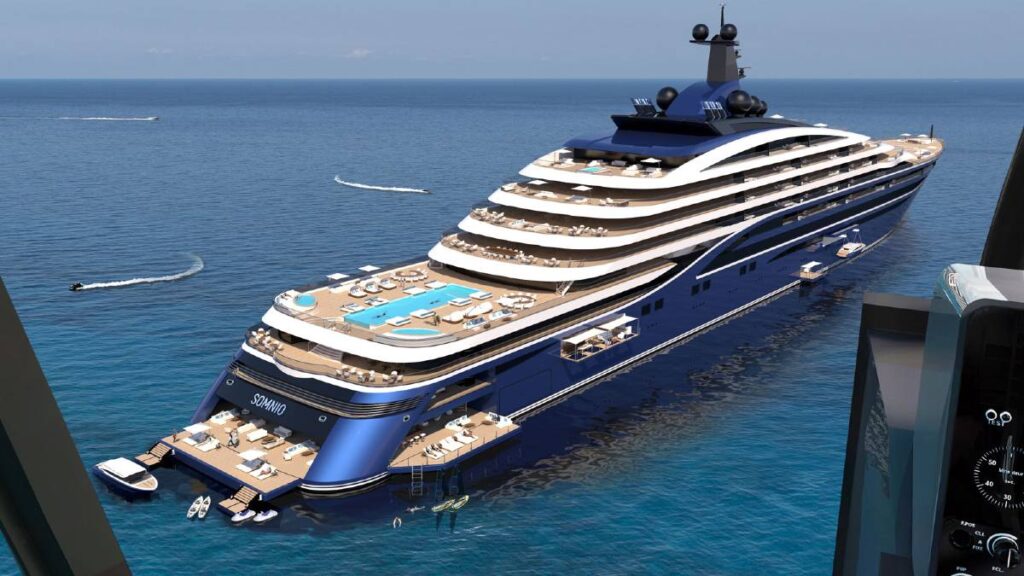 Not a lot is known about Somnio – the superyacht is still cloaked in mystery, and details are only available to those invited to apply for a residence onboard. It's that kind of exclusive.
But here's what we do know…
There are just 39 residential apartments on this exquisite vessel, each of which is customisable to fit the needs of the buyer. Prices are believed to start from around $11 million, with maintenance fees payable on top of that to the tune of around $100,000 or more.
For the money, you get use of the aft deck – the main hub of the yacht where you can enjoy a large lap pool, two spa pools and various bars and seating areas. Watersports equipment is also available, along with boats if you want to go fishing or diving.
The ship will sail a leisurely itinerary, cruising the world slowly to allow guests more time to explore in port (and to be more environmentally friendly, burning less fuel at slower speeds).
5. Villa Vie Residences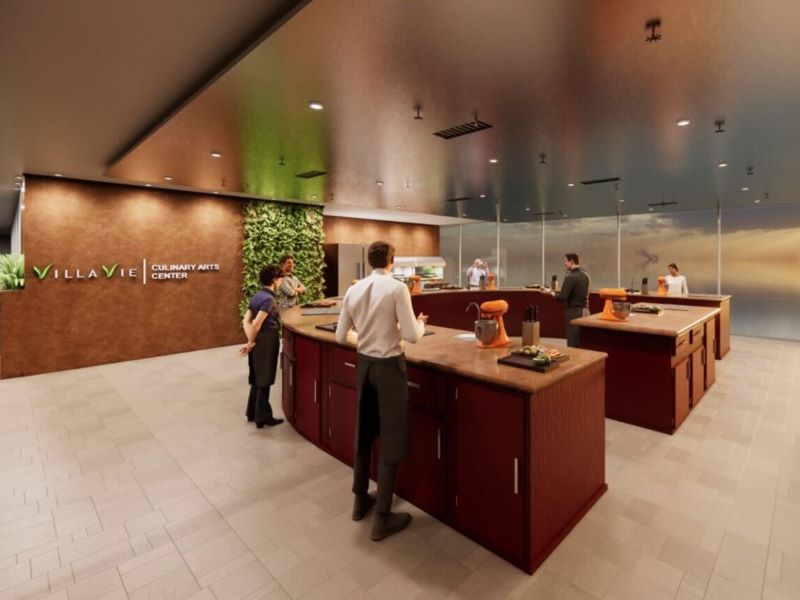 Villa Vie Residences is another new live-on-board world cruise option that has an interesting offering. You can choose to own a cabin, or you can just craft your own world cruise by paying for a cabin like you normally would on a ship, for your chosen segment of the cruise.
And that cruise is epic – it's a planned 3.5 year journey that will visit over 420 ports in 147 continents across all seven continents. And it'll continue running this cruise in perpetuity, so once it completes the first navigation, it all begins again.
If you choose to own a cabin, prices start from just $99,999, although there is then a monthly fee you need to pay on top of that. However, you can welcome guests to your cabin and only pay the daily port fees and gratuities for them ($33 per day), and what's cool is you can rent out your cabin when you aren't on the ship – making your money back.
Otherwise, if you prefer the Voyagers Program, it works like any other cruise. Prices start at $89 per person, per night and there are a range of itinerary options from 35 days up to 120 days, with the option to combine any that you like.
The cruise is all-inclusive with beer and wine served at meals, complimentary healthcare, free high-speed WiFi, selected free excursions, and free laundry.
And even with the monthly fees, it's one of the best-value options for living on a cruise ship full time.
Check out the brochure if you want to know more!
6. MV Narrative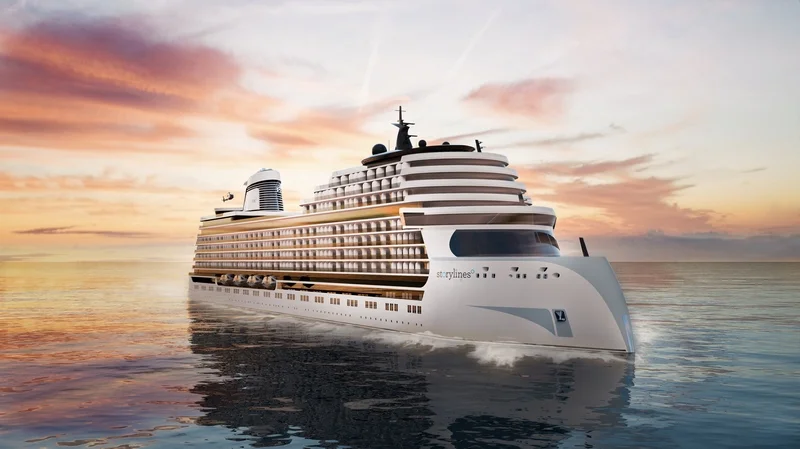 MV Narrative is a contemporary superyacht offering a luxury residential community at sea. Belonging to Storylines, it's a more affordable choice than some of the other ships you can live on, with the cheapest residences starting at $875,000.
It's also much larger, with 547 residences available and 18 decks.
You also have the option of leasing a residence on the yacht, if you can't afford to buy one outright. This means you can pay yearly fees at a much more reasonable five-figure sum, but the downside is that once your 12- or 24-year lease is finished, you don't own the residence.
It's a very beautiful yacht with lots of relaxing places to unwind. There are three swimming pools, along with a mammoth 20 restaurants to choose from. You can also borrow from the 10,000 books in the library, or enjoy a drink brewed in the ship's own microbrewery.
Everything's included with MV Narrative, including laundry services, high-speed WiFi, premium satellite TV and even regular wellness visits with the onboard doctors and nutritionists, so you can make sure you stay fit and healthy while enjoying your life at sea.
If you have children, it's by far the best option. There's a 'worldschooling' program with onboard teachers offering hands-on learning through field trips, tutoring, classes and clubs.
Several British people have already bought residences on board, one of these is mindset coach Mimi Bland. You can read her story here: British Woman Embarks On New Life Working Remotely From A Cruise Ship.
7. Njord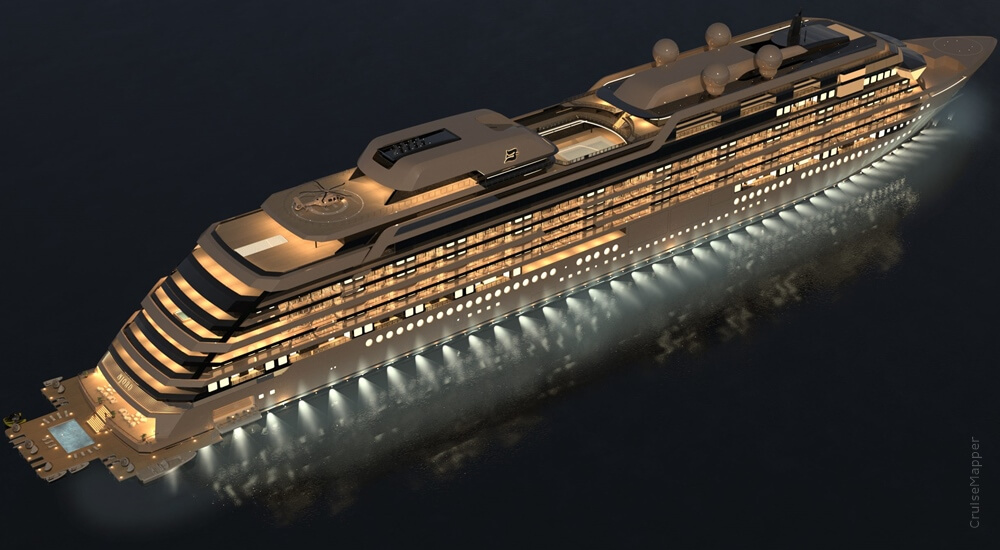 Njord by Ocean Residences is a planned superyacht due to launch in 2025, with a wide variety of luxury residences that you can buy.
Studios on the yacht range from two to six bedrooms, so you can really splash out on a luxury pad for entertaining guests if you want to. The biggest suites are 9,000 square feet – consider how an average interior room on a cruise ship is around 130 square feet, and you get the picture.
Everything about this yacht will be extremely luxurious, including hand-picked furnishings, high-end appliances from Gaggenau and integrated smart-home tech throughout.
The yacht has seven onboard restaurants, an extensive spa and fitness suite, its own concierge hospital and medical centre, a cinema, a games room, arts and craft studios, and even a kids club should you wish to bring the family. There are two pools including an aft infinity pool.
Suites on the Njord start from $8.5 million so this is definitely a yacht aimed at the super-rich.
8. MS Dark Island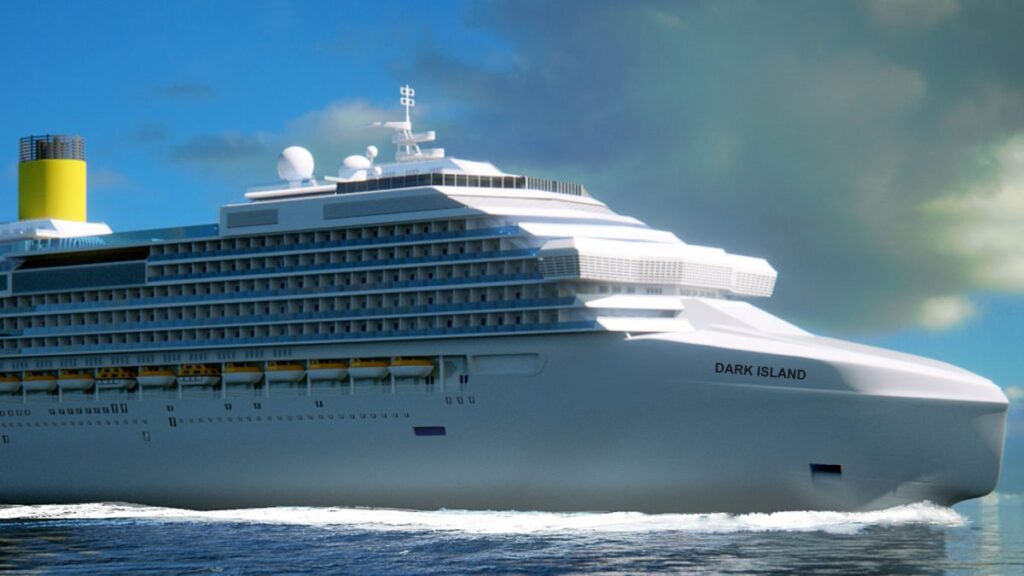 Dark Island is another residential cruise ship which is planned to be built by 2026.
The ship offers adventurous itineraries, visiting destinations around the world, with lectures, forums, discussions and field trips by leading academics preceding the destinations and expeditions.
There are 101 ultra-luxurious suites to choose from, each with a balcony and a choice of one, two or three bedrooms.
The Dark Island is built to minimise its impact on the environment, with a focus on sustainability and green initiatives.
The Three-Year World Cruise
There was one more option – and this was designed as a middle option between traditional cruising and residential cruising. That's the ultra-long-term world cruise option announced by Life At Sea Cruises.
However, just as the ship was due to launch on her three-year itinerary in November 2023, the company cancelled the cruise after revealing they had not been able to secure a suitable ship. Read about the cancellation here.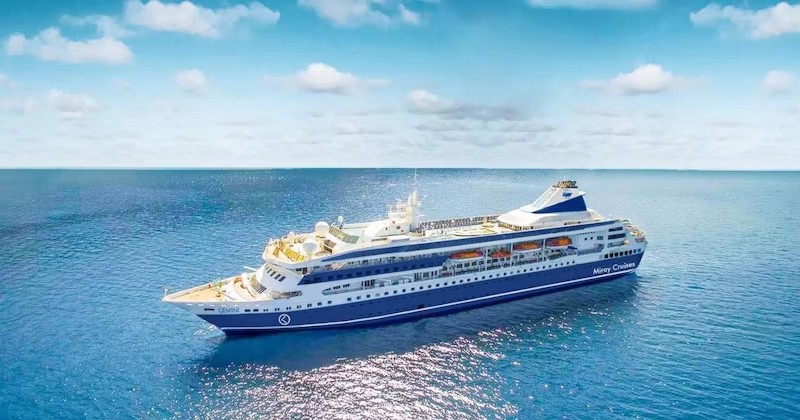 The company had originally announced a three-year itinerary on their ship MV Gemini, with all-inclusive fares starting at $29,999 per person, per year. At the time, this looked like one of the most affordable long-term options for anyone interested in living on a cruise ship.
But then there were challenges about whether the ship was seaworthy, and so a second ship was sought. But with a deal lined up, the cruise line didn't pay for the AIDAaura when it came up for sale, and instead it was purchased by Celestyal Cruises.
The cruise was due to set sail on 1st November 2023 and visit 135 countries until late 2026, covering 130,000 miles.
Guests had already travelled to Istanbul for the departure, and are now facing a wait for refunds. The company has promised to repay guests but using monthly installments, which suggests the money may have been spent – hopefully everyone gets their money back.
How Much It Costs To Live on A Cruise Ship
The cost of buying an apartment on a residential cruise ship is between $1 million and $14 million. There are also annual fees of between $60,000 and $300,000 to pay. In theory, you could cruise on traditional cruise ships for around $35,000 per year, if you choose a basic cruise.
There's no getting away from the fact that residential cruise ships are expensive. That's because they're more like luxury ships, and they're very exclusive. Plus you're buying an asset, which can be sold on at a later date.
It's difficult to compare costs directly since ships include different levels of service within their fares, plus you don't know how long you're going to want to live on a cruise ship.
But for the sake of comparison, let's look at the estimated costs of living aboard three residential cruise ships, three traditional cruise lines and the new three-year world cruise.
Table comparing the cost of living on cruise ships for 10 years
Type
Cruise line/ship
Purchase price
Cruise Fare / Fees
(10 years)
Taxes
(10 years)
Tips
(10 years)
Drinks
(10 years)
Estimated WiFi cost
Total cost for 10 years (for 2 people)
Asset value after 10 years
Cheap cruise
Carnival
n/a
$156,000
$127,750
$52,925
$219,000
$70,000
$1,251,340
$0
Mainstream cruise
Royal Caribbean
n/a
$360,000
$58,400
$56,300
$325,000
$66,000
$1,731,400
$0
Luxury cruise
Regent Seven Seas
n/a
$2,190,000
$0
$0
$0
$0
$4,380,000
$0
Residential
MS The World
$3,000,000
$1,000,000*
Included
Included
Included
Included
$4,000,000
$3,000,000
Residential
Somnio
$11,000,000
$1,000,000*
Included
Included
Included
Included
$12,000,000
$11,000,000
Residential
Villa Vie
$99,999
$419,880
Included
Included
Included
Included
$519,879
$99,999
Residential (lease)
Victoria Majestic
$10,000 deposit
$576,000
Included
Included
Included
Included
$606,000
$30,000
Residential
MV Narrative
$1,000,000
$650,000
Included
Included
Included
Included
$1,650,000
$1,000,000
Notes about the data
It's difficult to compare costs directly since ships include different levels of service within their fares, plus you don't know how long you're going to want to live on a cruise ship. You can't really compare the price of owning a residential place on a ship to cruising for just one year. If you're looking to buy a place on one of the residential ships, you'll probably be looking to use it for the long term.
With that in mind, I've used 10 years as a guideline, comparing the price of buying a room on a residential ship for 10 years, against the cost of booking traditional cruises for the same time period.
The costs for each option is based on the cheapest accommodation using reported figures.
For the Carnival price, I have used a typical 4-day cruise and included the cost of the Cheers drinks package and the premium WiFi packages.
For Royal Caribbean, I've used an average 7-day Caribbean cruise, plus the costs of the Deluxe Beverage Package and the Voom Surf + Stream internet package.
For Regent Seven Seas I've based the price on a typical 10-day cruise. Drinks, WiFi, tips and taxes are included as standard.
Where I've placed an asterisk for annual costs – these aren't published by Residences at Sea or Somnio Superyachts, so I've used the best estimate I can find.
How To Live On a Cruise Ship Cheaply
The cheapest way to live on a cruise ship would be to choose Life At Sea's Three Year World cruise. They have the cheapest fares for long-term living, starting at $29,999 per person, per year and including everything you need.
You can even pay monthly if you prefer, with financing options starting at $5,227 per month – a figure that may be within reach for many digital nomads.
With Life at Seas, you get:
Free family & friend visits
Medical consultations during your cruise
Access to a Business Center onboard
Alcohol served with dinner
All port fees and taxes
High-speed internet
Laundry and housekeeping
All entertainment and enrichment seminars
If you would rather stick to a traditional cruise line, you can still keep prices low, but remember you'll be booking cruises regularly, and you would need to avoid paying for many extras on the ship. You'll also want to look at cruising with the cheapest cruise lines in the world, such as Carnival or MSC Cruises.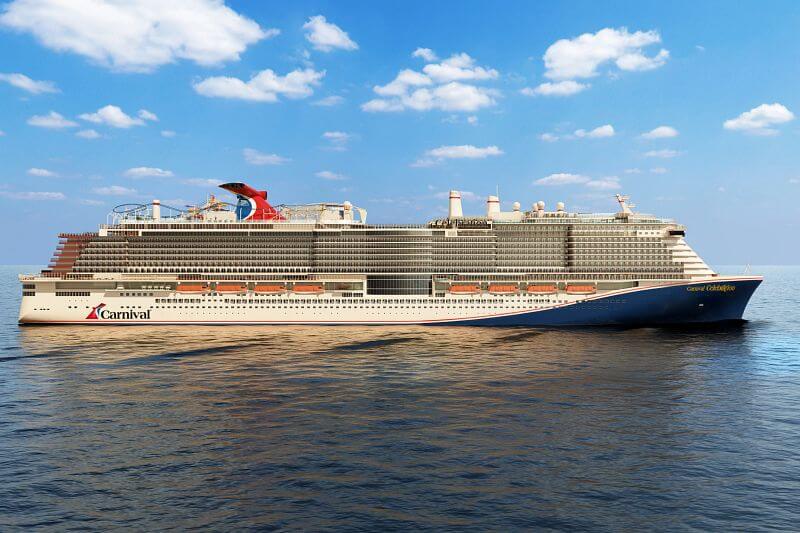 When you're booking a Carnival cruise, the cheapest fare you can get will be one where you only pay for the cruise itself and the necessary extras – the port fees, taxes and gratuities.
And trust me, while it is possible to opt out of gratuities, you definitely don't want to do that when you're living on a cruise ship!
If you cruised in this way – choosing an inside cabin, eating only in the free restaurants and sticking to the free drinks you get on the ship (water, juices, basic tea and coffee at breakfast) then you could possibly cruise for around $35,000 per year.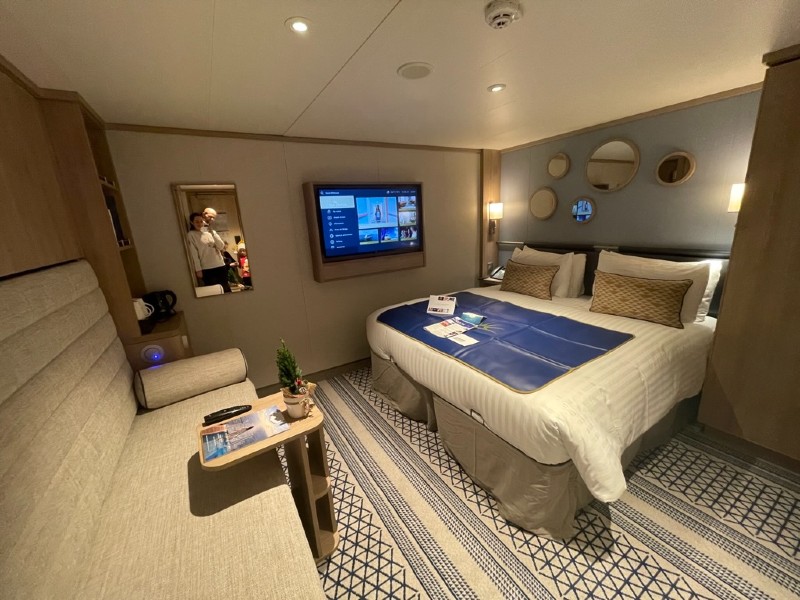 This would mean you'd have no internet access and you would have to pay for any other drinks separately, but you would be able to enjoy the free accommodation, days at port, and the included daytime and evening entertainment on the ship, along with meals in the main dining restaurant, the buffet and any other included venues on the ship.
Life at Sea's three-year cruise remains cheaper, and you get more included, but it depends on whether you like the idea of cruising with a more established mainstream cruise line or taking a punt on something new.
How To Live On A Cruise Ship For Free
The absolute cheapest way to live on a cruise ship is to work on one – although it probably isn't what you had in mind when you thought about living on a cruise ship!
It's the cheapest option because you'd actually be making money – and your room and food would be free. But you would be working six or seven days a week with only very rare days off, and often for long hours.
It's hardly a relaxing way to see the world. But if you fancy it, there are plenty of cruise ship jobs with no experience needed.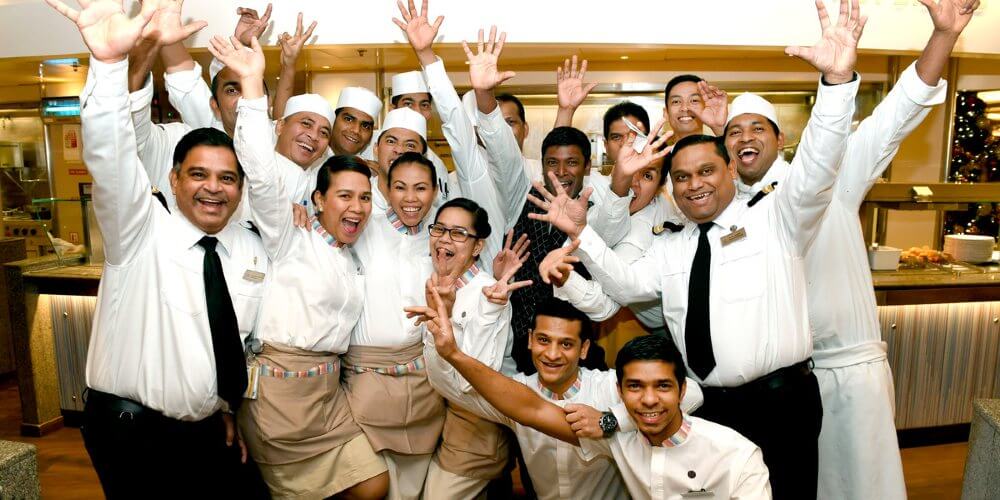 In some cases, senior officers, including the ship's captain and cruise director, may be allowed to have their families staying on the ship with them. It isn't really standard practice, and most officers live on the ships alone, but if you really wanted to live on a cruise ship for free, then try convincing your partner to take up a career as a ship's senior officer and then see what the cruise line can do for you!
Comparing The Cost of Cruise Ship Living With Other Options
A cruise ship offers a number of perks over regular living, the main one being that you get to see the world. Living on a cruise ship means travelling all across the globe, experiencing new cultures and thrilling experiences.
But how does the cost compare to regular living?
Is it cheaper to live on a cruise ship than in a house?
It costs a similar amount to live on a cruise ship as it does in a house. In the UK, the average cost of living is £2,200 per month, equal to around $2,650, and in the US the average cost is $3,200. You can live on a cruise ship for around $2,500-$3,000 per month.
Surprising, right? The average cost of living stats for the UK and for the US include typical rent payments, the cost of food, transport and entertainment, so we're looking at very comparable rates. The UK's cost of living makes it being cheaper than the average cruise, while the US is slightly more expensive.
Again, these are average costs for the countries. If we just look at the most expensive places to live, then London becomes £3,200 a month, or $3,800, while New York is approximately $5,100. So living on a cruise ship could actually work out cheaper!
Is it cheaper to live on a cruise ship than in a nursing home?
It is usually cheaper to live on a cruise ship than in a nursing home. The UK average cost for living in a care home is £3,550 per month ($4,250), while the US average is much higher at $7,900 per month. It is possible to live on a cruise ship from $2,500 per month.
Of course, if you need to live in a care home, there's a good chance you need a carer. If that carer's responsibilities aren't specialised – if a family member is capable of taking care of you – then you just need to pay for a second person to join you on a cruise.
But that can still work out to be cheaper than paying for a care home.
| Accommodation option | Monthly cost for 1 person plus carer |
| --- | --- |
| Nursing Home in UK | $4,250 |
| Nursing Home in US | $7,900 |
| 3-Year World Cruise (Life At Sea) | $5,000 |
| Mainstream Cruise (Carnival) | $5,800 |
| Luxury Cruise (Regent) | $36,500 |
So, if you don't need any specialist medical care and have someone in mind who would like to travel the world with you, then paying for the two of you to live on a cruise ship could work out cheaper than living in a care home.
However, one thing that you'll certainly need to factor in is travel insurance and medical costs. Travel insurance for such a trip could be very costly indeed, and it is mandatory.
Cruise ships do have doctors, but visits to the onboard medical centre can be very costly indeed, and for any serious medical issues, you would need to visit a hospital on land.
The People Who Live On Cruise Ships
What we've gathered from this guide is that financially, it is viable to live on a cruise ship, although you need to plan your cruise carefully.
But is it actually an option, or are we being fanciful?
I've looked into some real-life examples of people who have lived on cruise ships, and there are some notable examples that prove it is a lifestyle within reach.
1. Lee Wachtstetter
Lee Wachtstetter was an American author who began living on cruise ships back in 2005, choosing Holland America Line's MS Prinsendam as her ship of choice. She moved in 2008 to Crystal Serenity, and I love the reason why – it's because Holland America stopped providing dancing partners.
Wachtstetter remained on Crystal Serenity until 2018 when she apparently had to return to land due to ill health. She's published a book about her experiences, called I May Be Homeless, But You Should See My Yacht.
2. Morton Jablin
Morton Jablin, affectionately nicknamed 'Captain', is another long-term cruise passenger. As of 2018, when Jablin was 94 years old, he had spent 13 years living on Seven Seas Navigator, enjoying a life of luxury.
3. Mario Salcedo
Perhaps the most famous case is of Mario Salcedo, nicknamed Super Mario. Mario has lived continuously on Royal Caribbean ships since 2000, with an average of 15 days a year spent on land to handle life admin. He did live on land for 15 months during the COVID-19 pandemic too.
Salcedo isn't a retiree – he works on the ship, managing investments for various high-worth individuals. And he isn't tied to a single ship – at the end of his cruises he will return to his condo in Miami for a few hours, before embarking on his next voyage, often flying to a different port to meet the ship.
Things To Consider When Living On A Cruise Ship
Here are some of the things you'll need to consider when you're living on a cruise ship.
1. Tax
There are two main things to mention when considering tax on your cruise.
Firstly, every cruise you take has taxes that need to be paid. On residential cruise ships or long-term world cruises, these are incorporated into the cost, but if you choose to book traditional cruises back-to-back, the taxes and fees may be separate – so be careful when you're budgeting.
The second tax consideration is if you decide to work while you cruise. Even if you cruise on a ship permanently, you'll still need to have a home country of residence, and you'll need to obey the tax laws for that country.
However, there are often exclusions if you spend less than a set number of days residing in the country, so it's worth checking your local tax laws and speaking to your accountant for advice.
As an example, in the UK you usually only pay tax if you live in the country for more than half the year. So, by living on a cruise ship permanently, you may not have to pay tax at all.
In theory, you could get a work-from-home job and work on a cruise ship, and potentially save yourself tax money by not being permanently based in your home country! And if you're a high earner, it could even be more cost-effective to work at sea since the cost of the cruise fare may be less than the tax you save.
This Reddit thread dives into it in a little more detail.
Especially when you consider that your cruise fare includes your room and food – maybe this is something I need to think about?
Just be careful, though because you may also be paying other benefits at home that you could miss out on if living on a ship. For example, in the UK, if you don't make National Insurance payments, you won't get the full state pension later in life.
2. Insurance
Normal travel insurance isn't going to cover you if you decide to live on a cruise ship. Travel insurance policies count on the fact that medical cover is a rarity when you travel for 2-3 weeks of the year.
You'll need to look into long-term health insurance, so that you have cover should anything go wrong while you're sailing, and this is likely to be significantly more expensive than regular travel insurance.
3. Health
Speaking of health, you'll need to consider how you're going to stay healthy while living on a cruise ship. Cruise ships generally have a doctor onboard but visits to see them are costly, and they don't offer most dental treatments.
It would be better to have the option of returning to land on a semi-regular basis to see a doctor and dentist, where prices will be lower.
If you intend to eat in the cruise ship restaurants, remember that they are aimed at vacation guests, and so meals will be richer and higher in calories than a regular diet may be. You might need to be careful with your meal choices, and you'll want to make sure you visit the gym regularly, or find other ways to stay active.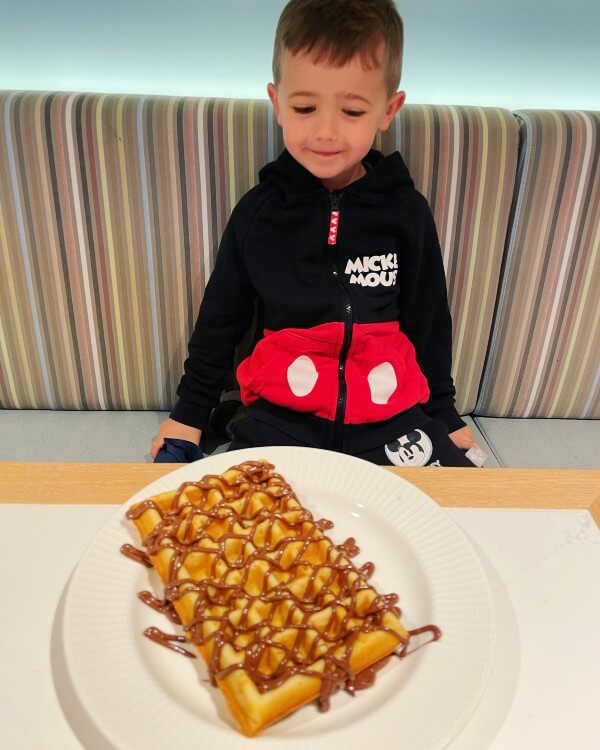 4. Mail
A minor consideration, but if you sail on a cruise ship, receiving mail isn't as easy as it would be at home. It is possible for someone to write to you at a cruise port via the port agency, but this requires you to reach an agreement for them to hold your mail.
It may be better to have a post box somewhere that you visit regularly – essentially, set up a home port where you can visit medical services and pick up any mail that you need.
FAQs About Living On A Cruise Ship
Is there a cruise ship you can live on?
There are several cruise ships designed for permanent living. The World is the only one sailing currently but more are coming soon – though you need to be flexible on dates, as launches are often postponed.
How much does it cost to live on a cruise ship for a month?
Living on a cruise ship costs between $2,800 and $6,000 per month for most mainstream cruise lines, including drinks packages and WiFi. Luxury cruise lines can cost more, up to $40,000 per month for a typical suite. 
How much does it cost to retire and live on a cruise ship?
You can retire and live on a cruise ship from $2,500 per month, if you choose world cruise itineraries on the cheapest ship options. Choosing other long-term residential cruises, or back-to-back cruises that include drinks and internet access, can cost a lot more than this.
The Bottom Line
That's a lot of information, but considering how we're talking about as big a decision as living your life on a cruise ship, there's always going to be a ton of information you need.
Is it realistic? Yes, it clearly is since others have done it, but it's not something you can do without having some decent savings.
You'll need at least $3,000 a month on most cruises, often more, and that's per person – if you want to live solo then costs may be inflated as well, so bear that in mind.
The best option is to choose one of the specialist cruises aimed at residential guests – such as the MV Narrative from Storylines. These offer the comfort of a long-term solution, while being more affordable than the ultra-luxury MS The World. 
It's definitely a tempting way of living out your retirement, with the chance to be cooked for and pampered while being whisked around the world. Are you considering it?
NEW DEALS JUST RELEASED!
Don't miss these hot cruise offers…
Related Posts: