One of the most important measures of any ship is the draft. Knowing the draft means knowing which parts of the ocean a ship can sail in, and which may cause it to crash.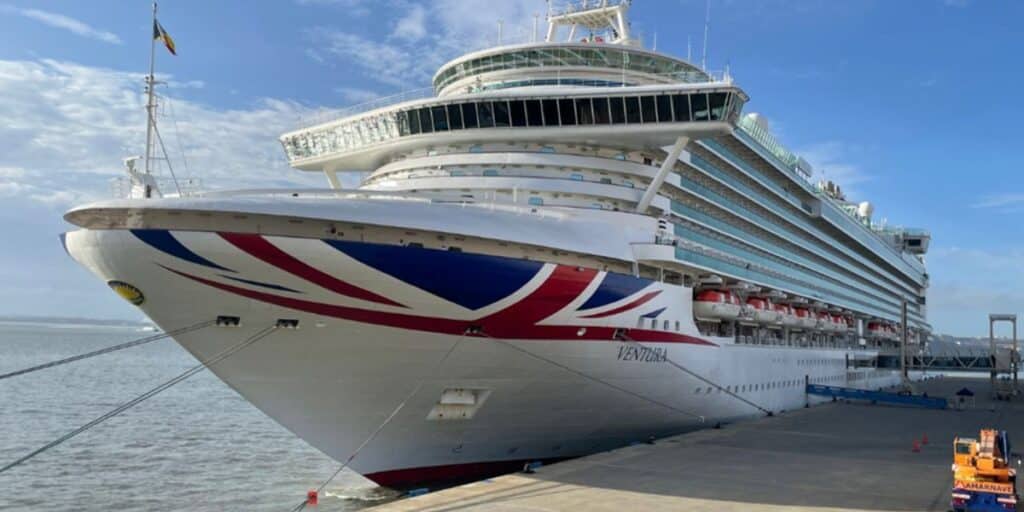 But if you're not familiar with nautical terms, you might not know what the draft refers to. So, what is draft, how is it measured, and why does it matter?
And what's the typical draft of a cruise ship?
To learn all of this, I spoke to a cruise ship pilot, who explained the facts to me.
Let's find out…
What does draft mean?
The draft measurement for a ship refers to the distance from the waterline to the very bottom of the ship – in other words, a measurement of how much of the ship is underwater at any time. The draft can vary depending on the weight of the ship at the time, due to increased displacement.
As such, if you see any advertised draft figures of a cruise ship (like those I've included below), these will be the maximum draft – the largest distance possible for that ship from the waterline to the bottom of the ship when at maximum weight capacity.
Ships don't sit on top of the water. If they did, they would tip over! Instead, they float on the waves with a significant portion of the boat constantly below the waterline – and it's the depth of this which is measured as the draft.
Read more: How Do Cruise Ships Float And Not Tip Over?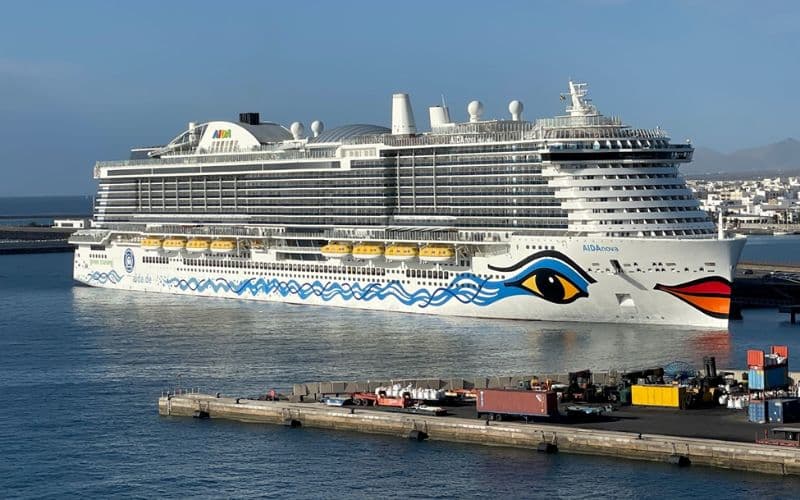 On a cruise ship, the factor which impacts the draft of the ship the most is the fuel weight. Even on the largest ships, the passenger capacity doesn't have as much of a difference on the draft as the fuel weight.
As a guide – the average American weighs 80kg. So on a cruise ship like the Wonder of the Seas, which might carry 8,000 people including guests and crew, that's a weight of 640,000kg or 640 tonnes.
A cruise ship will use between 150 and 250 tonnes of fuel per day and will have a carrying capacity of between 2,500 and 5,000 tonnes of fuel. So the fuel definitely has more of an impact on the draft of a ship.
What is the average draft of a cruise ship?
The average draft of a cruise ship is around 21 feet or 6.4 metres. Larger ships do tend to have a bigger draft, but it's not directly proportional to the length or the gross tonnage – the biggest cruise ships don't have the largest draft.
I've looked at almost 400 cruise ships sailing the ocean so this is a pretty solid average – in fact around 55% had a larger draft than 21 feet and 45% had a smaller draft, so it's close to the median value as well.
It's a little skewed because some of the smallest ships have a tiny draft, including the National Geographic Sea Bird which has the smallest draft of all cruise ships – just 1 foot, or 0.3 metres.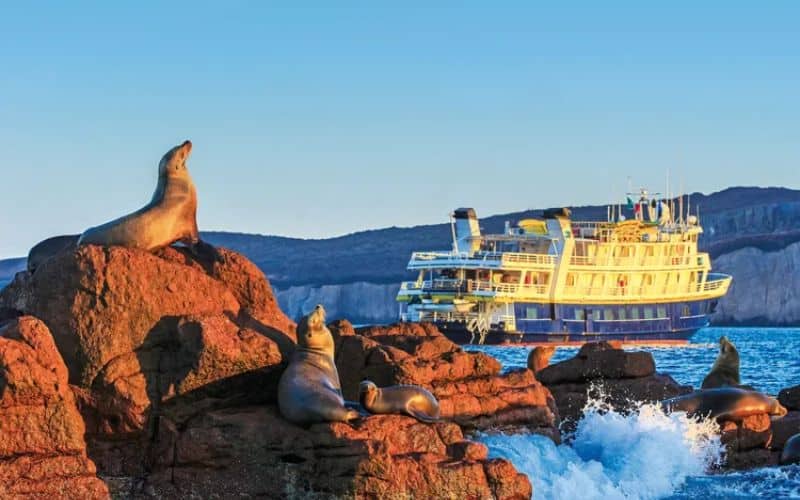 This of course makes it an excellent choice for exploring parts of the world where the water isn't very deep.
What is the deepest cruise ship draft?
The deepest cruise ship draft is 32.81 feet, or 10 metres, and it belongs to the Queen Mary 2 – one of the classic ocean liners of the Cunard fleet of ships. The Oasis-class ships for Royal Caribbean also have a large draft measuring 30.58 feet or 9.3 metres.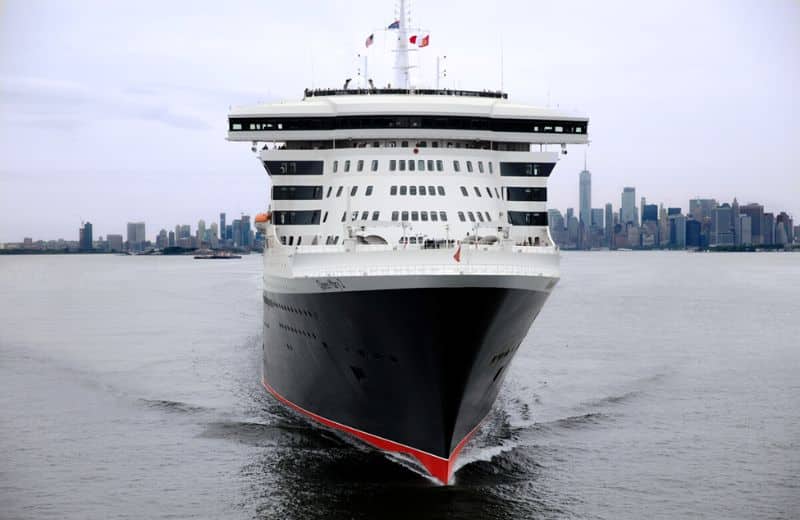 Again though, it isn't just the largest ships that have the biggest drafts. Indeed some smaller Royal Caribbean ships (Voyager of the Seas, Navigator of the Seas) have bigger drafts than some of their more recent and larger sisters, such as Freedom of the Seas or Anthem of the Seas.
How is draft measured?
Draft is typically measured in feet, and is tracked using markers on the ship. You can see them a little above the waterline normally – they're a series of small lines that will be repeated at the bow, the middle of the ship and the aft.
They're also repeated on both the port and starboard sides, so whenever you get off the ship you should be able to see the markers – just look towards the waterline.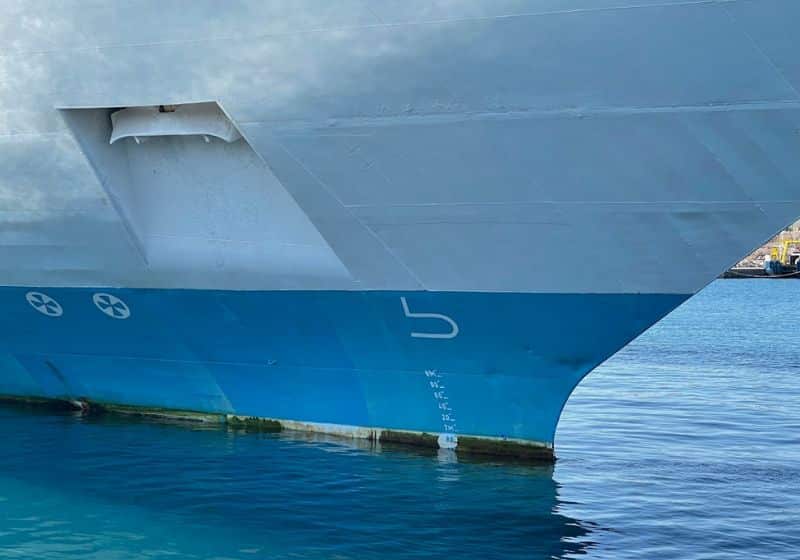 Depending on the stage of your cruise, you might notice a couple of different colours towards the waterline. Typically the part of the ship below the water is painted a different colour to the rest of the ship, but there's usually a mark left by the water too – especially on older ships.
So when you're in the latter stages of your cruise and fuel is running less, and people have left the ship for a port day, you might spot the typical draft on the ship from the dock, in the form of a mark left by the water when she is cruising with her normal weight.
Why draft matters
All very interesting so far, if you're really into the measurements of ships at least. But why is draft important?
You can probably guess – the draft of a ship determines which ports of call it is able to visit. It's not the only factor – length and width do come into consideration too.
But draft is the most important. The draft of the ship will prevent it from reaching some ports which stand in more shallow water, and that's when a ship might need to anchor further out to sea and offer tender boats to the port.
How shallow can a cruise ship go?
A cruise ship can go into any water that is deeper than its maximum draft. So for the average cruise ship, with a draft of around 21 feet of water, it can go into waters that are 21 feet deep or more. With cruise ships having varying drafts, some ships can go into shallow waters that others can't.
There isn't really any need for water to be additionally deep – the draught of the ship is the measurement of how deep the ship can go. But the depth of waters around ports is accessible information and so cruise itineraries are planned with this in mind – ships will only safely sail into ports that are deep enough.
There may be some times when a ship has to take a certain route into port – there may be land masses below the water that are inconsistent, or rocks, and ships may need to navigate around them.
Reassuringly, every time a cruise ship arrives in port it is joined by a pilot – an expert in the port itself, who will board the cruise ship from their pilot boat and help the crew to navigate the waters safely.
And of course, the cruise ships have all the best equipment and technology for detecting water depth too.
Read more: What Is A Ship Pilot And What Do They Do?
Table of Cruise Ship Drafts
Here's a look at some cruise ship drafts. I've included some of the most popular cruise ships in the world, as well as a handful of smaller ships that might be of interest based on their draft size.
I've not included every ship in this table – it'd be giant if I did – so I've instead picked out examples of ships within different classes for each cruise line, to help demonstrate the example draft and show how larger ships aren't always those with a larger draft.
| Ship name | Cruise line | Size (GT Tonnage) | Draft (Feet) |
| --- | --- | --- | --- |
| National Geographic Sea Bird | Lindblad Expeditions | 630 | 1 |
| Celebrity Xploration | Celebrity Cruises (Celebrity Expeditions) | 319 | 4.59 |
| MSC Virtuosa | MSC Cruises | 177,100 | 9.51 |
| Norwegian Encore | NCL | 167,800 | 9.51 |
| Iona | P&O | 184,700 | 9.51 |
| Scenic Eclipse 2 | Scenic Ocean Cruises | 16,500 | 9.51 |
| Silver Moon | Silversea Cruises | 40,700 | 9.51 |
| SeaDream I | SeaDream Yacht Club | 4,333 | 13.12 |
| Silver Galapagos | Silversea Cruises | 4,077 | 13.12 |
| Wind Star | Windstar Cruises | 5,397 | 13.48 |
| Braemar | Fred. Olsen | 24,344 | 17.75 |
| Azamara Journey | Azamara Cruises | 30,277 | 19.52 |
| Oceania Regatta | Oceania Cruises | 30,277 | 19.52 |
| Seabourn Odyssey | Seabourn | 32,346 | 19.69 |
| Viking Sky | Viking Ocean Cruises | 47,800 | 20.67 |
| Seabourn Encore | Seabourn | 40,350 | 22.31 |
| Seven Seas Explorer | Regent Seven Seas Cruises | 56,000 | 23.62 |
| Britannia | P&O | 143,730 | 24.61 |
| Carnival Pride | Carnival | 85,920 | 26.25 |
| Celebrity Infinity | Celebrity Cruises | 90,940 | 26.25 |
| MS Eurodam | Holland America Line | 86,273 | 26.25 |
| Oceania Marina | Oceania Cruises | 66,084 | 26.25 |
| Costa Luminosa | Costa Cruises | 92,720 | 26.56 |
| Disney Fantasy | Disney Cruise Line | 129,750 | 27.3 |
| Sky Princess | Princess Cruises | 143,700 | 28 |
| Norwegian Breakaway | NCL | 145,655 | 28.22 |
| MSC Seaside | MSC Cruises | 152,050 | 28.87 |
| Anthem of the Seas | Royal Caribbean | 167,800 | 28.87 |
| Crown Princess | Princess Cruises | 113,561 | 29.53 |
| Navigator Of The Seas | Royal Caribbean | 139,570 | 30 |
| Harmony Of The Seas | Royal Caribbean | 227,000 | 30.58 |
| Queen Mary 2 | Cunard Line | 148,528 | 32.81 |
Final word
It's pretty obvious to understand why some cruise ships can't access certain ports, but now you know the answer in a little more detail.
And especially when you look at that table above and see how some tiny ships have quite large drafts, and some larger ships don't extend too far into the water, you might now realise that there are some bigger ships which can access ports which might be surprising – and you'll know why.
At the very least, I bet you'll be looking for the draft markings on your ship the next time you cruise!
Related Posts