Choosing your cabin for a cruise isn't just about selecting between an interior, oceanview, balcony or suite – you also need to think about which deck you want to stay on.
And that's if you get a choice – if you've booked a 'guarantee cabin', then the cruise line will choose it for you.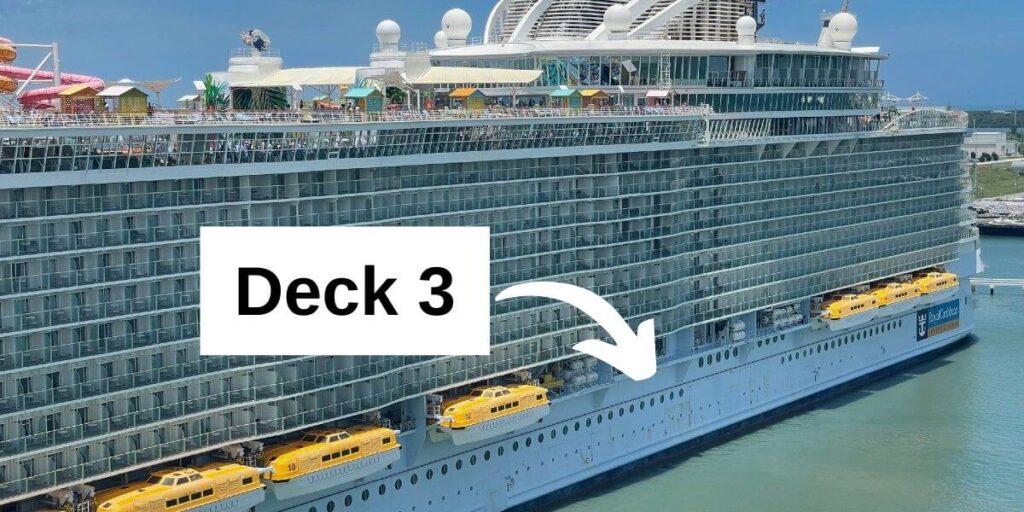 But whether you're making your mind up yourself, or you've been assigned a cabin and you want to know more about it before you sail, it can be good to understand whether your deck is a good one – or a bad one.
Let's find out if Deck 3 falls into the latter category…
Where is Deck 3 on a cruise ship?
Cruise ships number their decks ascending from the bottom of the ship, so Deck 3 is the third-lowest deck on the ship. This usually puts it around the waterline, or just above. It's often the lowest accessible deck on a cruise ship for passengers.
Most cruise lines will number every deck on the ship, meaning the very lowest is Deck 1. But guests typically only access the Decks from Deck 3 and above, leaving the lower decks to the crew and everything behind-the-scenes that keeps the cruise running.
On some ships, guest accommodation begins on Deck 4 and Deck 3 is only used for the medical centre and crew accommodation.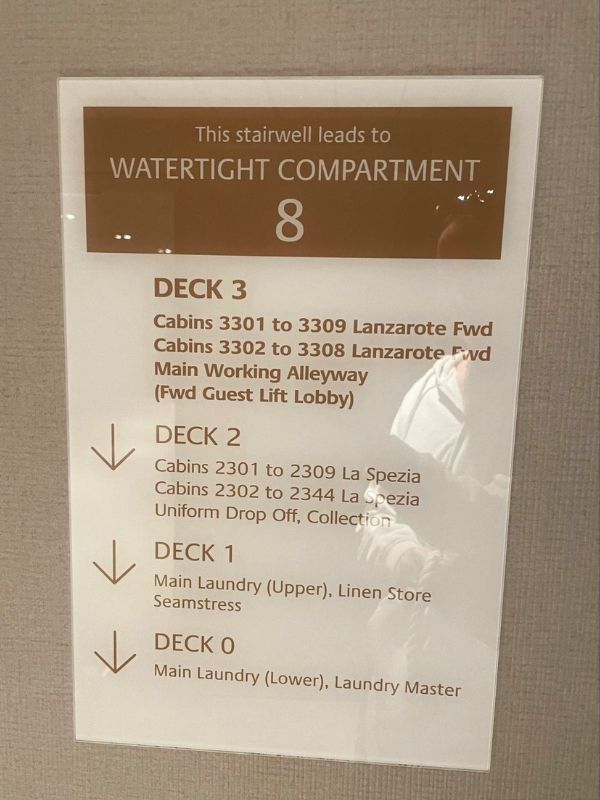 Carnival doesn't number the decks that the crew uses on its ships, so Deck 1 is a passenger-accessible deck.
Disney Cruise Line is similar, except that Deck 1 has just a few staterooms for passengers, everything else is for the crew or the workings of the ship.
Deck 3 is normally close to the engines of the ship, but it depends on where about on Deck 3 you are. The staterooms on Deck 3 might be restricted to the front of the ship, while the engines are closer to the aft.
Is Deck 3 on a cruise ship good or bad?
Most people avoid Deck 3 on a cruise ship when they can – the rooms will either be Inside or Oceanview only, and they can be smaller and in a noisier part of the ship. They're also the furthest from the pools and other outdoor facilities. However, some people do enjoy the seclusion of Deck 3.
Whether a deck is bad or good depends entirely on your opinion. There are a number of factors that affect whether you'd consider a deck to be a good choice, but they're all subjective to the person.
Here are some things to think about if you're considering a cabin on Deck 3…
1. Seasickness
Seasickness is often a major concern for cruise ship passengers, especially those who suffer from motion sickness and are taking their first cruise.
Generally, the best advice for anyone who might suffer from seasickness is to choose a lower deck, nearer the waterline. You'll feel the movement of the ship less here.
So for those people, Deck 3 might be perfect, especially an Oceanview cabin where you can pick a point on the horizon to focus on – that can also help.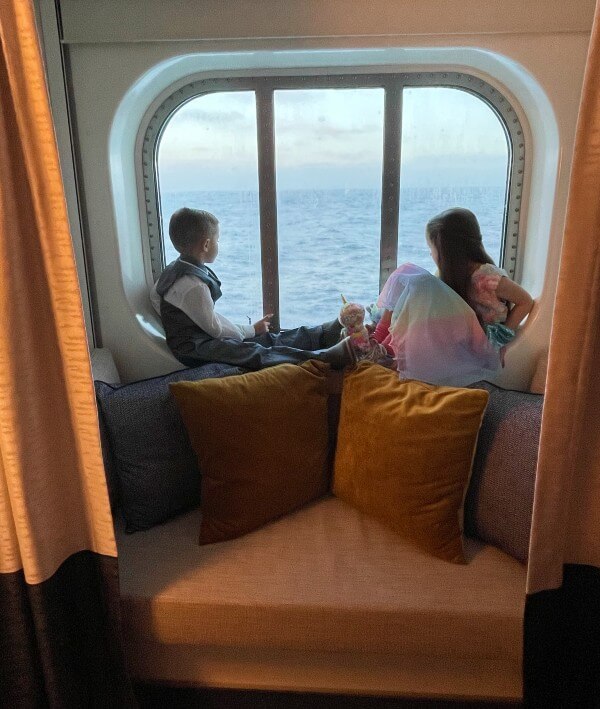 2. Noise
Noise is another major concern for cruisers, and for some people, Deck 3 might be a bit too noisy.
The rooms will be close to the engines so you might hear (and feel) them, especially as the ship manoeuvres into port. It's also close to cabin quarters and the parts of the ship used to move supplies around, so there can be a lot of activity going on around you.
3. Distance
On most cruise ships, the restaurants, shops and kids clubs are on lower decks – often Decks 4 to 6 – while the swimming pools, and any sporting facilities are on the higher decks.
Bear in mind that the biggest ships have as many as 20 decks, so from Deck 3 that could be 17 floors you need to travel in order to get to some of the facilities! If you've ever walked up 17 decks in one go, you'll see why this is something that even the fittest people choose to take the lift for.
4. View
Don't forget about the view. Sure, the view from an Oceanview cabin on Deck 3 will be pleasant, but you'll get a much better view from a Balcony stateroom higher up the ship.
Of course, there are always the other outdoor parts of the ship where you can go if you want the view.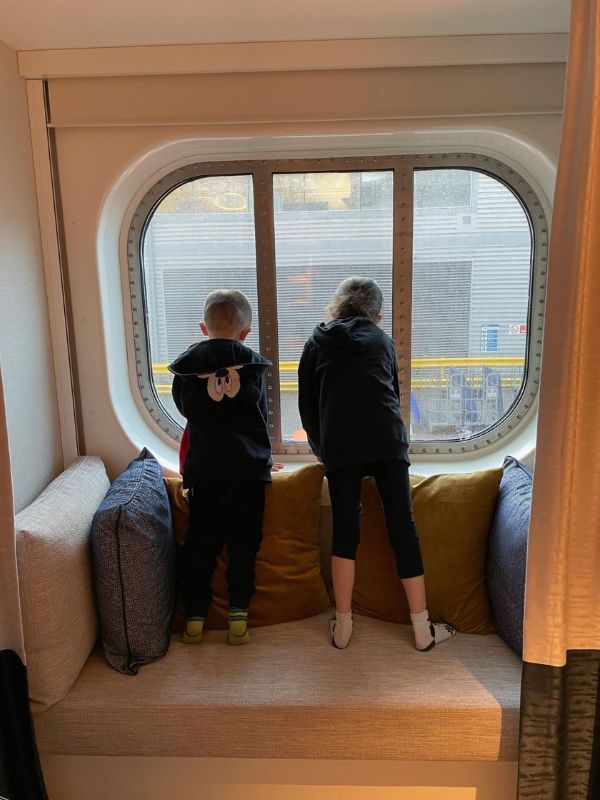 So unless you're a motion sickness sufferer, why would you consider Deck 3 if given the choice?
5. Cost
Well, cost is another major consideration. Deck 3 cabins, since they tend to be noisier and further from some facilities, so may be a lot cheaper than those higher up the ship.
If you're a heavy sleeper or don't mind a queue for the elevators, you can save a lot of money.
Remember that these factors will all be influenced by the ship too. Some won't even have accommodation on Deck 3, but instead, that'll be where the dining rooms and bars are located.
So, always check the deck plans. And check Decks 2 and 4 to see what's above and below so you know what sounds you might hear.
And you can always use my cabin checklist to make sure you get the best stateroom every time, too. Leave your email below and it will be sent straight to your inbox.
What deck level is best on a cruise ship?
There isn't a single best deck on a cruise ship, though most people prefer a mid-ship location with cabins above and below, since those tend to be the least noisy and they're roughly an equal distance from all the facilities on the ship.
There's a lot to bear in mind – whether people can see into your stateroom from a promenade, or how close you are to laundry facilities or elevators (where there may be a lot of people walking right outside, sometimes late into the night).
Read my guide on the best deck on a cruise ship to help you make up your own mind.
Related Posts: