Choosing your cabin for a cruise is never an easy job, unless you're just deciding on the very best suite available. Usually, you've got a huge selection of inside, oceanview and balcony cabins to select from, along with various suites.
And then once you've chosen the stateroom type, you either then have your cabin assigned, or you choose your own – and that's when you'll know which deck you're on.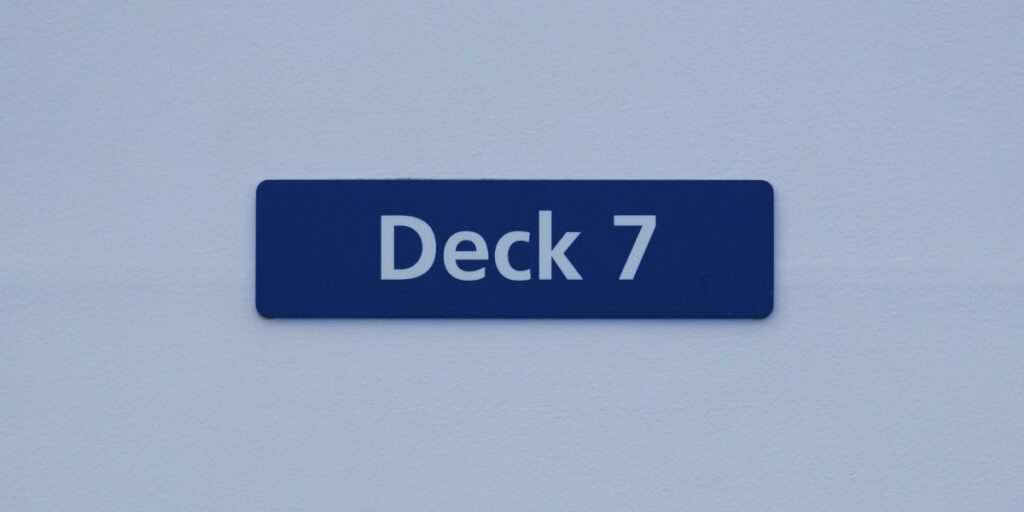 If you've ended up with a cabin on Deck 7, you might want to know more about it…
Is it a good location, how close is it to the rest of the facilities you'll be using and so on. So, let's find out.
Where is Deck 7 on a cruise ship?
On most cruise ships, Deck 7 is situated around the middle of the ship, but it varies depending on the ship in question – on the biggest ships in the world, it's in the lower half of the ship, but still well above the waterline.
Cruise ships always number their decks in ascending order – so Deck 1 will either be the lowest deck on the ship, or the lowest one that guests can access. Some cruise lines don't number the lowest decks used by crew.
On many cruise ships, the decks have names, but they will have numbers as well.
So, Deck 7 is the seventh deck from the bottom of the ship. Smaller cruise ships will usually have around 11 or 12 decks in total, so the seventh deck is a little above the midpoint of the ship.
But the biggest cruise ships in the world – like Icon of the Seas – have 20 or so decks, meaning the seventh is below the midpoint.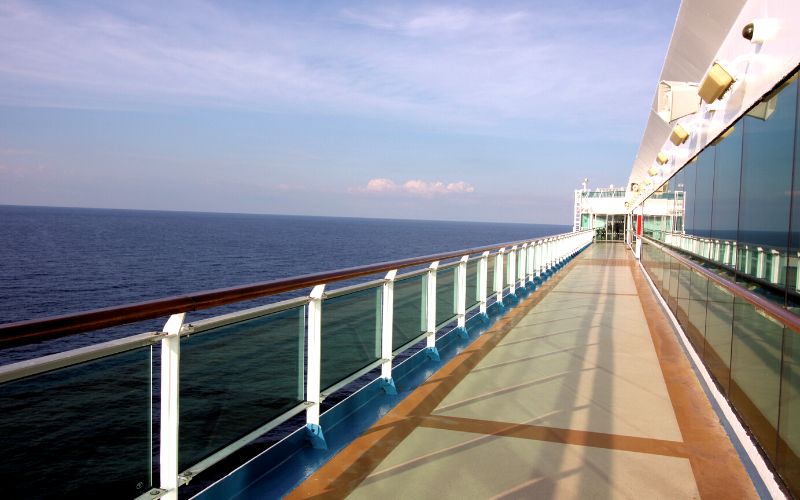 Is Deck 7 on a cruise ship good or bad?
Generally, Deck 7 is considered a good deck to have a cruise cabin, but it will depend on the ship. Deck 7 is normally roughly the same distance between the dining rooms and the pool decks, and it is normally surrounded by cabins above and below.
The question really depends on what you view as being a good deck, because not everyone is the same. There are a few different factors to consider.
1. Noise
Typically, cruise ships are fairly well insulated, but sound can travel and any noise will sound worse for those staterooms located either directly above or below a noisy location.
Savvy cruisers will avoid cabins above the nightclub, or right under the pool deck where people like to scrape a lounger across the floor at 6 am.
The quietest staterooms are those with other staterooms directly above and below. On most cruise ships that'll be the case for Deck 7, but you'll need to check the deck plan yourself to make sure.
2. Distance
Next, there's the distance to consider. Typically, on a cruise ship, most of the restaurants, shops, spas and kids clubs – what you'd consider to be the 'indoor' activities – are on a lower deck, while the swimming pools, sunbathing areas and sporting facilities are on the upper decks.
Deck 7 is therefore a good choice if you're someone who'll make use of everything since you're usually roughly an equal distance from most areas of the ship.
But really, as long as you don't mind using elevators, the deck doesn't matter. What's more important is whether your cabin is midship or not.
If it's right at the front or the aft, then you may find yourself with a long way to walk to get to where you want to be.
3. Movement
The other thing to consider is whether you're worried about seasickness. People who suffer from seasickness tend to fare better on a lower deck, because you won't feel the side-to-side movement of the ship quite as much.
Deck 7 is therefore an OK choice, and on larger ships should be fine. On smaller cruise ships where Deck 7 is above the midpoint of the whole ship, those who suffer badly from seasickness might have an easier time on a lower deck. Especially as smaller ships tend to feel the motion more anyway.
Ultimately, the best way to judge whether Deck 7 is a good deck is to look at the deck plans for your ship and check what's nearby and what's above and below.
If you're not sure what you're looking for, grab a copy of my free checklist and you'll get all the info you need to help you pick the best stateroom…
What deck level is best on a cruise ship?
There is no single best deck on a cruise ship, because it depends on what you want from your cruise. The best decks for those with motion sickness are lower decks, while the higher decks offer a better view, and are close to the pool if you want to relax poolside all day.
As long as you're careful to avoid the worst decks – those directly below the Lido, or above a nightclub, or any that have views on the inner or outer promenade where people could see into your room – you'll normally have a great cruise. And even those rooms don't bother some people.
I've written a guide on the best deck on a cruise ship to help you make your mind up – but once you've cruised a couple of times, you'll start to get your own preferences too.
Related Posts: