Celebrity Cruises offers a number of different options when it comes to picking your stateroom – it's not just as simple as deciding on whether you want an ocean view or a balcony.
As well as the different room types, there are various sub-classes with additional benefits. One of these is the AquaClass, a variant of the Balcony Staterooms.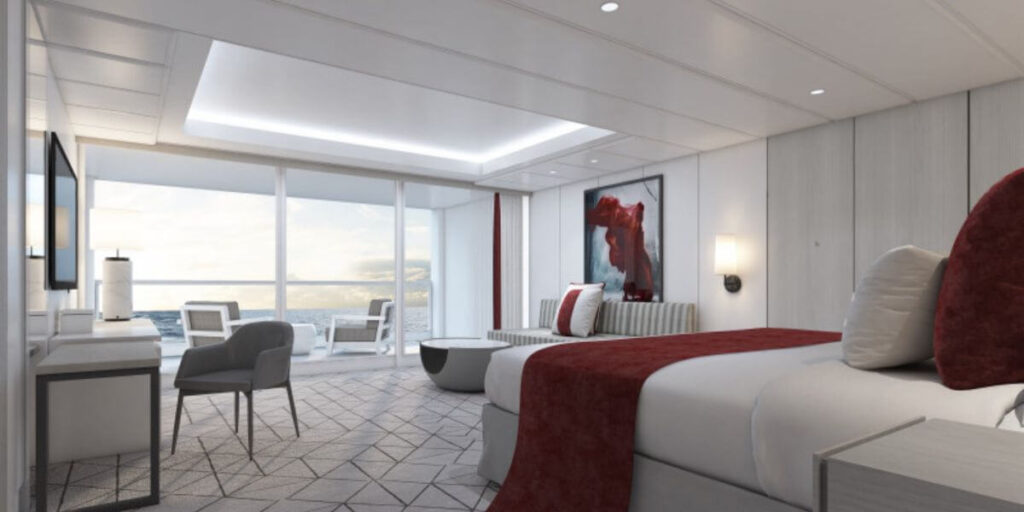 So, what do you get if you upgrade to the Celebrity Cruise Aqua Class rooms, and is it worth it? Let's find out…
What Is Aqua Class on Celebrity Cruises?
AquaClass is an accommodation option on Celebrity Cruises that consists of a Veranda Stateroom and a number of extra perks. The size of the staterooms are similar to regular balcony room, but they're usually furnished in lighter colours to accentuate that refreshing spa feel.
AquaClass is considered to be two steps up from a regular Veranda Stateroom, and one step up from Concierge Class. They're essentially a premium sub-class of Veranda, rather than being considered a completely different type of cabin.
If you did want more space than a regular Veranda Stateroom, then you'll instead need to look at the Suites that are available. These are much roomier and come with a lot of additional benefits. But they're also more expensive again. 
If you're happy with the space offered by a Veranda Stateroom but want something a little more special, that's where Aqua Class could be ideal.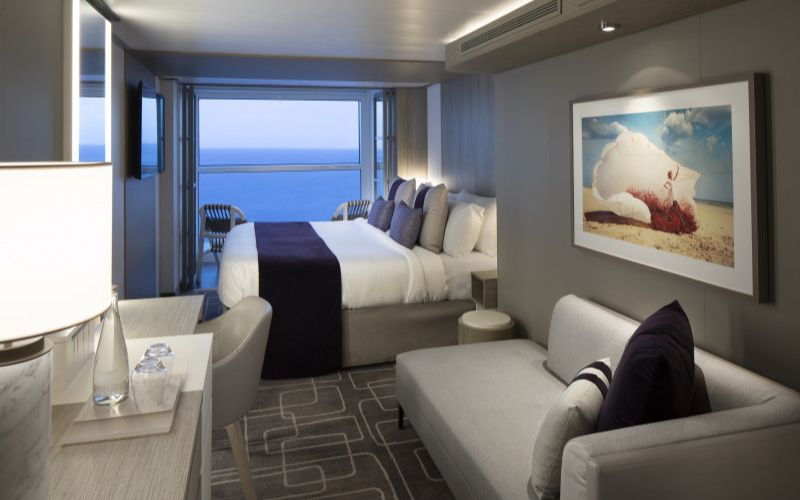 What Does Celebrity Aqua Class Include?
AquaClass guests on a Celebrity Cruise enjoy an overall wellness experience, including extra perks in the stateroom, access to the onboard spa areas, a complimentary wellness consultation, and exclusive access to the Blu restaurant, among other perks. 
There's a lot that you get, so let's take a closer look at all of the Aqua Class Celebrity benefits…
1. Spa Access
One of the main reasons to choose an AquaClass stateroom is to enjoy the benefits of the onboard spa areas. Each of the AquaClass staterooms is situated closer to the spa because, while they're all about healthy living, that doesn't mean the inconvenience of walking a long distance to get there!
If you're on an Edge-Class ship, you'll enjoy access to the SEA Thermal Suite. On Millennium and Solstice Class ships, you can instead get into the Persian Garden, with Solstice Class ships also having the Relaxation Room.
To be clear, your treatments aren't included – just access to the spas and relaxation areas in these areas of the ship.
But you will also get a wellness consultation with a spa concierge who can recommend treatments for you. You also get priority reservations at the spa, so you can secure your favourite treatments before those slots book up.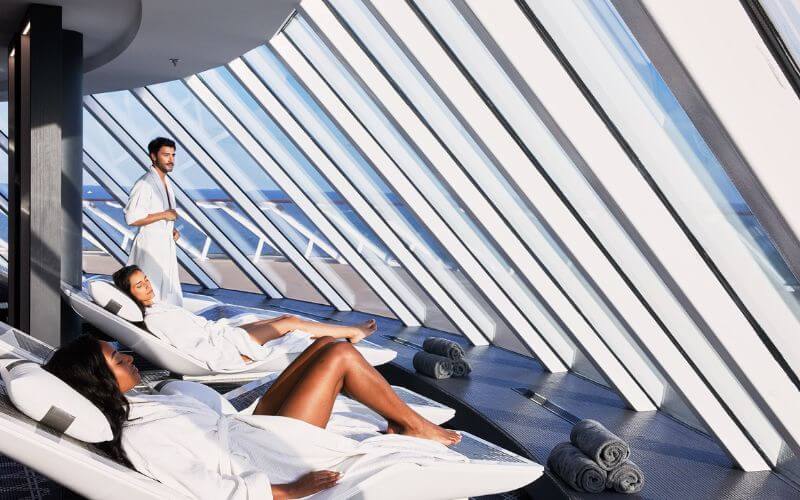 2. Blu Restaurant
The Blu restaurant on a Celebrity ship is for the exclusive use of AquaClass guests. Suite guests can use the restaurant, but only if there is space available – AquaClass guests get priority. Suite guests do have their own restaurant anyway.
The restaurant is open for breakfast and dinner. It offers a more intimate setting with 'cleaner' cuisine.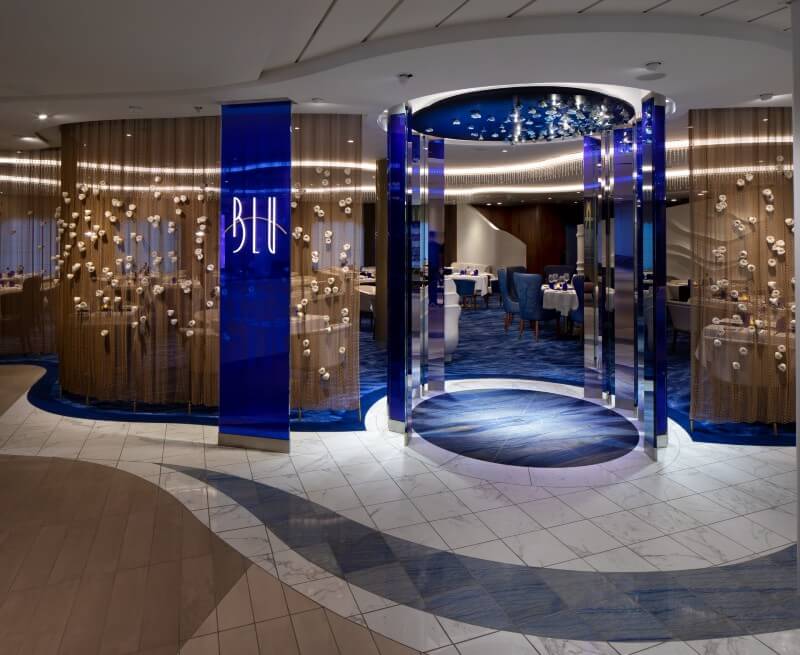 You don't have to make reservations to dine at Blu, but you can arrange them if you're planning on dining with a group of six or more people, just to ensure there's a suitable table available for you.
Here's a look at an example menu that you can enjoy at Blu when you're an AquaClass guest: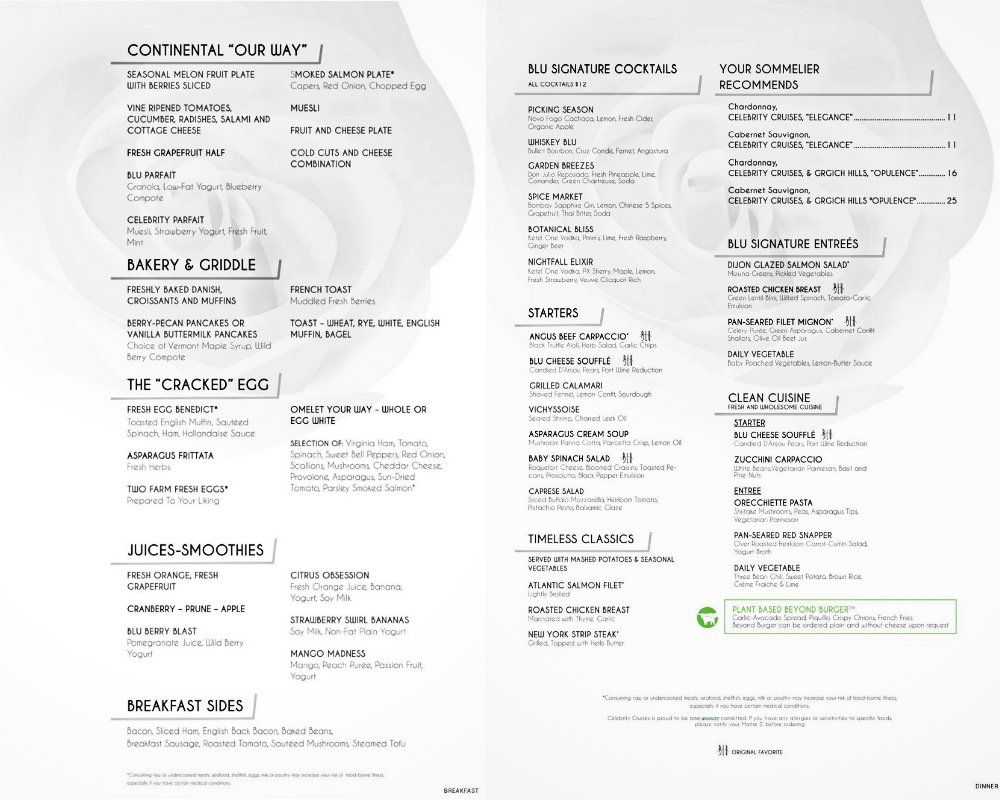 3. Stateroom Enhancements
There are a few extra touches that help to differentiate the AquaClass staterooms and make them feel like they are designed for cleaner, healthier living.
For a start, your shower has an extra panel with massaging water jets. And the entire stateroom comes with an enhanced air filtration system so that you're breathing the freshest, cleanest air on the ship!
It's not like unclean air is a problem anywhere else on the ship, but it sounds good, at least.
But if you want to make that air a little less pure, you also get an aromatherapy diffuser included in your room. Fancy!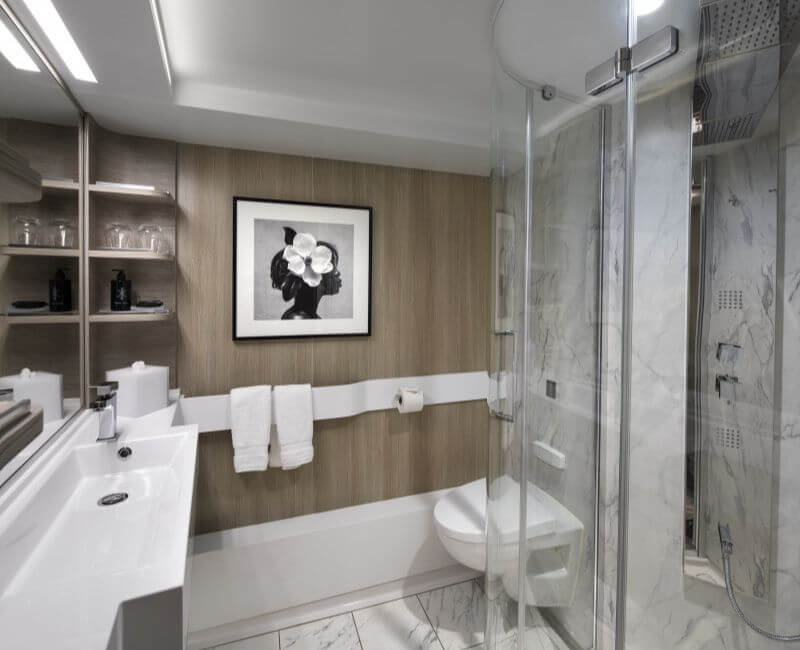 4. Priority Embarkation and Debarkation
Guests who book an AquaClass stateroom will be able to board the ship as a priority rather than queuing with the masses.
This is a perk that's shared with Concierge Class guests and above, so you won't necessarily be the very first people onto the ship, and there may still be a small element of waiting. But it'll be much faster than if you were in a standard Veranda Stateroom or below, which most people will be.
You don't just get to feel like a VIP when you get on the ship for the first time either – as you also get priority debarkation at the end of your cruise as well. That may not sound like much of a perk – leaving the ship before other guests – but you'll appreciate being able to beat the rush of the crowds.
And you also get this same perk on shore excursion days. It only works for debarkation, though, as you can't expect to have constant priority returns to the ship throughout the day.
Still, it means you can have more time to explore the ports that you visit, and return at your leisure.
5. Canapes and Sparkling Wine On Request
A perk that is available for Concierge Class guests and above – therefore including AquaClass guests – is the option to request canapes in your stateroom every afternoon. They're a great luxury snack if you can't quite wait until dinner.
Need a drink to wash them down? Sparkling wine is also available as a complimentary option on request.
6. Pillow Menu
As part of getting the healthiest, best night's sleep possible, all guests in AquaClass staterooms are able to choose from a menu of pillows.
If you have a particular need, or you just want to try out other pillow choices to find the one that feels most comfortable, it may be worth consulting the menu to see which one fits you best.
The options include:
Goose down pillow
Body pillow (feather and down blend)
Conformance pillow (designed to be firmer and offer additional support)
Isotonic pillow (made using synthetic down)
Hypoallergenic pillows (suitable for those sensitive to allergies – no feather or down used)
Tried a pillow and found that it wasn't that comfortable? Just ask for it to be swapped. It's no problem.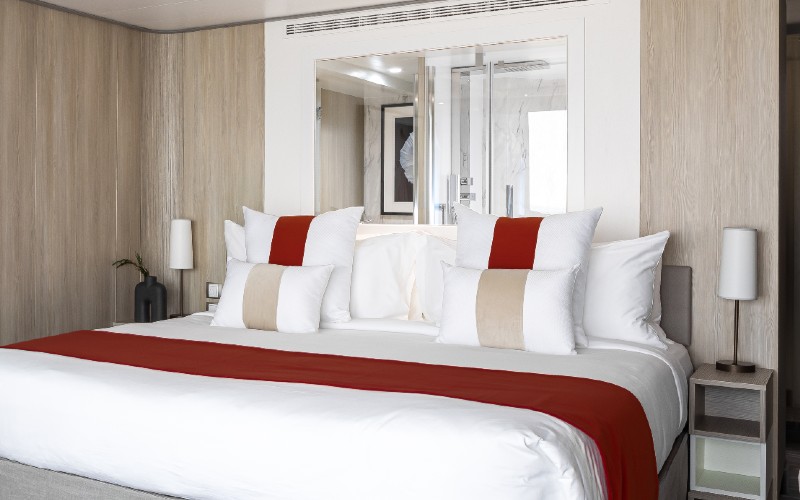 7. Fitness Amenities
While you're staying in an AquaClass stateroom, you're able to make use of a number of extra fitness amenities in your stateroom. You get two yoga mats as standard, but then you can also ask for any of the following to be provided:
Inflatable boxing bag and gloves
Meditation kit with a weighted blanket
Yoga kit with blocks and bolster
Strength and conditioning kit, including medicine ball, dumbbells, resistance bands and more
Recovery kit, including acupressure mat, deep tissue roller and other massage tools
8. Drinks, WiFi and Gratuities Included
This is a pretty hefty perk, but I've included it further down the list for a reason.
With a Celebrity cruise, you have the option of booking a cruise-only fare or choosing an all-inclusive fare that includes a drinks package, your WiFi access and your gratuities.
Not so with the AquaClass, as you get these included as standard.
It's not the amazing perk that it sounds like, though, because you're still paying a much higher price for an AquaClass stateroom. And if you booked a Concierge Class stateroom and paid the extra for this package, the costs would be comparable anyway.
So it's nice not to have to worry about paying for your drinks or tips, but it's not an amazing freebie that you're getting – you're still paying for it.
NEW DEALS JUST RELEASED!
Don't miss the latest Celebrity Cruises offers…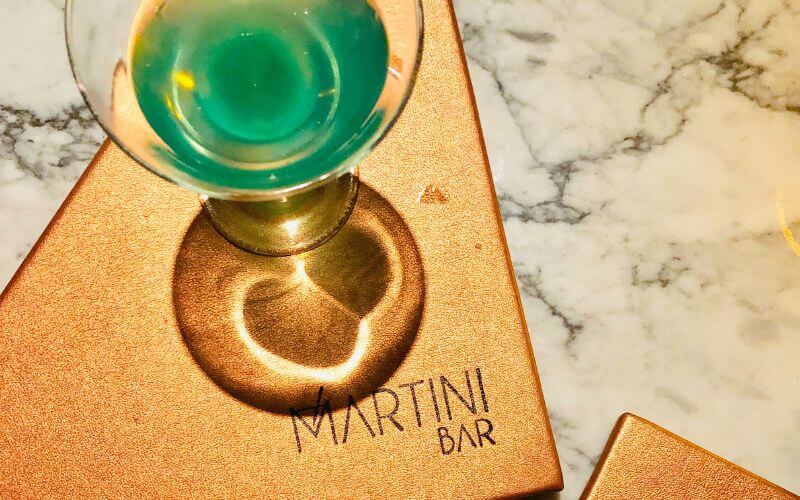 9. Small Added Extras
There are a host of small extras that you also get when booking an AquaClass stateroom that don't justify an entire solo entry on this list, so I've grouped them together here;
Complimentary pair of slippers to use in your stateroom
Use of an umbrella and binoculars during the cruise (but the binoculars must remain on the ship at all times, they can't be used for excursions)
Complimentary shoe-shining service
Extra hairdryer in the stateroom (two instead of the usual one)
Upgraded Hansgrohe rainfall showerhead
Embossed keyholder and tote bag
Is Aqua Class on Celebrity Worth It?
Deciding on whether AquaClass is worth paying for on a Celebrity cruise is very much a personal decision, based on how much you'll benefit from the extra perks. For people who care deeply about fitness and wellness, these rooms offer a special and unique experience.
Typically, you should expect to pay in the region of $600 to $1,000 more per person for an AquaClass stateroom over the cruise-only fare for a Veranda Stateroom. But remember that this includes the cost of your drinks, WiFi and tips.
Depending on your sailing, an AquaClass stateroom might be only a couple of hundred dollars more per person than the equivalent all-inclusive fare in a Veranda Stateroom – and then it is definitely worth considering.
You get a host of additional benefits, so think about how important those are to you. Are you going to make use of them, or would you be better served saving the extra money to put towards something you would be more interested in?
However, no other stateroom at sea offers the same kind of health and wellness experience – from your own consultation to having so much fitness equipment available to use in your stateroom.
Anyone passionate about this sort of lifestyle will struggle to find a cruise accommodation option that is better suited to them.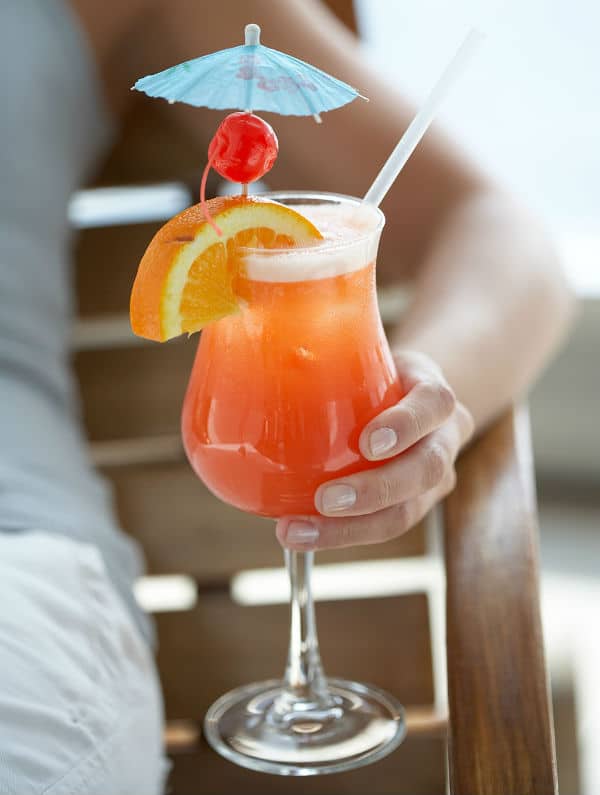 Aqua Class Vs Concierge Class
Concierge Class is considered to be one step below AquaClass. They share many of the same perks, but AquaClass is tailored more to people who enjoy the spa.
Despite being considered a step below, there are a couple of perks that Concierge Class guests enjoy that AquaClass guests don't, including:
An exclusive welcome aboard lunch
Concierge service for help booking dining reservations and entertainment
Priority dining times
Of course, Concierge Class guests don't get access to Blu, or the spas on the ships. Nor do they have access to a spa concierge.
Shared perks that guests of both categories enjoy include:
Priority embarkation and debarkation
Pillow menu
Complimentary canapes and sparkling wine
Little extras in the room*

*To be clear, you don't get the slippers in your room if you're a Concierge Class guest – hopefully, that's not a major issue!
Read more: Celebrity Cruises Concierge Class Benefits
Aqua Class Vs Retreat
The Retreat is Celebrity's Suite class, and it's a ship-within-a-ship concept – the chance for guests to enjoy a number of areas of the ship that are exclusive to them.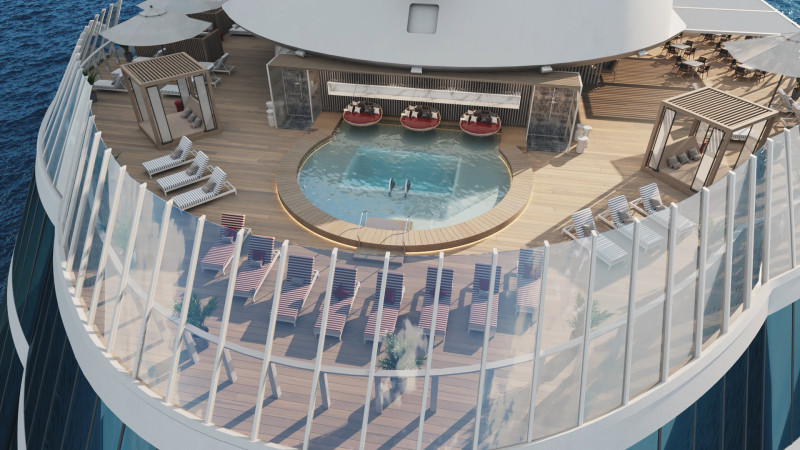 Retreat guests enjoy a number of extra perks above and beyond what AquaClass guests can benefit from, including:
Access to the Luminae Restaurant for breakfast, lunch and dinner
Exclusive lounge access on-board
Exclusive sundeck areas
Dedicated butler service
Shore excursion credit
Full in-suite dining options
Welcome bottle of Champagne or sparkling wine

And because this is the suite class, the rooms are much more spacious too. But the fare difference is substantial – on a typical 7-night cruise, you may pay an extra $1,500 to $2,000 more per person for a Retreat suite than you would for an AquaClass stateroom.
The Bottom Line
If you're someone who intends to spend most of your time poolside or exploring the ports on your cruise, then an AquaClass Stateroom might not be worth the upgrade cost. 
Sure, there are a couple of extra perks that you may enjoy, like priority embarkation and the pillow menu, but if you want to enjoy all that the ship has to offer, then the added cost may not be worthwhile.
But if you like the sound of dining in Blu, or especially if you're someone who cares about fitness and wellness and would love to relax in the SEA Thermal Suite, or workout in the comfort of your own stateroom, then the AquaClass is brilliant.
It's not going to be for everyone, but I'd definitely recommend you consider it as an upgrade – especially on those sailings where it's only a couple of hundred dollars more than an all-inclusive Veranda Stateroom.
NEW DEALS JUST RELEASED!
Don't miss the latest Celebrity Cruises offers…
Related Posts: