Normally when you're booking a cabin on a cruise, the choices are relatively straightforward. You go for an inside if you're on a budget, an oceanview if you need some natural light, a balcony if you want to enjoy the view properly, or you upgrade to a mini-suite or full suite if you want extra amenities.
Things are a little more confusing when you introduce sub-classes, such as the Concierge Class on Celebrity Cruises.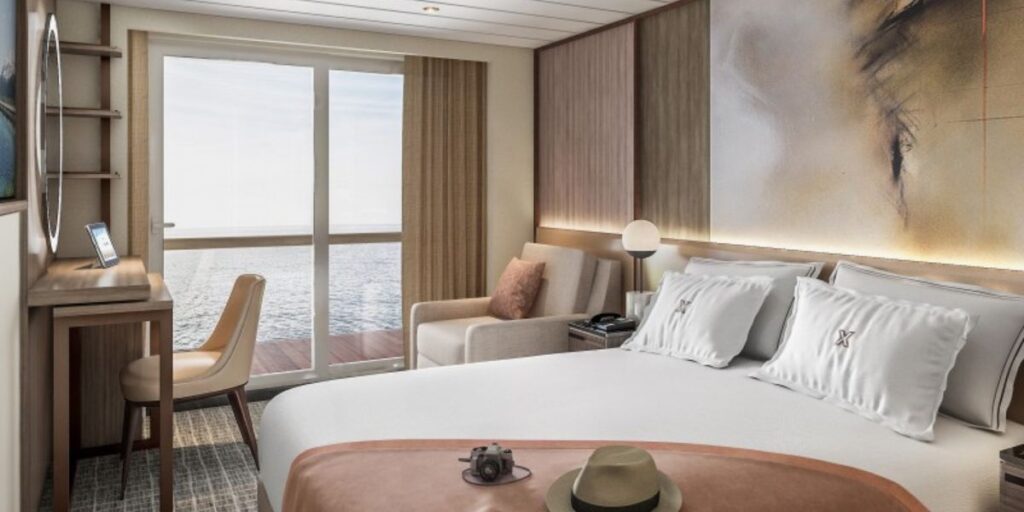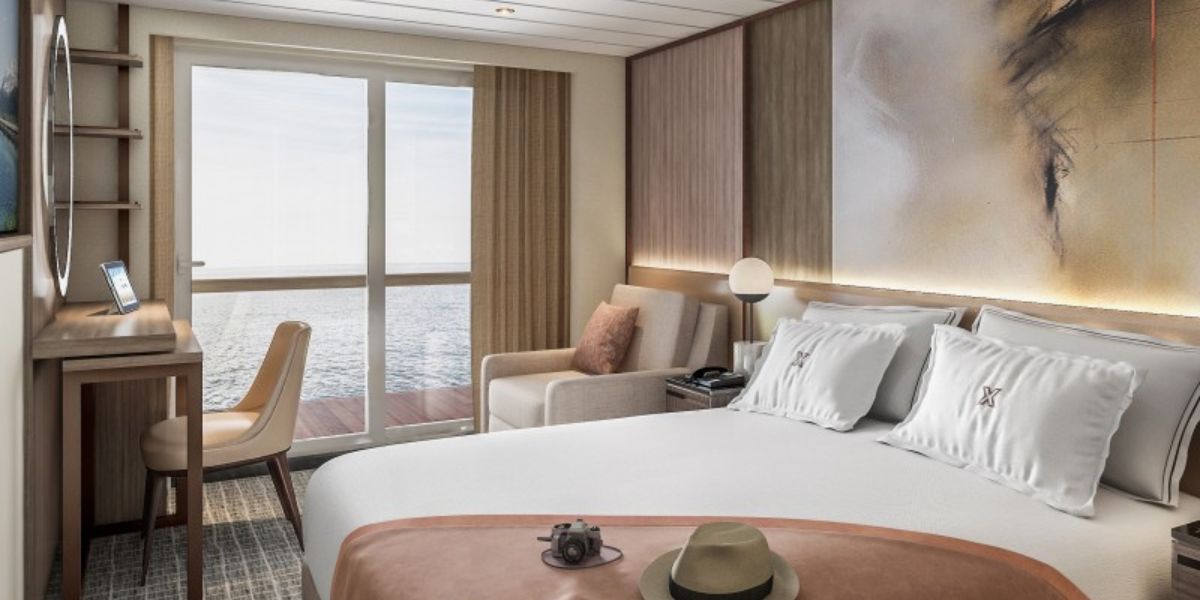 What kind of room do you get, and what does it come with?
Is Concierge Class worth paying for, or is there a better option? Let's take a look.
What is Concierge Class on Celebrity Cruises?
Concierge Class on Celebrity Cruises is a luxury accommodation option that offers a Veranda Stateroom with some additional benefits. The actual room is very similar to a normal Veranda Stateroom, but you get some extra services to add to the overall experience.
Concierge Class is more of a sub-class of the Veranda Stateroom, rather than being its own type of cabin. It sits between the Veranda stateroom options and the Suites.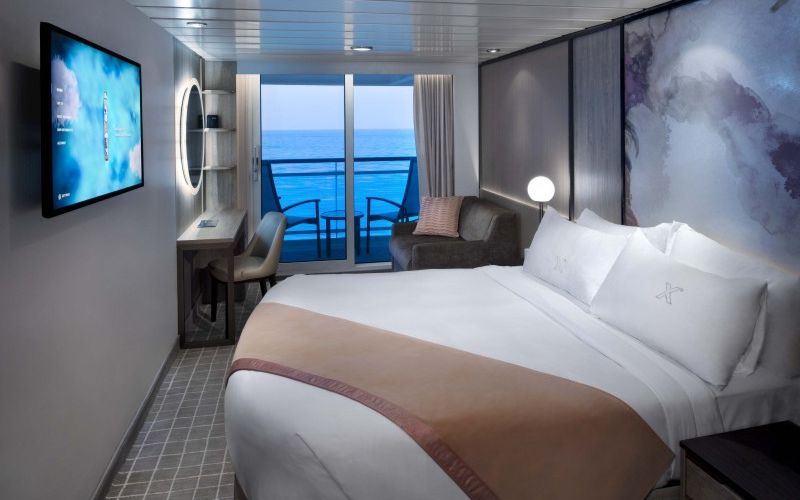 If your priority is having a bigger room, then you might want to see if your budget can stretch to a suite, but if you're happy with the size of a Veranda Stateroom then Concierge Class is worth considering to see if the extra perks make it worth the additional cost.
Now, let's take a closer look at those perks…
What Does Celebrity Concierge Class Include?
On Celebrity cruise ships, Concierge Class guests enjoy priority embarkation and debarkation, including for shore excursions. There's an exclusive lunch on embarkation day, and guests can make use of the Concierge Service throughout their cruise.
There are a few other perks to choosing Concierge Class, so let's take a look at them in turn.
1. Priority Embarkation and Debarkation
Guests who choose a Concierge Class stateroom or above will benefit from priority embarkation and debarkation.
Instead of waiting around, you'll be some of the first people onto the ship, and some of the first off when your cruise is finished. This helps you to beat the crowds, and gives you a warm, fuzzy feeling as you stroll past the hundreds of people who are waiting in line and head straight to the front.
You'll also get priority debarkation on shore excursion days, meaning you'll have more time to explore every port as you aren't waiting your turn to get ashore.
This is particularly important at tender ports, as guests who don't have priority can sometimes have to wait a couple of hours for a boat to become available so that they can leave the ship.
You don't generally get priority when returning to the ship on tender, but it's still a nice benefit to be able to get off the ship a little bit earlier, especially if you're exploring independently and want as much time to look around as possible.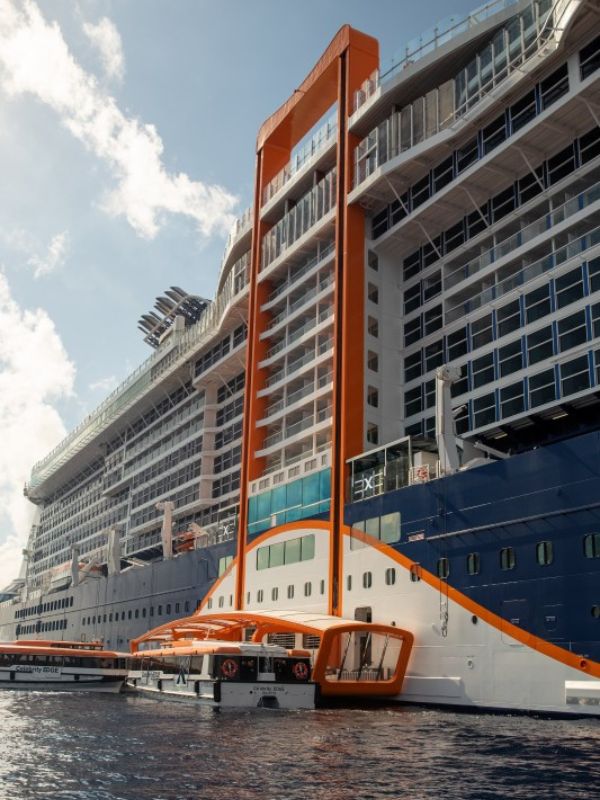 2. Exclusive Lunch
On the first day of your cruise, you'll be invited to an exclusive lunch as part of the Concierge Class.
Instead of joining the rush for the Main Dining Room or the buffet, you'll instead relax with a special menu that includes a creamy butternut soup or Caesar salad starter, and mains like roast salmon, braised short ribs, grilled chicken paillard or whole wheat pasta.
And every cruise needs to start with a good dessert, so choose from chocolate fudge cake with dulce de lech, or a warm apple pie. You also enjoy complimentary red or white wine.
It's a nice touch, helping you get to know the other Concierge Class guests and giving you a peaceful, delicious lunch to start your cruise in style.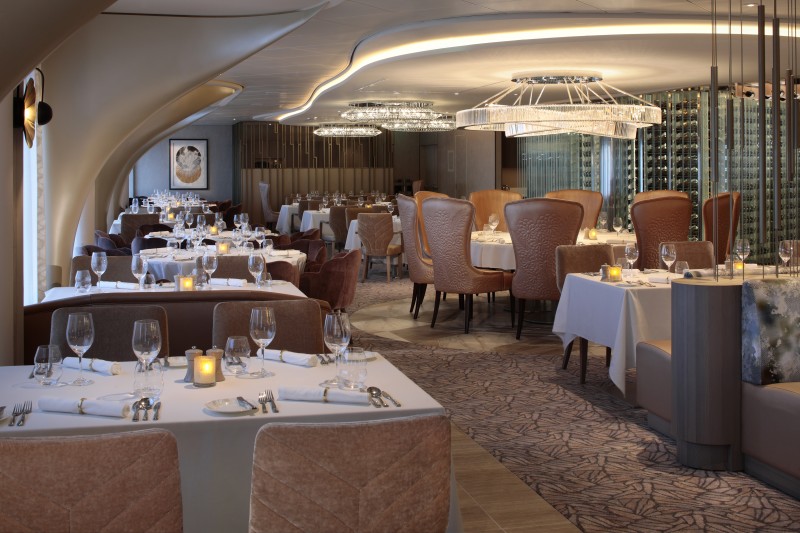 3. Priority Dining Time
Concierge Class guests get priority access when choosing their preferred dining times, helping you to plan your schedule for the day a little better.
If you like to eat early, so you can get the best entertainment seats, or if you prefer your dinner to be the main event of your night a little later on, you'll have first dibs on your party's time.
You also get priority reservations for the speciality restaurants too, so you can enjoy more varied menus at a time to suit you.
4. Canapes and Sparkling Wine On Request
You have the option, as a Concierge Class guest, to request canapes and hors d'oeuvres to be delivered to your stateroom every afternoon during your cruise – ideal as a luxury light snack to set you up for your sumptuous dinner later that day.
You also enjoy sparkling wine included in your cruise – all you need to do is ask and it shall be delivered.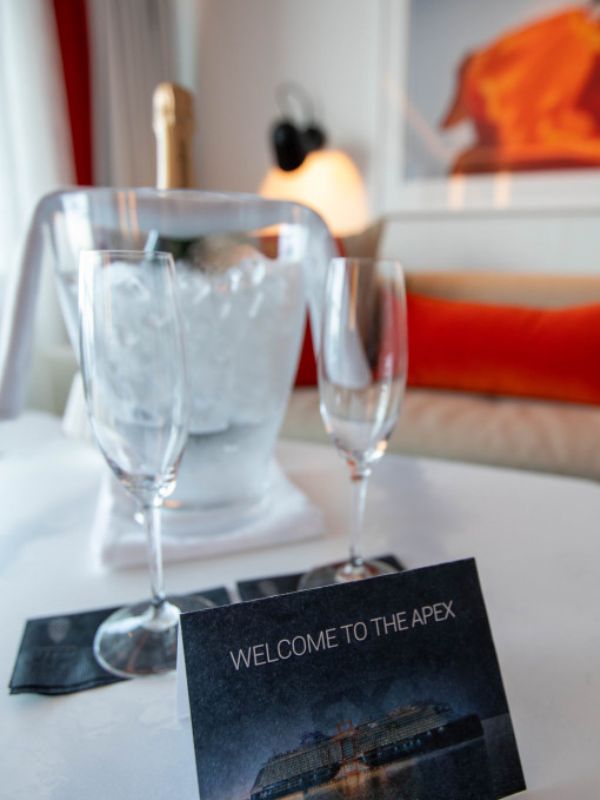 5. Pillow Menu
Guests in a Concierge Class stateroom don't just have to settle for the standard pillow choice. Instead, you get a full menu with five different types to choose from:
Goose down pillow
Body pillow (feather and down blend)
Conformance pillow (designed to be firmer, and offer additional support)
Isotonic pillow (made using synthetic down)
Hypoallergenic pillows (suitable for those sensitive to allergies – no feather or down used)
And if you choose a pillow and find you didn't sleep well, just ask your Concierge to change it – you'll have no problem getting a good night's sleep.
6. Concierge Service
One of the bigger perks that Concierge Class guests enjoy is access to the Concierge Service. It's not quite a butler who attends to your every whim – you need a Suite to enjoy that – but you can ask the Concierge Service to help you with making reservations on the ship.
That includes restaurant and spa appointments, booking shore excursions, and getting you reserved tickets for entertainment ashore, so you don't have to worry about queuing at ticket offices during your excursion.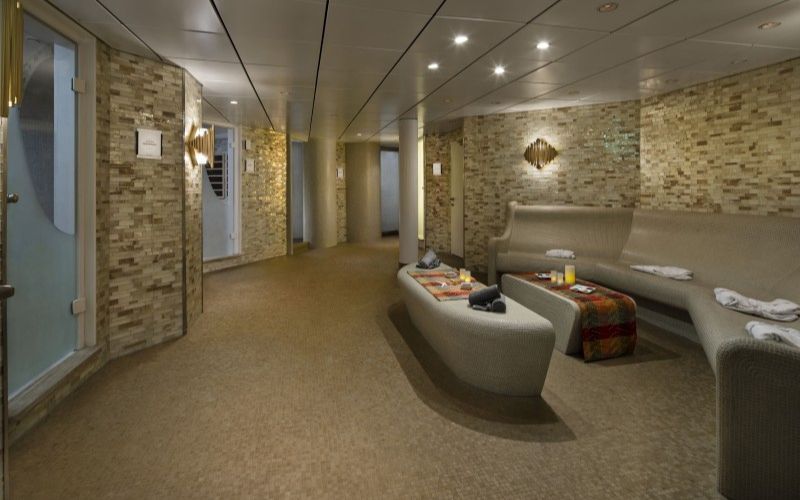 7. Destination Seminar
As well as the welcome lunch, Concierge Class guests also get an invite to the destination seminar on board.
This short seminar won't eat into your cruise time too much but will give you some excellent insight into your ports of call, helping you to make the most of each visit and have the most incredible experiences ashore.
8. Small Added Extras
As well as these main seven perks to booking Concierge Class staterooms, there are a number of smaller benefits that don't justify their own entry on the list but are worth mentioning together:
Use of an umbrella and binoculars during the cruise (but the binoculars must remain on the ship at all times, they can't be used for excursions)
Complimentary shoe-shining service
Extra hairdryer in the stateroom (two, instead of the usual one)
Upgraded Hansgrohe rainfall showerhead
Embossed keyholder and tote bag
These aren't the sort of benefits that will really sway you to upgrade to Concierge Class, but they're nice little extras to have.
If you have two people in your party with long hair, it's a good convenience to be able to both dry your hair at once. And the tote bag is a nice upgrade over the shopping bag that other guests are given.
Is Concierge Class on Celebrity Worth It?
Whether Concierge Class is worth the extra cost depends on how much you'll use the extra services. Collectively they do make your cruise run smoother and include some useful benefits. But your stateroom only has marginal improvements over a standard Veranda, including a better showerhead and pillow menu.
Typically, you can expect to pay around an extra $300 to $500 per person for a Concierge Class stateroom on a 7-night cruise compared to a regular Veranda Stateroom, so it's not a cheap upgrade.
A lot of people do find it worthwhile just for the priority embarkation and debarkation, and the priority reservations. The pillow menu is nice to have if you have particular sleeping needs, but the regular pillows are fine for most people.
The welcome aboard lunch and destination seminar aren't essential, but are nice to have. And the canapes and sparkling wine on request are good if you enjoy them regularly, but they aren't worth $500 extra a week.
It's an individual choice, whether or not the upgrade is worth it, but if you'll use all of the services then it likely will be.
NEW DEALS JUST RELEASED!
Don't miss the latest Celebrity Cruises offers…
Concierge Class Vs. Veranda
So with that full list of Concierge Class benefits, you can make the call on whether you'd rather book the more expensive option, or just choose a standard Veranda stateroom.
What Is the Difference Between Concierge Class and Veranda?
Concierge Class is essentially an upgraded Veranda Stateroom. You get a choice of pillows, a better showerhead, but otherwise, the stateroom is the same. But with Concierge Class you get extra service-based perks and priority embarkation and debarkation.
The actual difference between the staterooms is minimal – it's just that showerhead and the choice of changing your pillow (though you might prefer the standard pillow anyway). Both rooms have a private balcony.
The differences are entirely down to the extra benefits you get as a Concierge Class guest, as listed above.
Veranda Stateroom guests do get extra benefits over those in Oceanview and Inside Staterooms, but these are shared with Concierge Class. They include an expanded room service menu for breakfast (with a huge selection of meats, fruits, cereals and baked goods), and special bathroom amenities.
Obviously, the other difference is cost – a Concierge Class stateroom, with its extra benefits, will be priced a decent amount higher than a regular Veranda and for a couple, it could cost $600 to $1,000 more in total.
Read more: What is a Veranda on a cruise ship?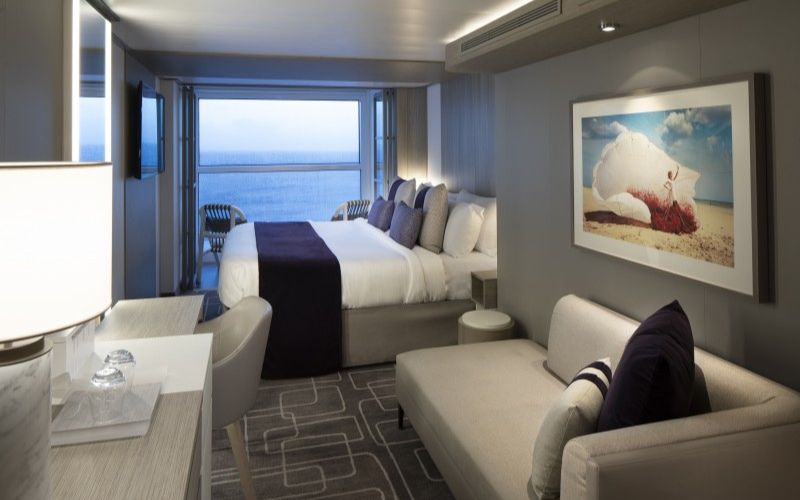 Concierge Class Vs. Aqua Class
Concierge Class is not the only option for enhanced Veranda accommodation on a Celebrity cruise ship. Before you decide to book the Concierge Class, you should also consider the Aqua Class.
What Is the Difference Between Concierge and Aqua Class?
Aqua Class guests on a Celebrity cruise get exclusive access to the Blu restaurant for lunch and dinner, and unlimited spa access, as well as having drinks, Wi-Fi and tips included. They share some benefits with Concierge Class too, but they don't get the Concierge Service, embarkation day lunch, or priority dining time choices.
Aqua Class staterooms are significantly more expensive than Concierge Class, and that's down to the value placed on the complimentary access to the onboard spa on the ship, and the fact that they're 'all-inclusive' by default.
So you get drinks, WiFi and tips included, although you may have to pay $1,000 more per person for Aqua Class than you would for Concierge Class.
It's important to note that you can also get an inclusive package with drinks, WiFi and tips in a Concierge Class stateroom but you'll have to pay more for that rate.
Suggested read: Celebrity Cruises Drinks Packages – Which Is Best?
The benefits of an Aqua Class stateroom include:
Access to Blu for breakfast and dinner (lunch is not served here)
Complimentary access to the on-board spa
Priority wellness reservations
A wellness consultation included
Slippers and aromatherapy diffuser in the stateroom
Enhanced shower with massage water jets
The benefits that are exclusive to Concierge Class, that you won't get with Aqua Class, include:
The Concierge Service
Welcome Aboard exclusive lunch
Priority dining reservations
For the sake of clarity, here's the list of benefits that both Aqua Class and Concierge Class share:
Priority embarkation and debarkation
Pillow menu
Complimentary sparkling wine and canapes on request
Small extras including use of an umbrella and binoculars, and a tote bag
Read more: Celebrity Cruises Aqua Class Guide
The Bottom Line
Now you know everything about the Concierge Class Celebrity Cruises experience. It's very much aimed at those people who want to feel extra special on their cruise, with a touch of the VIP treatment. If you can't quite afford a Suite, then choosing a Concierge Class Celebrity cruise escape is one of the next best options.
It's not quite as exclusive as Aqua Class, but you get some perks that just make your whole holiday feel that little bit better – whether you're skipping the queues to get onto the ship, or ordering canapes to your stateroom, you'll feel like you really are a valued guest.
But if you're not someone who is too bothered by these perks, you may as well save the money and choose a regular Veranda stateroom – you can put the extra money towards the things that do matter to you on board instead.
NEW DEALS JUST RELEASED!
Don't miss the latest Celebrity Cruises offers…
Related Posts