P&O Cruises offer a fantastic selection of food, with included dining available in the main dining rooms and Horizon buffet. In addition, you'll find a choice of speciality restaurants where you can choose to dine for a supplement if you wish.
The menus on board change every day, so one thing's for sure, you'll never be bored of the food!
In this guide to P&O Cruises food, I've included sample menus for the most popular dining venues to give you an idea of what to expect.
As you can see, there are lots of options for people eating gluten-free and vegetarians, while vegans should also check out the special vegan and vegetarian menu.
So, pick which P&O cruise menu you're most interested in, or scroll through to see them all…
P&O Cruises Breakfast Menu
P&O Cruises gives guests the choice of dining in the main dining room or the buffet restaurant each day. There are advantages to each and I'd definitely recommend that you try them both at least once during your cruise.
I like to eat breakfast in the buffet because it's faster and there's more choice. A buffet breakfast is ideal if you have kids who like certain things or if you have an excursion planned so want to eat quickly and get off the ship.
However, eating breakfast in the main dining room is a lovely, relaxing start to the day. The breakfast menu has a good selection of breakfast food and you can sit back and relax while everything is brought to you.
If you're staying in a suite (not a conservatory or mini suite), you can also enjoy breakfast in the Epicurean, Glasshouse or Sindhu once during your cruise for no extra charge.
Here's a typical main dining room P&O breakfast menu:
Continental Breakfast
Fruit Juice – Orange, Apple, Pineapple, Tomato
Fruit – Orange, Grapefruit, Melon
Fruit Compotes – Figs, Prunes, Apricots, Apple
Cereal – All-Bran, Alpen, Bran Flakes, Corn Flakes, Frosties, Fruit 'n Fibre, Porridge, Rice Krispies, Shredded Wheat, Special K, Weetabix
Yoghurts – Natural, Fruit
Hot Breakfast
The P&O Cruises Breakfast – Grilled Back Bacon, Lamb's Liver, Tomato, Black Pudding, White Pudding, Cumberland Sausage, Hash Browns, Eggs
English Breakfast – Back Bacon, Pork Sausage, Tomato, Fried Bread, Saute Potatoes, Grilled Mushrooms, Black Pudding, Plum Tomatoes, Baked Beans
Vegetarian Breakfast – Vegetarian Bacon, Vegetarian Sausage, Tomato, Fried Bread, Saute Potatoes, Grilled Mushrooms, Plum Tomatoes, Baked Beans
Fish – Kippered Herrings, Smoked Haddock
Eggs – Boiled, Fried, Scrambled, Poached
Omelette – Plain, Ham, Cheese, Mushroom, Tomato
Bakery Items
Pastries – Croissants, Danish Pastries, Muffins
Morning Rolls – White, Wholemeal, Multigrain
Toast – With Jams, Marmalade, Honey
Pancakes – American Style with Maple Syrup
Healthy Breakfast Options
Smoothie of the Day
Porridge Oats
Bircher Muesli
Oats, Apples, Dried Fruits, Nuts, Seeds and Natural Yoghurt
Cereals with Skimmed or Soya Milk
Fresh Fruit Salad
Poached Eggs on Wholemeal Toast
Smashed Avocado on Wholemeal Sourdough Toast
Hot Drinks
Teas and Infusions
Freshly Brewed Coffee
Decaffeinated Coffee
Hot Chocolate
Chef's Specialities
Monday – Eggs Benedict
Tuesday – Grilled Gammon Steak with Fried Eggs
Wednesday – Traditional Kedgeree
Thursday – Grilled Minute Steak
Friday – Devilled Kidneys
Saturday – Corned Beef Hash
Sunday – Scrambled Egg with Oak Smoked Salmon
As P&O Cruises is a British cruise line, all of the food is typically British. So things like bacon, sausages and baked beans will be the ones that you're used to at home, rather than the more American or European food that you'll find on other cruise ships.
P&O Cruises Main Dining Room Menus
On P&O cruises, the main dining room lunch and dinner menus change each day, although there are a few popular dishes that will be available every night.
Main Dining Room Dinner Menu
Below is an example of what you can expect from a typical dinner menu. However, P&O Cruises regularly offer special menus on certain evenings. These include the Gala Dinner menu that was designed by Marco Pierre White, a special menu that was designed by the executive chef of each ship, a fine dining menu and a themed dinner menu such as Caribbean or Mediterranean.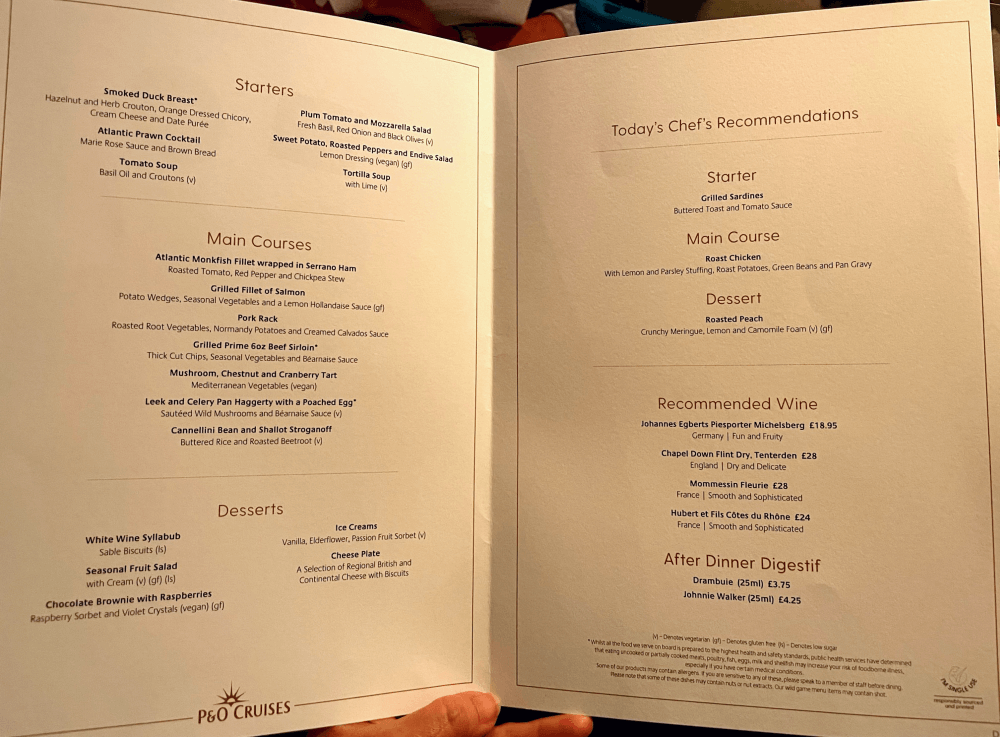 Tip for vegans: There's always a vegan option. You can ask to see the menu for the next day to check if you will like it. If not, you can pre-order something else.
Starters
Lightly Spiced Crab and Leek Pasties
Hampshire Chalk Stream Hot Smoked Rainbow Trout (gf)
Pâté de Campagne
Wild Mushroom Panna Cotta (v)
Atlantic Prawn Cocktail
Minestrone Soup (v)
Cullen Skink Soup (gf)
Cream of Tomato Soup (v)
Chicken Caesar Salad
Main Courses
Crab, Crayfish and Broccoli Bake with a Cheddar Glaze
Skate Wing in Lemon Black Butter (gf)
Beef Fillet Medallion
Twice Baked Onion and Garlic Soufflé (v)
Grilled Salmon Fillet (gf)
Pan-fried Chicken Breast (gf)
Sirloin Steak
Prime Leg of Lamb (gf)
Medallions of Pork Fillet (gf)
Desserts
Baked Treacle Tart Sauce (gf)
Honey Panna Cotta Strawberries, Honeycomb and Mint (gf)
Kumquat and Almond Cake
Chocolate and Pretzel Ganache with Dark Chocolate Mousse
Fresh Seasonal Fruit Salad (gf)
Ice Cream – Vanilla, Elderflower or Chocolate
Ginger sorbet
Strawberry, Elderflower and Lemon Sundae
Cheese and Biscuits
While the menu changes each day, there are some items that are always available. These are:
Atlantic Prawn Cocktail with Marie Rose Sauce and Brown Bread
Cream of Tomato Soup with Basil Oil and Croûtons (v)
Grilled Salmon Fillet with Potato Wedges, Seasonal Vegetables and a Lemon Hollandaise Sauce
Pan-fried Chicken Breast with Potato Wedges, Roasted Root Vegetables and a Garlic and Thyme Butter
Sirloin Steak with Thick Cut Chips, Seasonal Vegetables and Béarnaise Sauce
Fresh Seasonal Fruit Salad with Cream
Remember, that you're not limited to one of each course – you can order whatever you like. So if you fancy two starters and no dessert, go for it! The portions aren't huge, so if you're a big eater I'd recommend ordering a few different things.
Main Dining Room Lunch Menu
Here's an example of a typical lunch menu in the main dining room…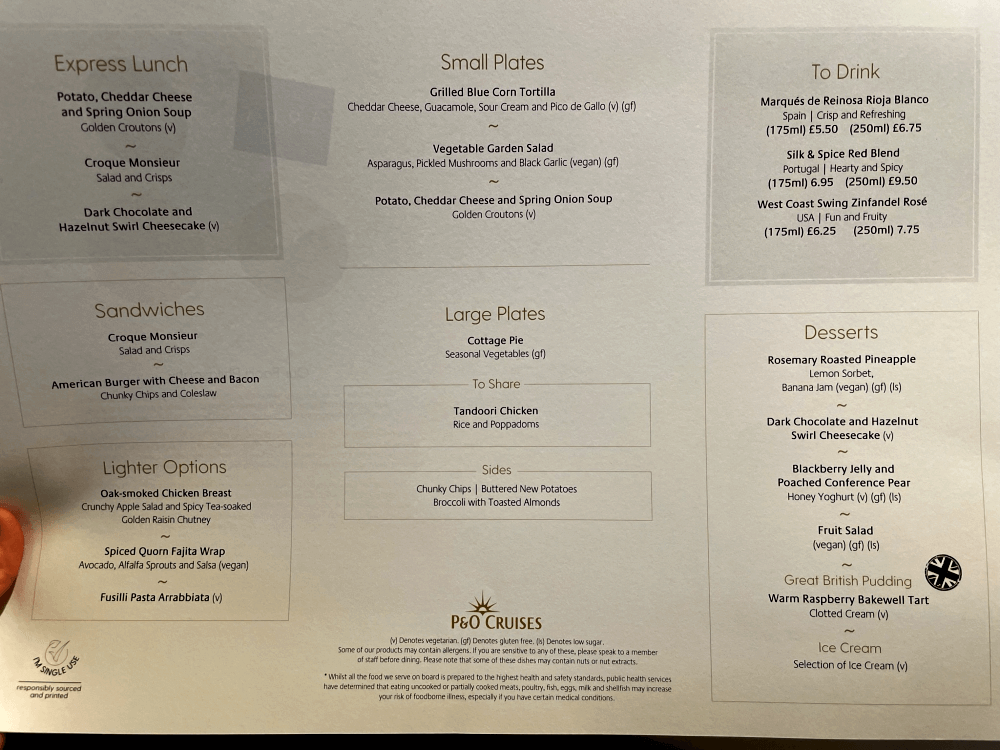 Sindhu Menu
Sindhu is P&O Cruises' Indian restaurant. It's one of the most popular restaurants and so you'll find it on every ship. Dining at Sindhu costs between £17.50 and £25 per person, except on Iona where the menu is A La Carte so you'll just pay for the items that you order.
Starters
Jal Tarang – Hand Dived Scallops, Broccoli Couscous, Cauliflower Purée (gf)
Machhi Koliwada – Spice Crusted Haddock, Mumbai Caesar Salad, Lime Pickle Mayonnaise (gf)
Dakshin Murg – Tikka Grilled Chicken, Coconut and Chickpea Salad, Mint and Tamarind Dip (gf)
Tandoori Ratan – Basil King Prawns, Chicken Tikka and Smoked Lamb Skewer, Mint Chutney (gf)
Gosht Murtabak – Spiced Ground Beef Flatbread, Onion Relish, Curry Sauce
Aloo Samosa Chaat – Textures of Potato, Vegetable Samosa, Tamarind Chutney (v)
Main Courses
Kadhai Jhinga – King Prawns, Stuffed Peppers, Green Pea Couscous, Spiced Tomato Sauce
Coorgi Meen Kari – Pan-fried Red Mullet, Native Sea Bass, Lentil Crusted Cod Mustard Upma, Coconut and Tamarind Sauce
Murgh Irani Korma – Cardamom Infused Chicken Korma with Cashew Nuts, Raisin Pilau Rice (gf)
Thattukada Duck Roast – South Indian Style Duck, Spiced Potatoes, Duck Jus (gf)
Akkha Gosht – Roast Lamb Rump, Keema Matar, Pak Choi, Baby Carrots, Rogan Jus (gf)
Kolhapuri Gosht – Beef Tenderloin, Curried Mash, Garlic Spinach Purée, Bhuna Masala Sauce (gf)
Dum Ki Seviyan Khumb Gucchi Biriyani – Vermicelli and Rice, Morels, Seasonal Mushrooms Baked in a Sealed Pot (v)
Sindhu Signature Plate – Coconut Prawn Masala, Chicken Tariwala Curry, Lamb Bhuna (gf) (Vegetarian option available)
Desserts
Dark Chocolate Sphere – White Chocolate Mousse, Raspberry Coulis (gf)
Atul's Banoffee Apple Pie – Delicately Spiced Pastry, Whipped Cream
Aam Aur Berry Ki Kheer – Chilled Rice Pudding, Mango and Strawberries (gf)
Chocolate and Chilli Tart – Lime Infused Crème Fraîche
Kulfi Trio of Indian Ice Cream – Mango, Chocolate, Malai (gf)
If you're vegan or vegetarian you may also be interested in my review of the vegetarian options at Sindhu.
Epicurean Menu
The Epicurean is P&O Cruises' fine dining restaurant. The Epicurean menus offer a fusion of modern British favourites and classic, sophisticated dining.
A firm favourite when it comes to speciality dining, you'll find The Epicurean restaurant on board Azura, Britannia, Iona and Ventura. Each venue offers a grand yet relaxing atmosphere and impeccable service.
Dining at The Epicurean usually costs around £30 per person.
Starters
King Prawn and Mediterranean Octopus Cocktail (gf)
Duo of Cured Smoked Salmon (gf)
Frogs Legs Sucette
Quicke's Farm Mature Cheddar Mousse and Serrano Ham
Pulled Smoked Gressingham Duck Leg and Hackleback Caviar
Tomato Tastings and Buffalo Mozzarella (v) (gf)
Seasonal Soup (v) (gf)
Main Courses
The Epicurean Fish and Chips
Whole Dover Sole á la Meunière
Black Leg Chicken Breast
Redman Limousin Irish Beef Fillet and Ox Cheek
Laksa of Marinated Silken Tofu Tempura (v) (gf)
Whole New England Lobster (gf)
Dorset Crown Lamb Rump (gf)
American Grain-Fed Aged Angus Sirloin Steak (gf)
Onley Grounds Farm 28 Day Aged Cote De Boeuf for Two (gf)
Sides
Green Asparagus (gf)
French Beans (gf)
Thick Cut Chips (gf)
New Potatoes (gf)
Desserts
Crème Brûlée and White Chocolate Sphere (gf)
Elements of Summer Trifle
Coconut Panna Cotta (gf)
Valrhona Dark Chocolate Tart
Banana and Peanut Butter Cannelloni
Taster for Two
Selection of Artisan British and European Cheese
Beach House Menu
Offering American and Caribbean-style dishes, the Beach House is the place to go for hearty comfort food. With dinner costing £7.50 to £10 per person with a small supplement for certain dishes, The Beach House is one of the most affordable speciality restaurants at sea.
You'll find The Beach House on board Aurora, Azura, Britannia, Iona and Ventura. There's no need to book in advance, you can just turn up.
Starters
Island Spiced Chicken Wings with Mac & Cheese Chips
Crab Tostadas (gf)
Mexican Poke Bowl (vegan) (gf)
Beach House Nachos (v)
Halibut and Salmon Ceviche Cocktail (gf)
Pork Chicharrones (gf)
Sweet Potato and Mozzarella Crispy Skins (v) (gf)
Mains
Fajita Sizzlers – Chicken (gf), Steak (gf) or Halloumi (v) (gf)
Caribbean Seafood Basket
Honey and Garlic Glazed Chicken (gf)
Beer Can Chicken Sharer (gf)
Chilli Sin Carne (vegan) (gf)
Traditional Caribbean Macaroni Pie (v)
Lava or Salt Block Prime Fillet Steak with Grilled King Prawns (gf)
Taco Trio
Asado Sharer
Slow-cooked Curried Goat Pot
Fisherman's Hanging Kebab (gf)
Desserts
Rum Glazed Roasted Baby Pineapple
Golden Dulce de Leche Tart
Coconut and Chocolate Budino
Deep Filled Apple Pie
Banana Split
Toasted Marshmallow Fondue Sharer
(gluten-free option available)
Glass House Menu
The Glass House offers light bites and a la carte all-day dining. Dishes are expertly paired with wines by P&O Cruises' wine expert, Olly Smith.
You'll find the Glass House on board Aurora, Azura, Britannia, Iona and Ventura. Starters cost from £2.75, mains from £8 and desserts from £4.50.
Small Plates
Korean Sticky Chicken Lollipops
Roasted Beetroot Croquetas (vegan)
Chinese Spiced Crispy Lamb (gf)
Charred Galician Octopus and Cantabrian Anchovy Fillets (gf)
Walnut-Crusted Savoury Profiteroles Filled with Dorset Truffle Ice Cream (v)
Prawn Potstickers (gf)
London Gin & Tonic Cured Salmon and Beetroot Gravadlax (gf)
Mini Spiced Chickpea & Edamame Scotch Eggs (v)
Tuna Poke
Soy Marinated Quorn and Papaya Salad (vegan)
Venison Cecina and Salami Elk (gf)
Pork Belly, Chorizo and Butter Bean Cassoulet
Large Plates
Braised Veal Cheek
Roasted Shallot and Coffee Beef Short Rib
Pulled Oxtail Bonbon
Cord-Fed Chicken Breast
Tandoori Chicken Thighs
Southern Fried Buttermilk Chicken
Iberico Pork Pluma
Deep-Fried Trotter Terrine
Pave of Crispy Suckling Pig
Crispy Cajun Soft Shell Crab
Grilled Garlic Tiger Prawns
Lobster Mac
Charred Cauliflower Steak (vegan)
Mediterranean Vegetable Gratin (vegan)
Teriyaki Tempeh and Edamame Beans (vegan)
Desserts
Blueberry and Elderflower Parfait
Strawberry and Sweet Basil Poke Cake
Chocolate, Blackberry and Beetroot Whoopie Pie
Rosehip Arctic Roll
Baileys Chocolate Truffle Tea Cake
Jammy Dodger Corn Flake Tart
Dark Chocolate Ganache
Rosewater Coconut Rice and Bananas Foster Spring Rolls
Matcha Tea Chiffon Cake
Cheese Board
P&O Cruises Room Service Menus
P&O Cruises offers room service 24 hours per day for a small fee. Here's a photo of the room service menu with prices…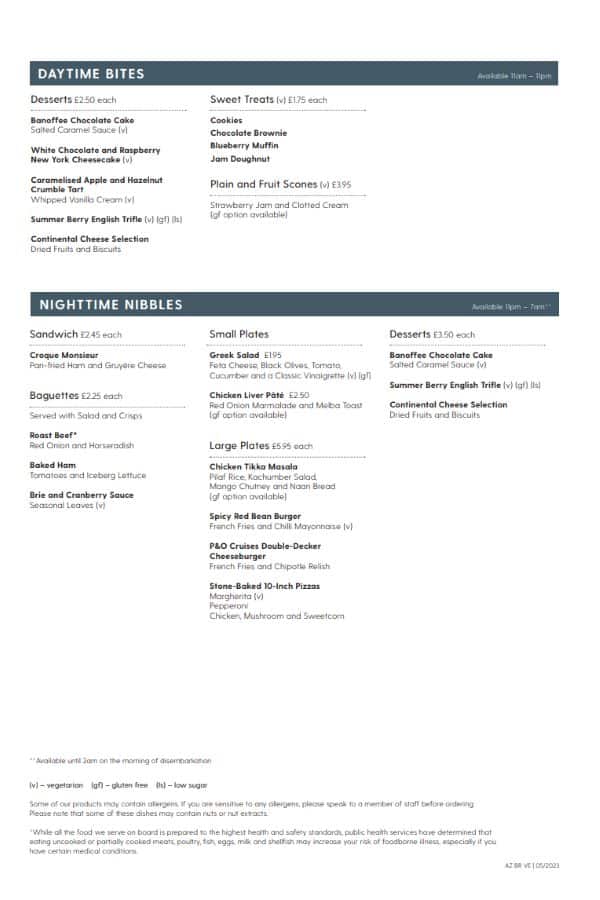 Breakfast Menu (7 am to 11 am)
Fruit Juices and Smoothies – Orange, Apple, Pineapple, Tomato, Carrot, Fruit Smoothie
Yoghurt – Natural, Fruit, Soya
Cereals – Cornflakes, Rice Krispies, Alpen, All Bran, Weetabix
Fruit and Compotes – Melon, Mixed Berry Compote, Grapefruit, Prunes, Fruit Plate, Greek Yoghurt, Toasted Granola
Bakery Items – Plain Croissant, Almond Croissant, Custard Dabnish, Pain au Chocolate, Strawberry Danish, Plain Muffin, Blueberry Muffin, Double Chocolate Muffin
Toast – White Toast, Wholemeal Toast, Butter, Marmalade
Panini – Cumberland Sausage, Bacon and Tomato
Daytime Menu (11 am to 11 pm)
Baguettes – Roast Beef, Baked Ham, Brie and Cranberry Sauce (v)
Wrap – Roast Pepper, Mixed Leaf and Houmous (v)
Sandwiches – Club Sandwich, Prime Sirloin Steak Panini
Kids Sandwiches – Ham, Egg Mayo and Cheese
Soup of the Day
Greek Salad
Oak Smoked Salmon
Chicken Liver Pate
Southern Fried Chicken
Chicken Tikka Masala
Lasagne Al Forno
Beef and Ale Pie
Hot Dog
Spicy Red Bean Burger (v)
Pizzas – Margherita (v), Pepperoni, Chicken, Mushroom & Sweetcorn
Omelettes – Cheese, Ham, Tomato, Mushroom (gf)
High Energy Salad (v)
Prawn and Tuna Nicoise Salad (gf)
Tex Mex Combo Sharing Plate
Asian Bento Box Sharing Plate (v)
Ocean Catch Sharing Plate
Cream Tea
Banoffee Chocolate Cake
White Chocolate and Raspberry New York Cheesecake
Caramelised Apple and Hazelnut Crumble Tart
Summer Berry English Trifle Coupe (gf)
Continental Cheese Selection
French Fries
Green Salad (gf)
Garlic Bread with Cheese
Vegetable Crudités with Houmous (gf)
Cookies
Chocolate Brownie
Blueberry Muffin
Jam Doughnut
Night Time Menu (11 pm to 7 am)
Sandwich – Croque Monsieur
Baguettes – Roast Beef, Baked Ham, Brie and Cranberry Sauce (v)
Greek Salad (v) (gf)
Chicken Liver Pate
Chicken Tikka Masala
Spicy Red Bean Burger (v)
Double Decker Cheese Burger
Pizzas – Margherita (v), Pepperoni, Chicken, Mushroom & Sweetcorn
Banoffee Chocolate Cake
Summer Berry English Trifle Coupe
Continental Cheese Selection
Suggested read: What's Included in a P&O Cruise?
You can place an order for room service using the telephone in your cabin. For breakfast room service, you simply hang a card outside your door the night before. The card looks like this…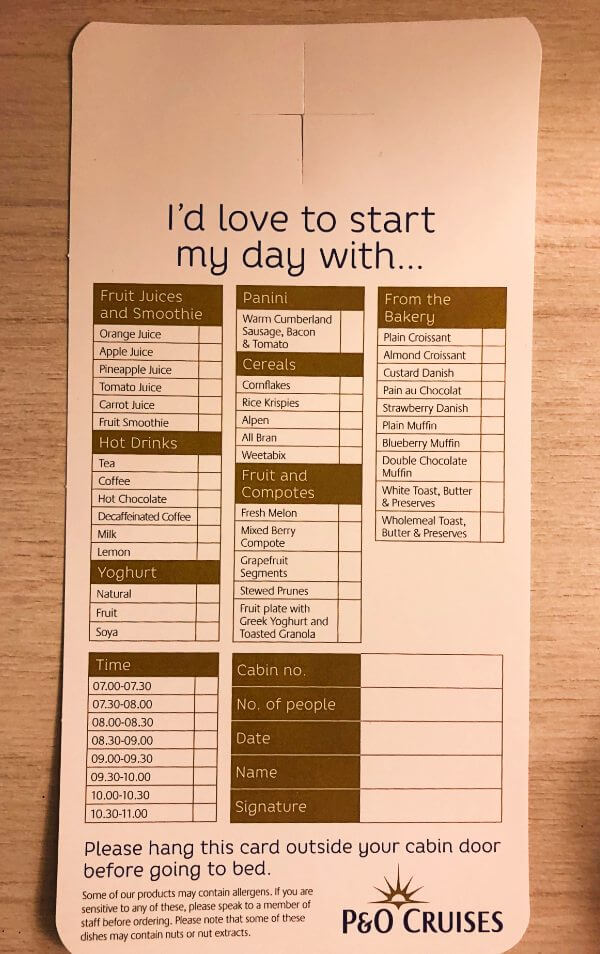 P&O Cruises Kids' Menu
The P&O Cruises kids menu is the same every day, but it has plenty of choices that can be mixed and matched.
Be sure to specify how many of each item you would like. If you ask for sausage, egg and chips, your child will only get one sausage and one egg, so be sure to ask if you'd like two!
Mains
Beef Burger in Buns
Pizza Margherita
Mini Minced Beef And Onion Pasty
Spaghetti Bolognaise
Chicken Nuggets
Grilled Chicken Breast
Poached Salmon
Pork Sausages
Fish Fingers
Pasta with Tomato Sauce
Hot Dog
Fried Egg
Omelette
Sides
Fresh Vegetables of the Day
French Fries
Grilled Stir-Fried Vegetables
Mashed Potato
Creamed Corn
Potato Smiley Faces
Spaghetti Hoops
Garden Peas
Carrots
Desserts
Selection of Ice Creams with Sweet Sauces
Sorbet of the Day
Fruit Jellies
Cupcake
Chocolate Cookies
Chocolate Brownies
The menu on your ships may vary slightly. Above is the list from the P&O Cruises website, but below is a photo of the menu that was given to use on Iona in 2022.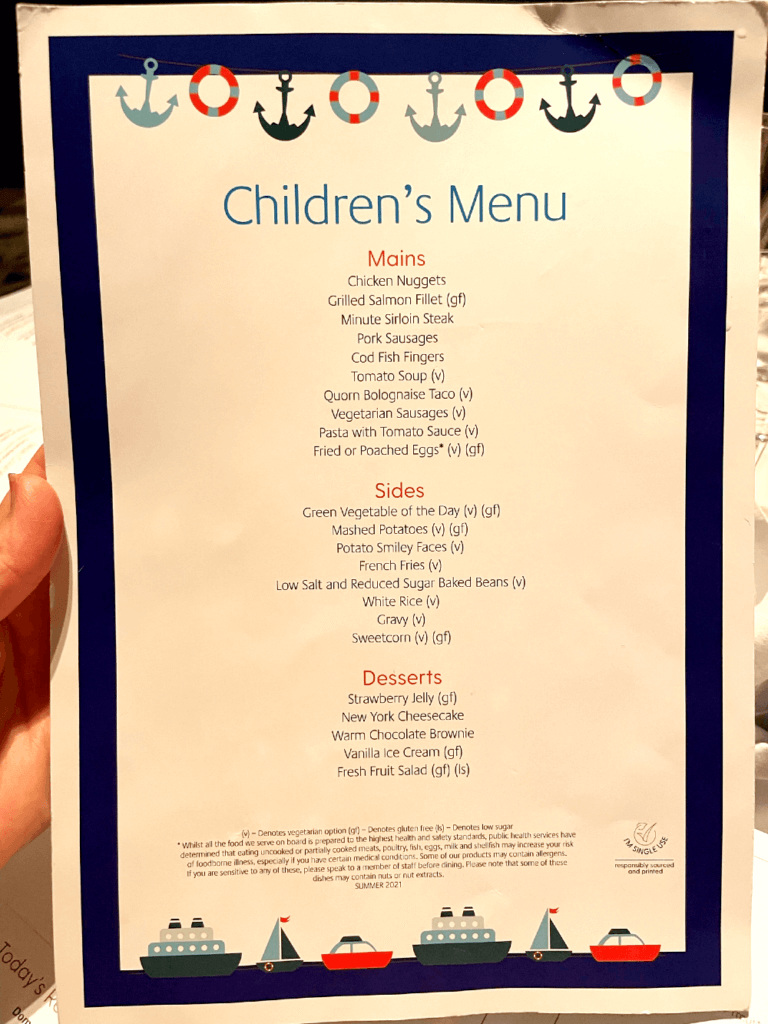 P&O Cruises Vegetarian & Vegan Menus
P&O Cruises offers vegan and vegetarian options in every restaurant, including the main dining rooms, speciality restaurants and buffet.
If you have any special dietary requirements, it's important that you or your travel agent let P&O Cruises know when you book your cruise. When you arrive in your cabin, you should have a letter to acknowledge your request and invite you to meet with a chef if you wish.
There's also a special diet gathering on the first day of the cruise. This is good to attend if you have food allergies or you'd just like to make sure that you're well catered for during your cruise. You'll find details on the daily planner.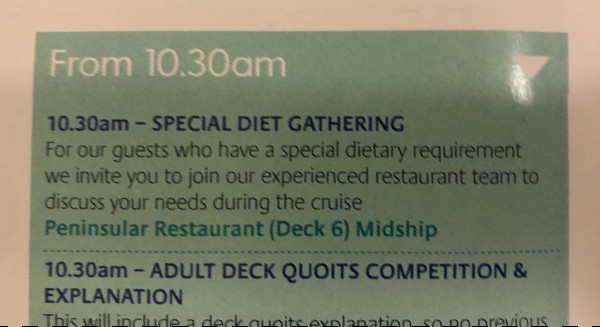 In the Main Dining Room, there's no longer a vegan and vegetarian menu. Instead, the options are always included on the main menu.
In other venues, you should ask your waiter as many dishes can be adjusted to make them suitable for vegans or vegetarians upon request.
The vegan and vegetarian menu in the main dining room changes each day. It's a good idea to ask to see the menu for the following day. That way, if you don't like something you can let your waiter know and the chef will prepare something else for you.
Starters
Avocado Pear with Crumbled Goat's Cheese Crotin (gf)
Waldorf Salad (gf)
Chilled Cucumber Consommé (vegan) (gf)
Main Courses
Wild and Cultivated Mushroom Bourguignon (gf)
Feta, Tomato and Spinach Filo Pastry
Thai Green Vegetable Curry (vegan) (gf)
Desserts
Vanilla Soya Rice Pudding (vegan) (gf)
Minted Pineapple (gf)
Cheeseboard
P&O Cruises Drinks Menus
P&O Cruises offer many different drinks menus with almost every drink you could want. You can see photos of all of the drinks menus and prices here: P&O Drink Menus.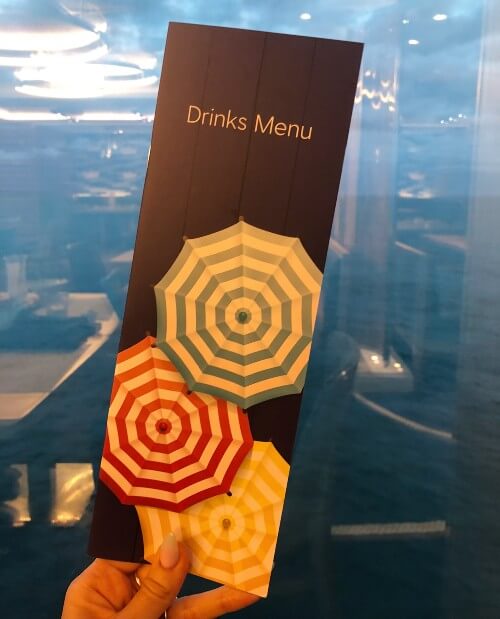 In Summary
Whichever P&O Cruises ship you choose, you'll enjoy a huge selection of food options in a choice of included and speciality dining venues.
This article showcases some of P&O Cruises' most popular restaurants. Other restaurants are available too, depending on the ship. These may include the Ocean Grill on Arcadia, The Limelight Club on Britannia and Eric Lanlard's Afternoon Tea, which is available on all ships except Aurora.
The largest choice of restaurants can be found on Iona. I have a special guide to Iona restaurants that you should take a look at if you plan to cruise on this ship.
Those with special diets such as vegan, vegetarian and gluten-free are well catered for on P&O cruises. Menus change every day and dishes can be adjusted to suit your needs.
NEW DEALS JUST RELEASED!
Don't miss the latest P&O Cruises offers…
Related posts: