Sindhu is one of the speciality restaurants which features on most of the ships in the P&O Cruises fleet – Arcadia, Aurora, Azura, Britannia, Iona and Ventura. A firm favourite with cruisers, Sindhu serves Indian cuisine in a luxurious environment. The cover charge for this restaurant is £20 per person.
We visited Sindhu on board Britannia in June 2019. Myself and my husband are both vegetarians and we sampled two different vegetarian dishes from the menu.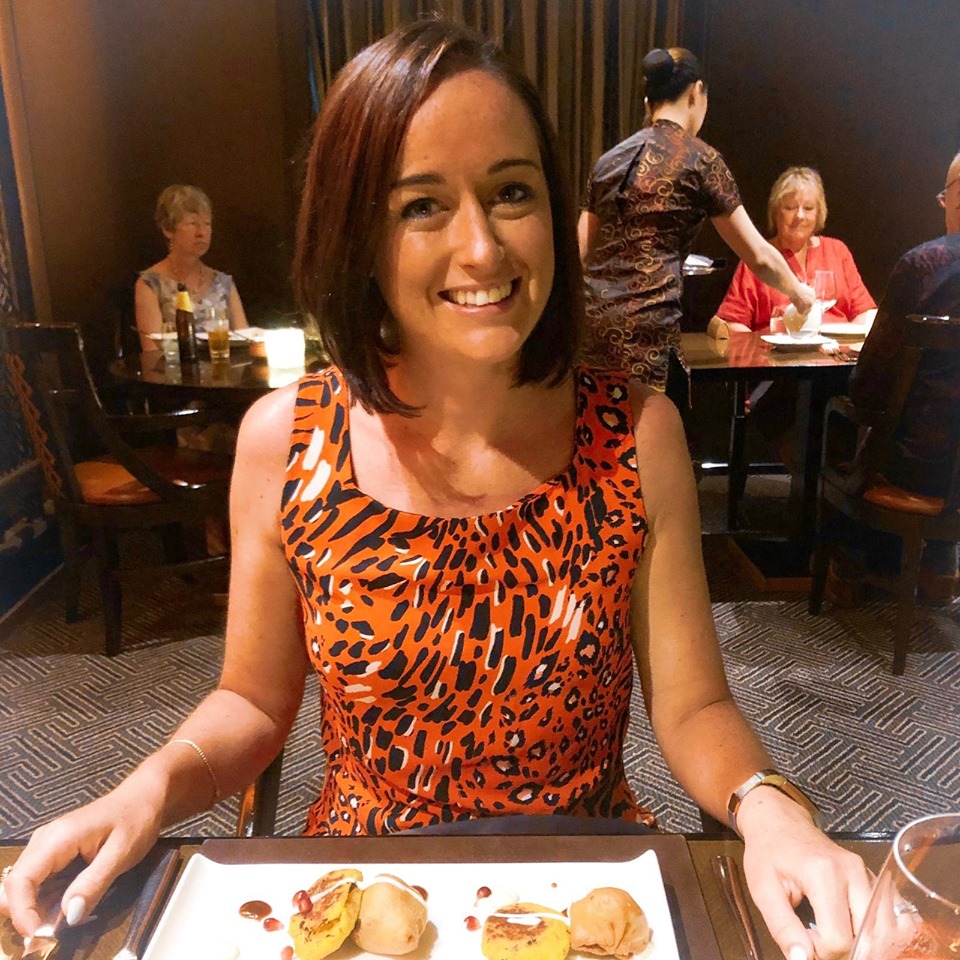 The menu
The menu at Sindhu showed three courses – starter, main and dessert – so that's what we expected. In reality, there were actually seven courses of food delivered.
The menu showed one vegetarian starter, two vegetarian main courses and a choice of five desserts.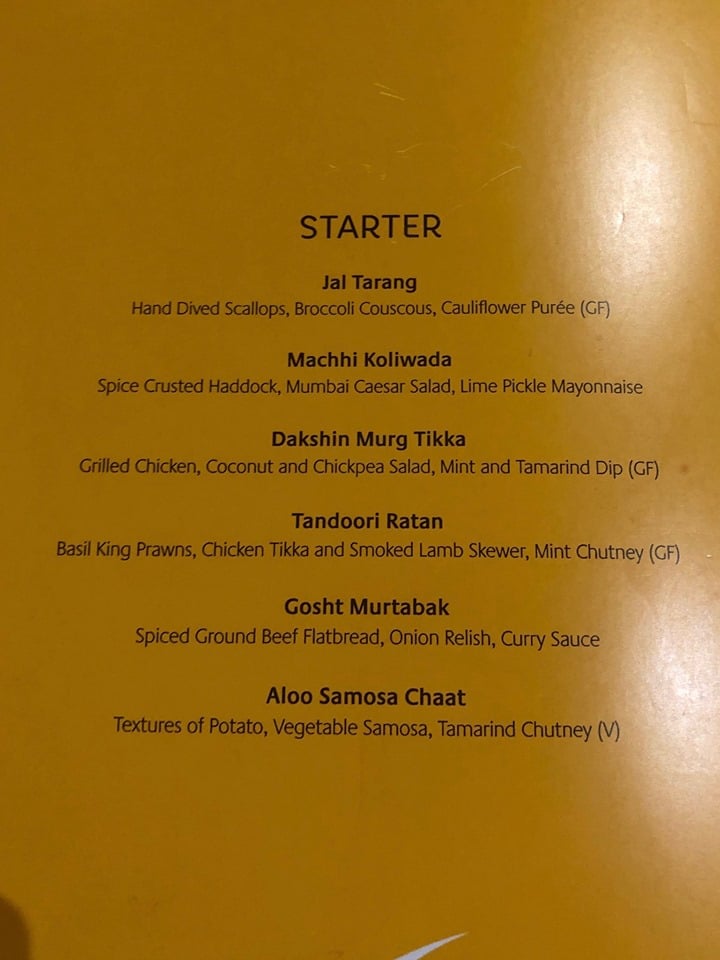 The food
Our meal began with mini poppadoms and chutneys. We remarked on how small the popadoms were, being used to filling up on the huge ones that we usually get in our local Indian restaurant. Little did we know, we would be absolutely stuffed by the end of our meal, and very grateful for the small poppadoms!
Next, we were presented with a piece of deep-fried cauliflower each. This wasn't on the menu so was unexpected, but tasted amazing. Neither of us thought that we liked cauliflower, but we loved this!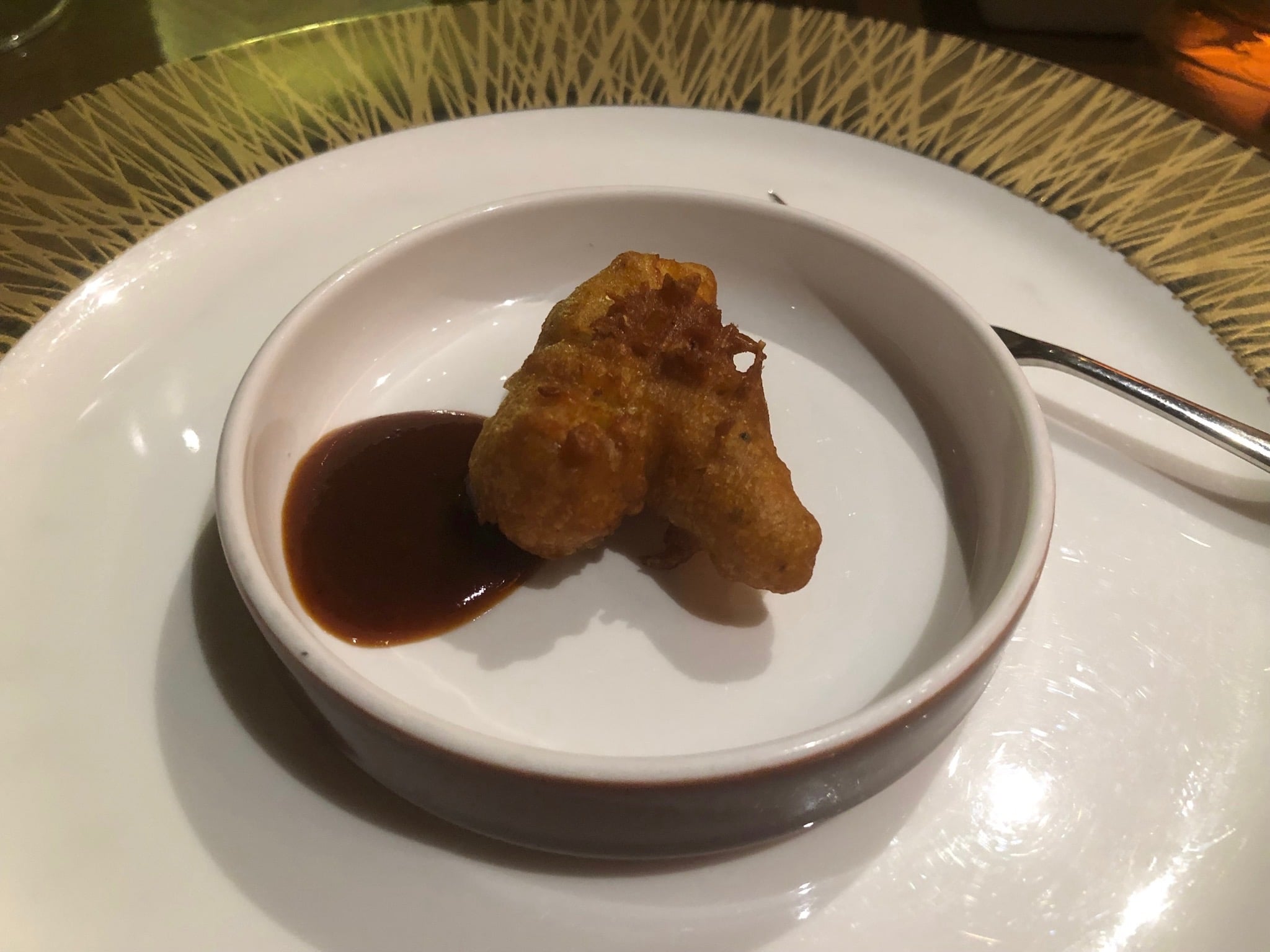 Next, our starters arrived. These were vegetable samosas and potato patties which were presented beautifully and were absolutely delicious. The pomegranate seeds added an unusual but interesting flavour to the spicy vegetables.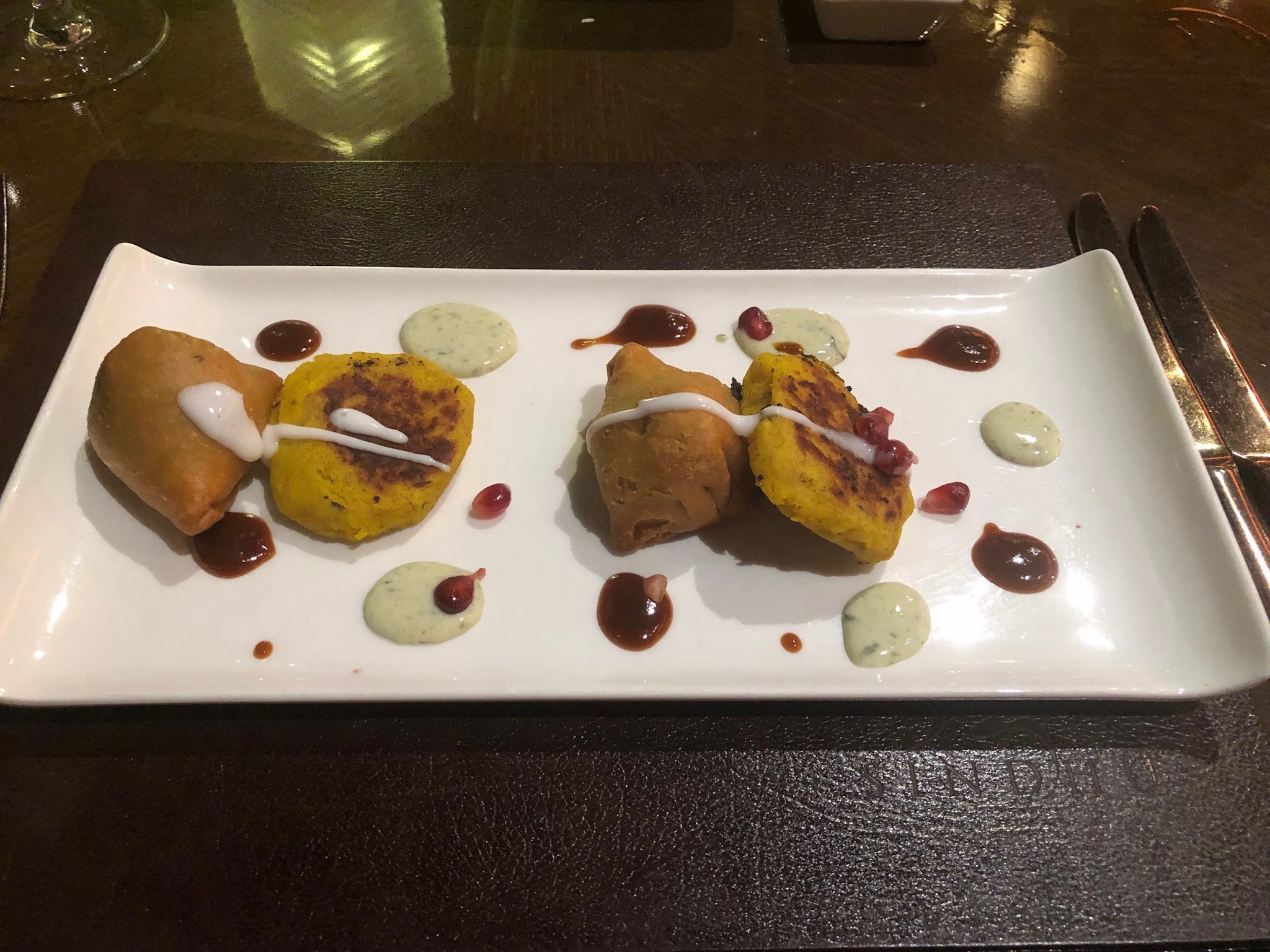 Now for the mains. Matt ordered the mushroom biriyani, which was actually a lot like a pie. This sounds odd for an Indian dish, but somehow it worked. This was served with an accompaniment of raita and onions.
I ordered a vegetarian version of the Sindhu Signature Plate. This was three small curries, accompanied by rice and onions. We were also presented with some side dishes to share – chickpea dahl and something else (I can't remember what it was but it was yummy).
Next was a palate cleanser which was a strawberry and black pepper sorbet. Again, totally unexpected but a really welcome touch. It was very peppery, but we both enjoyed it.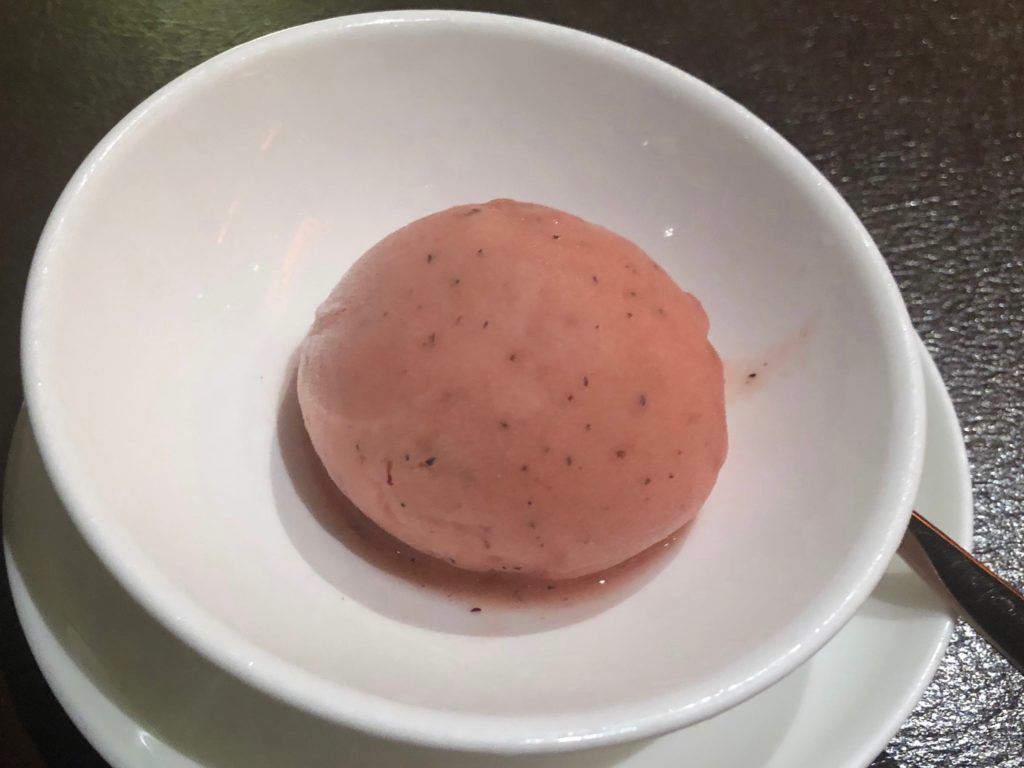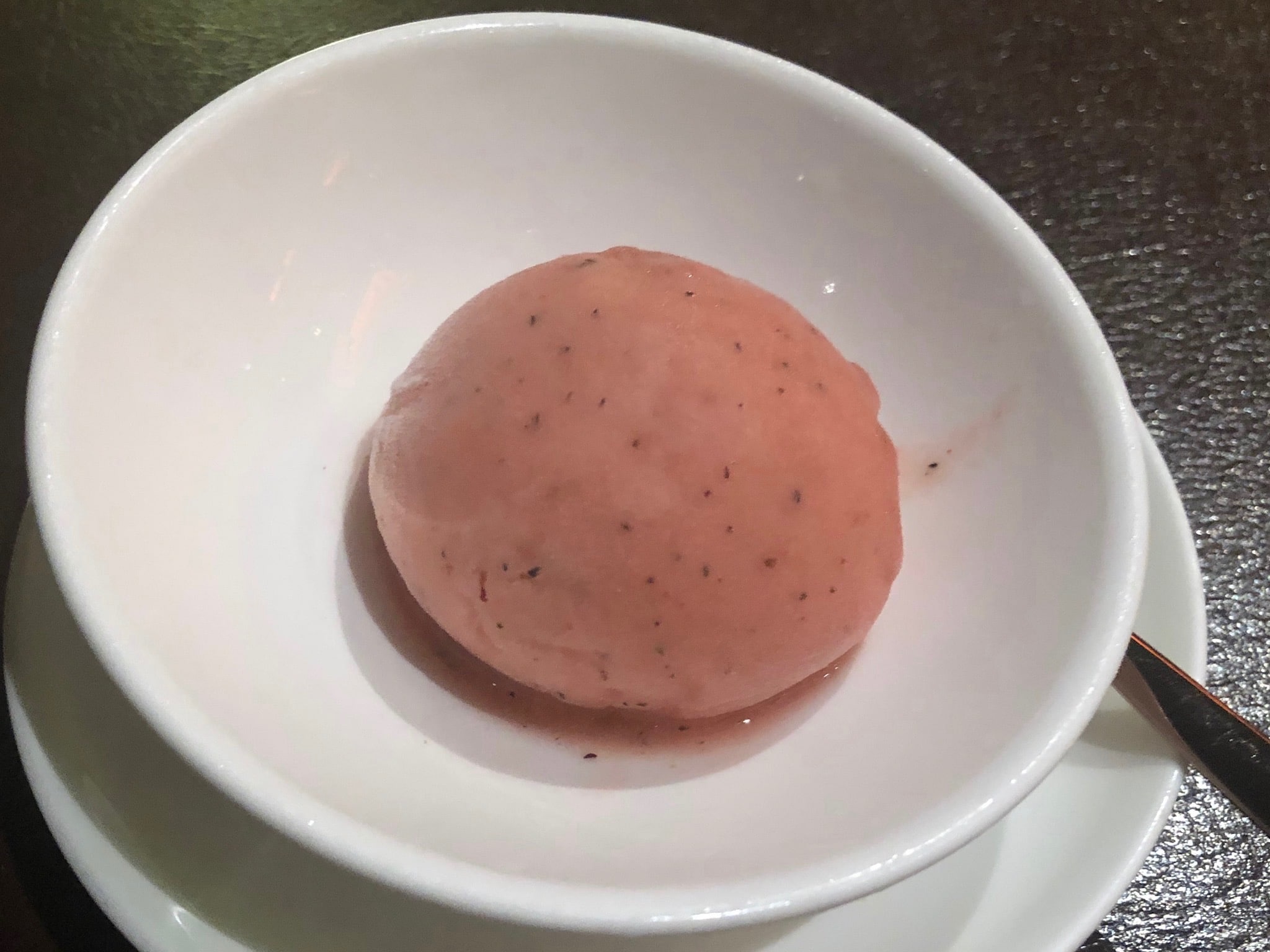 For dessert, Matt ordered the apple pie and I ordered the dark chocolate sphere. When my chocolate sphere arrived it was so beautiful – a big, round ball of glittery dark chocolate. Before I could take a photo, the waitress poured a jug of hot melted chocolate on to it and it quickly melted into what you see in the photo below – not quite as pretty, but still tasty.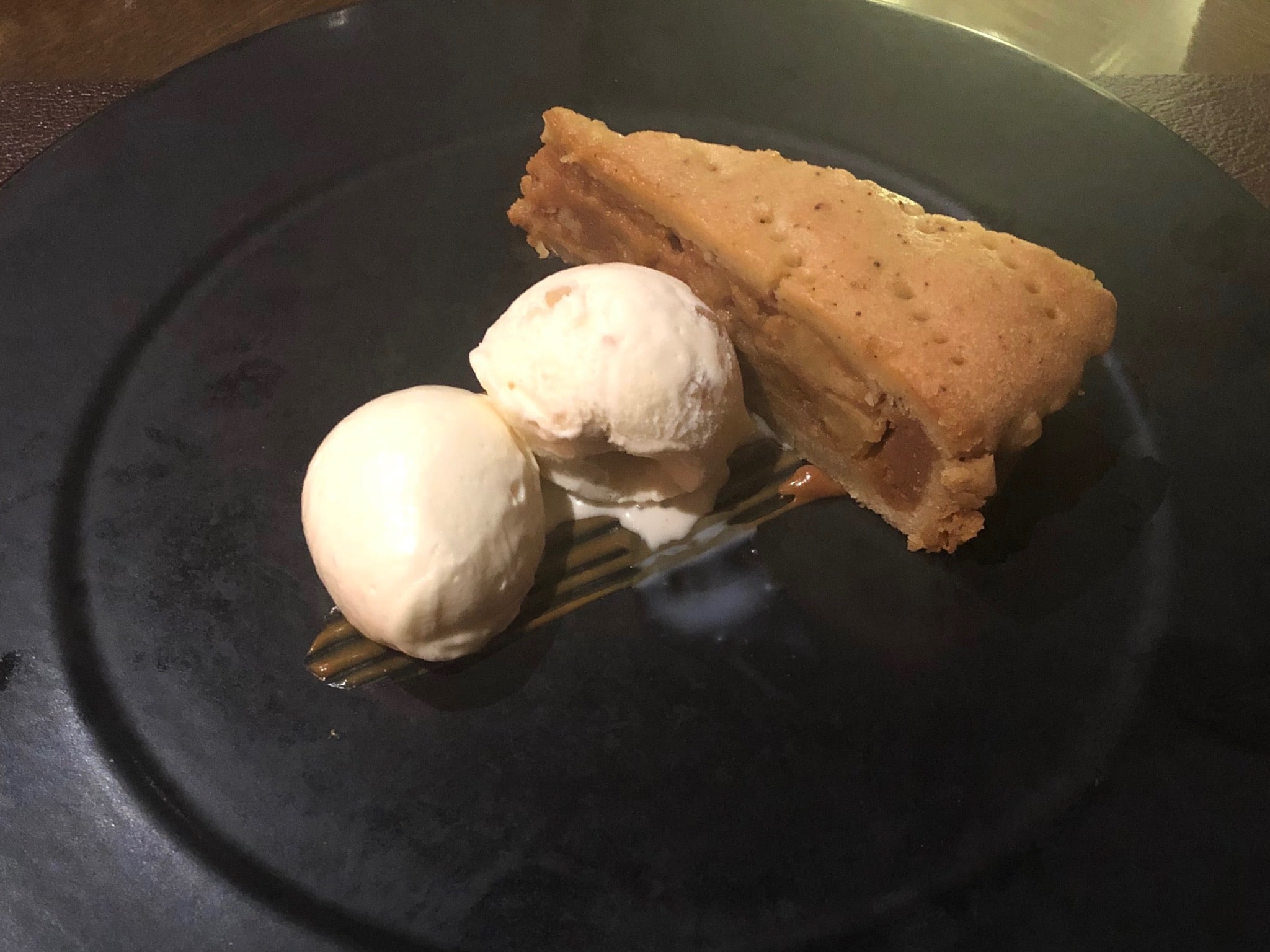 As I was eating my dessert, I wondered if I was supposed to say 'when' as she poured the chocolate, as you would do with parmesan or pepper on spaghetti. I didn't say 'when', so my dessert was essentially a pool of chocolate – delicious, but maybe a bit too much for all but the most extreme of chocoholics.
Lastly, we were served with some Indian sweets and snacks. These would have been yummy had we not been so full from the previous six courses. We simply could not fit in any more food before we waddled off to the theatre!
The service
The service in Sindhu was outstanding – some of the best I have experienced in any restaurant on land or at sea. The atmosphere was really lovely too – the dark decor made for a very romantic setting to enjoy a meal for two.
While we were in Sindhu our children played happily in the kids' club. Whilst children are welcome in Sindhu, and can choose from the Indian menu or the same kids' menu as you'll find in the main dining room, we welcomed the alone time without them.
We certainly enjoyed our meal at Sindhu and thought that the £20 per person cover charge was great value for the experience. A meal like that would certainly cost much more on land.
Whilst the vegetarian options at Sindhu were limited, the menu changes weekly. So if you're taking a two-week cruise, I would recommend trying Sindhu in the first week, so that should you want to return, you can choose a different selection of dishes on your second visit.
NEW DEALS JUST RELEASED!
Don't miss the latest P&O Cruises offers…
Related Posts: