The Princess Medallion is your gateway to a faster check-in process, drinks served to you anywhere on the ship without you having to lift a finger and a whole host of other benefits.
But they're quite small, so keeping them to hand without losing them is a bit of a balancing act. You do get a lanyard included, but you may prefer to use something else.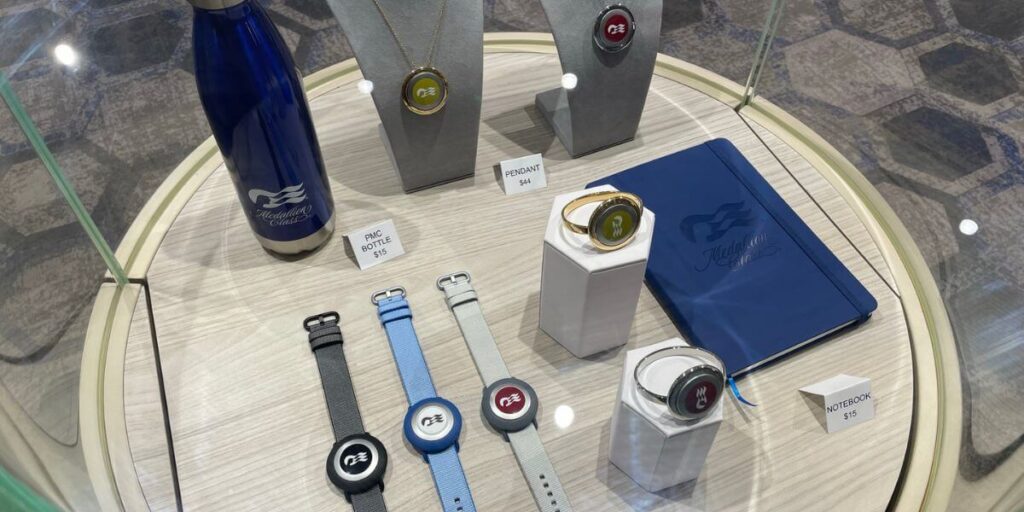 Thankfully, there are plenty of options available to buy to hold your Princess Medallion safely while you focus on relaxing. Let's take a look at some of the best.
How Do I Get My Princess Medallion?
You'll get your Princess Medallion when you're due to check in for your cruise. Make sure you've already filled out your details on the MedallionClass app to make the process even smoother. US-based passengers can get the medallion shipped to their homes.
The lanyard is usually available for collection at the port as well, although it may be shipped alongside the Medallion for American passengers. If you don't get it with the Medallion in the mail, just ask for your lanyard as you check-in.
This is the lanyard you'll be given to hold your Ocean Medallion. It's decent, but as it's white, you may find that it starts to look grubby a few days into your cruise.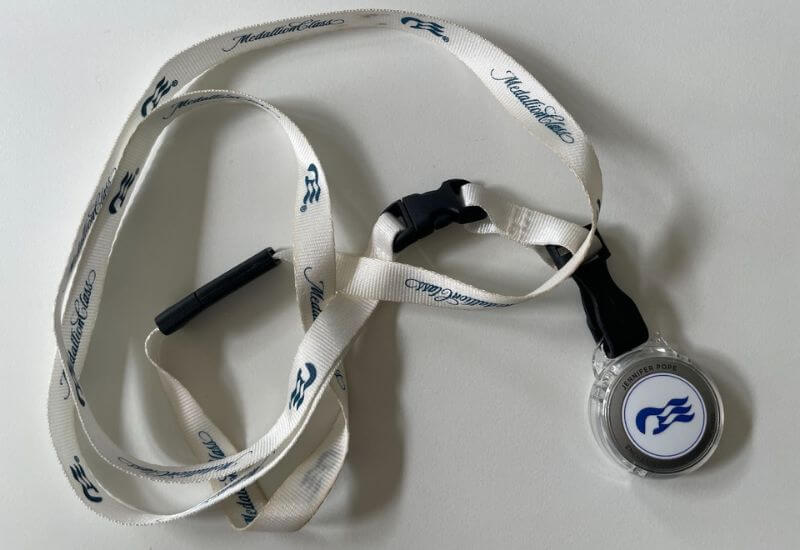 How Much Does Princess Medallion Cost?
The Princess Medallion is completely free – you'll be given it alongside a free lanyard when you are about to board the ship. You can also get it replaced at no extra cost if you lose it during your cruise.
The other accessories that Princess sells for the Medallion do have an additional cost, and if you lose those then you'll need to buy them again – you can't get them replaced for free.
NEW DEALS JUST RELEASED!
See the latest Princess Cruises offers…
Why Buy a Princess Cruise Medallion Holder?
Like I say, you get given a lanyard for your Princess Medallion for free when you sail, which comes with a holder that will keep your Medallion nice and secure. But some people may prefer not to wear a lanyard.
They may chaff your neck over time, or you might find that they just get in the way of your outfit, or when you're trying to swim. And you don't want to take it off ideally, because then you could lose it.
Buying an alternative holder is a way to keep it nice and safe, but also discreet too – so you can enjoy all the benefits of having it on your person, without it hanging across your chest if you don't want it to.
The Best Princess Medallion Accessories
Here's a look at some of the best Princess Ocean Medallion accessories you can buy.
1. Retractable Cruise Lanyard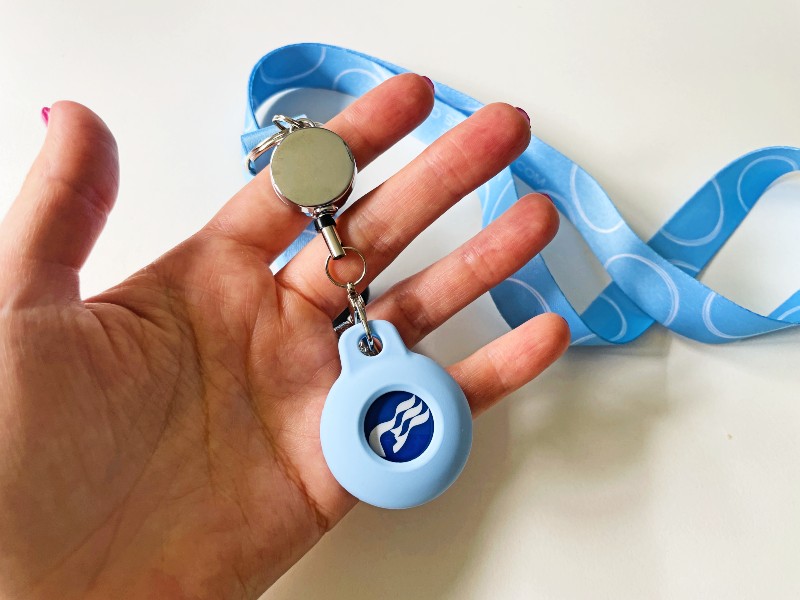 So you already get a Princess Medallion lanyard, but why not swap it out for one that is a bit more unique, but also retractable? That way if you ever need to swipe your Medallion close to a touch screen, you don't have to lean in an awkward position to do so.
This one comes in a variety of beachy colours to match all your cruise outfits. And it also has a regular cruise card holder too, so you can use it with every cruise, not just Princess.
2. Luke3DP Watch Adapter
A lot of people agree that the most convenient place to wear your Medallion is on your wrist, but if you already have a watch then you might not want to add a second strap to your arm – things might get a little crowded.
This watch strap adapter is therefore ideal – it'll attach to an existing watch strap and perfectly fits the Princess Medallion. It's also available in a wide range of colours, so you can find the perfect one to match your existing strap.
3. Sport Band
If you don't already wear a watch, or you don't mind a second strap on your wrist, then a sports band is often the perfect holder for your Princess Medallion. It keeps it out of the way, it looks quite modern, but it will always stay secure no matter what you're getting up to.
This option comes in a variety of colours. It's slightly more pricey than the sports bands you could pick up on the ship, but you're getting two in the pack, so it works out cheaper overall. Plus you can have them bought and delivered to you well in advance of your cruise so you know you have it ready to go.
4. Ocean Medallion Clip
This small clip is the most discrete way to wear an Ocean Medallion. You can clip it onto your shirt, pocket, waistband, hat or bag so that you know it's safe.
Because this clip is so small, it's also one of the cheapest Medallion accessories. It comes in a range of colours.
5. Kids' Character Bracelets
If you're taking a Princess cruise with children, then these fun Ocean Medallion bracelets are a must! The lanyard that comes with the Medallion isn't great for kids – it's far too long and I'd be worried about them getting it caught while playing and hurting themselves.
Most children would definitely prefer a soft silicone Princess Medallion bracelet that keeps the Medallion safe inside. They come in a pack of four, so your children can choose their favourite characters like Hello Kitty and Monsters Inc as well as cute animals like pandas, unicorns and dinosaurs.
6. Aluminum Alloy Carabiner
Another option for keeping your Medallion secure and out of the way is to attach it to a clip. You can then clip this to any part of you that's most comfortable – a shirt pocket, a belt loop or a bag.
Available in a range of colours and designed to be the perfect size for the Medallion, this option is durable and secure, so you don't need to worry about your Medallion coming loose during a brisk walk and you accidentally losing it. Plus you get four, ideal for a family cruise.
7. AirTag Leather Keyring
The Princess Medallion is almost the exact same size as an Apple AirTag, so you can use AirTag accessories to keep your Medallion safe. This clip has a tight ring that you can either attach to your belt or pocket, or secure to a bag, and it won't slip loose at any stage.
It is made from premium leather, so if you're comfortable owning that material then it'll have a premium look and feel. You can also get a multi-pack so that you can pass one out to each of your travelling party.
8. Dingfeiyu AirTag Wristband
Another wristband option, this is better suited to anyone who either doesn't like the sensation of plastic on their wrist or that gets irritated skin from plastic materials. It works the same as the sport bands, but it's made from a gentle and breathable nylon.
It's not the softest material, but it's durable and washable, and it will allow your wrist to avoid some of the sweaty build-ups when you're in hotter locations. Just be aware that it has a Velcro fastener, so keep an eye on it if you're doing any vigorous excursions.
9. Four-Pack Silicone AirTag Holder
A great budget option, this pack includes four different clips that can hold a Princess Medallion, with three options of how to affix them to yourself. You've got keyring clips, a D-ring clip and a longer plastic loop option that you could tie around your wrist or around an item of clothing.
The versatility is great if you aren't sure how you'd prefer to wear your Princess Medallion yet, or if you're buying for your travelling group and just want a convenient pack that has four of you covered.
10. Official Princess Medallion Accessories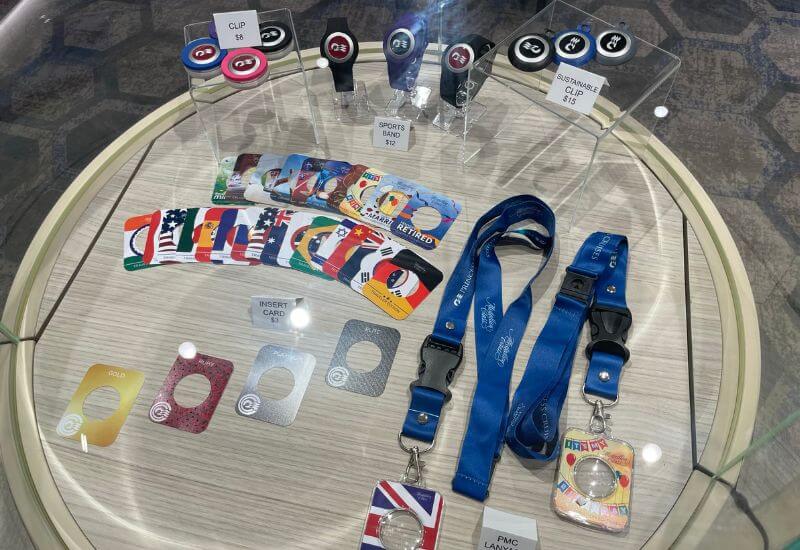 If you like the idea of sticking to something official, then you can buy official Princess cruise Medallion accessories, including plastic wrist bands, a plastic clip, and metal jewellery including bracelets and necklaces. You can also get replacement paper inserts for the lanyard, which can celebrate a special occasion.
Prices range from $3 (paper insert) to $65 (gold bracelet) so there's a wide variety of options. You can't order them online through the Princess Cruises website, but once you've booked your cruise and downloaded the MedallionCruise app you can order through there, or just head to the OceanFront store on-board your ship to browse the accessories in person.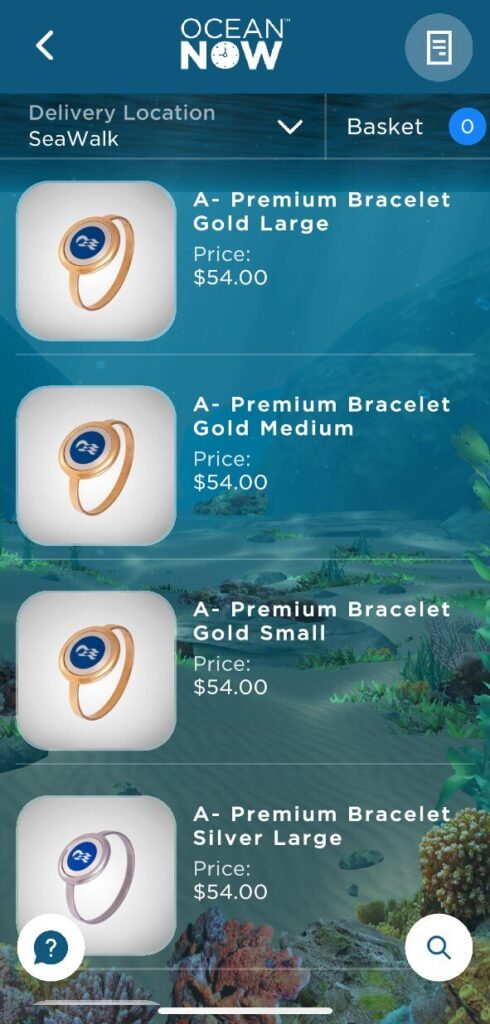 Remember, while Princess will happily replace a Medallion and a lanyard free of charge, any other accessories are your responsibility once you've bought them.
NEW DEALS JUST RELEASED!
See the latest Princess Cruises offers…
To Conclude
Picking up a new holder for your Princess Medallion is important if you don't think the lanyard will suit you. You're going to be carrying the Medallion around with you a lot – it's your stateroom key, your payment device and a lot more. So you need to be happy with how you're wearing it.
There are a lot of options available for the neck, the wrist or to clip onto your clothes, so consider what would be the least intrusive for how you intend to dress and what you want to do while on your cruise, and you should be able to find an accessory that suits you.
Related Posts: