Ocean-related names always have a lot of meaning behind them. What better name to give your baby (or fur-baby) than something which relates to the features of the sea – strong, mysterious and beautiful.
Many of the ocean-themed baby names are names that mean ocean in other languages. Some mythical ocean names refer to gods of the sea and others are related to the sea in different ways.
In researching this article I found that my own name, Jennifer, means 'white wave', which is something I'm thrilled about! I love having a water-themed name.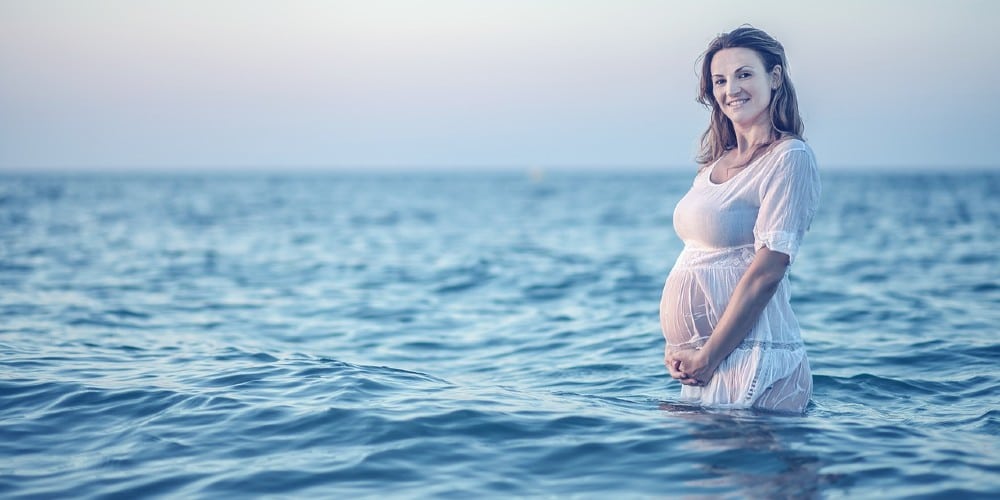 Names That Mean Ocean
There are many baby names that mean water or ocean to choose from. Some of these aquatic names are obvious, but others have a hidden meaning and you wouldn't know that these names mean ocean unless you looked it up.
Ocean Inspired Baby Names
I've split this ocean names list into boy names, girl names and dog names. However, some names are unisex and some of the dog names can definitely also be used by humans so please don't be offended if your ocean baby name is on the dog name list!
Ocean Names For Girls
This list includes girls' names that mean ocean and other water-related girl names.
Giving your baby girl a name meaning ocean, sea or water is a great idea because the ocean is powerful, beautiful and mysterious – just like your daughter! There are so many beautiful water names for girls.
Whether you want a subtle ocean-themed girl name like Jennifer or a strong name like Ocean, take a look at this list of the best ocean names for girls.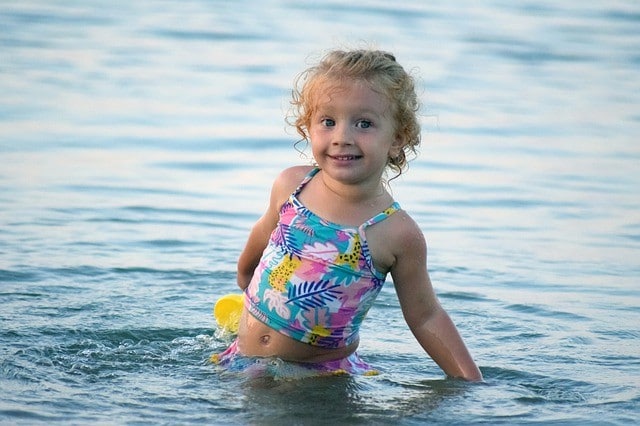 Aerwyna – Old English, means 'friend of the sea'
Amphitrite – In Greek mythology, Amphitrite was the wife of Poseidon and was said to be the personification of the sea
Ariel – Thanks to Disney, probably one of the most popular mermaid names right now
Asherah – This awesome name has an awesome meaning – 'she who walks on the sea'
Aukai – Hawaiian girls name that means 'explorer of the sea'
Avisa – Means ocean in Sankrit
Beryl – Now considered a more old-fashioned name, these eventually get popular again and this means 'sea-green jewel' – one to consider if your girl has green eyes
Cari – In Welsh, it means 'beloved' but it also has a Turkish meaning, 'flows like water'
Chantara – A more unusual name, this Thai word means 'moon water'
Coral – A classic ocean-inspired name that makes you think of reefs
Cordelia – She is the Celtic goddess of the sea
Daria – A variant of the Persian name 'Darya', which means 'ocean'
Delja – This Polish girls' name means 'daughter of the sea'
Delmare – French in origin, and meaning 'of the sea'
Derya – This Turkish name is one of the prettiest names that mean 'sea'
Doris – This name is of Greek origin and means 'gift of the ocean'
Dwyn – A Welsh name, this power word means 'wave'
Ezili – This name comes from the Benin goddess of water and beauty
Firtha – An old Scottish name that means 'arm of the sea'
Gali – In Hebrew, this name means 'wave'.
Ginevra – A name similar to Guinevere, this means 'white wave'
Iluka – This Aboriginal name means 'by the sea'
Itsaso – This Spanish girls' name means 'sea'
Jennifer – Cornish for 'white wave'
Kailani – This pretty Hawaiian girls' name means 'sea and sky'
Kaimana – This Hawaiian name means 'the power of the ocean'. It's suitable for both girls and boys.
Kairi – This Japanese girls' name means 'ocean'
Kendra – A pretty name meaning 'water baby'
Lana – A name from Hawaii, this means 'afloat in calm waters'
Manami – This Japanese name has several possible meanings, one of which is 'ocean'
Mar – Mar is the Spanish and Portuguese word for 'sea'
Marcelline – A pretty French name meaning 'defender of the sea'
Maree – This is a variation of Mary, and means 'ocean tides'
Marella – Latin for 'star of the sea'
Maren – Another Latin name, this time meaning 'sea'
Marina – As well as being a place where boats are kept, Marina is a Latin name meaning 'from the sea'
Marissa – A pretty alternative to Melissa that means 'drop of the sea'
Maya – Of all the girls' names that mean 'water', this one is very popular right now
Mayim – A Hebrew name, this is another that simply translates to 'water'
Meri – A name of Estonian and Finnish origin, meaning 'sea'
Mira – This beautiful Latin name has several meanings including 'ocean'
Moana – This Polynesian name means 'sea' and is also the title of a well-known Disney movie
Morgan – This popular unisex Welsh name means 'sea-born'. An alternative that's just for girls would be Morgana.
Morwenna – This is a Welsh girls' name which means 'waves of the sea'.
Murial – An Irish name meaning 'of the bright sea'
Naia – A name from the Basque region that means 'wave' or 'seafoam'
Nerida – One of the most exotic sea names for girls, this name means 'mermaid' in Greek
Nerissa – A Greek name meaning 'from the sea'
Nori – Japanese for seaweed, and also the nickname Kim Kardashian uses for her daughter North West
Ocean – This strong name is perfect for a baby girl
Onda – Italian for 'wave'
Ondine – A Latin name meaning 'little wave'
Pearl – English in origin, named for the birthstone found in the sea
Sedna – A more unusual name, it is shared with the Goddess of the sea
Sereia – The Portuguese word for 'mermaid'
Serena – The Latin origin of this name means 'clear' or 'tranquil'
Stellamaris – This is a girls' name meaning 'star of the sea'
Tarni – A favourite in Australia for girls, this name means 'wave' or 'surf'
Thalassa – This unusual girls' name means 'ocean'
Ula – This unusual name means 'gem of the sea'
Umiko – A Japanese girl's name that means 'child of the sea'
Vanora – This unique girl's name is Welsh in origin and means 'white wave'
Varuna – In Hindi, this is the god of water and oceans, and it's a popular girls' name
Yara – A popular name from the recent Game of Thrones books and TV series, this Brazilian name means 'water lady'
Zarya – This Slavic name once belonged to an exotic water priestess
Ocean Names For Boys
This list includes boy names meaning ocean and other ocean-themed names for boys.
Water-inspired names are flowing back into fashion for boys and are especially popular with nature lovers. The ocean is strong, interesting and limitless – just like your baby son will surely be!
Ocean names for boys can be traditional or modern, common or unusual. There's a sea-inspired name to suit every young man.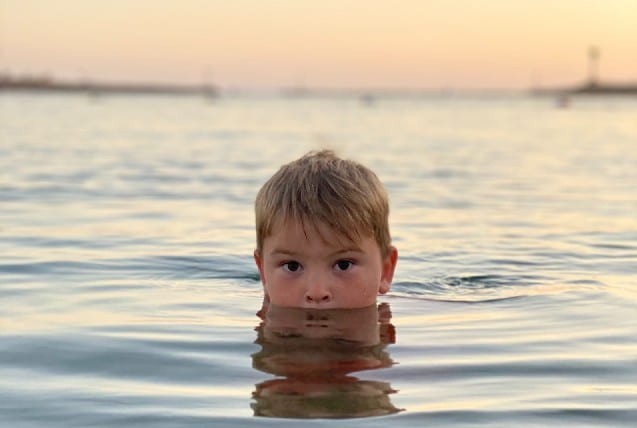 Aalto – A Scandinavian boys' name, this means 'wave'
Adrian – The name Adrian was originally used to refer to a person from the Adriatic Sea
Alon – This sophisticated-sounding boys' name means 'waves'
Arnav – This Hindi name means 'ocean'
Calder – Becoming more popular in the last 10 years, this name means 'rocky water'
Caspian – The Caspian Sea is an inland body of water between Europe and Asia
Cove – Gaining popularity as a baby name in the US, a cove is a coastal inlet
Delmar – Translated from Spanish, this boys' name means 'of the sea'
Delmore – This French boys' name means 'of the sea'
Deniz – This Turkish name means 'sea'. It was traditionally a boys' name but nowadays it's unisex. Variations include Dennis and Denise.
Douglas – This Scottish boys' name means 'black water'. It can be shortened to Doug.
Dylan – Commonly used for boys, but can also be unisex, Dylan is a Welsh name meaning 'son of the sea'
Earwyn – Surprisingly common in the US, this name means 'friend of the sea'
Eldoris – The inspiration for Doris in the girls' list above, and also meaning 'of the sea', but a great unisex version of the name
Gyatso – This is a Buddhist boys' name which means 'ocean'
Hali – This unisex name is of Greek origin and means 'sea'.
Heli – A Celtic unisex name which means 'saltwater' It's found in the name of the Welsh town Pwllheli, which translates as 'saltwater pool'
Hurley – An Irish boys' name meaning 'sea tide'
Irving – More common as a surname, this Scottish name means 'sea friend'
Jordan – This popular name means 'to flow down'. It can also be used for girls
Kai – A really popular name in the UK, this means 'sea' in its Hawaiian derivation.
Kano – Mixed routes from Japan and Africa, this means 'god of the water'
Laguna – Another name that can be used for boys or girls, it's Italian and means 'pond' or 'lake', which is similar to ocean
Llyr – This Welsh name means 'the sea', but is virtually impossible to pronounce if you're not Welsh
Malik – This Arabic boys' name means 'wave'. It can also be spelled as Malek or Maliq.
Marino – The male version of Marina, it means 'of the sea'
Maury – With a Latin heritage, this name means 'sea channel'
Moses – Really popular in the UK right now, this biblical name means 'delivered from the water'
Murdoch – Also spelled as Murdock, this was originally a nickname for a person associated with the sea
Murray – An old Scottish name that means 'settlement by the sea'
Okeanos – In Greek mythology this was the body of water that was believed to surround the earth
River – This is a great name because all rivers lead to the ocean
Trent – In Latin, Trent means 'gushing water'
Wade – You can 'wade' through the sea, so this is surely one of the best subtle water names for boys.
Ocean Names For Dogs
This list of dog names is for boy and girl dogs. However, this list of mostly unisex names can certainly also be used for human babies as well as fur babies!
The breed of dog or puppy that you choose will likely influence the name that you choose for your dog. Big strong dogs might suit strong ocean names like Captain whereas smaller breeds might be more suited to cute sea names like Pasha.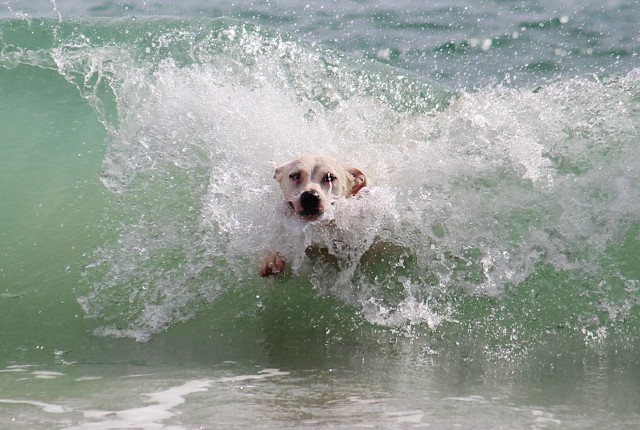 Azure – The colour of deep blue water, like the sea. Great for female dogs
Bardo – A name with mixed routes, but in several cultures, it means 'water'
Blue – Another simple option named for the colour of the sea
Bo – A great short name for a dog, it means 'wave' in Chinese
Captain – This ship-related name would be great for a boy dog
Chop – While it doesn't inspire calm, a name that is related to choppy waters
Crest – This short, sharp name is like the crest of a wave
Cruise – Well why not? It can definitely work as a cool name for a dog.
Knot – Another strong name, this relates to the speed travelled on the ocean
Marley – The name of the naughty labrador in the movie 'Marley & Me'. Marley means 'pleasant seaside meadow'
Marvin – This boy dog's name means 'sea hill' in Welsh. An alternative with the same meaning is Mervin.
Merlin – Perhaps a bit too wizardly for a human, this name which means 'sea fortress' is perfect for a dog
Murphy – This jaunty Irish name means 'sea warrior'
Murray – Meaning 'settlement by the sea'
Nen – Short and snappy, this Egyptian name means 'ancient waters'
Neptune – This mythical ocean name comes from the god of the sea according to the Romans
Nixie – A great girl dog name, Nixie is a Maori name that means 'reflections on the water'
Pasha – This unisex name means 'of the ocean'
Poseidon – Greek god of the seas, and a great one to shorten to 'Po'.
Reef – This relaxing name probably works best for boy dogs, but could be unisex
Siren – In Greek mythology, sirens were alluring mermaid creatures. Now, it makes a good name for a female dog.
Tallulah – A name with both Irish and Native American heritage, this means leaping water – great for a bouncy female dog.
Tiberius – The Tiber is a river in Italy, not strictly the sea, but this would make a great name for a big male dog.
Tide – This is another strong name that would work great for a dog
Triton – Greek god Triton was the son of Neptune
Zale – A powerful name that means 'strength of the sea'
To conclude
Whether you're thinking of a name for a baby boy, girl, dog, cat or other pet, I hope that you've found inspiration in this list of ocean and water-related names.
Can you think of any other ocean, water, sea or otherwise aquatic names? Please feel free to add your suggestions in the comments!
Related posts: