When you're packing for a cruise, most people like to pack a book or two to read by the pool. But which are the best books to take on a cruise?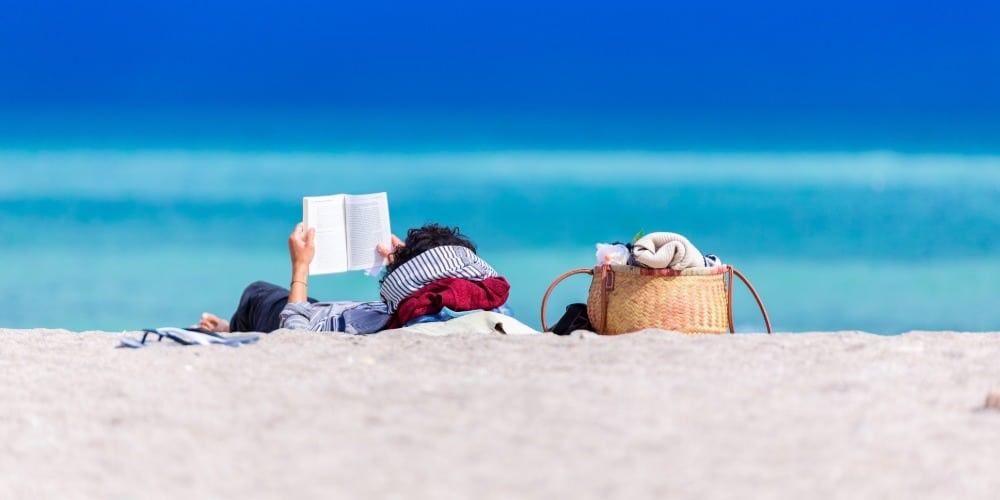 Well, books that are set on cruise ships or are about cruising are always good options. And there are plenty of those to choose from on Amazon.
The best books to read on a cruise:
You can choose from paperback versions, kindle versions or audiobooks.
If you've never tried an audiobook, then now's a great time to give it a go as you can get many cruise-related audiobooks for free when you take a free 30-day trial of Amazon Audible.
1. Fiction books set on cruise ships
A cruise ship makes a great setting for a novel, and you'll find scores of these available.
If you like murder-mystery 'whodunnit'-type books, then you'll have plenty to choose from. It seems that going overboard is a common occurrence in cruise ship fiction, thankfully much more so than in real life!
Top pick
In 'The Woman in Cabin 10', a journalist witnesses a woman being thrown over the side of a cruise ship. But bizarrely, all passengers are accounted for and the cruise continues as if nothing has happened. This intense page-turner has won several awards and has topped many a bestseller list.
A popular murder mystery series
If you like to be kept guessing until the end, other cruise mystery books you might like include the 'Cruise Ship Cozy Mysteries' by Hope Callaghan. This bumper series of 19 books contain no bad language, sex or violence so would be ideal for teens to enjoy too.
Of course, not all cruise-themed fiction involves murders! There are some good romance, comedy and historical books to enjoy as well.
2. Non-fiction books about the cruise industry
True life tales of what happens on cruise ships can be just as page-turning as fiction. In fact, most cruisers will admit to being at least a little bit intrigued about what the crew get up to once their daily shift finishes.
Top pick
Cruising Interrupted is a compendium of stories from all kinds of cruisers, both famous names and ordinary people.
This book features a chapter about myself, as well as some other well-known cruise bloggers and YouTubers.
A popular real-life series
One book which dishes plenty of dirt on what goes on behind the scenes is 'Cruise Confidential' by Brian David Bruns. In fact, so much dirt is there, that the author has released not one but four books in his series on this topic.
If you like to hear real anecdotes about life as cruise ship crew, then these books are sure to leave you howling with laughter.
3. Cruise travel guides
You'd be forgiven for thinking that a cruise travel guide would be something that you'd read before your cruise, but some of these can actually be great to take away with you too.
Top pick
If you're looking for a general cruise guide book, then Fodor's travel guides are excellent.
As well as helping you to work out what kind of cruise is right for you, they have detailed reviews and gradings of every ship. There's a cruise version and a river cruise version to choose from.
Specialist guides
Within the cruise guide book genre, you'll find specialist cruise guide books for families, for wheelchair users and particular cruise lines, such as Disney.
When it comes to going ashore, planning ahead is definitely recommended. Whilst you can step off the ship and wander, if you want to see all the highlights of each port city, then a cruise port guide can be invaluable.
Related posts: