When you're packing for a cruise, most people like to pack a book or two to read by the pool. But which are the best books to read on a cruise?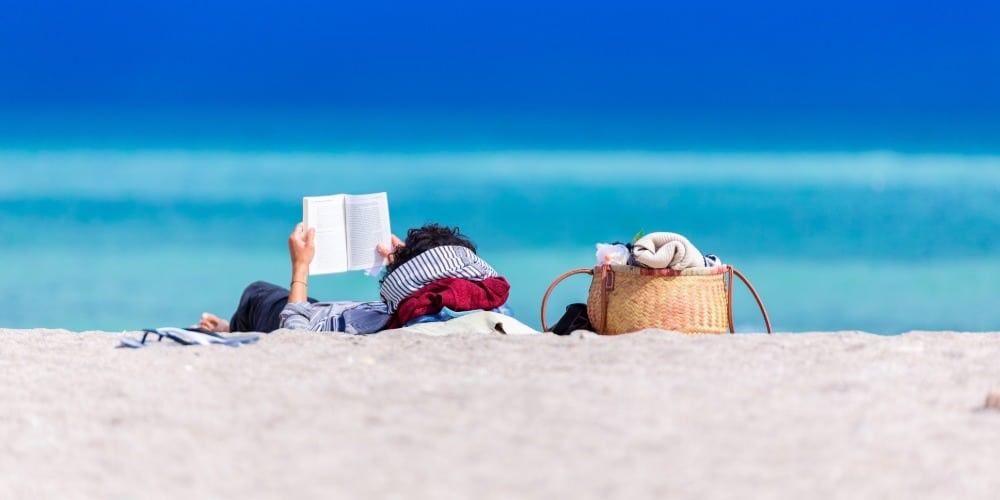 Well, books that are set on cruise ships or are about cruising are always good options. And there are plenty of those to choose from on Amazon.
The best books to read on a cruise:
You can choose from paperback versions, kindle versions or audiobooks.
If you've never tried an audiobook, then now's a great time to give it a go as you can get many cruise-related audiobooks for free when you take a free 30-day trial of Amazon Audible.
Fiction Books Set on Cruise Ships
A cruise ship makes a great setting for a novel, and you'll find scores of these available.
If you like murder-mystery 'whodunnit'-type books, then you'll have plenty to choose from. It seems that going overboard is a common occurrence in cruise ship fiction, thankfully much more so than in real life!
The Woman in Cabin 10 is a gripping psychological thriller set on a luxury cruise ship.
In a story reminiscent of Agatha Christie's works, a travel journalist embarks on a week-long voyage when she witnesses a fellow guest being thrown overboard. The problem? All passengers remain accounted for and the ship sails on as if nothing has happened.
I read this book on a cruise on MSC Virtuosa. It's a murder mystery that keeps you turning the pages as more and more people are murdered on the ship in more and more mysterious circumstances.
If you like cruise ship mysteries, then I would certainly recommend that you give this one a read.
Awards:
New York Times Bestseller
USA Today Bestseller
Entertainment Weekly "Summer Must List" Pick
New York Post "Summer Must-Read" Pick
(A series of 24 books)
If you like cruise ship mystery books, then this series of novels is sure to keep you busy with 24 thrilling stories to enjoy.
The first book features Millie Sanders, a heartbroken lady who's landed her dream job as an assistant cruise director on-board the fictional mega ship, Siren of the Seas. But before she has a chance to settle in, she finds herself in the middle of a murder investigation.
This classic novel is one of Agatha Christie's most famous mysteries. The story is set to become a movie in October 2020, directed by and starring Kenneth Branagh.
The story is set on a luxury Nile cruise. The tranquillity of the voyage is shattered when a young lady is shot in the head. Time for Hercule Poirot to solve the mystery in this exotic setting where nothing is as it seems.
This thrillingly funny book by bestselling author, Carl Hiaasen, is from the popular Skink Series.
It tells the tale of marine biologist Chaz who pushes his wife Joey overboard during a cruise. Joey survives the ordeal, but decides to pretend to be dead so that she can seek her revenge on her evil husband.
Dangerous Crossing is a historical suspense thriller in the same tradition as Agatha Christie's 'Death on the Nile' and Ruth Ware's 'The Woman in Cabin 10.'
Set in 1939, Europe is on the brink of war when young Lily Shepherd boards a cruise ship in England to start a new life in Australia. On-board, she meets new friends who are also running away from their pasts. But, by the time the cruise ends, two passengers are dead and war has been declared.
Mary Higgins Clark, the undisputed 'Queen of Suspense', wrote this classic novel in 1999 and it's certainly one of her best.
The book is about a killer who targets lonely women on cruise ships. Dr. Susan Chandler starts an investigation into the phenomenon of women who disappear, only to discover that the killer may already be known to her.
Awards:
New York Times Bestseller
(A series of 13 books)
This exciting series of 13 murder mystery books each feature main character Rachel Prince, a newly-qualified police constable who has been ditched by her fiancé.
Each book tells the story of one of Rachel's cruises, each of which involves a good dose of murder and mayhem. You'd think that Rachel would switch to land-based holidays, but she doesn't!
If you've enjoyed reading any books by Kate Williams, Beatriz Williams or Jennifer Robson, then you'll love this historical tale of love and resilience by Kim Izzo.
Inspired by the author's family history, this book is set during the Great War. Two New York heiresses board a cruise ship set for England, not knowing that disaster lies ahead as their ship meets its deadly fate.
This hilarious novel was the second book by Dave Barry, after his award-winning novel Big Trouble.
The book is a lighthearted comedy about murder, drug dealing, money laundering and gambling, set on the Extravaganza of the Seas, a fictional cruise ship whose sole job is to carry gamblers three miles from the Florida coast and take their money.
Murder on the QE2 is part of the popular 1990s 'Murder She Wrote' series of TV shows and books.
In this book, Jessica Fletcher sets sail on Cunard's Queen Elizabeth II as a guest lecturer. A fellow speaker is found brutally murdered on the first night, and Jessica has four days at sea to find the killer before he strikes again.
Murder, Curlers and Cruises is one of the Valentine Beaumont series of mystery books by New York Times Bestselling author Liliana Hart.
In this fast-paced mystery, beautician Valentine Beaumont embarks upon a cruise where a bizarre murder takes place on board. Funny, sexy and entertaining, this book has everything you could want in a mystery novel.
This murder mystery novel is part of the Pelican Cove Cozy Mystery Series by Leena Clover and can be enjoyed as a standalone book.
In this novel, Jenny and her friends embark upon a nine-day Caribbean cruise upon Glamour of the Seas. When a game of poker turns deadly, 86-year-old Betty Sue is detained as a suspect and Jenny steps up to help catch the elusive killer.
(A series of 6 books)
This series of six cruise ship mystery books all feature the main character Ellie Tappet and are inspired by the cruises that author Cheri Baker has taken.
In the first book, a cruise passenger finds a finger with a big diamond ring on it in her sangria. Ellie uses her sleuthing skills to find out what happened.
Mats Strandberg is known as the 'Stephen King of Sweden' and this terrifying novel is sure to be a hit with horror fans.
In this book, 1200 passengers join a booze cruise between Sweden and Finland. But, in the middle of the night, the ship is cut off from the outside world. There's no way to contact the mainland, and nobody knows who to trust.
Dead on the Water is a thrilling sci-fi suspense novel by bestselling author R.W.K. Clark.
In this fast-paced novel, a cruise ship is found to be carrying a deadly zombie-making virus. With minimal resources and no means of escape, the cruise passengers have to make some horrifying decisions.
Funny and moving, this book by Lisa Alther is about Dr Jessie Drake who takes a job on a British cruise liner. Recovering from the loss of her lover and coping with crazy cruise ship life, she reckons with her past and feels her way into the future.
Non-Fiction Books About the Cruise Industry
True life tales of what happens on cruise ships can be just as page-turning as fiction. In fact, most cruisers will admit to being at least a little bit intrigued about what the crew get up to once their daily shift finishes.
(A series of 4 books)
In this series of books, former Carnival cruise ship crew member, Brian David Bruns, gives a look behind the scenes of crew life on a cruise ship.
Find out what the crew call those on-board (it's not passengers!), learn about the seemingly nonsensical rules that they have to follow and find out where on the ship are the secret spots to have sex with those that you're not supposed to. Once you've read the first hilarious book, you'll be itching to order the next three.
Award-winning author Paul C. Thornton has profiled cruisers from all over the world in this fascinating insight into what it is that makes cruising so special, and so addictive!
This compendium of cruise stories, anecdotes and profiles has all five-star reviews and is a must-read for anyone who loves to cruise.
After the success of The Joy of Cruising, Paul C. Thornton wrote a follow-up – Cruising Interrupted.
Acknowledging the influence of the global pause from 2020 onwards, this book features tales from several cruise YouTubers and bloggers, including myself, in Chapter Six.
In this graphic travelogue, twenty-something cartoonist, Lucy Knisley, is recruited to assist her elderly grandparents as they take a Caribbean cruise. The vacation turns into a voyage of discovery for Lucy as she celebrates her grandparents' lives and grapples with her own mortality.
This book manages to achieve an impressive balance between humour and poignancy, with sunny sarcasm and heart-wrenching memoirs.
This book tells the real-life tale of a family's experiences as they were quarantined aboard the Grand Princess in 2020.
Of course, coronavirus is no laughing matter, but this book is sure to have you giggling throughout as you hear about the family's mishaps and how they survived, and thrived, whilst quarantined on a cruise ship.
Released in November 2020, 'Quarantine!' is another book about the cruise ship quarantine that occurred in February 2020.
In this book, bestselling writer, Gay Courter, and her husband find themselves trapped on board the Diamond Princess in Japan. The book documents their twelve-day ordeal as they make efforts to get the US government to repatriate them.
In another exposé on life below the waterline, this book promises to answer all the questions that passengers want to ask.
Author Joshua Kinser spent five years working on cruise ships as a musician and art auctioneer. The book includes details on what happened during the coronavirus crisis and how it affected crew members at sea.
The author of this book, Jay Herring, was a senior officer on Carnival cruise ships and one of the few who had access to the entire ship. The book is filled with shocking, entertaining and hilarious stories from his time at sea.
Find out how romance on a cruise ship is unlike anywhere else, what happens when things go wrong on a cruise and what to expect on a nude cruise.
Cruise Travel Guides
You'd be forgiven for thinking that a cruise travel guide would be something that you'd read before your cruise, but some of these can actually be great to take away with you too.
This guide used to be known as the Berlitz Guide, and it has two main parts. The first helps you to work out what you're looking for in a cruise holiday and how to find it. It's full of colourful photos which help to describe every aspect of the cruise experience.
The second part of the book has reviews of over 340 cruise ships, grading them on service, food, entertainment and facilities. The guide is known as the 'cruise industry bible' and is updated every year with all the latest information.
When planning a cruise with children you'll have a few extra things to think about and this guide to cruising with kids can help make choosing a cruise that bit easier.
The author has spent over 170 nights at sea, including at least 100 nights with kids and this book has 4 and a half stars on Amazon.
If you use a wheelchair then this guide to wheelchair accessible cruising will be incredibly valuable. This subject isn't covered too much online and sometimes even the most helpful travel agents don't have all the answers to hand.
The author has been on over 20 cruises, most of them with a wheelchair so is ideally qualified to advise on everything you need to know to find the best cruise and make the most of your time at sea.
If you're thinking of taking your first Disney cruise, then this book will be super helpful. It includes lots of cruise tips that are specific to Disney Cruise Line and is updated each year with the latest information.
You'll also find lots of info about DCL's ports of call, including Castaway Cay, Disney's private island in the Bahamas. Plus coverage of the Disney-run river cruises in Europe,
Carnival is one of the world's largest cruise lines and a popular choice for American families. This book is packed full of cruise dos and don'ts that are specific to families cruising with Carnival.
You can get a free audiobook of Carnival Cruise Tips for Families when you sign up for a 30-day free trial of Audible.
This is a great generic cruise port guide that covers everything you need to know about heading ashore on a cruise.
Whether you like to use the ship's excursions or explore independently, this book is really useful. It's packed full of hints, tips and advice to help you plan all your onshore adventures to a tee.
Fodor's Travel Guides are always packed full of bright and colourful images and this guide to cruise ports in the Caribbean is no exception.
You'll also find lots of handy maps and recommendations for things to see and do in each port.
Rick Steves is a bestselling author of European travel guides and this guide to cruising the Mediterranean offers expert advice about 23 different ports of call.
The book includes handy step-by-step instructions for how to get from the cruise terminals into town as well as some ideas for self-guided walks of each port city.
If you're planning a cruise to Alaska, then the best cruise travel guide is this one from Fodor's Travel.
The guide is written by Alaska locals so it has lots of insider tips about how to make the most of your visit, as well as detailed maps covering more than 20 different ports.
Those planning a cruise to Northern Europe including the UK, France, Belgium, Holland, Germany, Poland, Norway, Sweden, Denmark, Finland, Latvia and Russia will certainly benefit from this port guide by Rick Steves.
Inside, you'll get full coverage of 18 ports of call with self-guided walks to do and full-colour detailed maps.
If you're looking to try your first river cruise, then this Berlitz guide will be incredibly useful.
Written by cruise expert Douglas Ward, it offers unbiased advice about the different rivers and the differences between the various types of river cruise vessels. There are also detailed listings of over 300 river ships and some great full-colour maps.
River cruises often come with excursions included which makes them a really easy way to explore Europe. Still, with a choice of excursions available, you'll likely find this book really handy if you need to decide which ones to do!
Lonely Planet is the world's number one travel guide publisher and this book is of the high standards you'd expect, with fantastic maps, itineraries, tips and reviews of ports along the Rhine Danube and more.
Found any other good books to read on a cruise? Feel free to share your recommendations in the comments.
Related posts: