If you choose a cruise ship packed full of activities like water slides, zip lines and trampolines, the chance of your kids finding time to get bored is pretty slim.
However, not all cruise ships have all these things on board, and even if your ship does, sometimes it's just nice to spend an hour or so as a family, taking the time to play a game together.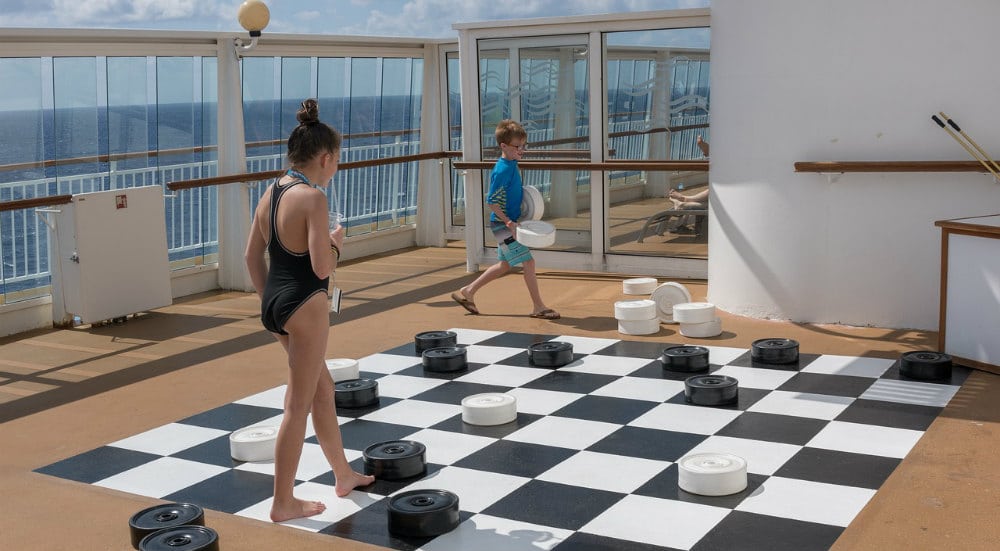 Whether you're planning a transatlantic cruise with lots of sea days and no guarantee of sunshine, or just want something to keep the kids entertained for fifteen minutes while you wait for dinner, taking a game on a cruise can be a great idea.
If your kids are very young, you might want to pop them to bed early and sit out on your balcony playing a game that's just for adults.
Whatever your situation, this post list 13 of the best games to take on a cruise. Each is travel-sized, lightweight and great fun for kids and adults alike.
---
1. Monopoly Deal
Faster, simpler and more convenient to carry than a game of Monopoly, but just as much fun, there are several Monopoly card games to choose from.
Out of these, I think that Monopoly Deal is the best. This is a great game to take on a cruise because it's just a set of cards so can be played anywhere. Games last around ten minutes, but you can play over and over if you like. Once you start playing, it can be pretty hard to stop.
Recommended age: 8 years and up
Players: 2 to 5
Dimensions: 1.9 x 9.2 x 14.3 cm
Weight: 150 g
---
2. Battleship
Battleship is a fun nautical-themed game for two players. The game was first invented during World War I and involves guessing where the other player's ships are located on a grid and calling shots to try to destroy their fleet.
Battleship does have some small pieces which you won't want to lose. Therefore, it's best to buy a travel version of the game so that all the little bits can be stored safely inside. And if you want cruise games with a nautical theme, it's a great choice – even if it's about sinking ships.
Recommended age: 7 years and up
Players: 2
Dimensions: 16 x 23.5 x 5 cm
Weight: 299 g
---
3. Connect 4
Connect 4 is a game that involves two players taking turns to drop coloured discs into a grid. The aim is to connect four discs of your colour in a row either across, down or diagonally. A travel version of Connect 4 not only saves room in your luggage but also keeps all the small pieces safe so that they won't get lost.
If you've not played Connect 4 since childhood, you'll be surprised at how much fun this game can be when two adults play against each other. It can get pretty competitive and you'll be kicking yourself each time you miss an opportunity.
Recommended age: 6 years and up
Players: 2
Dimensions: 4.8 x 15.9 x 23.5 cm
Weight: 200 g
---
4. The Yes! No! Game
The Yes! No! Game is a hilarious game in which you have to answer questions without saying 'yes' or 'no'. If you say yes or no, someone will ring the bell and your turn ends. If, however, you manage to answer every question on the card without saying the banned words, then you keep the card. The player with the most cards at the end of the game wins.
The box says that the Yes! No! game is suitable for children ages eight and up. However, I think that children as young as five could enjoy answering the questions, as long as someone older does the reading.
Recommended age: 8 years and up
Players: 2 to 6
Dimensions: 14.5 x 5.8 x 11.3 cm
Weight: 222 g
---
5. Cluedo
Cluedo (also known as Clue in the USA) is a classic detective game that involves figuring out who killed the host of a party, in which room and with what weapon. Players can keep track of clues in their detective notebooks to try to solve the case first. Was it Miss Scarlet in the kitchen with the dagger or Colonel Mustard in the dining room with the candlestick?
Cluedo isn't the first game that comes to mind when you're looking for board games to take on a cruise. However, the Grab & Go version of Cluedo is perfect for travelling thanks to its small size and the fact that all the pieces can be stored inside the game unit.
Recommended age: 8 years and up
Players: 3 to 6
Dimensions: 27.1 x 27 x 7 cm
Weight: 222 g
---
6. Boggle
I love the game Boggle because it's not just fun, it's also really educational for kids. First, you have to shake the grid to mix up the letter cubes, then you lift the lid and start the timer. Players have 90 seconds to write down as many words as they can find before the time's up. If two or more players find the same word, that one doesn't count. The player with the most unique words wins.
There's no limit to how many players can play Boggle. The more you have, the more tricky it is to find unique words. It's also possible to play as a solo game. Each round you can try to beat your own high score.
Recommended age: 8 years and up
Players: 1 or more
Dimensions: 4.2 x 4.2 x 2.1 cm
Weight: 141 g
---
7. Scrabble
Scrabble is one of the world's most famous board games and involves forming words in an interlocking crossword style on a grid.
This game is recommended for children aged ten or above, although younger children could play will a little help. Once the kids have gone to bed, adults could enjoy a glass of wine on the balcony, and make your own version of Scrabble, where only rude words are allowed.
Recommended age: 10 years and up
Players: 2 to 4
Dimensions: 7.5 x 7.5 x 1.6 cm
Weight: 222 g
---
8. Rummikub
Rummikub is a game that is played with 106 tiles which are numbered from 1 to 13 in four different colours, plus some jokers. The aim of the game is to be the first to get rid of all of your tiles from your rack on to the table. Tiles may be laid in runs of consecutive numbers of the same colour or groups of the same number in different colours.
The game might not be as well-known as Scrabble, but it's an excellent game that can be enjoyed again and again on a cruise.
Recommended age: 7 years and up
Players: 2 to 4
Dimensions: 3.8 x 21.3 x 12.8 cm
Weight: 299 g
---
9. Othello
Othello has the strapline 'a minute to learn, a lifetime to master'. This simple game is made up of an 8×8 board and 64 discs which are black on one side and white on the other. One player chooses black, the other white, and the aim of the game is to have the majority of discs on the board in your colour by the end of the game.
A move is made by placing a disc in a position that 'outflanks' one or more of your opponent's discs. A disc or rows of discs is 'outflanked' when it's surrounded at the ends by discs of the other colour. As you become more familiar with the game, you'll pick up strategies, becoming more skilled in the game until, eventually, you find yourself thinking several moves ahead just as you would with Chess.
Recommended age: 7 years and up
Players: 2
Dimensions: 14 x 4 x 20 cm
Weight: 181 g
---
10. UNO
UNO is a classic card game of matching numbers and colours. The aim is to be the first to 500 points by being the first to get rid of all of your cards, scoring points for any cards which remain in opponents' hands. A key part of the game is that you must remember to shout 'UNO' (which is Spanish for one) when you have only one card remaining.
UNO comes with wild cards such as draw two, skip and reverse. The latest version of the game also includes fun customisable wild cards where you can make up your own forfeits or bonuses and write them on the card.
Love UNO but played it to death already? There are some more fun card games which are similar to UNO, such as Apples to Apples, Exploding Kittens and Sushi Go!
Recommended age: 7 years and up
Players: 2 to 10
Dimensions: 1.9 x 17.8 x 12.7 cm
Weight: 181 g
---
11. Playing Cards
We rarely cruise without a pack of cards. The cheapest and smallest of all the games, a pack of cards can give you hours of fun as the options for games are almost endless. However, one problem with playing card games with young children is that they often struggle to hold them with their small hands.
The Little Hands Card Holder is a fantastic invention which means that kids as young as three years old can join in with card games like Go Fish by using the specially-designed holder to hold the cards.
Recommended age: 3 to 8 years
Players: Any
Weight: 27 g
---
12. Pass the Pigs
Pass the Pigs is a simple and fun game that involves throwing two small plastic pigs onto the table and scoring points depending on which way up they land. A pig on its side scores no points, with five points for a pig standing upright or on its back and more points for trickier positions.
Whilst this game is recommended for children aged eight and up, in reality even the youngest of kids can join in with throwing the pigs, as long as they have someone else to note down their score.
Recommended age: 8 years and up
Players: 2 or more
Dimensions: 6 x 2.7 x 17 cm
Weight: 159 g
---
13. Dobble
Dobble (also known as Spot It) is a compact and fun game for kids and adults alike. The concept is simple, you have to find the matching symbols between two cards and shout it out before anyone else. This fast-paced game is made even more fun with the five different variations which each have different rules.
There's no advantage for adults over children, which makes Dobble the perfect family game. Plus, the cards and box are really small, so it's ideal to take on a cruise.
Recommended age: 6 years and up
Players: 2 to 8
Dimensions: 5.4 x 5.2 x 3.1 cm
Weight: 200 g
---
14. Yahtzee
Yahtzee is a dice game that's been around since the 1940s. The object is to roll five dice to make certain combinations such as three of a kind, a full house (three of one number and two of another) or a strait (four of five numbers in a sequence). Each combination scores different points, with the winner the player who can score the most points.
Yahtzee To Go is a handy travel version of this popular game which includes a dice cup with a lid that can be used for shaking the dice and also to store the rest of the equipment – the five dice, scorepad, pencils and instructions.
Recommended age: 8 years and up
Players: 2 or more
Dimensions: 13.7 x 13.2 x 7.9 cm
Weight: 204 g
---
Cruise Ship Games
Whilst it's a great idea to bring one or two small games on a cruise, it's worth remembering that many cruise ships do have board games that are available to borrow. However, the quality of these vary and it's not unusual to have to rummage through several boxes to try to get together enough of the right pieces for a game of chess!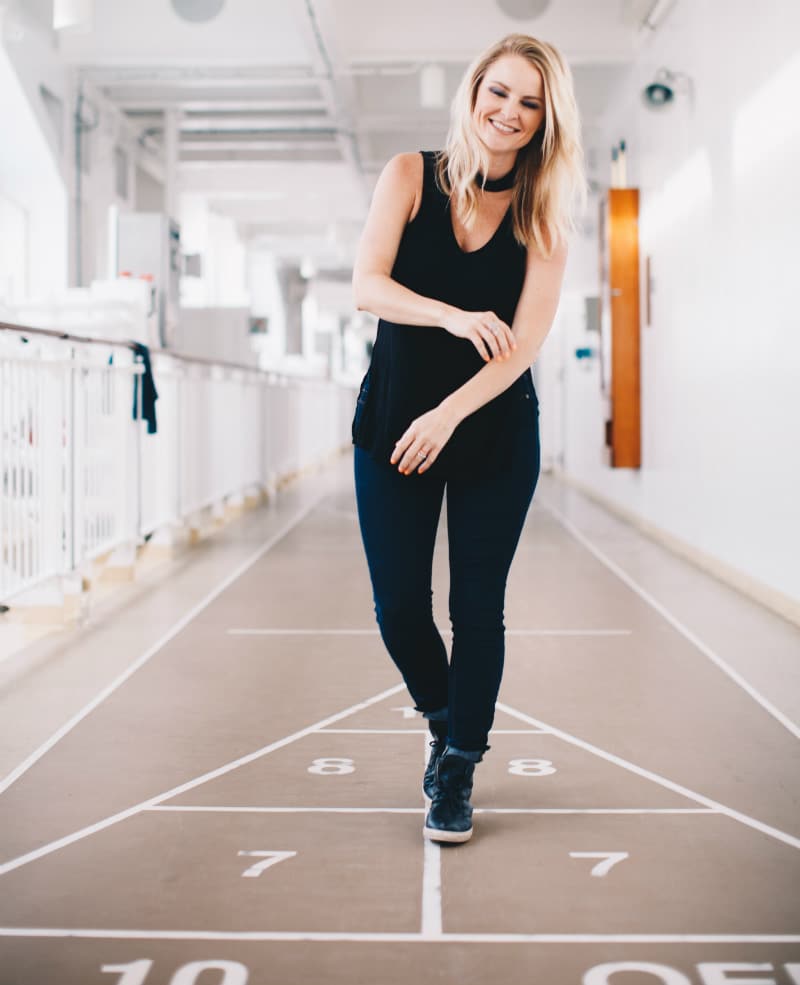 Some ships also have giant versions of chess or draughts on the deck, as well as deck games like quoits and shuffleboard which can be a fun way to spend some time as a family.
Printable Games
If you're really travelling light, one idea is to print off some travel games for kids and bring them with you. My daughter loves to do mazes, word searches and hangman.
Whilst you can buy puzzle books, they're not always at the right level for your children. Printing your own games to play on a cruise enables you to hand-pick sheets that you know they'll enjoy. Plus, they're free!
Related Posts: