P&O Cruises' newest cruise ship, Arvia, features more than 30 places to eat and drink. Some of the restaurants on Arvia are exclusive to this ship.
I cruised on Arvia's maiden voyage for two weeks and tried out almost every bar and restaurant on this ship. So, read on to find out what to expect when it comes to your dining options…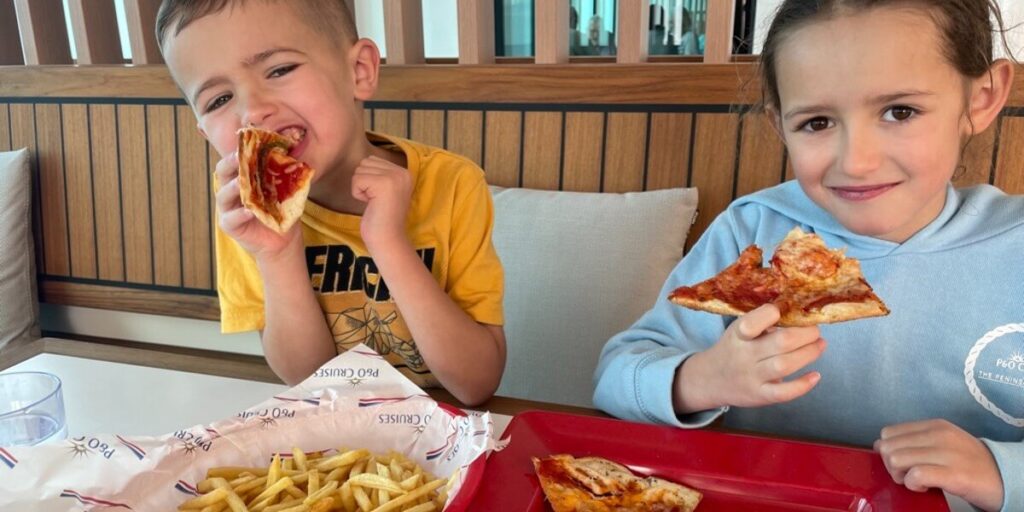 This guide to dining on P&O Arvia shows which restaurants are included in your cruise fare and which have an extra charge. By the end, you'll know exactly where to go to enjoy food when you step on board…
What restaurants are on Arvia?
Arvia offers the following dining venues:
Main Dining Rooms – Meridian and Zenith
The Olive Grove
6th Street Diner
Horizon Buffet Restaurant
The Chef's Table
Green & Co, featuring Mizuhana
The Epicurean
The Limelight Club
The Keel & Cow
Sindhu
The Glass House
The Quays multi-venue dining piazza
The Beach House
Ripples
Vistas Café Bar
Taste 360
Included Dining Options on Arvia
The Main Dining Rooms
✅ Included in the price
While sister-ship Iona has four main restaurants, the new ship Arvia only has two. These restaurants, names Meridian and Zenith are located on Decks Six and Seven. They are open for breakfast, lunch, and dinner.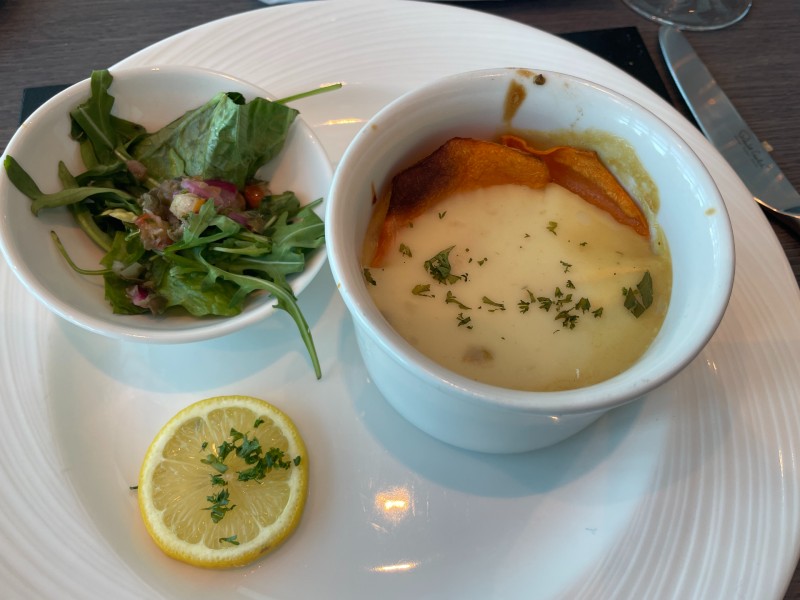 Arvia offers all Freedom dining. This means that you can arrive at any of the main restaurants at any time you like and sit wherever you choose. There are no set dining times on this ship.
Both the main dining rooms serves the same menus, and these change every day. There are different menus for breakfast, lunch and dinner.
P&O Cruises regularly offer special menus on certain evenings. These include the Gala Dinner menu that was designed by Marco Pierre White, a special menu that was designed by the executive chef of each ship, a fine dining menu and a themed dinner menu such as Caribbean or Mediterranean.
Here's an example of a dinner menu in one of the main dining rooms…
In the place of the other two main dining rooms, there are two new restaurants – The Olive Grove and 6th Street Diner. These provide a wider choice of included cuisine, which I love!
Read on to learn more about these.
The Olive Grove
✅ Included in the price
The Olive Grove is a Mediterranean restaurant serving antipasti, Spanish paella, Moroccan lamb tagines, grazing boards and sharing platters.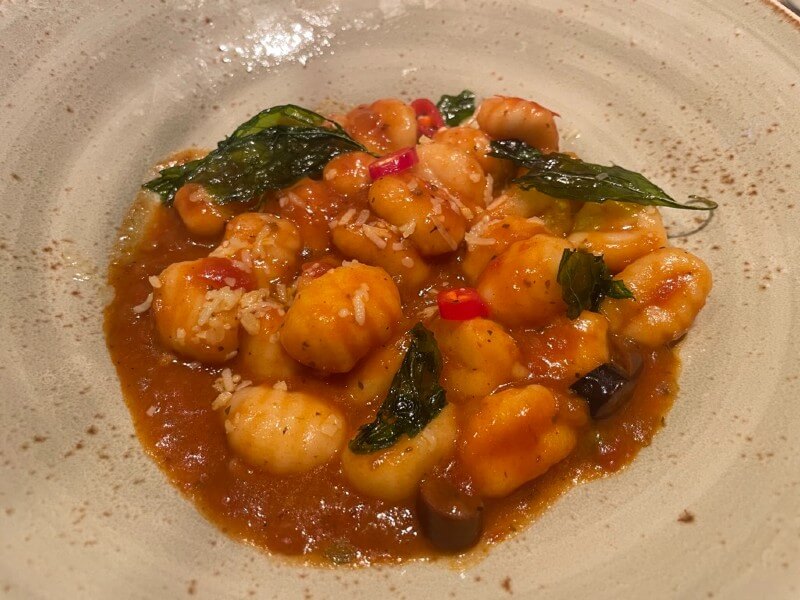 The menu changes every three days and there are two different menus available. Here's an example: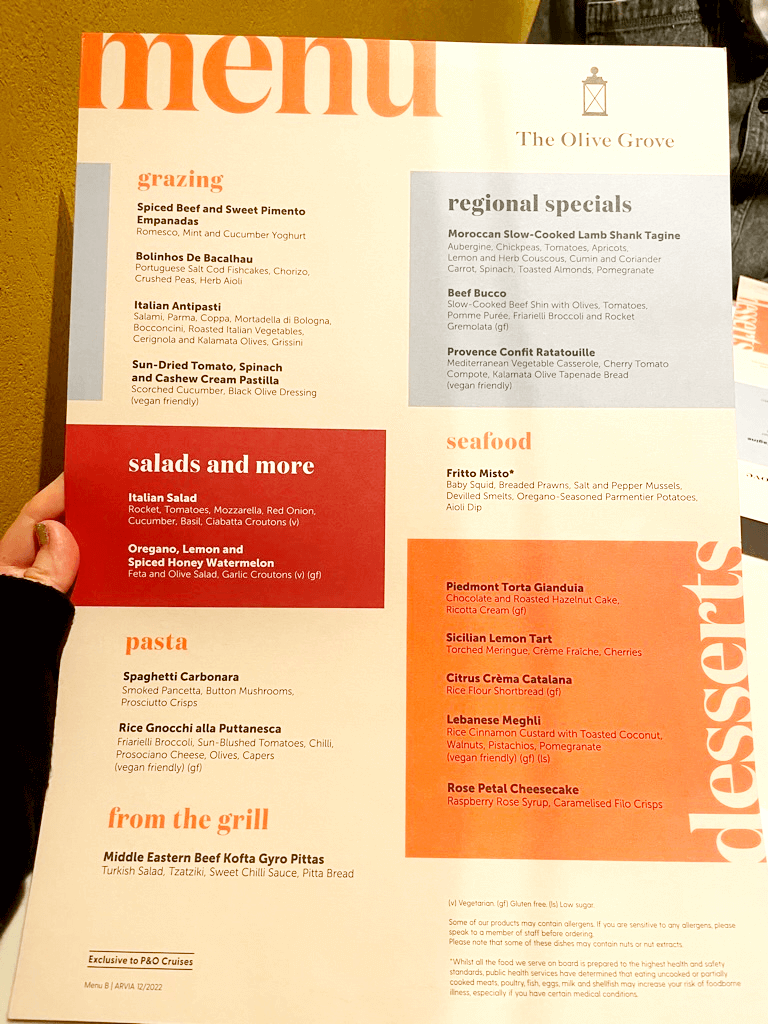 6th Street Diner
✅ Included in the price
Another new restaurant for Arvia is the 6th Street Diner. This all-American serves breakfast/brunch until 2pm, dinner and sweet treats. There's retro seating, atmospheric lighting and even a jukebox!
I loved 6th Street Diner and honestly, I'm surprised that P&O Cruises doesn't charge extra for this. The dinner menu changes every 3 days and there are two different menus.
Here are the menus for you: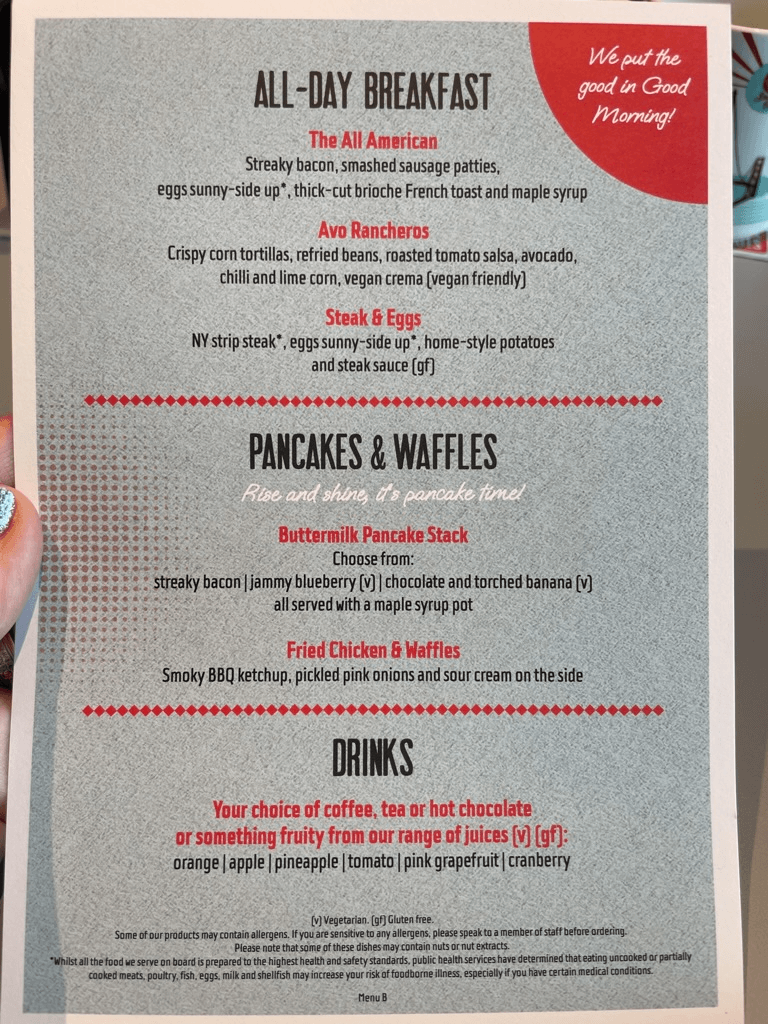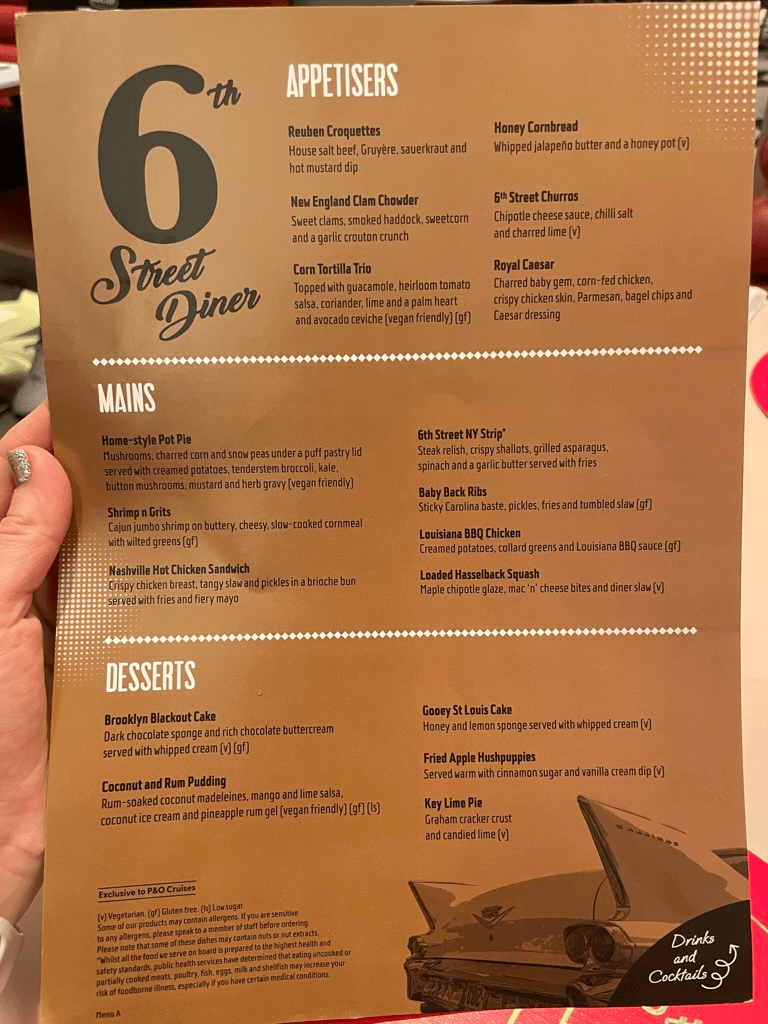 The Horizon Buffet
✅ Included in the price
Arvia's Horizon restaurant is the place to go for quick breakfasts and lunches, informal dinners and snacks outside of mealtimes. Located on the Lido Deck, between the SkyDome Pool and the Infinity Pool, it's a great place to go when you don't want to be away from the pool for too long.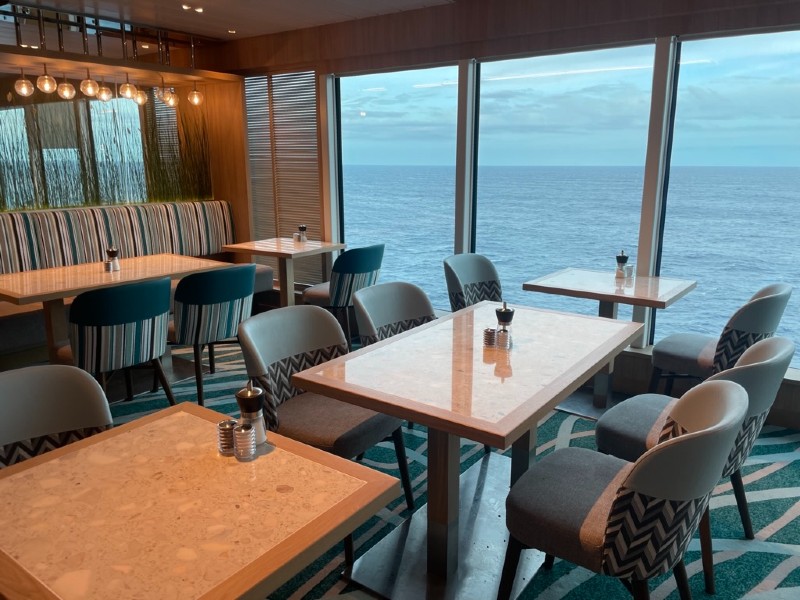 The buffet is best at breakfast time – that's when you'll find the largest choice. With so many included options available not so many people visit the buffet at lunch and dinner so the selection isn't as big as you might be used to, particularly if you're used to the huge buffets on Royal Caribbean ships.
In the Horizon buffet, each dish is clearly marked to show what allergens it contains.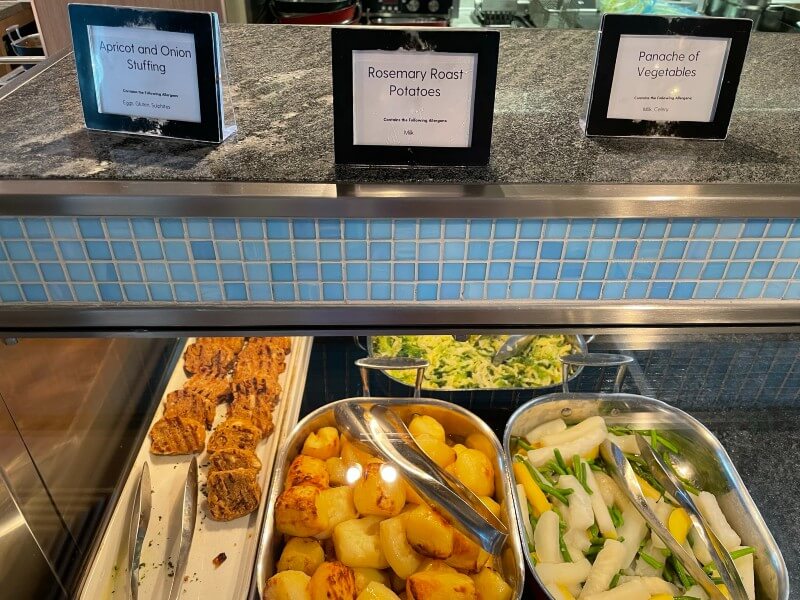 Each day at 5 pm, a corner of the buffet restaurant hosts a Children's Tea where kids can enjoy dinner at around the same time as they do at home.
This means that picky easters like my two can be well-fed on kids' favourites before heading off to enjoy the entertainment of the kids' club in the evening, leaving us parents to enjoy a romantic meal for two.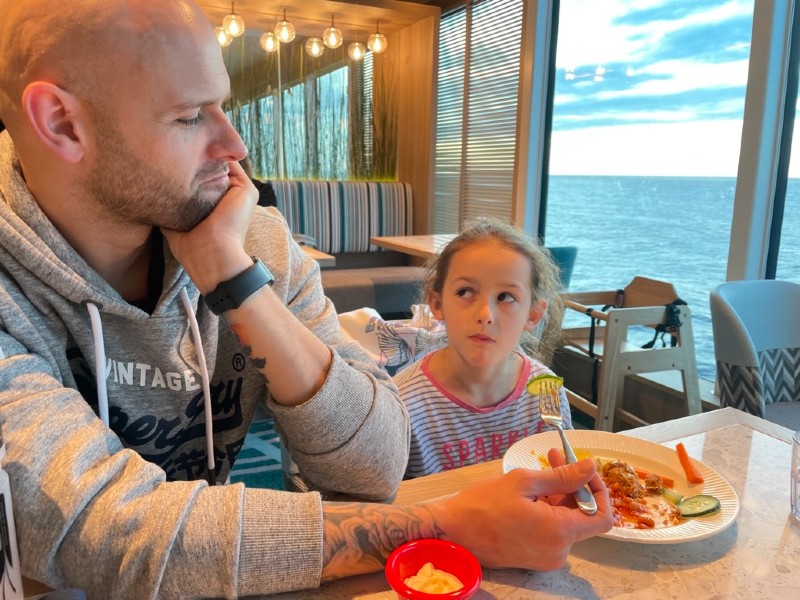 The Chef's Table
✅ Included in the price
Arvia offers a new way to enjoy the glamour of Gala Evenings – with dinner at The Chef's Table. This is located in an area of the Horizon restaurant which is specially styled for the occasion with tablecloths and glassware.
With only two main dining rooms, this is a clever way for P&O Cruises to cope with the increased demand for formal dining on formal nights, which are only once per week on this ship.
The Chef's Table gives guests the opportunity to feast on a menu designed by 'Food Heroes' Marco Pierre White and Eric Lanlard. Wines are expertly paired to accompany each course by wine expert Olly Smith.
This included dining experience is very popular so sure to book your place before your cruise via the P&O Cruises cruise planner to ensure that you don't miss out.
NEW DEALS JUST RELEASED!
Don't miss the latest P&O Cruises offers…
The Quays
✅ Included in the price
The Quays is Arvia's vibrant food hall where you'll find three different restaurants offering street food and takeaways from all over the world. This lively hub offers the opportunity for indoor or outdoor dining, both with spectacular sea views.
The Quays features:
Hook, Line and Vinegar – A posh fish and chip shop which serves scampi, crab and other fancy seafood delights
Fusion – Offering a variety of Asian-inspired street food
Roast – New for Arvia, enjoy roasted meats and trimmings served in a jumbo Yorkshire pudding
Don't miss the selection of side salads and desserts that are hidden around the corner.
I love Roast as it always has a vegan option as well as the two meat roasts. The Yorkshire puddings aren't vegan but they are huge!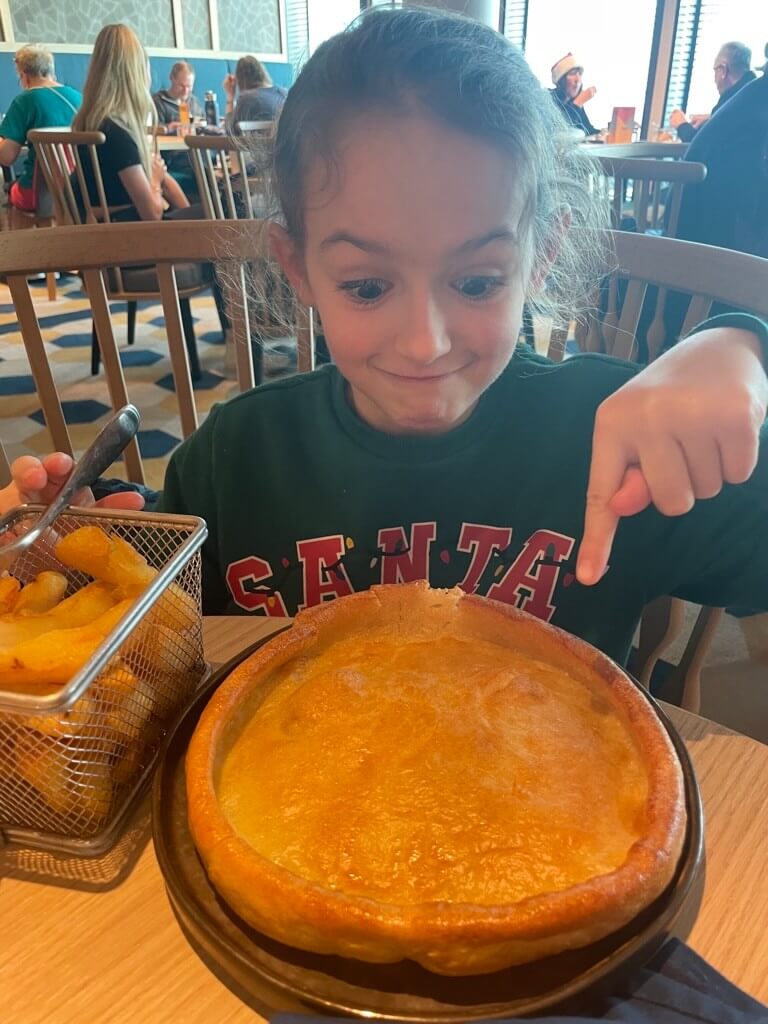 Northerners – the fish and chip shop doesn't do gravy (travesty, I know), but my sneaky hack is to get a pot of the gravy from Roast and you can have that with your chips.
Taste 360
✅ Included in the price
Taste 360 offers a street food-style dining experience on the Lido Deck. Here, you can enjoy burgers, hot dogs, fresh oven-baked pizza and special dishes from Local Food Heroes, Shivi Ramoutar and José Pizarro.
Pizza is served by the slice, but don't be afraid to ask for a whole one – they come fresh out of the oven every few minutes!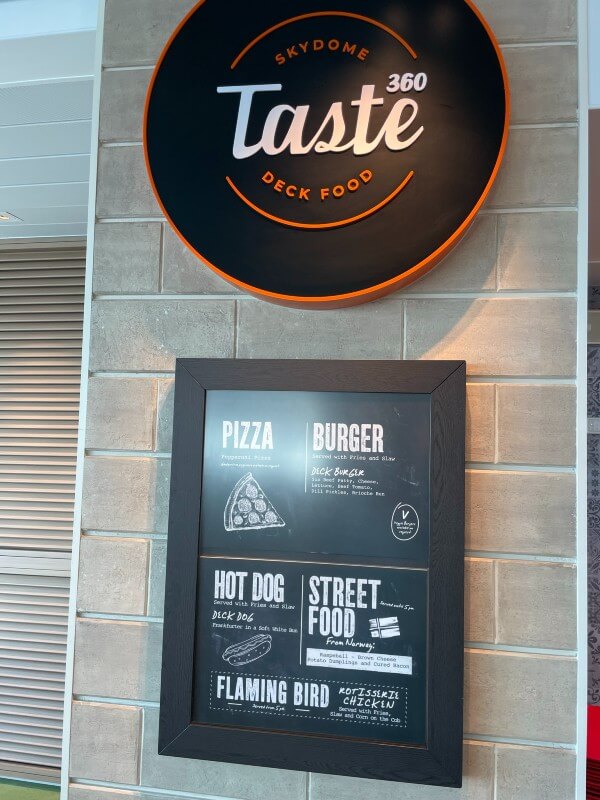 Speciality Dining Options on Arvia
The following dining options are all available for an extra charge…
Green & Co feat. Mizuhana
💷 For an extra charge
This brand-new restaurant will serves plant-based and fishdishes. You can sit at the sushi bar and watch the chefs at work or at a table to enjoy the stunning sea views.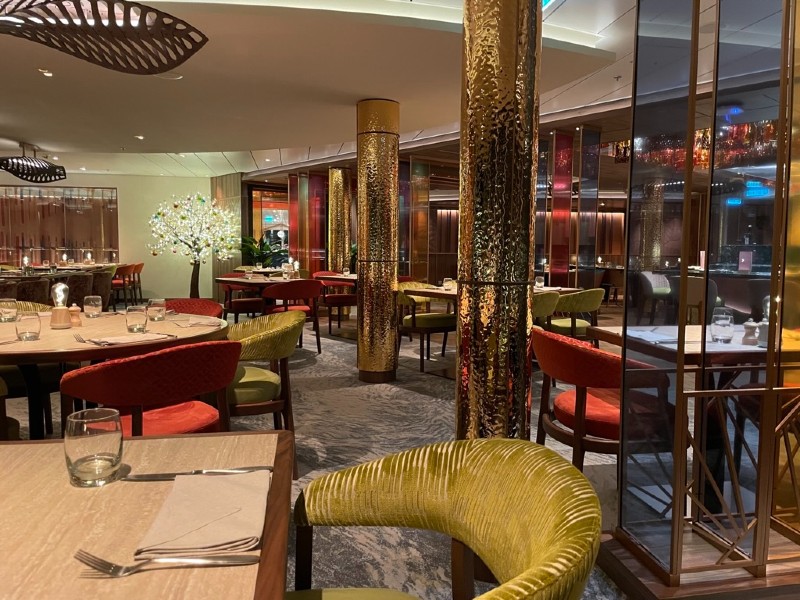 Green & Co was definitely my favourite restaurant on Arvia. The food was absolutely exquisite and the service was so friendly and attentive – the waiters know a lot about the food and its origins.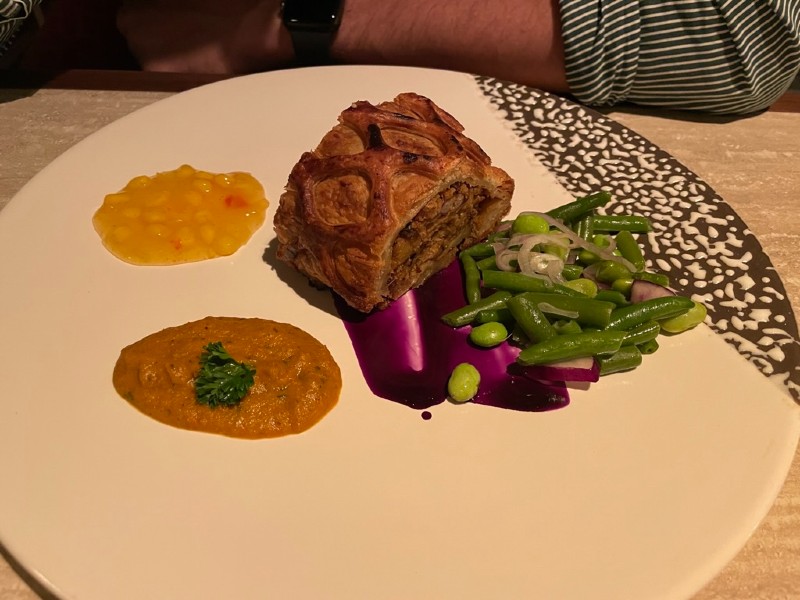 Startes and mains cost around £3 each while mains and sharers are around £5. This is well worth it – you certainly don't want to miss Green & Co on your Arvia cruise!
Sindhu
💷 Starters from £5.50, Mains from £9, Desserts from £3.50
Sindhu offers Indian cuisine in stylish surroundings. Sindhu's expert chefs prepare tiffin-style lunches and delicious evening meals.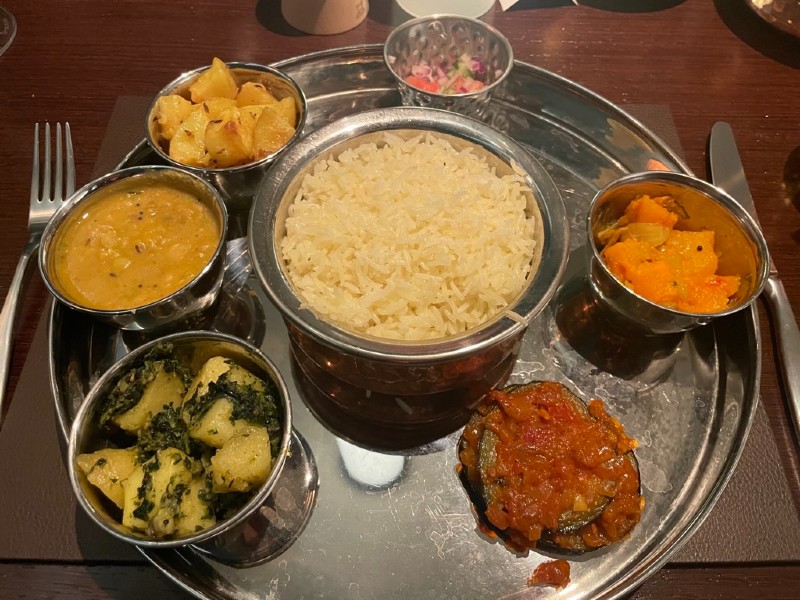 I used to love dining at Sindhu and have tried Sindhu on almost every P&O Cruises' ship. However, I do feel that it's gone downhill. You used to be able to enjoy seemingly endless courses, now that's no longer the case and the food seems a little plain.
That said, the decor is beautiful and the service is excellent so I wouldn't rule it out if you like Indian food.
Here's the menu…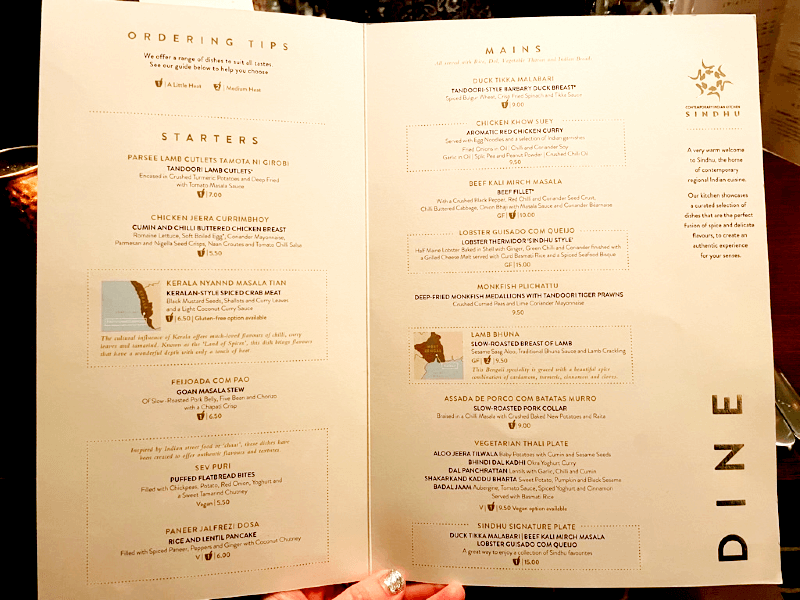 The Epicurean
💷 From £28 per person
The Epicurean offers the most exquisite fine dining on Arvia. Classic British ingredients are given a modern twist and are served with fine wines, attentive service, elegant surroundings and stunning sea views.
Example dishes at the Epicurean
Fillet of lightly smoked mountain trout with horseradish cream, pickled cucumber and puffed rye
Fillet of Jæren coastal lamb, potato cream mayonnaise, white onions, baby carrots, hispi cabbage, jus gras, butter emulsion and chive oil
White chocolate espuma and cloudberry sorbet with meringue, caramelised white chocolate and cloudberries
Eric Lanlard's Afternoon Tea
💷 From £17.50 per person
An Afternoon Tea in the Epicurean is an indulgent treat featuring savoury porcini and pancetta éclairs, pistachio petit choux with red berries, marble swirls red velvet cake pops and orange blossom and bee pollen scones.
The Beach House
💷 From £7.50 per person
Arvia's Beach House offers relaxed dining with families in mind. Enjoy Caribbean and South American classics such as hanging kebabs, hearty grills, seafood and chocolate fondues.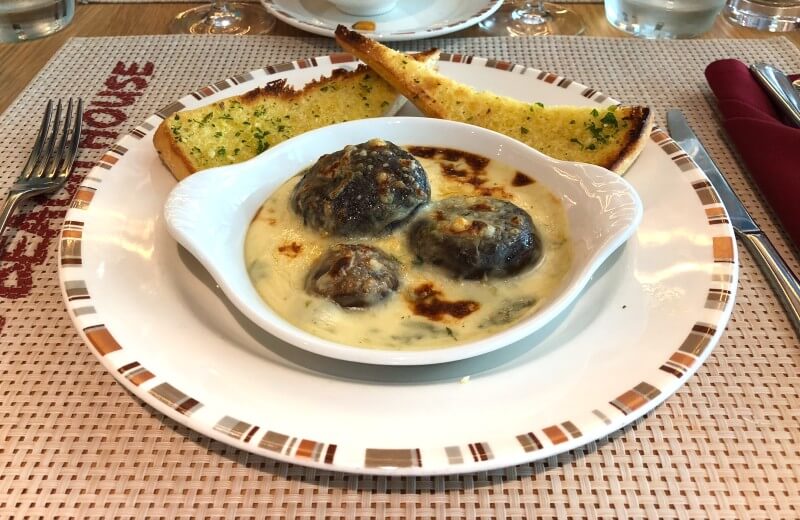 The Keel & Cow
💷 Starters from £4, Mains from £5.50, Desserts from £3
The Keel & Cow is Arvia's gastropub where you can enjoy British classics such as the Prime Minister burger which is hailed as 'the best burger at sea'.
The Prime Minister Burger
An 8oz dry-aged prime beef patty, Isle of Wight blue cheese, dry-cured bacon, beefsteak tomatoes, pancetta jam, onion marmalade, roasted garlic mayonnaise and pickled gherkins, all served in a salted bun.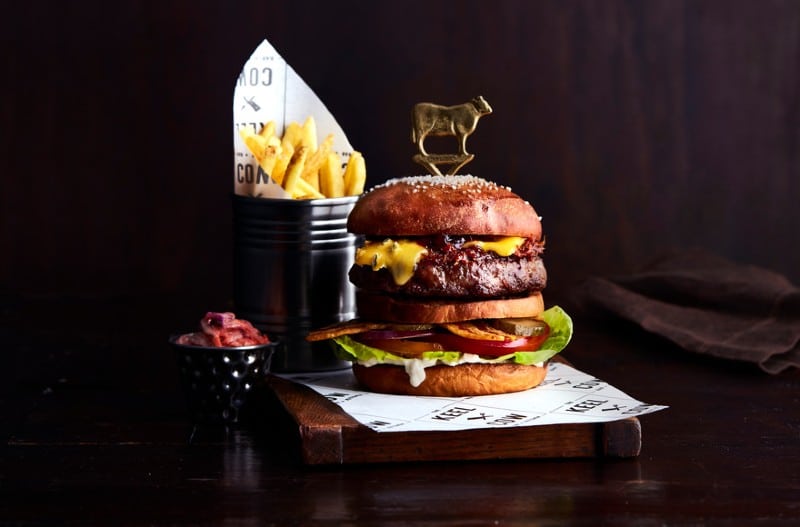 Other pub favourites to order at Arvia's pub include pie and mash, fish and chips and a choice of prince steaks.
The Glass House and Cellar Door
💷 Starters from £2.75, Mains from £8.00, Desserts from £4.50
The Glass House is a wine bar that is open for light bites, lunch and evening meals. Here, you can enjoy a glass of wine and watch aerial artists in the Grand Atrium.
Wine expert Olly Smith has hand-selected wines from around the world which are paired with food in a tapas menu designed by José Pizarro.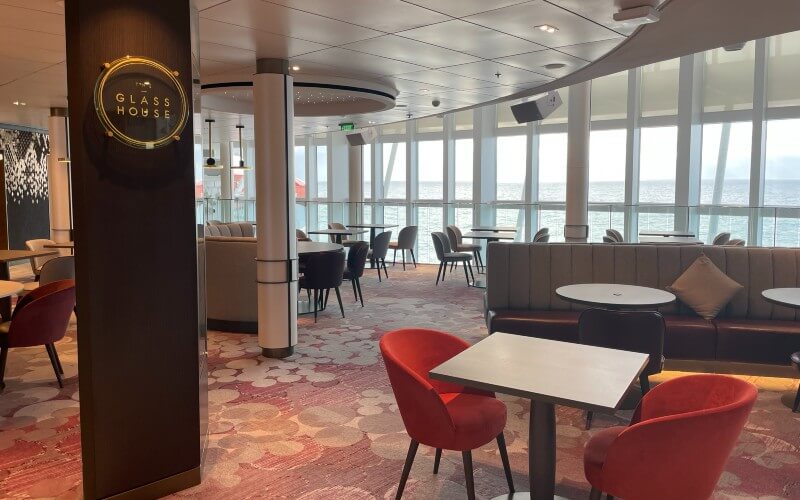 The Limelight Club
💷 From £25 per person
In the adult-only Limelight Club, you can enjoy a three-course meal with entertainment by some of Britain's best-loved celebrity performers.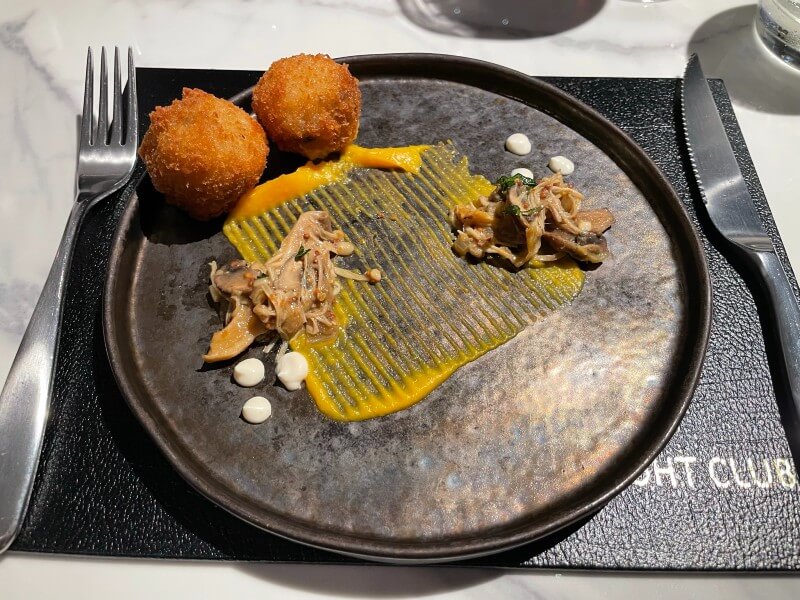 Example dishes at The Limelight Club
H. Forman & Son Mojito cured salmon with cucumber jelly, lemon aioli, pickled cucumber and nori crisps
Pavé of line-caught sea bass with a pancetta, broad bean, shallot and pea fricassée, lemon and herb gnocchi and white wine parmesan cream
Dark and white chocolate mascarpone bomba, raspberries and Amarula ice cream
Ripples
💷 For an extra charge
Arvia's has two ice cream parlours – one in the SkyDome and one in the Quays food court. In partnership with Snowflake Luxury Gelato, Ripples serves artisan sundaes, ice cream cookies and gelato afternoon tea.
The afternoon tea costs £12 but, as you can see, it has enough to feed the whole family so it's great value for money.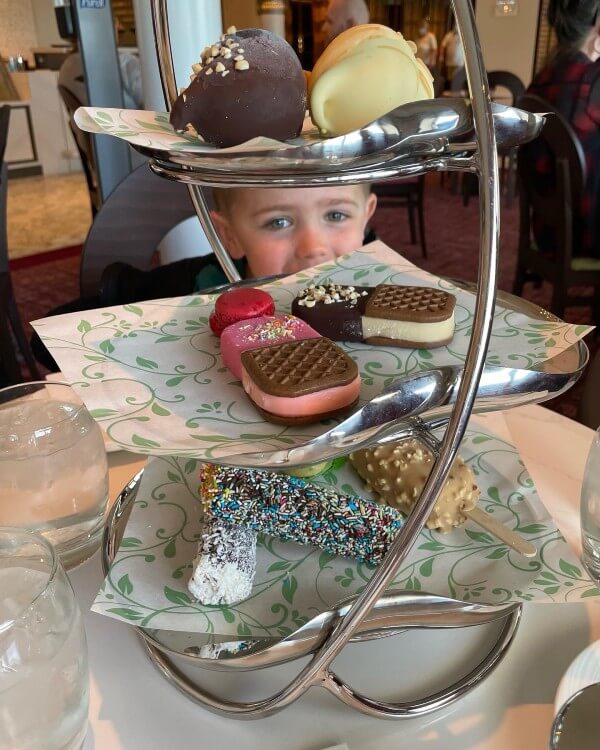 Ice cream isn't free on Arvia, except for kids in the buffet at 5 pm during the children's tea. So, even if you don't go to the children's tea, I suggest that you still take the kids there for an afternoon treat to save you from paying for ice creams from Ripples.
Vistas Cafe Bar
💷 For an extra charge
Located in the Grand Atrium with the most wonderful sea views, this cafe serves sweet treats from master pâtissier Eric Lanlard. Enjoy a Costa coffee or a Teapigs tea while you watch pop-up performances from street entertainers.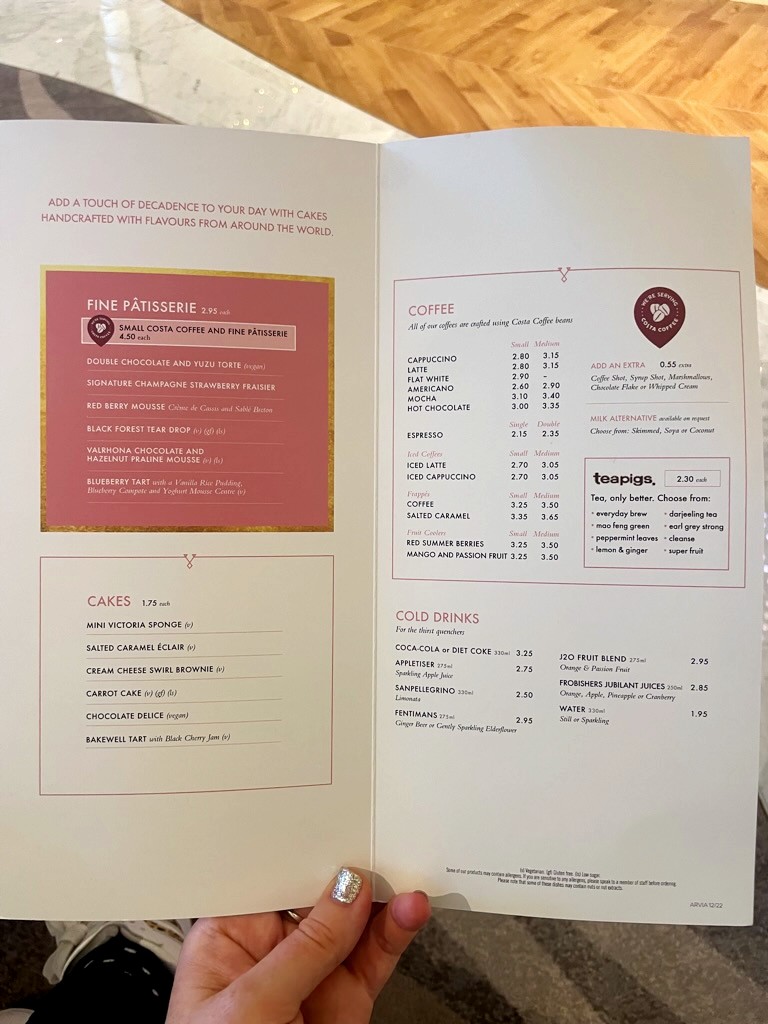 FAQs about dining on Arvia
Is Arvia all Freedom dining?
Arvia offers only Freedom dining. This means that you can arrive at the Main Dining Room at any time. There are no set early and late dining times on Arvia as there are on most other ships.
Are there be formal nights on Arvia?
Arvia has one formal night on each seven-night cruise. Fourteen-night cruises have two formal nights. Formal wear is required in the Main Dining Room and speciality dining rooms but not in the Horizon Buffet on these nights.
Does Arvia cater for special diets?
Like all P&O Cruises ships, people with special dietary needs such as vegan, gluten-free and food allergies are very well-catered for on Arvia. You can meet with a chef on the first day of your cruise to ensure that your needs are met.
If you have a special dietary requirement, you should let P&O Cruises know before you cruise.
Do I need to book restaurants in advance on Arvia?
Pre-booking is required for certain speciality dining venues on Arvia. To pre-book, log in to your P&O Cruises planner within three months of your departure date. You can also book dining or join a virtual queue using your mobile phone on board.
What time can I dine on Arvia?
These are the dining times in the main dining room on Arvia:
Breakfast: 07:30 – 10:00
Lunch: 12:00 – 13:30
Afternoon Tea: 15:30 – 16:30
Dinner: 17:30 – 21:00
For speciality restaurants, the time varies depending on the restaurant.
What's on the children's menus on Arvia?
A typical P&O Cruises kids' menu will consist of:
Kids mains
Beef Burger in Buns
Chicken Nuggets
Grilled Chicken Breast
Poached Salmon
Pork Sausages
Fish Fingers
Pasta with Tomato Sauce
Hot Dog
Fried Egg
Kids sides
French Fries
Mashed Potato
Sweetcorn
Garden Peas
Mixed Vegetables
Kids desserts
Selection of Ice Creams with Sweet Sauces
Fruit Jelly
Fruit Salad
Chocolate Brownies
Children can mix and match as many dishes as they want from this menu. A tip I would give is to specify how much you would like. Be sure to ask for two sausages or two fried eggs, otherwise, you'll just get one and the portions can be quite small.
Conclusion
With over 30 restaurants and bars, Arvia offers an abundance of food and drink choices. Many of these options are included in the cruise fare so that guests can dine in a variety of different venues without paying any extra. For something special, Arvia has speciality restaurants offering the finest cuisine from around the world.
People with special dietary requirements and parents of young children can relax knowing that there will always be plenty of options available when you choose to holiday with P&O Cruises.
For a closer look at the menus, take a look at my guide to P&O Cruises' menus.
NEW DEALS JUST RELEASED!
Don't miss the latest P&O Cruises offers…
Related posts: