This is a guest review by John.
We had originally booked this cruise for the Black Sea itinerary, Egypt, and Israel, alas politics very obviously got in the way. Ambassador did a fine job of substituting ports. Total of 16 calls on the cruise – our personal favourites were Syracuse,  Rhodes and Istanbul.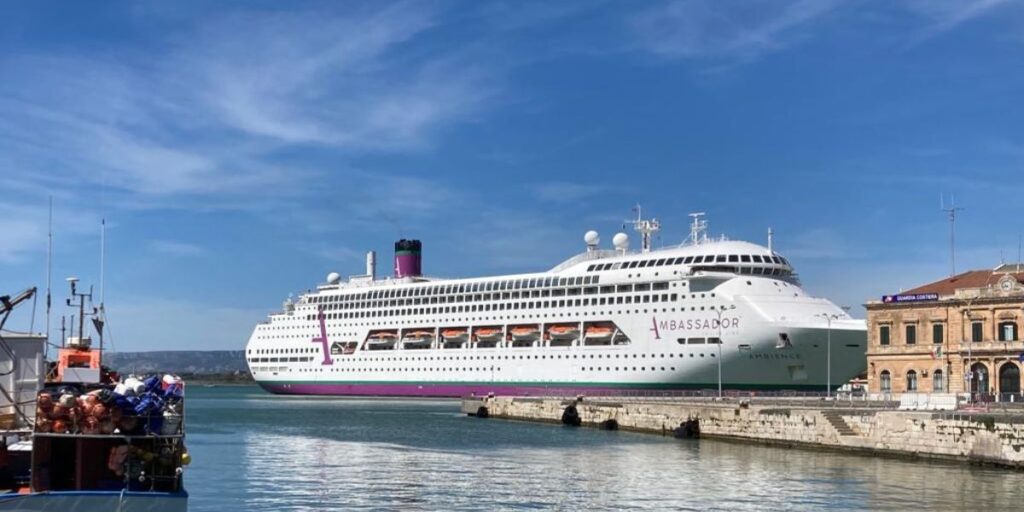 That said we took advantage of some Ambassador excursions, and with one exception, the visit to Athens, they were all well organised and thoroughly enjoyable. 
We even managed to see the Pyramids at Giza, although it was a 14-hour day. But well worth it. All credit to Ambassador,  a coach was also provided for the crew to view the pyramids.
Ambience's Maintenance and Appearance
Ambience, a 31-year-old vessel, is in fine fettle, although looks a little tired in places, but we all suffer from that! That said from a professional perspective ( I have been in the industry for 40 years plus) the observable moving parts, looked very well maintained.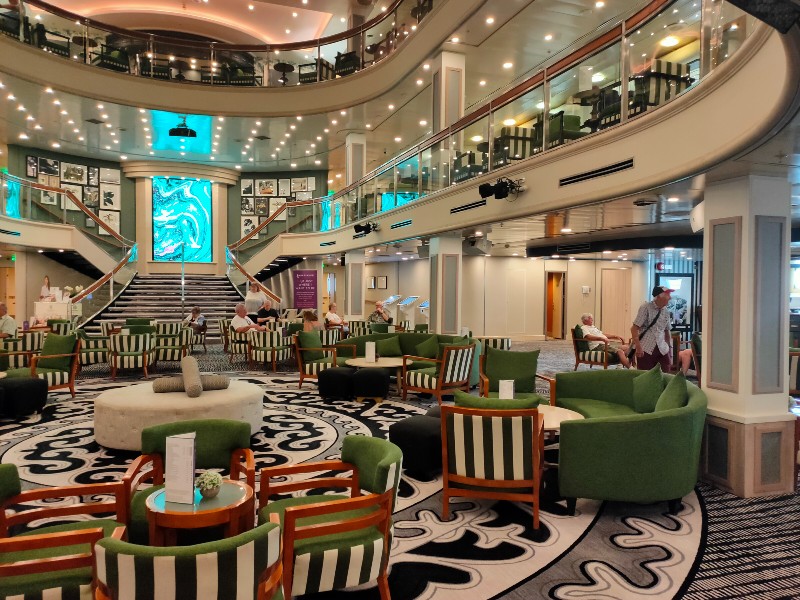 Cosmetically, the ship has had plenty of time and money spent but is an ongoing project like all ships to improve and maintain. The varnished woodwork is amazing, and plenty of it. 
There were many occasions when painting and other cosmetic work was observed. I have also cruised on ships from major cruise lines which are younger, that don't reach the same standard. The general appearance is very favourable.
Bars & Lounges Onboard
Internally, she has been fitted out to a high standard, not glitzy but suitably understated, but very clean everywhere!  The principal internal bars are tastefully fitted out, with Raffles, and Botanical Bar being our favourites.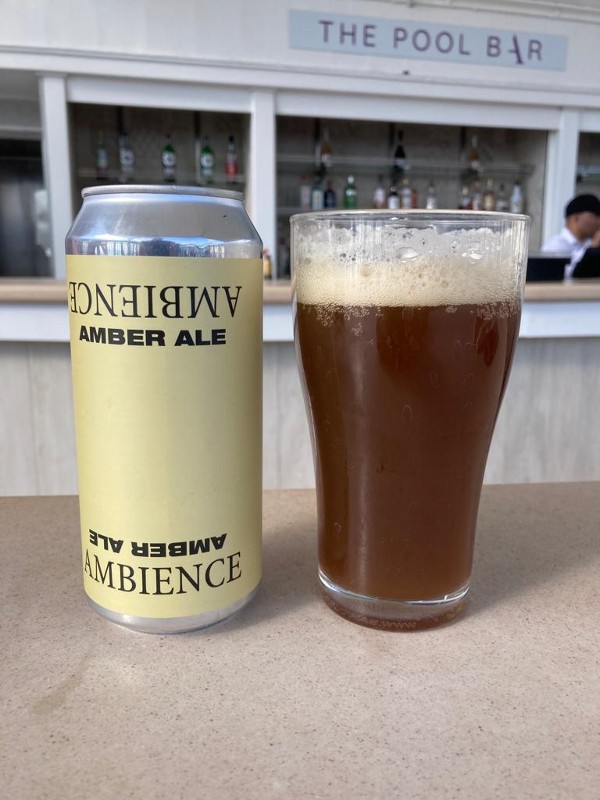 Other internal bars, SW19, excellent for after-show drinks if not repairing to the Observatory, and Purple Turtle, which we did not frequent, but was always busy. 
There are other bars dotted around internally and externally, but we didn't use them all. Raffles and Botanical Bar had live music of a good standard, depending on taste.
The coffee shops (extra charge for speciality coffee etc) were located on deck 12, adjacent to the principal sun deck, and deck 5. Serving the same product, very good, but a little criticism or observation, the coffee was hotter on deck 5.
The central atrium was spread out over 3 decks, and tastefully decorated, although we did not really frequent the area it was host to many activities, especially during the day.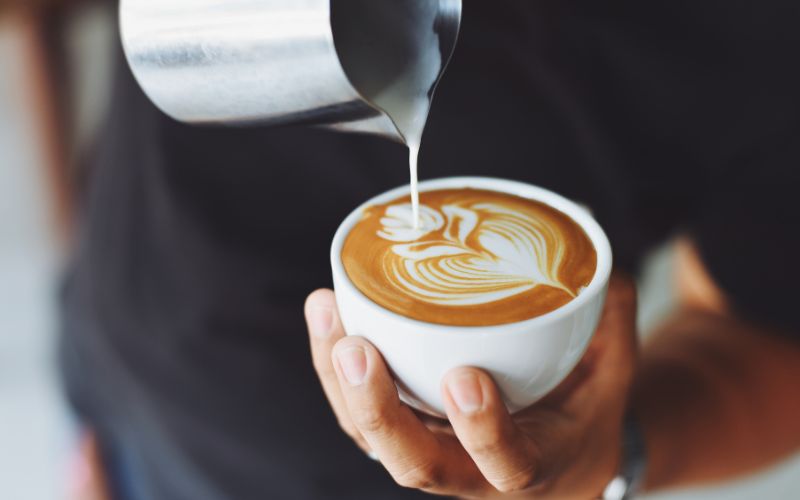 Dining
We all cruise partly to enjoy the cuisine on offer. Two principal dining areas, the main dining room The Buckingham Restaurant on deck 7, and Borough Market, the buffet, on deck 12. The Buckingham served all 3 meals a day, although we only ate there at dinner. 
I felt the opening hours for Breakfast and Lunch were a little short, that said we did not hear any complaints about the fare. Dinner is served in two sittings, 17:45 and 20:15, we were 2nd sitting by choice.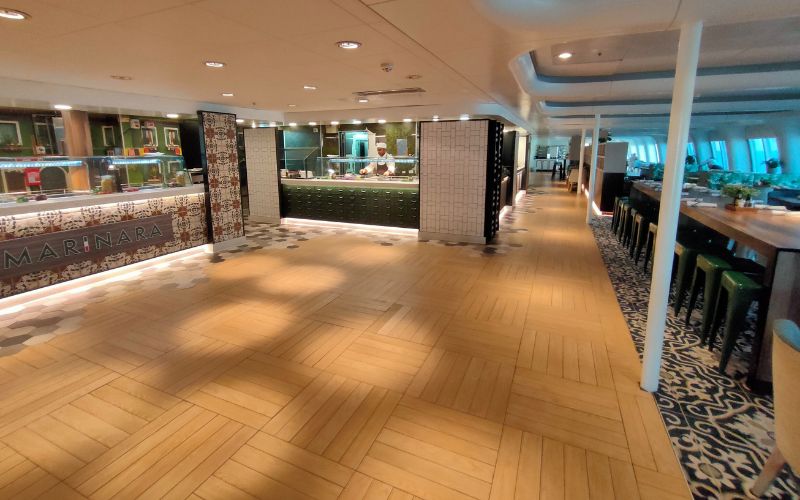 The food was more than excellent, always hot (which can't be said for all cruise lines) inventive menus, especially the formal evenings. Portions not overly generous, but quality high, looking after our waistlines, however plenty more was always available on request.
Service at our table 110 was always prompt and exceptionally friendly. The wine glass was bottomless! 
Borough Market, we used for breakfast and lunch. Quality and choice good, but in my opinion, thought the guest flow around the servery was chaotic at busy times.
One primary criticism, when busy the serviette rolls holding the cutlery were like gold dust and the coffee/tea/water machine at the aft port side was in a corner, again causing a lot of bunching. (I have been advised that these two issues have been rectified)
Tables were cleared promptly to enable the guest flow. Opening hours for breakfast and lunch were longer than the main restaurant, and also opened extra early to enable guests to have breakfast prior to the 06:30 excursion departure in Egypt.
One very pleasant surprise was the afternoon tea at 15:30. Cakes and scones to die for! No all-night eatery was available, but hot nibbles were brought around the public rooms at approx 23:00.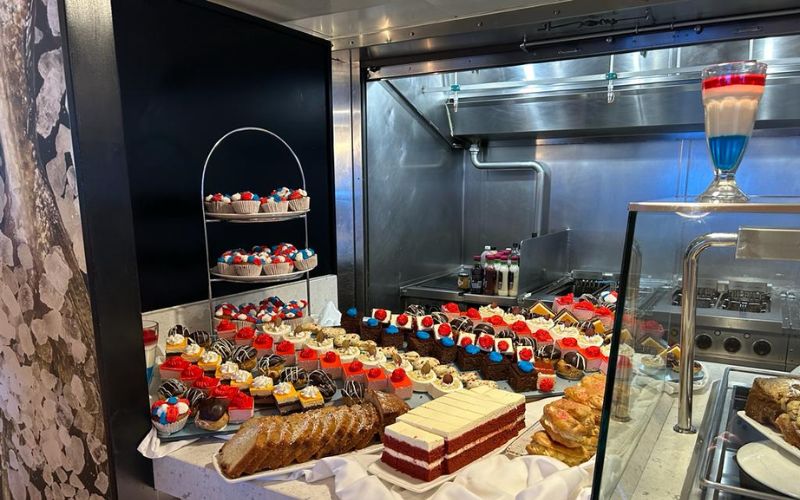 Two speciality restaurants with additional charges were available – Sea and Grass, a 7-course delight, although the wine pairing was expensive, and Saffron an Indian-style menu, also the cheaper of the two.
However, like Sea and Grass, the quality was excellent, but both offered limited rotating menus. These could have been in my opinion offered slightly more choice. At £25 and £15 per head was a bargain. We visited more than once.
Live entertainment
The show company aboard, which performed generally in The Palladium theatre, produced very good to excellent shows, mainly of the musical dancing variety, and even had standing ovations on a couple of occasions.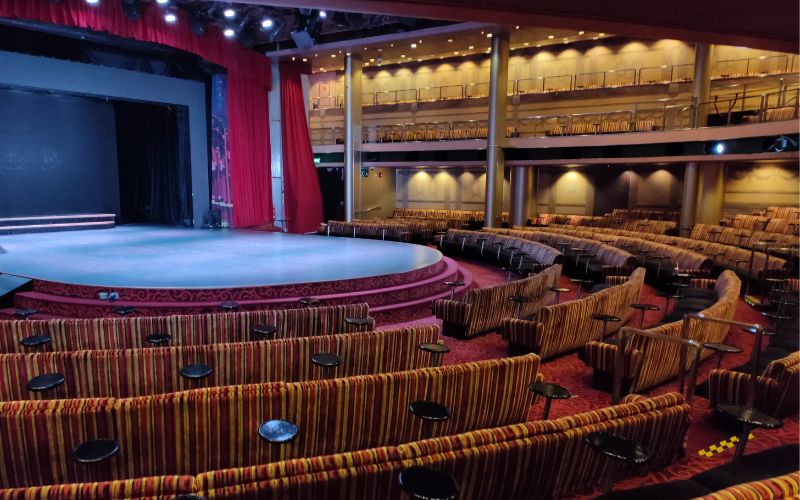 An interesting departure from the norm was two plays on the main stage. Unusually short plays were also performed around the ship at various times. 
The guest artists that were flown in, comprising of comedians and magicians, with one exception were excellent. The show company also performed at various other locations around the vessel, occasionally putting on cabaret in the Observatory, either singly or collectively. 
The Pool Deck
The pool deck was obviously very popular, and never felt crowded, with plenty of stewards around ensuring going thirsty was not an option. 
The pool was chilly to start with but warmed up during the voyage, which was pleasant.  It was lovely to see a wooden sheathed deck. 
Other events were staged here, afternoon music and games, films on the big screen, two evening parties and a first for us, a BBQ! 
That was brilliant. However, the usual towel-on-bed crowd were in abundance, Ambassador policy of a sweep every 30 mins or so to clear was never noticed or failed miserably.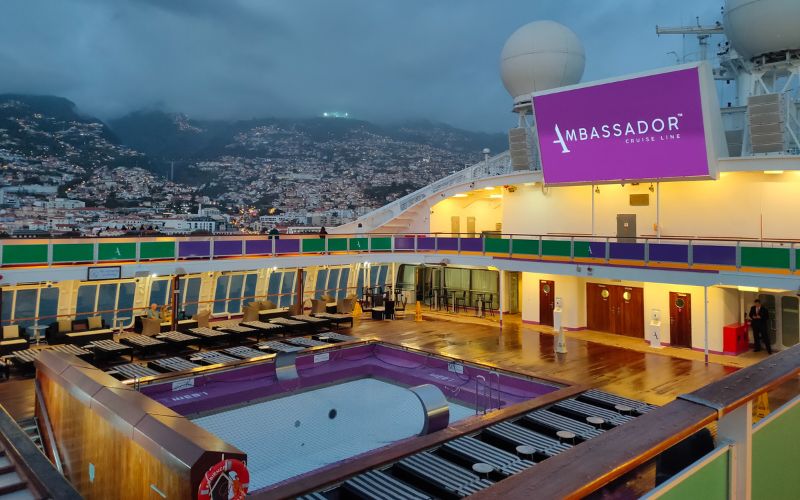 Other sitting out/sunbathing areas were available primarily on the stern. Located above the pool deck was the walking/running track. Surface was very forgiving making walking and running pleasurable. 6.5 laps to a mile.  Very popular.
The Service
No cruise ship can function without the crew, and on this cruise they were exceptional. Nothing was ever too much trouble. It is what I call a happy ship, the tone of which is set from the Master downwards. 
International crew is how it was described, without a doubt, with the four corners of the globe being represented.
Having cruised many times primarily on US-owned ships, to see the senior officers engaging in conversation with the guests (the exception usually being formal nights) is unusual.
However, on this cruise, the Master, Staff Captain, and other officers were "out and about" a lot, and provided other duties did not interfere were only too happy to engage guests in conversation. As I said before a happy ship!
Night Life
After the show which finished at about 23:00, we tended to gravitate towards The Observatory situated on deck 14 forward. What a place, had the wow factor with a circular dance floor, which was popular.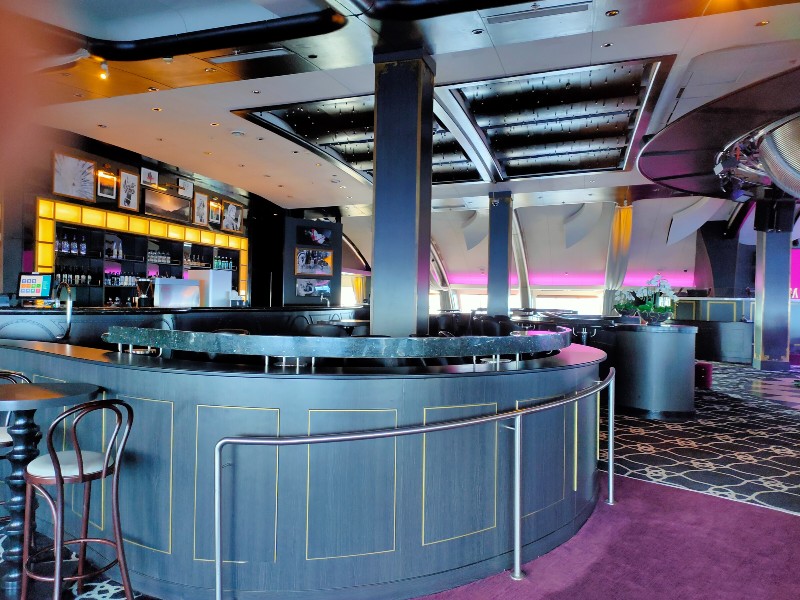 Various music events, Cabaret, resident bands, and an excellent DJ when all else was over. Good bar with a multitude of stewards. Many late nights were spent here. 
During the day was a quiet spot for just sitting around with a marvellous sea view, also the daily dance classes (hosted by extremely friendly members of the dance troupe and other short events were held.)
Aboard the vessel were several guest lecturers, with very varied topics, we did attend several of them (it was a 32-day cruise), and all were interesting and informative. Especially the forensic dentist.
I appreciate that some guests enjoy a cigarette or two, however, personally, we found the smoking area produced a very invasive smell on the fwd starboard side of the pool deck.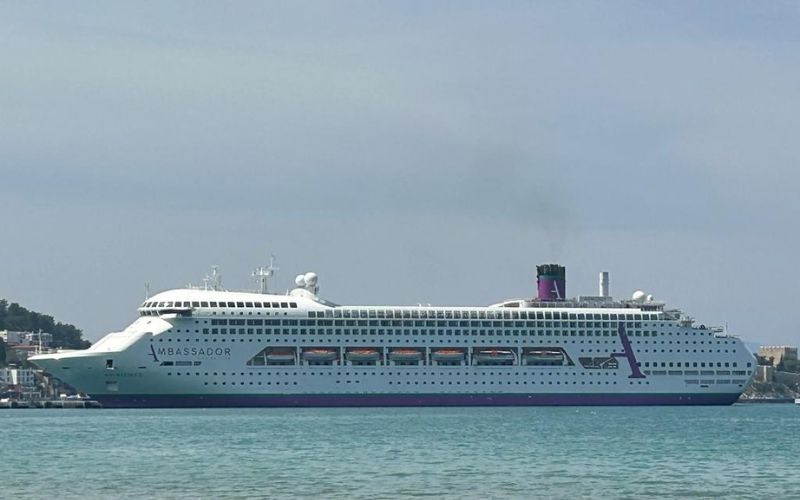 Accommodation
We had booked a balcony cabin on deck 10, which we previewed at the gala lunch in December. It was well appointed, but the balcony was narrower than experienced before on US-owned ships, but that did not detract. 
However, we were fortunate enough to receive an upgrade to a junior suite, this cabin was likewise well appointed, but larger and very pleasurable, than you Ambassador. The cabin stewards were very attentive, with two visits per day.
On a housekeeping note, the vessel has a self-service launderette, £3 per washing machine or dryer. Quite popular on a 32-day cruise, the ship also offered the usual wash and press facility, at additional cost.
The real question at the end of all this is, would we cruise again on Ambience? The answer is definitely, yes!
NEW DEALS JUST RELEASED!
Don't miss the latest Ambassador Cruise Line offers…
Related Topics