Windstar Cruises offer the chance to enjoy a luxurious getaway, and like any kind of luxury escape, there's quite a lot included in the price you pay. But not everything's included – there are some things you'll need to pay a little extra for.
So, let's look at what is included, and how you can get the best price on the bits that aren't.
What's Included On Windstar Cruises?
On a Windstar cruise, you'll enjoy your accommodation, your food and most of your onboard entertainment for free, along with soft drinks and other non-alcoholic beverages. Alcoholic drinks, WiFi, laundry and tips aren't included as standard.
Let's look into each of the inclusions in a bit more detail.
1. Food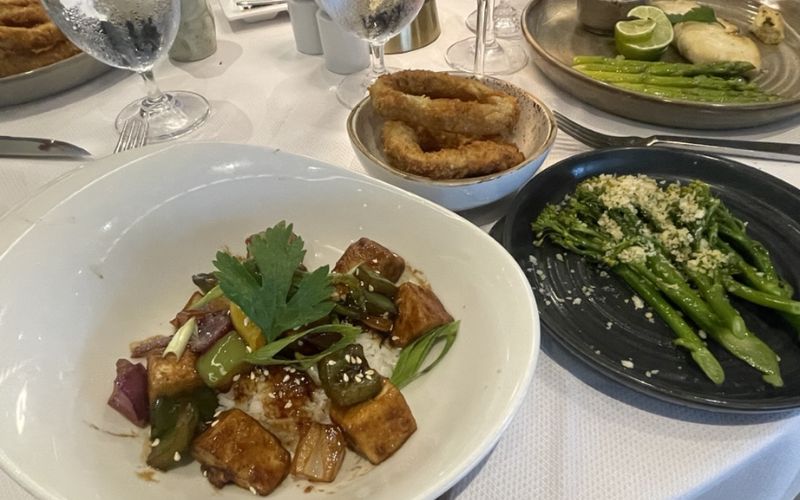 Are meals included on Windstar Cruises?
All of your food on a Windstar cruise is included. You don't have to pay for your meals, no matter where on the ship you decide you want to eat. Snacks and room service are also included.
With most cruise lines, your main dining is included – so you'll always have breakfast, lunch and dinner free. Then there will be secondary dining choices, some of which are free and others that have a cover charge. But that's not the case with Windstar.
Windstar's ships aren't huge but they do have a choice of restaurants – though the speciality ones don't cost extra. You just need to make a reservation in advance to secure your place.
Room service is also covered by your cruise fare, and is available for breakfast, lunch, dinner and for late-night snacking. You just need to order it in advance – breakfast orders can be left on a door hanger the night before.
2. Drinks
Is alcohol included on Windstar Cruises?
Alcohol is not included on a Windstar cruise, but all non-alcoholic drinks are included. This includes soft drinks, fruit juices and coffees that would often be charged for on most other cruise lines.
If you don't drink alcohol, then a Windstar cruise could represent great value. Typically cruise lines will offer tap water for free and maybe a small selection of teas, coffees and juices at breakfast. But Windstar is one of the few that includes all non-alcoholic beverages for no additional cost.
Bottles of water are also included in your fare, so if you're heading ashore and want a fresh bottle to take with you, just grab one from the bar. You can also order your mocha, cappuccino, espresso or latte to your room, so that you can wake up with a beautifully fresh coffee to kick start your day.
3. Entertainment
Most of the entertainment that takes place onboard your Windstar cruise will be included in the cost of your cruise fare.
Windstar's ships aren't super-sized cruise ships that are packed with Broadway-style theatres, nightclubs and so on. But they do still have spaces where you'll enjoy interesting activities throughout your sailing.
During the day this will include guest lectures on a range of topics, typically curated to be relevant to your itinerary. There are also culinary demonstrations, so you can pick up a few tips to help you recreate your favourite dishes when you get back home.
At night, there's often live music in the lounge and bar areas of the ships. It's quite a relaxed atmosphere, but it can still get lively and there's plenty of opportunity for dancing.
On many cruises, there'll be a BBQ party on one night, and music will be played on the deck of the ship to encourage a party atmosphere.
4. Watersports
One of the unique features of a Windstar cruise is the watersports platform that's on every ship in the fleet. It's only used in certain ports of call so it's not available on every itinerary, but it's one of the most fun features of any cruise ship.
The platform includes a number of watersports activities that guests are free to use. This includes paddle boarding, kayaking, snorkelling, swimming, water skiing and surfing. All of the equipment is provided at no additional cost.

And if that sounds a bit too active, then the ships will often unfurl a large flotation island where you can just take it easy and soak up the surrounding views. You can use it as a base for casual swimming in the calm waters, too.
And as an additional bonus, the snorkelling equipment is free for guests to borrow at ports of call, so you don't have to pay high prices in ports for a snorkelling experience.
What's Not Included On Windstar Cruises?
Here's a look at what isn't included as standard on a Windstar cruise, and roughly how much you should expect to pay.
1. Alcoholic Drinks
Alcoholic drinks aren't included in the fare on a Windstar cruise. You can pay for these individually, or you can choose a beverage package.
On average you should expect to pay around $7 for a beer on Windstar, and around $10-11 for a glass of wine. It's a similar average price for cocktails too. Prices vary by individual drink but there aren't any that are way above those averages, unless you're choosing Champagne.
However, you do have to pay an 18% beverage service charge on any drinks you buy – so really you're looking at around $8.50 for a beer and around $12-13 for a glass of wine or a cocktail when that's factored in.
Beverage packages are available. The Topmast Discoveries Beer & Wine Package includes 33 varieties of wine and all beers. It costs $55 per person, per day. The Captain's Exclusive Beverage Package is $65 per person, per day and includes cocktails, liqueurs, aperitifs and minibar items along with the beer and wine selection.
2. Laundry
Laundry services are available on all Windstar cruises, including pressing, although dry cleaning is not available. Laundry is charged on a per-item basis, ranging from $0.60 for a t-shirt to $7 for a suit. You can also pay for a one-off laundry bag, filling it with as many items as you can, for around $45.
However, Windstar offers something unique with a laundry package. This lets you enjoy unlimited laundry during your cruise, with a 24-hour turnaround. You'll even get your clothes back on the same day if you turn them into the laundry service by 9am.
The package costs $16 per day as standard for two people sharing a cabin, though if you're cruising solo you can get it for $8 per day. You have to book the laundry package no later than the first day of your cruise, and you must pay for it for the duration of your sailing.
Suggested read: How To Do Laundry on Cruise Ships: The Ultimate Guide
3. WiFi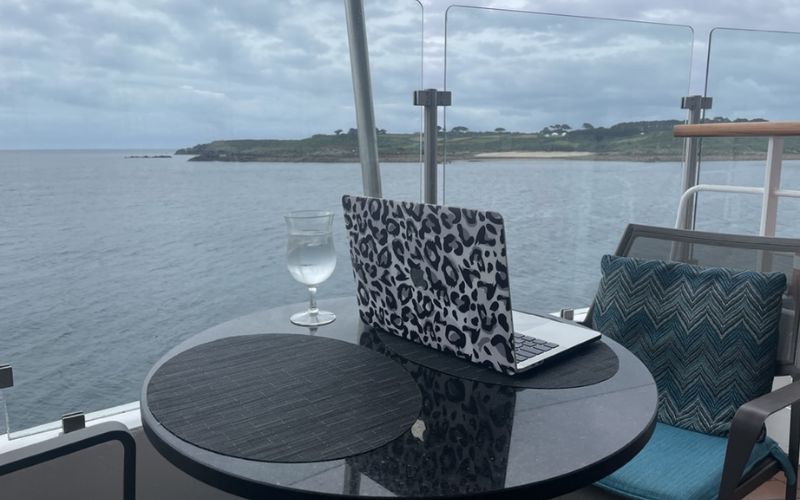 Is WiFi included on Windstar Cruises?
WiFi is not included on a Windstar cruise as standard. The WiFi costs $35 for 24 hours of access and is for one device only.
Unlike other cruise lines, you aren't always forced to pay for WiFi for the entire duration of your cruise with Windstar. You can pay for just the data you need – an Email plan costs $60 and gives you 200MB of data, while the Surfing plan costs $120 and lets you use 500MB of data.
A Windstar cruise is designed to be one where you switch off for a little while, but if you do need to get online, you can pay for access for just as long as you need.
4. Shore Excursions
Are shore excursions included on Windstar Cruises?
Shore excursions are an additional cost on a Windstar cruise. The price of excursions varies depending on your chosen sailing and the nature of the excursion, with private tours available in many locations if you want to pay extra.
Remember that you don't have to pay for shore excursions if you don't want to – there's nothing stopping you from just heading ashore yourself and wandering around to explore.
But Windstar works with local excursion providers to offer a great range of experience opportunities, all chosen to reflect the brand – this means you can expect the same sort of luxury on land as you can on the ships themselves.
5. Gratuities
Are gratuities included on Windstar Cruises?
Gratuities are not included in your cruise fare with Windstar. Guests will need to pay them at the end of their cruise. Called the Hotel Service Charge, the current cost is $16 per person, per day and it's automatically added to your cruise account.
If you're not happy with the service standards offered, you are able to visit the Guest Services desks on the ship to adjust the amount you pay. However, be aware that the charge is spread amongst all the crew, including those you may not interact with much, and changing the amount you pay could also impact their earnings. So I wouldn't recommend doing this unless you have a really good reason to.
Suggested read: Can You Refuse To Pay Gratuities On A Cruise?
There's also the 18% Beverage Service Charge every time you order an alcoholic drink on the ship – this is automatically added to your bar bill or your room when ordering a drink in the dining rooms. You still have to pay this if you choose a drinks package, though not if you get the All-Inclusive Package.
It's also worth noting that, unlike some other cruise lines, if you get any onboard credit with Windstar you won't be able to use that towards your service charges.
6. Select onboard activities
In Windstar's own words, most of your entertainment and activities onboard the ship are included in the cost of your cruise fare. That means that there may be occasional experiences or activities that do have an additional charge if you wish to take part.
These aren't too common, and most of the onboard experiences are free for Windstar guests. However, it's important to be aware that if something special is organised on your sailing, you might have to pay a fee for it if you're interested.
How to make your Windstar Cruise all-inclusive
You can make your Windstar cruise all-inclusive by paying for the All-Inclusive package. This isn't truly all-inclusive – you'll still have to pay for shore excursions and laundry – but it does include your drinks package, WiFi, and your hotel and beverage service charges.
This means you can drink whatever you want to at no extra cost (excluding wine and Champagne by the bottle), and you don't pay the extra 18% for the drinks either.
The All-Inclusive Package costs $89 per person, per day.
You can also add on the laundry package too, if you want it to be even more inclusive. This would mean a total additional cost of $105 per person, per day but you would get all your WiFi, tips, laundry and drinks covered. The only extra charges would be for optional shore excursions.
So, there's a lot that Windstar includes as standard, more than many other cruise lines. But it's not completely all-inclusive.
You do have the option to upgrade, if you want to, but check the prices as depending on how much you drink and intend to use the WiFi, buying beverages and other elements of the package individually may work out cheaper for you.
I have a guide to help you work out whether to buy the package here: Is the Windstar All-Inclusive Package Worth It?
NEW DEALS JUST RELEASED!
Don't miss the latest Windstar Cruises offers…
Related Topics