American Cruise Lines offers some fantastic itineraries through the rivers and coastal areas of North America. But compared to many ocean cruise lines, the fares might feel a little steep.
Exactly how much do American Cruise Lines' cruises cost, and why are they more expensive than some other types of cruise? Let's take a look.
How much do American Cruise Lines cruises cost?
A typical 7-night cruise with American Cruise Lines will cost between $3,300 and $5,800 per person, depending on the time of year and the location you want to sail. These prices assume double occupancy – solo travellers will pay up to 75% more depending on their chosen stateroom.
American Cruise Lines sails in 8 regions:
Mississippi River cruises – averaging $3,300 to $4,400 for 7 nights
New England cruises – averaging $5,000 to $7,000 for 7 nights
Southeast Coast cruises – averaging $3,700 to $5,800 for 7 nights
Puget Sound cruises – averaging $4,100 for 7 nights
Alaska cruises – averaging $5,900 for 7 nights
Columbia River cruises – averaging $4,000 for 7 nights
California cruises – averaging $5,700 for 7 nights
Extended cruises up to 60 days – price on enquiry only
There are shorter cruises available in some locations. As a guide, a 4-night Columbia River cruise costs around $2,755. Some two-week and three-week sailings are also available.
How do these prices compare to other cruise lines?
We can compare the cruise to Viking River Cruises' Mississippi itineraries, and also the ocean cruises to Alaska from other cruise lines.
Viking doesn't offer 7-day Mississippi cruises, but there are two-week cruises available. And Viking River Cruises' inclusions are almost identical to American Cruise Lines, so it's a good comparison to make.
Here are the prices for 14-day Mississippi cruises…
Viking River Cruises – America's Great River – from $12,000 per person
American Cruise Lines – Grand Heartland Cruise – from $9,455 per person
So actually, American Cruise Lines isn't as expensive as you might think.
However, there are some much cheaper options when it comes to Alaska cruises…
Here are the prices for 7-day Alaska cruises…
Royal Caribbean – from $600 per person
Carnival Cruises – from $720 per person
Holland America Line – from $1,000 per person
American Cruise Lines – from $5,900 per person
American Cruise Lines is a lot more expensive, but it's a very different experience, and you do get more included as standard (such as tips and some drinks).
Still, the price differences are way more than the cost of what's included, so really you're paying for that small-ship, quieter vacation without the crowds.
11 Reasons American Cruise Lines Is So Expensive
Here's a look at the reasons why American Cruise Lines sailings aren't the cheapest.
1. All-American Cruising
As the name suggests, American Cruise Lines is very much an American company. And this means the ships are all flagged in the US, which has some implications on their staffing, and therefore the cost of the cruises.
Ocean cruise lines tend to register ships in countries around the world that often have more relaxed policies on things like staff laws and minimum wages. They can do this because they genuinely sail all over the world.
American Cruise Lines does not – it sails in the US only, and so must be registered in the US, and then adhere to all the employment laws of the country, including hiring US-based crew. Wages and other associated costs are higher, which means cruises cost more.
On a positive note, it means that you know the crew (who are working very hard to make your cruise special) are being reasonably compensated for their work.
Plus, for the ships to be US-flagged, they need to be owned and built in the US, too, so the cruise line isn't just supporting cruise jobs in the country but also shipbuilding jobs as well.
2. Small-Ship Cruises
American Cruise Lines' fleet of cruise ships are very stylish and modern, but they're a fraction of the size of some other cruise ships in the world.
The smallest ships in the fleet are the Independence Class Coastal Ships, which accommodate only 90 guests. Even the biggest ships, the American Riverboats and the Paddlewheelers, only hold 180 guests.
Your average ocean cruise ship hosts around 3,000-4,000 passengers, while the biggest can accommodate over 7,500 – not including the crew.
So you're paying a premium because there are fewer people onboard, meaning the cruise line has to charge more, but also because you're not on a crowded ship that feels busy. These ships are spacious and great for relaxing, and you never feel like you're part of a bustling, busy, loud vessel.
Also good to know is that there are single cabins on every ship, with no added single supplement. So, you aren't paying extra for that small-ship experience if travelling solo.
3. (Some) Drinks Are Included
American Cruise Lines is not all-inclusive, but guests do get to enjoy a selection of drinks at no extra charge.

Soft drinks and coffee are complimentary and are available throughout the day for guests to enjoy. As for alcohol, wine and beer are served throughout lunch and dinner at no cost to passengers on the ship. And there's also a cocktail hour every evening, where the whole bar becomes free for guests to enjoy.
But, if you want a drink outside of these hours, or you want a cocktail or spirit drink during lunch or dinner, you may still need to pay…although you might still get your drink free, too. The cruise line is flexible and will accommodate reasonable requests.
Compared to most cruise lines that won't even include soft drinks – never mind a free bar for an hour – you're still getting more for your money.
4. Pre-Cruise Hotel Stays Often Included
One of the reasons your cruise fare may seem inflated is that many of the itineraries offered by American Cruise Lines have a pre-cruise hotel stay included in the price.
This helps to eliminate some of the stress of travel. You don't need to panic about whether you'll make it to the ship in time for embarkation, because you can drive or fly to the port the day before, and start your vacation early, even meeting some of your fellow guests and getting to know them before you board.
These hotel stays aren't "free" – they're part of the fare. But it's another reason why it may feel like you're paying more compared to other cruises.
5. All Entertainment Included
All of the entertainment on your American Cruise Lines cruise is included, so you don't need to pay any extra for these onboard experiences.
Guests can expect to enjoy evening entertainers, including singers and musicians, as well as a fantastic range of guest speakers during the day to enhance your itinerary. These include experts in the local area, authors, and historians who can share stories about the past of the region you're sailing through.
It's only the onboard entertainment that's included, though. Shore excursions are often an additional cost, though there are some available at no charge. In fact, some cruises will have an included excursion at every port.
And, of course, you don't have to book excursions – you can wander off and explore on your own while the ships are docked.
6. Modern Ships Built For Comfort
American Cruise Line has some classical ship designs, including paddlewheel boats, but don't be fooled – the fleet has an average age of just four years. That's really modern compared to other cruise lines, including some ocean cruise lines that have ships sailing from before the year 2000.
The benefit of this is that all ships are really comfortable, light and spacious, and they feel clean and new too. You won't find fixtures that are worn or that could do with a serious update. Instead, everything just feels fresh and pleasant, and you can really unwind and enjoy yourself.
7. Excellent Service
American Cruise Lines is not an ultra-luxury cruise line, but it does try to treat guests in the same way. This means there are great staff-to-guest ratios on every ship (3:1 guest to crew), with crew always available to help you with any requests you might have, or just to attend to your needs during your stay.
You won't be queuing at bars for a long time, or waiting ages to be seated at dinner. Everything you could need is taken care of quickly and efficiently, and the crew work really hard to make your cruise as relaxing as possible. You don't need to tip them either, as gratuities are included in the fare you pay.
8. Most Rooms Have Balconies
The majority of rooms on an American Cruise Lines ship come with a private balcony. Balconies aren't unique to the cruise line, but many rival river cruise lines only offer a French balcony, whereas, on the American ships, you're getting a full balcony that you can sit out on and enjoy the view in complete comfort.
There are a handful of oceanview rooms on the ships, but not many. Most of these are for solo passengers, though some are double occupancy. There are no interior cabins in the entire fleet.
If you want a cheaper cruise, you can look to other cruise lines to get an Inside stateroom with no view. But because you'll almost always have a balcony on an American Cruise Lines ship, you have to compare it with other cruise lines' balcony fares.
It's also worth adding that the cabins are some of the biggest in the cruise industry, with single rooms starting at 250 square feet, and doubles starting at 350 square feet. That's way bigger than double rooms on most ocean cruise ships.
9. Shorter Cruise Season
Ocean cruise lines sail year-round, often moving their ships to warmer climates for the winter. Some European river cruise lines offer the same. But the American Cruise Lines' season is shorter, with fewer sailings during the winter months.
That means an increase in fares – the cruise line can only make money for 9-10 months per year, instead of year-round. This also means there are fewer dates, so cruises are more likely to sell out – another reason the cruise line can charge higher prices.
Suggested read: Viking Cruises Unveils Rare Winter River Voyage in Europe
10. Lack Of Competition
If you're considering an ocean cruise, you'll have up to 20 different cruise lines sailing in some destinations, especially the most popular markets like the Caribbean and the Mediterranean.
It's a similar story for European river cruises, though not quite as extreme – there are around 10 cruise lines offering sailings on the most popular European rivers.
In the US, there aren't as many competitors. There are a handful of operators offering sailings along the American rivers. And while American Cruise Lines does sail Alaska, it's one of the few cruise lines to do so with this small ship experience.
With less competition, that means the cruise line is able to charge higher fares, as they know they will still sell out the sailings.
11. Typically Older Guests
Most of the guests cruising with American Cruise Lines are a little older, typically 50+. They're the sort of demographic that would be considered classical cruise passengers, although ocean cruising's average passenger age is dropping with so many family-oriented ships.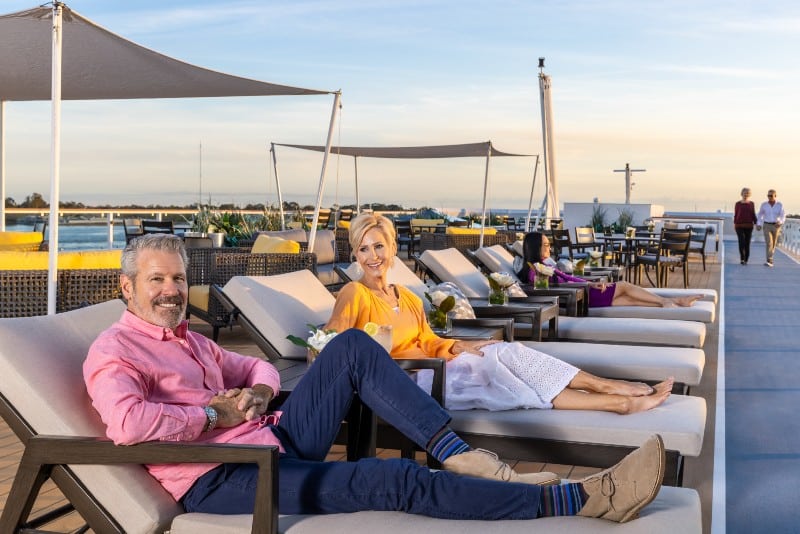 Older passengers tend to have more disposable income, and they're also the sort of clientele who are looking for the experience that American Cruise Lines can offer – high levels of service, quieter ships, and quality dining.
Because these passengers are able to pay higher fares, the cruise line will charge them. There's no need for them to aim low with fares if they're going to sell them at a higher price and make money.
Final word
American Cruise Lines may seem expensive but when compared to other river cruise lines offering a similar experience, the prices aren't higher, and may in fact be slightly lower.
It's when you compare American Cruise Lines' coastal cruises with ocean cruise lines that you see a huge price difference, but you need to weigh up all the reasons why they're so much more expensive, and then decide what kind of experience you would prefer.
There are ways you can keep costs down too – be flexible with your dates, book with an experienced travel agent who can help negotiate the best fares, and aim for one of the oceanview rooms if a balcony isn't important to you. There will be deals on at certain times of the year too, so keep an eye out for those.
If you want to experience the amazing rivers of the US, then you may be paying a premium compared to some of the typical ocean cruise line destinations. But these ships continue to sell out, so they are clearly worth it.
Related Topics