Wondering what there is to do in Palma with kids? Quite a lot, actually! Read on to see some of the best options.
Palma de Mallorca is a popular port of call on Mediterranean cruises. The Mallorcan capital is a regular port of call on Costa Cruises, Marella Cruises and MSC Cruises, amongst others.
If you've booked a cruise that calls at Palma, you'll typically have between five and ten hours to explore. So let's find out what's the best way to spend one day in Palma de Mallorca with kids.
Where Is Palma Cruise Port?
The main cruise port in Palma de Mallorca is Estacio Maritima, which is located about three miles from Palma city centre. If it's a busy day in the port, your ship might dock at Port Pi, which is about four miles from the city centre.
You're not likely to want to walk from Palma cruise port to the city centre with children.
The easiest way to get from Palma cruise port to Palma city centre is to take the cruise shuttle bus if one's available. Otherwise, you can take a public bus or a taxi from Palma cruise port.
How To Spend One Day In Palma De Mallorca
With only one day to spend in Majorca, families with children would be wise to pick just one or two activities to avoid getting stressed out.
Palma is a fairly large city, about the size of Manchester or Edinburgh, so it's not really the kind of place where you can wander around and see what you find, as you can in smaller Spanish towns.
I've listed some of the best things to do in Palma de Mallorca with kids, so you can plan your one-day adventure…
1. Palma Aquarium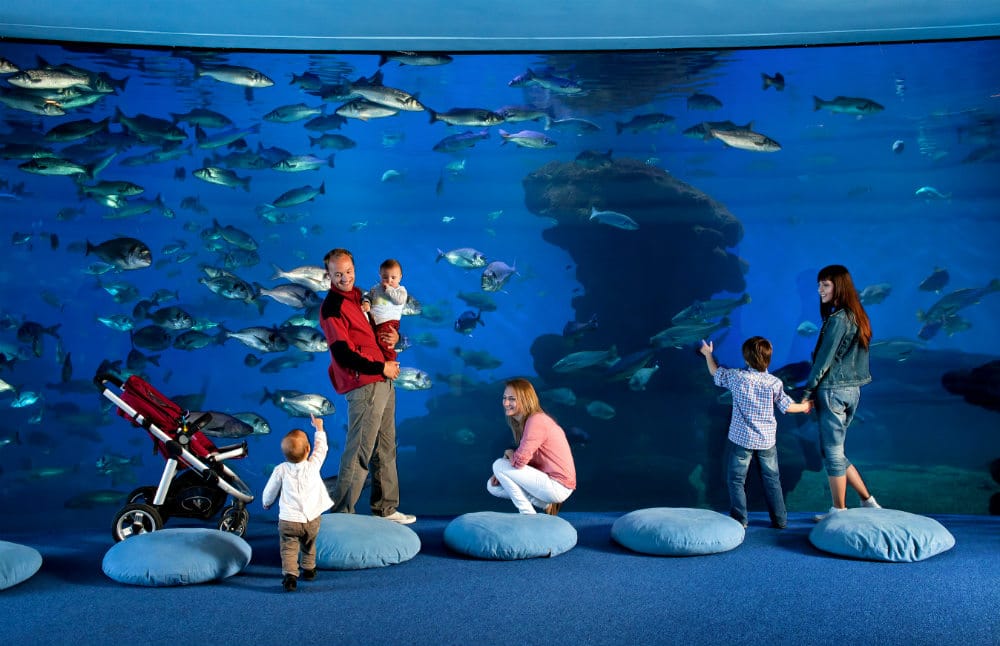 We always seem to visit an aquarium on a cruise. It's the perfect place to go to escape either the scorching summer sun or the rain, and kids of all ages love looking at fish and marine animals. Palma Aquarium is one of the best aquariums in Spain and promises a great family day out.
Palma Aquarium has 55 tanks that house over 8,000 sea creatures! The aquarium features the deepest shark tank in Europe, and a unique glass-bottomed boat ride allows you to admire the sharks from above.
Palma Aquarium also has several other things which you might not expect to see in your average aquarium. The AquaDome, for example, is an immersive 3D experience that takes you deep into the ocean with the use of 3D glasses and images projected onto the huge domed ceiling. It's pretty cool.
Within the heart of the aquarium, there's Nautilus Park – a large soft play centre with plenty of slides, ball pits and climbing walls to help little ones burn off that extra energy.
There's also an outdoor playground with a bouncy castle and a pirate ship. A fountain of water jets provides a fun way to cool down in summer.
Children as young as three can enjoy snorkelling with rays, and if you're feeling brave, you can even go scuba diving with sharks!
How to get there from Palma cruise port: The aquarium is eight miles from Palma cruise port. The easiest way to get there is in a taxi which costs around €22 each way. If you're feeling frugal and adventurous, you could also take a bus to the centre of Palma and then another bus to get to the aquarium.
2. Bellver Castle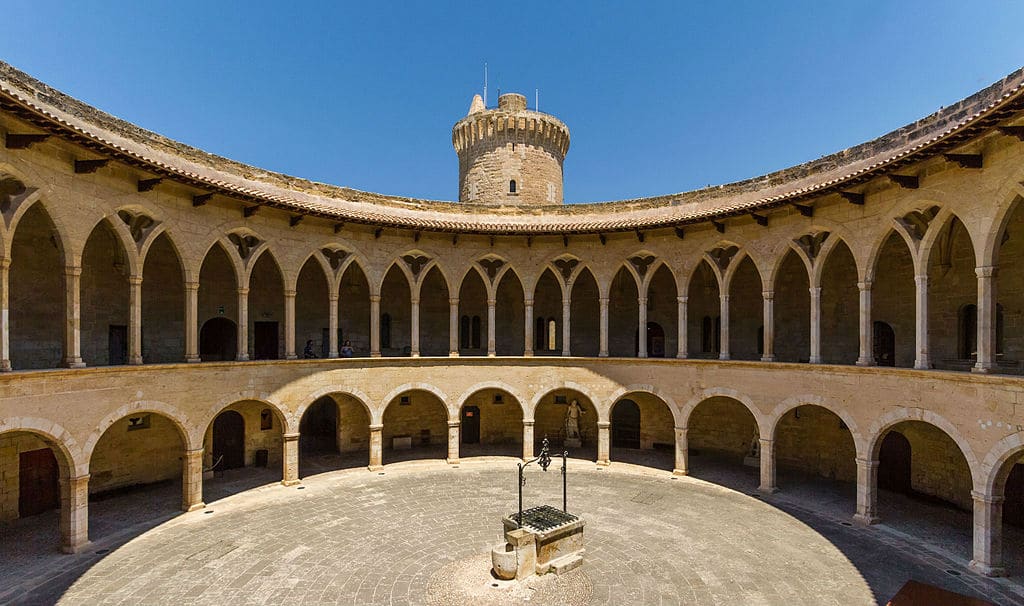 A trip to Palma's 14th-century castle is a great option to let your kids' imaginations run wild and teach them a little about history at the same time.
Bellver Castle has a unique round shape with lookout towers that offer the most amazing views of the city. Kids will love running through the tunnels and finding the secret staircases which are hidden throughout the castle.
There's also a museum about the history of Palma and a nice little café.
Good to know: Free entry on Sundays, closed on Mondays
How to get there from Palma cruise port: The castle is about a mile and a half from the cruise port. However, the castle is at the top of a hill, so you probably won't want to walk. It would be better to get a taxi there and then decide if you fancy the walk back downhill.
3. Hop-on-hop-off Bus
The easiest and cheapest way to see all the best bits of Palma in one day (including Bellver Castle) is to take a hop-on-hop-off bus tour. The City Sightseeing bus calls at 18 designated stops, including one right opposite the cruise port.
Buses run every half an hour, and the entire loop takes 80 minutes, leaving plenty of time to get on and off when you spot something which you fancy seeing more of. Headsets are provided, which give an insightful commentary on the places you'll visit along the way.
Particular highlights include the Passeig Maritim, where you can take a look at the yachts and decide which one you'd have if you won the lottery, and La Rambla, which is a nice place to take a stroll and stop for lunch.
How to get there from Palma cruise port: Estacion Maritima (stop 14) is the closest City Sightseeing bus stop to the cruise terminal. Walk through the terminal exit to the public street and cross the road to board the hop-on-hop-off bus. If your ship docks elsewhere, such as Port Pi, you should head to the city centre and board the hop-on-hop-off bus there.
4. Go To The Beach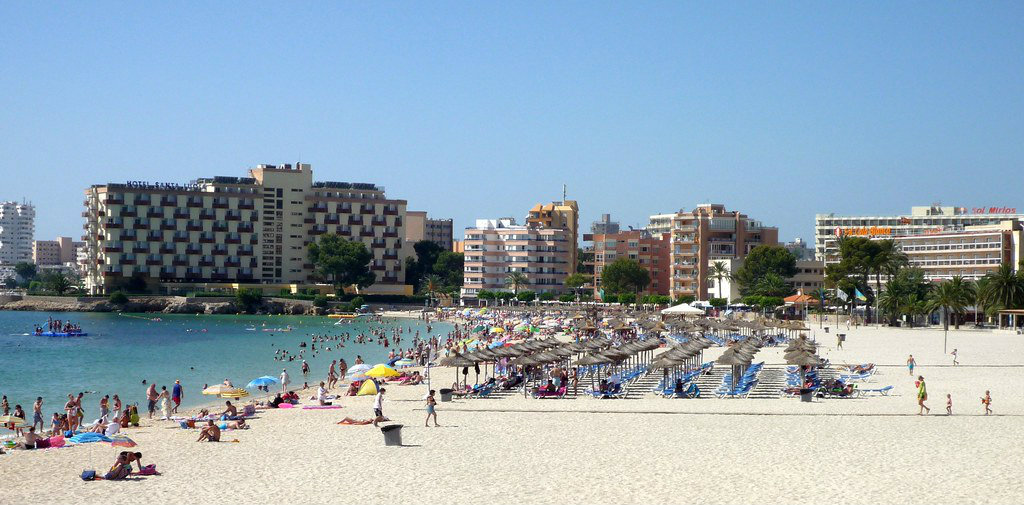 We usually love visiting beaches during a cruise. It's a great way for adults to relax, as a bucket and spade is all it takes to keep little ones entertained for hours.
The nearest beach to Palma cruise port is Cala Major Beach which is a nice beach with a pier and sun loungers and parasols available to hire. As this is the nearest beach to the city and it's quite small, it can get crowded in the summer.
If you don't mind travelling a little, it's worth hopping in a taxi to Palma Nova, which is one of the best beaches in Majorca. Here you'll find soft white sand and lots of space for children to play. The beach also has several small playgrounds and lots of water sports.
Price: Free
How to get there from Palma cruise port: You can't walk to any beach from Palma cruise port; it's just too far. Cala Major Beach is two miles from Palma cruise port or five minutes in a taxi. Palma Nova beach is seven miles from Palma cruise port or 12 minutes by taxi.
5. Explore Mallorca By Boat And Vintage Train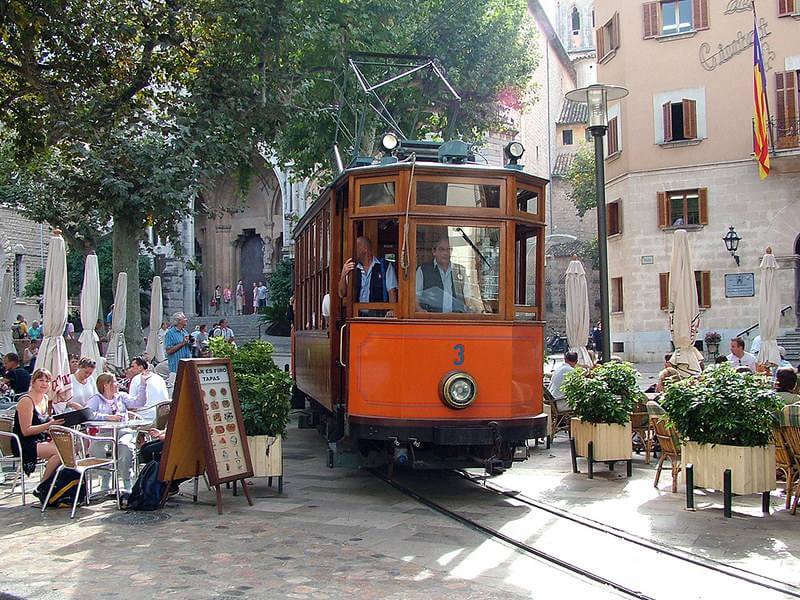 The west coast of Mallorca has some stunning landscapes, and the UNESCO-listed Serra de Tramuntana mountain range is definitely worth a visit.
A child-friendly way to explore is to take an excursion that will pick you up from Palma cruise port. Travelling by coach to La Calobra, you'll take a boat cruise to the beautiful village of Port Soller, passing dramatic rock formations along the way.
Once in Soller, you'll take the Soller tram inland for a walking tour before boarding a wooden carriage train to Son Reus.
Final word
If you're looking for things to do in Palma de Mallorca, you don't have to stick with the cruise line's own excursions. Whether exploring Palma de Mallorca with toddler age children or with older kids, there are some great places to relax and unwind.
Family cruises are great ways to unwind but you need the right destinations, and Palma has a lot to offer. But plan your day in advance if you want to make the most of the hours you have in port.
Keep an eye out for family cruises with free child places too, if you're looking for a great deal on Mallorca cruises.
Related Posts: