The port of Barcelona is located at the waterfront in Port Vell, at the end of Las Ramblas in the centre of Barcelona. It's one of the world's busiest cruise ports with seven cruise terminals located on three piers.
If you're flying into Barcelona airport the day before your cruise, you'll want to find a hotel close to Barcelona cruise port.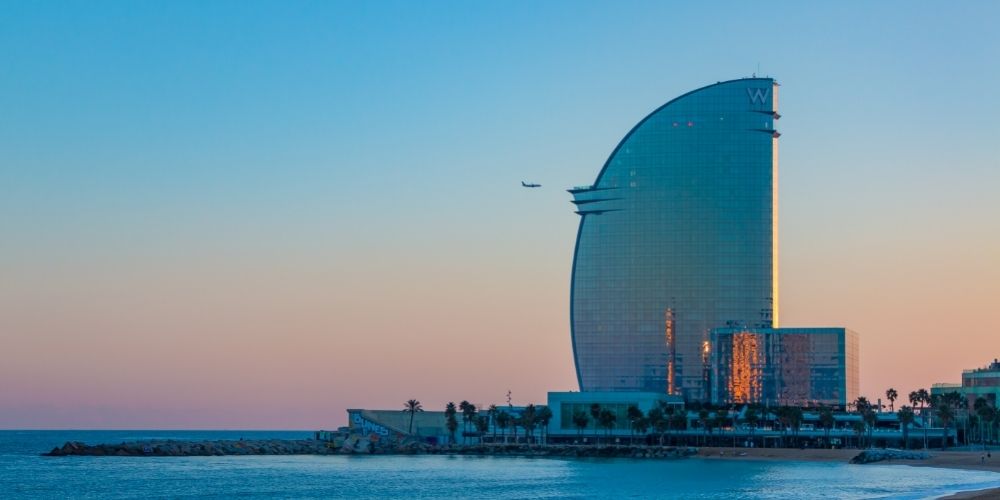 This article will help you to do just that, showcasing some of the best hotels near Barcelona cruise port.
Map of Hotels Near Barcelona Cruise Terminal
First, let's take a look at Barcelona cruise port on a map, so that we can see where the nearest hotels to Barcelona cruise terminal area, and how far that is from the city centre.
You can use the interactive map below to search for hotels near Barcelona cruise port on your chosen dates.
The best hotel for your stay will depend on how long you wish to stay in Barcelona.
If you are arriving in the evening and cruising the next morning, you only really need a place to sleep and should look for hotels near Barcelona cruise ship terminal.
However, if you plan to spend a few days in Barcelona, you may prefer to stay close to Barcelona's main attractions, such as in the Gothic Quarter or by La Barceloneta beach. You may also want to look for Barcelona pre-cruise hotels with swimming pools, restaurants or rooftop gardens.
Closest Hotels to Barcelona Cruise Terminal
Now, let's take a look at which hotels are closest to Barcelona cruise terminal, in order.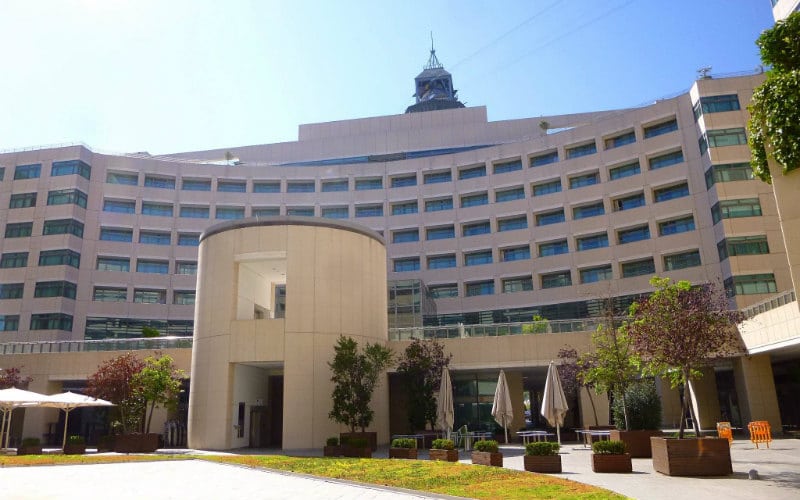 The closest hotel to Barcelona cruise port is Eurostars Grand Marina Hotel. This five-star luxury hotel is not only the nearest hotel to Barcelona cruise terminal, but it's also one of the very best hotels in Barcelona.
Located within Barcelona's World Trade Centre building, the hotel overlooks Barcelona port and is also just a five-minute walk from Las Ramblas – Barcelona's main tourist street.
The hotel offers modern rooms, including family rooms, which feature satellite TV and a pillow menu. On the roof, you'll find a stunning rooftop pool as well as terraces where you can enjoy an alfresco breakfast, or just relax and enjoy the views. The Grand Marina restaurant serves Mediterranean-style meals and there's a lobby bar which serves great cocktails.
How to get to the cruise port from this hotel
Whether or not you can walk from the Grand Marina Hotel to Barcelona cruise port depends on which terminal your cruise ship arrives in to.
If your ship docks at the North, South, or East terminal at the World Trade Centre (WTC), you will only have a few minutes to walk, which will be fine, provided that you can wheel your own luggage.
However, if your ship arrives on the Quai Adossat at terminals A, B, C or D, then your ship may be over a mile from the hotel. In this case, it would be better to take a taxi or the cruise port shuttle bus. Known as the 'blue bus', this is a regular service that runs from the cruise port to Las Ramblas.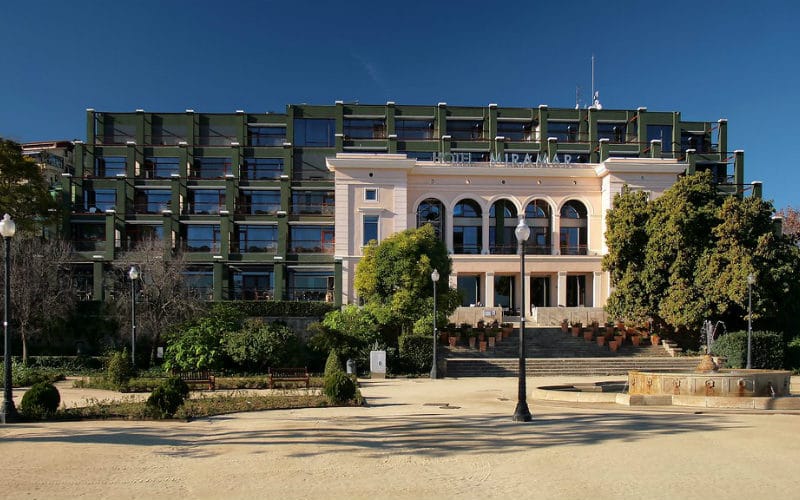 The second closest hotel near Barcelona cruise port is the Hotel Miramar. This five-star hotel is located in a former palace with gardens on Montjuic Mountain, yet is still only a few minutes' walk from Barcelona cruise port.
The exterior of the hotel retains many ancient Neucentisme style features, yet the interior is modern and luxurious. Facilities include both indoor and outdoor swimming pools and L'Occitane Spa with a hot tub, sauna and steam room. There's also a restaurant which serves Catalan and Mediterranean dishes.
Rooms at the hotel sleep up to three guests, meaning that it may not be the best choice for families. However, this hotel is ideal for couples looking for a special pre-cruise stay in the perfect location in Barcelona.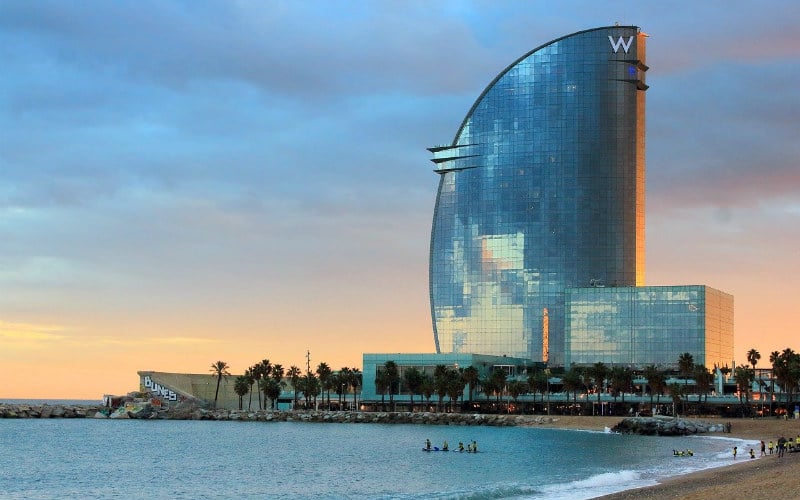 Another Barcelona pre-cruise hotel to consider is W Barcelona. Part of the Marriott hotel chain, this iconic sail-shaped hotel is located by Barceloneta beach and offers fantastic views over the city.
This five-star, ultra-modern design hotel features a rooftop bar on the 26th floor, an infinity pool and a spa with a hot tub, sauna and steam room. Each bedroom comes with a chaise lounge and rainfall shower.
Unfortunately for parents, this hotel doesn't have any family rooms. Also, whilst it's the nearest hotel to Barcelona cruise port as the crow flies, it isn't possible to walk between the hotel and the port and so you would still need to take a taxi.
However, if you're looking to stay in the most famous hotel in Barcelona and enjoy cocktails in the W Lounge, then this is the place to choose.
Cheap Hotels Near Barcelona Cruise Port
The nearest hotels to Barcelona cruise terminal are all five-star hotels which come with a price tag to match. Barcelona is a pretty expensive city for accommodation, particularly during the summer, Easter and at weekends.
So, if you're on a budget and looking for cheap hotels in Barcelona for before or after your cruise, you'll want to know about some of the more affordable Barcelona cruise hotels, even though you might be further from the port.
In Barcelona, like many European cities, the cheapest accommodation is actually in hostels, rather than hotels. However, you shouldn't let this put you off. It certainly doesn't mean that you'll be expected to share bunk beds with a room full of teenage backpackers!
Many Barcelona hostels actually have private rooms for couples or families, with private en-suite bathroom facilities, and all the amenities you would expect of a cheap hotel.
These cheap Barcelona hotels all offer great options for families looking to stay in Barcelona before or after a cruise.
Hostal BCN port is a guest house in a great location close to Barcelona cruise port. Depending on which terminal your cruise ship docks at, you can either walk or take the cruise bus from right outside. The beach is also just a ten-minute walk away.
Some rooms in this hostel have shared bathrooms, with private en-suite rooms available too. Quadruple rooms sleep up to four people. If you're looking for a cheap hotel in the best location for your cruise and also to explore Barcelona, Hostal BCN Port is a great base.
Another reasonably-priced hotel in an excellent location close to Barcelona cruise port is Grums Hotel and Spa. This four-star modern hotel is located just a five-minute walk from Barcelona cruise terminal, close to Las Ramblas and the Parallel Metro Station. Facilities include a spa with a hot tub, sauna and steam bath.
Despite its four-star status and sleek modern decor, Grums Hotel is very reasonably priced and offers a great value option. The hotel has a choice of rooms including triple and quadruple rooms for families, all with panoramic floor-to-ceiling windows.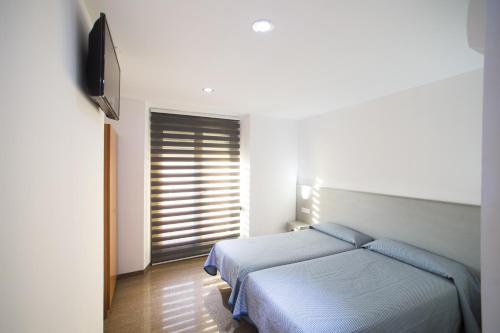 Hostal Drassanes is a guest house in a great location, close to Las Ramblas and just 100 metres from Port Vell Harbour. It offers basic but clean and comfortable accommodation for couples and families in the very heart of Barcelona's Gothic quarter.
If you only have a short time in Barcelona and want simple accommodation in the most convenient location, a hostel like this one is ideal.
Barcelona Hotel and Cruise Packages
If you book a fly-cruise with a travel agent, you will likely be given the option to add a pre-cruise hotel in Barcelona. Doing this is generally a good idea, as it means that all parts of your cruise holiday are ATOL protected. If your cruise or flight is cancelled, you will also receive a refund for your hotel.
However, if you've already booked your cruise and flights and are now looking for a hotel, don't worry. You can often find hotels that offer free cancellations, which gives you added peace of mind.
Transportation from Barcelona Hotels to Cruise Port
Even if you choose one of the nearest hotels to Barcelona cruise port, it may still be too far to walk, depending on which terminal your ship docks at and how much luggage you have. It's almost always easier to transfer from your hotel to Barcelona cruise port with a taxi, Uber or the cruise port shuttle bus.
Here are your options…
1. Taxi from Barcelona hotel to cruise port
Taxis and Ubers in Barcelona are a relatively inexpensive and convenient way to get around. You can ask your hotel front desk to call a taxi for you, but usually, if you step outside, you will see lots of taxis passing with green lights on to show that they are available.
If you have the Uber app, you'll find that Ubers are readily available in Barcelona and you never have to wait more than a few minutes for one to arrive.
2. Barcelona cruise port shuttle bus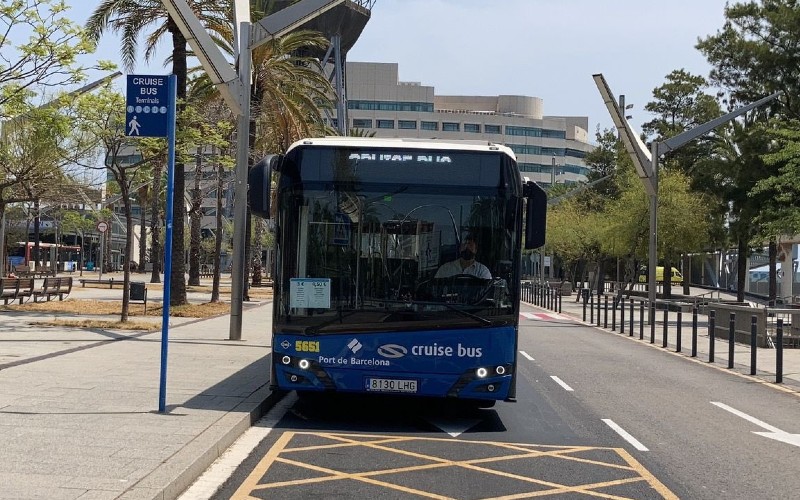 The blue bus runs a service from the Christopher Columbus monument at the foot of Las Ramblas to Barcelona cruise terminals A, B, C and D. The bus runs a schedule depending on the arrival and departures of cruise ships, so it will always be running when you need it.
Tickets can be purchased on the bus in cash with coins or small notes. The cost is €3 per person for a single ticket and €4.50 per person for a day ticket.
Click here to see a map of the cruise bus stops.
3. Barcelona hotels with cruise shuttle
Due to how simple it is to get a taxi or the cruise port shuttle bus, Barcelona hotels do not tend to offer a shuttle service to the cruise port.
While you might find articles titled 'Best Hotels Near Barcelona Cruise Port With Shuttles'. These hotels don't actually offer a shuttle service. But they will call you a taxi, as any hotel would.
Booking Your Hotel in Barcelona
It's easy to find and book Barcelona hotels online. Prices vary depending on demand, and I recommend booking your hotel sooner, rather than later, to get the best deal.
Look out for hotels with free cancellations. I sometimes book one of these as a backup and cancel it if anything cheaper or better comes up nearer the time.
As Barcelona is such a fantastic city to visit, it's often a good idea to stay for at least a couple of nights either before or after your cruise, to make the most of your time here. Take a look at this 3-day Barcelona itinerary and this 4-day Barcelona itinerary for inspiration.
As well as exploring the many attractions that Barcelona has to offer, you could also enjoy day trips from Barcelona to places like the Montserrat Monastery, Tossa de Mar or Girona.
NEW DEALS JUST RELEASED!
Don't miss these hot cruise offers…
Related Posts: