Cruise ships aren't exactly small, with the biggest ships on the ocean being almost the size of a small city. If you're travelling as part of a group or family and you get separated for activities, you can't just wander around and hope to find them again.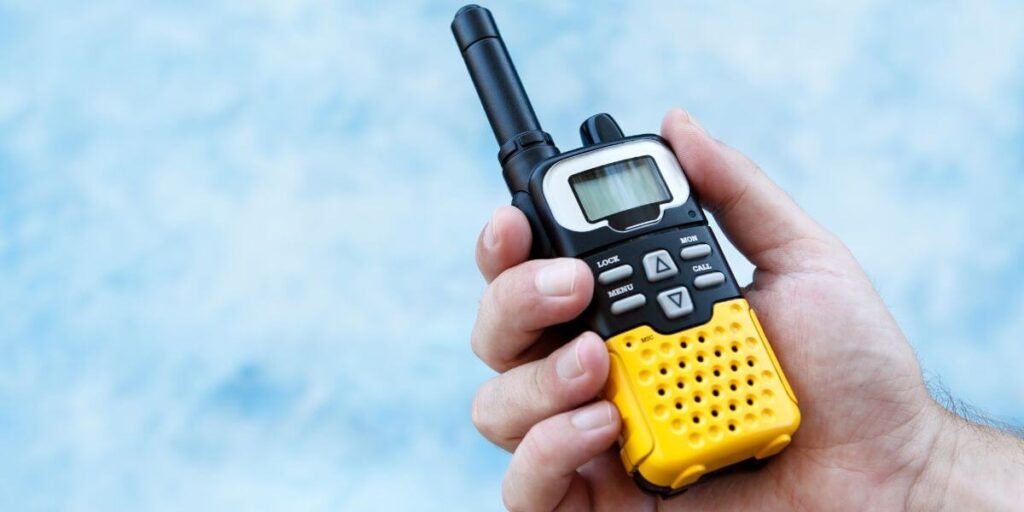 Online messaging is an option, but it means you'll need to pay for the WiFi, and that can be really expensive, especially if you aren't using it for anything else.
Some cruise lines have a messaging app that works without WiFi, but they're not the best – usually you need to keep logging in to see if you have a message.
And so, walkie-talkies end up being a popular choice for families with older kids and teenagers. Good ones can sometimes work across the entire ship, and let you stay in touch at all times without needing to pay for WiFi.
Let's take a look at whether you're allowed to use walkie-talkies, what kind you need to look for, and most importantly – the best walkie-talkies you can buy for your holiday.
If you just want to know which are the best walkie-talkies for cruises, then here's my recommendation. I've spent six hours researching them all and thousands of cruisers conclude that these are the best
Top Pick
These two-way radios are light, slim and compact like a phone, yet powerful enough to work on even the largest cruise ships.
The walkie-talkies are voice-activated so you don't need to press a button when you talk. The powerful battery will last at least 10-12 hours and all six can be charged at once.
Are walkie-talkies allowed on cruise ships?
Generally, walkie-talkies are allowed on cruise ships if they are FRS walkie-talkies, but those that can broadcast beyond the ship may not be permitted – and you may not be able to use them when docking at certain countries.
Most of the major cruise lines don't ban walkie-talkies in their prohibited items list. Carnival, Royal Caribbean, Disney Cruise Line, and Princess make no mention of walkie-talkies in their banned items.
NCL updated its policy on banned items in July 2023 and now prohibits walkie-talkies.
In fact, Royal Caribbean even sells walkie-talkies in the onboard shops on some of their ships. Here's a photo I took on Anthem of the Seas…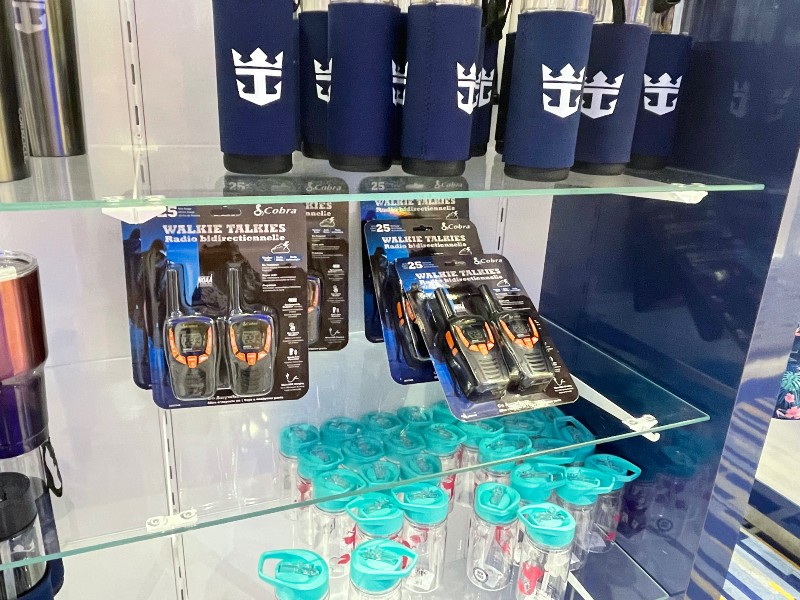 Some of the cruise lines' lists of prohibited items make mention of signal jammers.
A walkie-talkie isn't by nature a signal jammer but it could interrupt the signals used by the cruise ship for distress calls. There's a story on the Cruise Critic forum where announcements were made for people to stop using 2-way radios on a specific frequency for that same reason.
Because there's no mention of the types of walkie-talkie, you should be fine taking a GMRS one onto the ship provided you have the license you need. But you might want to check before you sail.
And you shouldn't use them when you're in port, because if you accidentally tap into a frequency that's used by that country for security and safety purposes, you could actually be breaking the law.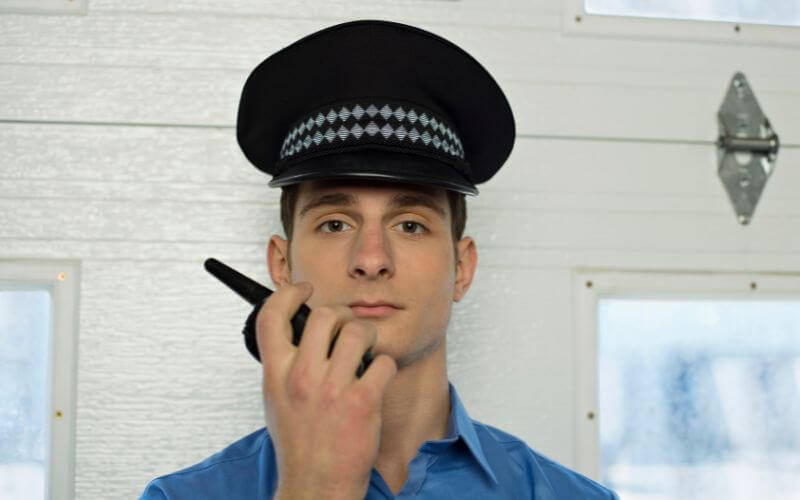 What kinds of walkie-talkies work on a cruise ship?
You can use both FRS and GMRS walkie-talkies on a cruise ship. GMRS are generally more powerful and will be more reliable but you need a license to use them. Both types can struggle if you use them in the cabin, even if you have good quality ultra high-frequency walkie-talkies. They're more effective on deck or in public areas.
That's a lot of technical jargon so let's break it down a little, so that you can better understand which type works and also which type isn't worth your time.
We're dealing with two different types of walkie-talkie, which are FRS and GMRS.
FRS stands for Family Radio Service
GMRS stands for General Mobile Radio Service
FRS walkie-talkies use a lower frequency wavelength and were originally designed to be a low power bandwidth that didn't interfere with essential frequencies and services.
FRS walkie-talkies will include the cheapest walkie-talkies you could buy from a toy store to entertain your kids for a few hours, right up to good quality options that can operate over a couple of miles.
GMRS walkie-talkies are a bit more serious. They are more powerful and operate on a higher frequency from 462 MHz to 467 MHz.
And crucially, because these do work on the same frequencies as are used by some essential emergency services, you can't just buy a GMRS walkie-talkie and use it whenever you'd like to – you need a license to use them in the US which costs around $80, and their use is limited in various parts of the world.
Using a GMRS radio you can access all of the channels of the FRS, as well as a range of exclusive channels. But, these exclusive channels are often used by various countries for their emergency distress discussions, and any civilian found to be using them can get into serious trouble.
The other thing to explain is that there are different frequency bands that are used by FRS radios – VHF and UHF, which stand for Very High Frequency and Ultra High Frequency.
VHF walkie-talkies are more effective at longer ranges and in open spaces – so they're good for festivals or for ships to communicate with each other.
UHF walkie-talkies have a lower range, but can penetrate solid surfaces better (including some metal) so are more suitable for indoor uses.
So, to go back to the original question – the best walkie-talkies for a cruise ship will be GMRS, but you need to be careful using them and you must have a license.
Generally, the more common option is to buy a UHF FRS walkie-talkie.
They won't be perfect on a cruise ship, because of how much of the structure is made using metal. In all likelihood, you won't be able to use them from within the cabin, as that's a box of metal (and the signal would have to penetrate lots of metal boxes on its route to the partner walkie-talkie).
But if you step into the corridor, or ideally into a public area where there are more open spaces, they can be pretty effective across different decks.
They also don't need a license and they won't get you into trouble with port authorities.
Should you bring a walkie-talkie on a cruise?
You should bring a walkie-talkie set onto a cruise ship if you plan on spending a lot of time doing different activities from your group, and you don't want to pay for the WiFi or to use the ship's messaging apps.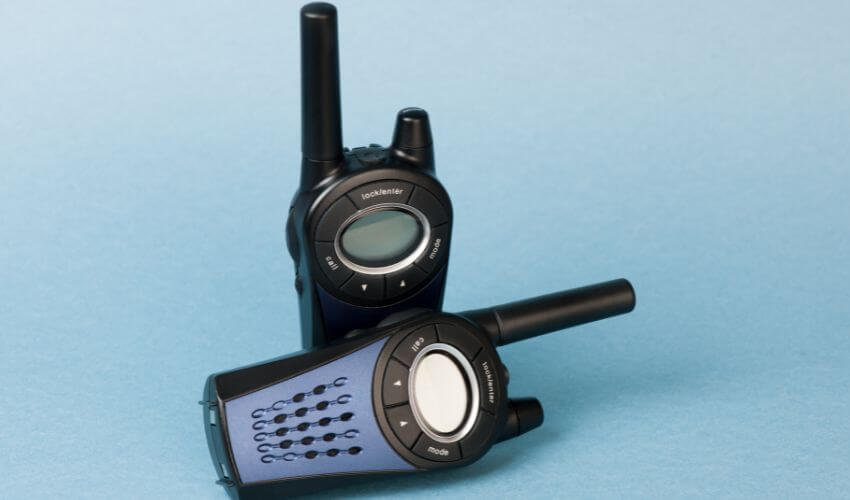 The most effective form of communication is always going to be over WiFi through something like WhatsApp or Messenger.
Read more: What To Know About Using WhatsApp On A Cruise Ship
That'll work across the whole ship, including inside cabins. But it is expensive – often you have to pay hundreds of dollars for a package since you are forced to buy it for your entire cruise.
Yes, some cruise lines allow you to use their own apps (including messaging) without paying for the Wi-Fi but sometimes that messenger service also charges you. And they aren't the most efficient since you need to keep logging in to see if you've received a message.
The other free alternative that some people use is just post-it notes in the cabin. But that involves you having to return to your cabin every time you want to leave a message, or check your messages.
So if you don't want to pay for the Wi-Fi and a messaging app is either too costly or isn't available on your cruise, walkie-talkies are the next best thing.
However, you should use them considerately. A lot of people get bugged by people who use walkie-talkies on a ship. Make sure the volume isn't too loud, and consider getting one with an earpiece as well so that you don't have to subject everyone nearby to your conversations.
The 5 Best Walkie-Talkies For Cruise Ships
This 6-pack of walkie-talkies is a really good set to take on a cruise – they have decent battery life, but more importantly, they have good range and have been proven to work well in enclosed, indoor spaces. They won't be perfect on a ship due to the volume of metal, but they'll perform as well (or better) than other FRS sets.
They're a super-lightweight option too, and they're slim, so they're nice and discreet when clipped onto a belt, or they'll easily fit inside a pocket. You get six, which is great for large families, and they have a single docking station so charging them all at once is easy.
The downsides are minimal – the main one is the lack of included earpieces, but they have a port so you can connect your own. The clip for your belt is a little fiddly, and the instruction manual isn't the clearest, but otherwise, these are a reliable, effective choice.
Pros
Good performance in enclosed spaces
Slim, lightweight design
6-pack is good for families
Single charging station
Cons
No earpieces included
Belt clip is a little tricky to use
Instruction manual is badly written
These walkie-talkies have a good range, work well in enclosed spaces and come with a single charging station, so it's easy to keep the whole family connected throughout your cruise.
If you want decent performance without paying a huge amount, these pxton walkie-talkies may do the job.
Obviously, when you choose a budget option, you're making some sacrifices, but this set chooses to sacrifice the right things – meaning performance and sound quality aren't badly affected. They still have a decent range of up to half a mile in built-up areas, such as a ship interior.
They also come with wraparound earpieces, which is a benefit they have over some more expensive sets – these won't fall out of your ear constantly and will stay comfortable to use.
The areas that are compromised are mainly the battery life and the build quality – the plastic shell feels OK but won't stand up to being dropped a lot. The antennae are huge too, so these aren't discreet.
Also, you only get two handsets, but that might be all you need – how often does your party split into more than two groups?
Pros
Great performance and price combination
Wraparound earpieces included
Loudspeaker is powerful
Cons
Poor battery life
Cheap build quality – may not survive many drops
Uses separate battery chargers
Only 2 handsets included
Massive antennae
These walkie-talkies may feel cheap, and they don't have the best battery life, but at this price the range and sound quality is solid – definitely sufficient for a cruise.
This set of four FRS walkie-talkies is a decent set to buy for a family cruising together. They come in four different colours too, so if you're letting the kids hold onto one then they can pick a favourite – though if it leads to arguments then maybe that's more of a downside?
These walkie-talkies have a decent range, although it should be noted that the manufacturer draws attention to reduced performance on a cruise ship due to the metal structures. They should still work when you're on deck/in larger spaces, but they might not be the most reliable option.
They have a long battery life, which is good since you only get one charger with the set, which is inconvenient if you want to recharge more than one at once. And they do come with an earpiece included to help keep your conversations private, but the quality (both in terms of sound and comfort) is lacking – they are cheap plastic discs that won't sound great and will likely fall out of your ear a lot of the time.
Pros
Good battery life
Up to a mile range in crowded areas
Includes four walkie-talkies – good for families
Cons
The included earpiece is cheap and low quality
Only one charger is provided for all four walkie-talkies
Performance in a cruise ship is variable
While these have a good range, the fact that the manufacturer has warned about their performance on a cruise ship is a concern. They should work OK but you might have some reliability issues.
If you're serious about quality, then you'll need a GMRS set of walkie-talkies. These are more powerful and should have no trouble reaching all across the ship – provided you're not in a cabin. But don't forget that you need a license, and you should switch these off while you're in port, limiting when you can use them.
This Midland set is good quality too, with the reassurance of a well-known brand. The sound is crisp and sharp, and you get a single charging station to keep them powered up too – which is good, as the battery life on these isn't the best, and you'll want to charge them daily.
They do come with earpieces that are cushioned, so they're more comfortable than others. But the overall quality of the included accessories isn't as good as the handsets themselves – other reviewers have noted the charger or cables breaking easily.
Pros
Excellent performance and sound quality
Comfortable earpieces included
Single charging station for convenience
Reputable brand
Cons
GMRS license required to use those channels
May cause legal issues if you use them in port
Battery life isn't the strongest
Included accessories are low quality
Only 2 handsets provided
While these are probably the most reliable set of walkie-talkies on this list, the fact that you need a license to use them – and you can get into serious trouble if you use them in port – means they're better suited to serious walkie-talkie enthusiasts.
This set is another budget choice, although this is more suitable for people who aren't as concerned with performance, and just want four handsets for their family that can work OK.
The range performance isn't great, but that's the reason they're cheap. They may not work effectively even in corridors, but if you're in larger open spaces inside the ship, or on an open deck, and you're not too far from each other then they will be effective.
The sound quality isn't great but can be improved with earpieces (that you'll need to buy separately). And they're not the most robust either. These aren't amazing value but if you need four handsets, they work and they aren't expensive.
Pros
Low-cost option
Includes four handsets – good for families
Performance in open areas is decent
Cons
Not the strongest for indoor spaces
Cheap build quality
No included earpieces
Sound isn't the sharpest
If you're looking for a cheap option that includes four handsets, and you don't mind walking to an open deck to use them, these will be OK – but there are much more reliable options available for using inside a ship.
What is the best walkie-talkie to use on a cruise ship?
The best walkie-talkie to use on a cruise ship is an FRS option with good range and power, and a single charging station for all handsets since you don't get many power outlets in your cabin. Earpieces are a bonus, but prioritise the performance of the handset.
That's why I've rated the Retevis walkie-talkie set as the best choice. They don't come with earpieces but it's better to buy those separately than to buy a handset that won't perform as well, but comes with the earpiece included.
Retevis RT22 Walkie Talkies
Lightweight and simple to operate
Provides good coverage on cruise ships
Voice-activated transmit function allows hands-free operation
Includes a six-way multi-gang charger
To Conclude
Walkie-talkies are not the perfect solution for a cruise. Even if you buy the best ones, they won't work well from your cabin and need a good amount of free space to get a crisp, clear sound.
But they are useful to have as an alternative to expensive WiFi, and can be used again and again on every cruise – so if you sail often, then they're definitely a better value option than always paying for internet.
Plus you can use walkie-talkies in other places too if you tend to mix up your holidays to include things like camping as well.
Just be careful about buying GMRS ones, as while they do offer the best performance, you don't want to have to keep paying for a license, and be barred from using them whenever your ship is docked as well.
NEW DEALS JUST RELEASED!
Don't miss these hot cruise offers…
Related Posts: