What's better than a cruise holiday? How about a cruise holiday where you're also earning rewards to put towards your next holiday? A lot of cruise lines have a loyalty scheme, and with P&O Cruises that's called the Peninsular Club.
Let's dive into a rundown of what the club is, and the P&O Peninsular Club benefits you'll enjoy at each different level.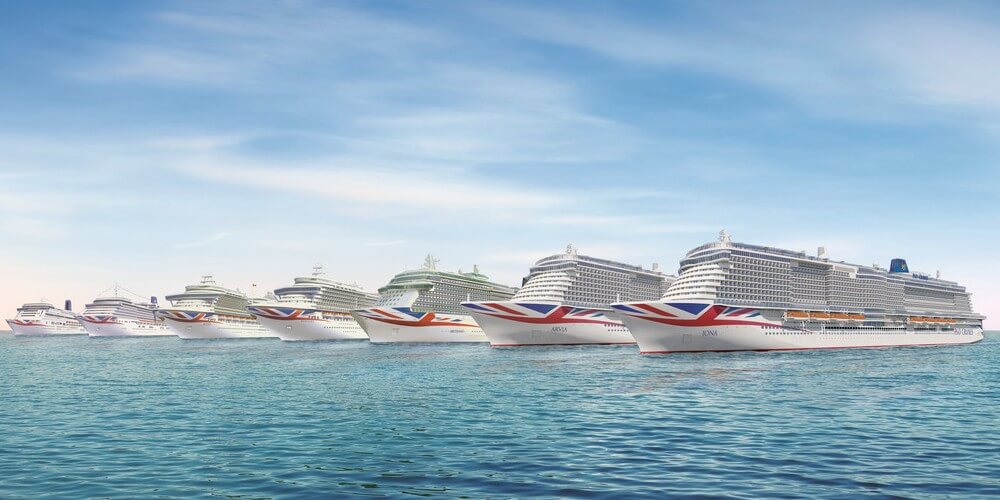 What is the Peninsular Club?
The Peninsular Club is P&O Cruises' loyalty and rewards club. You'll join automatically after spending 15 nights onboard a P&O Cruises ship, earning more points every time you cruise. Depending on your total, you will be in one of the six tiers and enjoy certain rewards on your next sailing.
For every night you spend onboard a P&O Cruises ship, you'll get 10 loyalty points. This means that you'll join the club once you've completed 15 nights of sailing. However, to be clear, you only join the club once your cruise is completed.
So, if you've enjoyed two 7-night cruises, and you book a third, you won't suddenly start getting rewards after the first night. You'll have to wait for your fourth cruise for them to kick in.
Your points never expire, so you don't need to rush to build them up. Also, all members of your cruising party can accumulate points, including children. Younger guests even get a free gift when they sail once they've reached the first tier, which is a nice little treat to keep them loyal to P&O.
Peninsular Club Tiers
Here's a list of the different P&O loyalty tiers, and how many points are needed to qualify for each:
| Peninsular Club Tier | Points Required | Nights On Board |
| --- | --- | --- |
| Pacific Tier | 150-500 | 15 – 50 |
| Atlantic Tier | 501-1,000 | 51 – 100 |
| Mediterranean Tier | 1,001-2,000 | 101 – 200 |
| Caribbean Tier | 2001+ points | 201+ |
| Baltic Tier | 2501+ points plus 80-200 nights on board within the last 3 years | 251+ |
| Liguarian Tier | 2501+ points plus 201+ nights on board within the last 3 years | 251+ |
Next, let's take a look at the Peninsular Club perks that you get in each tier…
Pacific Tier
The first tier is the Pacific Tier and you get a few nice perks to lure you into the Peninsula Club program.
Here's what you get with the Pacific Tier:
Peninsular Club Magazine sent to your home
A dedicated hotline for booking your cruise
Exclusive 5% discount on selected cruises
5% onboard spend discount (with some exclusions)
Dedicated loyalty manager onboard
Gifts for any guests under 17
The rewards at this level aren't particularly amazing, although a 5% cruise discount is useful. They can't offer too much though because of how many guests have sailed for 15 nights with the cruise line – this isn't a very exclusive tier.
NEW DEALS JUST RELEASED!
Don't miss the latest P&O Cruises offers…
Atlantic Tier
Next up is the Atlantic tier, for those who have spent more than 50 nights at sea. If you like to do 14-night cruises like I do, you can get to this tier fairly quickly. This is the tier I'm in.
With the Atlantic Tier, you get all the benefits of the Pacific Tier, as well as:
Extra 2.5% discount on onboard spend (total 7.5% discount)
A glass of Champagne on arrival for your cruise
A lapel pin
The Atlantic Tier ashore benefits are identical to the Pacific Tier, but onboard you do get a little bit extra with the additional discount on whatever you spend onboard. Plus, a free glass of Champagne is a nice touch.
Mediterranean Tier
Do you have your eye on some souvenir slippers, then this is the loyalty level that you'll need to get them…
With the Mediterranean Tier, you get all the benefits of the Atlantic Tier, as well as:
Extra 1% onboard spend discount (total 8.5%)
Cocktail party on cruises of 8 nights or more
P&O Cruises slippers
It's not a huge amount extra considering to get to this tier you need to have cruised for over 100 nights, but remember that these are free extras on top of your holiday, and if you've chosen to cruise for 100 nights with P&O then you must be enjoying it.
Caribbean Tier
To get into the Caribbean Tier of the Peninsular Club loyalty scheme you need to have cruised for over 200 nights with P&O Cruises.
The Caribbean Tier has all the benefits of the prior three tiers, as well as:
10% discount on bespoke P&O Cruises travel insurance
Priority booking, so you can make sure you get your favourite cabin
An annual gift sent to your home
Priority arrival time allocation – get on the ship first
Priority check-in when you arrive
A welcome aboard reception
An extra 1.5% discount on onboard spend (total 10%)
A complimentary half-bottle of Champagne (one per cabin)
An officer-hosted fine dining event on cruises of 8 nights or more
There's a lot more to this tier, with some fantastic benefits including that all-important priority booking and priority check-in. You'll have no trouble securing the cabin of your choice for your cruise holidays, and on embarkation day there will be a lot less waiting around.
And yes, to be clear, you do still get the glass of Champagne when you board as well as the half-bottle in your cabin. You get the half-bottle in your cabin on the first formal night, not on embarkation night.
Baltic Tier
Things get a little more complicated with the last two tiers because to qualify you don't just need points. As well as the 2501+ Peninsular Club points for the Baltic Tier, you must also have spent between 80 and 200 nights on a P&O Cruise within the prior three years before your next sailing date.
So, say you were booking a cruise for 1st July 2023. If you've got 2501 or more points and you've sailed for more than 80 nights between 1st July 2020 and 30th June 2023, then you'd qualify. If not, you'd drop down to the Caribbean Tier.
The Baltic Tier perks include all prior perks, as well as:
Priority disembarkation
Priority to book seats on Caribbean fly-cruise flights
50% discount on machine-washable laundry
With the pause in cruising, there have been fewer people in the Baltic Tier since it was harder to accumulate the number of cruising nights. But honestly, it doesn't really matter because the extra perks aren't that great. P&O Cruises ships have free launderettes and if you're getting an Intercruises Cruise Connect coach home then the priority disembarkation won't matter either.
Ligurian Tier
The most exclusive of the Peninsular Club tiers, this is reserved for only the most loyal guests who have 2501 or more points and who have cruised for 200 nights or more within three years of their sailing date.
The benefits of the Ligurian Tier, as well as all prior perks, include:
Invitations to inaugural events
Use of a Hospitality Lounge at the home port
The earliest embarkation timeslots
Early access to your cabin
Complimentary formal attire pressing
The Ligurian Tier is pretty exciting because you'll get invitations to see the new ships before anyone else. Plus, you'll always be first on board the ship, which can give you an extra half a day of holiday!
To enter the Ligurian Tier you'll need to spend over 18% of your life on board a P&O Cruises ship. Now, that would be the life, wouldn't it?
How Do You Join the Peninsular Club?
You don't need to do anything to join the Peninsular Club with P&O Cruises. As soon as you've cruised for 15 nights or more with the cruise line, you'll automatically become a member. It will be linked to the passenger account that you have with the cruise line.
Remember that you don't become a member until the end of your cruise when your 15th night takes place. Even if your 15th night with P&O is at the start of a longer cruise, you'll need to wait until that cruise is complete for you to be enrolled and to start enjoying the benefits.
NEW DEALS JUST RELEASED!
Don't miss the latest P&O Cruises offers…
How To Find Out How Many Peninsular Club Points You Have
You can find out how many Peninsular Club points you have at any time by logging onto your online account. As well as managing any bookings, you can use this online account to track your Peninsular Club tier and see how many nights you are from the next level up.
If you don't want to log onto your account or you want to check at sea without using internet access, then you can speak to the onboard loyalty manager who will be happy to help you.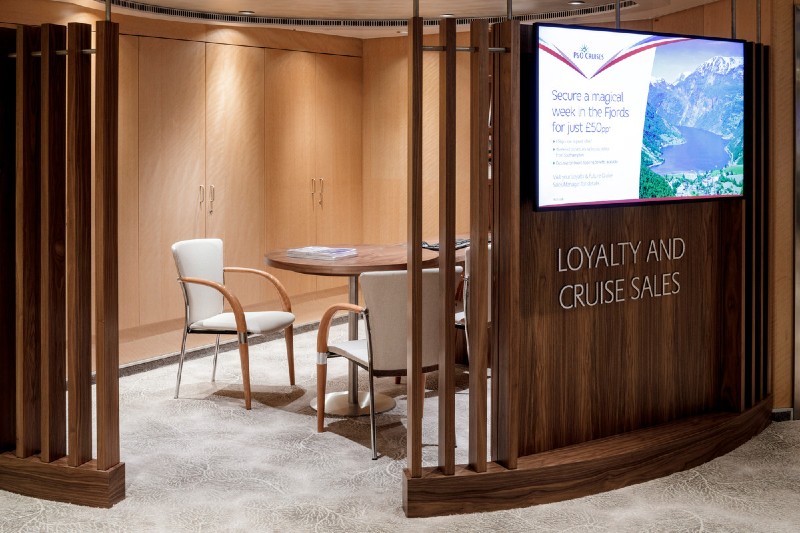 Can You Use P&O Cruises Peninsular Club Points With Other Cruise Lines?
There are no official partnerships between P&O Cruises' Peninsular Club and other cruise lines. It used to be that you could accumulate points on both P&O Cruises and Princess Cruises and they would be shared between them, helping you rise further up the tiers faster. However, that has since ended.
The one exception is with MSC Cruises. They don't have any official affiliation with P&O Cruises and the Peninsular Club, but they do have an interesting policy called Status Match. This is something that's more common in elite airlines, but MSC Cruises have adopted it for cruising.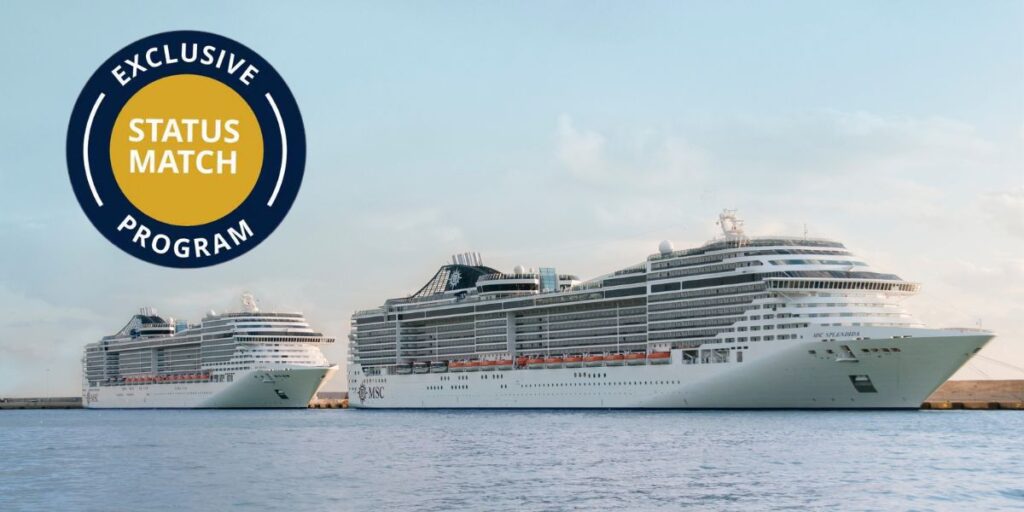 With the MSC Cruises Status Match policy, you can join MSC's Voyager Club and based on your existing Peninsular Club level will be assigned an appropriate matching level, entitling you to their benefits when you cruise.
It's a neat way for MSC Cruises to encourage loyal cruise passengers from other cruise lines to try an MSC sailing and see if they prefer it.
Don't expect much if you're in the Pacific Tier with P&O, but if you're in the Caribbean Tier or above then you would qualify for MSC Voyagers Gold or Diamond with a number of good perks.
Check out the MSC Cruises Status Match Chart to see what you can get.
How Do I Find Out My Peninsular Club Number?
You can find out your P&O Peninsular Club number by logging into your account on the P&O Cruises website and heading to the My Account section. You can also call P&O Cruises if you don't want to login.
The Bottom Line
A lot of the rewards that come with the P&O Peninsular Club, particularly at lower levels, aren't the most thrilling. But they are free, and you're not having to do anything beyond keep enjoying your normal P&O Cruises holidays.
The tiers and rewards probably aren't going to make you book more cruise holidays than you would do anyway, but they might convince you to stick with P&O Cruises instead of varying your cruise line. And if that's something you're happy to do, then you will get some nice perks to make your holiday that little bit extra special.
Are you in the Peninsular Club? Leave a comment letting me know, especially if you've made it all the way to the Baltic or Ligurian tiers!
Related Posts: