When you're ready to book a cruise on Marella Explorer 2, one of the biggest decisions you still need to make is which cabin type you want to go for.
How important the cabin type is depends on your type of cruising – but it does still matter. Even if you don't intend to spend a lot of time in your cabin, you'll need to make sure you have a suitable location.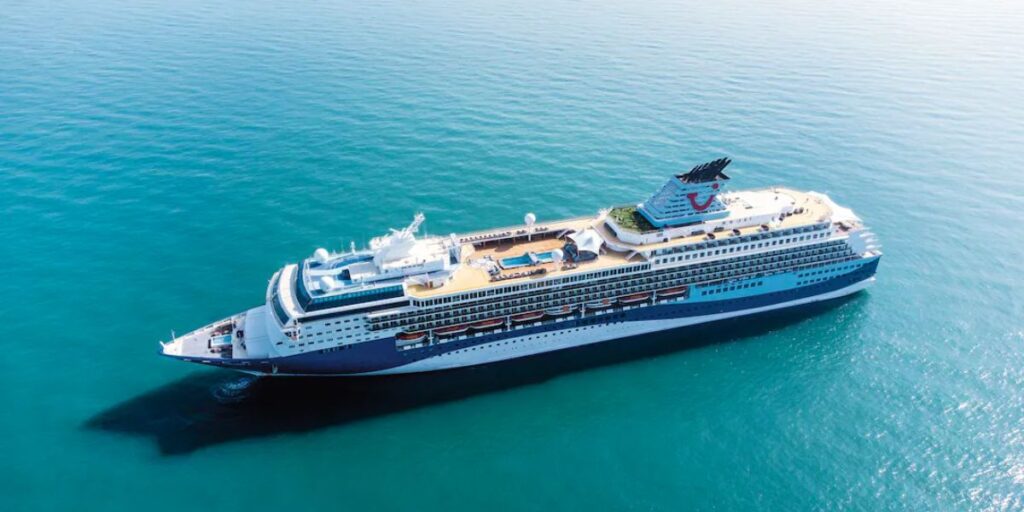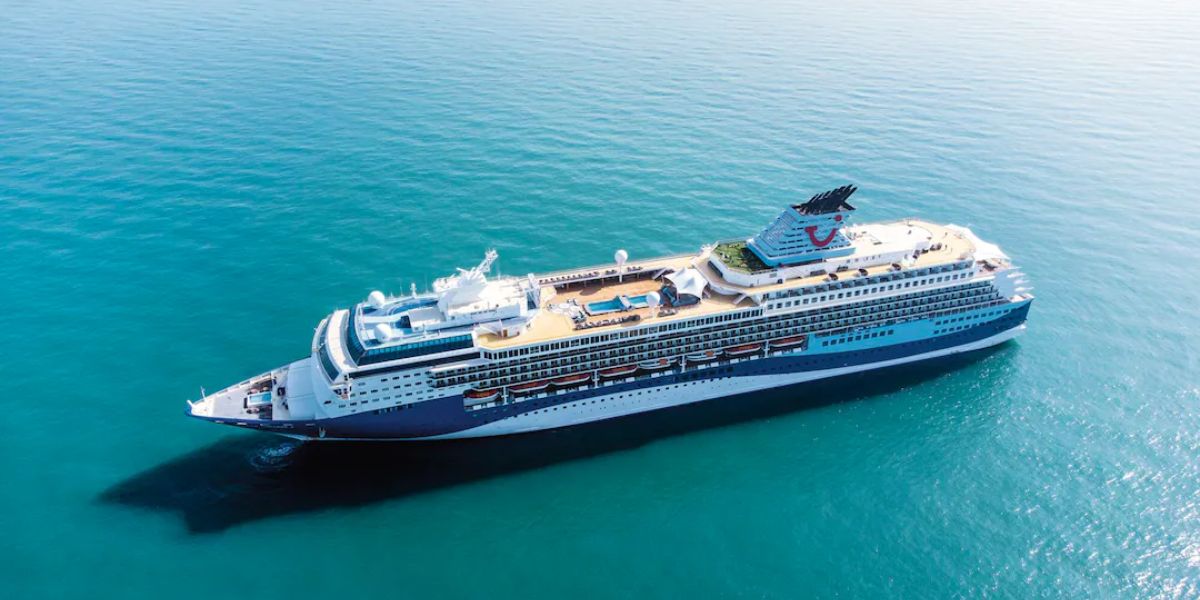 All of the cabins on Marella Explorer 2 are good – but some are better than others, depending on a few factors (including your own preferences). While they won't ruin your cruise, choosing the wrong cabin can make it a little less enjoyable.
But don't worry – that's why I've written this guide. I'll explain all of the cabin choices for Marella Explorer 2, and tell you why they're good or why you might wish to avoid them.
Cabin Types on Marella Explorer 2
There are four main types of accommodation on Marella Explorer 2, and several sub-categories within those.
Inside – including Single Inside
Outside – including Single Outside
Balcony – Deluxe Cabin with Balcony
Suites – Junior Suites, Executive Suites and Royal Suites
Let's take a closer look at each of these now, so that you fully understand the options available to you.
Inside Cabins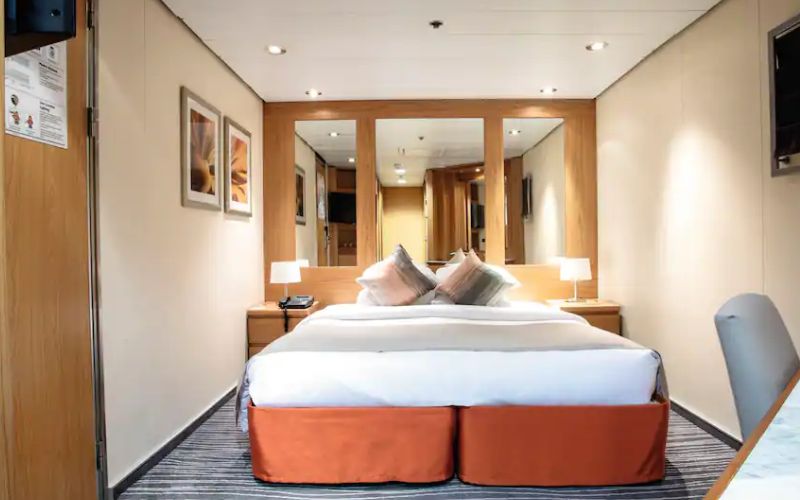 Marella Explorer 2 has four main types of Inside Cabins for you to choose from:
| Cabin | Size | Sleeps up to |
| --- | --- | --- |
| Inside Cabin – 2 berth | 16 square metres | 2 |
| Inside Cabin – 4 berth | 16 square metres | 4 |
| Single Inside Cabin | 16 square metres | 1* |
With any cruise ship, Inside Cabins will be the smallest rooms – and they'll also be the cheapest. And that's the same with Marella Explorer 2. They're perfect if you're on a tight budget or just don't care much about spending time in your room.
On Marella Explorer 2, you can choose Inside Cabins for 2 or 4 guests. They're the same size, but the ones sleeping four get pulldown beds which are hidden in the ceiling. They're not the best for adults but they don't take up any room in the cabin when not in use.
Marella Explorer 2 is an adults-only ship, and Pullman beds aren't great for adults, but they're OK as long as you're not too tall.
Single Inside Cabins are designed for solo passengers. On the rest of the Marella Cruises fleet, single cabins are just renamed versions of the existing cabins and you still get a double bed.
On Marella Explorer 2 there are some Single Inside Cabins that have a double bed – but there are also some that only have a single bed. So make sure to ask when you book, to avoid one with a single bed if you don't want it.
Outside Cabins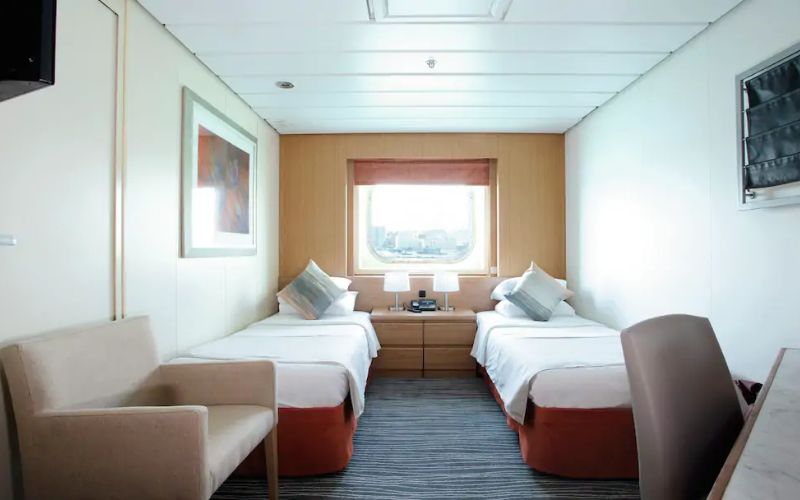 There are four main types of Outside Cabins on Marella Explorer 2:
| Cabin | Size | Sleeps up to |
| --- | --- | --- |
| Outside Cabin – 2 berth | 16 square metres | 2 |
| Outside Cabin – 4 berth | 16 square metres | 4 |
| Single Outside Cabin | 16 square metres | 1* |
Outside Cabins are a minor upgrade from Inside Cabins in that you get a view of the ocean. Natural light helps you wake up too, and if you can see the horizon it can help if you suffer from seasickness.
On the Marella Explorer 2, Outside Cabins are equipped with either a porthole or a picture window. Opting for a cabin with a picture window is preferable since portholes are small and offer limited views, as well as minimal natural light.
There are Outside Cabins available for two guests or ones that can accommodate up to four guests by utilizing pull-down beds.
The Single Outside Cabins all have just a single bed – no double bed for you, unlike on the rest of the ships in the fleet. Sorry!
Balcony Cabins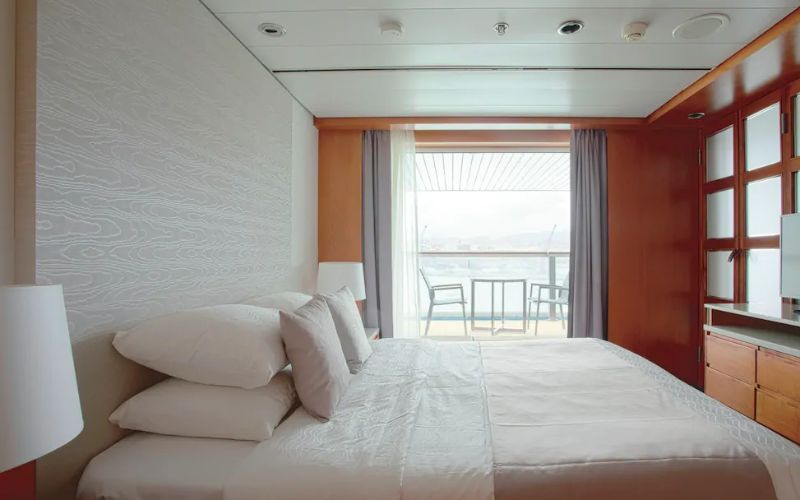 There are three different types of Balcony Cabin on Marella Explorer 2:
| Cabin | Size | Sleeps up to |
| --- | --- | --- |
| Balcony Cabin – 2 berth | 16 square metres | 2 |
| Balcony Cabin – 3 or 4 berth | 16 square metres | 4 |
| Deluxe Cabin with Balcony | 19 square metres | 4 |
Balcony Cabins are a great option as they have a private balcony area, offering an inviting space to bask in the sea air and enjoy the mesmerizing views. It serves as a perfect spot for daytime relaxation or witnessing the enchanting moments of sunrise or sunset, depending on which way your ship is facing.
While the standard Balcony Cabins have the same internal floor space as an Outside Cabin, the measurements provided by Marella don't include the additional outdoor balcony space. Therefore, you can still revel in the advantage of having more overall space, with the added benefit of being able to enjoy it outdoors.
3 and 4 berth rooms are available and will include either a sofa bed, a pull-down bed, or both. Sofa beds are better for adults, so if you're a party of 3, try to get one of these rooms.
And then you have a Deluxe Cabin with Balcony, which can sleep up to four people – they have a double bed (some convert to a twin) and a double sofa bed. They're great for larger parties or just if you want extra space for you and your partner.
Suites
There are three types of Suites on Marella Explorer 2:
| Cabin | Size | Sleeps up to |
| --- | --- | --- |
| Balcony Junior Suite | 23 square metres | 4 |
| Executive Suite | 46 square metres | 4 |
| Royal Suite | 94 square metres | 3 |
If you want the very best accommodation on a cruise ship, you're going to want to look at the suites. And that's the same with Marella Explorer 2, with three suite categories to choose from.
Balcony Junior Suites
A Balcony Junior Suite is simply a larger version of a regular Deluxe Balcony Cabin, although you also get the Premier Service perks as well. The room has a queen-sized bed and a double sofa bed, sleeping up to 4 guests in total. The spacious balcony has plenty of space to unwind, too.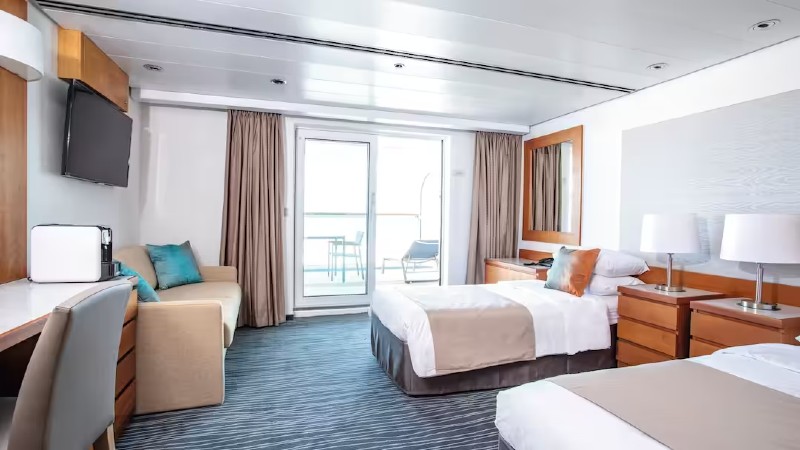 Executive Suites
The Executive Suites are very spacious – they are twice the size of a Balcony Junior Suite, with a separate bedroom and living area. They sleep up to four guests – the bedroom has a fixed queen-sized bed and the sofa is a double sofa bed. Again, the Premier Service is included.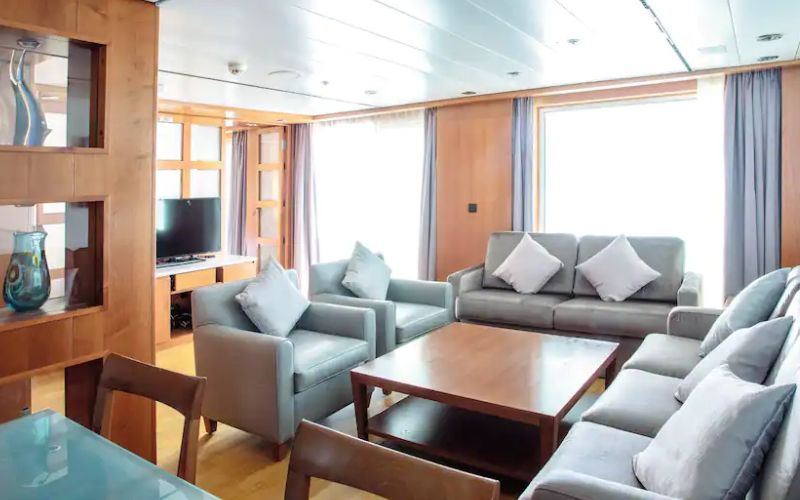 Royal Suite
The Royal Suite is the most sumptuous accommodation on the ship – twice the size of an Executive Suite, four times the size of a Balcony Junior Suite, and just amazing. It sleeps three guests with a king-size bed and a sofa bed and has a fantastic balcony with a whirlpool bath.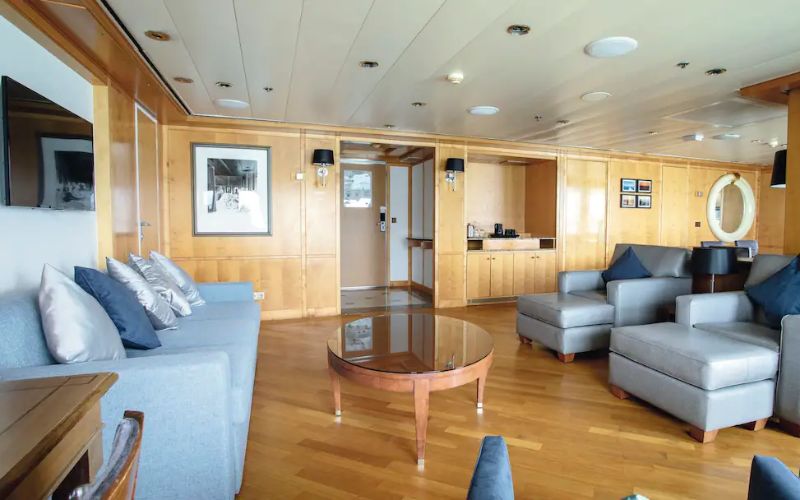 Premier Service
Premier Service is the name given to a set of extra perks that some guests on Marella Cruises can enjoy. They're sort of like suite perks that you'd get on some other cruise ships.
The Premier Service benefits aren't a huge list of perks. In fact you only get two benefits from rooms with the service:
Free pressing service for up to 3 items of clothing per guest, in the first 24 hours of your cruise only
Free continental breakfast in bed for each person, once per week
The pressing service is useful if you're bringing your formal outfit onto the ship and you don't want the hassle of keeping it crisp while you travel, and the breakfast in bed offers you a cosy way to start your day – but you could just pay for the services anyway.
Adapted Cabins on Marella Explorer 2
There is a small selection of adapted cabins suitable for wheelchair users on Marella Explorer 2. These aren't listed in the official details for the cabins, but you'll find them on the deck plans.
Don't worry, I've done it for you.
There is one Inside Cabin and seven Outside Cabins that are wheelchair accessible. They're all on Deck 5, and they're all larger than a standard room, although because they're not listed in the cabin categories, the actual size of the rooms isn't published. You do get a full-size wet room instead of a regular bathroom.
Make sure you ask for a wheelchair-friendly room if you need one, since there are only eight and you might miss out.
How to Choose the Best Cabin
Choosing the best cabin on Marella Explorer 2 or indeed any cruise ship involves a lot of thinking. How big a room do you want, where should it be, what factors could make it a noisy room…etc.
To make things easier, I've created a handy checklist so that you can always get the best cabin for you. Keep it with you and whenever you book a cruise, you'll never forget something you should be checking for.
Just enter your name and email address and I'll send it to you.
Cabins To Avoid on Marella Explorer 2
Here are the cabins you'll want to consider avoiding on Marella Explorer 2. With some of the cabins, it depends on what kind of cruise passenger you are, while others are a more broad recommendation to steer clear.
1. Cabins with a porthole
5000, 5001, 5002, 5003, 5004, 5005, 5006, 5009, 5012, 5015, 5016, 5019
The Outside Cabins on Deck 5 are advertised as having either a picture window or a porthole, but you don't get told which one you're getting when you book – the only way to check is to look at the deck plans (which I've done for you!)
These cabins are all those on the ship with a porthole and I would suggest you avoid booking them. Portholes aren't worth having – the amount of natural light is minimal and you don't really get a view.
I'd instead pay less for an Inside Cabin, if you don't have the budget for a room with a picture window instead. Then, when you want a view, just walk to an open deck instead.
2. Deck 12 rooms if you get seasick
12000 to 12043
If you're someone who suffers from seasickness, then you'll want to avoid the highest cabins on the ship. Here you'll feel the movement of the ocean more.
The highest rooms on Marella Explorer 2 are on Deck 12, so if you think you might struggle with seasickness then I'd look elsewhere. You'll want a lower deck, ideally in the middle of the ship, with an ocean view so that you can focus on the horizon – this helps a lot of people feel less nauseous.
The worst cabins are therefore the Inside Cabins on Deck 12. You get all the movement of the ship, and no horizon to look at. They're great if you don't get seasick though – more on that in a bit.
3. Connecting cabins if you don't need them
Various locations
As well as having a selection of cabins sleeping 3-4 guests on the ship, Marella Explorer 2 has another option suitable for adult families and groups – connecting cabins. These work in the same way as connecting cabins on any other ship – side-by-side cabins with a door between them.
If you only book one of the cabins, the door stays locked – it's not like your neighbour can walk into your room. And then when you book both cabins, the door is unlocked so you can walk freely between them.
However, the door is thinner than the wall and so even when locked, you get less privacy – you might hear your cabin neighbours. And if they argue, watch TV or get up to anything else in their cabin, you might hear them…
4. Cabins next to a lift
1227
Usually being near a lift can be both a blessing and a curse. There are always people walking past your door, but you're also close to the lift yourself, so you don't have to walk far to get to the rest of the ship.
However, there is one cabin that isn't just near a lift – it's directly adjacent. And in that cabin, there's not just the risk of noise from people but also noise from the mechanics of the lifts themselves.
It's not mega-loud but you may hear the mechanics and if you're a light sleeper, it could wake you up. It's not high-risk, but take earplugs just in case.
On other ships in the Marella fleet there are a lot more of these cabins – so the fact it's just the one on Marella Explorer 2 is a good thing.
5. Cabins above the Broadway Show Lounge
8000 to 8059
Most of the evening entertainment on Marella Explorer 2 is focused around the Broadway Show Lounge, with live performances lasting until around 11 pm throughout the cruise.
Directly above, on Deck 8, there are some cabins and because a lot of the speakers are on the ceiling, noise and bass can sometimes be felt through the floor. If you're someone who likes to be in bed early, avoid these cabins just in case the theatre sounds disturb you.
6. Cabins above the Squid & Anchor
8196 to 8241
There is a secondary entertainment venue on the ship, and that's the Squid & Anchor at the rear of Deck 7. Again, live music can sometimes be played until around 11 pm – so not mega-late, compared to some other cruise lines.
But still, if you are someone who likes to be in bed early ahead of an early start, and you don't do well with noise, think about avoiding the aft of Deck 8 so there's no chance of the Squid & Anchor performers disturbing you.
7. Cabins directly under the pool area
10028 to 10065
If you're someone who prefers a lie-in rather than an early night, I'd recommend steering clear of the rooms directly underneath the pool deck.
The pools on Marella Explorer 2 are on Deck 11 in the midship area and they're very popular. Also, a lot of the people who cruise on Marella Explorer 2 like to be up early, and so will head to the pool deck first thing.
And then they'll find a lounger, and drag it into place – across the wooden deck.
That's a sound that will reverberate through your ceiling and it can be very annoying. For lazy mornings, choose somewhere away from directly below the pool to minimise the risk of early morning noise.
8. Inside Cabins when travelling with adult groups
Inside Cabins that can sleep four people aren't super common on cruise ships. They're not super-rare either, but it's a pleasant surprise to have the option on some ships – many limit you to two or three guests at most.
But to be honest, with Marella Explorer 2 being an adults-only ship, I wouldn't recommend these if you want a really comfy sleep.
The pull-down beds aren't massive, and the rooms themselves are quite small – four people getting ready will often get under each other's feet.
If you value your space, either book a Balcony Cabin or bigger where you'll get more room, or choose connecting cabins if you have the budget.
The Best Cabins on Marella Explorer 2
Here are some of the best options for accommodation on Marella Explorer 2:
1. Single Inside and Outside Cabins
There are a number of dedicated Single Cabins on Marella Explorer 2, both Inside and Outside. Not a lot of cruise lines offer single rooms, so if you're a solo traveller, take advantage of the reduced fares you'll get for booking this room.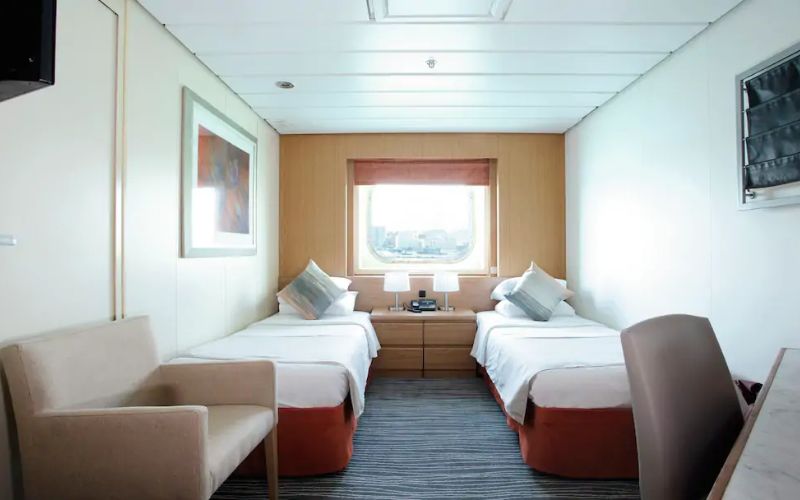 Unlike on other Marella Cruises ships, you won't always get a double bed just to yourself – so you may be stuck with a single. However, it's worth it to avoid paying twice as much for your cruise just because you're travelling alone.
2. Aft-view balcony rooms
8222, 8224, 8228, 8231, 8232, 8233, 8236, 8237, 8241, 9232, 9234, 9238, 9242, 9245, 9247, 9251, 9255, 1134, 1136, 1139, 1140, 1141, 1144, 1147, 1148, 1149, 1242, 1244, 1246, 1249, 1251, 1253
While any balcony will offer a great view, it's widely accepted by many (not all) passengers that an aft-view balcony is always slightly better. You're more sheltered from the wind generated by the movement of the ship, and being able to watch the wake is very relaxing.
On Marella Explorer 2, there are aft-view cabins on Decks 8, 9, 11 and 12. The higher the deck, the better the view, but any of them will be a great choice.
3. Deck 12 rooms for pool access
1200 to 1253
Yes – these are the same rooms I've already told you to avoid if you suffer from seasickness.
The good thing is, most people don't, and if you're sickness-free then you can enjoy a fantastic location on the ship with easy access to the pool decks.
The rooms on Deck 12 include a handful of Inside cabins, some Balcony Cabins and Junior Suites, so your accommodation options are excellent too. If you plan on spending a lot of time by the pools, this is a great spot to choose – though they do book out early.
Final Thoughts
There you have it – every cabin type on Marella Explorer 2 fully reviewed, and my tips on which ones to avoid (and which ones to snap up) if you get the chance.
Again, these are all subjective views depending on whether you're an early riser, a late-night partier, someone who adores the pool or someone more active. A bad choice for someone else may be the perfect choice for you.
If you want a little more help – or you want to see where I did some of my research – check out these extra resources:
Related Topics