This is a sponsored post for Marella Cruises.
Marella Cruises offers some fantastic value cruise options, with almost everything included – not just your meals and entertainment, but your drinks and your tips too.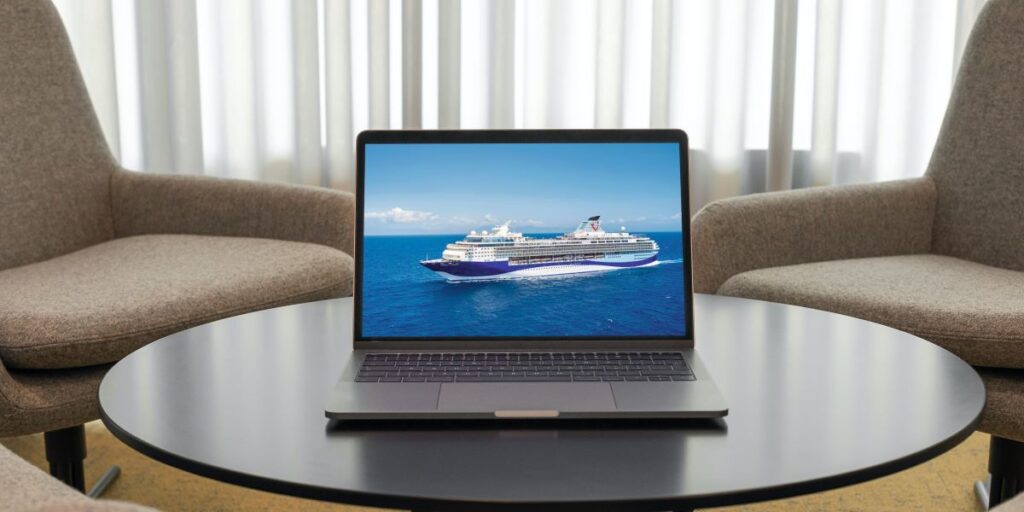 However, one thing that isn't included as standard is WiFi internet access.
Let's take a look at Marella Cruises' WiFi, including the costs and whether there are better options available.
Right now, enjoy big savings on Caribbean cruises with Marella.
Book your cruise now – remember you get flights, drinks and tips included!
Can I Get WiFi on a Marella Cruise?
WiFi internet access is not included in your cruise fare with Marella, but it is available to purchase when you're onboard. There are several package options available, all of which have a data limit – if you run out of data, you'll need to pay for another package.
WiFi is available on all ships in the Marella Cruises fleet – that's:
Marella Discovery
Marella Discovery 2
Marella Explorer
Marella Explorer 2
Marella Voyager
However, it's worth noting that Marella has standard cruise ship WiFi, which means the speeds might be a lot slower than you're used to on land, depending on where you are in the world.
Marella's WiFi relies on satellite connections, and when you're out at sea (particularly if you're crossing an ocean), that signal can be weak.
It is possible to stream TV shows or upload videos to your social media accounts, but you're likely to suffer from slow connection speeds, and you also have to think about how much data you're using to do that – after all, there is a cap.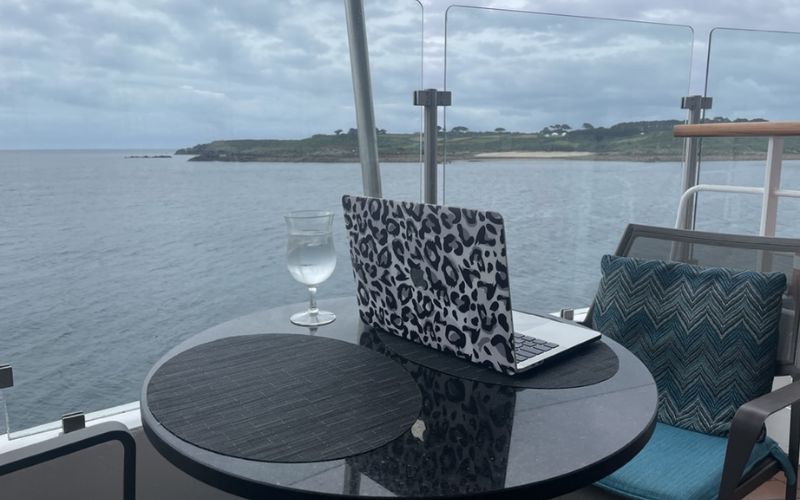 Marella's WiFi is best used for checking emails, scrolling through photos and messages on social media, and light web browsing.
How Much Does WiFi Cost on Marella Cruises?
Marella Cruises WiFi costs start from just £8 for a basic one-hour package, and go up to £90 for the biggest package you can buy, designed to last for up to 15 days. However, the packages are not unlimited, and you may need to buy a second one if you use up all the data.
There are five plans that you can buy when you get on a Marella cruise. You just need to visit the guest reception to pay for one or for more information.
| Plan | Duration | Data Limit | Cost | Cost per 100MB |
| --- | --- | --- | --- | --- |
| Time Plan 1 | 1 hour | 75MB | £8 | £10.66 |
| Time Plan 2 | 1 day | 300MB | £15 | £5 |
| Time Plan 3 | 3 days | 800MB | £25 | £3.13 |
| Time Plan 4 | 8 days | 1600MB | £49 | £3.06 |
| Time Plan 5 | 15 days | 2400MB | £90 | £3.75 |
That last column tells you how much you're paying for every 100mb of data, so you can try to estimate how much internet you plan on using and buy the best-value package for you.
As a rough guide, here are some estimates from internet providers on the average data used for different tasks:
Browsing the internet – 16MB per hour
Browsing social media – 33MB per hour
Sending emails – about 1MB per email read/sent
Watching videos – about 500MB per hour
So, if you're someone who is glued to their phone or who wants to stream videos while out at sea, you could easily use a lot of internet, and have to pay for more than one package.
But if you only want to check in with your social feeds for a few minutes, a couple of times each day, then a cheaper Marella package will be all that you need.
It's also worth comparing Marella's internet prices to other cruise lines, because while these prices could seem steep if you're new to cruising, they're actually fantastic value considering how much some other large cruise lines can charge.
Let's compare the 8-day cost across some of the biggest cruise lines:
| Cruise Line | Daily Cost | Total Cost (8 Days) |
| --- | --- | --- |
| Marella Cruises | – | £25 |
| P&O Cruises | £12 | £96 |
| Royal Caribbean | Varies, average $15 (about £12) | Varies, average $120 (about £98) |
| Cunard Line | $15 (about £12) | $120 (about £98) |
That tells you just how much cheaper Marella's WiFi can be, but you do have to remember that other cruise lines don't have data limits. Still, for light browsing, Marella clearly offers the best value.
And another key difference is that other cruise lines will force you to pay for your entire cruise for WiFi – you can't just pay for a few days. With Marella, you can pick any of the packages, regardless of how long your sailing is.
Is It Worth Getting WiFi on a Cruise?
It's really simple to say that you should avoid the costs altogether and just switch off from the internet when you go on a cruise.
But in reality, that might not be possible, or it might not be something you're comfortable with.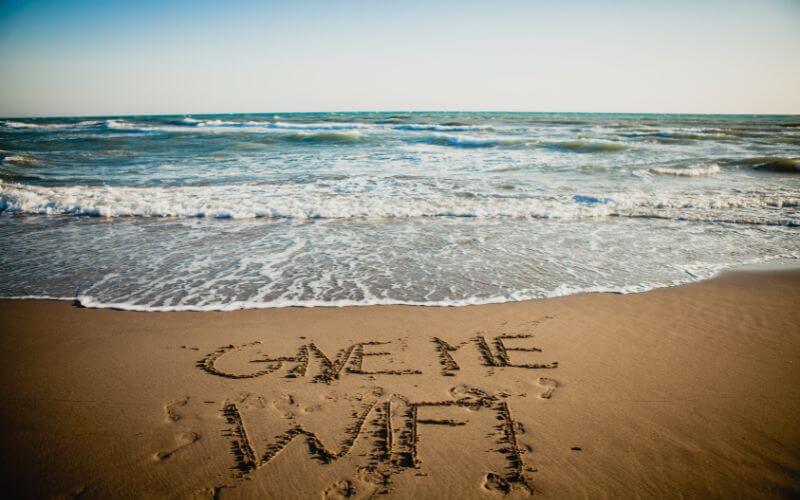 If you have a need to check-in at home, or you actively enjoy browsing social channels and chatting with friends and family while you're cruising, then WiFi is absolutely worth purchasing.
Just try to minimise your use of tasks that use a lot of data, such as watching videos or sending big files. Those holiday snaps can definitely wait to be shared until you get home.
There are also some alternatives to onboard WiFi worth exploring.
Can You Use Mobile Data?
When you're close to the coastline, you might be able to use your mobile data to get online, but once you're out in the open sea, it's usually "goodbye signal."
You also need to bear in mind the costs of using your data – roaming charges can vary depending on your SIM provider and where you are in the world. You might rack up a huge bill if you aren't careful.
Finding Free WiFi
When your cruise ship docks in port, finding free Wi-Fi can be a good way to catch up with your online to-do list for a little while.
Many destinations provide complimentary internet access in cafes, restaurants, and public areas near popular tourist spots. You can easily locate these free Wi-Fi hotspots by asking locals for recommendations, looking for signs indicating "Free Wi-Fi," or simply exploring the vicinity.
Another great resource is the ship's crew – remember that they may also be heading ashore, and they will likely have visited the port before, so they might have a tip on where you can go to get online without paying.
Connecting to these networks allows you to stay connected, check emails, or keep in touch with loved ones during your port visits.
Is Marella Cruises WiFi Worth It?
Whether or not Marella Cruises' WiFi is worth it depends on how much you want or need to get online during your cruise.
If you aren't desperate to get online, it might be better to instead wait until you are in port, and find a café or bar that has free WiFi access.
Compared to other cruise lines, Marella's internet access is very affordable, and you have the flexibility to pay for just a few days instead of paying for every day of the cruise. So it's definitely worth looking into for your Marella cruise.
Right now, enjoy big savings on Caribbean cruises with Marella.
Book your cruise now – remember you get flights, drinks and tips included!
Related Posts: