Whenever you book a cruise, you want it to be the best experience possible. That doesn't mean you'll always book the very best cabin on a ship though, because you have to balance your budget too.
But there are some cabins which are better than others, even without spending more. Whether it's due to the location on the ship or just a particular quirk, there are also some cabins you should really aim to avoid. That's true on Marella Discovery just as it is on any ship.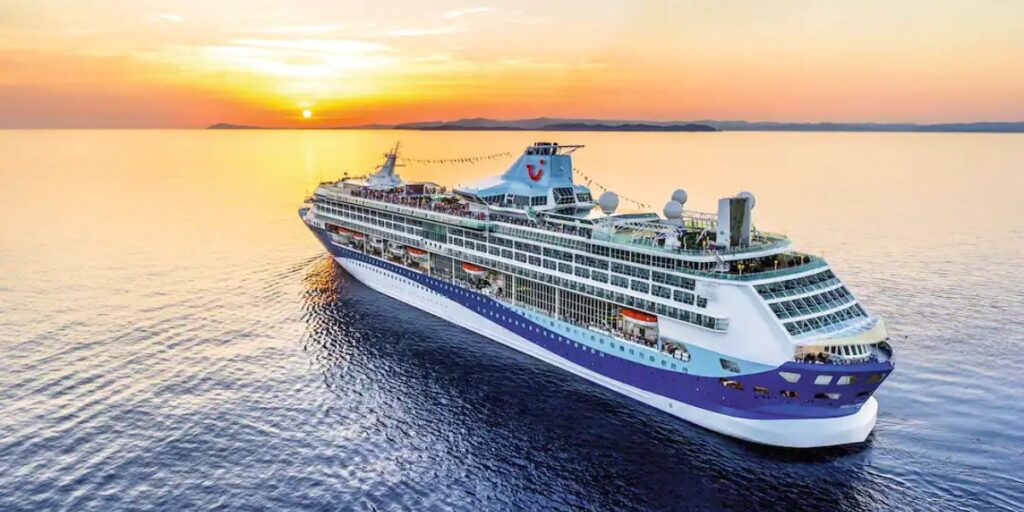 In this guide, I'll help you understand all of the cabin options available to you on Marella Discovery, and let you know which cabin numbers you should avoid booking where possible if you want the best holiday.
Some of this is subjective and will depend on what you want from your cruise, so be sure to read all of the advice and then make your decision carefully, based on the type of cruise you want.
Cabin Types on Marella Discovery
There are broadly four main types of cabins available on Marella Discovery.
Inside – including Inside Plus and Single Inside
Outside – including Deluxe and Single Outside
Balcony – including Deluxe Balcony
Suites – Junior Suites, Family Junior Suites, Family Suites, Grand Suites, Executive Suites and Royal Suites
Let's delve a little deeper into each cabin type so you can understand more about the options available.
Inside Cabins
Marella Discovery has multiple different types of Inside Cabin that you can book:
| Cabin | Size | Sleeps up to |
| --- | --- | --- |
| Decks 2 & 3 Inside Cabin | 12 square metres | 2-4 |
| Decks 6, 7 & 8 Inside Cabin | 12-13 square metres | 2 |
| Inside Plus Cabin | 15 square metres | 2-4 |
| Single Inside Cabin | 12 square metres | 1 |
Inside Cabins are always the cheapest accommodation on any cruise ship (unless there are special upgrade offers). They're windowless, but you're never too far a walk from an open deck if you want to enjoy a view, especially on a smaller ship like Marella Discovery.
Inside Cabins are a great choice if you're on a tight budget, and if you don't plan on spending much time in your cabin apart from sleeping and getting ready. They're the smallest rooms but you can save money for your next cruise if you're comfortable in one of these. They typically all come with twin beds that can be converted into a queen-sized bed if you prefer.
Marella Discovery breaks down its Inside Cabins by decks…
A few important things to note:
Some of the cabins on Decks 2 and 3 sleep two guests, while others sleep up to four
Inside Cabins on Decks 7 and 8 have been recently refurbished, but those on Deck 6 in the same category haven't been
Inside Plus Cabins either sleep two guests, or up to four. Those that sleep up to four were refurbished in November 2022.
Single Inside Cabins come with a queen-sized bed, which is pretty nifty – most single cabins on other ships have a single twin bed.
The cabins that sleep more than two guests have fold-down beds.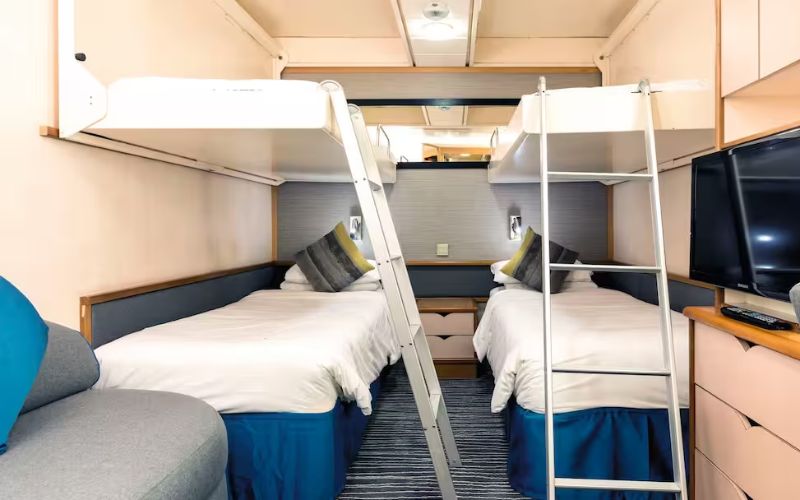 These are Pullman beds which are hidden in the ceiling during the day, so that they don't take up valuable space. They're also better because you're less likely to hit your head on them when you're in a lower bed.
Outside Cabins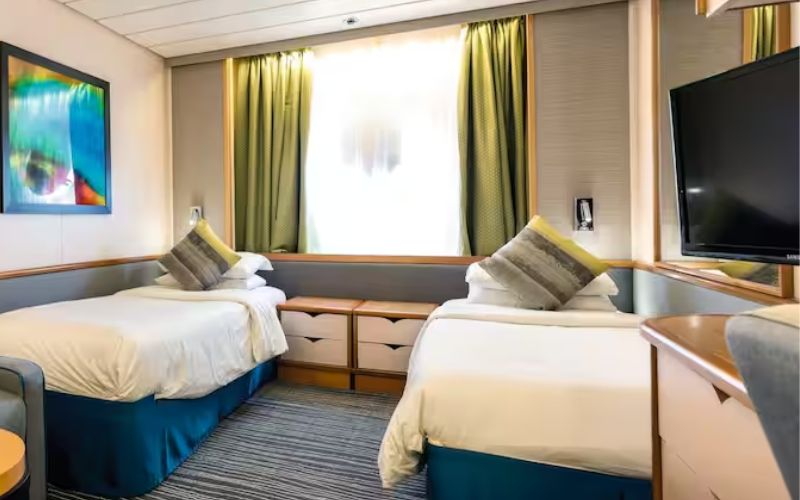 There are three main types of Outside Cabin on Marella Discovery:
| Cabin | Size | Sleeps up to |
| --- | --- | --- |
| Outside Cabin | 14 square metres | 2-4 |
| Deluxe Cabin | 20 square metres | 4 |
| Single Outside Cabin | 14 square metres | 1* |
Outside Cabins are a good choice if you want to keep costs low, but you don't like the idea of being completely enclosed with no natural light. They're also a better choice if you tend to get seasick, since focusing on the horizon can help.
The standard Outside Cabins on Marella Discovery are all on Decks 2 and 3, and have either a porthole or a picture window. Unfortunately, the categories aren't split, but I'll cover that in a little more detail in the cabins to avoid the section below if you don't want a porthole.
Deluxe Cabins are higher up on the ship, on Decks 7 and 8, and they've all been newly refurbished. They have a floor-to-ceiling window offering a much better view, but of course with that comes a higher price to pay for your booking.
Finally, Single Outside Cabins are available to book on Deck 3. Again these have either a picture window or a porthole, and really they're just a standard Outside Cabin sold at a special rate.
The Marella Cruises website even says they come with "twin beds that convert into a queen-sized double bed" – why would you want twin beds if travelling alone?
Balcony Cabins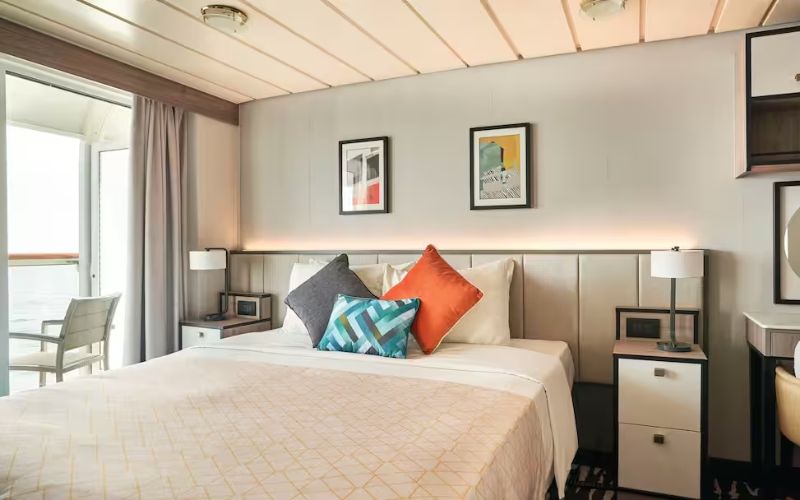 There are two different options for Balcony Cabins on Marella Discovery:
| Cabin | Size | Sleeps up to |
| --- | --- | --- |
| Balcony Cabin | 13-14 square metres | 2 |
| Deluxe Balcony Cabin | 15-16 square metres | 4 |
A Balcony Cabin is a further step up from an Outside Cabin, giving you your own private balcony space where you can sit and soak up the view with the fresh sea air. On most cruise ships a Balcony Cabin will also be larger than an Outside Cabin but that's not really the case with Marella Discovery.
Deluxe Balcony Cabins are larger though, so feel a little more luxurious. They also sleep up to four guests – not with Pullman beds this time, but with a double sofa bed, which is better for smaller children.
Suites
There are six different suite options on Marella Discovery:
| Suite | Size | Sleeps up to |
| --- | --- | --- |
| Junior Suites | 21 square metres | 2 |
| Family Junior Suites | 39 square metres | 6 |
| Family Suites | 40 square metres | 7 |
| Grand Suites | 32 square metres | 4 |
| Executive Suites | 47 square metres | 4 |
| Royal Suites | 92 square metres | 4 |
On any cruise ship, suites are considered the best accommodation, but there are usually a few different choices. And that's true of Marella Discovery, where there are six suite types available.
Junior Suites
Junior Suites are the entry-level suite option on Marella Discovery, designed for two people. They're essentially a larger Balcony Cabin, with twin beds that convert into a queen-sized bed and a private balcony to enjoy.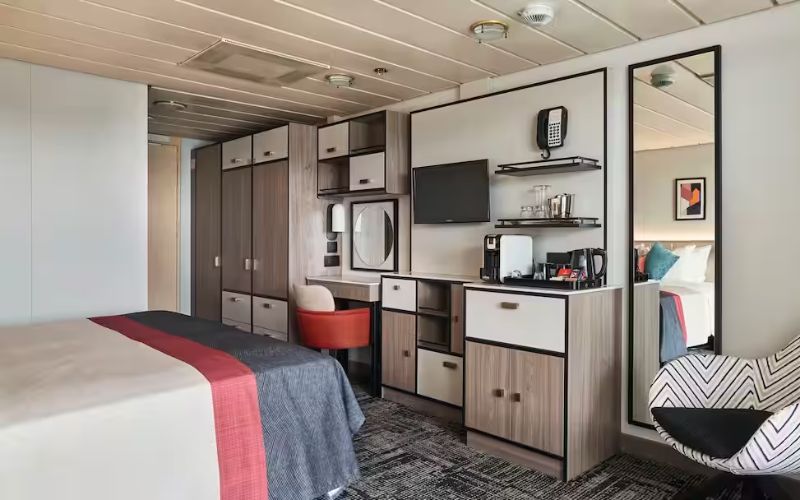 Family Junior Suites
Family Junior Suites are much larger, and designed for up to six guests. There's a bedroom that has twin beds, and then in the living area a further two twin beds which can convert into a queen-sized bed, and finally a double sofa bed. Like all suites, there is a balcony too.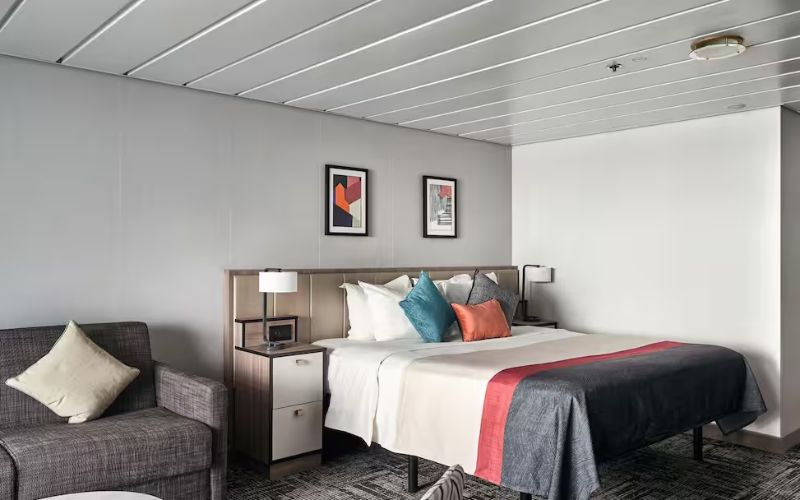 Family Suites
There are very few cabins at sea that can sleep seven guests, so if you're travelling with a large family these could be ideal. There are two bedrooms with twin beds/queen beds in each, one of which has a single fold-down bed, and then the sofa in the living area converts into a double bed.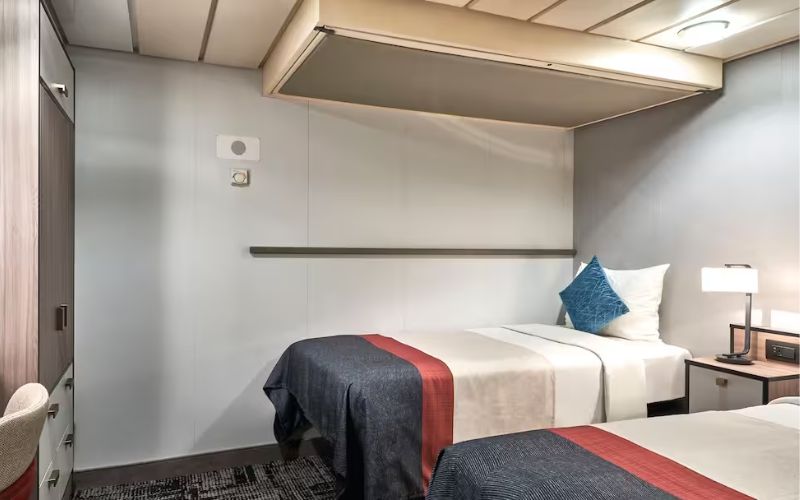 Grand Suites
Grand Suites have been newly refurbished with a modern style, and are aimed at 2-4 guests. They have one bedroom, and then a double sofa bed in the living area. While the Family Suites may be larger, a Marella Discovery Grand Suite is more about being spacious, mid-level suites for couples, or for smaller families.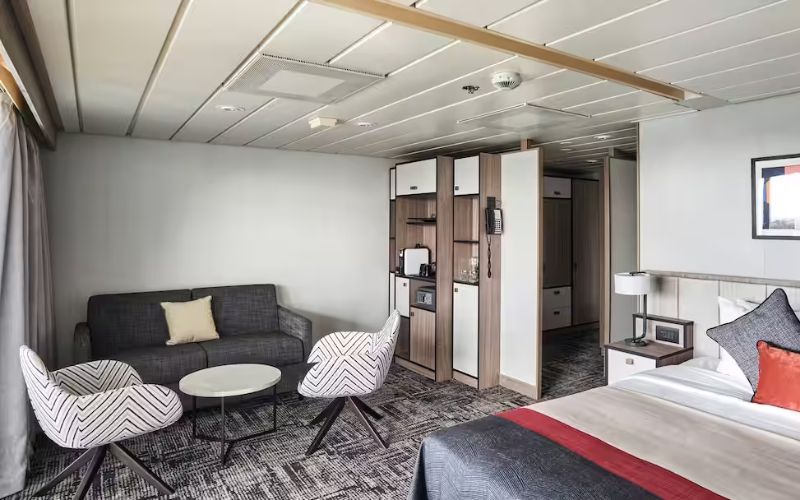 Executive Suites
A Marella Discovery Executive Suite is the second-best accommodation option on ship. These revamped suites are really spacious and very light, with massive doors to the balcony really helping to make the room feel open. They have a bedroom and then a queen-sized sofa bed in the living area.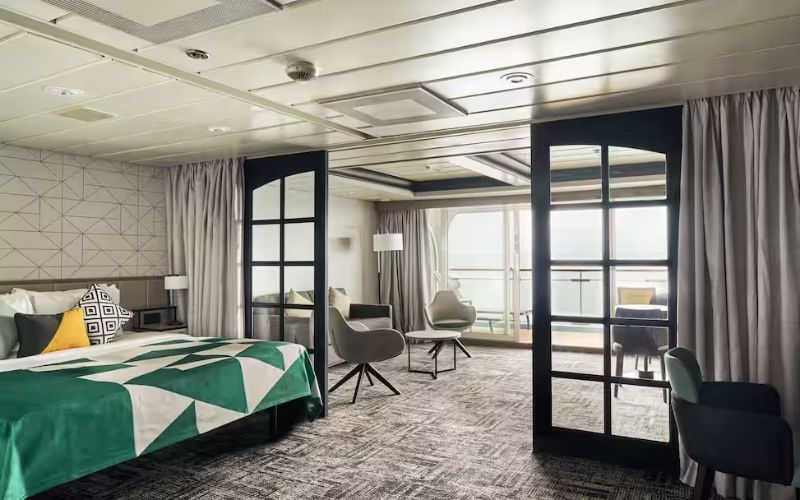 Royal Suite
The best suite on the ship, the Royal Suite is almost twice the size of an Executive Suite, and almost eight times the size of an Inside Cabin on the ship. They're huge. The master bedroom has a king-sized bed, while the living area has a large sofa bed, so the suite sleeps four guests. It also has a whirlpool bath and a baby grand piano.
Premier Service
All of the suites on Marella Discovery – from Junior Suites up to the Royal Suite – come with Premier Service. This is what you'd call the suite perks on some other ships. The list of benefits isn't huge though:
Free pressing service for up to 3 items of clothing per passenger in the first 24 hours onboard
Free continental breakfast in bed per guest, once per week
Adapted Cabins on Marella Discovery
There are Marella Discovery adapted cabins you can book, even though they are not mentioned on the cruise line's own website where the cabins are listed.
This means I can't give you exact room sizes, since they've not been measured separately. They are larger though, since they are designed to accommodate wheelchair users.
There are 17 adapted cabins available to book on Marella Discovery, including:
6 Inside Cabins (3 on Deck 2, 3 on Deck 7)
6 Outside Cabins (3 on Deck 2, 3 on Deck 3)
3 Balcony Cabins (Deck 6)
2 Junior Suites (Deck 8)
How to Choose the Best Cabin
There are a lot of different things you need to consider when choosing your cabin on Marella Discovery. Even with this guide, you'll need help to go through the steps when making your selection – you need to know where to avoid, what to do if your first choice is available and so on.
To make things easier, I've created a checklist that you can use for Marella Discovery or indeed any ship. Just pop your email address and name into this form and I'll send it right to you, so that you can keep it to hand when you book your Marella Discovery cruise.
Cabins To Avoid on Marella Discovery
Here are the cabins to avoid when booking a cruise on Marella Discovery.
Remember that some of these will depend on what kind of cruise passenger you are – some might actually be better suited to you.
1. Cabins with a porthole
2000, 2002, 2004, 2006, 2500, 2502, 2504, 2506, 2600, 2602
When you book an Outside Cabin, you're paying a little more than you would've done for an Inside so that you can enjoy some natural light during daytime hours, and hopefully a bit of a view.
While most Outside Cabins have a picture window, there are a handful towards the front and aft of the ship on Deck 2 that only have a porthole, and the difference is significant. The portholes don't really offer any kind of view at all, and they let very little light through.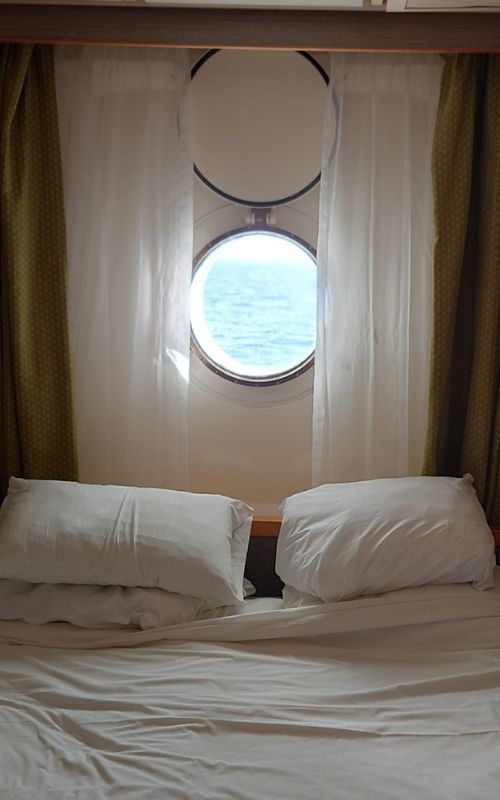 I'd recommend making sure you get a picture window room instead – otherwise you might as well save some money and just go for an Inside Cabin.
2. Rooms that are not ideal if you get seasick
8000 to 8016, 8060 to 8086, 8500 to 8516, 8566 to 8590
Inside Cabins on Deck 8
Marella Discovery is not a huge ship, which has both advantages and disadvantages when it comes to seasickness. Larger, more modern ships tend to have the latest stabilising technology, but they need it more because guests will be staying on higher decks.
The way a ship moves, the higher you are, and the closer to the front or aft of the ship, the more you'll feel the motion, which is what can trigger seasickness. Marella Discovery only has cabins on Deck 8 and below, so never too high, but it'd be best to avoid anything on Deck 8 near the front or aft of the ship if you're concerned you might feel sick.
You'll definitely want to avoid the Inside Cabins on that deck too – not only will you be more likely to feel the movement of the waves, but you won't be able to look out to the horizon to focus on it – a tip that tends to work well.
If you think you might feel seasick, then aim for a lower room, ideally in a mid-ship location and with a view. The Marella Discovery best cabins on Deck 3 – the Outside Cabins with a picture window – are a great choice.
3. Junior Suites
Some of the suite options on Marella Discovery are worth the extra money – they're a lot more spacious and are in some of the best locations on the ship.
But it's harder to justify the jump in cost from a Deluxe Balcony Cabin to a Marella Discovery Junior Suite.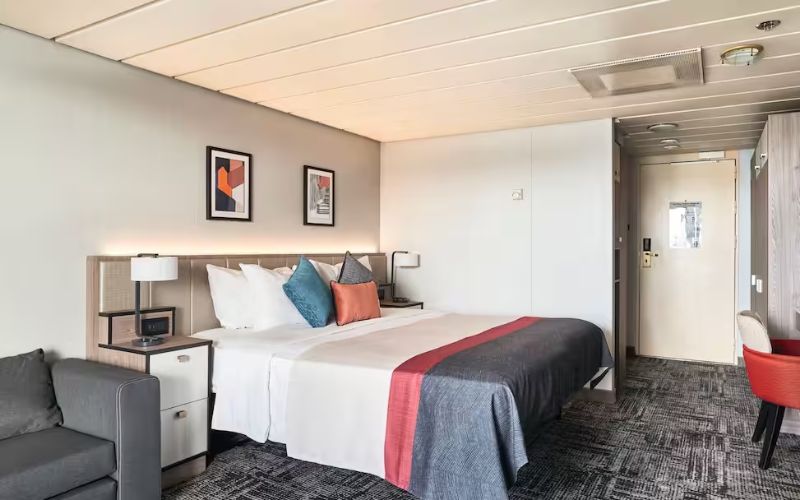 That's not to say you should never book a Junior Suite – it might be that you want that extra 5 square metres of space over a Deluxe Balcony Cabin and you're happy to pay the additional money. But if you're not someone who spends a huge amount of time in your cabin then I'm not sure it's worth it.
Either stick with a Deluxe Balcony Cabin, or aim a little higher and look at a Grand Suite. Then you're getting twice the space, which really feels worth it.
The Premier Service perks and the extra 5m2 of space just doesn't feel like enough to me to give a Junior Suite my full recommendation. I'd rather downgrade to something like a Marella Discovery Balcony Cabin on Deck 6, save the money and put it towards another cruise instead.
4. Connecting cabins (if you aren't booking both)
Various on every deck
Across the ship there are connecting cabins – rooms that are side-by-side and have a door between them. Normally this door is locked, but if your travelling party books both rooms then you can have the door unlocked and essentially open up the rooms to create a larger space.
But if you are not booking a connecting cabin, I'd recommend you look to avoid booking one of them. That's because the doors that link these two rooms are thinner than a wall, and so you'll hear more of what your neighbours are getting up to. If they like to get up early, or watch TV late, you might hear them, and it could be distracting.
Connecting cabins do have their uses though…
5. Family Suites if you're on a budget
I love that there are Family Suites sleeping up to seven guests on Marella Discovery, but I wouldn't always recommend them if you were travelling as part of a group.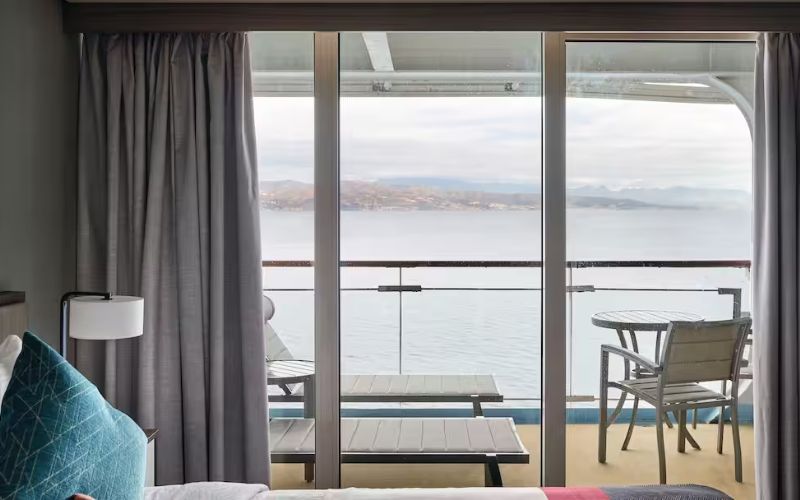 The difference in cost for booking a Family Suite is not just based on the extra space you'll get – and it will often be cheaper to book two separate connecting cabins than it would be to book one Family Suite.
As a rough guide, I checked a typical 7-day itinerary that included flights, and booking two connecting cabins, with two adults and one child in each, would've cost approximately £7,700. The cost for booking a single Family Suite for the same cruise, with four adults and two children, was over £11,000.
With a Family Suite you are getting more space, a better ship location, and the Premier Service benefits. Family Suites are not a bad choice. But if you are on a tight budget then I'd consider booking connecting rooms instead.
6. Cabins adjacent to lifts
3055, 6061, 6561
There are plenty of cabins near the lifts on Marella Discovery, and that can be both a blessing and a curse. It's a blessing because it means you don't have to travel far to get to and from your cabin, but also it can be annoying because it means a lot of people will walk past your room in the morning or at night, and it can be noisy.
But there are three Inside Cabins in particular that aren't just near the lifts – they are directly adjacent to them, and so you might not only hear the people walking to the lift, but also the lift mechanism itself.
To be clear, they aren't super loud, but if you're sleeping right next to them it's the kind of thing that you'll either find soothing or annoying. And it might not be worth the risk if you're a light sleeper.
7 Cabins directly under the pool deck
8012 to 8072, 8512 to 8572
A common complaint from cruise ships is where the cabin is situated directly below the pool deck. That's because there's still a bit of a competitive element when it comes to securing a pool lounger, and early risers will often rise extra early if they want to go and grab one.
They then drag these across the deck, causing quite the racket in the cabins directly below.

When researching this guide it was a complaint which cropped up a couple of times for the Marella Discovery cabins on Deck 8, specifically for the rooms underneath the indoor pool area – so from around 8040 to 8064 and 8546 to 8572 on the starboard side. But it might be an issue under the outdoor pool area as well.
If you're also awake early, it's not going to bother you, but if you like a lie-in then consider a room away from the pool deck.
8. Cabins a long trek from the kids club
Any cabin where the second digit is 1 or 6, e.g. 7134, 2600 etc.
The Marella Discovery has a kids club area for families, situated towards the front of the ship on Deck 10. It has various facilities including a Baby Centre, a gaming zone and clubs for younger kids and teens.
This isn't an issue for teens, but if you have young children or babies staying in these areas, you'll want to avoid having a cabin right at the aft of the ship – which are those with either a 1 as the second digit (port side) or 6 as the second digit (starboard side). It's worse if you're on a lower deck too.
That's purely from a practicality point of view – the further you are from the kids club, the further you have to travel. It's not so bad during the day but if you've enjoyed dinner, and gone to pick up a child that is now napping, that can be a long walk with a lump in your arms.
9. Inside Cabins if travelling with older kids/other adults
While it's great that there are lots of Inside Cabin options for sleeping 3 or 4 guests, I wouldn't recommend them if you're staying with adults or older kids.
The Inside Cabins are not very big, and so you could quite easily get under each other's feet, and the Pullman Beds aren't great for grown ups too – they can be a bit uncomfortable.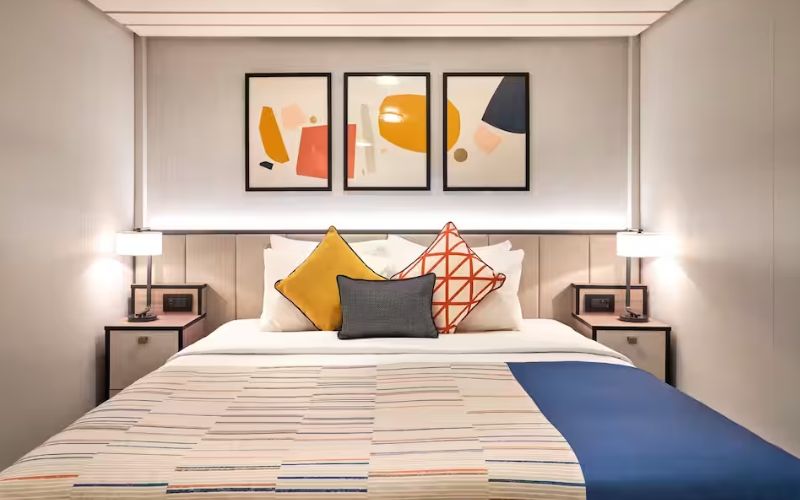 I think they're a good choice for younger kids, though preferably not so young they could fall out. For adults or teens though, I'd look at something more spacious.
10. Rooms above the Squid & Anchor if you like an early night
6000 to 6016, 6500 to 6516
There are some rooms towards the front of Deck 6 that are directly above the Squid & Anchor lounge, and if you're someone who likes an early night on their cruise then I wouldn't recommend booking these.
The speakers for the Squid & Anchor's musical performances are on the roof and so the sound can reverberate through to your cabin. It's not super-loud, and it does tend to end earlier than it would on other cruise lines – at the latest it's usually 11 pm.
But still – if you're a lighter sleeper and you like to be asleep by 9 pm or so, you might prefer to choose a quieter spot on the ship.
11. Tired cabins that haven't been renovated
Various across the ship
A lot of the Marella Discovery new cabins have been fully refurbished in late 2022, but not all of them have, so it's worth asking the question when you book.
The older cabins are not bad – there are just some people who've cruised who think they look a little tired. They're still recommended as very comfortable, but the refurbished rooms look a lot nicer.
It might not matter to you, but check whether your cabin has been refurbished if it does.
The Best Cabins on Marella Discovery
While most of the cabins on Marella Discovery are great, there are a handful that really stand out as worth booking, depending on your travelling party and budget.
1. Aft-view Balcony Cabins and Junior Suites
6122, 6124, 6126, 6128, 6130, 6626, 6628, 6630, 6632, 7134, 7136, 7138, 7140, 7634, 7636, 7638, 7640, 7642, 8080, 8082, 8084, 8086, 8586, 8588, 8590
A lot of the most sought-after rooms on a cruise ship are those with an aft view. It tends to be the most popular because you're sheltered from the wind, and you get a fantastic view of the ocean and the wake of the ship.
There are a selection of Balcony Cabins and Junior Suites on Decks 6, 7 and 8 and these tend to book up quickly, so be sure to act fast if you want to enjoy an aft view.
In particular, try to book either 6130, 7642 or 8086. These three rooms are dead-centre in the ship, so not only is the view incredible but you actually get a slightly larger balcony. You can see from the deck plans that they're angled, so the more central you are the bigger the balcony is.
2. Royal Suite (if you can afford it)
Of course, it's easy to pick the biggest suite on the ship as one of the best, but it really is something special – provided you have the budget for it.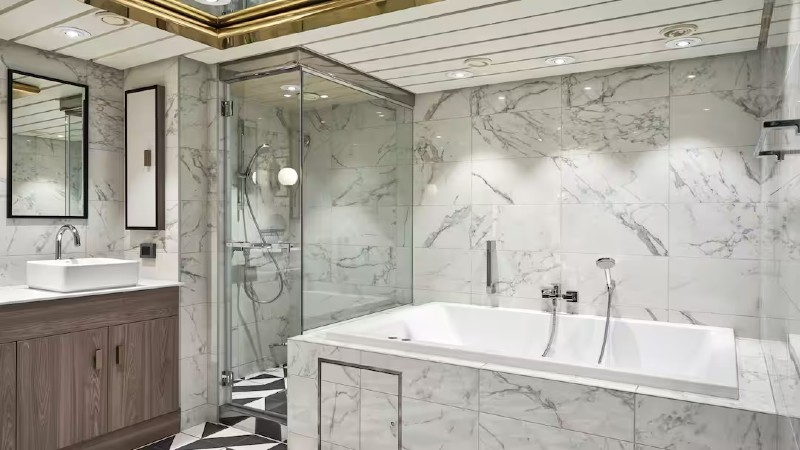 The whirlpool bath is a fantastic addition, but not too uncommon on cruise ships. It's still a great feature on warmer cruises, where you can properly relax with an amazing view.
However, there are very few cruise ship suites I can think of where you also get a baby grand piano. And even if you can't play, it's a very classy addition.
It's not something I'd likely book. I'm typically the person who would save my money to enjoy multiple cruises instead. But I can't argue that it's not a fantastic suite.
3. Single Cabins (Inside or Outside)
On a lot of cruise ships, single rooms are crammed into smaller spaces. They'll usually be the smallest room on a ship, with just a single bed and a limited amount of storage space.
Not so with Marella Discovery – you're essentially getting a full Inside or Outside Cabin, with a queen-sized bed. It's a lot more comfortable for solo travellers and I love that Marella has thought about single passengers enough to give them this comfort.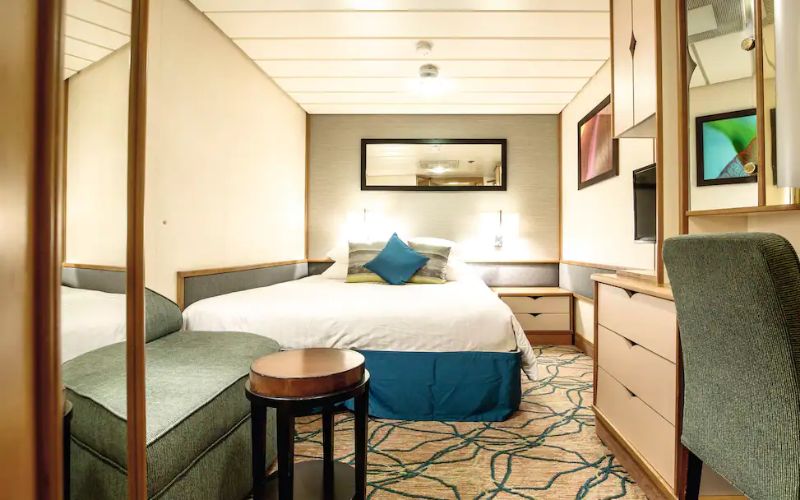 After all, you probably aren't sleeping in a single bed at home, so why would you downgrade for an actual holiday?
Final Thoughts
There you have it – a complete guide to all the cabins on Marella Discovery, and some of the best tips for cabins that you should consider avoiding when you make your booking.
I know the decision isn't always simple – you might have your heart set on a certain itinerary that's nearly sold out, or your budget might mean you can't book the perfect cabin for you.
But with everything in this guide you can at least make some informed decisions, and travel prepared. A set of earplugs might be all you need to make a louder room bearable, for example.
For a closer look at all of the cabins on Marella Discovery, I highly recommend that you check out this video by Paul and Carole. I'm sure you'll find it interesting…
In putting this guide together I scoured the official Marella Discovery deck plans but also looked at Facebook groups. I'd recommend you check them out too, because people often post photos of specific cabins – you might find yours on there before you sail.
NEW DEALS JUST RELEASED!
Don't miss the latest Marella Cruises offers…
Related topics