A Carnival cruise passenger has caused a stir on social media after his travel companion posted a video on TikTok of him fishing from his balcony cabin while docked in Nassau.
The video, titled "When you take a country boy on a cruise to the Bahamas…" went viral with over 2 million views.
It shows the male passenger reeling in what appears to be a buffalo trunkfish using a piece of line and a spool.
The female guest filming the video can be heard laughing and exclaiming throughout.
"Oh my God! You actually caught a fish! Holy s*** dude… don't swing it. What the f*** is that? Don't swing it into somebody's place!"

Jessica Locklear
The exact ship is not identified in the video, but the male passenger is wearing a Carnival Cruise Line sail-and-sign card. The blue card shows this is his first Carnival cruise, as guests on their second cruises are issued red sail-and-sign cards, and higher loyalty levels have gold, silver, or white cards depending on their Very Important Fun Person (VIFP) status.
The video, which has since been removed from TikTok, was posted on April 16, 2023 by @jessicalocklear02, but it is unclear when it was filmed.
If you'd like to check out the video, you can watch it here…
The video has raised questions about the passenger's actions and Carnival Cruise Line's policies regarding fishing
Are you allowed to fish from a cruise ship balcony?
While Carnival Cruise Line permits fishing rods to be brought onboard, such equipment can only be used while off the ship in an appropriate port of call.
Fishing off a cruise ship balcony is not permitted, as it would present a hazard to marine wildlife, guests on board and the ship itself.
The passenger's actions of fishing from his balcony cabin were a clear violation of the cruise line's policies and local Bahamian law.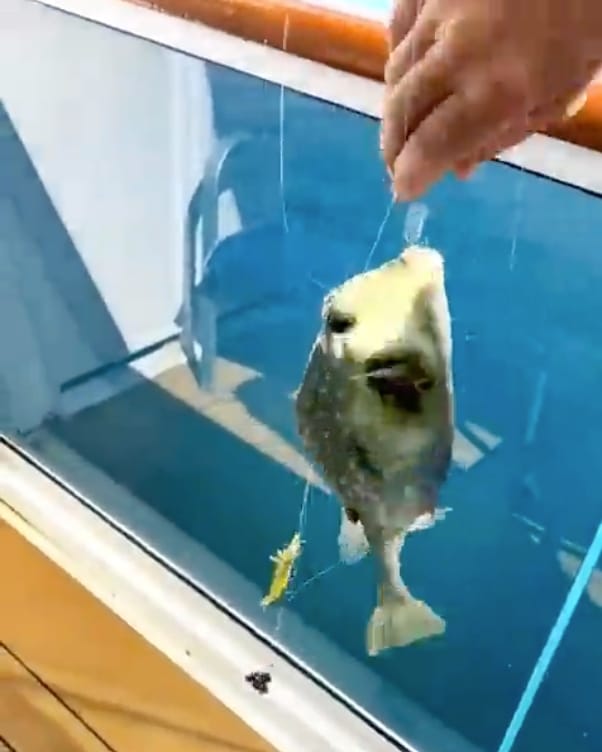 Animal welfare issues
The fish appears to be a trunkfish or boxfish, species which are both known for their toxic skin, making them inedible.
The video has sparked concerns for the fish's welfare as it was caught using a hook and line and may have suffered injuries. If the fish was tossed back overboard, it is unlikely to have survived a fall from such a height.
The video has also sparked concerns about the potential harm to marine life such as turtles, stingrays and coral, and the environment.
What happened next?
It is unclear what became of the fish after the video was posted, and there have been no further updates posted by the TikTok user.
If the fish was kept, it would not have cleared customs inspection as animal products are not permitted to be brought back and taken off the ship in the United States. Fish caught on an authorized shore excursion must be shipped back to the guest's home.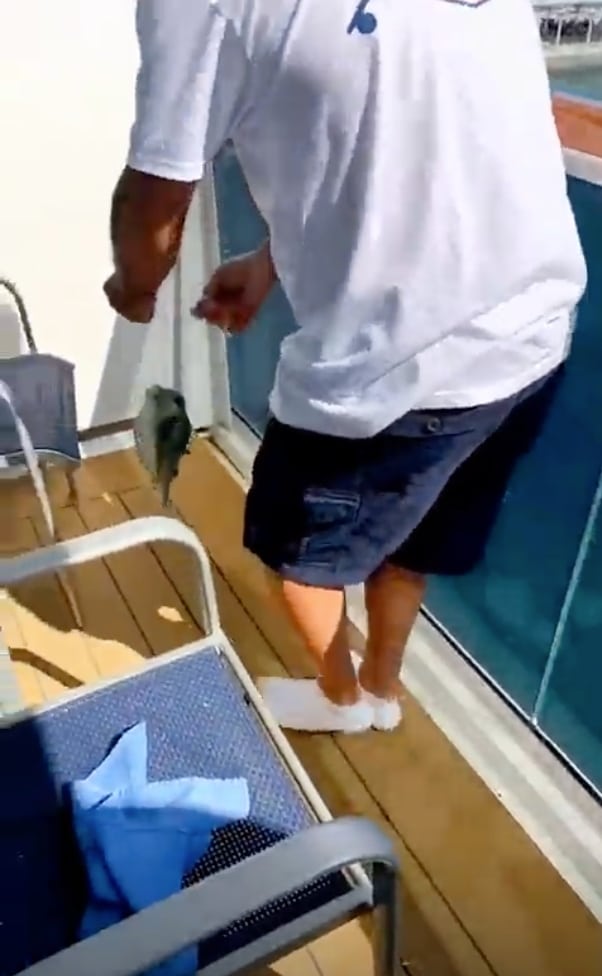 Despite the concerns raised by the video, the passenger has been praised for his fishing skills and ability to catch an exotic fish in the Bahamas. However, it is important to remember that responsible fishing practices are necessary to protect marine life and the environment.

Related Posts: