Years ago, people liked to use shotguns to shoot flying targets known as clay pigeons from the back of a cruise ship. Yes, really.
Back then, people seemed to care a lot less about the environment and the implications of dumping clay targets and lead shotgun pellets into the ocean. Not to mention the safety of handing shotguns to people who may or may not have been drinking!
Skeet shooting first became popular in the 1920s and had been a frequent feature on cruise ships ever since.
But is skeet shooting on cruise ships illegal now? Or do some cruise lines still offer skeet shooting as an activity? Read on for all the details…
Can You Still Do Skeet Shooting on Cruise Ships?
Skeet shooting on cruise ships has not been available since the early 1990s. It began declining in popularity in the 1980s due to concerns over safety and marine conservation.
When people first started to realise that skeet shooting on cruise ships might not be a good idea, some efforts were made to replace lead pellets with non-toxic steel shot and to replace clay targets with targets made from compacted fish food. But in the end, it was decided that skeet shooting on cruise ships just couldn't be justified at all.
Cruise lines have now completely dropped skeet shooting in all of its forms. In fact, there are no longer any kind of shooting games with any real firearms on board cruise ships today.
You can take part in a laser tag type of virtual skeet shooting game on some cruise ships, but anyone who has any experience with firearms will be the first to tell you, it's not the same thing.
While there's no official explanation as to why skeet shooting is no longer an offered activity by cruise lines, the reasons are not limited to environmental concerns. There's also the safety implications of having weapons on board a ship, as well as the noise nuisance it created for other passengers.
How Did Skeet Shooting Work on Cruise Ships?
Skeet shooting was a prevalent activity on cruise lines for decades and it usually took place on the aft deck. A ship officer would be present as a loaded shotgun was provided to paying guests and clay targets were launched over the ocean.
This video shows skeet shooting on a Caribbean cruise in 1985…
The aft section of a ship could be considered the perfect spot for skeet shooting because it's already a half-circle, which is the exact shape you need for targets to be launched from the left and right sides.
In a typical skeet shooting game, eight shooting stations are arranged – equally distant from each other – in an arch. There are two 'trap houses', one at the end of each arch. Twenty-five clay pigeons are released in total as you move from station to station, firing at the clay targets, until you reach the end.
However, on cruise ships, skeet shooting was much more simple. It usually involved the clays being launched from a single location and the shooter staying in one spot too.
What Other Activities Are No Longer Offered on Cruise Ships?
There are several activities that cruise lines have dropped due to environmental concerns over the years. Skeet shooting is one, hitting golf balls into the sea is another, along with midnight buffets and messages in a bottle.
1. Skeet Shooting
While there is no precise date – possibly because no one decided to record one or no one cared – cruise lines largely dropped skeet shooting over the last decade or two.
Norwegian Cruise Lines was reported to be offering skeet shooting on the Song of Norway as late as 1996. [Source]
If you read about skeet shoot offerings on cruise ships while you're browsing the web, it's important to check the date and credibility of the publication. It's most likely a very dated article or just factually incorrect.
2. Midnight Buffet
The abundance of food is one of the highlights of many cruise guests' experiences. In the past, huge buffets would be served at midnight for guests to enjoy a midnight feast after completing their evening activities. These often included elaborate ice sculptures and fruit carvings.
As cruise ships became larger, accommodating 5,000-plus guests rather than 1,000 or so, it became a lot more work to put on the buffets and the amount of food waste increased. As more speciality restaurants were added and flexible dining times became popular, the midnight buffets fell out of favour.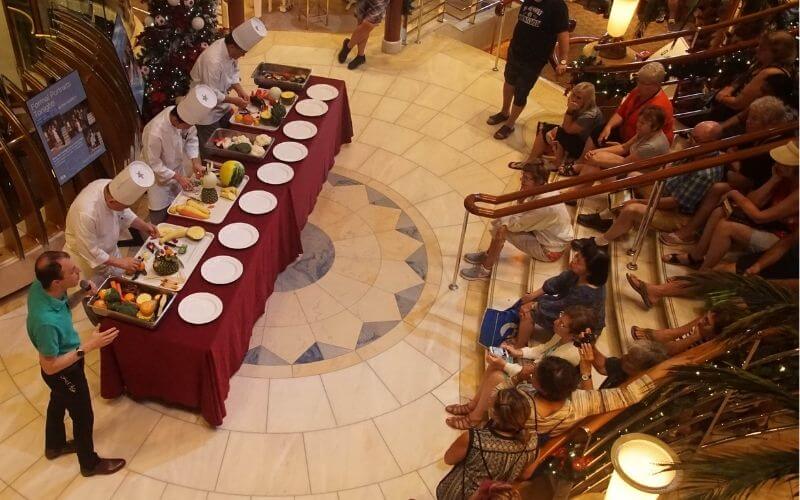 While the midnight buffet isn't completely gone, it's a rare offering nowadays. If it is offered, it will likely only occur on a single night over the course of the cruise – it's largely obsolete.
On many cruise ships, the buffet restaurant will remain open until the early hours of the morning. But, you'll be limited to a few dishes such as sandwiches, soup, cakes and fruit, rather than a full buffet experience.
3. Hitting Golf Balls Off Of The Ship
Until the 1990s, people were allowed to hut golf balls off of cruise ships. This was halted when the International Maritime Organization passed a law outlawing the dumping of plastic waste into the sea.
It's kind of shocking to think that it took so long for anyone to consider that it was against the best interests of the fish and mammals in the ocean to share their territory with a lot of plastic golfballs.
Like skeet shooting, you can now hit golf balls virtually in an arcade room on your cruise or hit them into a net on the top deck. Mini-golf is also a popular option for families with many ships having 9-hole mini-golf courses on board.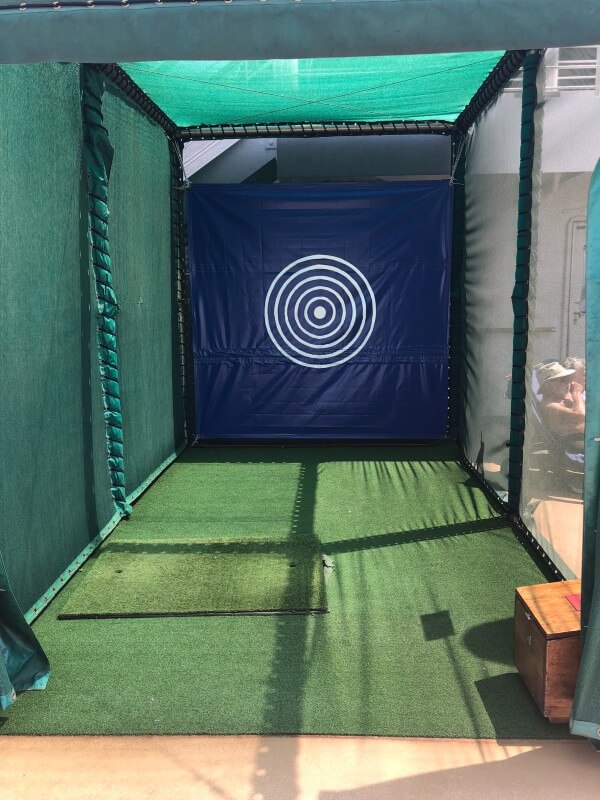 4. Messages In Bottles
Cruise lines once offered passengers the ability to write messages, cap them in a bottle, and toss them overboard. Just like golf balls, these bottles eventually made their way onto the 'absolutely not' list for environmental reasons.
You can see why getting rid of this practice just made sense. If every cruise line routinely practised this, there would be a veritable sea of bottles floating around out there today.
Since there's already a continent-sized area of floating trash in the Pacific, no one is eager to add to it.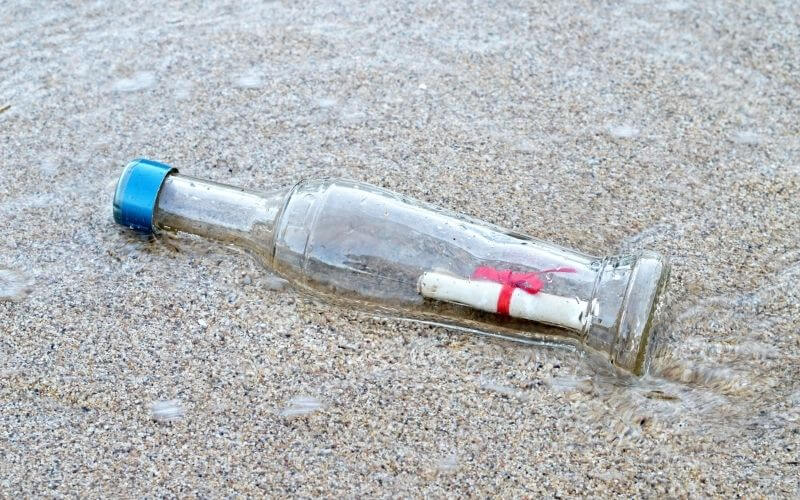 Do Cruise Lines Offer Anything Similar to Skeet Shooting?
While you can't do any cruise ship shooting games onboard, some cruise lines do offer skeet shooting on land as part of organised excursions in ports of call. You can also play virtual skeet shooting simulator games on some ships.
There's no telling how long skeet shooting excursions will last, as they're not that popular. You can go just about anywhere in the United States and skeet shoot. So, not many people want to disembark in paradise locations like Cozumel, disregard everything that this major tourist attraction has to offer and go skeet shooting.
If skeet shooting is just your thing while on vacation to tropical islands and resorts, then take a look at the excursions offered by your cruise line. If you can't find skeet shooting as an option, you may be able to organise your own trip independently.
Since excursions are not often included in cruise packages, you'll probably have to pay a pretty exorbitant amount to add this excursion activity to your onshore schedule. It's a far cry from the few bucks it once cost to skeet shoot on the ship, but in the grand scheme of things, it's better for everyone.
Another option on some ships is to play a skeet shooting simulator game if one is available. This video shows an example of such a game on board the Regal Princess cruise ship…
Final Thoughts
Some people may be a little disappointed that skeet shooting is no longer an option on cruise ships. They may feel that each succeeding generation slowly saps the fun out of everything that the preceding generation enjoyed.
However, there's no way that adding any kind of waste to the ocean can be justified given the current environmental crisis that the world is facing.
Skeet shooting still exists as an onshore activity. So if it's a must-do pastime for you, then take a look at the excursions that are offered or see if you can plan your own shooting day out during your cruise. Otherwise, there are other activities that you can enjoy on board such as mini-golf, archery or laser tag.
Related Posts: