Carnival Cruise Line's Brand Ambassador John Heald is one of the most helpful people in the cruise industry. Every day he devotes hours to offering his help to cruisers with all kinds of needs.
Whether you have a burning question, a complaint, or just want to offer your praise and congratulations, John is available to help you.
But how do you contact John Heald? Read on, and I will show you…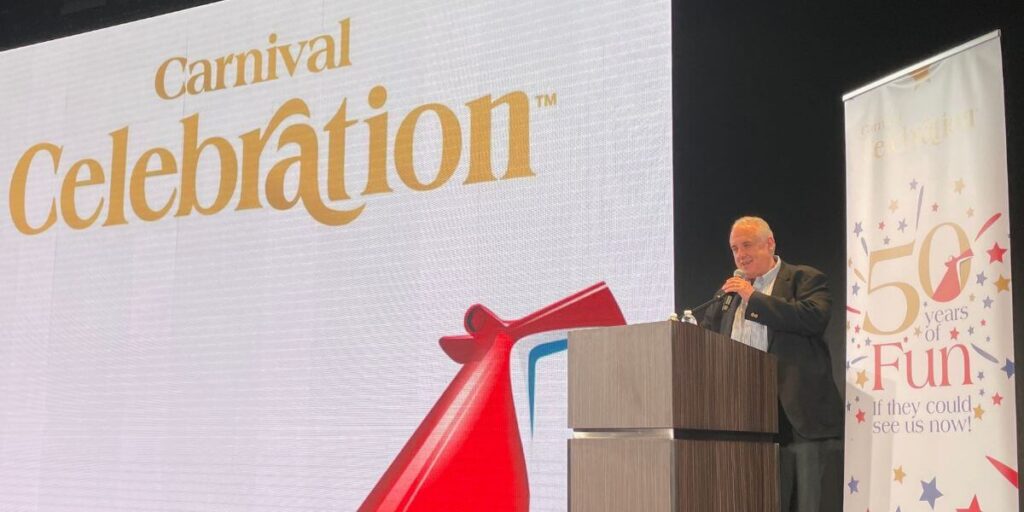 How do you send John Heald a message?
The best way to send John Heald a message or ask him a question is via his Facebook page. At the top of the page, you will see a button that says 'Create Post'. Click that and you will see that it says 'Write something to John Heald'.
Here's what that looks like.
Click here to go to John Heald's Facebook page.
Once you have sent your message, you will be able to see it on his Facebook page. So will almost half a million other cruisers, so please be mindful of what you write!
To see the messages that people have sent John, once you are on his Facebook page, click on the down arrow next to the word 'More'. Then, click on 'Community'.
As you can see, John Heald is extremely helpful and replies to as many messages as he can. Many of the messages also get replies from other cruisers who like to help John out by sharing their own Carnival cruise knowledge and opinions.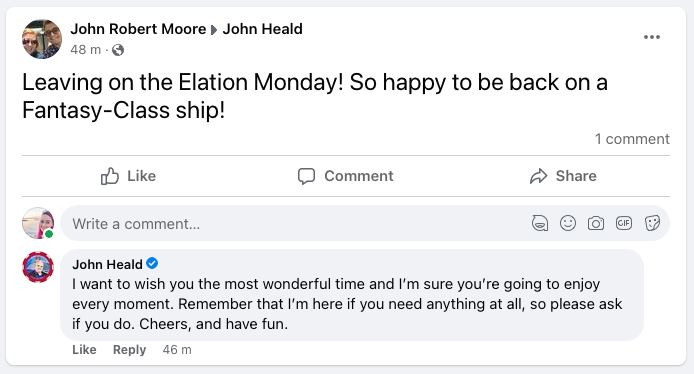 John shares some of the messages he receives publicly, to get an idea as to whether the general public agrees with the points raised by the original poster or not.
As the senior cruise director, John is very high up at Carnival Cruise Line and has the power to make changes to procedures on board. But instead of diving in, he first asks Carnival fans to see what the consensus is. This is very wise.
For example, in the post below, a cruiser complained about the amount of violin music on board Carnival ships.
John then put the question to the public, with a poll to find out whether other cruisers have enjoyed the string trios or not.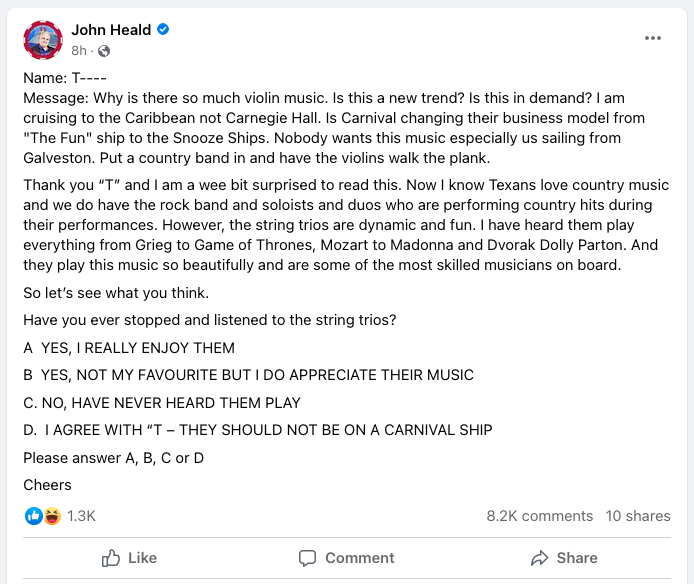 These posts always get a lot of attention – particularly when the original poster has a complaint that is wildly disagreed with by the majority!
You might want to think carefully before you decide to write to John. But don't worry too much – As John is such a kind-hearted soul, he always redacts the name of the complainants when sharing publicly.
What is John Heald's email address?
John Heald doesn't give out his email address. Instead, her is very active on his Facebook page and spends a lot of time engaging with people there. This is the best place to contact him.
However, if you do not have Facebook, then it is possible to contact John by emailing [email protected]. Address your message to John Head and it will be forwarded on to him.
Final words
I do hope that you have found this to be useful. I only wish that I had as much time to devote to social media as John!
John sure is one of Carnival's most loved cruise directors. But if you'd like to see who the cruise director is on your next cruise, then take a look at the Latest Carnival Cruise Directors Schedule.
Related Posts