Jamaica is a popular destination in the Caribbean where many of the top cruise lines call during the winter months, and some throughout the year. It's one of the larger Caribbean islands, so it has multiple ports for cruise passengers.
As Jamaica is 146 miles long and 21 to 52 miles wide, many excursions are available regardless of where you dock. But it's still interesting to see the differences between the ports and which cruise line you need to book with if you have a particular port in mind.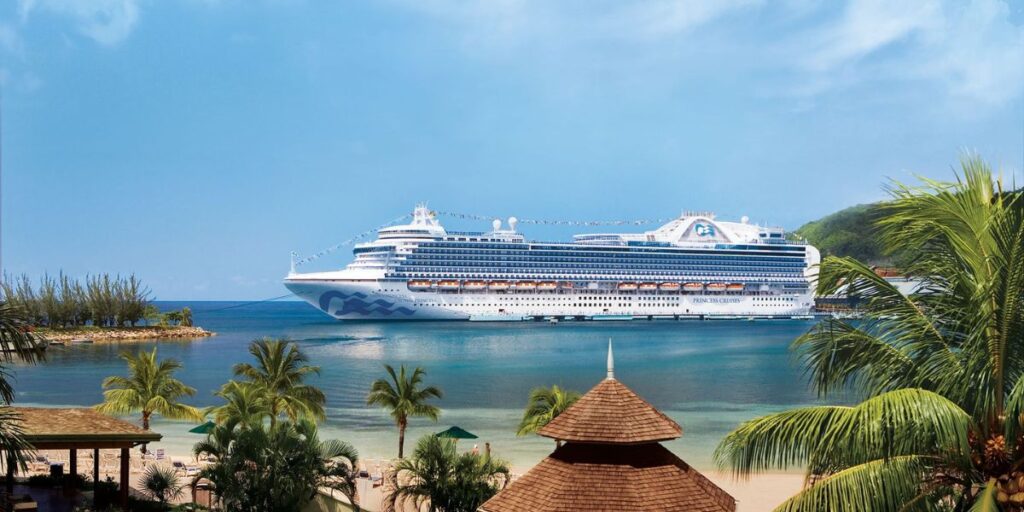 In this guide I'll take you through the different ports in Jamaica, including which ones are the busiest and which cruise lines travel to each.
I also have a handy map of the cruise ports in Jamaica that you can use to help with your planning.
How many cruise ports are in Jamaica?
There are five cruise ports in Jamaica. Three are larger and are visited by cruise ships year round – Ocho Rios, Falmouth and Montego Bay. The other two ports, Port Antonio and Kingston (Port Royal), are only visited during the winter months by luxury cruise lines.
Jamaica is very much a destination that is best visited between November and March. This is when the ports are at their busiest, with ships in port on most days during those months.
During the summer things do quieten down – even the busiest ports will only have 6-8 ship visits a month.
In order of number of ships visiting, from busiest to quietest, the ports in Jamaica are:
Ocho Rios
Falmouth
Montego Bay
Port Antonio
Kingston (Port Royal)
Suggested read: How Long Do Cruise Ships Stay In Each Port?
Map of Jamaica Cruise Ports
Here's a map showing you where each of the ports of Jamaica can be found: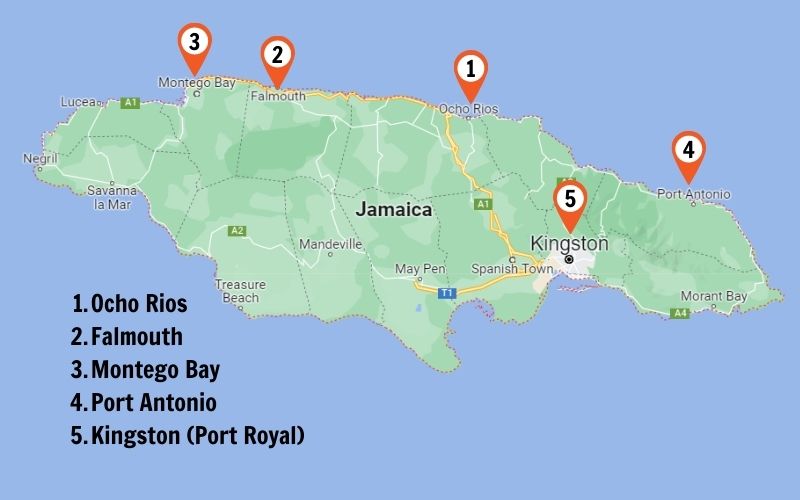 Next, let's learn a little more about each of the ports and what you can expect if you visit on a cruise…
1. Ocho Rios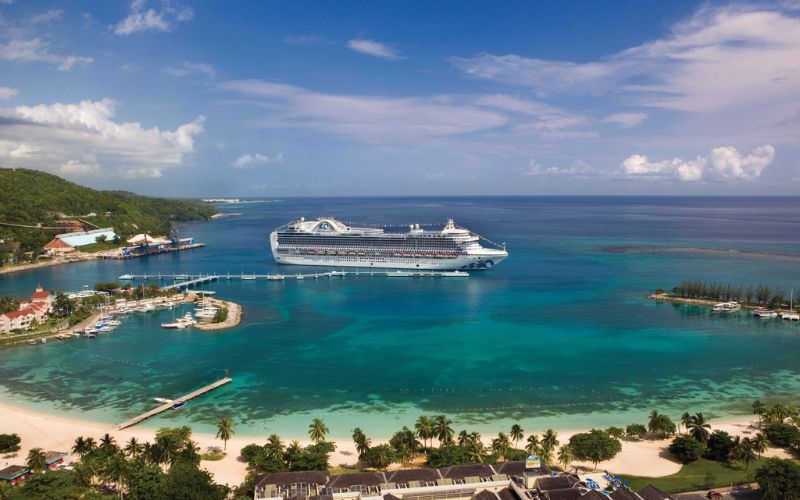 Number of ship visits in 2023 – 138
Year-round or seasonal – Year-round
Pier or tender – Pier
Most popular month – January
Ocho Rios is the most popular port in Jamaica for cruise ships, with ships visiting throughout the year. It's a port town on the northern coast of the island, with a large modern pier that can accommodate some of the biggest cruise ships in the world.
These cruise lines visit Ocho Rios:
AIDA
Carnival
Celebrity Cruises
Costa
Holland America Line
Marella Cruises
MSC Cruises
Norwegian Cruise Line
Princess Cruises
Royal Caribbean
TUI Cruises
It's a vibrant town that has some great restaurants, bars and cafes within walking distance of the port, so there are plenty of spots where you can grab a drink and a bite to eat while you explore.
The town's market has undergone renovation in recent years, while a new artisan village was also built that includes various small stores selling crafts and other locally-manufactured products.
Nearby, Dolphin Bay is a popular excursion spot – as the name suggests, there are plenty of dolphins swimming in the area, and guests are welcome to join them. And there's also Columbus Park, the site where Columbus apparently landed. Now it is home to various Spanish colonial buildings.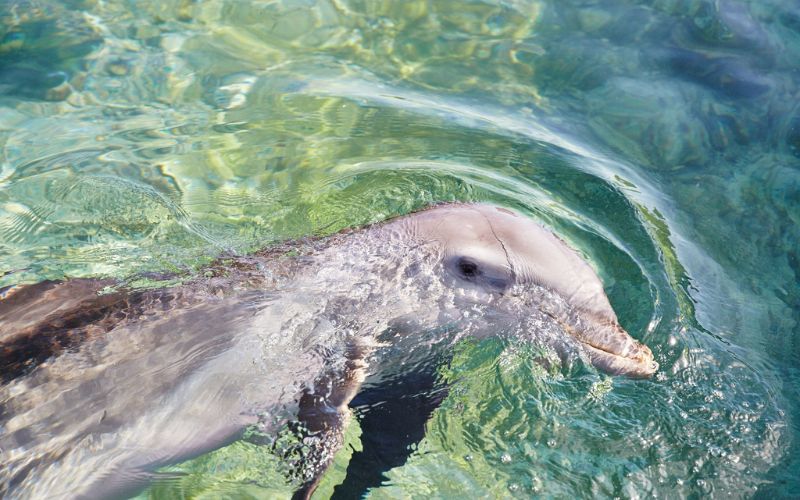 While the winter season sees a variety of cruise lines visiting the port, during the summer months your options are more limited to Carnival and MSC Cruises only.
Some of the typical shore excursions you can enjoy at Ocho Rios include:
Horseback riding
Zipline tours
Exploring the jungle, on foot or by jeep
Watersports including snorkelling and ocean kayaking
Tours of the Coyaba Botanical Gardens
Jamaican Bobsledding – ideal for any fans of the movie Cool Runnings
2. Falmouth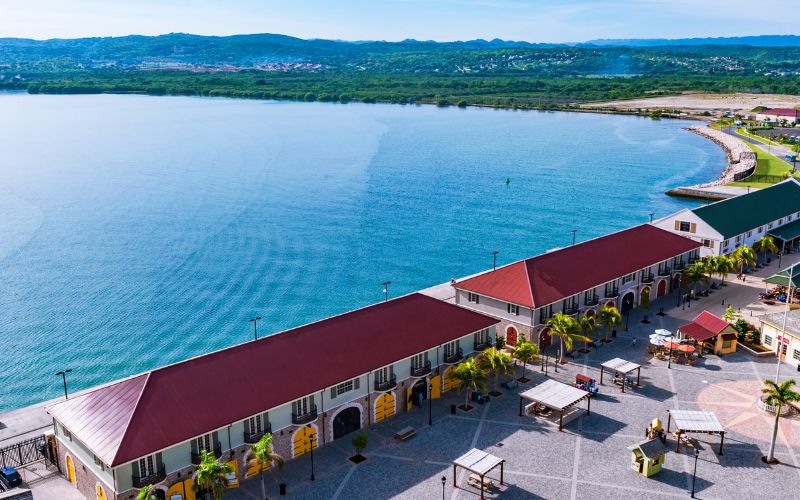 Number of ship visits in 2023 – 114
Year-round or seasonal – Year-round
Pier or tender – Pier
Most popular month – March
Falmouth is another major port town on the northern coast of Jamaica, situated around 60 miles to the west of Ocho Rios. It's a large town with a big port, capable of hosting the largest ships in the world – Wonder of the Seas, the largest ship sailing in 2023, being one of them.
These cruise lines visit Falmouth, Jamaica:
Carnival
Celebrity Cruises
Disney Cruise Line
Holland America Line
Princess Cruises
Royal Caribbean
The popularity of the port isn't a recent development due to cruise ships – it's been one of the busiest ports in the country since the 18th century, and that's reflected in the many different historical sites that can be visited during your day in port.
There's a large commercial centre at the port following a major redevelopment, including various stores selling local wares. There are also plenty of good quality restaurants and bars just a short walk from the pier.
Most of the cruise lines only visit Falmouth during the winter months. In the summer, you'll only find Disney Cruise Line and Royal Caribbean calling at the port.
Typical shore excursions you can book at Falmouth include:
River tubing down Dunns River
Tours of the nearby waterfalls and lagoons
Catamaran and snorkelling excursions
Exploration tours of the jungle or of nearby caves
Rum tours
Day passes at local resort hotels and waterparks
3. Montego Bay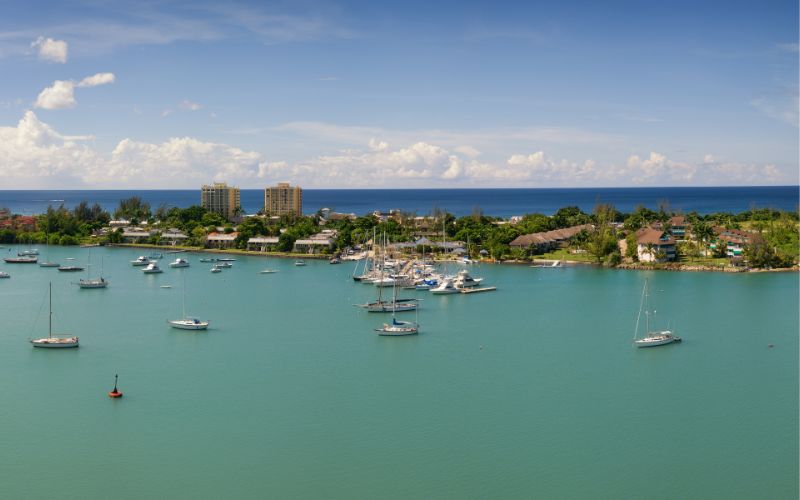 Number of ship visits in 2023 – 100
Year-round or seasonal – Year-round
Pier or tender – Pier
Most popular month – January
Montego Bay is the third busiest cruise port in Jamaica, situated on the north-west coast. It isn't frequented by quite as many ships as Ocho Rios or Falmouth, but it does attract the most cruise lines – 15, including some of the larger lines as well as much smaller ones that you may not even have heard of.
These cruise lines visit Montego Bay:
AIDA
Ambassador Cruise Line
Carnival
Celebrity Cruises
Costa
Marella Cruises
MSC Cruises
P&O Cruises
Phoenix Reisen
Plantours
Princess Cruises
Royal Caribbean
Scenic Yacht Cruises
TUI Cruises
Viking Ocean Cruises
It's a popular port for those ships that do visit – the town has a lot of friendly shops selling snacks and souvenirs, while there are some lively bars and good-quality restaurants serving fresh seafood and BBQ cuisine.
The town also hosts some fantastic beaches, including some quieter stretches of sand more suited to adults who want to take it easy, and beaches where the families tend to congregate for a fun-packed day of activities.
Further afield, the port is a gateway to some of Jamaica's beautiful scenery including the Dunn's River Falls and the Martha Brae river, which is ideal for rafting. Sugar plantation houses can also be toured if you want to see some of the history of the town and the country.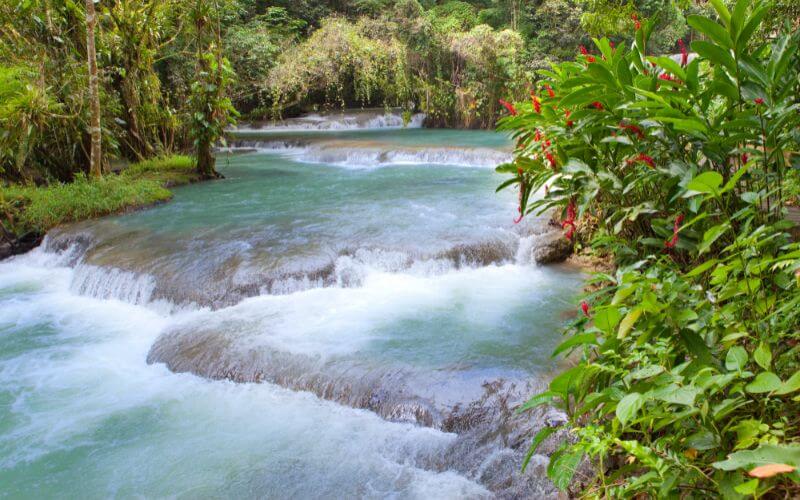 Barring a couple of exceptions, the ships visiting Montego Bay during the summer are almost exclusively Carnival ships – the other cruise lines tend to visit only from October to March.
Popular options for excursions include:
Day passes to luxury resort hotels
Spelunking tours of Green Grotto Caves
Catamaran sailing and snorkelling excursions
White-water rafting and river tubing
Horseback riding along the beach
Tours of nearby sugar plantations
4. Port Antonio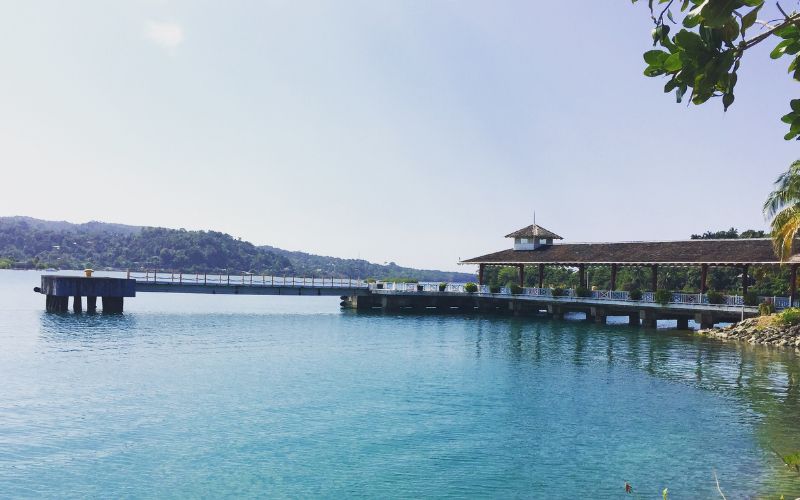 Number of ship visits in 2023 – 5
Year-round or seasonal – Seasonal
Pier or tender – Pier
Most popular month – October
Port Antonio is one of the smaller ports in Jamaica, with just a few select luxury cruise lines visiting the area. The port is around a 15-minute walk from the main town, with ships docking at the Ken Wright Pier in West Harbor.
These cruise lines visit Port Antonio:
Oceania Cruises
Scenic Yacht Cruises
Seabourn
Silversea
Unlike some of the larger ports, you won't be hit by a plethora of shops and stalls when you step off the ship – it's off-limits to vendors. There are also no bus services running directly from the port either.
Instead, you'll either be able to take a leisurely stroll to town yourself and enjoy the scenery, or take advantage of the private tours already arranged for you by your cruise line.
Typical excursions include:
Rafting on the Rio Grand River
Transfers to the best beaches nearby
Swimming in lagoons underneath waterfalls
Guided tours of the town including historical commentary
Nature walks through local trails
5. Kingston (Port Royal)
Number of ship visits in 2023 – 4
Year-round or seasonal – Seasonal
Pier or tender – Tender
Most popular month – December to March
Kingston is the capital city of Jamaica, and the largest city on the island. It's also a major seaport, but in recent years cruise lines have instead chosen to dock elsewhere on the island.
It remains a major cargo port, but the Port Royal harbour does also allow some smaller ships to anchor and tender guests to shore.
These cruise lines visit Port Royal:
There is much to see in Kingston, including some stunning resorts where guests can enjoy day passes, breathtaking natural scenery, and a wealth of bars, cafes and restaurants around the port area. The city is also home to the Royal Botanical Gardens, one of the best garden attractions in the Caribbean.
The city also hosts some fascinating museums and galleries if you want a more cultural day out. The Jamaica National Gallery is the largest art gallery in the Caribbean, while the Bob Marley museum understandably attracts a lot of tourists to Jamaica.
Some of the excursions you can try at Kingston include:
Visits to the stunning Blue Mountains
Tours of Devon House and the Bob Marley Museum
Rum tours of Worthy Park Estate
Catamaran sailings with snorkelling
Visits to Dunn's River Falls
To Conclude
White sandy beaches, stunning rivers and lagoons, and incredible restaurants and bars serving jerk chicken and rum – Jamaica is a great destination. And whichever of these five ports your cruise ship is calling at, you can experience it all.
Things will be a bit busier at the big three ports – Ocho Rio, Falmouth and Montego Bay – and you might spot another ship in port on the same day that you visit. But if you choose a ship sailing to Kingston or Port Antonio, you're guaranteed to have a much quieter day.
Related Posts: