One of the cruising traditions that typically hasn't survived to the modern day is the classic Captain's Dinner. It's still available sometimes, but now the event tends to be different – to the disappointment of some passengers who've been cruising for a long time.
But on some cruises, you may still get the chance to enjoy this special occasion.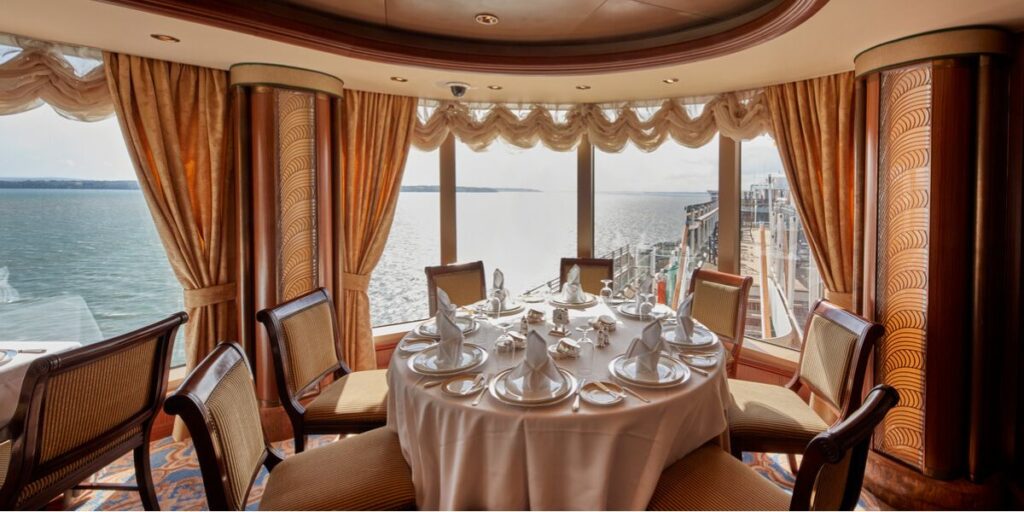 In this guide, I'll explain what a Captain's Dinner is on modern ships, what it used to mean, and what to do if you are lucky enough to get an invitation to such an event on your own cruise.
What is the Captain's Dinner on a cruise?
The Captain's Dinner can refer to several different events on a cruise ship. On most modern ships, it is one of the formal dining nights on the ship, but potentially with a party beforehand where guests may meet the ship's captain. Traditionally it would refer to dining at the captain's table and on some cruises it remains that way.
The idea of a Captain's Dinner – sometimes referred to as the Captain's Table – has existed for a long time on cruises. And it would always mean one thing – the opportunity for guests to join the ship's captain at the best table in the restaurant for dinner.
It's an exciting and exclusive opportunity – but one which has faded over the last 10-20 years. Now, the Captain's Dinner will often refer to just the first elegant night at sea, and will be something open to either a larger group or to everyone onboard.
It may be as simple as the ship's captain giving a speech at the start of dinner, and then the rest of the night playing out as normal. On some other cruises, there may be a cocktail party held before dinner where the captain is present, and guests can meet them and maybe get a photo with them.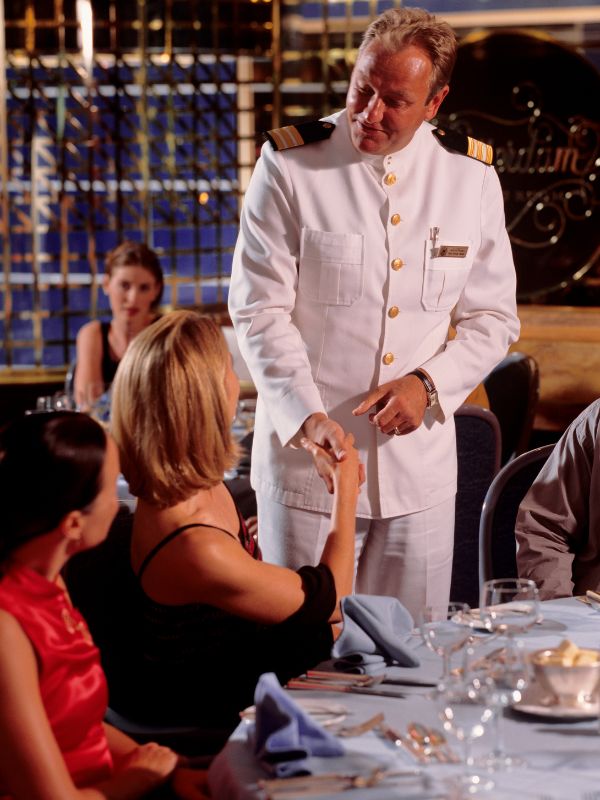 Do cruises still do Captain's Dinner?
Some cruise lines still host a Captain's Dinner in the traditional style, but not as often as they used to. Captain's Dinners used to be a mainstay of cruising but many modern ships have moved away from traditional dining altogether and so the event doesn't fit.
That being said, there are modern versions of the dinner where the first formal night includes the chance to meet the captain at a pre-dinner event.
For example, on our recent cruise with Fred. Olsen Cruise Lines, there was a Captain's reception on the first night. We enjoyed canapes as the captain told us all about himself, his crew and the ship.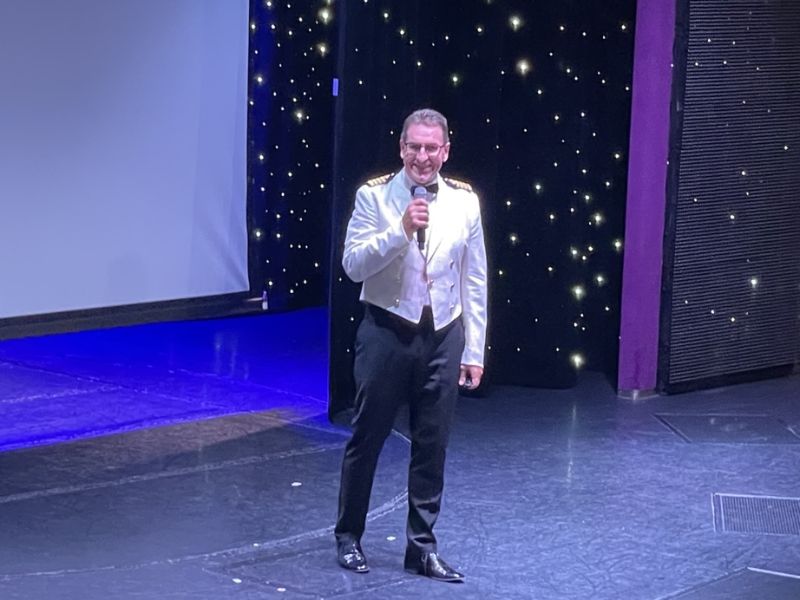 There are some cruise lines that do still host a Captain's Dinner or Captain's Table – although, it may not always be with the captain. Sometimes it's with another senior officer on the ship.
But many modern ships have moved on from traditional dining times and are actively encouraging guests to try speciality restaurants, rather than the main dining room. Whereas cruising used to be all about sharing large tables with other parties, now it's much more common to have your own table for your family or group
Which cruise lines do Captain's dinner?
Most of the modern American cruise lines have done away with the idea of a Captain's Dinner where there's a sit-down meal with the captain.
Carnival Cruise Line doesn't offer a captain's dinner. But the cruise line does sometimes offer a Captain's Gala night or Captain's Welcome Evening, which is a cocktail party before dinner. Officers may attend but even this is becoming more rare these days.
Disney Cruise Line and P&O Cruises both offer something similar – a formal night where the captain and other officers may be mingling with guests beforehand.
I had a chat with the Staff Captain on Azura over a glass of sparkling wine at such an event it was very interesting.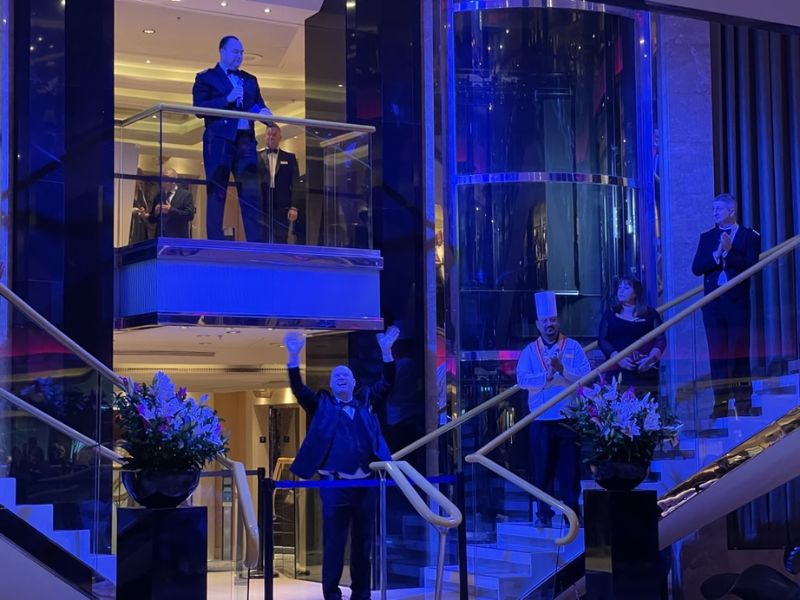 NCL has hosted Captain's Dinners in the past but it's not something that is common these days, and it isn't really a thing on Royal Caribbean anymore either, although it used to be.

Some more traditional cruise lines may offer the experience but it's not guaranteed. Marella Cruises sometimes do, as does Cunard. They're the only cruise line to make a real mention of a Captain's Table on their own website.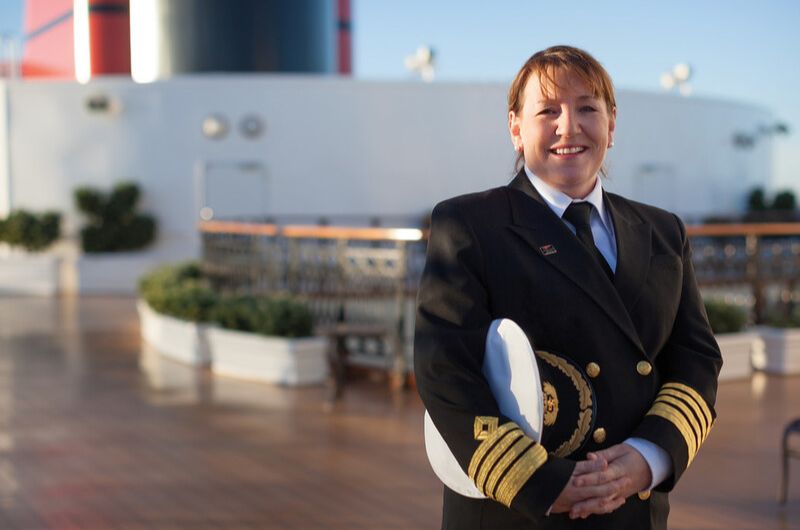 Events with the ship's officers tend to be more common on small luxury cruise ships these days.
How do you get invited to the Captain's dinner?
There's no guaranteed way of getting an invite to the Captain's dinner, but the best advice is to cruise with a line regularly, make sure you're well dressed (but not overdressed) for the cruise, and try networking with the ship's host, without being too obvious.
Suggested read: The Best Dresses for Cruise Formal Night
It's impossible to give a definitive list of ways for you to get invited to a Captain's Dinner event because every cruise line that still hosts them is different.
As a guide, the captain wants to dine with people who will make for good conversation. It's not really an event to suit the shy and timid. So a good first step to securing yourself an invite is to make sure you're being social, without being so obvious that you're trying to make a good impression.
This means chatting with the restaurant's host, building up a rapport, and potentially dropping some hints as to why you'd be interesting company – but try not to come across as a try-hard.
You should also make sure you're appropriately dressed. Cruise lines have a dress code even on non-formal nights and while it isn't strict, the people who are dressed more smartly will be more likely to be invited. Don't turn up in a tuxedo or cocktail dress to a casual night, but avoid t-shirts and shorts too.
Otherwise, most cruise lines reward loyalty, so if you're cruising on the same cruise line more frequently and you know they host a Captain's Dinner, then you probably increase your odds of being invited.
That being said, there are thousands if not millions of people who remain loyal to a cruise line and never get an invite – so regular cruises are not a guaranteed way of being invited.
In some cases, first-time cruisers may be invited to a Captain's Dinner – it all depends on the policy of the captain or the organising officer at the time.
What night is the Captain's dinner?
The Captain's Table events that are still held on modern cruise ships will normally be on the first formal night of the cruise, which is often either the second night of the itinerary or the first full sea day, depending on the cruise line.
In older times, when dining at the captain's own table was more common, invites could be extended for multiple nights on a cruise. Now it just tends to be for one night, and usually towards the start of an itinerary.
What is the dress code for the Captain's dinner?
When dining at the captain's table, guests should dress formally – suits or tuxedos for men, and either a suit or an evening gown for women. Captain's Dinner events tend to happen on a cruise's formal night anyway, so guests should expect to dress as such.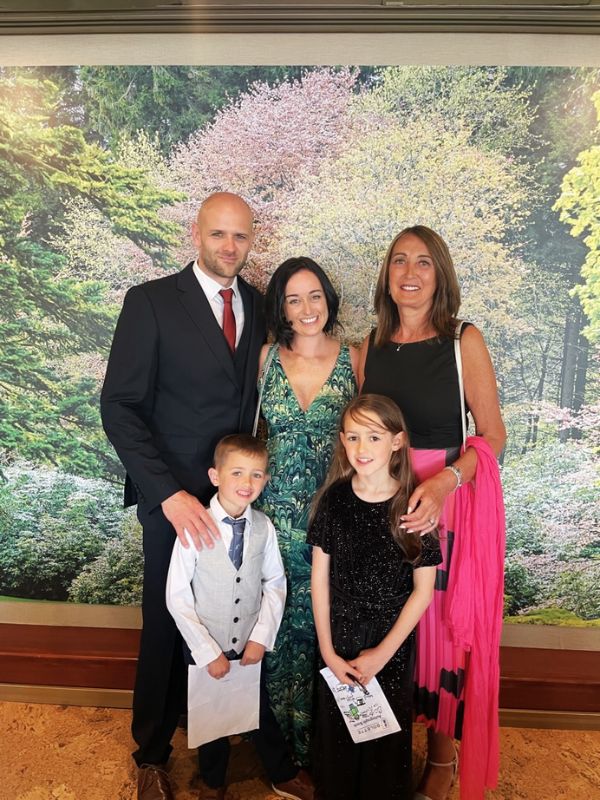 Gala events or cocktail parties will also normally be held on a cruise itinerary's formal night, but depending on the cruise line the dress code may be slightly more relaxed. Men may be fine with a shirt without a tie, but not jeans. Women could wear a blouse and trousers, or a cocktail dress.
Basically, for any kind of event held with the ship's officers, it's best to stick to the dress code for a formal night on the ship.
Suggested read: The Best Cruise Dresses For Formal Nights
Where does the Captain usually eat?
The captain can eat wherever he or she wants to on the ship. You may see them dining in the buffet or one of the speciality restaurants, or they may eat in the crew mess or order room service to their quarters.
The captain might choose to eat with their senior officers or with their family if their family happens to be on board.
On our recent Fred. Olsen cruise, we often saw the captain and senior officers eating together in the buffet. The children made autograph books in the kids' club, so once they had finished their meal, my daughter went over to ask for an autograph, and they happily obliged.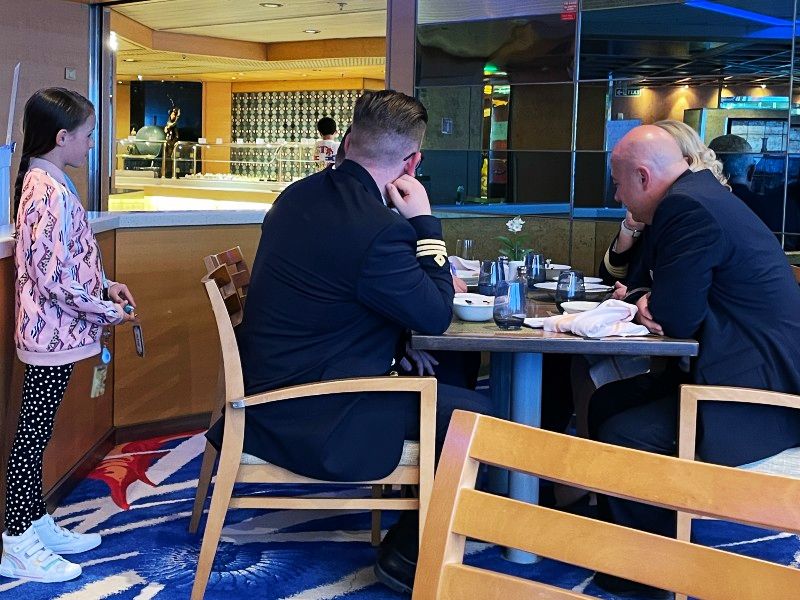 Final word
The tradition of dining at the cruise ship captain's own table hasn't been completely lost, but it's a lot less common now. And even when it was done more regularly, getting an invite was still very exclusive. So if you're invited to the captain's table on a modern cruise, snap up that opportunity!
And if not, look out for any Captain's Gala or cocktail parties on your ship. While you won't get the attention of your captain for a full dinner service, you can still say hello and get to know them briefly.
Related Posts: