Some cruise lines announce two or three new ships every year, whereas for others, each new ship feels like a really special event. And that's the case with Disney Cruise Line, and their latest ship Disney Treasure.
We've known about this ship for a little while, but now we know some of the key details about what she's going to offer, and it's super exciting. So let's take a look at everything you need to know about this brand-new magical Disney experience at sea.
Disney Treasure is Disney's Sixth Ship
Disney Treasure is the sixth cruise ship in the Disney Cruise Line fleet. She's the second ship in the Wish Class, and a twin sister ship to Disney Wish. She's due to set sail on her maiden voyage on 21st December 2024.
When she does launch, she'll homeport in Port Canaveral, Florida and will offer seven-night itineraries around both the Eastern and Western Caribbean
Read more about sister ship Disney Wish here.
What To Expect Onboard the Disney Treasure
Disney Treasure is going to offer the very best of everything Disney Cruise Line has offered previously, with some brand-new experiences that will be unique to the new ship.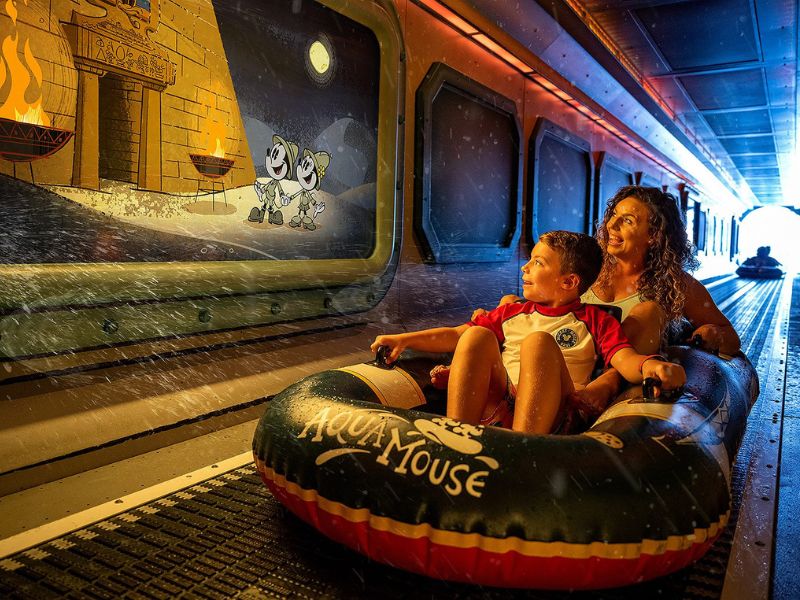 Guests can expect a ship that is tailor-made for families, and packed with vibrant attractions that will delight the younger members of your travelling party.
But she really has something for everyone, including the adults, with many call-backs to classic Disney movies and franchises and spaces suitable for unwinding without the kids.
How big will the Disney Treasure be?
Disney Treasure will have a tonnage of 144,000 GT, a length of 1,119 feet and a height of 221 feet with 14 passenger decks. The beam (width) of the ship is 128 feet and the draft (depth) is 27 feet. The ship can accommodate 4,000 guests and 1,555 crew.
That's exactly the same as Disney Wish and means that Disney Treasure will share the title of being the biggest ship in the Disney Cruise Line fleet, at least until the new Global-class ship Disney Adventure launches for the cruise line in 2025 if it remains on schedule.
What class is the Disney Treasure?
Disney Treasure is the second of the Wish-class ships for Disney Cruise Line. Prior classes include the Magic Class and the Dream Class. However, in a break from tradition, there will be a third Wish-class ship joining the fleet following Disney Treasure.
Disney's fleet has never been huge, but the two prior classes both had only a pair of ships. This is great news for passengers, as it means even more options for a Disney cruise in future.
And it means we've got another Wish-class ship to get excited about after Disney Treasure as well – though let's not get ahead of ourselves.
Suggested read: Disney Cruise Ships Listed From Newest To Oldest
What's different about the Disney Treasure?
Here's a breakdown of the new features and venues that will be debuting on Disney Treasure – that we know about so far, anyway.
1. Plaza de Coco
Plaza de Coco is the first theatrical dining experience on a Disney Cruise ship themed around the popular Pixar movie 'Coco'.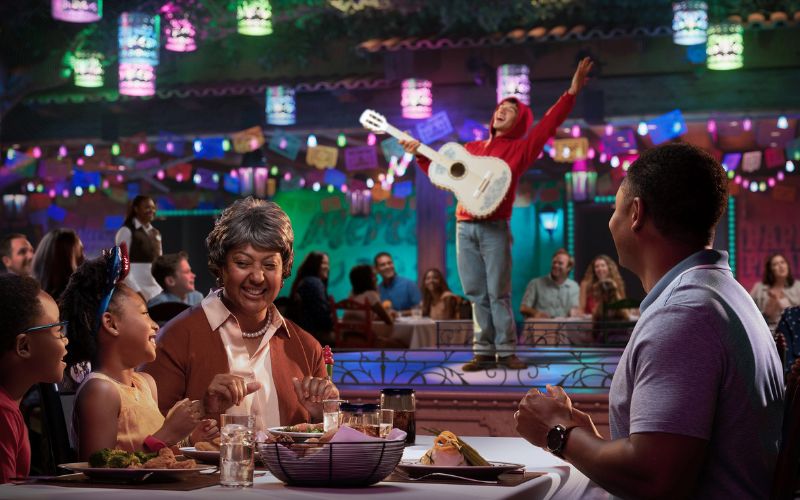 It's similar to other themed dining experience venues on Disney ships – guests will enjoy their dinner with an interactive show happening around them, featuring songs and dancing from the movie that adds to the story.
It's a two-night experience that guests will enjoy during their 7-night cruise, with part one picking up where the movie left off, and part two then continuing as Miguel meets his great-great-grandparents. Both nights offer a fun menu with modern twists on Mexican classics, with plenty of choices to suit all tastes.
2. Worlds of Marvel
Worlds of Marvel is another themed dining experience that guests will be able to enjoy on Disney Treasure. While the concept of the restaurant isn't new – Disney Wish has the same venue – the characters and story that guests enjoy will be unique to the ship.
While Disney Wish focuses on Ant-Man and the Wasp, the Disney Treasure's story will be brand new – more details will be revealed soon.
Other Avengers will be incorporated into the theming, so you're sure to enjoy all of your favourite superheroes, including Spider-Man. Again, there are two different nights as part of the cruise, with a menu serving global cuisine and fun interactive stories inspired specifically by the Marvel Cinematic Universe.
3. Jumbeaux's Sweets
Jumbeaux's Sweets is a casual sweetshop venue that's making its debut on the new Disney Treasure. It's themed around the popular ice cream parlor from the movie Zootopia, so expect to see some fantastic Victorian-style architecture, vibrant pink walls, and a central sculpture of the main characters Officer Judy Hopps and Nick Wilde.
There'll be plenty of anthropomorphic animal characters to enjoy as part of the decor, but the real reason to visit is the food. There will be more than 20 flavours of gelato to try, 16 flavours of ice cream and sorbets, and a whole host of candies, speciality treats and more to indulge in those sweet tooths.
4. Skipper Society
The Disney Treasure has an overall theme of adventure, and that's reflected in the addition of some new venues that, for the first time, bring some of the incredible nostalgia, heritage and lore from Disney Parks' best rides to sea.
Chief among these is Skipper Society, a themed lounge located near the Grand Hall. It is themed around the iconic Jungle Cruise ride, paying tribute to not just the jungle setting of the ride but also the dry-witted skippers that helm the boat and make it eternally popular with their fantastic deadpan humour.
Guests will be able to enjoy a selection of snacks and themed cocktails, with live entertainment and a whole host of references to the Disney Parks attraction, including a monkey-shaped chandelier.
5. Periscope Pub
The Periscope Pub is another venue themed after a classic Disney Parks attraction, but one that was based on a movie as well – 1954's "20,000 Leagues Under the Sea".
The pub will have stunning 19th Century steampunk-inspired decor that mirrors the Walt Disney World attraction which was open from 1971 until 1994, perfect for those grown-ups who went on their own Disney adventures when they were younger.
But new fans will delight in the venue equally, thanks to its mysterious window on the ceiling that offers a virtual look into the 'depths' of the ocean, while a statement rug in the centre of the venue pays tribute to Captain Nemo's nemesis, the giant squid. Craft beers and light snacks are available, while the relaxed venue will show live sports and news.
6. Grand Hall
The Grand Hall serves as the central hub of the Disney Treasure, and as such it truly embodies the ship's sense of adventure. It's modelled on the gilded palace of Agrabah from the movie Aladdin, with various touches that call back to the wonder of the movie.
Throughout the cruise, it will serve as the main gathering space for guests, and there will be small moments of surprise throughout the cruise that guests will enjoy. These will include dedicated shows, character encounters and musical performances.
7. Heihei Cafe
Just off the Grand Hall are two new cafes where guests can enjoy a selection of snacks and beverages, both of which are themed around adventurous Disney princesses.
The first of these is Heihei Cafe, which is inspired by the movie Moana. As such, you can expect decor that includes seashells and blue ocean colours, and furniture that is built using authentic techniques that the Polynesian peoples used to make their own ships.
8. Jade Cricket Cafe
The second themed cafe off the Grand Hall is the Jade Cricket Cafe, inspired by the movie Mulan. The cafe pays homage to the Fa Family's lucky cricket "Cri-Kee" who will have his own jade sculpture on the bar top.
The walls and counters of this cafe have been designed with Mulan's armour in mind, using striking blue colours and metallic finishes. But the more gentle side of Mulan is also represented through plum blossom flowers, and the central moon gate reflects her heritage.
9. Sarabi
Sarabi is a multi-purpose lounge venue named for the matriarch of the Lion King family. It's a central hub for many of the family daytime activities on the ship, while at night it transforms into an adults-only venue.
There'll be live entertainment along with a great bar menu that guests can enjoy, while the decor is designed to evoke the beauty of the natural savannah that Sarabi herself called home.
10. AquaMouse: Curse of the Golden Egg
The AquaMouse made its debut on Disney Wish as the first genuine Disney attraction at sea, and it returns on Disney Treasure, but with a whole new theme and experience.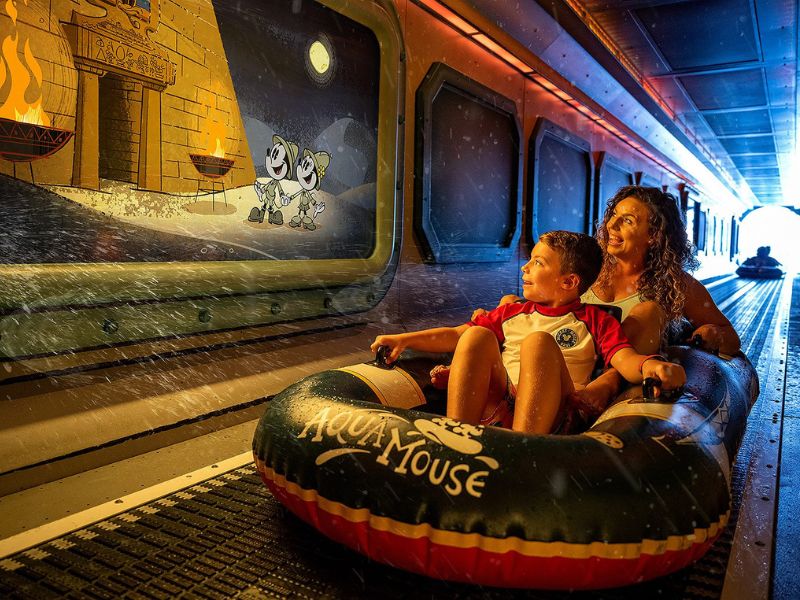 Guests will still board two-seat ride floats and be propelled along a series of tunnels with interactive elements, all styled around some of the classic Mickey Mouse animations. There will be 760 feet of tubing soaring above the ship and offering incredible views.
However, with the Disney Treasure version of the ride, guests can look forward to following Mickey and Minnie on a wild adventure into an ancient temple that is home of the mysterious Golden Egg treasure.
Suggested read: Disney Cruise Water Slides Guide
Returning Favourites
As well as all of these new and exciting features, there are a host of returning favourites too, including:
1923 – an upscale dining venue that reflects the heritage of Disney animation
The Walt Disney Theatre – with returning shows Beauty & the Beast, and Disney Seas the Adventure…along with one yet-to-be-revealed Broadway-style show
Hero Zone – a sports and recreation area
Wonderland and Never Land Cinemas – showing first-run films from Disney and its subsidiary studios
Quiet Cove – an adults-only relaxation spot with an infinity pool and pool bar
Dining venue favourites such as Palo Steakhouse, Enchante by Chef Arnaud Lallement, and The Rose
Disney's Oceaneer Club – the kids' clubs on the ship, including:

Marvel Super Hero Academy – where guests can interact with heroes and train as the next generation of superheroes
Fairytale Hall – an activity room where young guests can sometimes meet princesses
Imagineering Lab – a fun space full of interactive hands-on experiences and experiments
Star Wars: Cargo Bay – where young adventurers can take on the role of creature handlers for some of the galaxy's most unique animals
Disney Treasure Staterooms and Suites
The accommodation on Disney Treasure will all be inspired by some of Disney's most famous tales of adventure. The ship will have 1,256 staterooms, with custom artworks from movies including Aladdin, Pocahontas, Up, and Encanto.
Of these staterooms, all will offer an ocean view with 70% having a private verandah. They will all be state of the art and there are 451 connecting doors, so there are even more opportunities for guests to book two staterooms side-by-side and enjoy extra space (and some quiet time for the adults too).
Meanwhile, the Concierge and Royal Suites will continue to offer exquisite luxury to guests, with feline theming from movies such as The Lion King, The Jungle Book (Bagheera), and Aladdin (Rajah).
Tomorrow Tower Suite
Brand new for the Disney Treasure is the Tomorrow Tower Suite. Set in the ship's funnel, this incredible accommodation option sleeps 8 guests and has a full kitchen alongside a private elevator and various spaces for playing, sleeping and eating.
As the name may imply to any Disney fan, the suite is themed around the EPCOT theme park, and includes futuristic touches including molten metal accents, colourful glass and some contemporary artworks.
Where will Disney Treasure sail in 2024?
Disney Treasure will offer sailings in the Eastern and Western Caribbean in 2024, with Port Canaveral serving as her home port. While specific ports of call haven't yet been announced, expect Disney's Castaway Cay island to feature.
About The Build
Is the Disney Treasure being built yet?
Construction of the Disney Treasure is well underway – her keel-laying ceremony (one of the major milestones in early construction) took place in March 2023. She's being built at the renowned Meyer Werft shipyard in Germany and is on-course to debut in late 2024.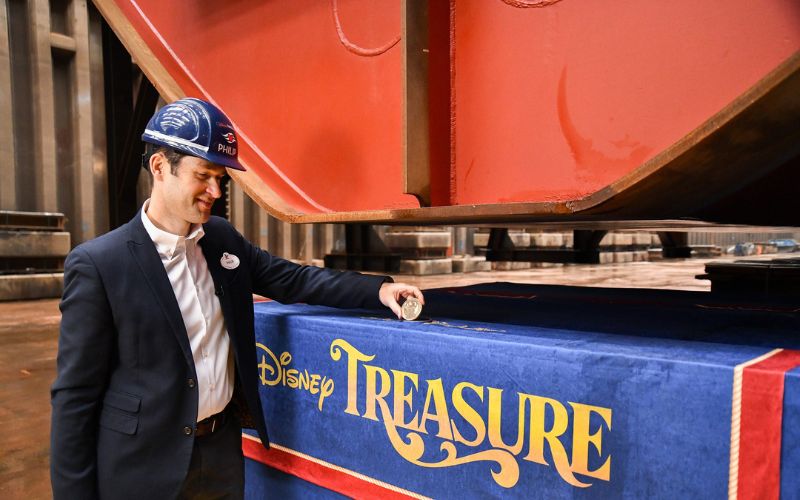 Who's on the back of the Disney Treasure?
The characters adorning the stern of the Disney Treasure are Peter Pan and Captain Hook. Disney's ships always have notable characters on the stern. Peter Pan is depicted flying and painting the ship's livery, with Captain Hook angrily covered in yellow paint.
How much will the Disney Treasure cost to build?
Disney Cruise Line hasn't announced a built cost for Disney Treasure but it's expected that she will cost in the region of $1 billion to complete. While this does make her an expensive ship, it's only half the estimated cost of the biggest cruise ship in the world.
Why the Disney Treasure is so exciting
There are so many reasons to get excited over the Disney Treasure. Any time Disney Cruise Line launches a new ship, it becomes a notable event. And Disney Treasure promises to offer some of the best experiences in the fleet and, indeed, in all of ocean cruising.
Whether you're a huge Disney fan or you just enjoy great family cruising with varied experiences, there is plenty of magic to enjoy on Disney Treasure, along with a host of adventures.
Disney Castaway Club members can book cruises on Disney Treasure from 12th September 2023, with bookings opening to all other guests on 20th September 2023.
NEW DEALS JUST RELEASED!
Don't miss the latest Disney Cruise Line offers…
Related Topics