When you cruise with Disney in the Caribbean, there's a good chance your itinerary will include a visit to Castaway Cay, the private island owned by the cruise line. There's plenty to enjoy on the island, but arguably, the most sought-after areas are the cabanas – there aren't many available, and they book up far in advance.
I was lucky enough to enjoy a Castaway Cay cabana on my cruise on Disney Wish in 2022, so I've seen first-hand just how amazing they are. Let me tell you everything you need to know about the cabanas, including how you could reserve one for yourself.
What Types of Cabanas Are There at Castaway Cay?
There are 27 cabanas in total on Castaway Cay, including three different types. There are 20 Family Beach Cabanas, 1 Grand Family Beach Cabana, and 6 Serenity Bay Beach Cabanas.
The Family Beach Cabanas and Serenity Bay Beach Cabanas are all very similar sizes, it's just about the location – if you're travelling with kids, then you'll want a Family Beach one, while Serenity Bay is the adults-only beach and the cabanas follow the same rules.
The Grand Family Beach Cabana is a much larger cabana that can accommodate between 10 and 16 guests.
Where Are Cabanas Located on Castaway Cay?
The cabanas on Castaway Cay are a little further away from where the ship docks. 21 of the cabanas are on the furthest of the family beaches, while the remaining 6 are on the Serenity Bay beach, which is the furthest point from the ship.
This is by design – you want to be able to relax in your cabana, further away from the bustle of the crowds. Don't worry about getting back to the ship, as transport options are available. The easiest way to get from the pier to the cabana check-in area is by tram and you'll then be taken to your cabana on the back of a golf cart.
And don't worry about finding them – the Castaway Cay cabana map provided at the port makes it super-easy to see where you're going.
What Is the Best Cabana on Castaway Cay?
The best cabana on Castaway Cay depends on your travelling party. Families will want to book a Family Beach Cabana, while larger groups will hope to get the Grand Family Beach Cabana all to themselves. Couples will want the peace and tranquillity of a Serenity Bay Beach Cabana.
If you're looking to get a Family Beach Cabana, they're all very similar. The lower-numbered cabanas are closer to the restrooms, so bear that in mind.
If you want a Serenity Bay beach cabana, 26 and 27 are slightly newer, but 23 is a little larger and closer to the restrooms.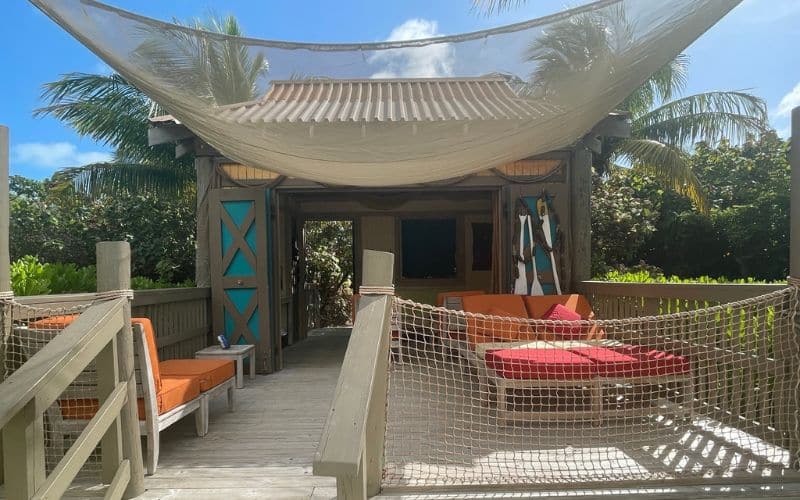 How Do You Get a Cabana at Castaway Cay
To book a cabana on Castaway Cay, you'll need to book it on the Port Adventures section of the Disney cruise website before you sail. Just log into your account on the website and you'll be able to pre-book excursions, including Castaway Cay cabana rental.
However, don't be surprised if you don't see them available – they often sell out very quickly. In fact, most people who try to book a cabana are disappointed to find that they have sold out – even if they log on to book at their very earliest opportunity!
When Can You Reserve a Cabana at Castaway Cay?
You can book a cabana at Castaway Cay as soon as you have access to booking activities. This varies depending on your stateroom and your Castaway Cay Club membership level. Anyone in a Concierge-level stateroom gets first access, 125 days before the cruise sails.
Five days later, so 120 days before the cruise departs, anyone who is a Platinum Member of the Castaway Cay Club (Disney Cruise Line's loyalty program) can book cabanas.
105 days before the ship sails, Gold Members will be able to book cabanas. And then finally, Silver members (including anyone on their first cruise) can book cabanas 90 days before the sailing.
How Hard Is It To Get a Cabana on Castaway Cay?
It is difficult to get a cabana on Castaway Cay – as there are only a limited number, they are usually booked up by Concierge guests and Platinum Members of the Castaway Cay Club, before Gold and Silver members have even had a chance to book.
The ability to book Disney cruise cabanas is seen as one of the best perks of progressing through the Castaway Cay Club loyalty scheme – as soon as you are booking your 10th Disney Cruise, you'll hopefully be able to secure a cabana.
Alternatively, pay the extra to upgrade your stateroom to a Concierge one, and you'll get first dibs. As long as you remember to log onto your account 125 days before you sail (you should get an email reminder), you can secure your cabana.
If you have your heart set on a cabana, then upgrading to Concierge level is worth it, as you may be unlikely to get one otherwise. There are other perks, too – you can read more about these here: Disney Cruise Concierge Perks.
Is There a Waiting List for Cabanas at Castaway Cay?
There usually is a waiting list for cabanas at Castaway Cay, but the only way to get on the list is to visit Guest Services. This will be done on a first-come, first-served basis so you'll need to get your name down as soon as you board the ship.
Even then, the chances that someone will relinquish their booking are low – but it's the best chance you have if you aren't staying in a Concierge stateroom and you're only a Silver or Gold member of the Castaway Cay Club.
Something else you could try is looking for forums or Facebook groups for your cruise, and asking in there if you could be notified if anyone seeing your post wishes to cancel their cabana. This way, you could get the chance to book it before anyone else does.
How Much Are Cabanas at Castaway Cay?
The cabanas on Castaway Cay start at $399 for the day for a Serenity Bay Beach Cabana for 4 guests, up to the maximum cost of $1,249 for the Grand Family Beach Cabana for 16 guests. The cost depends on the cabana and the number of guests.
Serenity Bay Beach cabanas are the cheapest. You can book them for $399 for four guests, and then add on two more guests if you wish, costing $50 per extra guest.
Family Beach Cabanas start at $599 for six guests, and again you can add more for $50 per person, up to a maximum of 10.
The Grand Family Beach Cabana starts at $949 for 10 guests, and you can add up to six more for $50 per person again.
The Castaway Cay cabana price can be quite high, but consider how popular they are – there's no reason for Disney to charge less.
What Is Included in a Cabana at Castaway Cay?
Castaway Cay cabanas include various soft drinks and snacks for you to enjoy, access to a private beach for cabana guests, rental bikes and snorkel equipment, and other small touches such as sand toys, floats, sunscreen and more.
There's a lot included when you hire a cabana for the day, so you can just relax and make the most of the time you have. But if you do need anything – more food, or alcoholic drinks – you can press the call button and a Cabana Concierge will come to take your order, with extras added to your cruise account.
But included for free, you'll get a selection of snacks, including Lays crisps (potato chips) and granola bars. There's also a bowl of fresh fruit in the mini fridge.
The mini fridge also includes a selection of soft drinks, including cans of Coke, Diet Coke, Sprite and Sprite Zero. There are bottles of water too, and some cooling towels.
There are a few extra little touches, including sunscreen, so you can enjoy the beach if you've forgotten to bring your own.
Keeping cool won't be an issue, as well as the cold towels. There are large fans in the ceiling. It's not quite air-con, but it's definitely enough when you want to escape the sun for a moment.
But when you do want to hit the beach, there are floats and tubes that you're welcome to use. You also get bike rental and snorkel equipment hire included, while other guests on the island have to pay for these services.
If you do want to go for a walk, there's a small safe where you can store your belongings safely if you don't want to carry them around with you.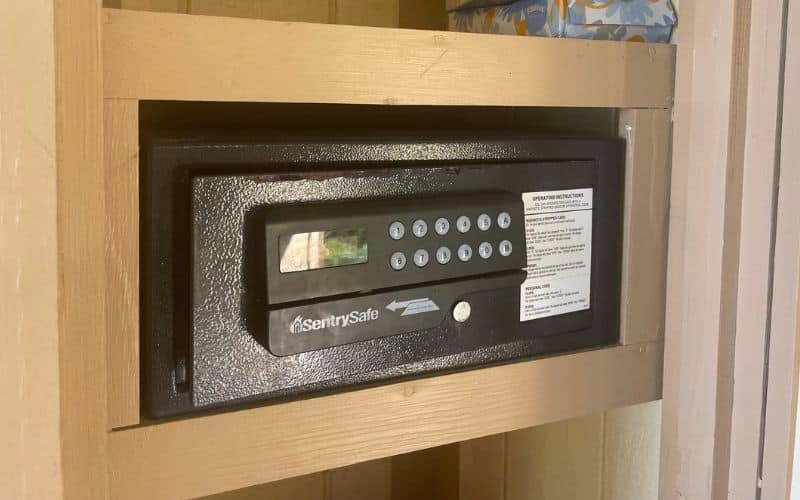 And there are power outlets in the cabana too, so bring a phone charger with you if you don't want to risk a drained battery during your relaxing day.
And each cabana has its own outdoor shower, so you don't have to walk around covered in sand all day.
It's worth noting that some of the items – the sand toys and snorkel equipment – aren't included in the Serenity Bay cabanas. The sand toys make sense since Serenity Bay is for adults only, but the lack of snorkel equipment might disappoint you.
Do Castaway Cay Cabanas Have Bathrooms?
Castaway Cay cabanas do not have a bathroom, but there are restrooms just a short walk from them. Each cabana does have a private changing area, and a fresh water shower; otherwise, you'll need to walk to the restrooms if you need to use the toilet during the day.
The lower-numbered cabanas in each area are closer to the restrooms, so that's cabanas 1 and 2 on the Family Beach, and 22 and 23 on Serenity Bay Beach.
Is a Cabana Worth It at Castaway Cay?
While it's subjective, most people find that a Castaway Cay cabana is worth it – which is why they get booked up so quickly. Having a private space to escape the sun, enjoy snacks and drinks, and relax in a comfortable chair or hammock is very useful for a full day on the island.
The prices may seem a little high for 6-7 hours of use, but remember how much you get included, and that you do have your own area to get away from the crowds. They're really nicely designed too, and very comfortable. So, for a lot of people, they are worth it.
NEW DEALS JUST RELEASED!
Don't miss the latest Disney Cruise Line offers…
The Bottom Line
It's not really a surprise that the cabanas on Castaway Cay book up so quickly. There aren't many of them, and there are thousands of guests coming to the island on every port visit.
If you get the chance to book one, I would definitely consider it, even just for the experience of having your own slice of luxury private island life for a few hours.
Related Posts: